2009 Was A Great Year With New Fellow Adventurers
This year we asked Nancy, Vince, and Irene to join us for the adventure. We met at Gladstone's for a pre-cruise drinkie-poo and then off to the tall ship docks to meet the crew and find our seats for the journey. If we look funny it is because we told everybody todress warm because it gets cold out on the water in the winter at 5:00 pm! So, off we go!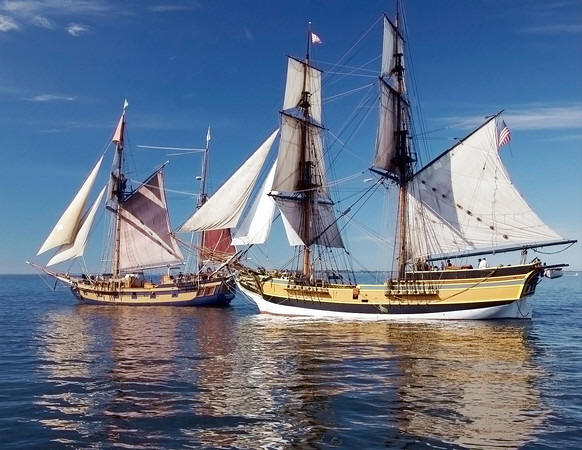 Hawaiian Chieftain and the Lady Washington will do battle this weekend
Perhaps A Little Definition Is Due
A tall ship is a large traditionally rigged sailing vessel. Popular modern tall ship rigs include topsail schooners, brigantines, brigs and baroques. Traditional rigging may include square rigs and gaff rigs, with separate topmasts and topsails. It is generally more complex than modern rigging, which utilizes newer materials such as aluminum and steel to construct taller, lightweight masts with fewer, more versatile sails.
Let's Get Started!

Nancy and Paul have a Bloody Mary to get the day started

Vince and Nancy and their three friends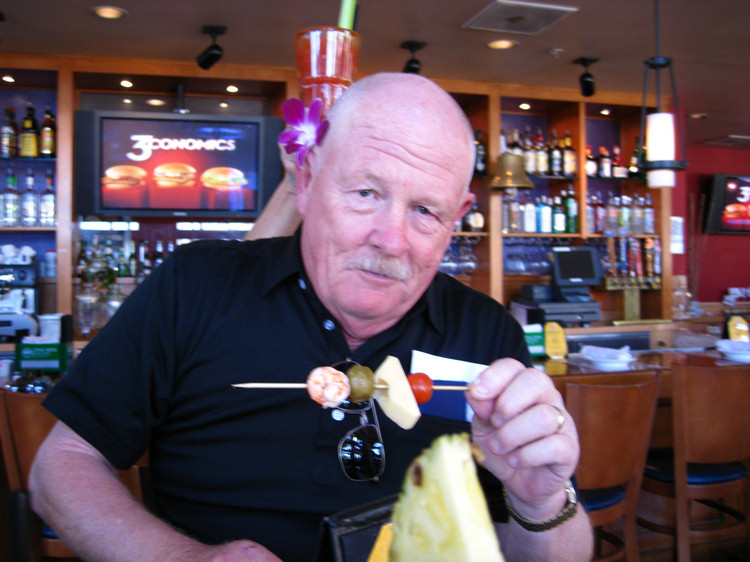 No Paul, it eatable... NOT wearable!
Head For The Ships!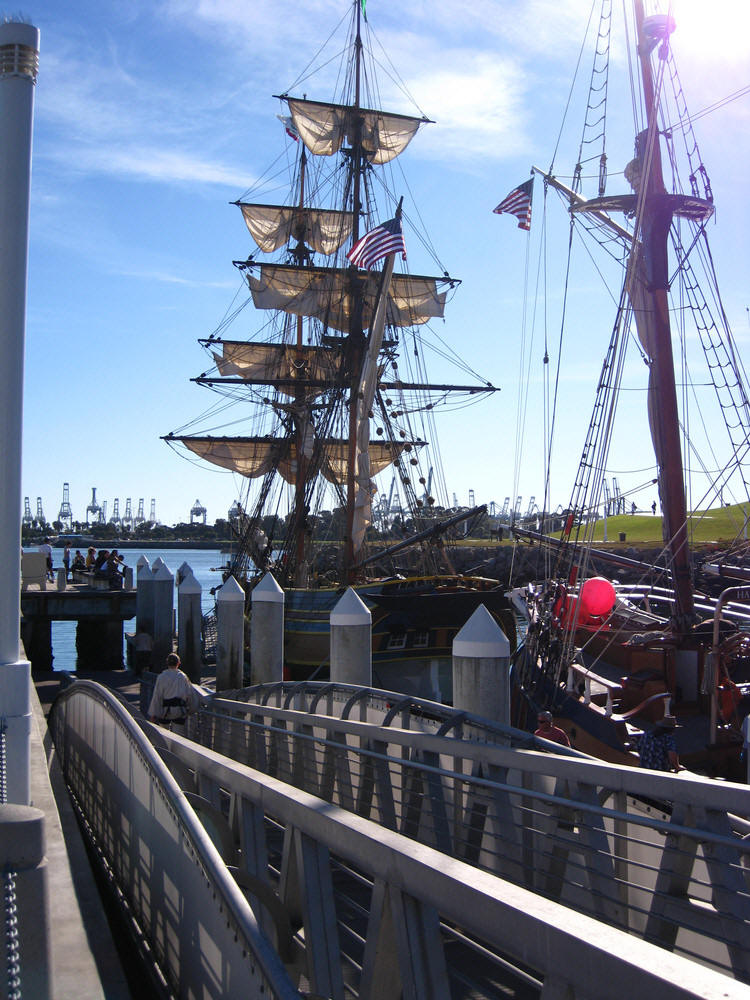 The Lady Washington is ready, the Chiefain was out of commission! No Battle Sail today.. darn!

Good Bye Gladstone's... See you in a few hours!

163 different "controls" or ropes are used to rig the ship!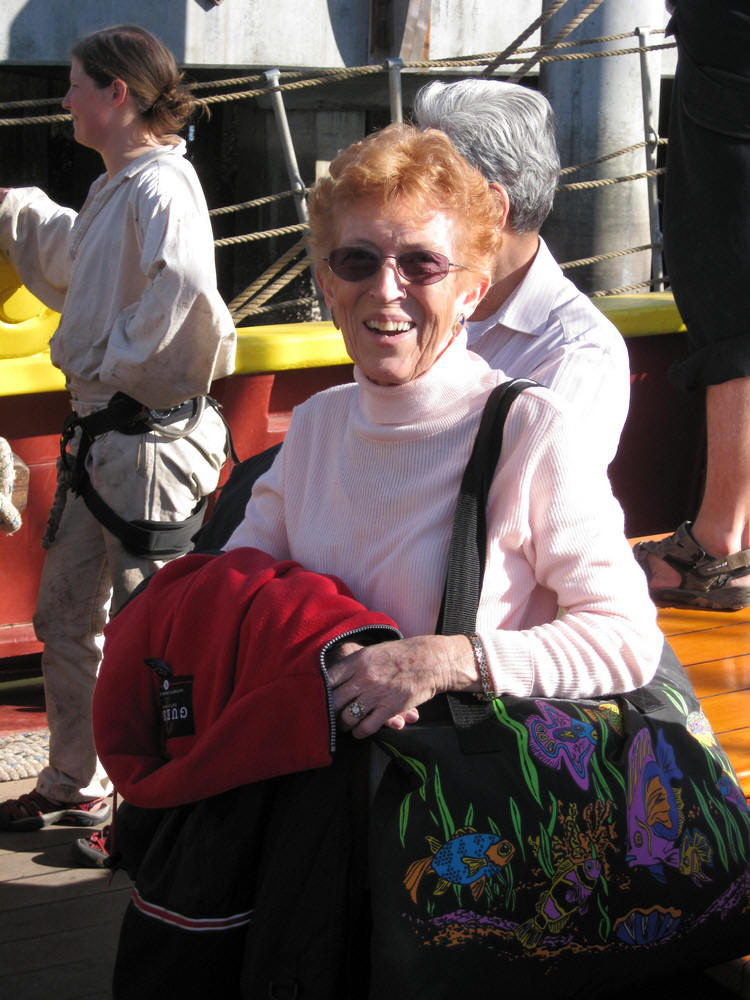 "Yo Yo Ho Ho A pirates life for me!"

Everything nicely stowed!
Setting Sail

Vince looking for the life jackets!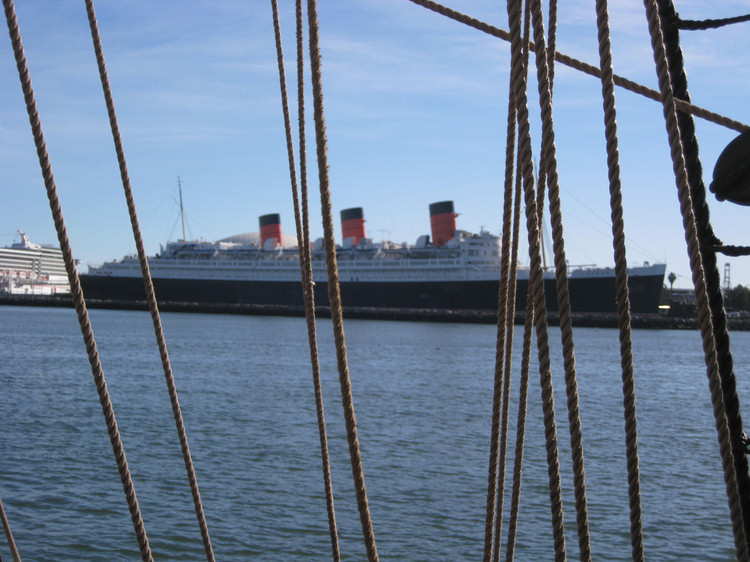 The Queen Mary is always waving good bye to departing ships

The Carnival Pride will be pulling out at 5:00
Carnival Pride is a Spirit class cruise ship that was built by Kvaerner Masa-Yards in Helsinki. She is owned by Carnival Corporation & PLC and operated by Carnival Cruise Lines. She has 1,062 staterooms; eighty percent of the staterooms have ocean views and eighty percent of those have private balconies

Getting ready to fire at the local ships with our big cannons!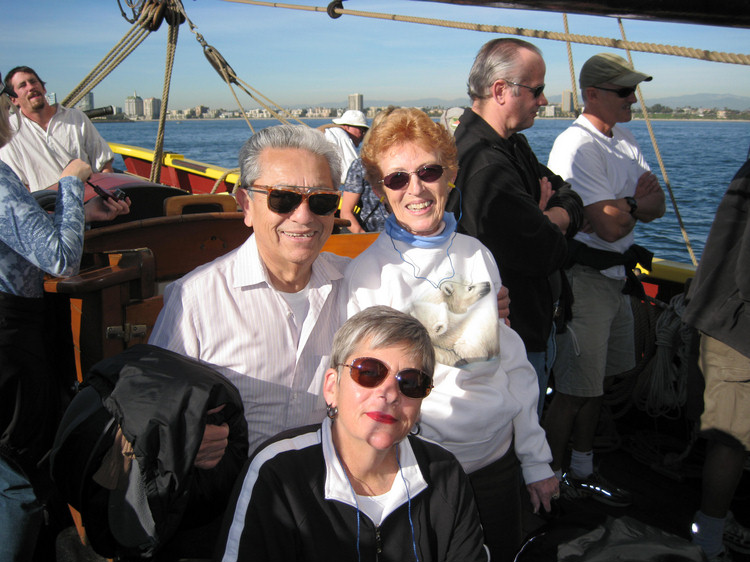 Vince, Nancy and Sue

Paul enjoys the happenings

Paul and the First Mate... The provider of commands to the crew
Winter In Southern California

Yes... snow on Mt. Baldy which is 70 miles form our ship!! The temperature is a balmy 78!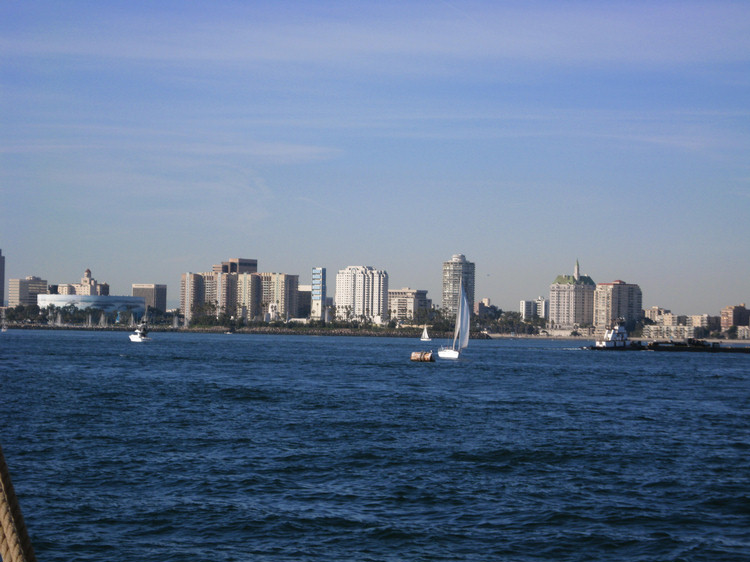 Not a cloud in the sky!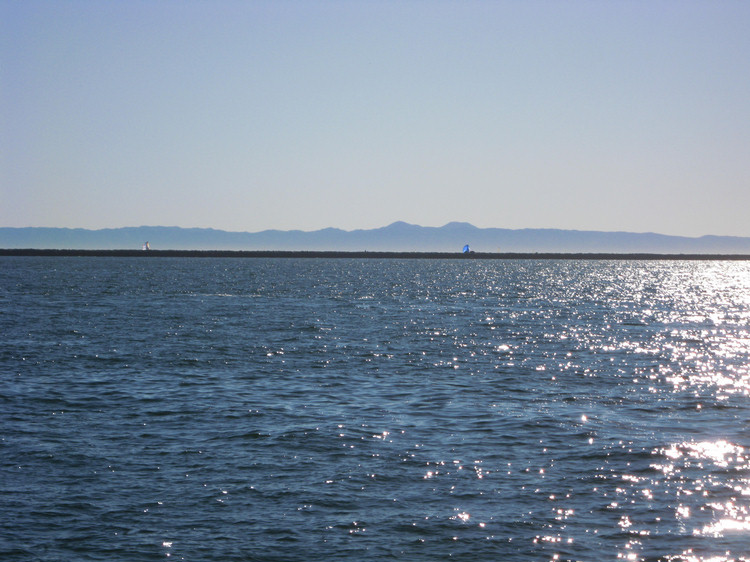 Turn around and there is Catalina Island about 24 miles form our ship in the opposite direction1

"This is all good"
Watch For The Seals

See the bump on the top of the ships riudder?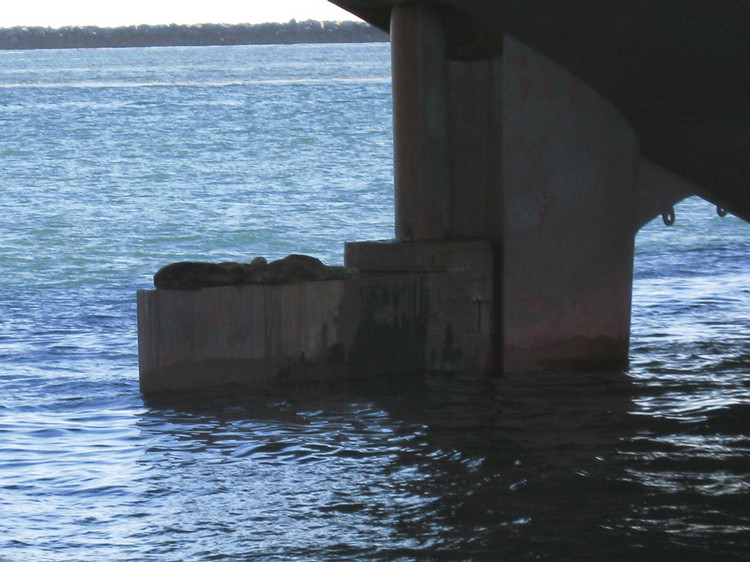 The bumps are sleeping (Two big sea lions)

Sue and Nancy share stories
Time For The Boom Boom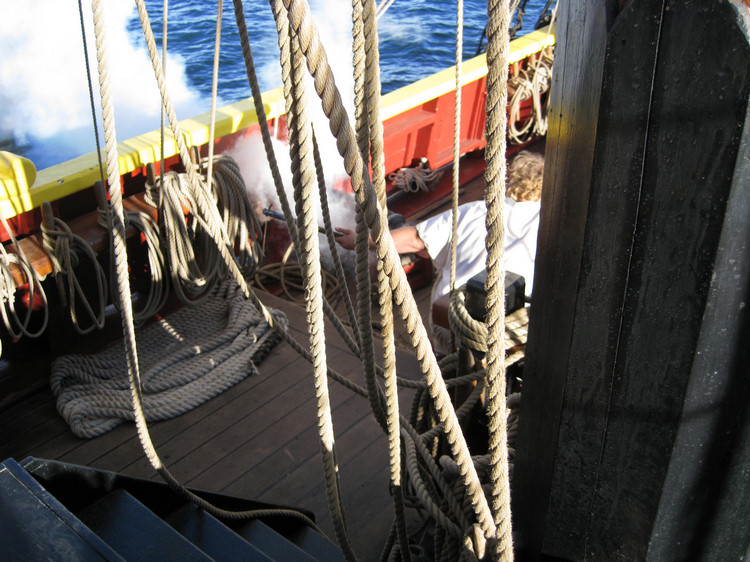 We could not have a "battle sail" so the ships captain said "Fire at anything that moves!"
The carronade was a short-barrelled gun which threw a heavy ball developed by the Carron Company, a Scottish ironworks, in 1778. Because of irregularities in the size of cannon balls and the difficulty of boring out gun barrels there was usually a considerable gap between the ball and the bore - often as much as a quarter of an inch - with a consequent loss of efficiency. This gap was known as the "windage". The manufacturing practices introduced by the Carron Company reduced the windage considerably, enabling the ball to be fired with less powder and hence a smaller and lighter gun. The carronade was half the weight of an equivalent long gun, but could throw a heavy ball over a limited distance. The light weight of the carronade meant that the guns could be added to the forecastle and quarterdeck of frigates and ships of the line, increasing firepower without affecting the ship's sailing qualities. Its high velocity at close range gave the carronade exceptional penetrating power. It became known as the "Smasher" and gave ships armed with carronades a great advantage at short range.
In addition to varying shot weights, different types of shot were employed for various situations:
Round shot - Solid spherical cast-iron shot, the standard fare in naval battles.
Canister shot - Cans filled with dozens of musket balls. The cans broke open on firing to turn the gun into a giant shotgun for use against enemy personnel.
Grapeshot - Canvas-wrapped stacks of smaller round shot which fitted in the barrel, typically three or more layers of three. Some grape shot was made with thin metal or wood disks between the layers, held together by a central bolt. The packages broke open when fired and the balls scattered with deadly effect. Grape was often used against the enemy quarterdeck to kill or injure the officers, or against enemy boarding parties.
Chain-shot - Two iron balls joined together with a chain. This type of shot was particularly effective against rigging , boarding netting and sails since the balls and chain would whirl like a bolas when fired.
Bar shot - Two balls or hemispheres joined by a solid bar. Their effect was similar to chain shot.
Expanding bar shot - Bar shot connected by a telescoping bar which extended upon firing.
Link shot - A series of long chain links which unfolded and extended upon firing.
Langrage - Bags of any old junk -- scrap metal, bolts, rocks, gravel, old musket balls, etc. -- fired to injure enemy crews.
Fire arrows - A thick dartlike incendiary projectile with a barbed point, wrapped with inflammable pitch-soaked canvas which took fire when the gun was fired. The point stuck in sails, hulls or spars and set fire to the enemy ship.
Heated shot - Shore forts sometimes heated iron shot red-hot in a special furnace before loading it (with water-soaked wads to prevent it from setting off the powder charge prematurely.) The hot shot lodging in a ship's dry timbers would set the ship afire. Because of the danger of fire aboard, heated shot were seldom used aboard ships.
Double shot - Two round shot or other projectiles loaded in one gun and fired at the same time. Double-shotting lowered the effective range and accuracy of the gun, but could be devastating within pistol shot range - that is when ships drew close enough for a pistol shot to reach between the two ships. To avoid bursting the gun, reduced powder charges were used. Guns sometimes were double-shotted with canister or grape on top of ball, or even triple-shotted with very small powder charges which still were enough to cause horrible wounds at close range.
Exploding Shell - ammunition that works like a grenade, exploding and sending shrapnel everywhere, either on contact with the target or by a burning fuse which was cut to a calculated length depending on the range. Shells were often used in mortars, and specialized and reinforced "bomb vessels" (often ketch-rigged so there was less rigging to obstruct the high-angle mortar shell) were adapted to fire huge mortars for shore bombardment. The "bombs bursting in air" over Fort McHenry in the American national anthem were this type of projectile.

Lazy afternoon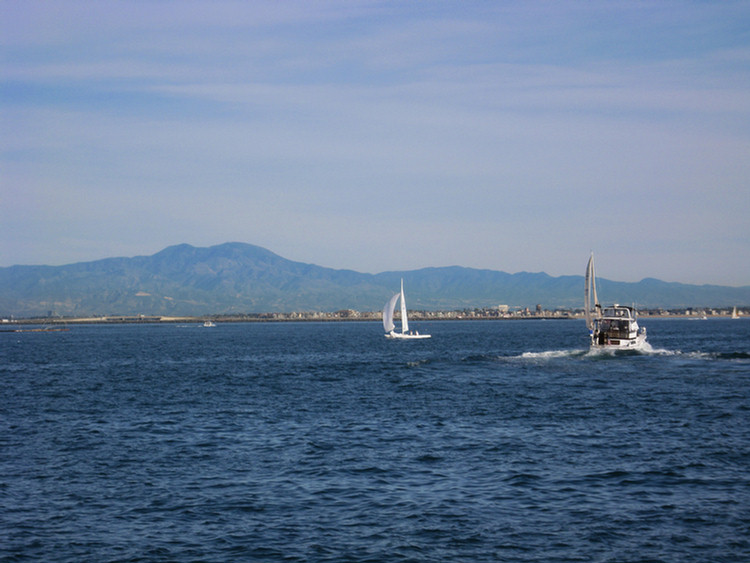 Saddleback looks to be only a few miles away!
Saddleback, sometimes called Old Saddleback or the Saddleback Mountains, is the landmark formed by the two highest peaks in the Santa Ana Mountains and the ridge between them. This formation, which resembles a saddle when viewed from most of Orange County, California, dominates the county's eastern skyline, and on the clearest days can be seen from most of the Greater Los Angeles Area.

Long Beach Light to Santiago Peak is 50+ miles

Santiago Peak is the highest peak in the range and the highest point in the county at 5,687 feet (1,733 m). Modjeska Peak is the second highest at 5,496 feet (1,675 m). The two peaks form part of the border between Orange and Riverside Counties Ships 2009" src="tallships_2009_033.jpg" width="900" height="700">
70 + miles in the distance we have snow!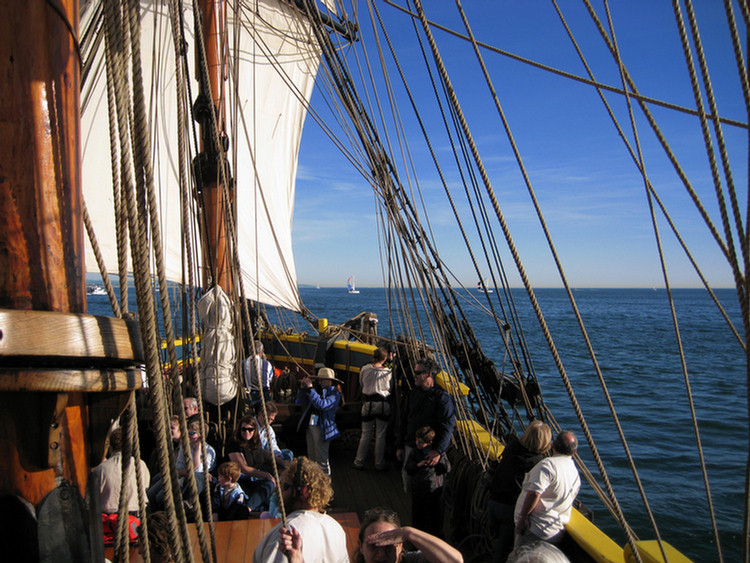 Smooth sailing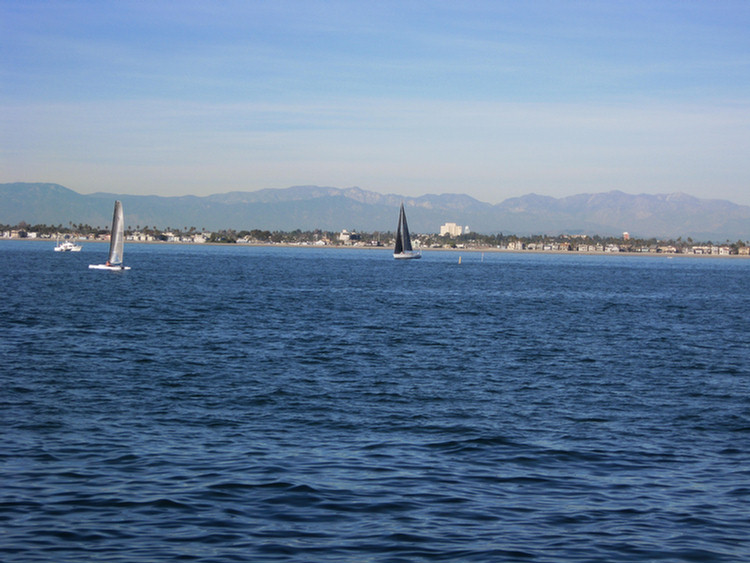 San Gabriel Mountains in the distance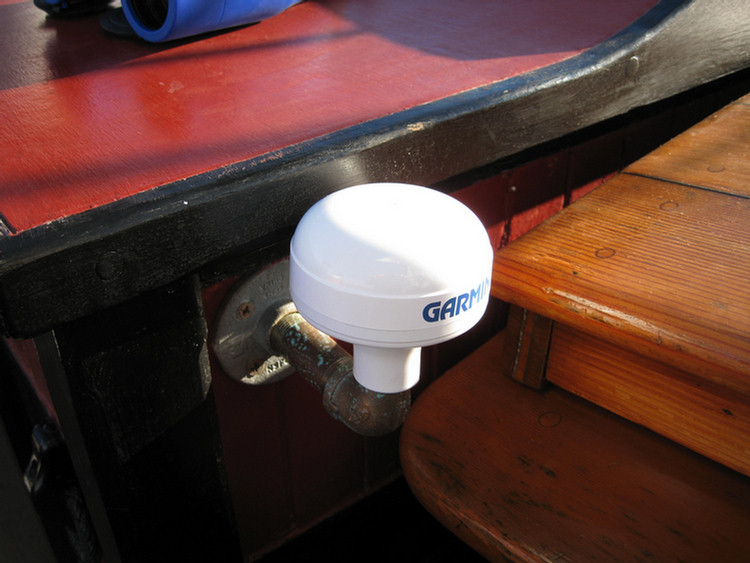 Can't go anywhere without GPS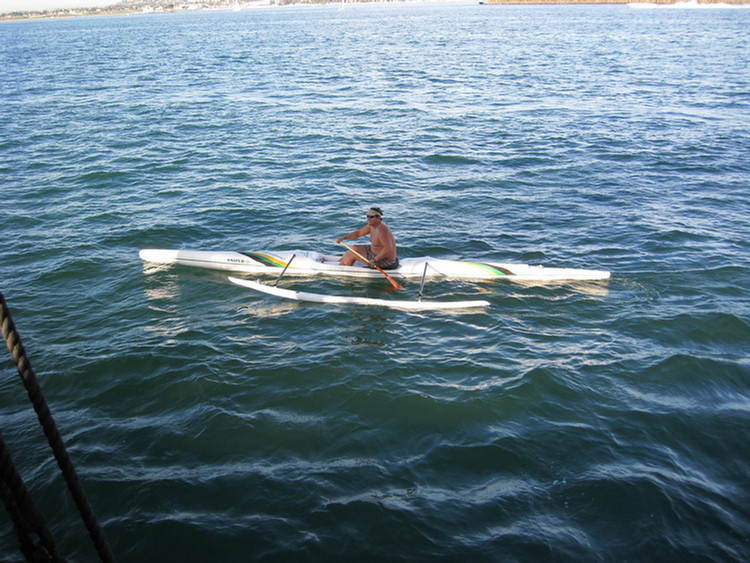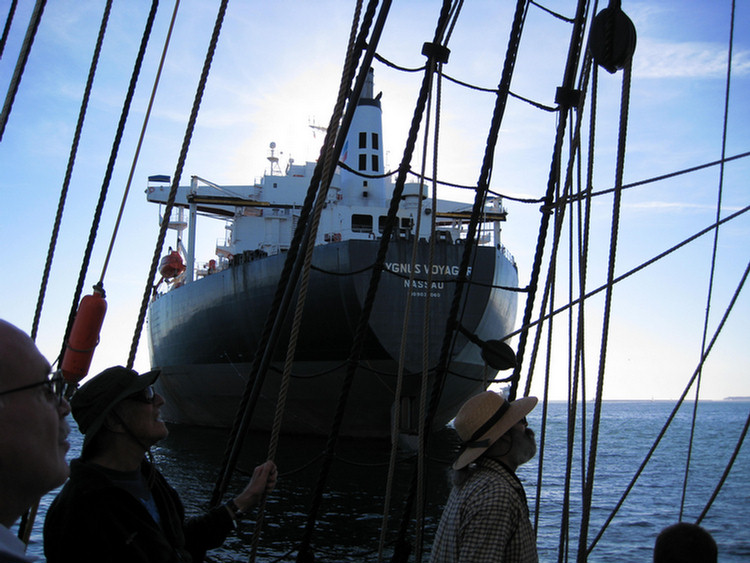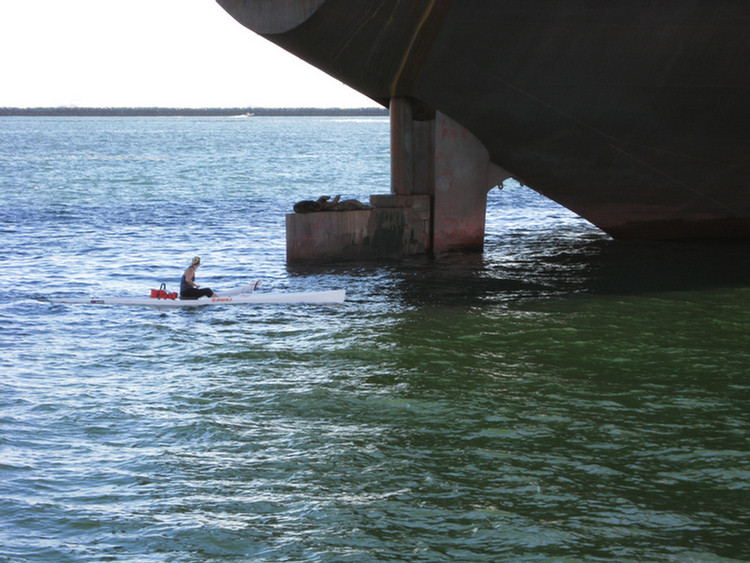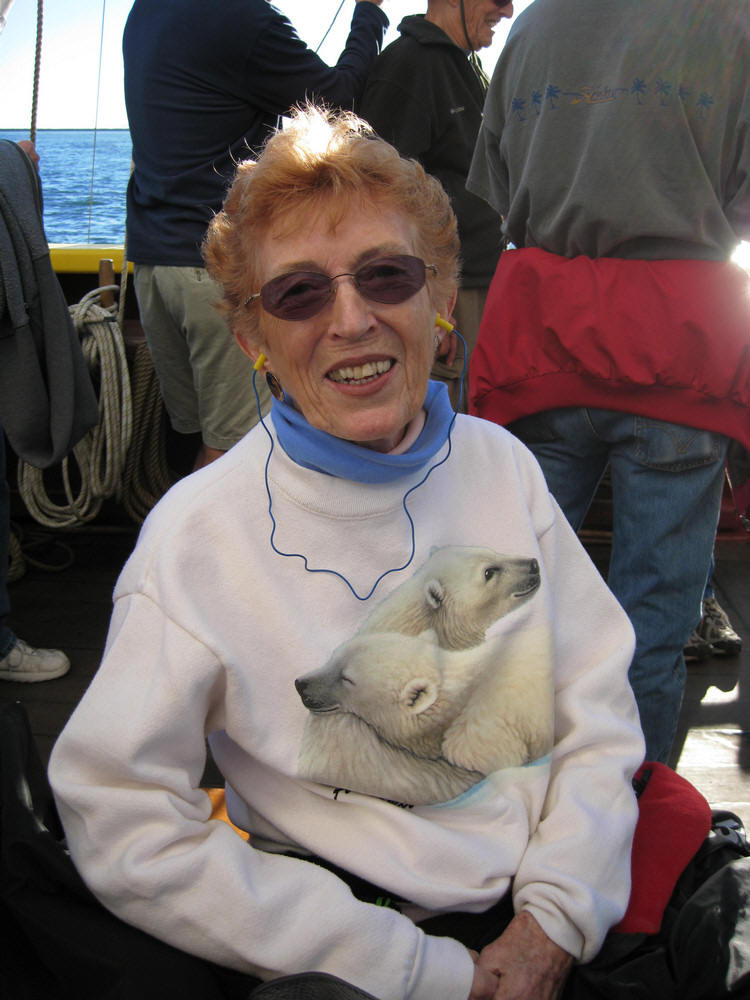 Nancy was ready for the adventure
We Had Visitors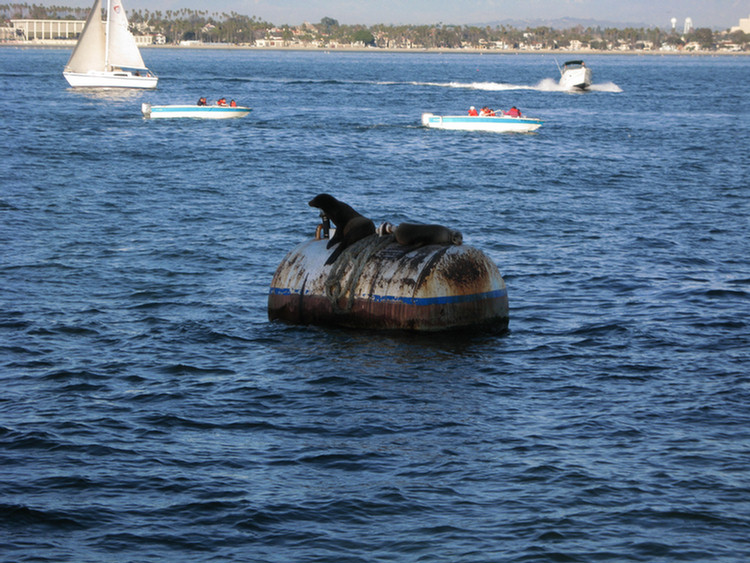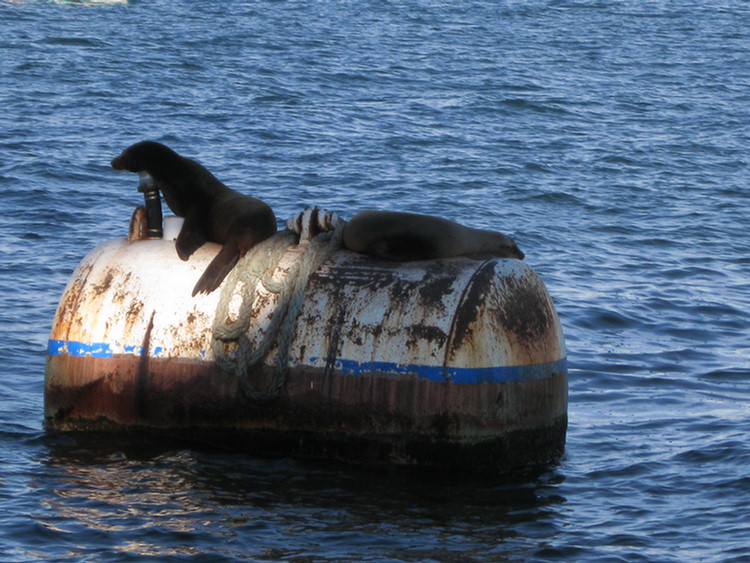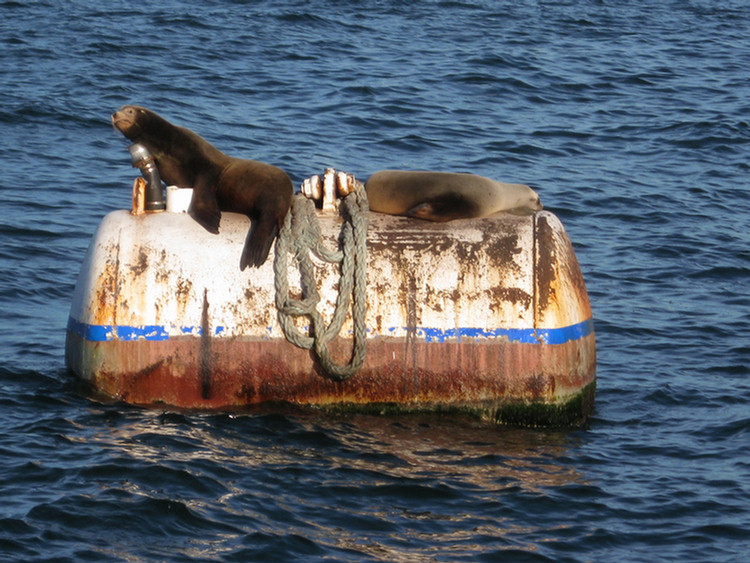 Nancy Made Me Do It!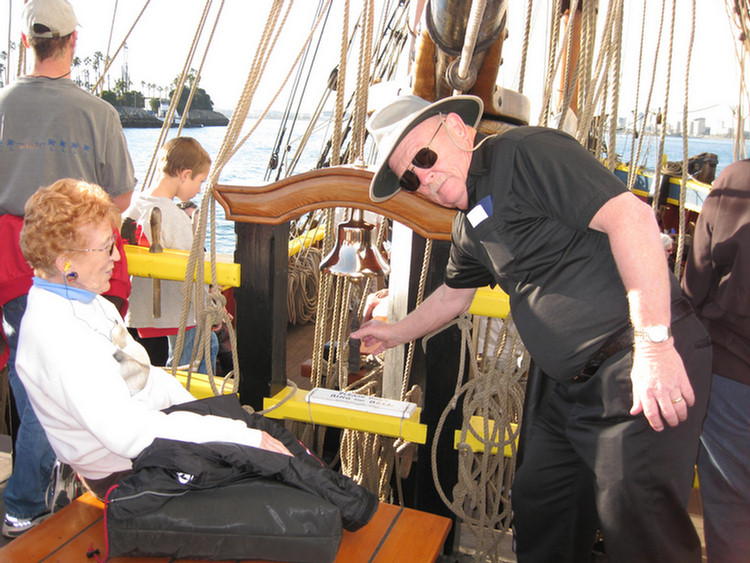 Used to call the crew to the deck for a critical situation

Nancy was singing along with the crew!
Paul And Sue Enjoyed The Cruise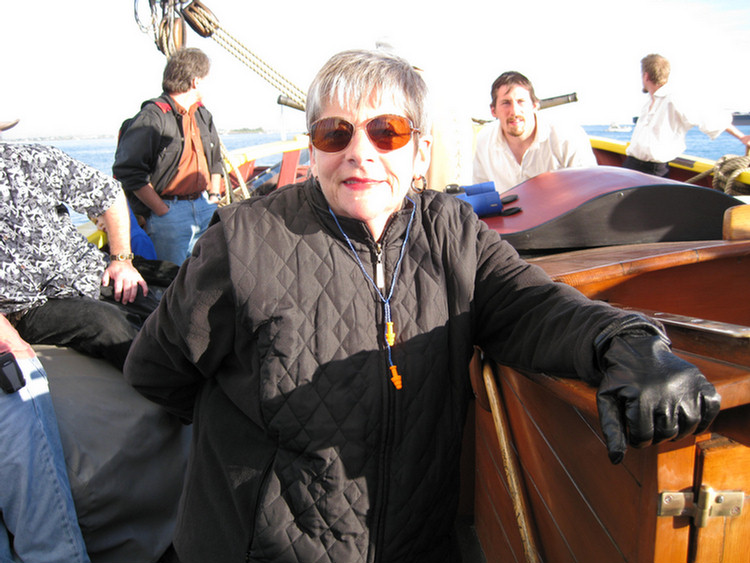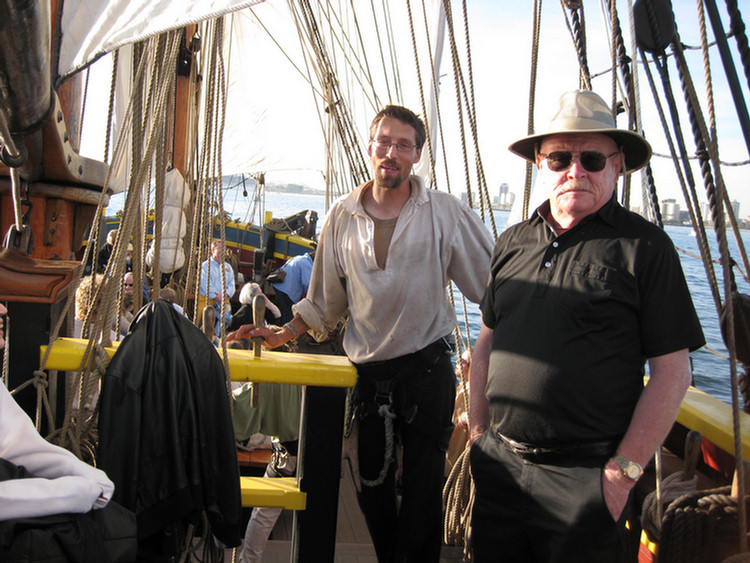 Sue and Nancy keep warm
The 2009 Sailing Adventure Continues

Long Beach awaits us.... It maybe NOT ready for us??

The Carnival ship leaves for a seven day Mexican cruise
We Fired At Everything!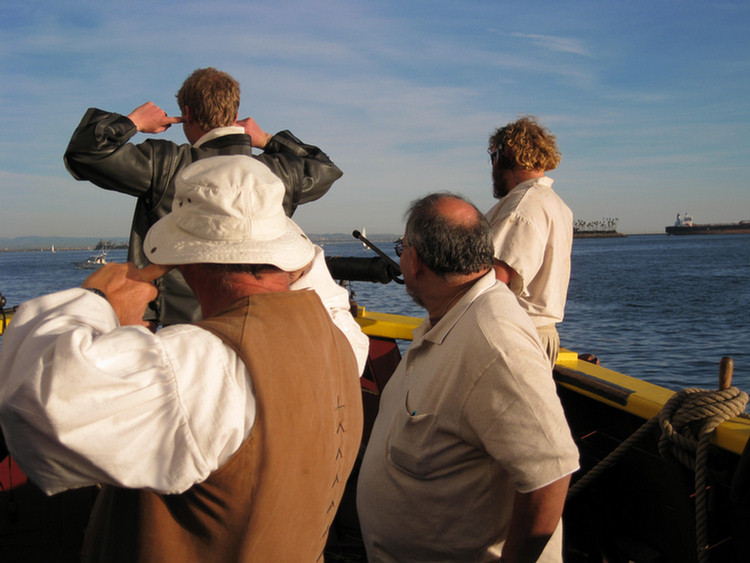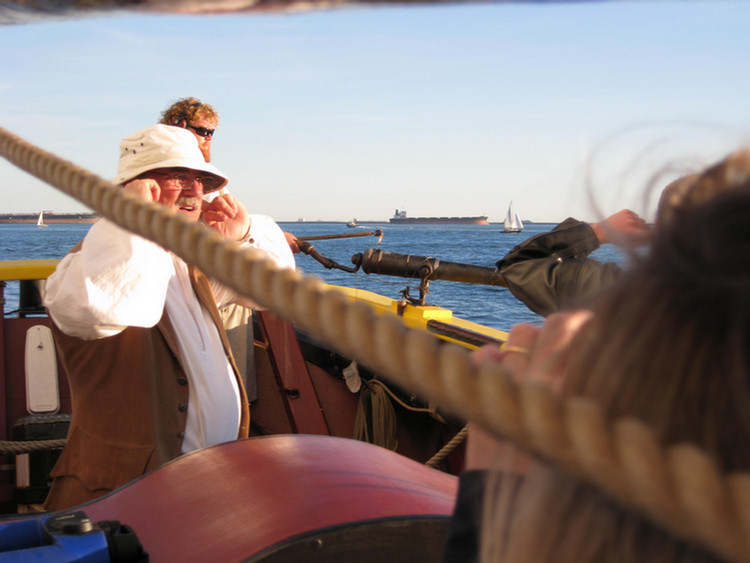 Boom!
The Sun Was Setting As We Returned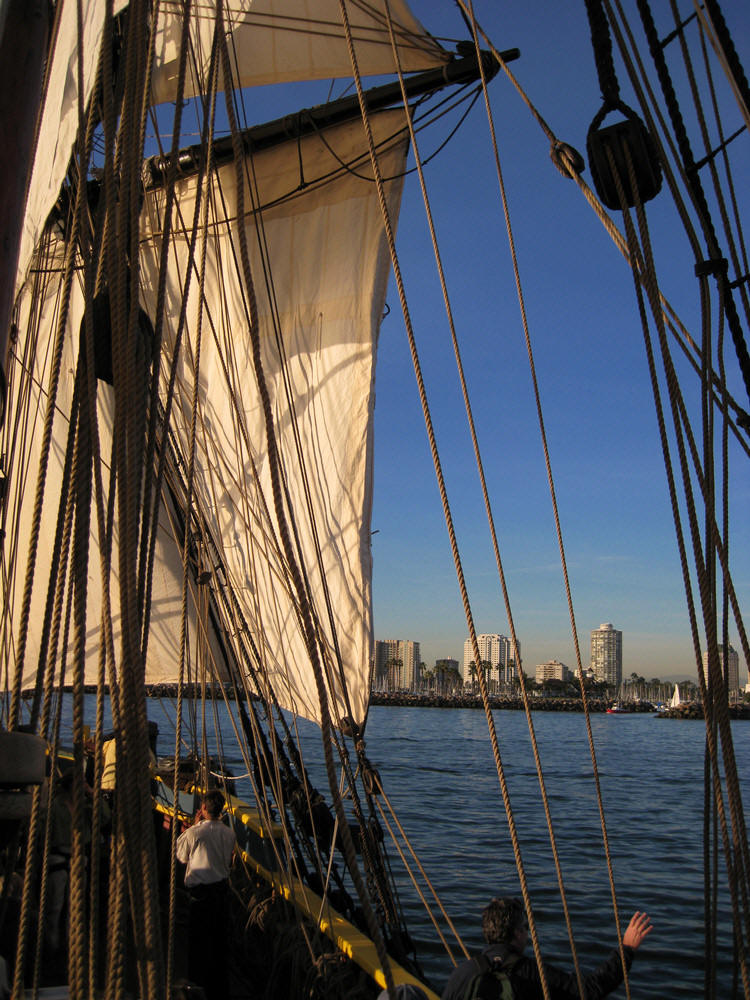 Time for the sails to come down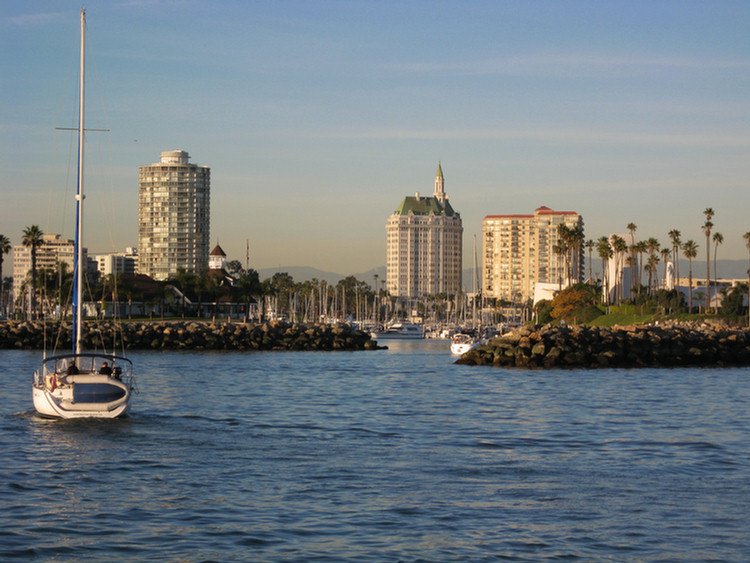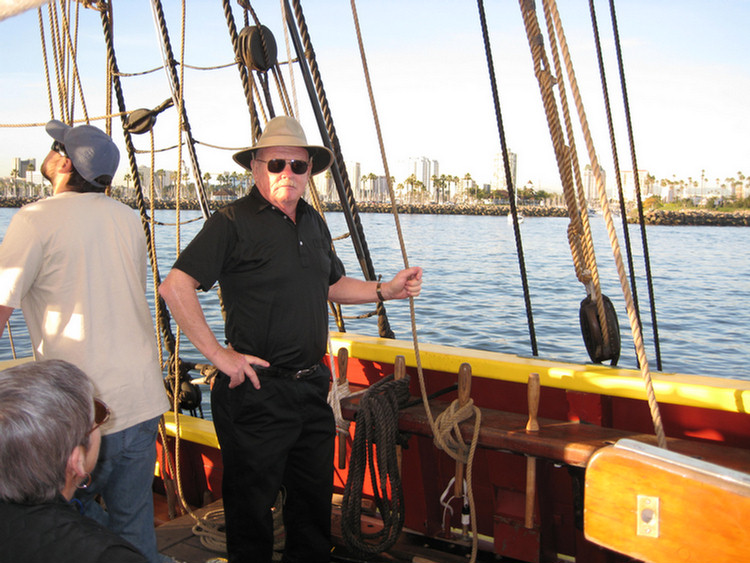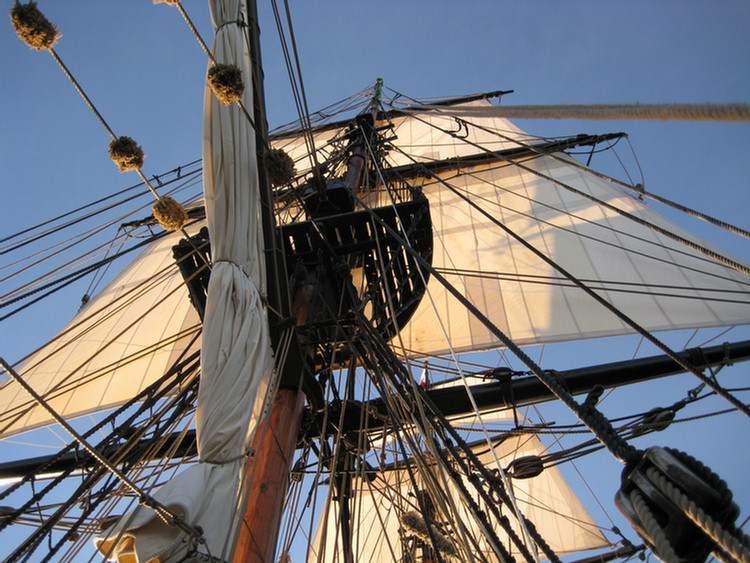 The lowering of the sails is a great activity to watch.. You can learn a lot from listening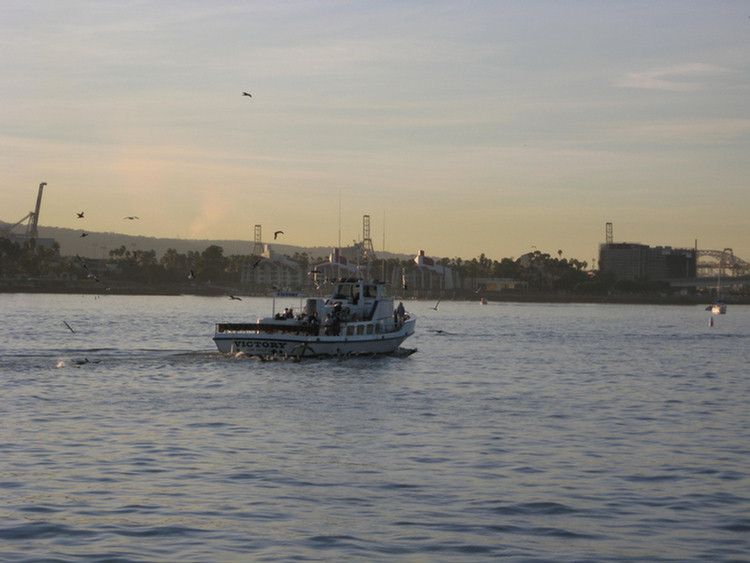 This was a new sail and they are like cardboard for a while.. Difficult to stow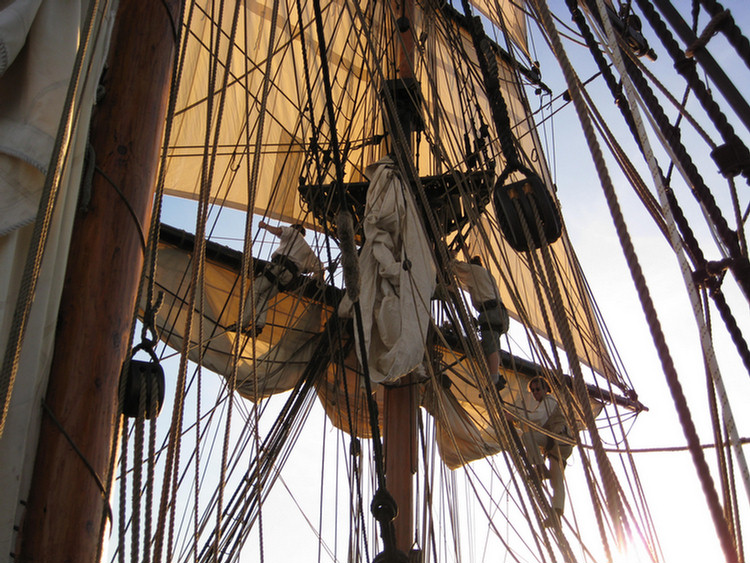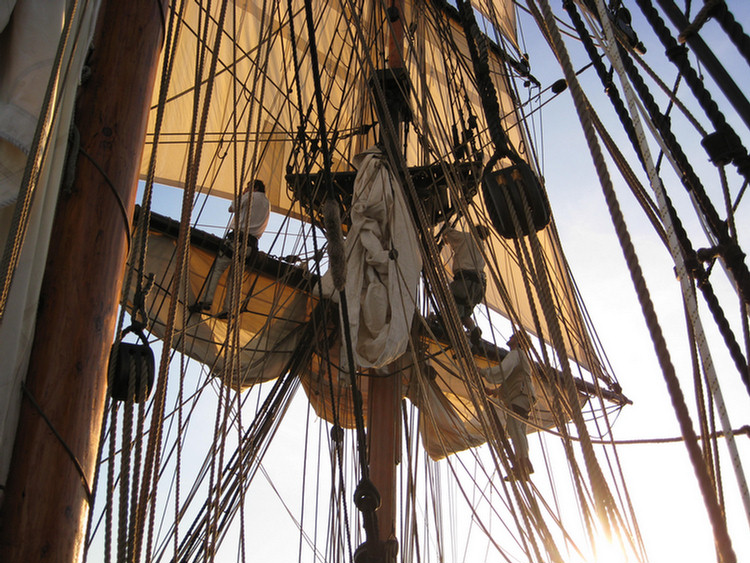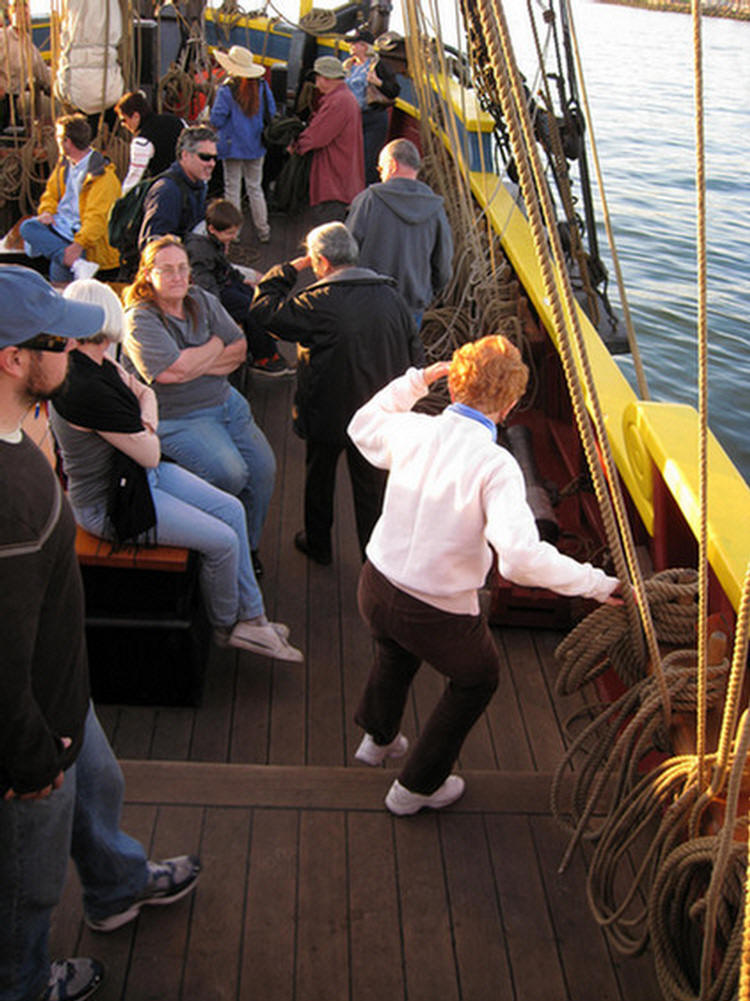 Time to go exploring

Vince went visiting downstairs

Nancy has done her shopping for the day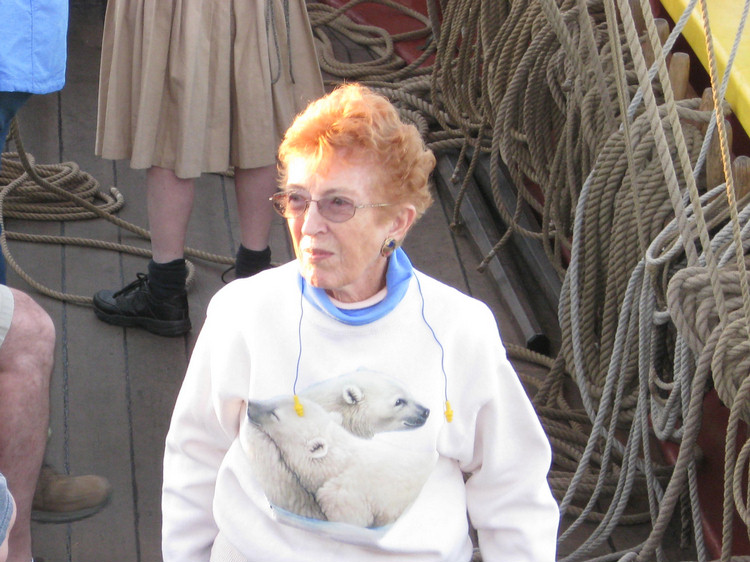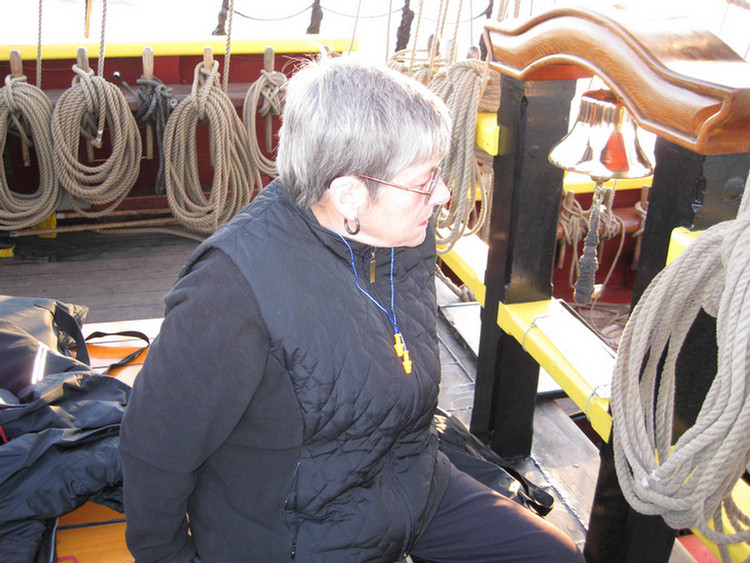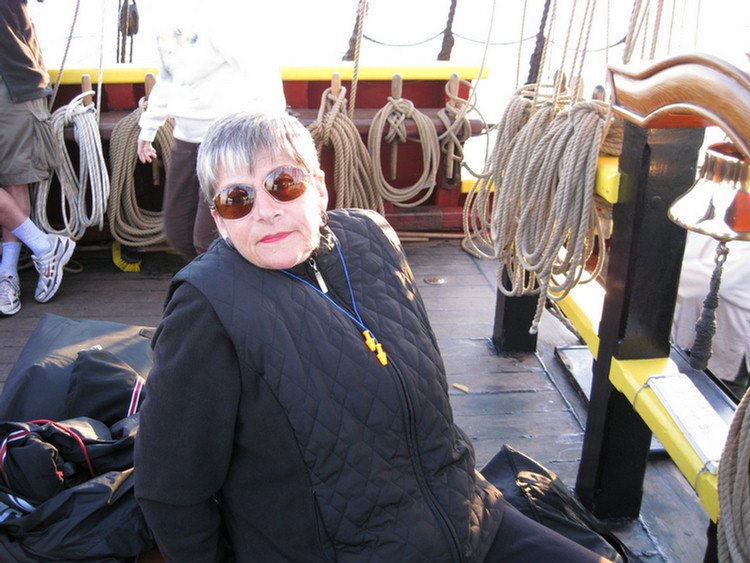 These Guys And Gals Are Working Hard 50 Feet Up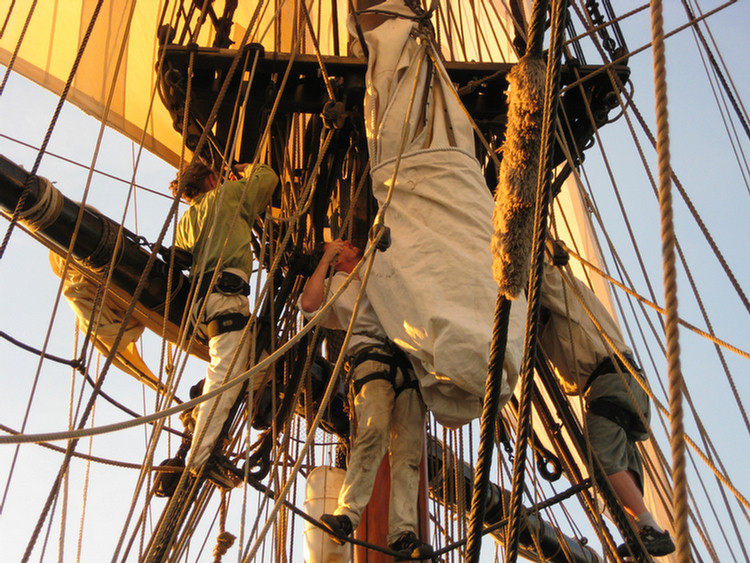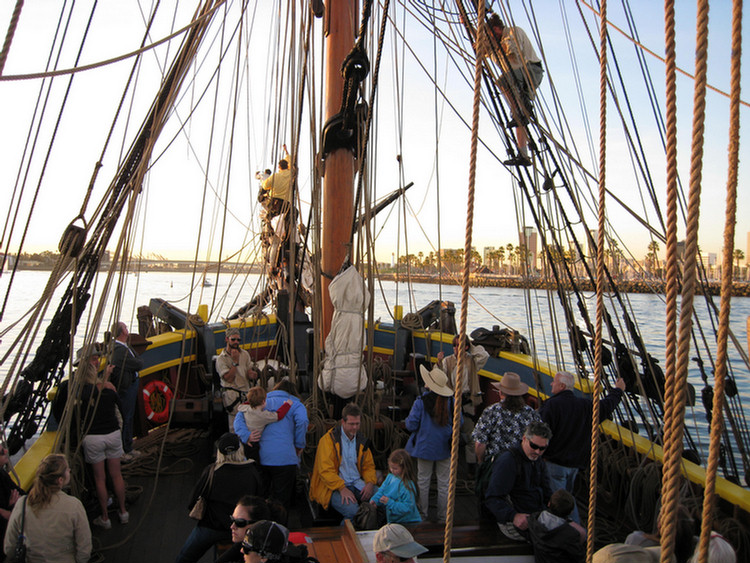 The Sun Is Almost Set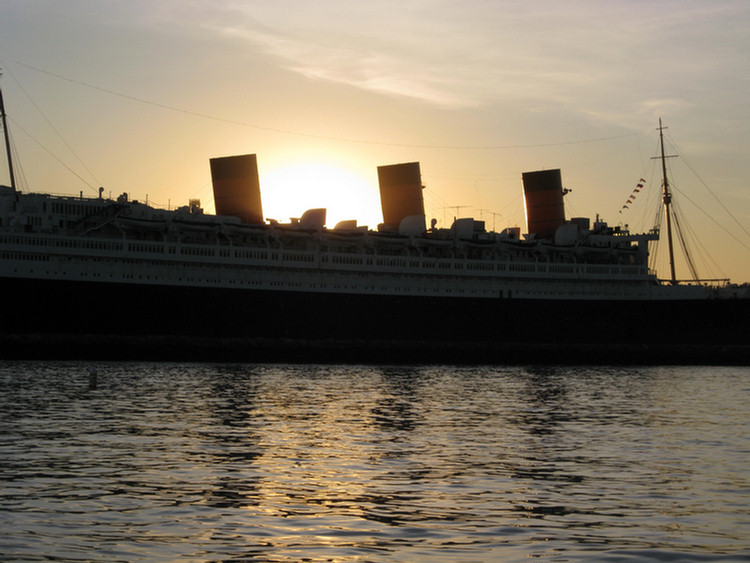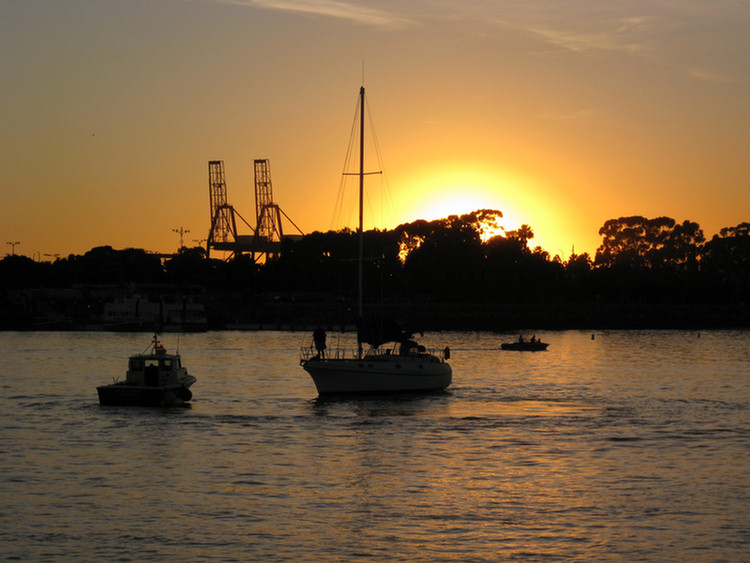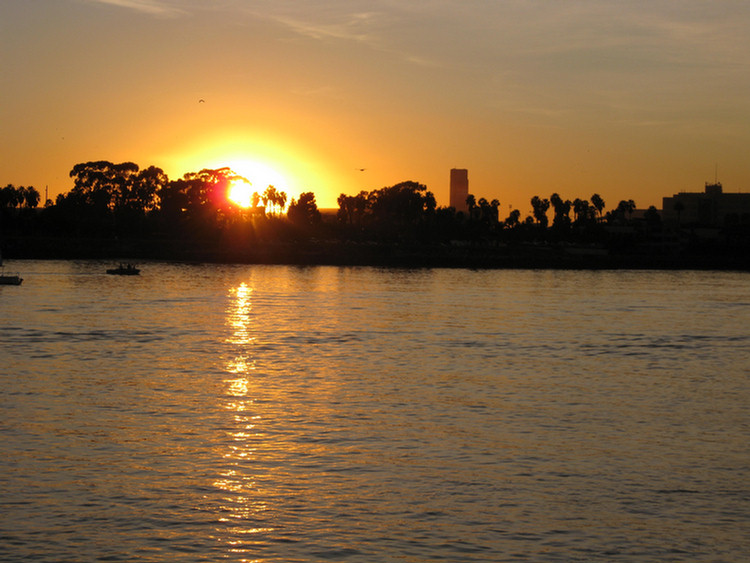 A golden sunset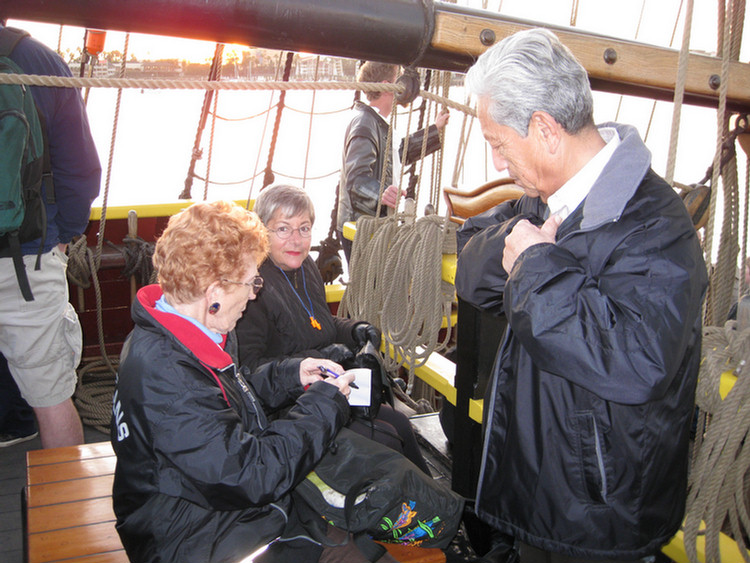 Sun goes down and jackets go on!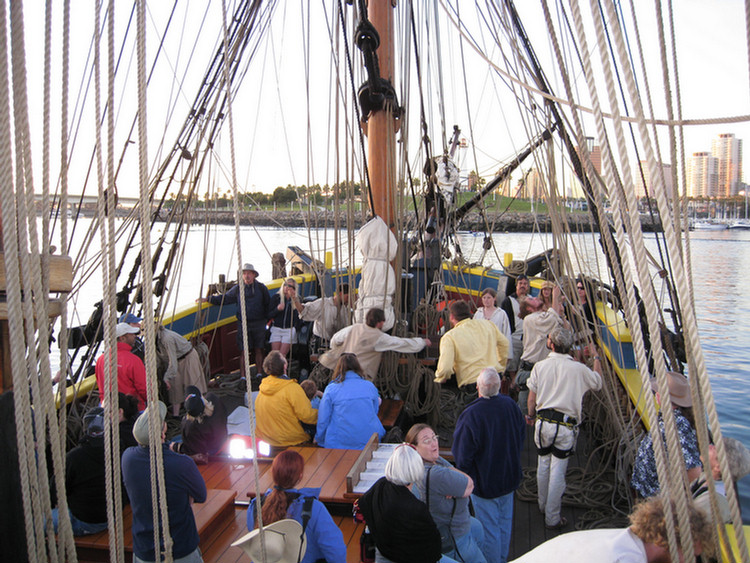 The crew members kept us entertained during the voyage... Laughing and singing!

The wharf awaits our arrival

Time for Questions and Answers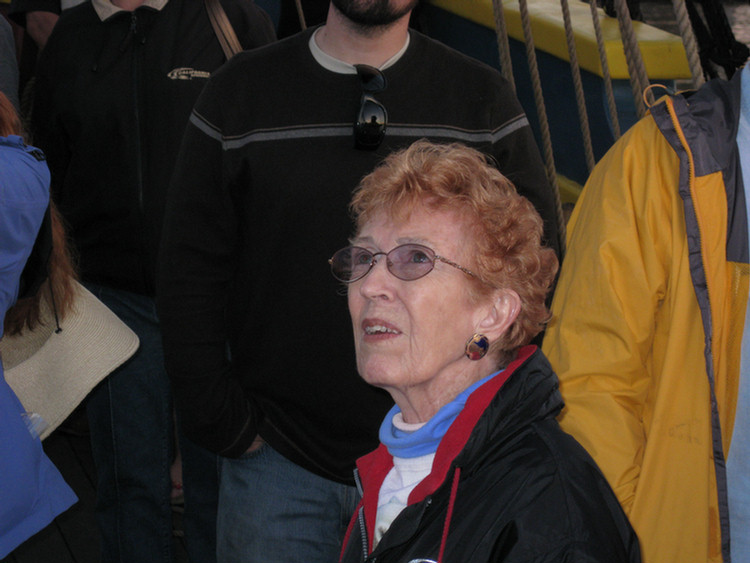 She was in a trance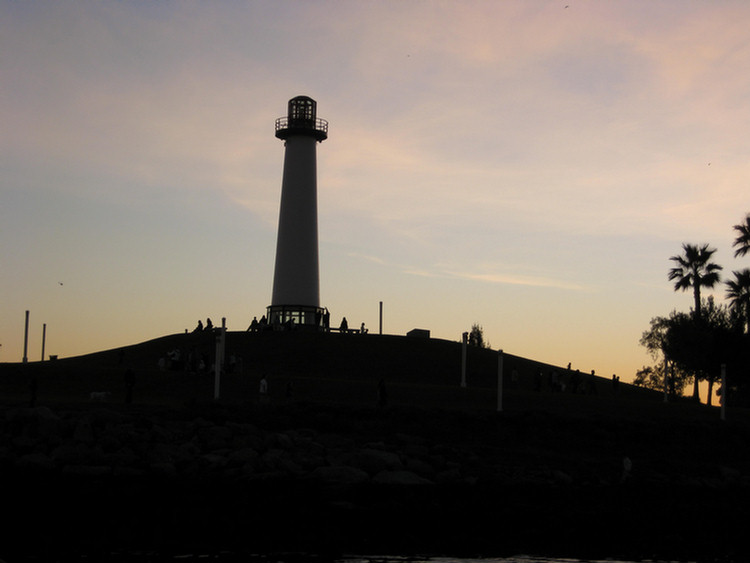 The harbor lighthouse provides the local landmark

The Captain addresses the guests
Land, Let's Eat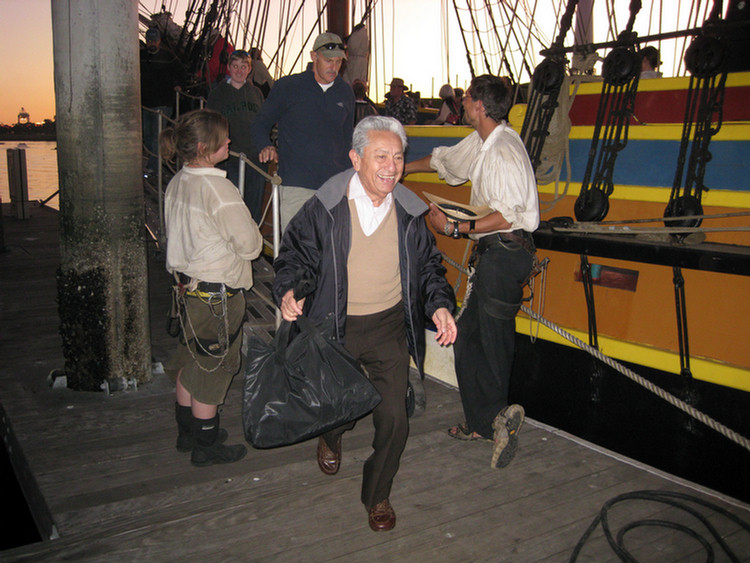 Why is he running??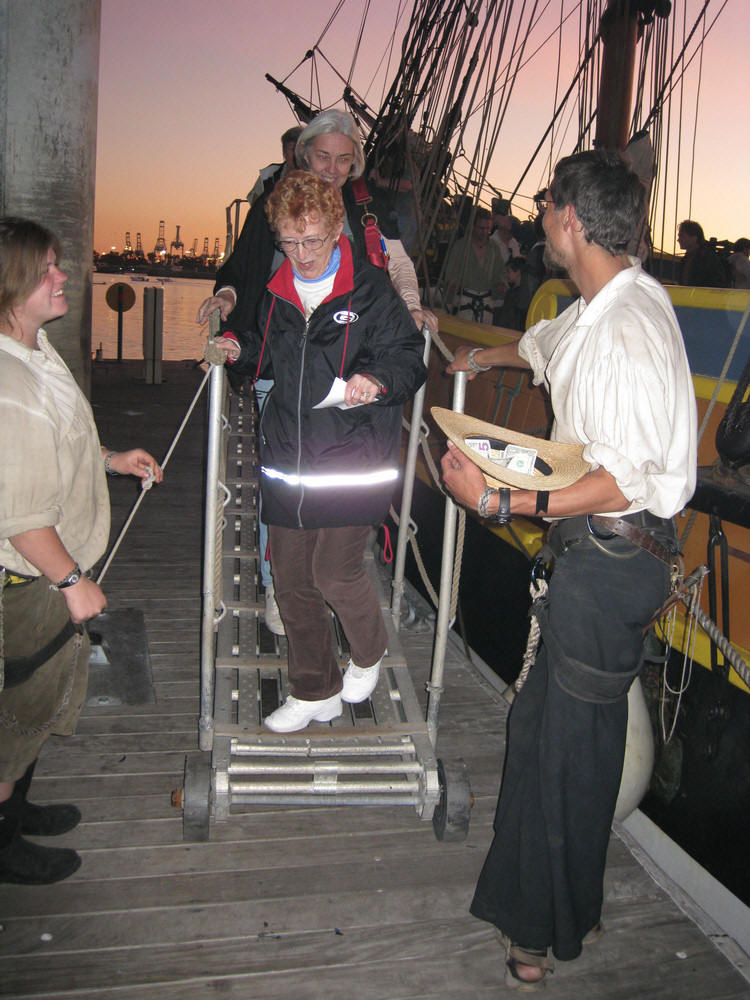 Nancy! Please do not reach into the hat and take money out this time!
Gladstones For Dinner... It Doesn't Get Better Than This!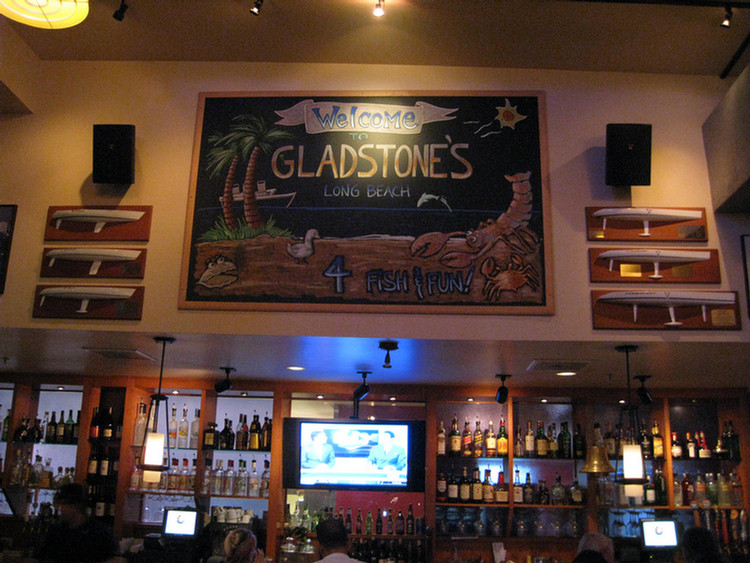 The bar was calling us!

Greg, Nancy and Vince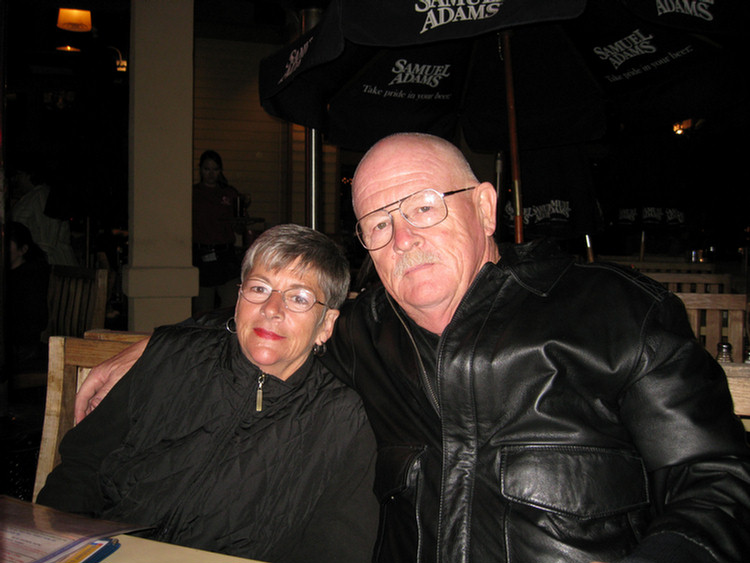 Sue and Paul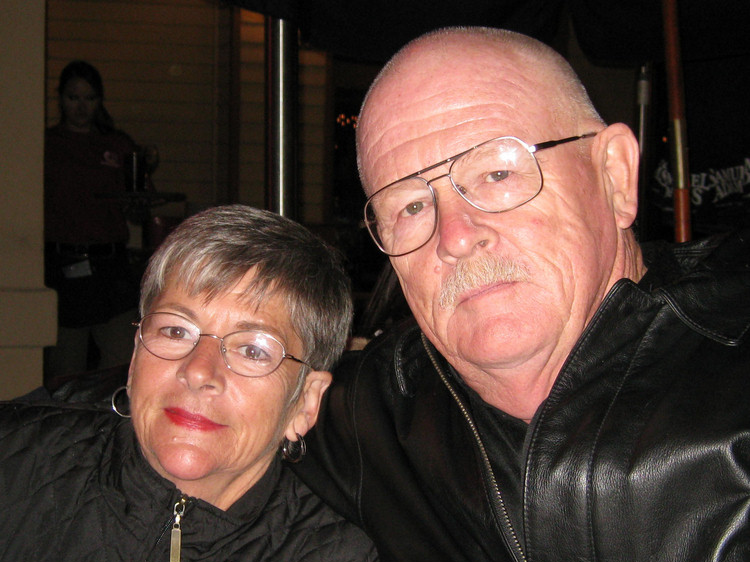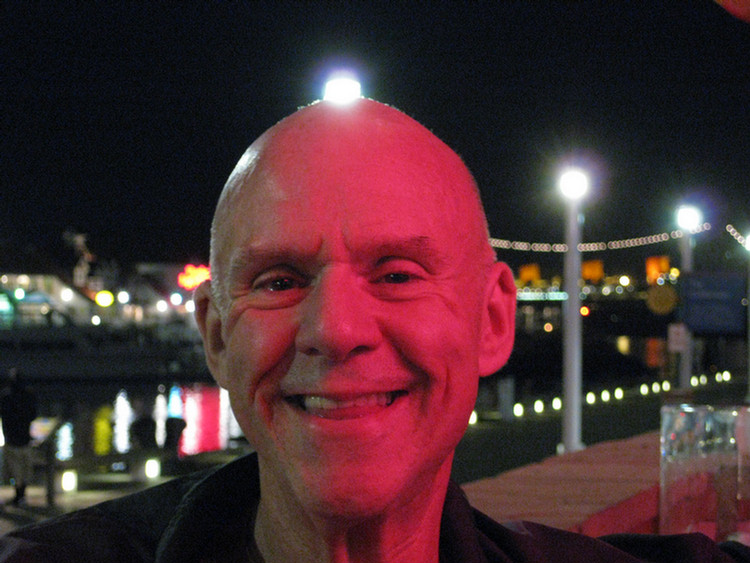 He is brilliant... especially with a little photographic assistance
Greg Is A Professional Zipperologist

Don't ask!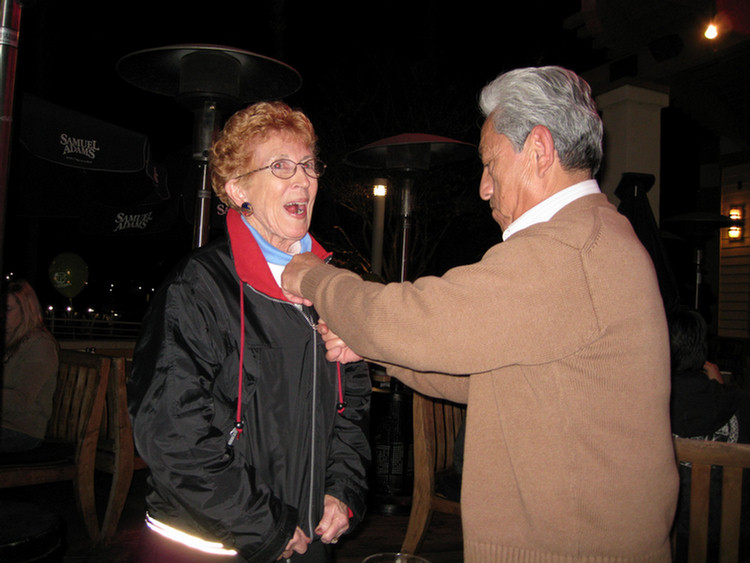 Now here is the professional in action! Nancy is enjoying this a little too much!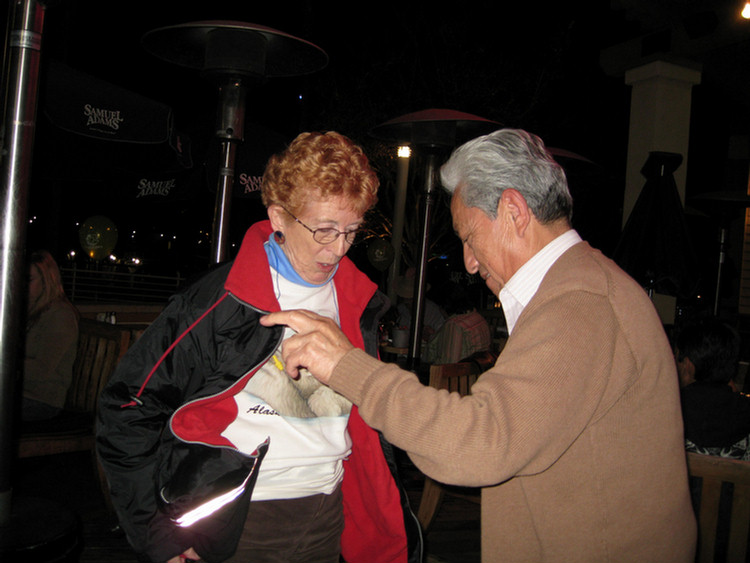 OK!
Through The Looking Glass

Picture taken through the table lamp!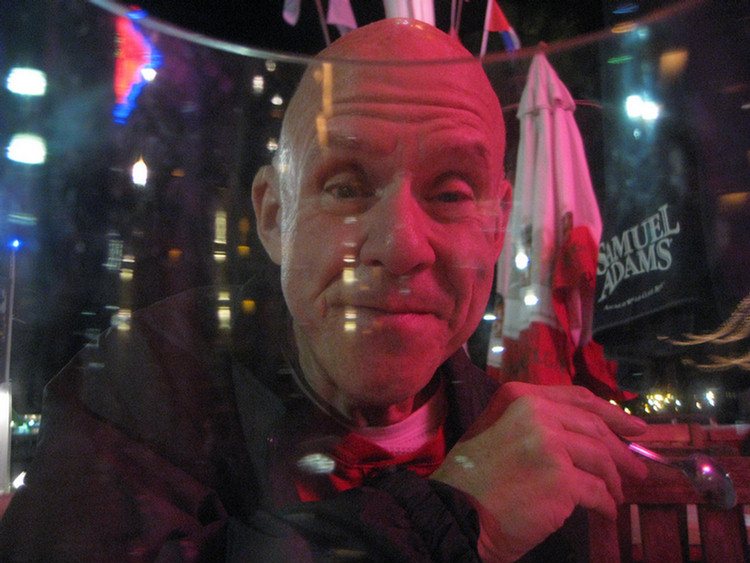 Greg looks better through the glass!
Time To Go Home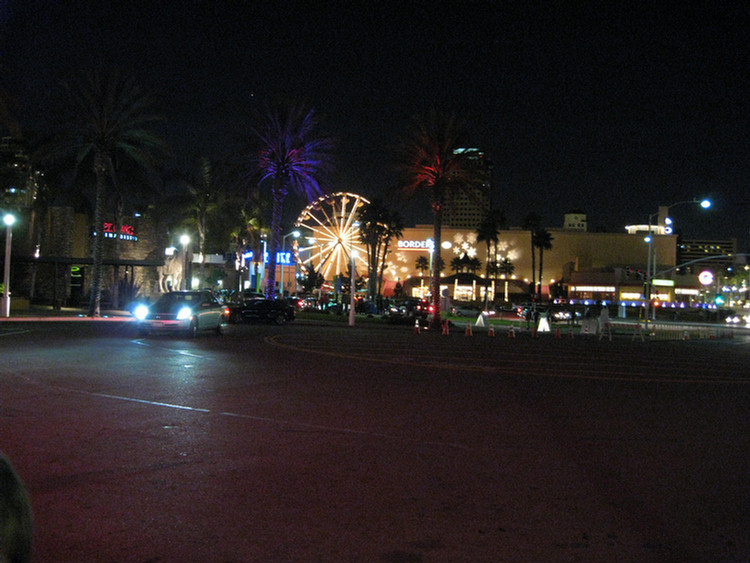 Vince, Nancy, Greg, Sue, and Paul heading for home!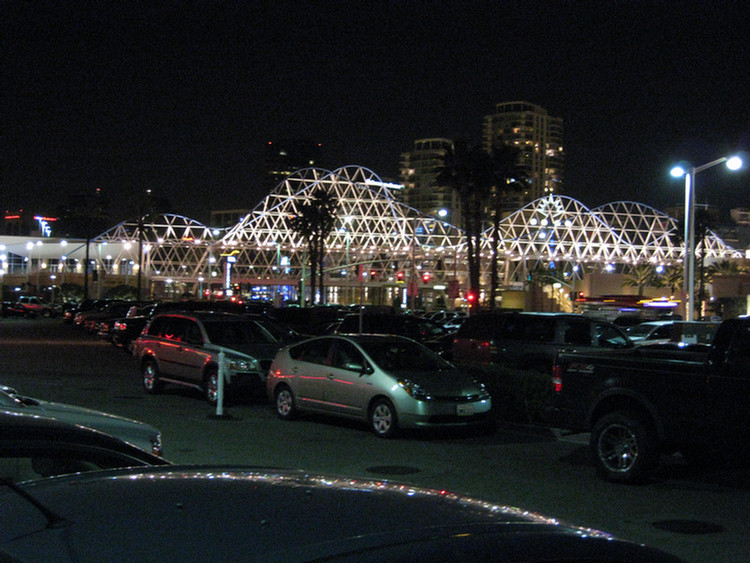 It was a delightful cruise