All tied up

The number of ropes is amazing

Was the dingy on the original ship?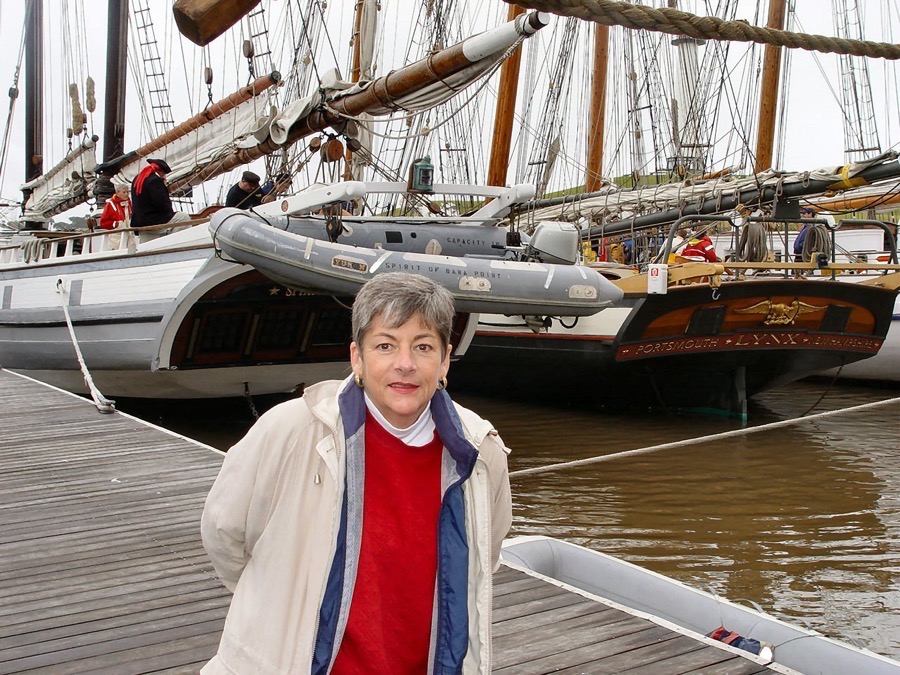 Someone is happy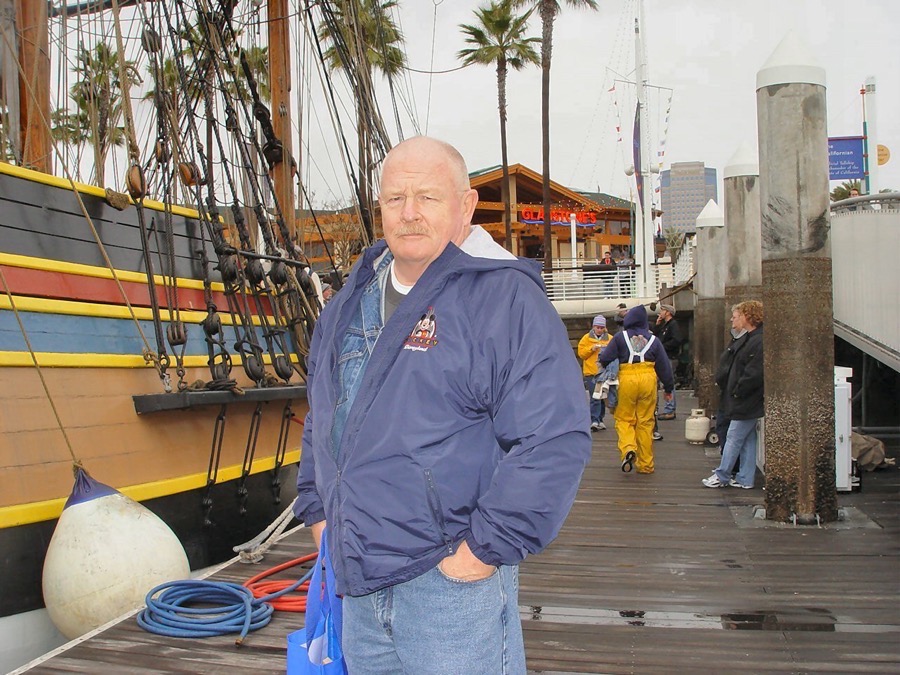 Warm clothes... We have learned our lesson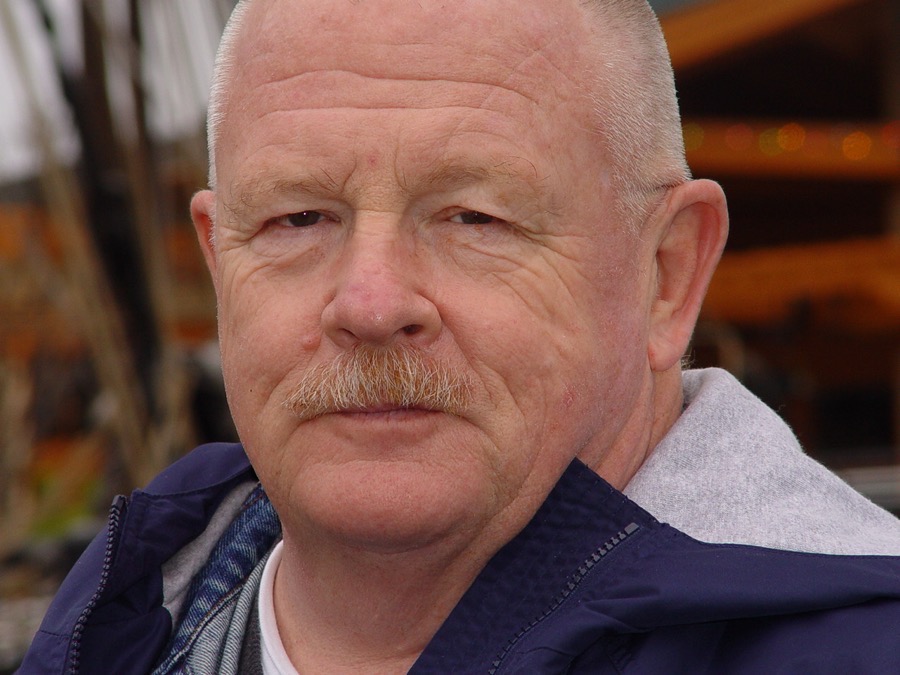 All smiles

Gladstones is our departure point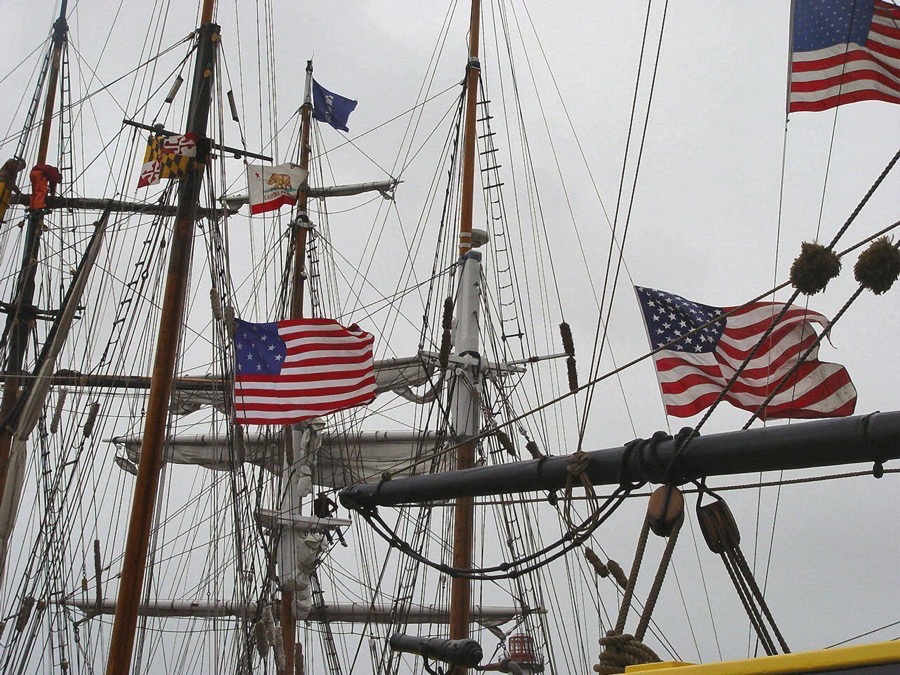 Breezy day... Excellent for sailing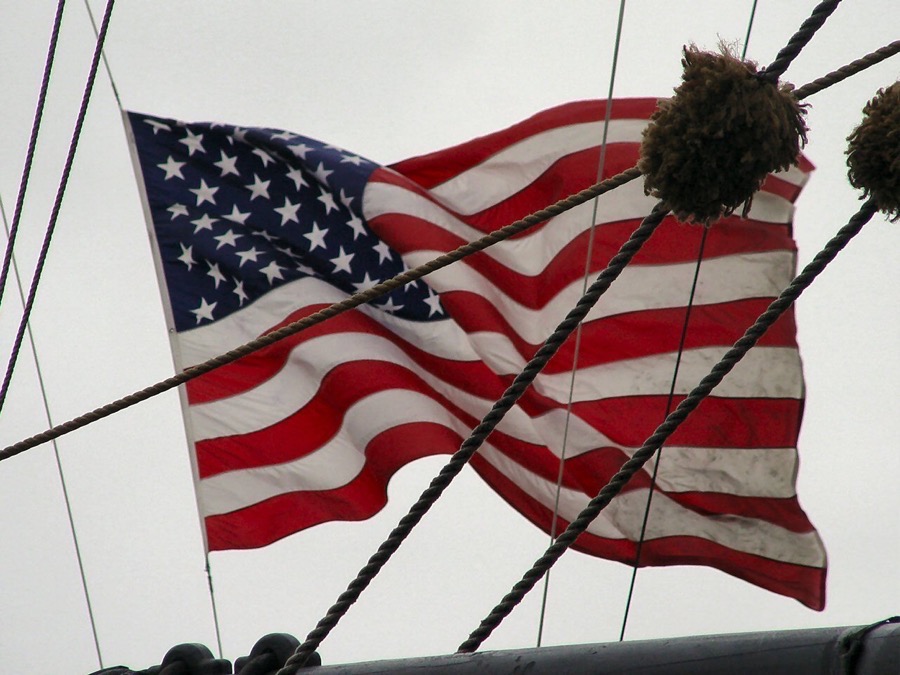 She looks beautiful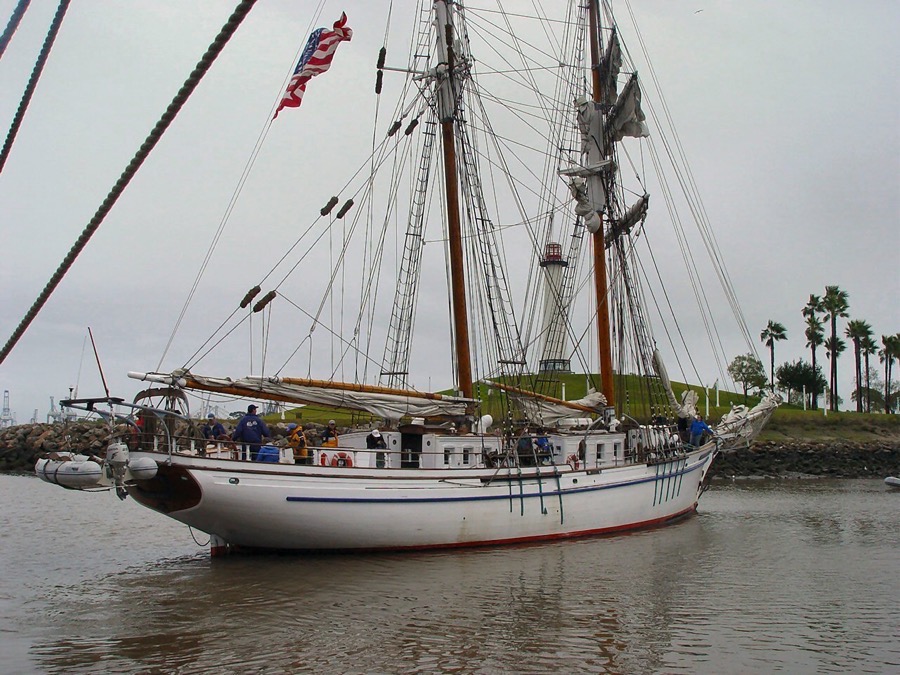 The Lady heads out first

We are next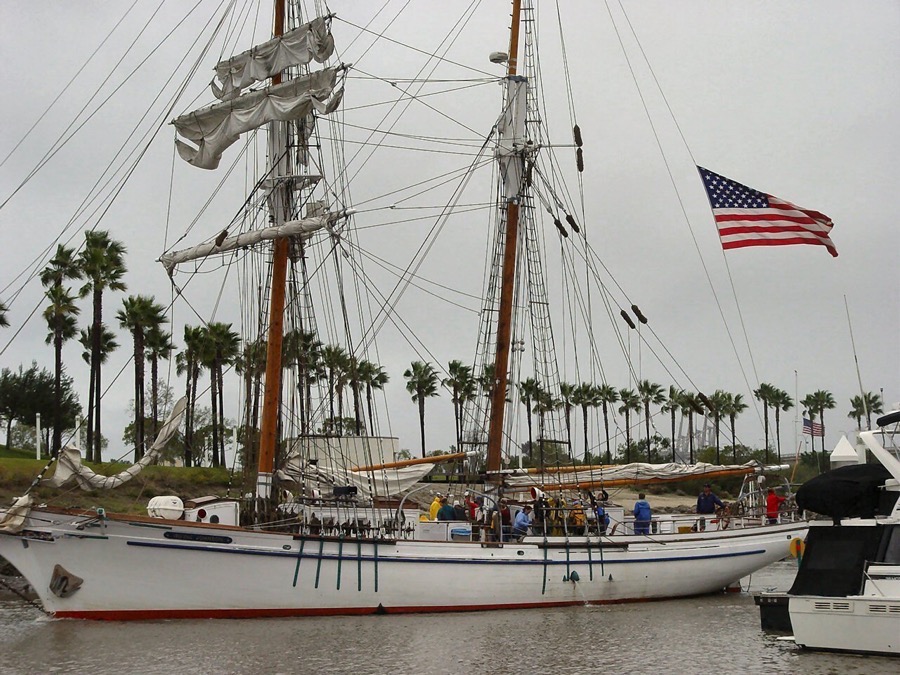 Heading out into the harbor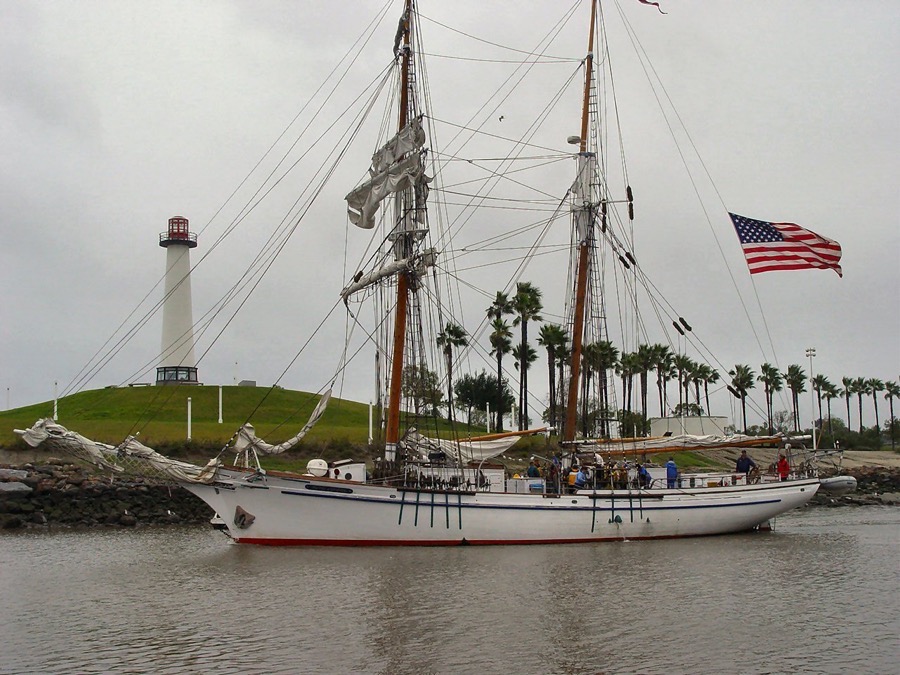 Off we go!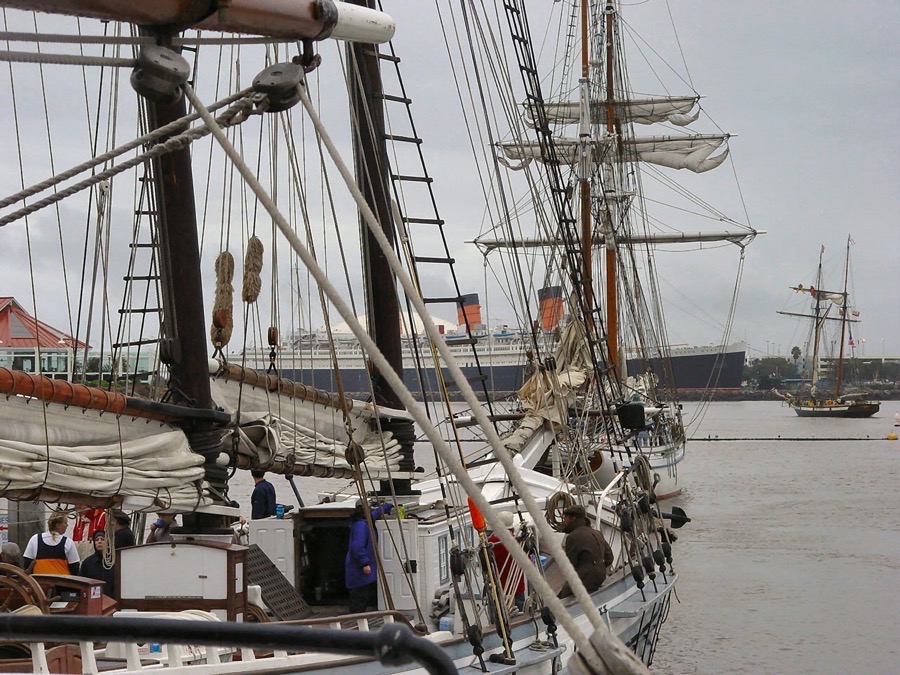 Outbound

We are on the Chieftan this year

It was a cold day so the "woosies" stayed on the dock...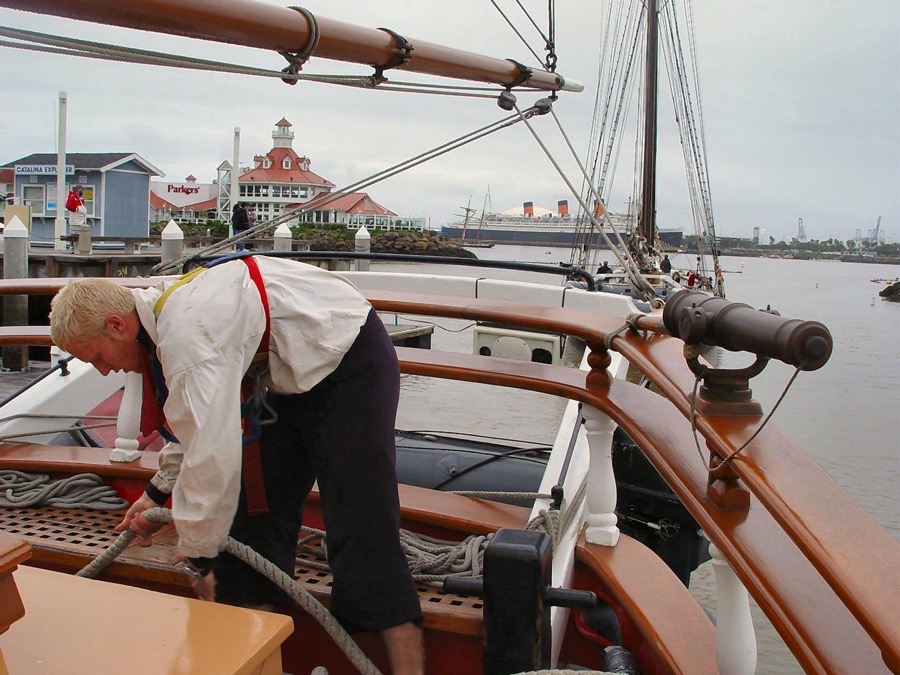 Keep those lines straight

Drop the lines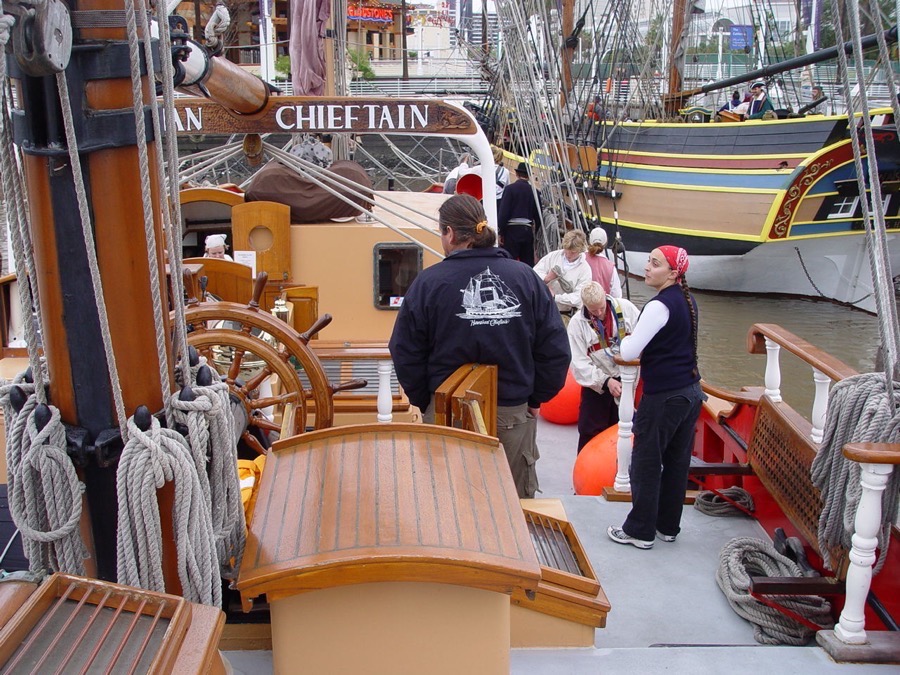 In reverse

Checkout the dash board

Flotsam and jetsom coming down the channel
Did You Know? - For other uses, see Flotsam and jetsam (disambiguation).
Flotsam on a beach at Terschelling, Wadden Sea
In maritime law, flotsam, jetsam, lagan and derelict are specific kinds of shipwreck. The words have specific nautical meanings, with legal consequences in the law of admiralty and marine salvage:
Flotsam is floating wreckage of a ship or its cargo.


Jetsam is part of a ship, its equipment, or its cargo that is purposely cast overboard or jettisoned to lighten the load in time of distress and is washed ashore.

Lagan (also called ligan) is goods or wreckage that is lying on the bottom of the ocean, sometimes marked by a buoy, which can be reclaimed.

Derelict is cargo that is also on the bottom of the ocean, but which no one has any hope of reclaiming (in other maritime contexts, derelict may also refer to a drifting abandoned ship).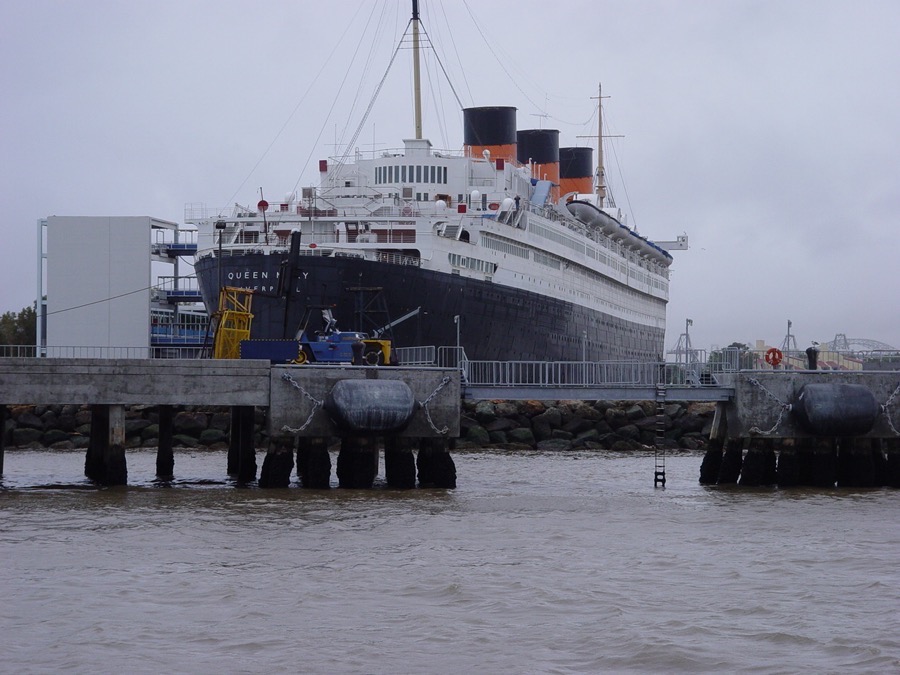 The Queen still reigns over the bay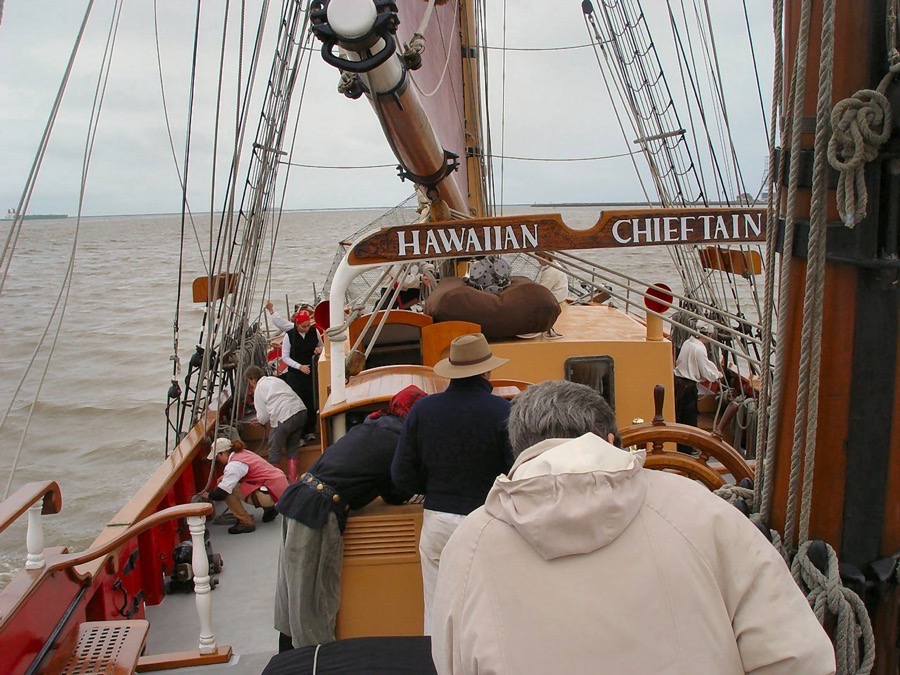 Great breeze today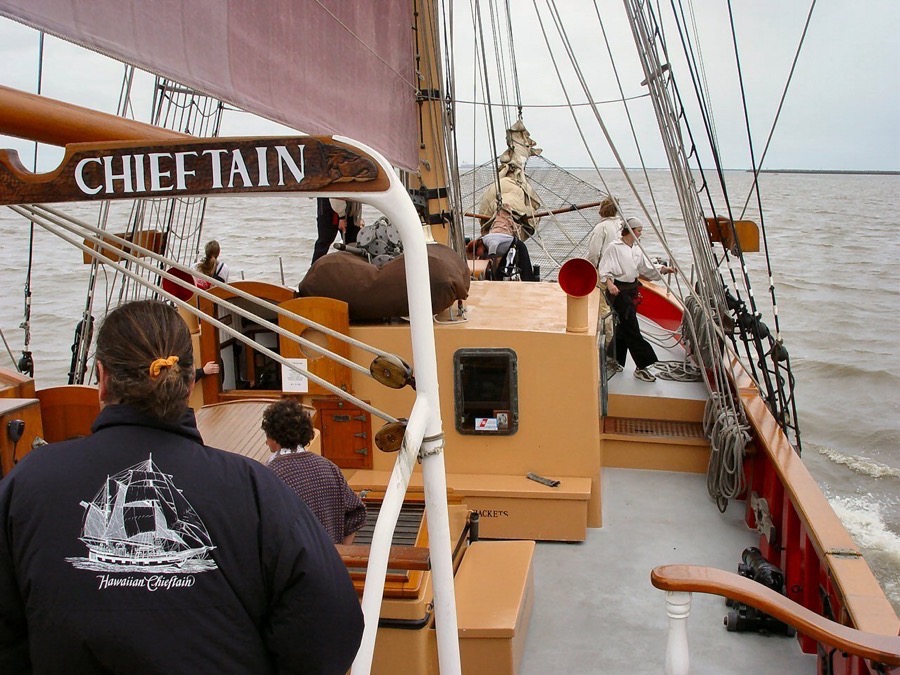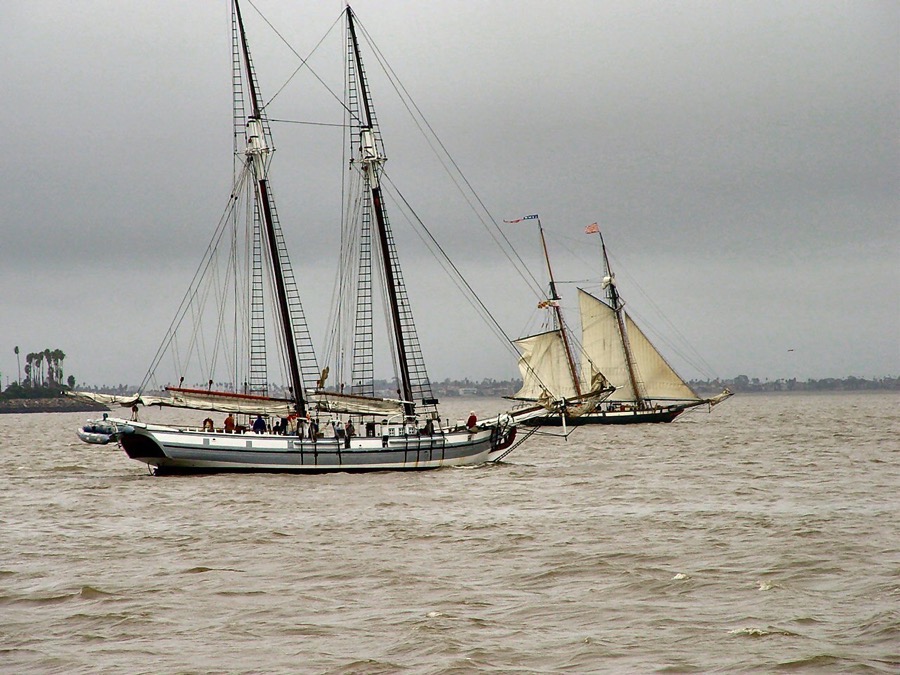 Heeling over
Did You Know? - When a ship or boat leans over to one side, from the action of waves or from the centrifugal force of a turn or under wind pressure or from amount of exposed topsides, it is said to 'heel'.
A sailing boat that is over-canvassed and therefore heeling, may sail less efficiently depending on fundamental or opportunistic factors such as temporary nature of the feature (e.g. wind gust), use (e.g. racing), crew ability, point of sail, hull size & design.

When a vessel is subject to a heeling force (such as wind pressure), vessel buoyancy & beam of the hull will counter-act the heeling force. A weighted keel provides additional means to right the boat.
In some high-performance racing yachts, water ballast or the angle of a canting keel can be changed to provide additional righting force to counteract heeling. The crew may move their personal weight to the high (upwind) side of the boat, this is called hiking, which also changes the centre of gravity & produces a righting lever to reduce the degree of heeling. Incidental benefits include faster vessel speed caused by more efficient action of the hull & sails.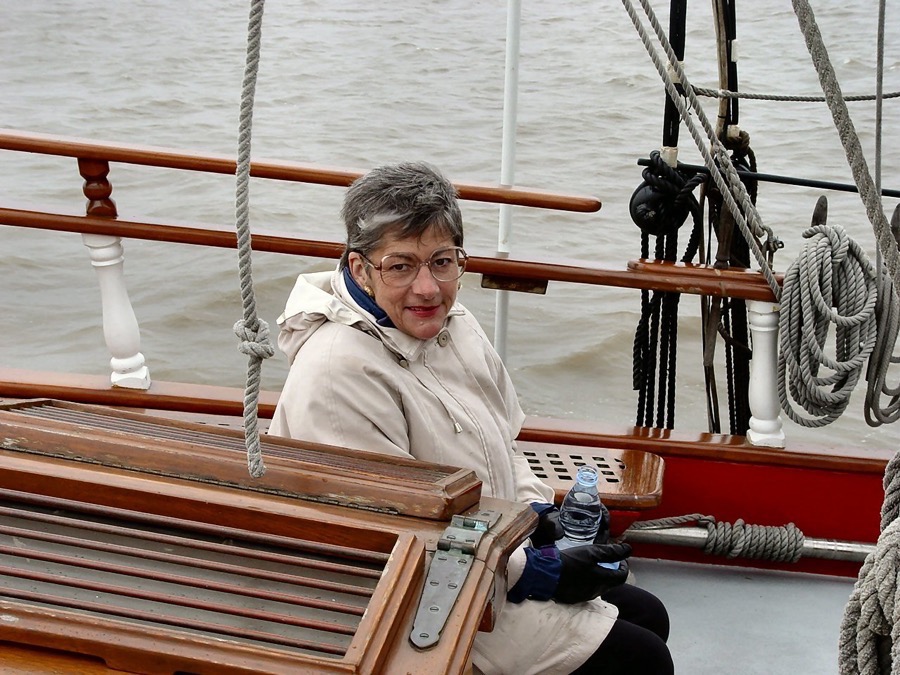 Beautiful! Simply beautiful

Everone is bundled up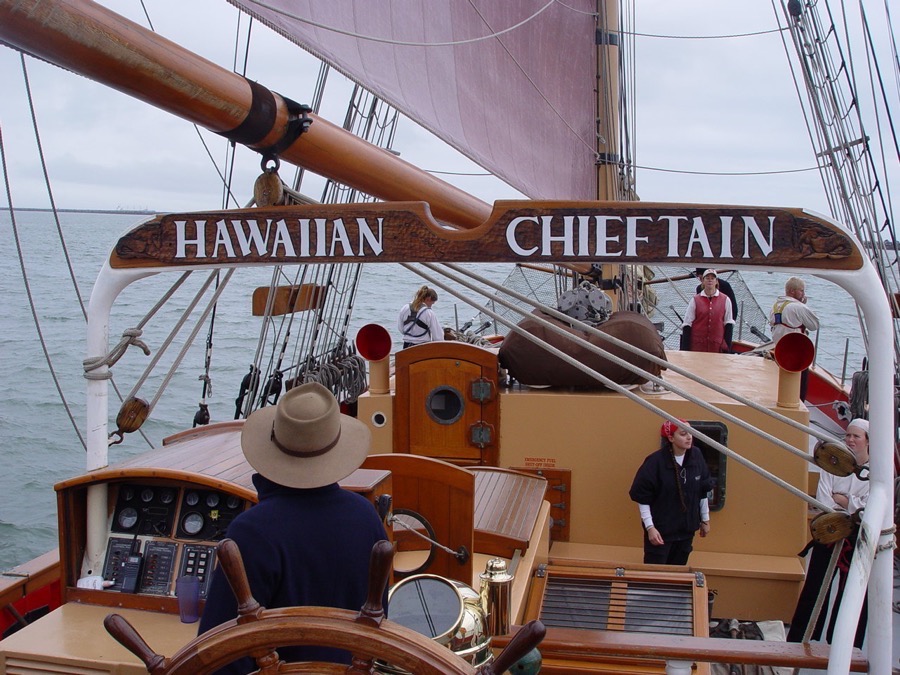 Love the Captains bonnet

Rail cannons at the ready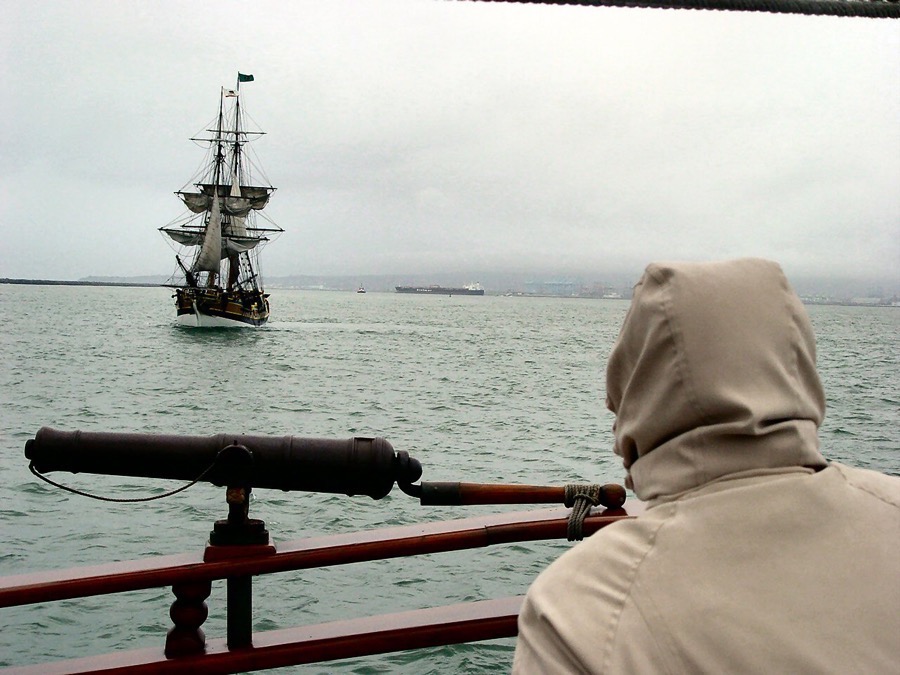 Sue thinks they are going to ram us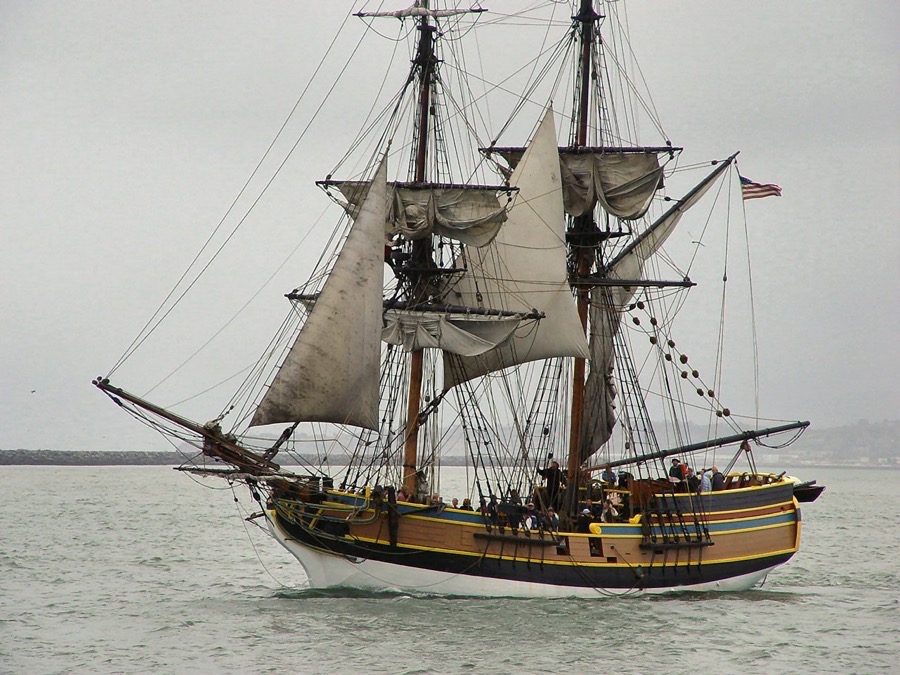 They are putting up more sail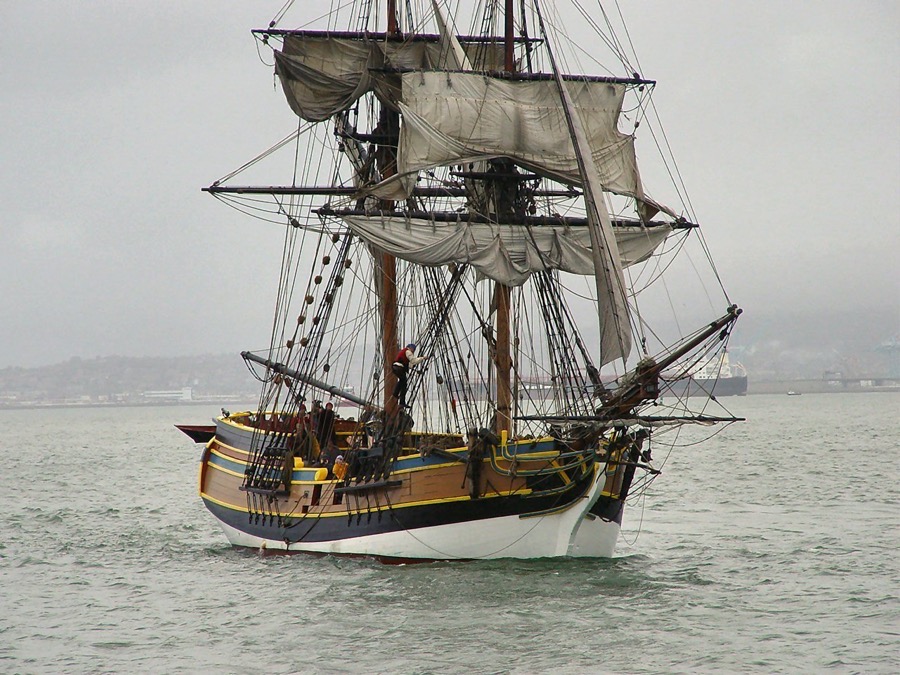 Moving right along

Rubber shoes are helpful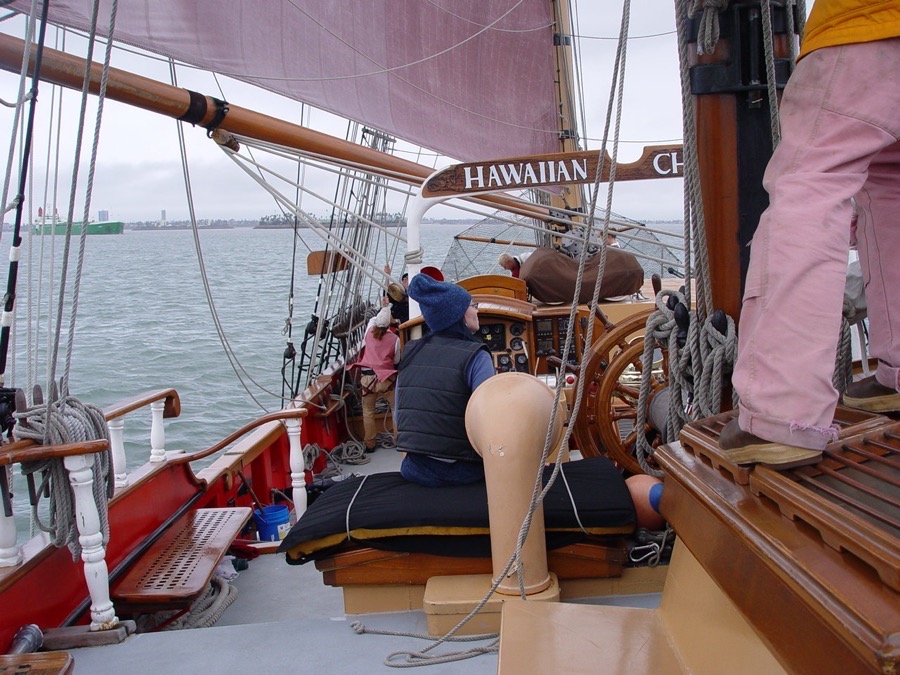 The boat was empty today

Coming along side... Prepare the cannons

First shot of the day
Did You Know? - Naval artillery in the Age of Sail encompasses the period of roughly 1571-1862: when large, sail-powered wooden naval warships dominated the high seas, mounting a bewildering variety of different types and sizes of cannon as their main armament. By modern standards, these cannon were extremely inefficient, difficult to load, and short ranged. These characteristics, along with the handling and seamanship of the ships that mounted them, defined the environment in which the Naval tactics in the Age of Sail developed.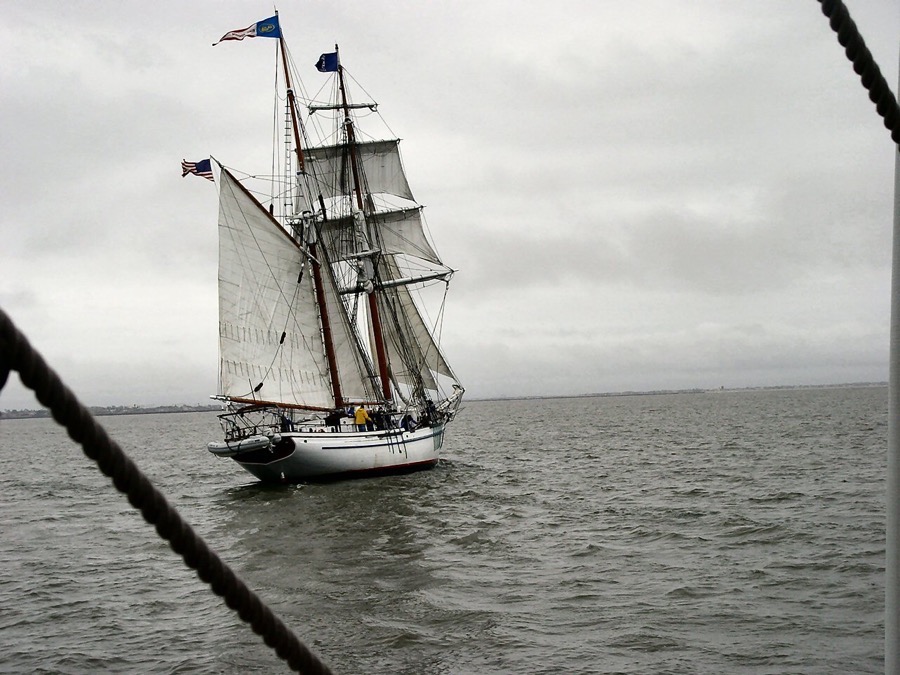 Definitely a gray day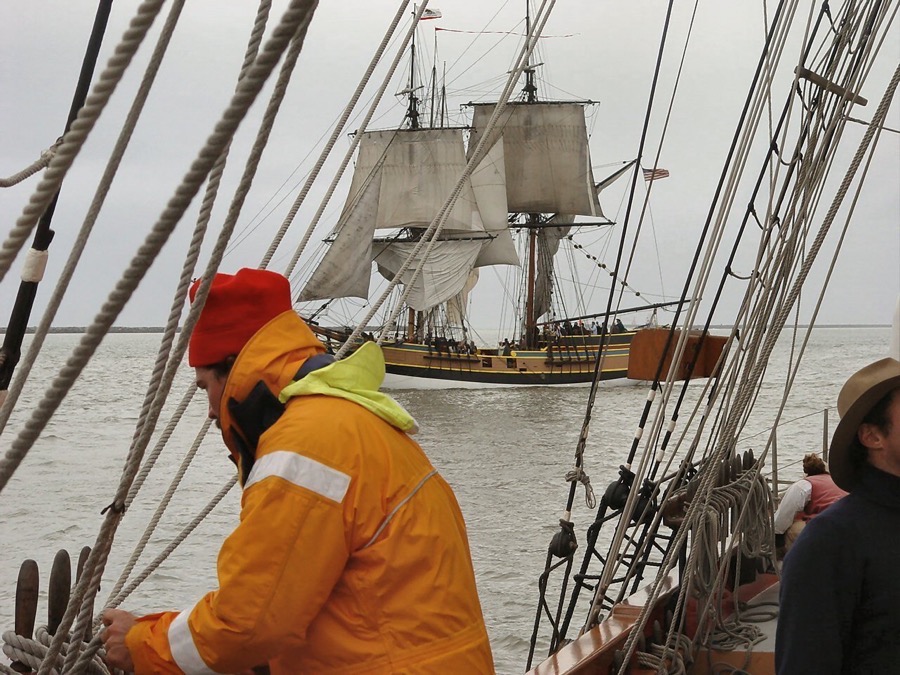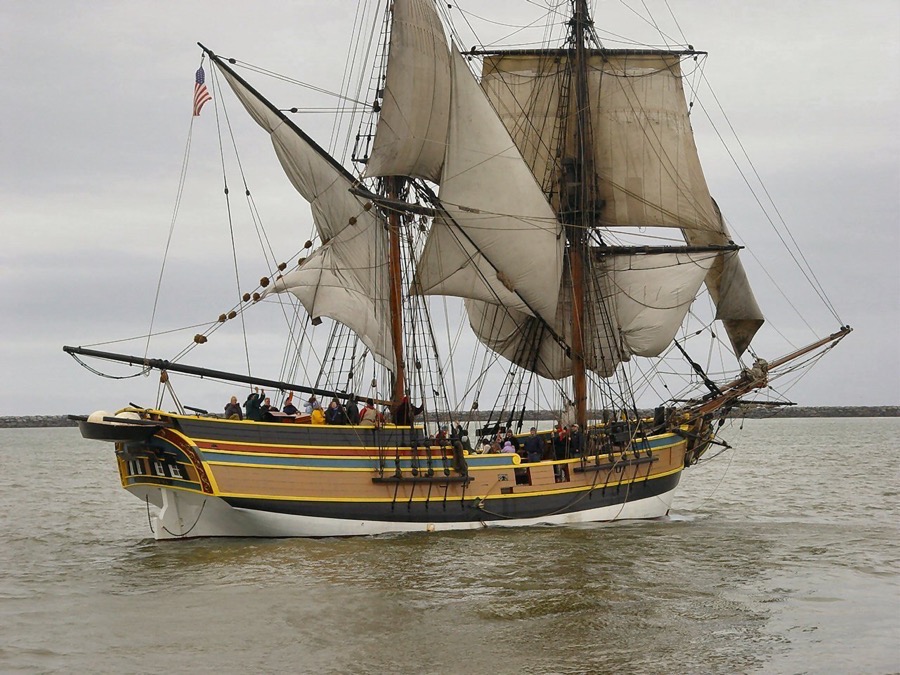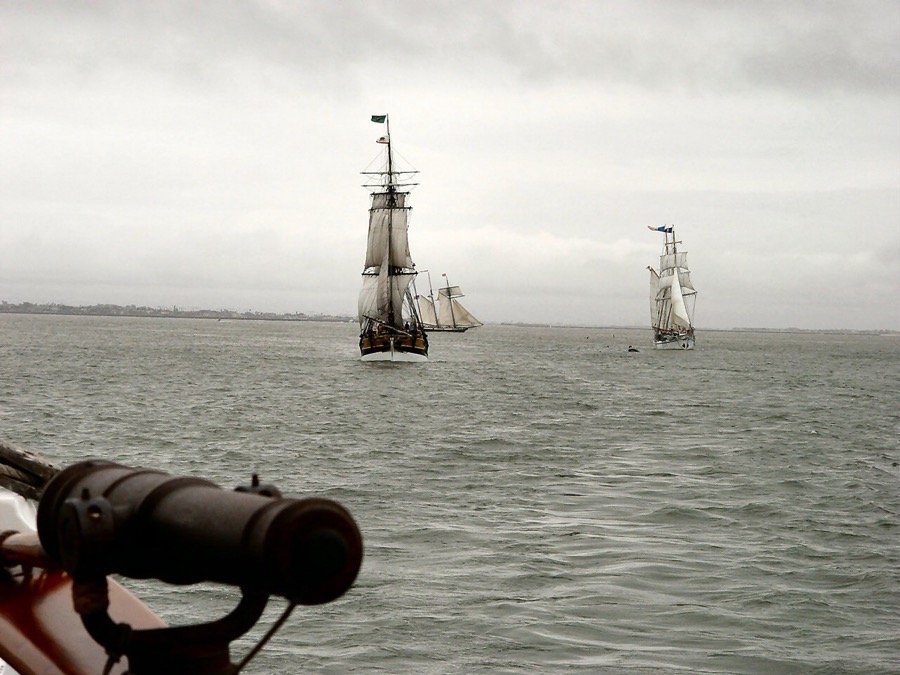 We had four ships out today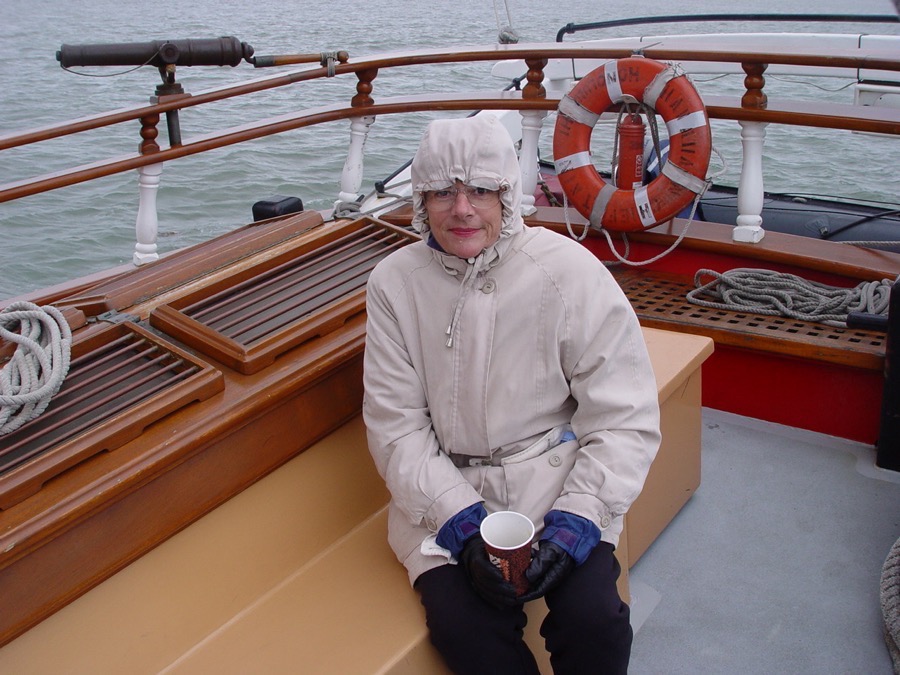 B-r-r-r-r-r-r-r
The Battles Rage On
In spite of the cold and wind, we must proceed into battle bravely. Off we go!

Seven knotts and moving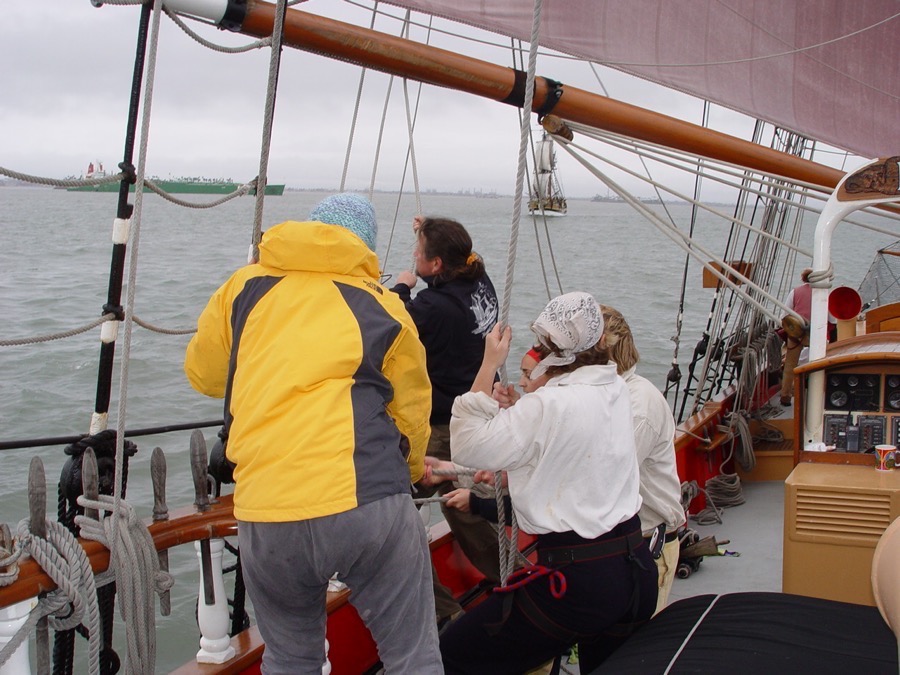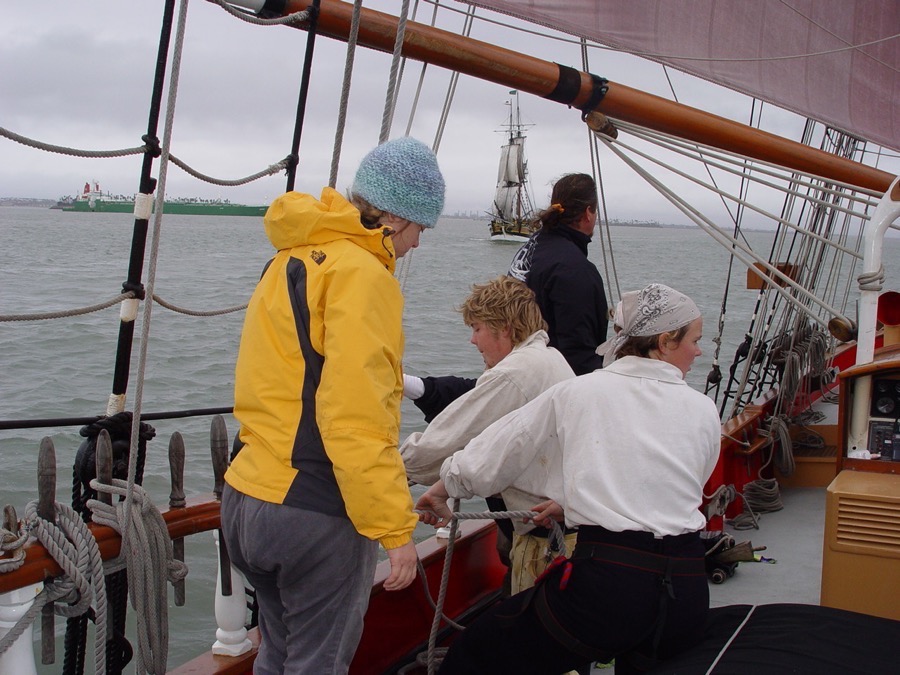 Setting additional sails

Lookout... Here she comes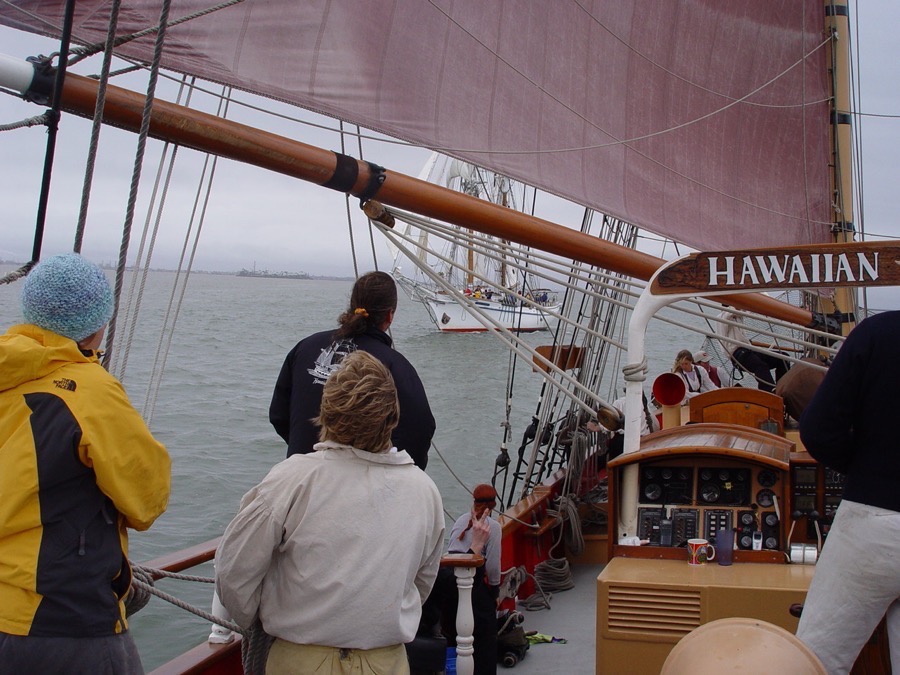 One additinal pass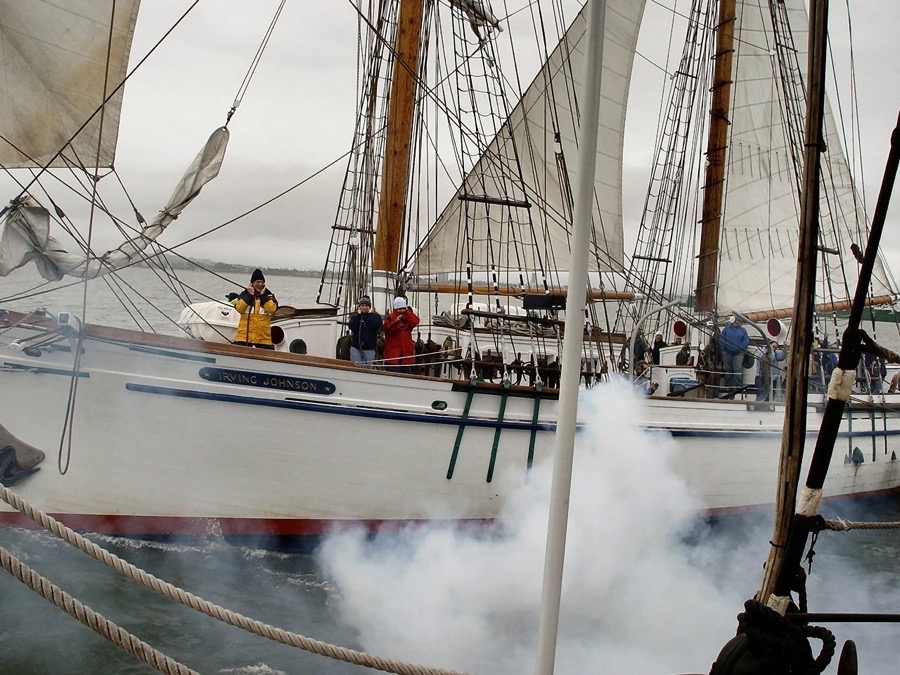 Bam
Did You Know? - In addition to varying shot weights, different types of shot were employed for various situations:
Round shot - Solid spherical cast-iron shot, the standard fare in naval battles.

Canister shot - Cans filled with dozens of musket balls. The cans broke open on firing to turn the gun into a giant shotgun for use against enemy personnel.

Grapeshot - Canvas-wrapped stacks of smaller round shot which fitted in the barrel, typically three or more layers of three. Some grape shot was made with thin metal or wood disks between the layers, held together by a central bolt. The packages broke open when fired and the balls scattered with deadly effect. Grape was often used against the enemy quarterdeck to kill or injure the officers, or against enemy boarding parties.

Chain-shot - Two iron balls joined together with a chain. This type of shot was particularly effective against rigging, boarding netting and sails since the balls and chain would whirl like bolas when fired.

Bar shot - Two balls or hemispheres joined by a solid bar. Their effect was similar to chain shot.

Expanding bar shot - Bar shot connected by a telescoping bar which extended upon firing.

Link shot - A series of long chain links which unfolded and extended upon firing.

Langrage - Bags of any old junk — scrap metal, bolts, rocks, gravel, old musket balls, etc. — fired to injure enemy crews.

Fire arrows - A thick dartlike incendiary projectile with a barbed point, wrapped with pitch-soaked canvas which took fire when the gun was fired. The point stuck in sails, hulls or spars and set fire to the enemy ship.

Heated shot - Shore forts sometimes heated iron shot red-hot in a special furnace before loading it (with water-soaked wads to prevent it from setting off the powder charge prematurely.) The hot shot lodging in a ship's dry timbers would set the ship afire. Because of the danger of fire aboard, heated shot were seldom used aboard ships.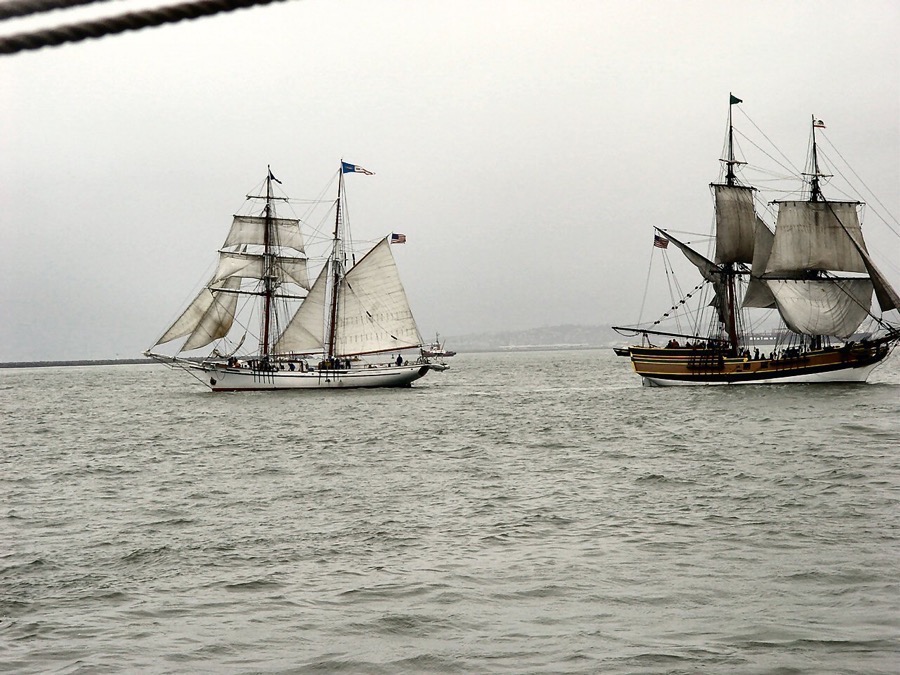 They are ganging up on us

Black powder smoke everywhere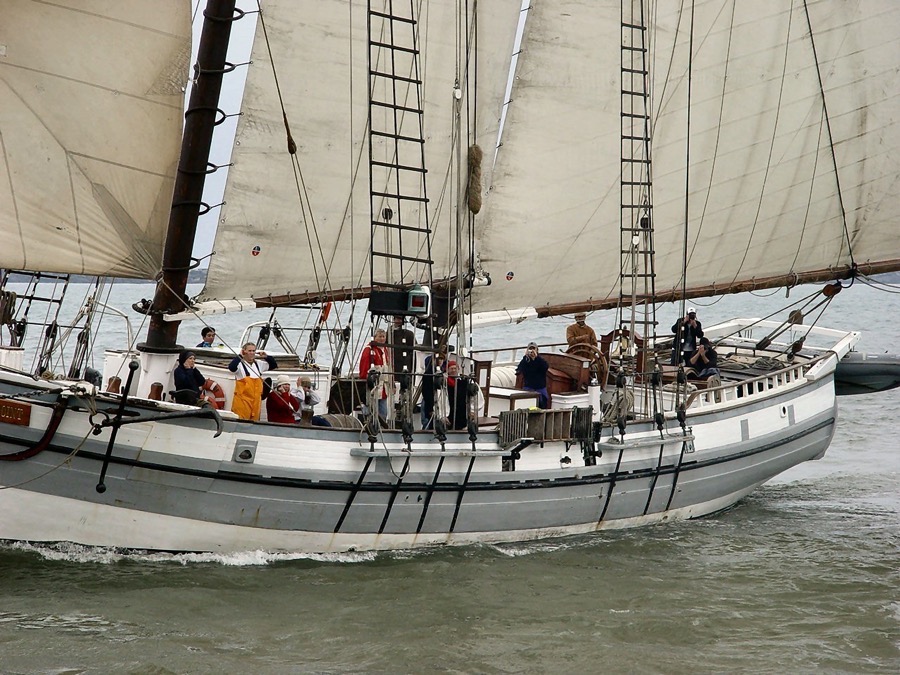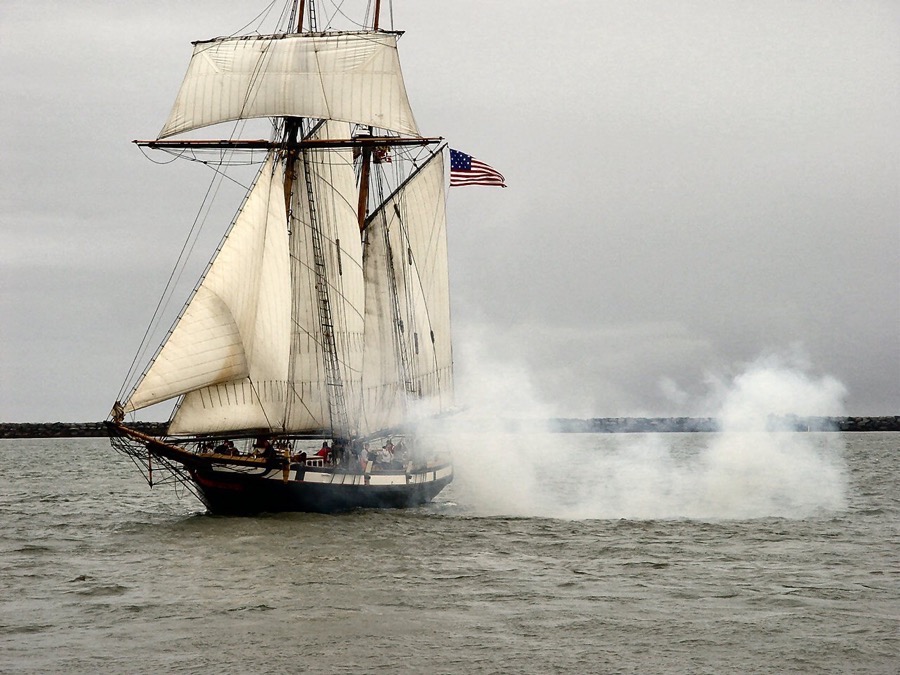 Bam....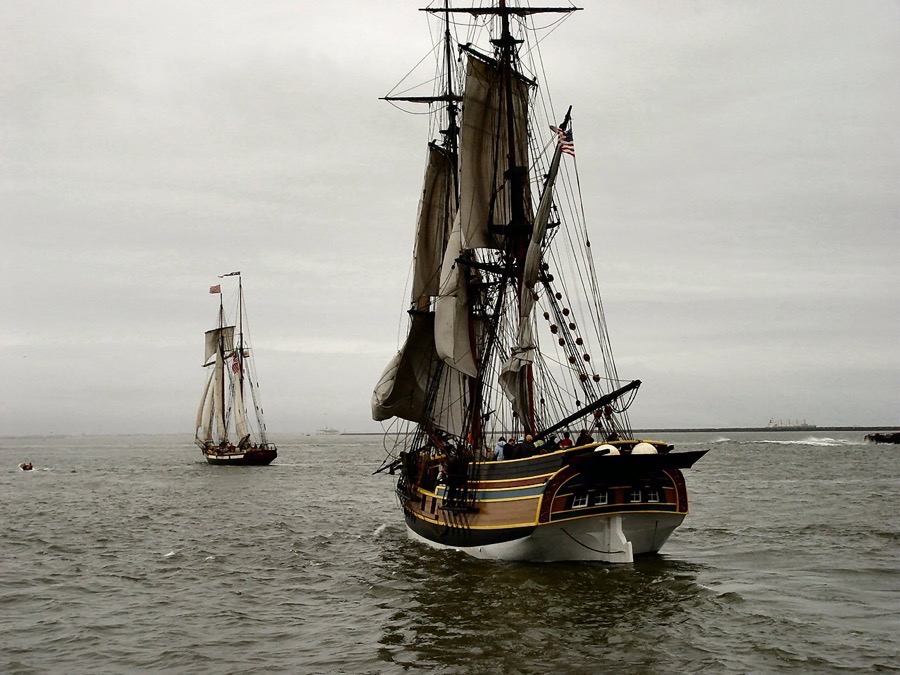 Chasing them id essential...
Need a shot into the rear windows to disable the ship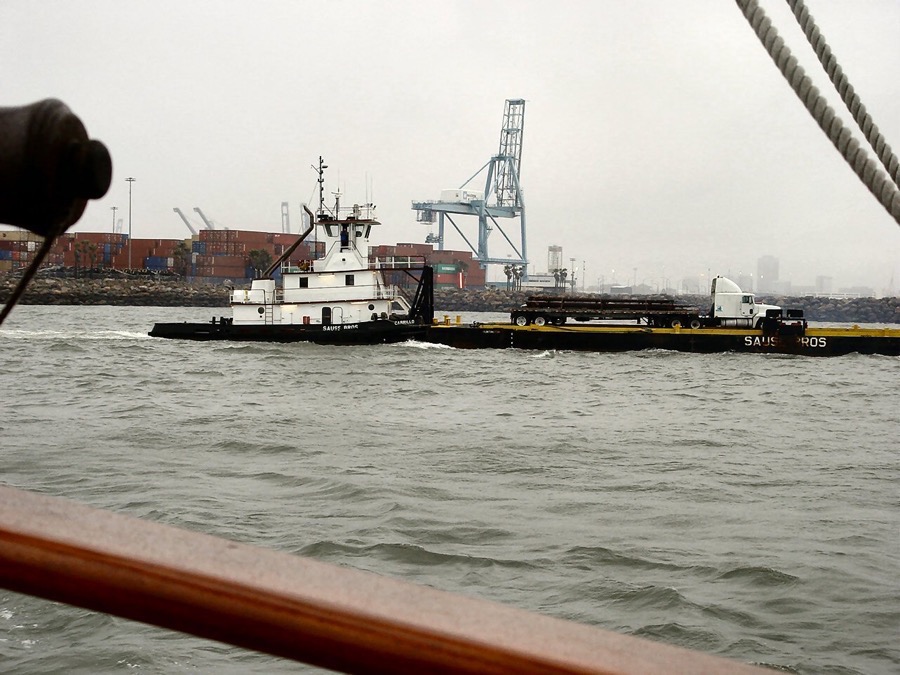 Pushing the barges... This truck is going to the oil island to make a delivery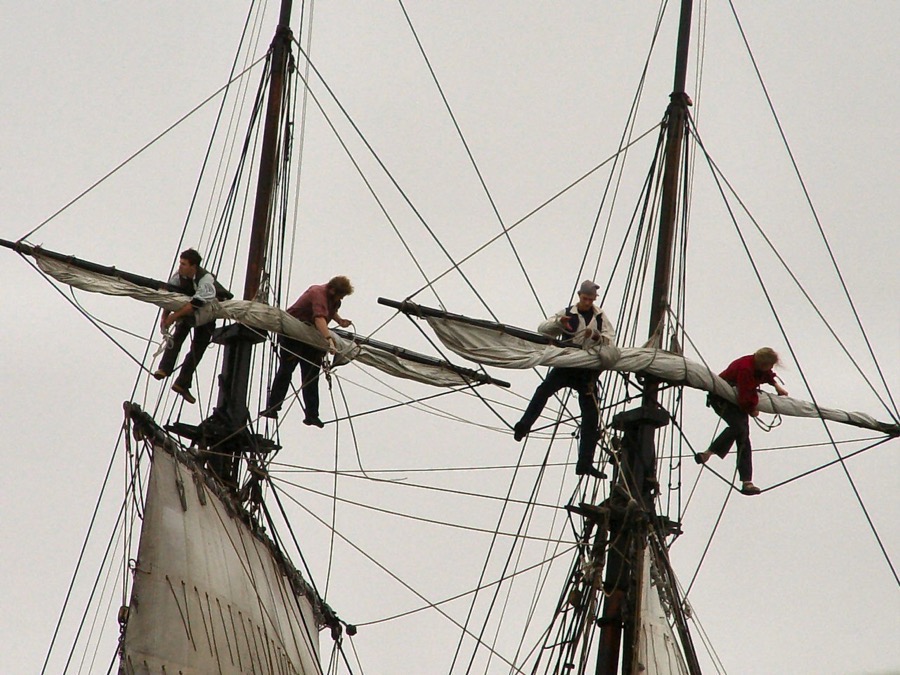 Roll them up
Did You Know? - Modern canvas is usually made of cotton or linen, although historically it was made from hemp. It differs from other heavy cotton fabrics, such as denim, in being plain weave rather than twill weave. Canvas comes in two basic types: plain and duck.
The threads in duck canvas are more tightly woven. The term duck comes from the Dutch word for cloth, doek. In the United States, canvas is classified in two ways: by weight (ounces per square yard) and by a graded number system. The numbers run in reverse of the weight so a number 10 canvas is lighter than number 4.

Hang on!

Start from the top down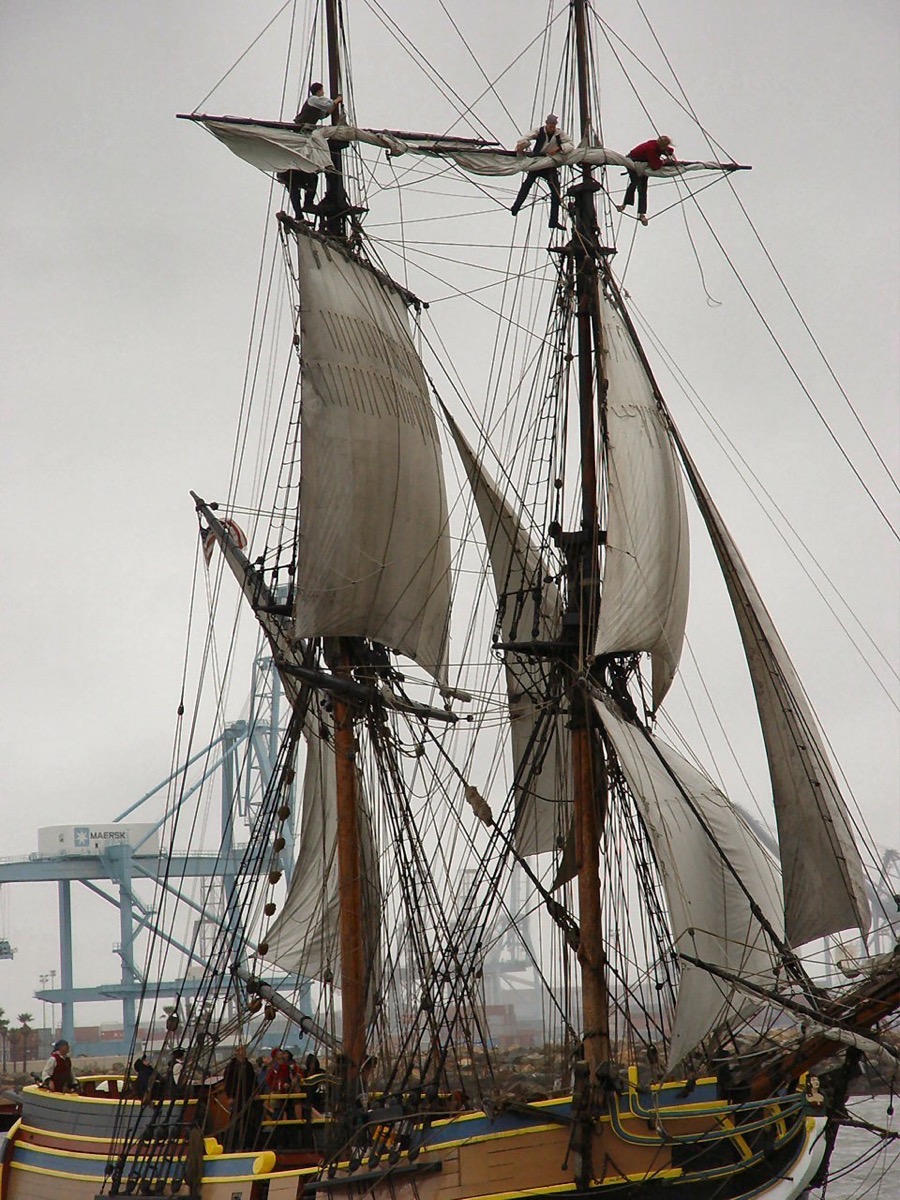 Around the Groton we go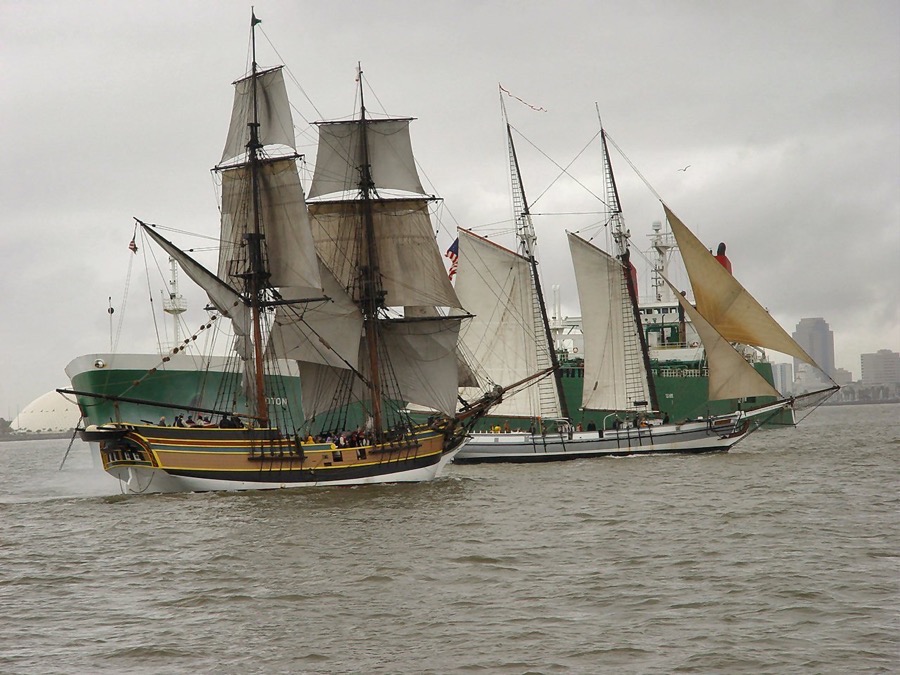 The Groton does not look to worried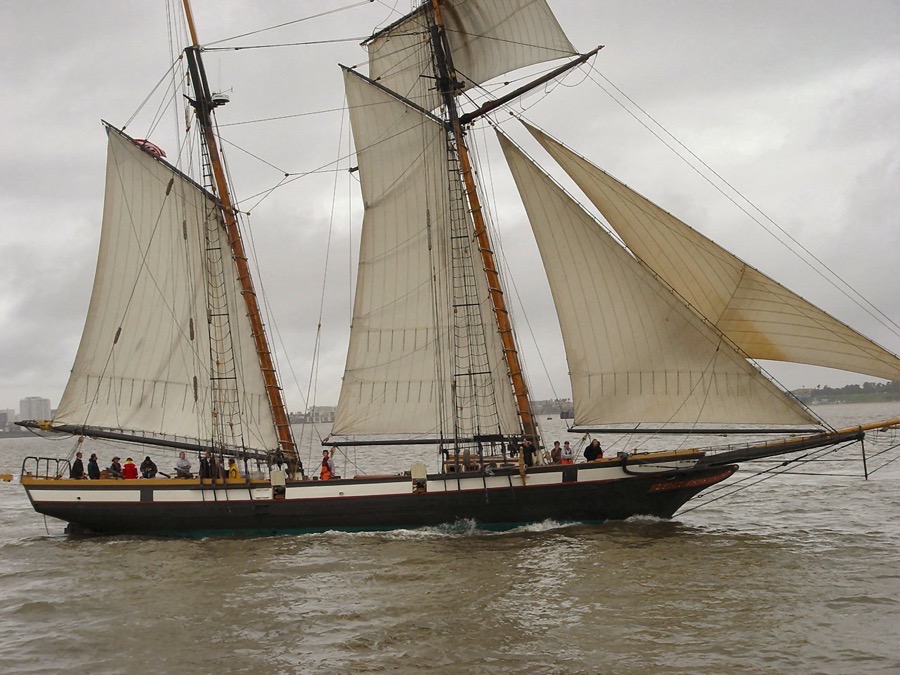 Heeling well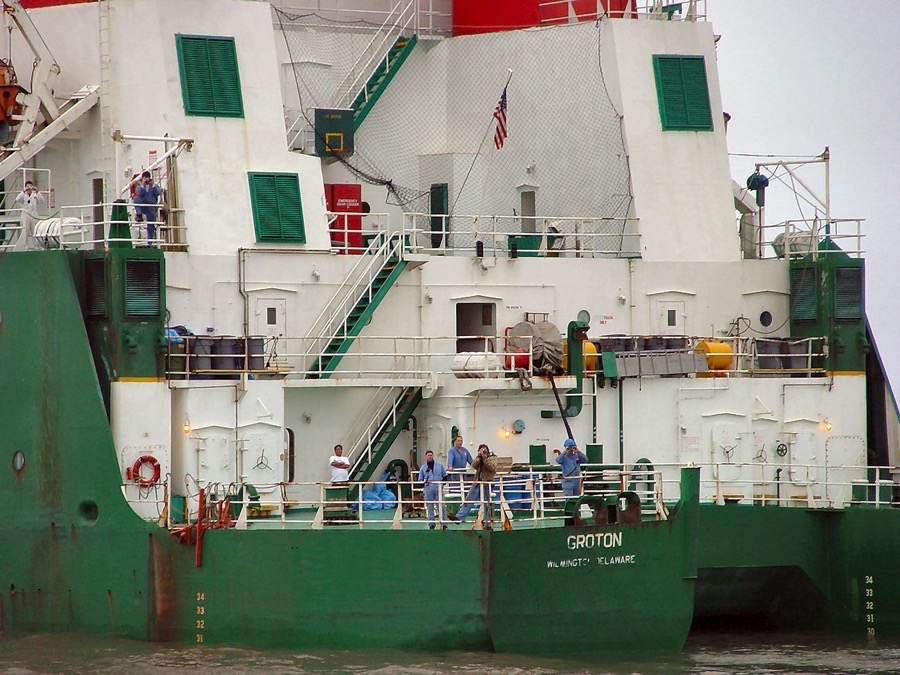 The crew was enjoying the sights

Cameras out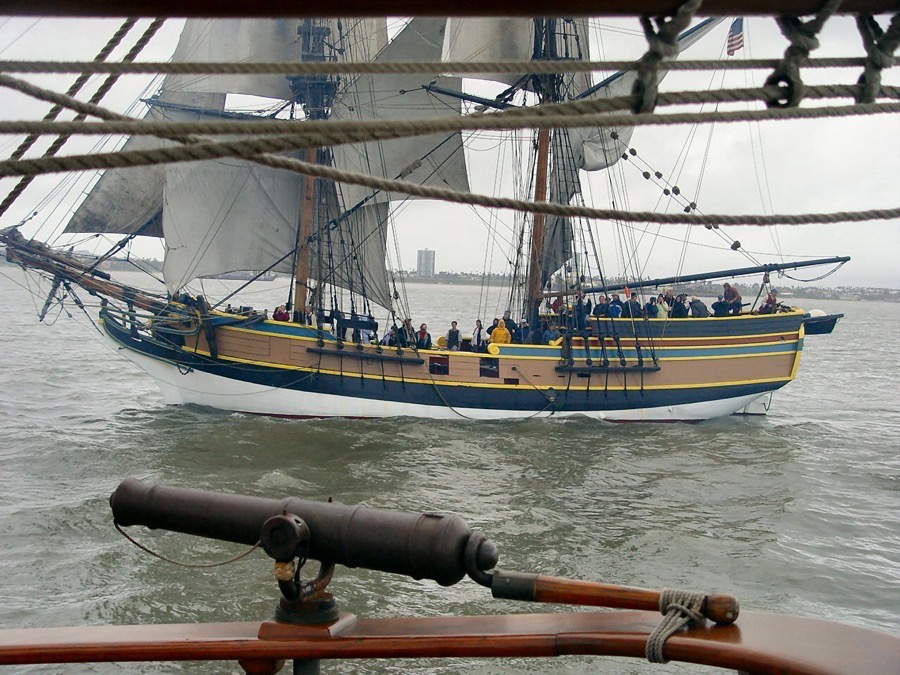 Sink the tanker

These guys had never seen so many tall ships at one time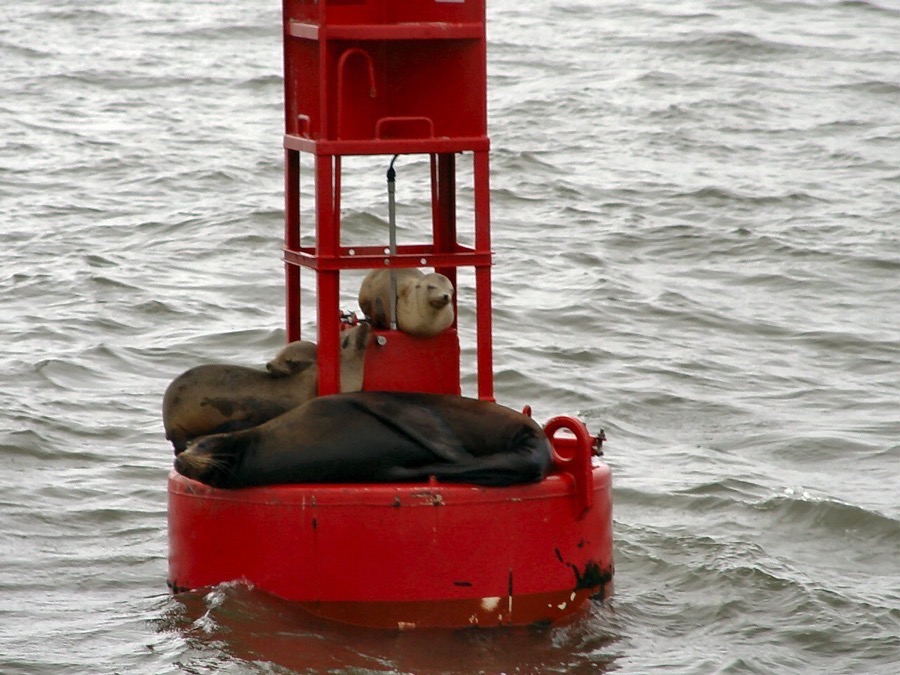 The local sea life enjoyed all the activities but seemed to ignore the canon fire from all of the ships sailing back and forth!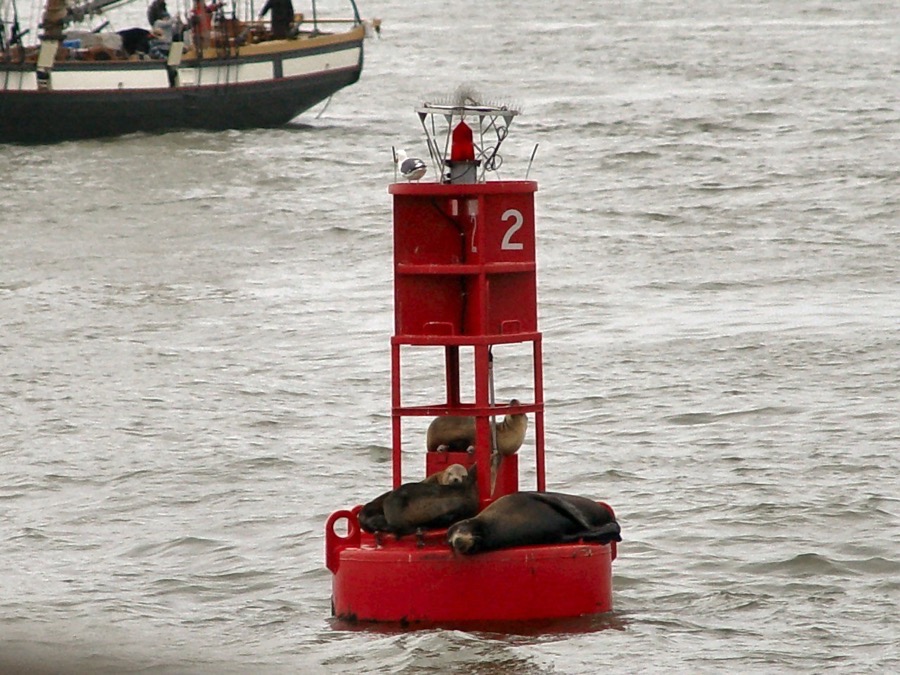 S-h-h-h-h-h-h Do not disturb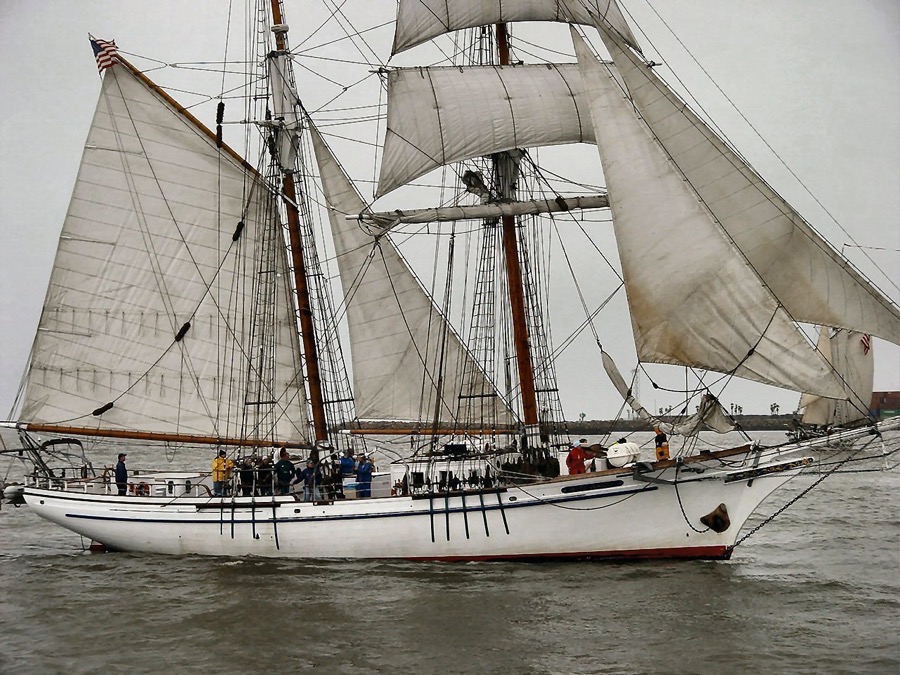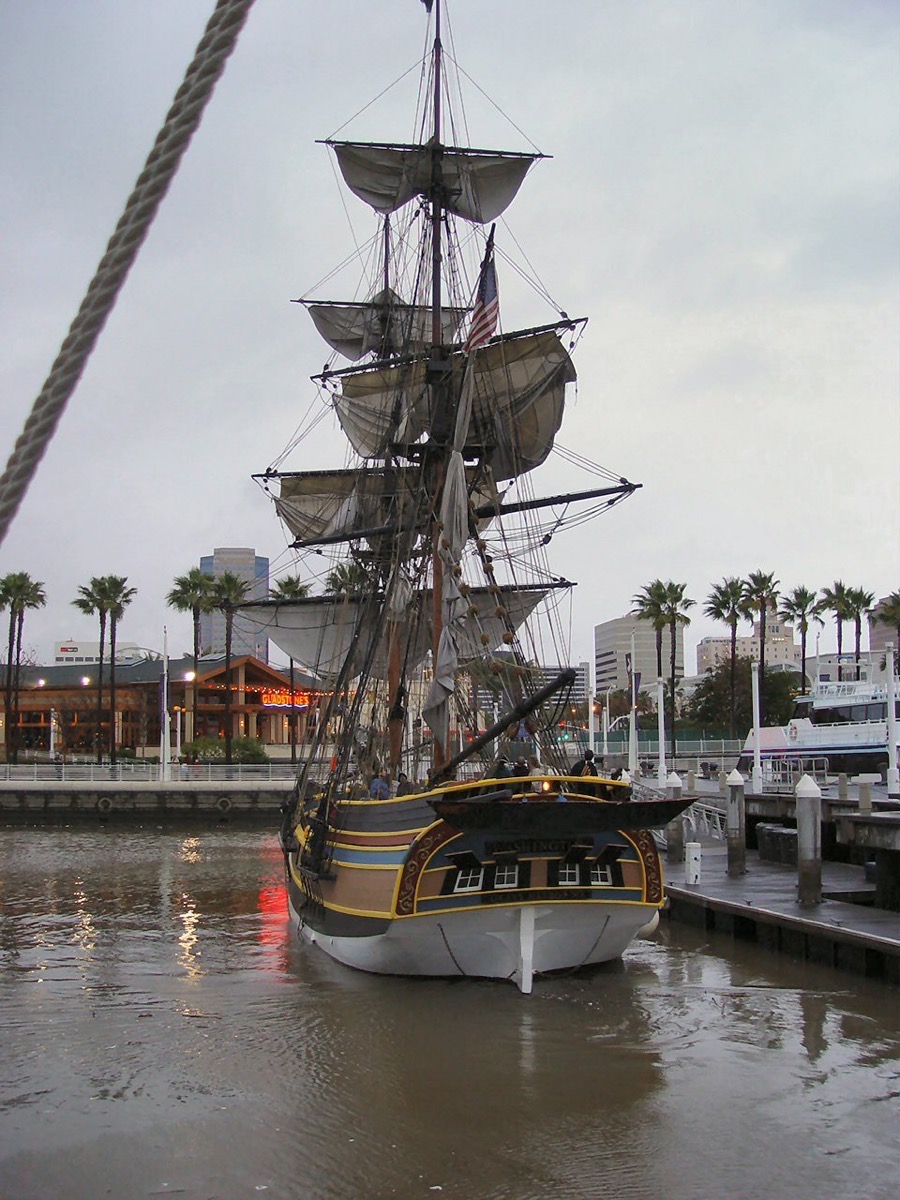 Back into port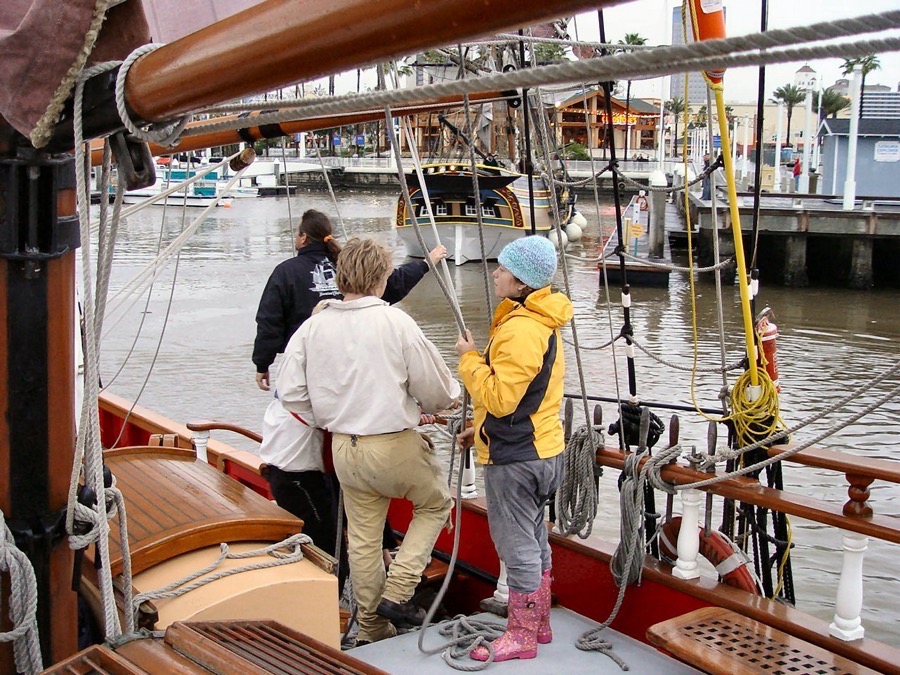 The crew is at the ready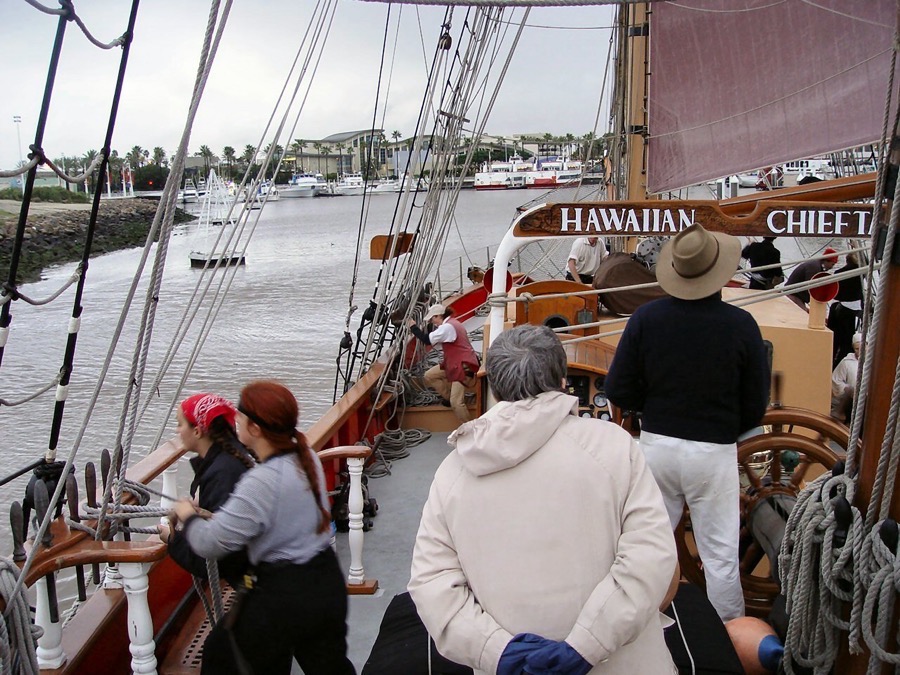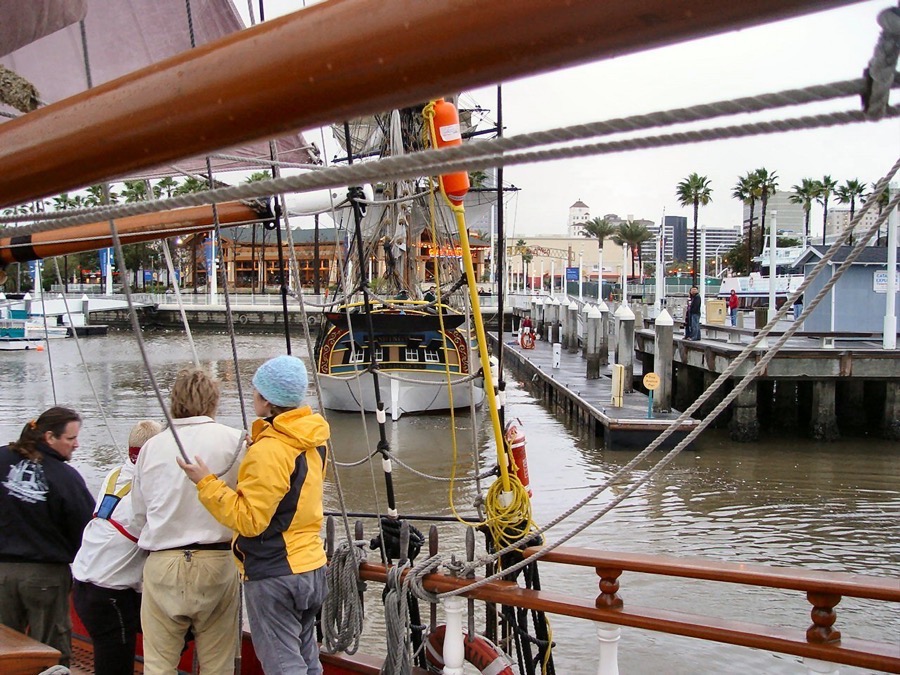 We were first in today

Watch out for the paddle wheeler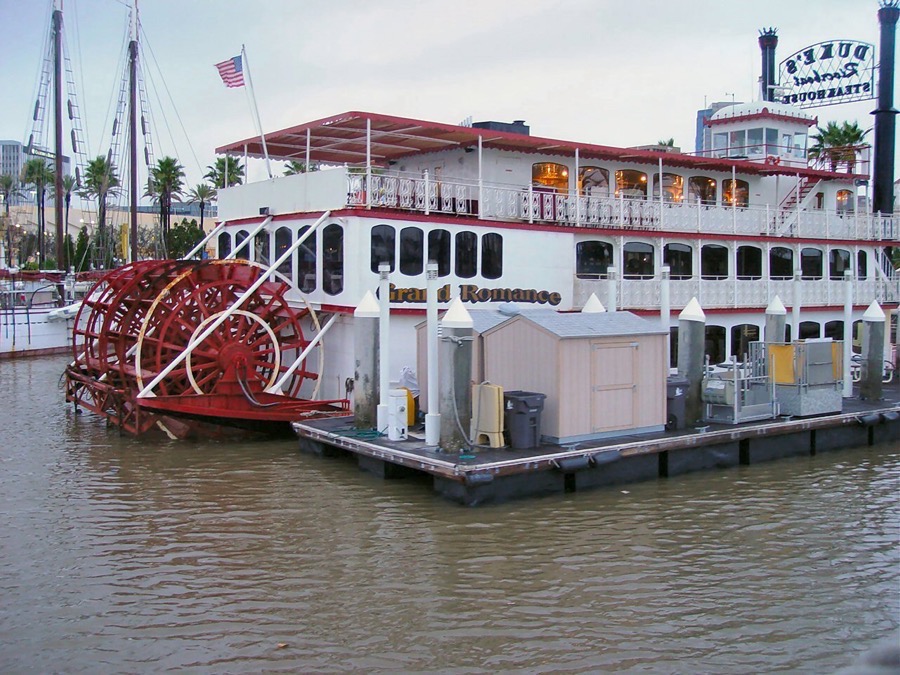 A few more feet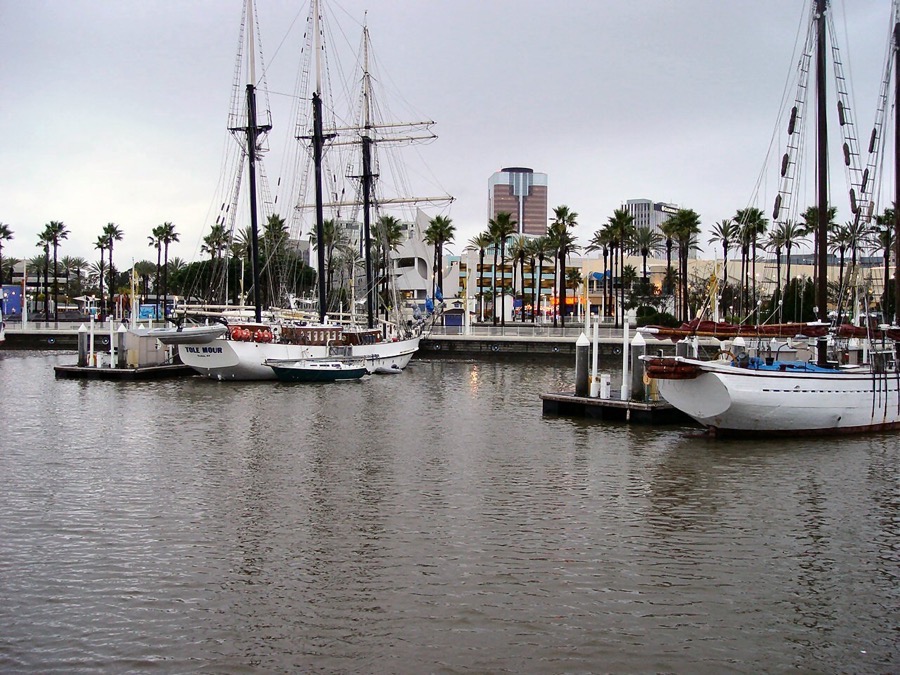 Docked and ready to rest