A Visit To Ojai With AJ And Laura Saam 10/20/2008
We met Laura and AJ a while back while dancing on the Princess Cruise lines voyages. Since we are so close (relatively speaking) we decided to voyage again about two hours south (for Laura and AJ) and two hours north (for Sue and Paul). Please enjoy our visit!

Downtown Ojai
Ojai (originally known as Nordoff) is a city in Ventura County, California, United States. The estimated population, in 2003, was 8,006 , making it one of the smaller towns in the county. The town of Ojai is situated in the Ojai Valley, (10 miles long by 3 miles (4.8 km) wide, approximately, or 16 kilometers by 5 kilometers) surrounded by hills and mountains. The Ojai events calendar should be reviewed.

The valley was home to Chumash Indians before becoming one of many Spanish land grants along the California coast. It became a cattle ranch in 1837, when it was granted to Fernando Tico. In 1853 he sold it to prospectors searching for oil, without much success. By 1864, the area had been settled, and in 1874, the City of Nordhoff was founded.

Leading up to and during World War I, American sentiment became increasingly anti-German. Across the United States, German and German-sounding place names were changed. As part of this trend, Nordhoff was renamed Ojai, a Chumash word meaning "Valley of the Moon".

The main turning point in the development of the city was the coming of Edward Drummond Libbey, early owner of the Libbey Glass Co. He saw the valley and fell in love, thinking up many plans for expansion and beautification of the existing rustic town. After fire destroyed much of the original western-style Ojai/Nordhoff in 1917, Libbey helped design, finance and build a new downtown more in line with the contemporary taste for Colonial-Revival architecture, including a Spanish-style arcade, a bell-tower reminiscent of the famous campanile in Havana, and a pergola opposite the arcade. These buildings still stand, and have come to serve as symbols of the city and the surrounding valley. To thank Libbey for his gifts to the town, the citizens proposed a celebration to take place on March 2nd of each year. Libbey declined their offer to call it "Libbey Day," and instead suggested "Ojai Day." The celebration still takes place, each year in October.

A short drive to a beautiful little city just north of Los Angeles

Pink moment in the mountains
Since Ojai is lined up with an east-west mountain range, it is one of few towns in the world to have the Pink Moment occur as the sun is setting.
The fading sunlight creates a brilliant shade of pink on the Topatopa Bluffs that stand at the east end of the Ojai Valley, reaching over 6,000 feet (1,800 m) above sea level.
Nordhoff Ridge, the western extension of the Topatopa Mountains, towers over the north side of the town and valley at more than 5,000 feet (1,500 m).
Sulphur Mountain creates the southern ranges bounding the Ojai Valley, a little under 3,000 feet (910 m) in elevation.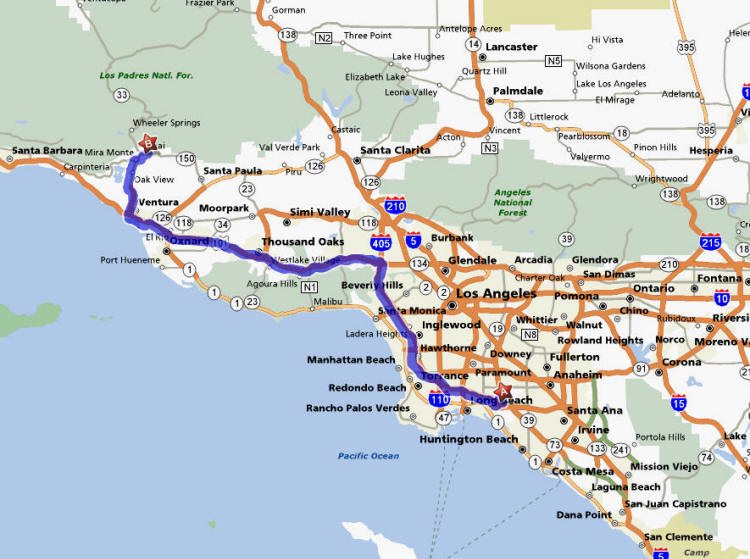 One hour and 59 minutes according to Mapquest and it is an hour and 55 minutes from Santa Maria
Our Pictures

Leaving LA is always a bit of a challenge
Did You Know? - State Route 1, often called Highway 1, is a state highway that runs along much of the Pacific coast of the U.S. state of California. It is famous for running by some of the most beautiful coastlines in the world, leading to its designation as an All-American Road.

In Southern California, the California Legislature has designated the segment between Interstate 5 in Dana Point and U.S. Route 101 near Oxnard as Pacific Coast Highway (commonly referred to as PCH for short); between U.S. Route 101 at the Las Cruces junction (8 miles south of Buellton) and U.S. Route 101 in Pismo Beach and between U.S. Route 101 in San Luis Obispo and U.S. Route 101 in San Francisco, the legislature has designated State Route 1 as the Cabrillo Highway; and between Manzanita Junction near Marin City and U.S. Route 101 in Leggett, the legislature has designated State Route 1 Shoreline Highway. However, subsequent to naming the highway the Pacific Coast Highway, Cabrillo Highway, and Shoreline Highway, the legislature has given some segments of Route 1 additional names as described in the State Law section. In addition to this, some segments have been given alternative names by local governments.

From Malibu, PCH continues along the coast through Point Mugu State Park to just beyond the park's western boundary. As the PCH approaches the Oxnard plain it passes through a notch in the mountain that forms Point Mugu. The cut left a very large rock formation at the tip of the point that is called the Mugu Rock. At that point, PCH leaves the coast and heads northerly and then northwesterly along the northeastern boundary of Naval Air Station Point Mugu for several miles and continues to Wooley Road in Oxnard. From the South Oxnard railroad grade crossing north of Statham
Boulevard in Oxnard to Wooley Road, State Route 1 is known locally as Oxnard Boulevard. At Wooley Road the direction of State Route 1 changes from northwest to north; however, the Oxnard Boulevard name continues to Vineyard Avenue, Route 232. From Vineyard Avenue, State Route 1 continues north as PCH and joins U.S. Route 101 in Oxnard approximately five miles inland from the coast.
It is noted that about a seven-mile (11 km) stretch of PCH between Calleguas Creek near the south boundary of the Point Mugu Naval Air Weapons Station and the South Oxnard railroad grade crossing north of Statham Boulevard was built to freeway standards.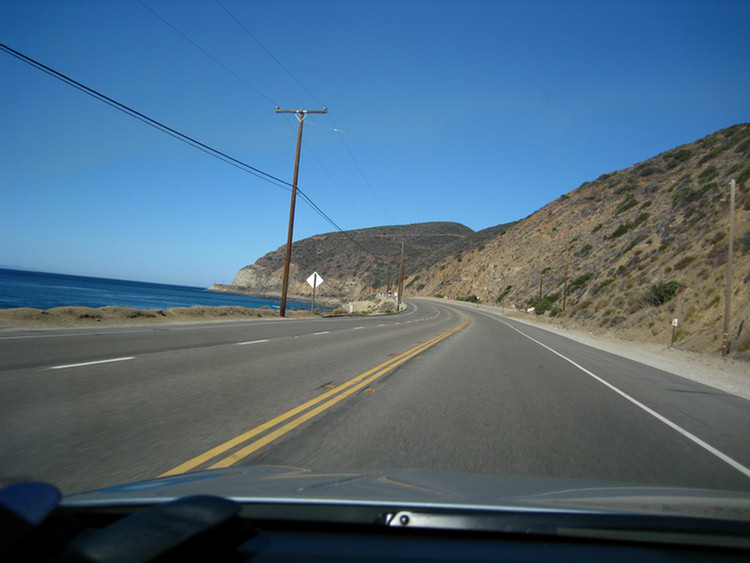 The coast highway was beautiful

Point Mugu Rock

Grapes abound on the turnoff to Ojai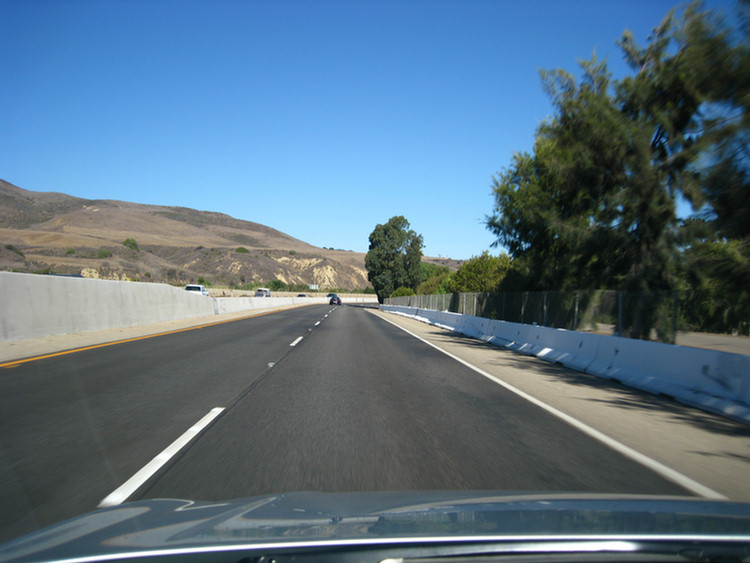 Twenty minutes away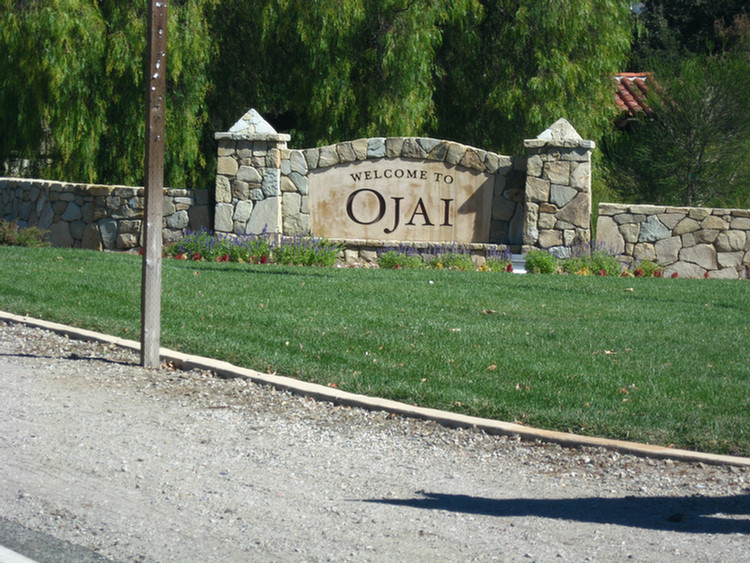 We made it with 10 minutes to spare!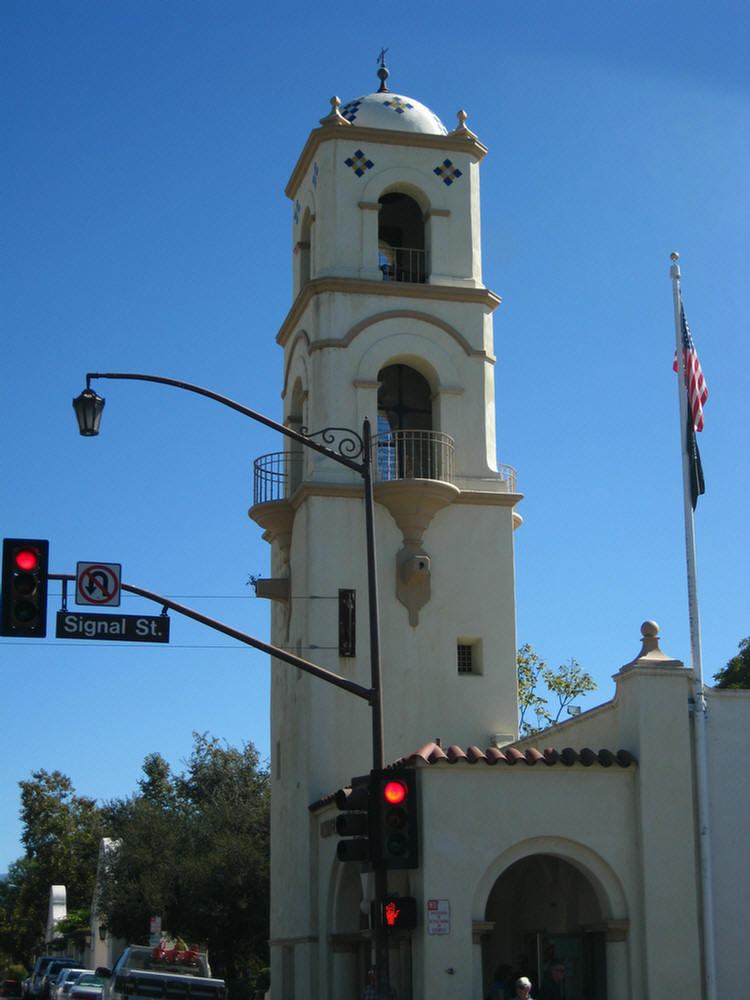 The restaurant was about four blocks from downtown
Seafresh Sea Food
We (AJ) found a great place to eat! Seafresh Sea Food in Ojai. Sea Fresh Seafood Restaurant, Sushi Bar and Fresh Fish Market 533 E. Ojai Ave. Ojai, CA 93023 Phone: 805-646-7747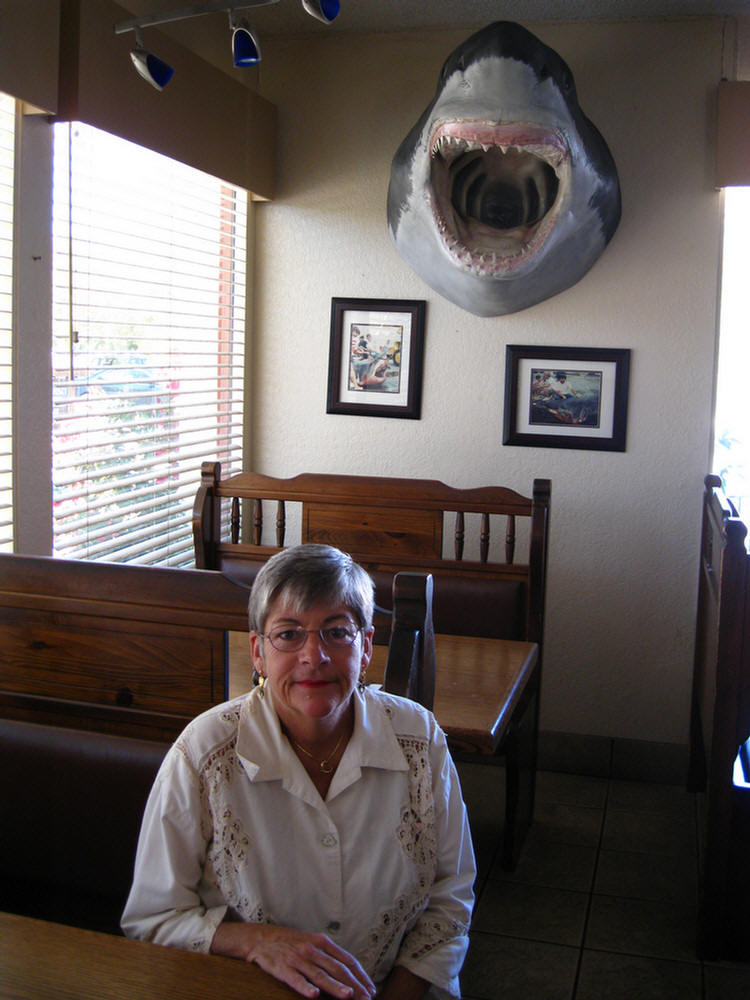 Perfect table except for the shark!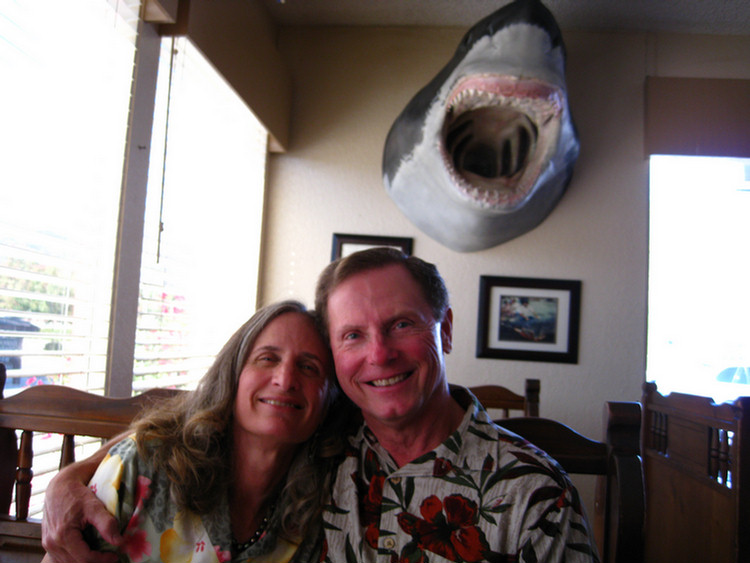 Laura, AJ, and guest!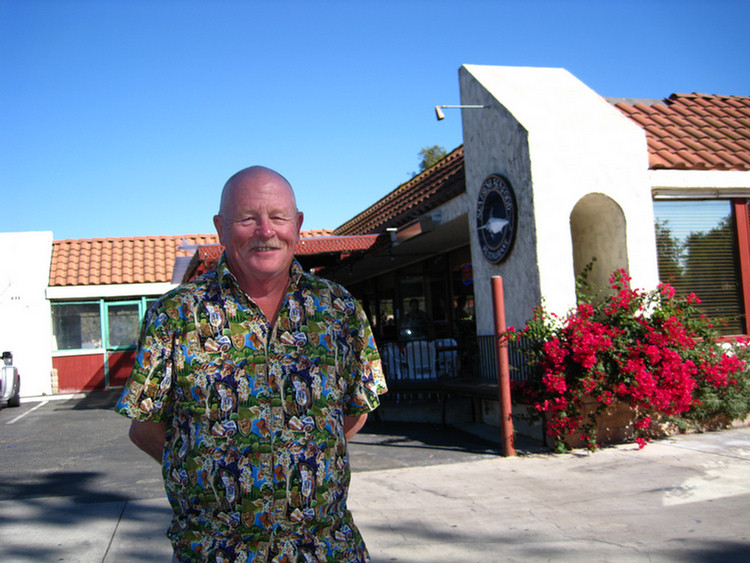 Paul takes a walk after three hours of eating and talking!

They are ready for another cruise!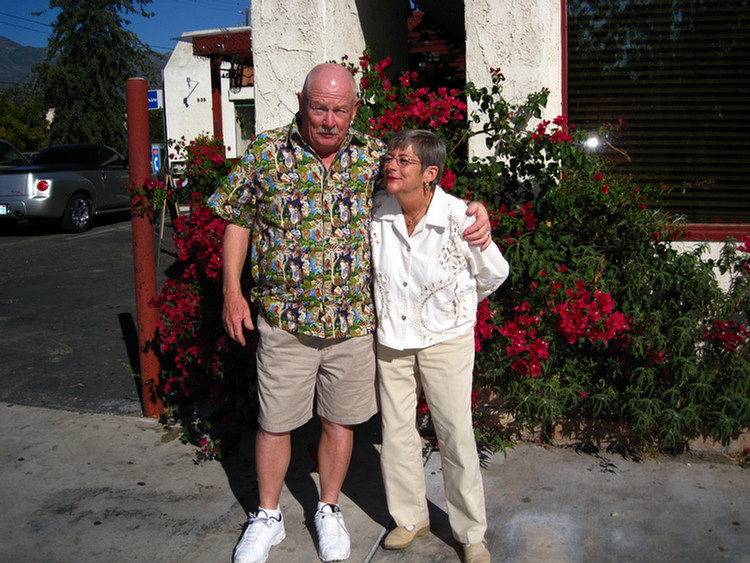 And so are they!!!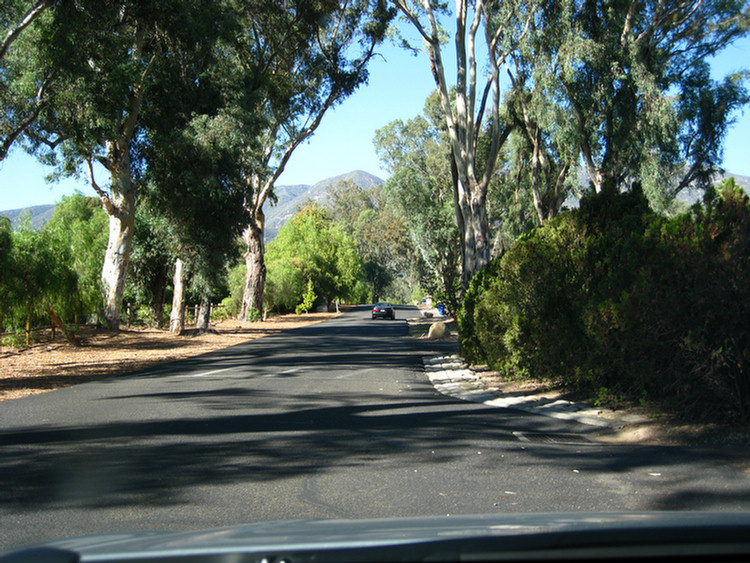 We saw a golf course on the way out of town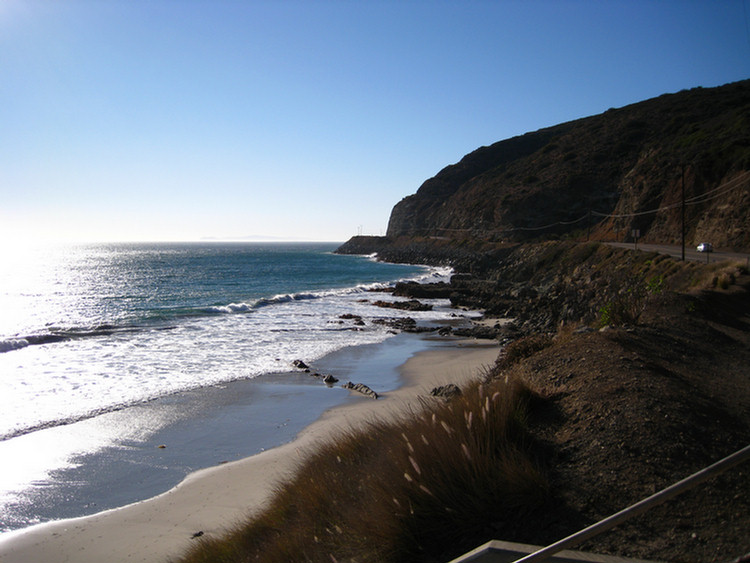 Many stops and many views!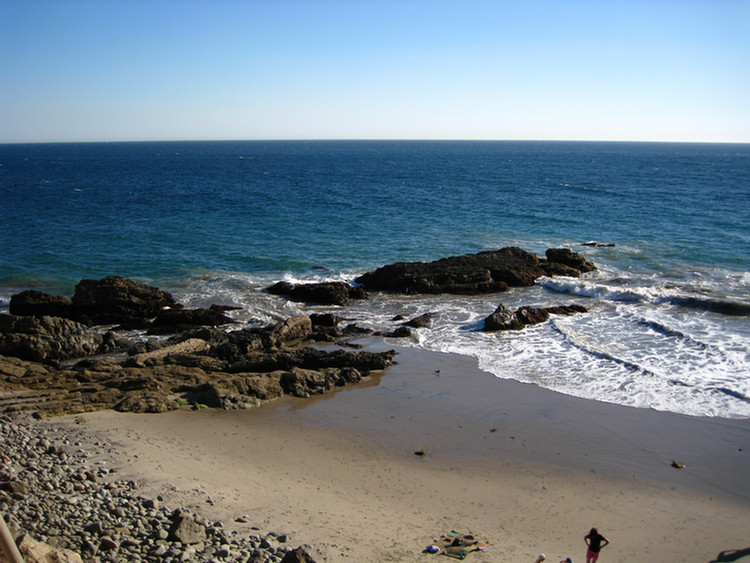 A walk on the beach anyone?

Too bad there had to be people around!

The Pacific was magnificent today!

Up up and away!