June Allyson Was My Hearthrob
She was my hearthrob... Just a beautiful lady! Allyson was a very popular motion picture star in the 1940s and 1950s. She won a Golden Globe Award for her performance in the comedy Too Young To Kiss in 1951. In 1955, she was named the ninth most popular movie star in the annual Quigley Exhibitor's Poll, and the second most popular female star (behind Grace Kelly). In 1956, she starred with a young then-rising star named Jack Lemmon in the musical comedy, You Can't Run Away from It.

After her film career ended in the late 1950s, Allyson starred on television as hostess and occasional star of The DuPont Show with June Allyson. The anthology series lasted two seasons. In later years the actress appeared on television shows such as The Love Boat and Murder, She Wrote.

For her contribution to the motion picture industry, June Allyson received a star on the Hollywood Walk of Fame at 1537 Vine Street.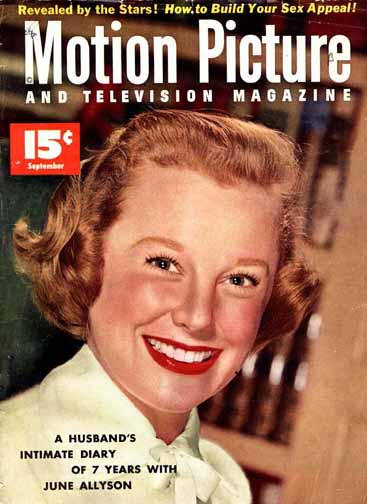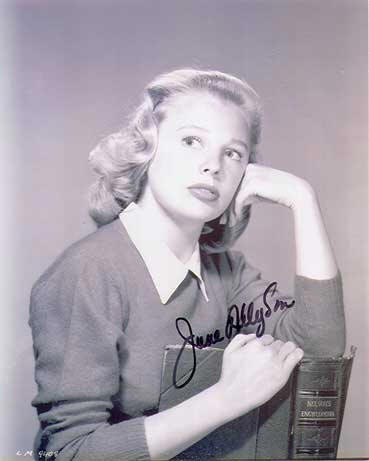 Our Loss
Allyson died Saturday July 9th, 2006, at her home in Ojai, with her husband of nearly 30 years, David Ashrow, at her side, Powell said in a telephone interview.
She died of pulmonary respiratory failure and acute bronchitis after a long illness, Powell said.
During World War II, American GIs pinned up photos of Rita Hayworth and Betty Grable, but June Allyson was the girl they wanted to come home to. Petite, blonde and alive with fresh-faced optimism, she seemed the ideal sweetheart and wife, supporting and unthreatening.
"I had the most wonderful last meeting with June at her house in Ojai. We had gotten lost in the car. She told me: 'I could wait for you forever.' We were such dear friends. I will miss her," lifelong friend Esther Williams said.
With typical wonderment, Allyson expressed surprise in a 1986 interview that she had ever become a movie star:
"I have big teeth. I lisp. My eyes disappear when I smile. My voice is funny. I don't sing like Judy Garland. I don't dance like Cyd Charisse. But women identify with me. And while men desire Cyd Charisse, they'd take me home to meet Mom."