Our Hosts We So Fantastic... The Time Passed Like A Rocket Ship
Rumor had it we were going to see some heat..... Bad rumor... The weather was fantastic!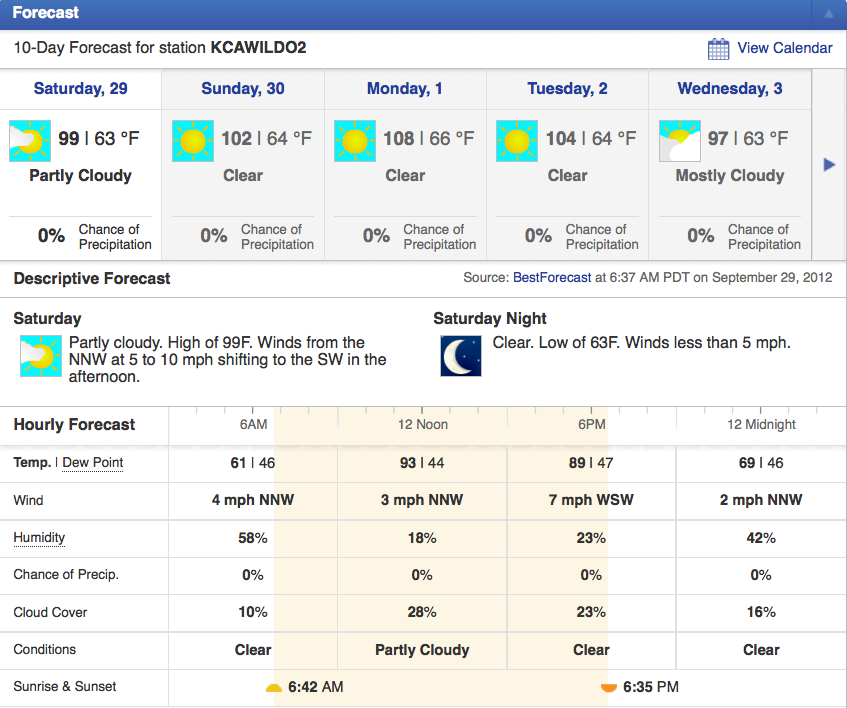 The forecast was for the desert floor.... NOT high on the overlooking mountain

Our Arrival Was Met By A Nice Breeze, 80 Degrees, And Great Friends!

Behind bars???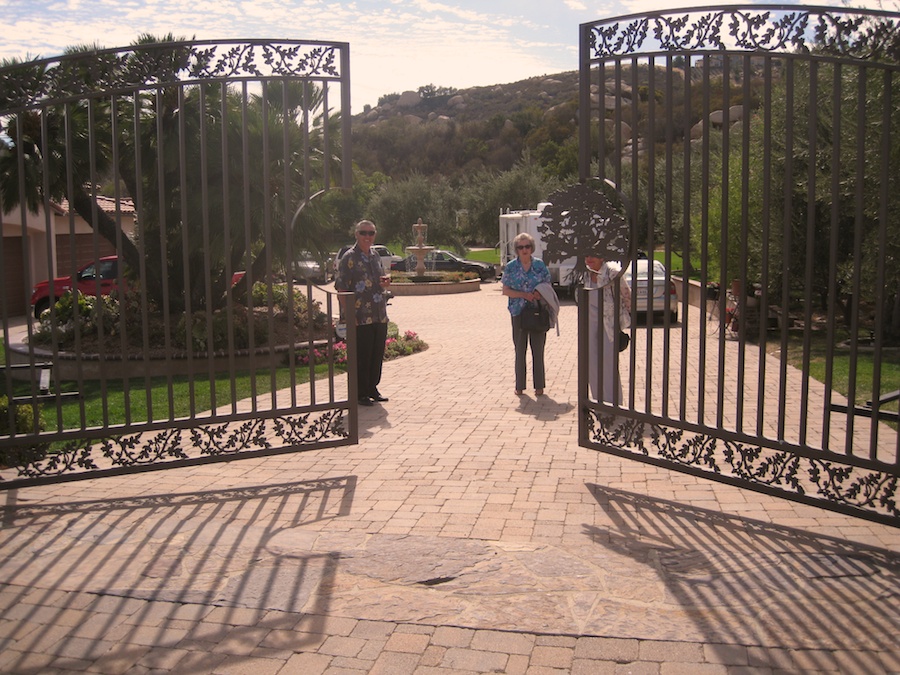 The gates opened and we were in!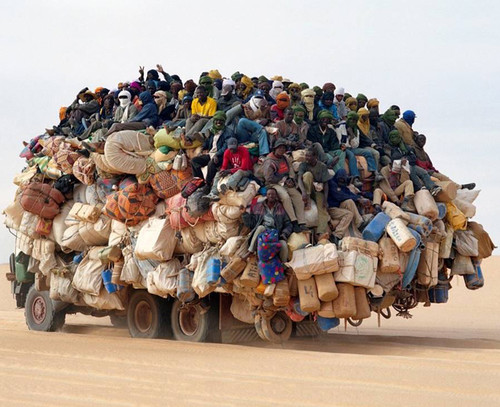 We came in one car.... Complete with baggage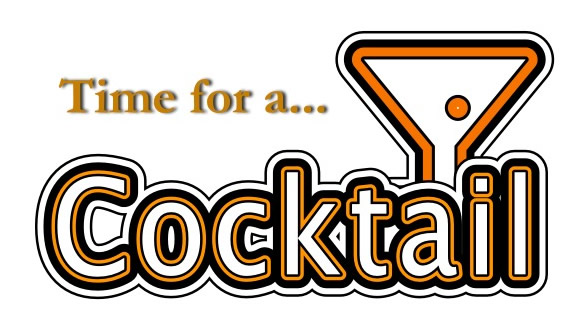 Jule was busy with his chickens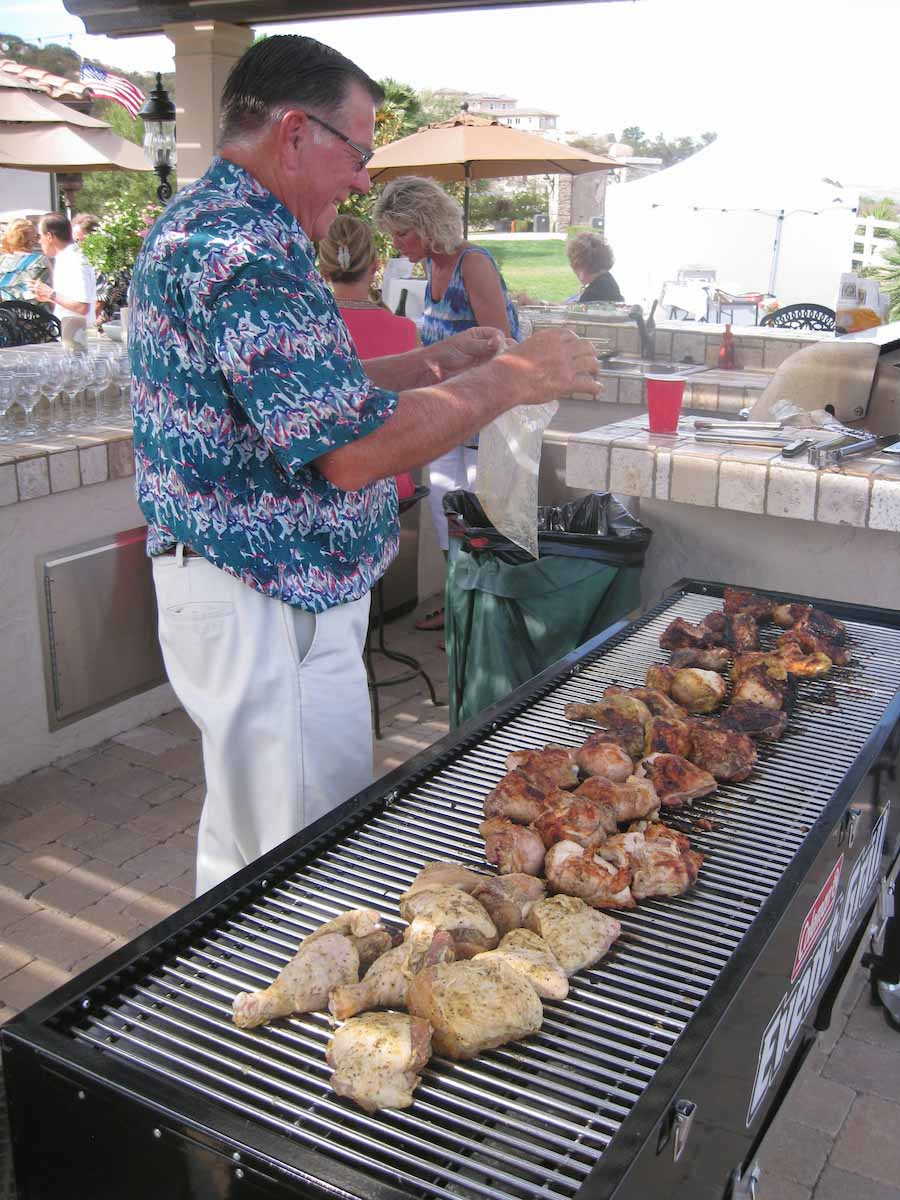 Great smells surrounded the entire area.... Gained 100 calories by smelling the chicken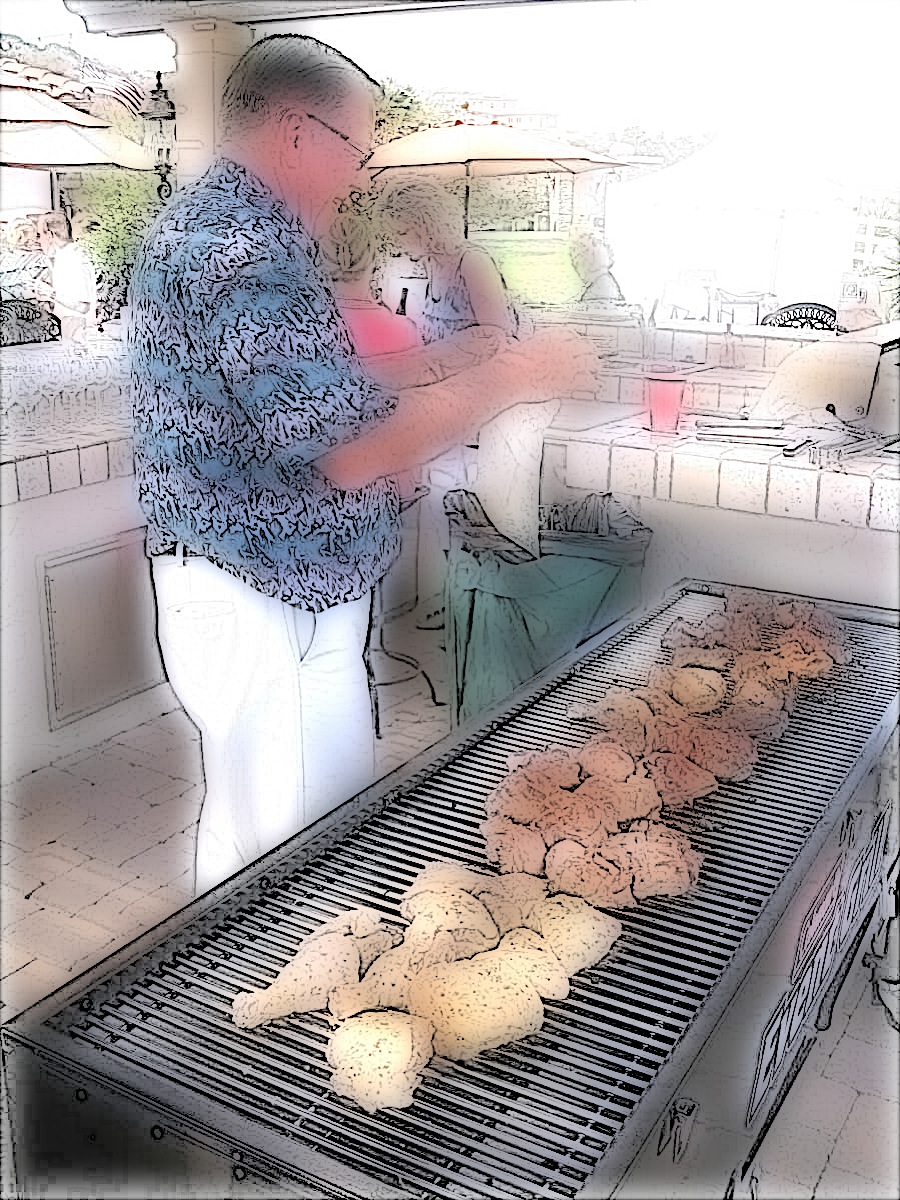 The Wine Tasting Was Underway...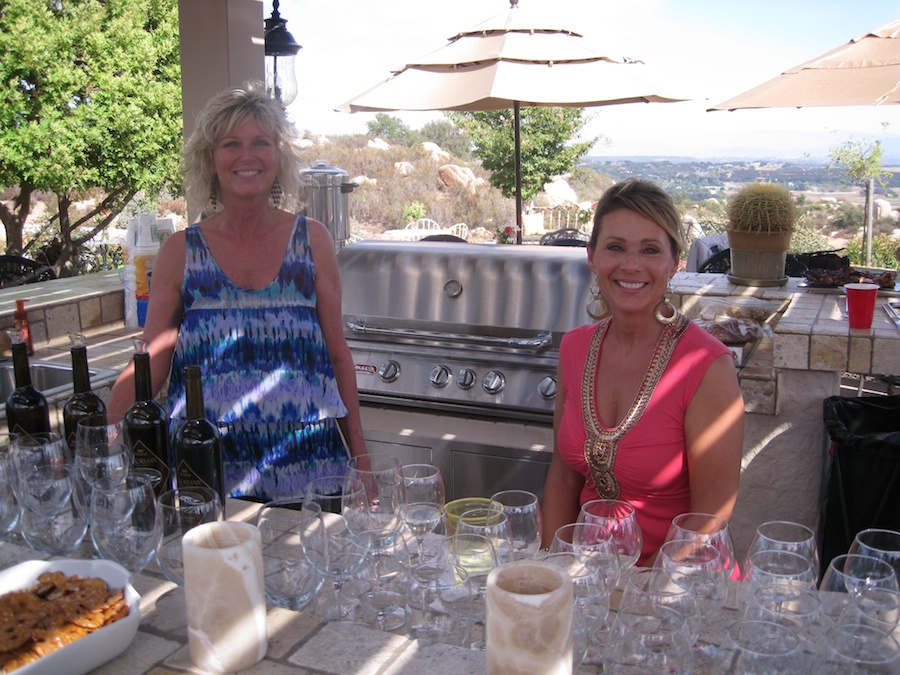 Hello there... What would you like to try???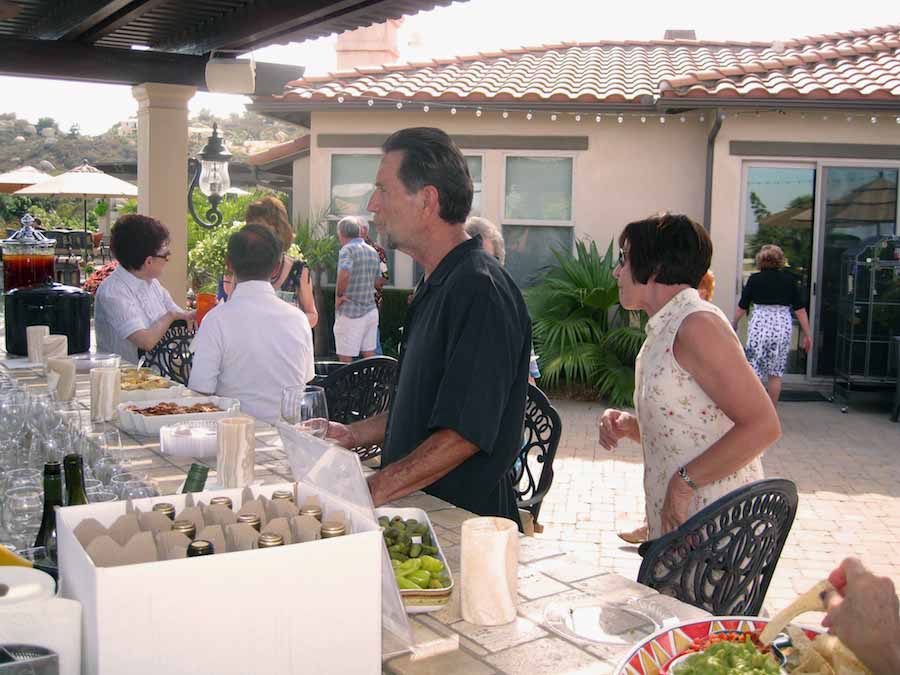 Wanna mix the wine together???

OMG... Look at that beef.... Hugh pieces on the BBQ

Vicky's famous shrimp cocktail .... 90 proof
Did You Know? - Shrimp cocktail, also known as prawn cocktail, is a seafood dish consisting of "shelled prawns in mayonnaise and tomato dressing, served in a glass". It was the most popular hors d'?uvre in Great Britain from the 1960s to the late 1980s. In North America, the sauce is red, essentially ketchup plus horseradish. In other areas, the sauce is pink, based on a mixture of ketchup (tomato sauce) and mayonnaise, which can be called Marie Rose sauce , although it is commonly referred to as Thousand Island dressing, even in the UK.
Shrimp Cocktail a' la' Kuhn is a secret receipt only known by Vicky Kuhn but rumor has it that it contains the normal ingredients plus Tequila, eye of newt, frog toe-nails, hummingbird tounges, and boiled-out table cloth stains.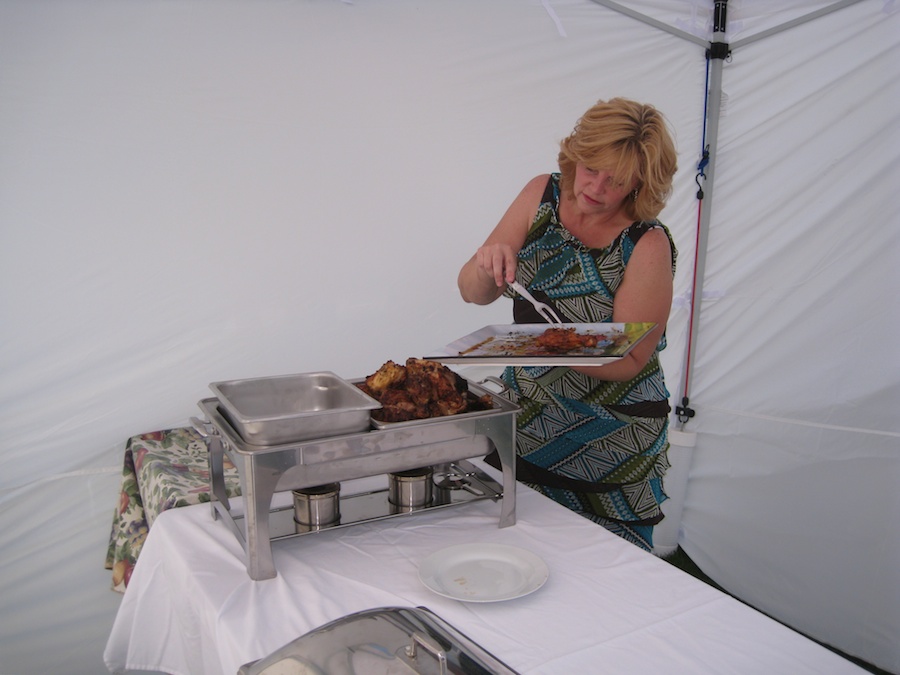 Sandy is working too hard.....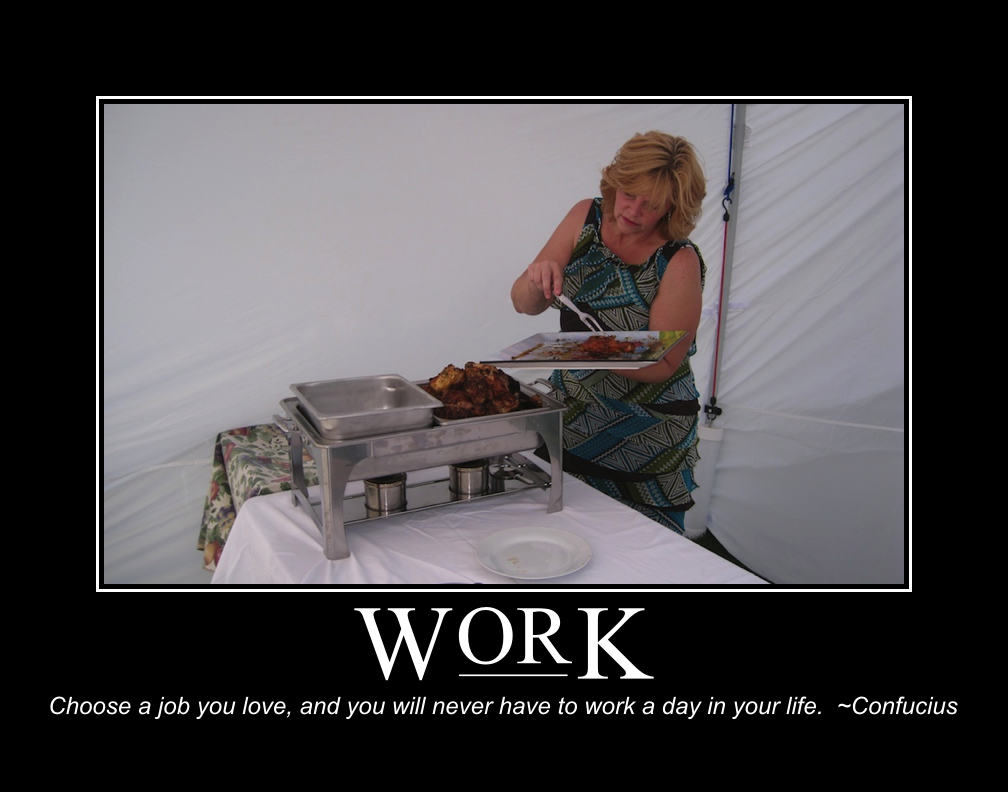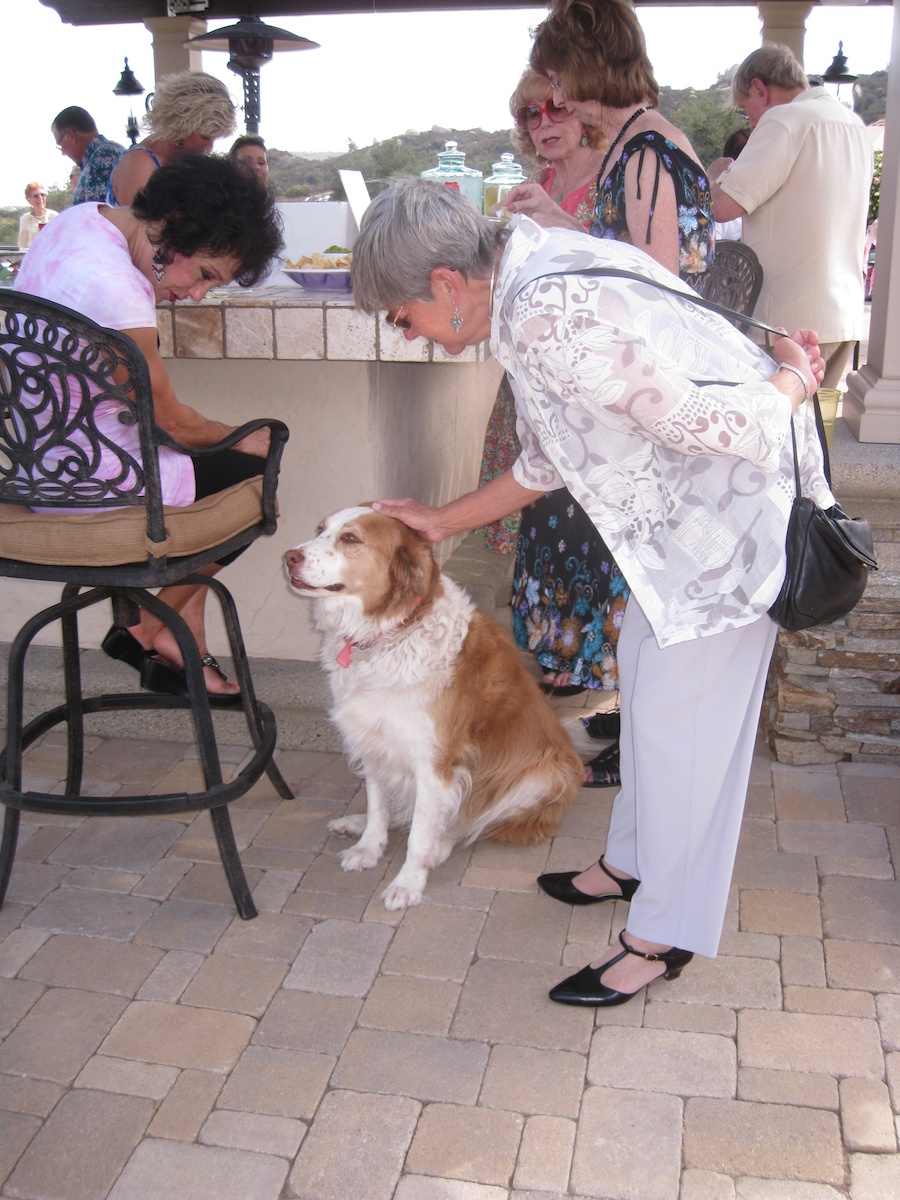 Sue finds a baby dog.... Sierra is her name....

More..... More...

It was difficult to get the fire started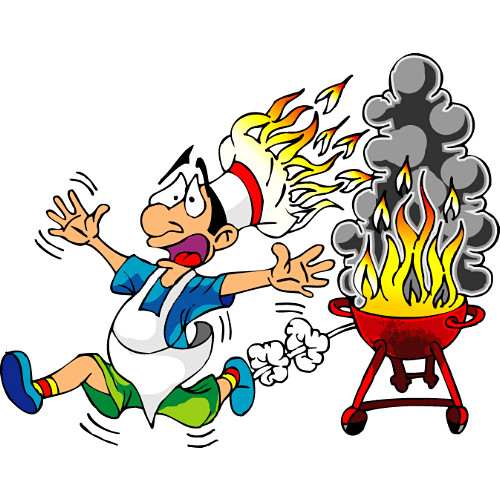 "Well done... sure!"

Nappy time
Meeting The Family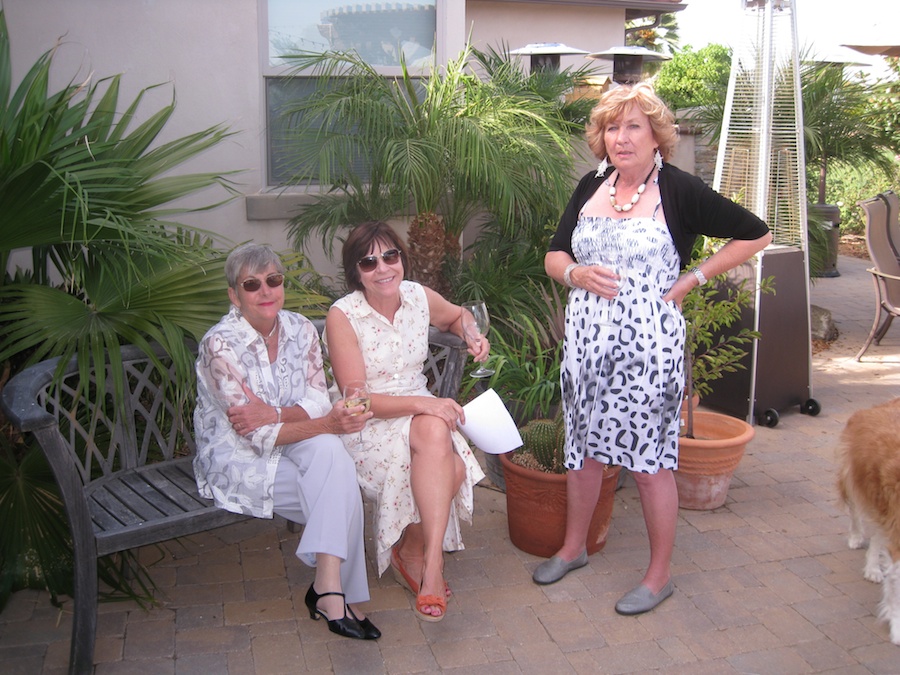 Greg meets the babies

These babies were terrific... Friendly and smart... The dogs were good also!

"OK... Who put the ball into the pool???"
The Music Begins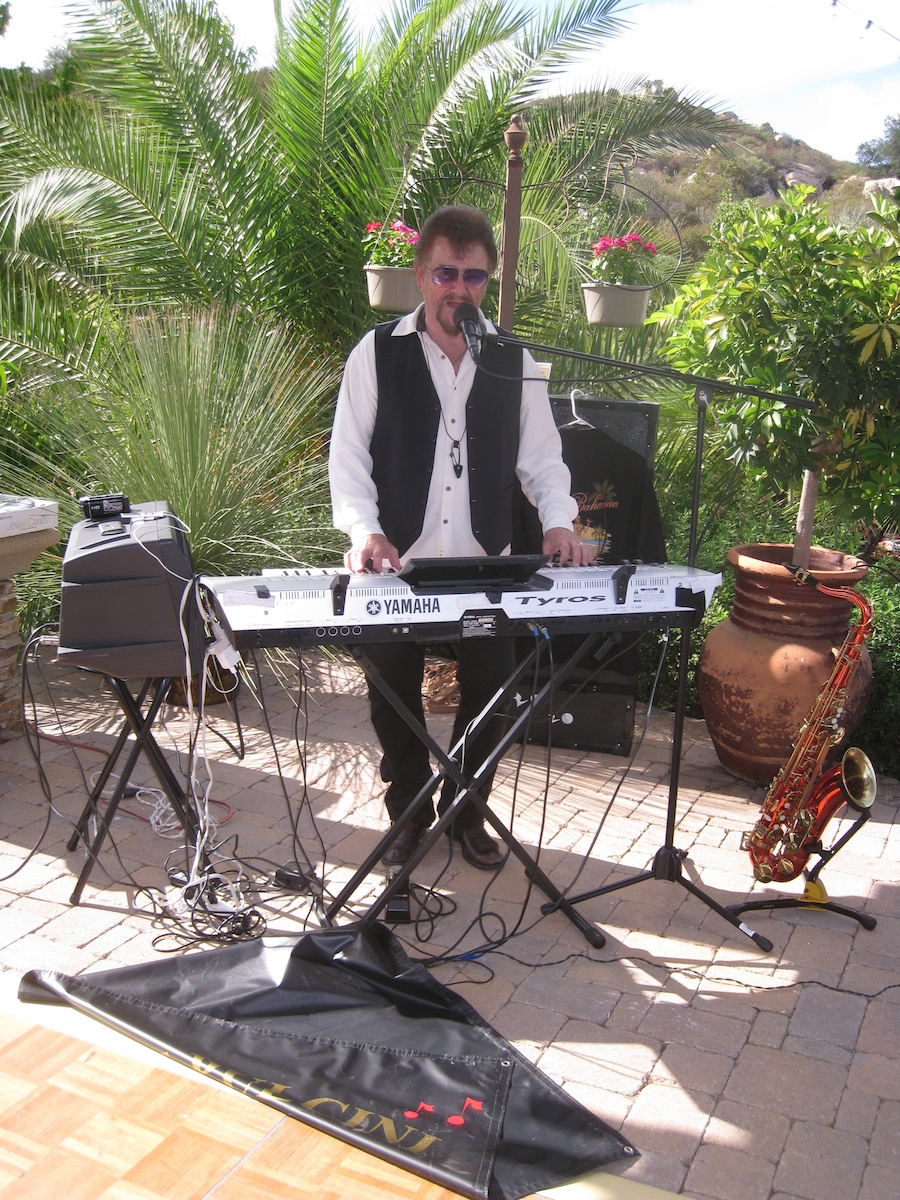 Wayne is set up and ready to go

Dek and Wayne
Did You Know? - Wayne Pulcini, singer, songwriter, sax player, keyboardist, music arranger.? Wayne has been performing almost all his life.
Born in Philadelphia, PA., he honed his skills at an early age playing piano, then clarinet in the school band.? His first paid gig was with a quartet of kids including Joe Vega, drummer and understudy for movie star Sal Mineo.? They played the Famous Papa De Carlo?s Restaurant in Los Angeles, a known hangout of Franklinites, Dino, and the Rat Pack.? At the age of 10, Wayne wasp art of a troupe of young musicians playing venues in and around L. A.? They also performed for the troops in Oceanside in the late 1950?s.?? .?
?
One month before the age of 18, Wayne was drafted into the Army during the Vietnam War.? That same year he enlisted in the U.S. Air Force. Earning the rank of Staff Sergeant, he ultimately became a maintenance crew chief on B-52 bombers. During his years in the service, he also managed to form a band and played N.C.O and Officers Clubs throughout the U.S. and overseas.
?
After his discharge in 1970, Wayne moved back to Los Angeles.?He performed in local clubs, wrote jingles for commercials, did some studio work and finally got noticed.? Wayne signed his first recording contract in 1971 with a small company from Hollywood.?After some minor success and a couple of regional hits around the country, his contract was bought out by a larger record company.?Many more regional hits followed.?
Wayne toured often, playing venues from coast to coast gaining a big fan base while promoting his record releases all over the U.S. ?His home was Los Angeles where he performed for years in clubs and theaters.? ?As it so often happens, timing and big breaks were not in the cards.? He took a sabbatical and moved to New Mexico in the mid1980?s.? He concentrated on writing and performing in a less hectic environment while starting on a new path into the restaurant business.?After years in the food business, the stage again was calling and opportunities came along once again to travel and play music.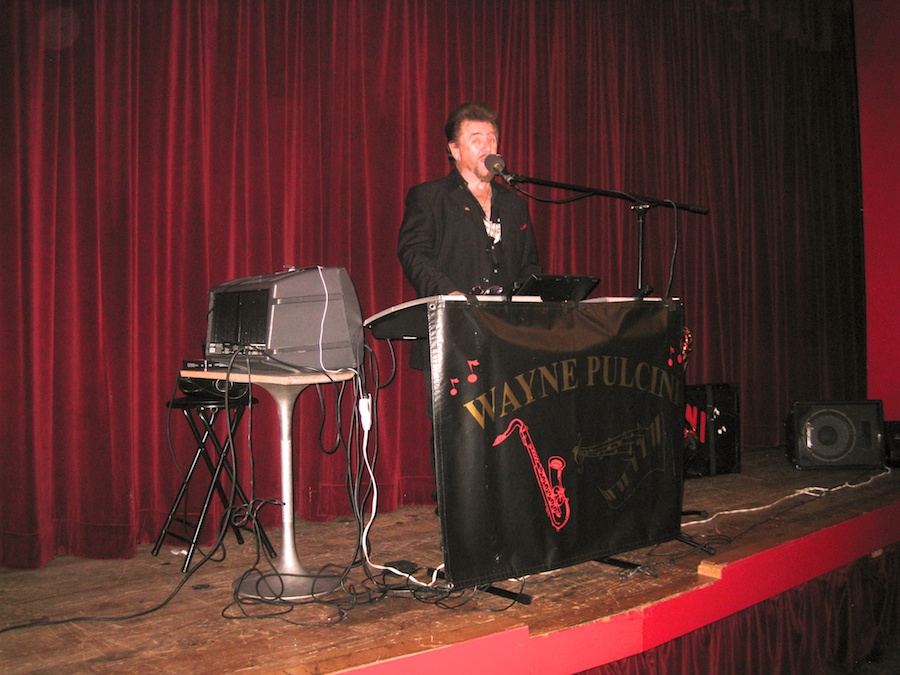 He looks better in the great out-of-doors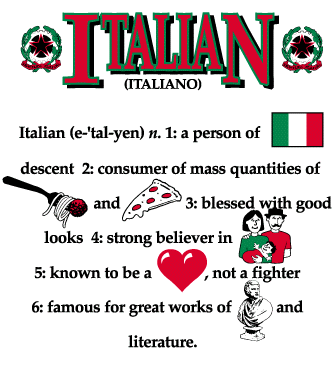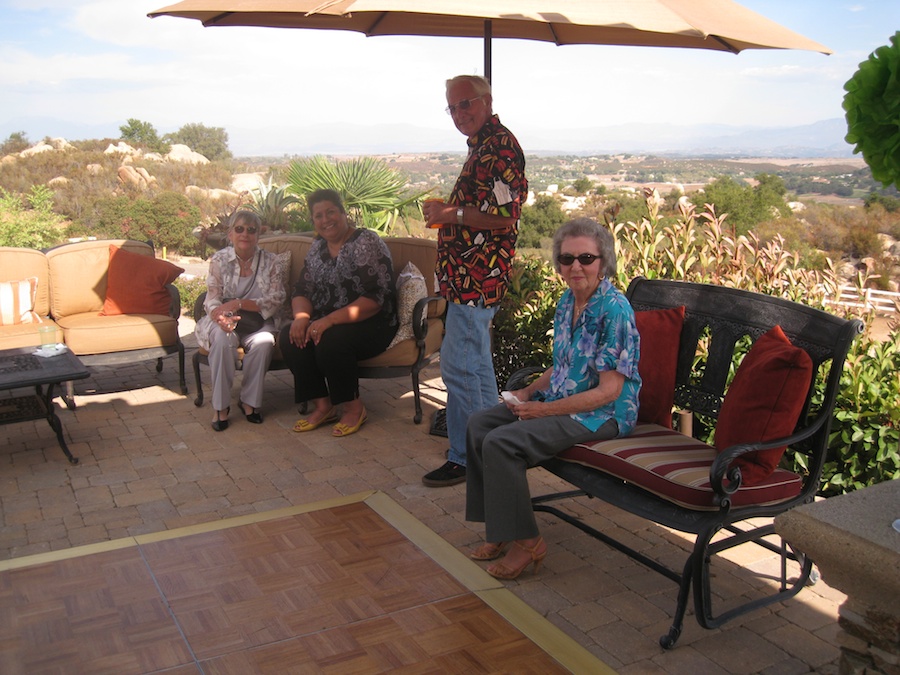 Great breeze made dancing a pure joy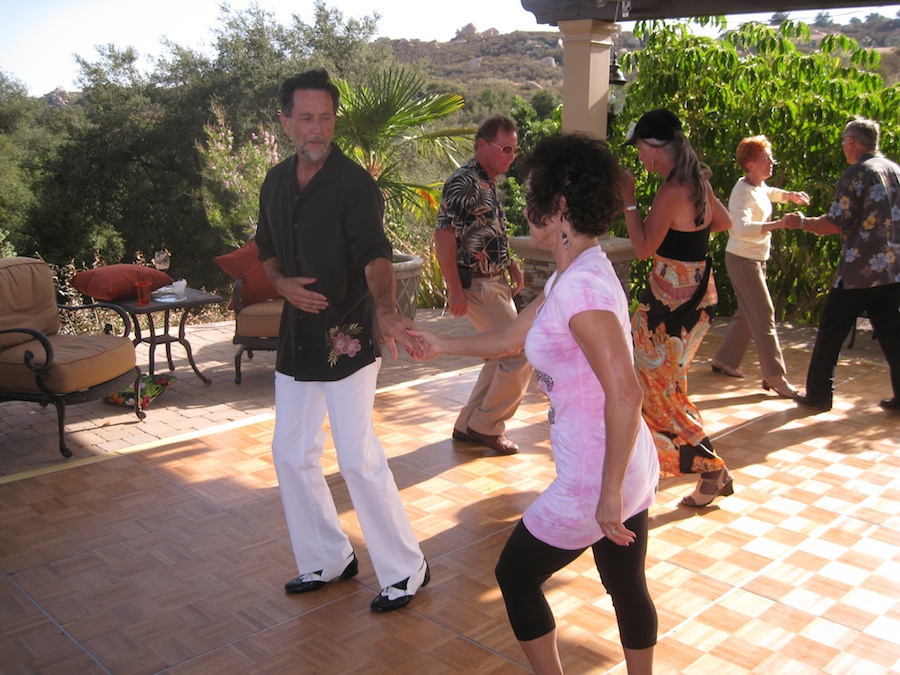 Up and at-em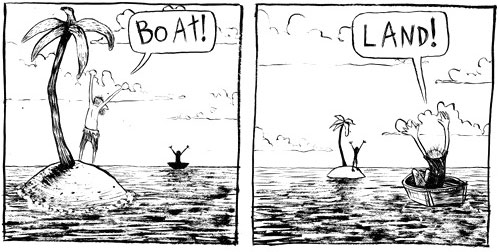 All depends upon how you look at it....

Careful.... Bob fell over twice last week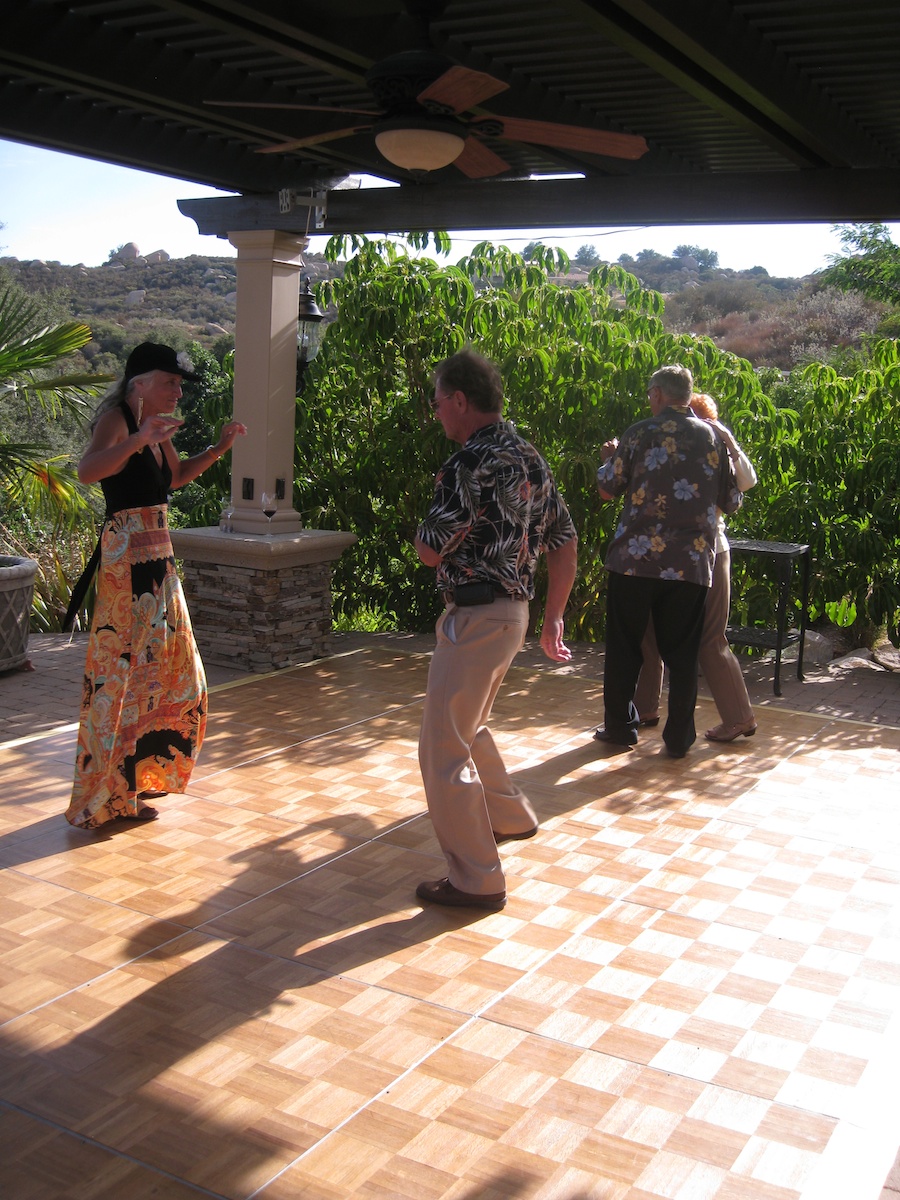 Laura and AJ....

Lorraine and Herb

You gotta say "Yes"

Leon has not moved for six minutes.... Marcia is worn out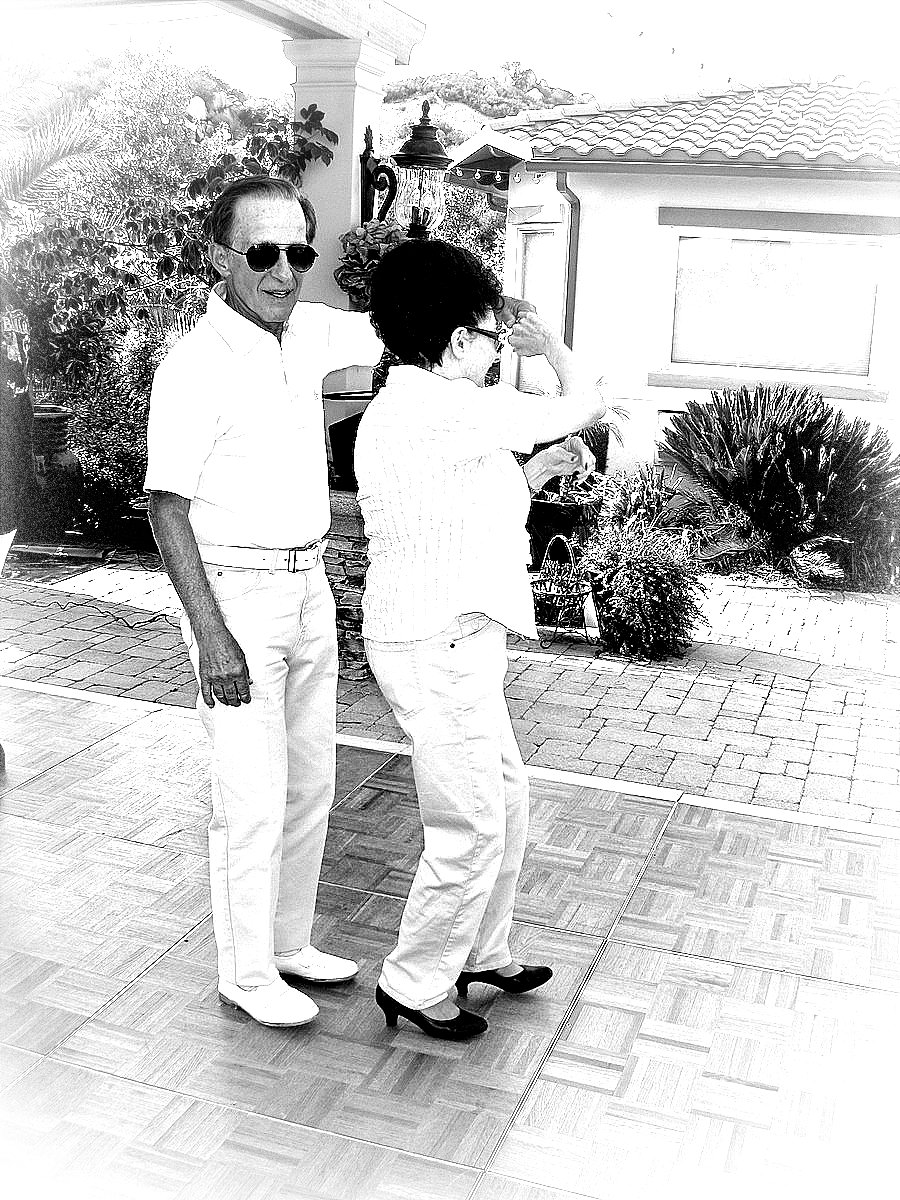 Remember when B&W was the only kind of film?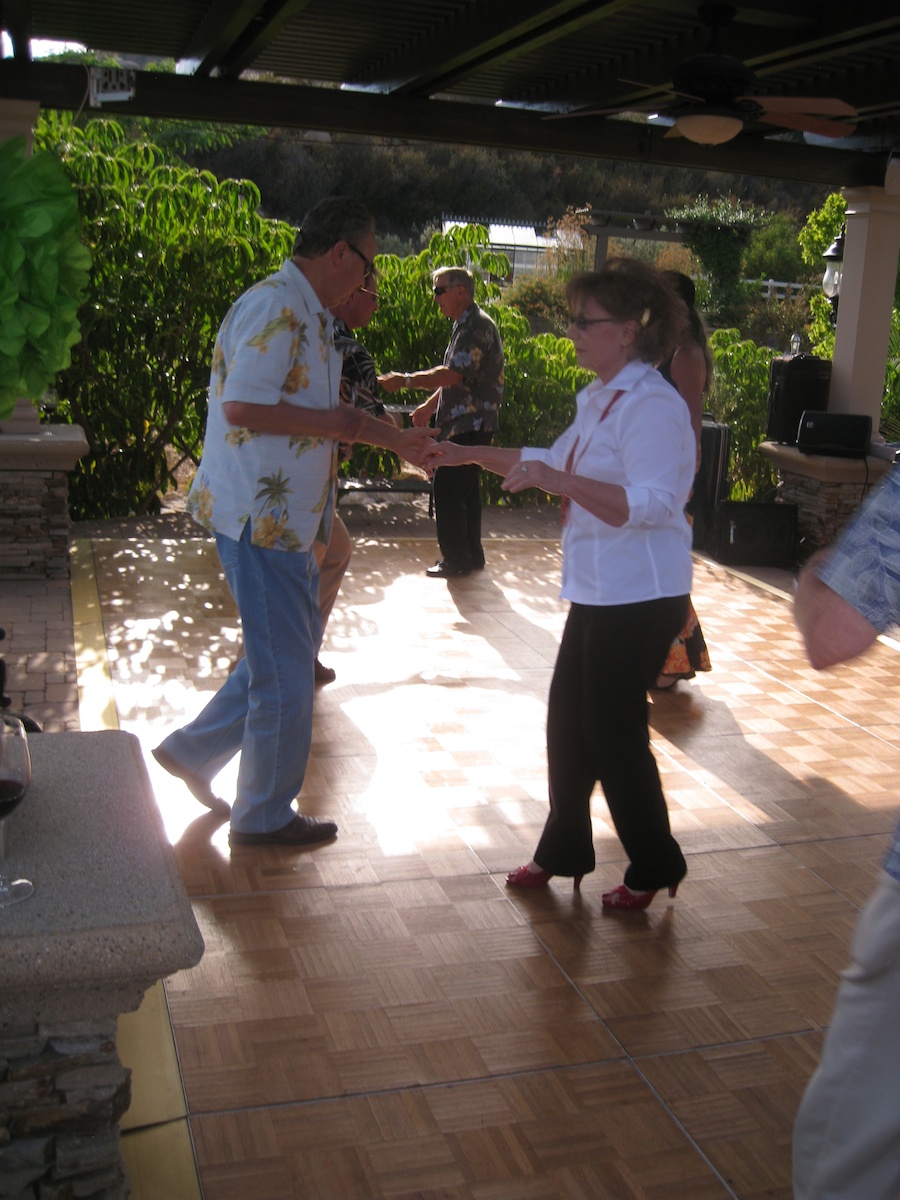 Good old fashioned Rock and Roll.... Roy and Dorrie shows us how!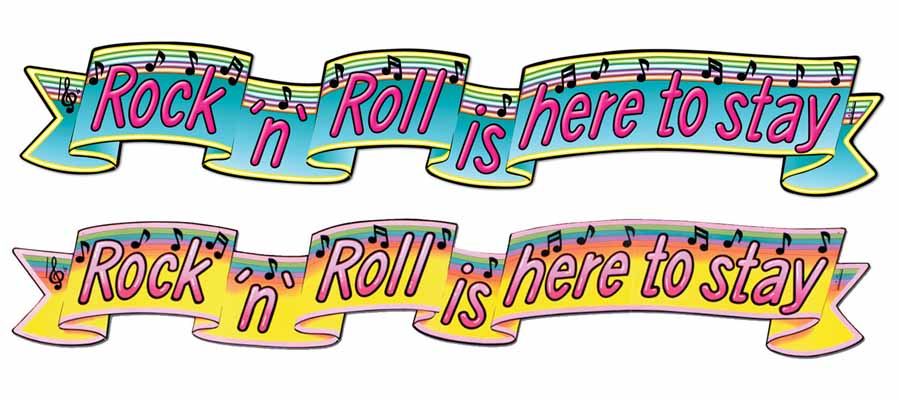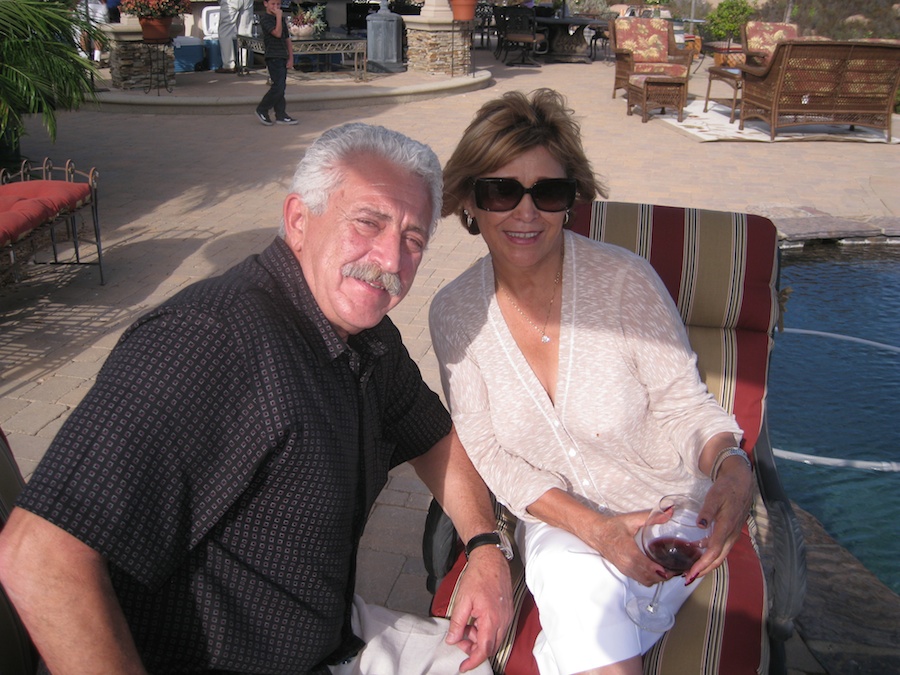 Mike and Monica ... They just visited the Aardvark corral.... Paul is in trouble now
Did You Know? - Paul teased Monica about the Keen's raising pet Aardvarks... In the corral below the dance floor area.
It is sometimes colloquially called "antbear", "anteater", or the "Cape anteater" after the Cape of Good Hope. The name comes from earlier Afrikaans and means "earth pig" or "ground pig" (aarde earth/ground, varken pig), because of its burrowing habits (similar origin to the name groundhog).
The aardvark is not closely related to the pig; rather, it is the sole recent representative of the obscure mammalian order Tubulidentata, in which it is usually considered to form one variable species of the genus Orycteropus, the sole surviving genus in the family Orycteropodidae. The aardvark is not closely related to the South American anteater, despite sharing some characteristics and a superficial resemblance.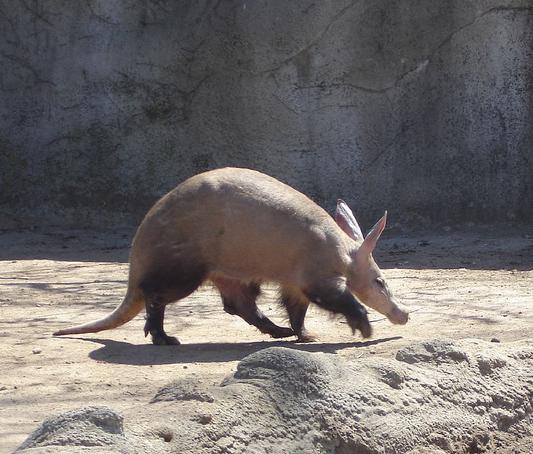 Duct Tape to the rescue
Did You Know? - The first material called "duck tape" was long strips of plain cotton duck cloth used in making shoes stronger, for decoration on clothing, and for wrapping steel cables or electrical conductors to protect them from corrosion or wear. For instance, in 1902, steel cables supporting the Brooklyn Bridge were first covered in linseed oil then wrapped in duck tape before being laid in place. In the 1910s, certain boots and shoes used canvas duck fabric for the upper or for the insole, and duck tape was sometimes sewn in for reinforcement.
In 1936, the US-based Insulated Power Cables Engineers Association specified a wrapping of duck tape as one of many methods used to protect rubber-insulated power cables. In 1942, Gimbel's department store offered venetian blinds that were held together with vertical strips of duck tape. ] All of these uses were for plain cotton or linen tape that came without a layer of applied adhesive.
Adhesive tapes of various sorts were in use by the 1910s, including rolls of cloth tape with adhesive coating one side. White adhesive tape made of cloth soaked in rubber and zinc oxide was used in hospitals to bind wounds, but other tapes such as friction tape or electrical tape could be substituted in an emergency.[6] In 1930, the magazine Popular Mechanics described how to make adhesive tape at home using plain cloth tape soaked in a heated liquid mixture of rosin and rubber from inner tubes.
In 1923, Richard Gurley Drew working for 3M invented masking tape, a paper-based tape with a mildly sticky adhesive. In 1925 this became the Scotch brand masking tape. In 1930, Drew developed a transparent tape based on cellophane, called Scotch Tape. This tape was widely used beginning in the Great Depression to repair household items. Author Scott Berkun has written that duct tape is "arguably" a modification of this early success by 3M. However, neither of Drew's inventions were based on cloth tape.
The Revolite division of Johnson & Johnson made medical adhesive tapes from duck cloth, beginning in 1927. In 1942 during World War II, a team headed by Revolite's Johnny Denoye and Johnson & Johnson's Bill Gross developed a new adhesive tape for the US military, intended to seal ammunition cases against moisture.
The tape was required to be ripped by hand, not cut with scissors. This unnamed product was made of thin cotton tape coated in waterproof polyethylene (plastic) with a layer of rubber-based gray adhesive ("Polycoat") bonded to one side.
It was easy to apply and remove, and was soon adapted to repair military equipment quickly, including vehicles and weapons. This tape, colored in army-standard matte olive drab, was nicknamed "duck tape" by the soldiers. Various theories have been put forward for the nickname, including the descendant relation to cotton duck fabric, the waterproof characteristics of a duck bird, and even the 1942 amphibious military vehicle DUKW which was pronounced "duck".

The old sketchpad at work
Dinner Be Served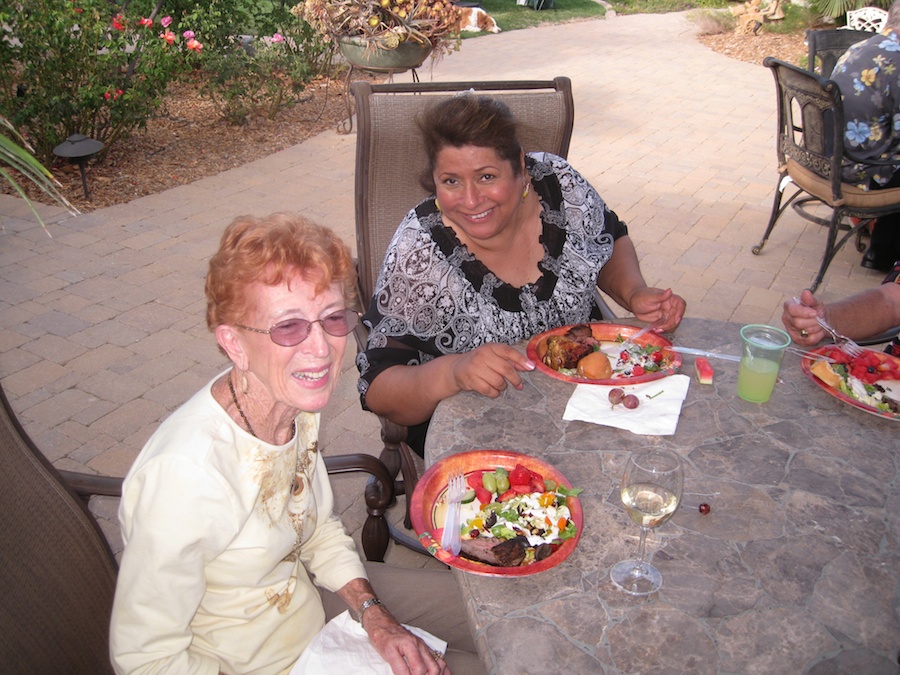 Nancy and Vicky storing up energy to dance

Ed and Kathy....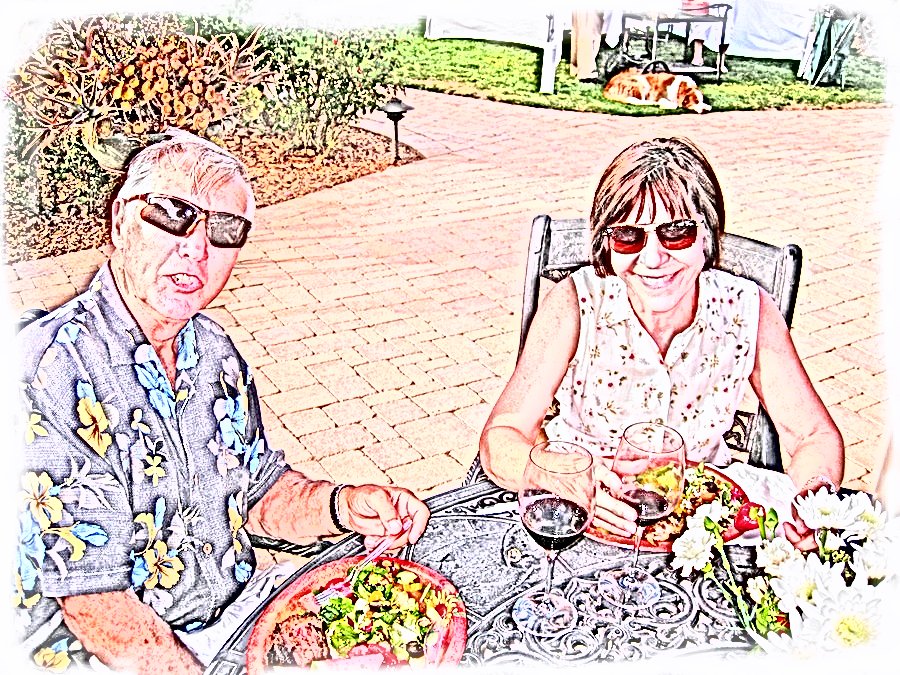 Miles of smiles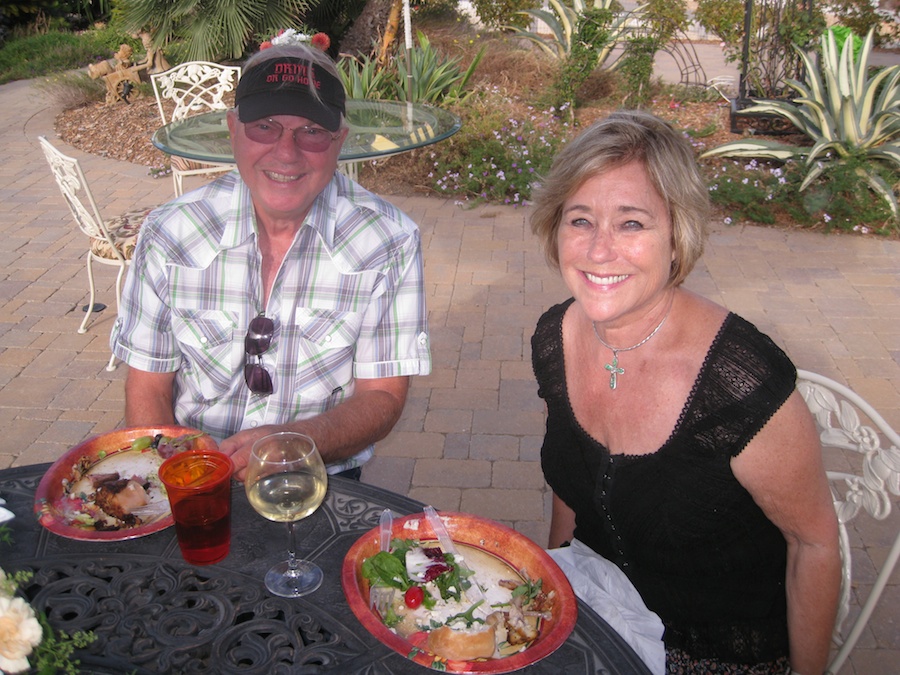 David and Devi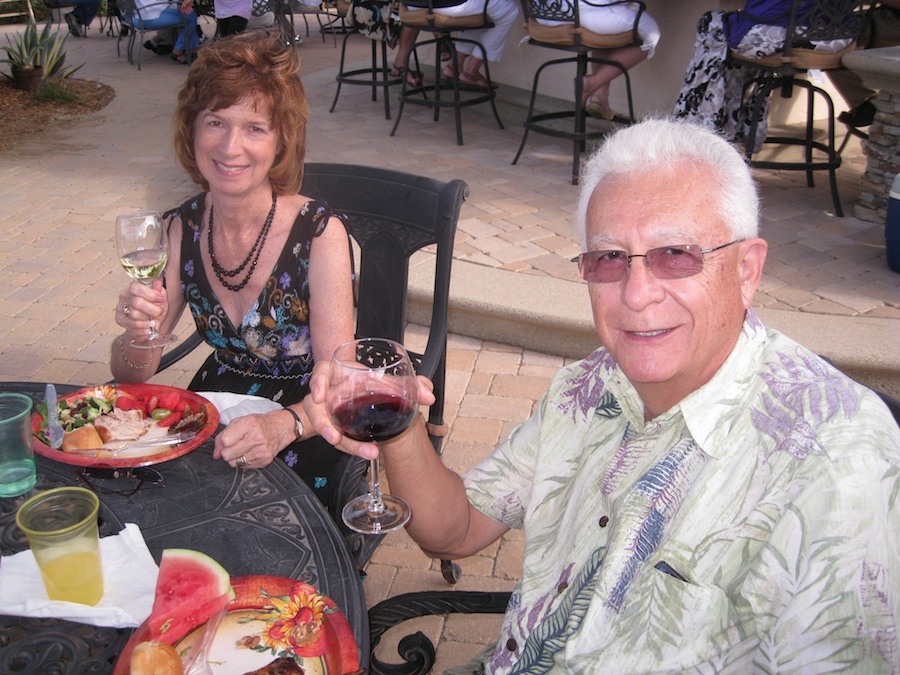 Jan and Guy enjoying the vino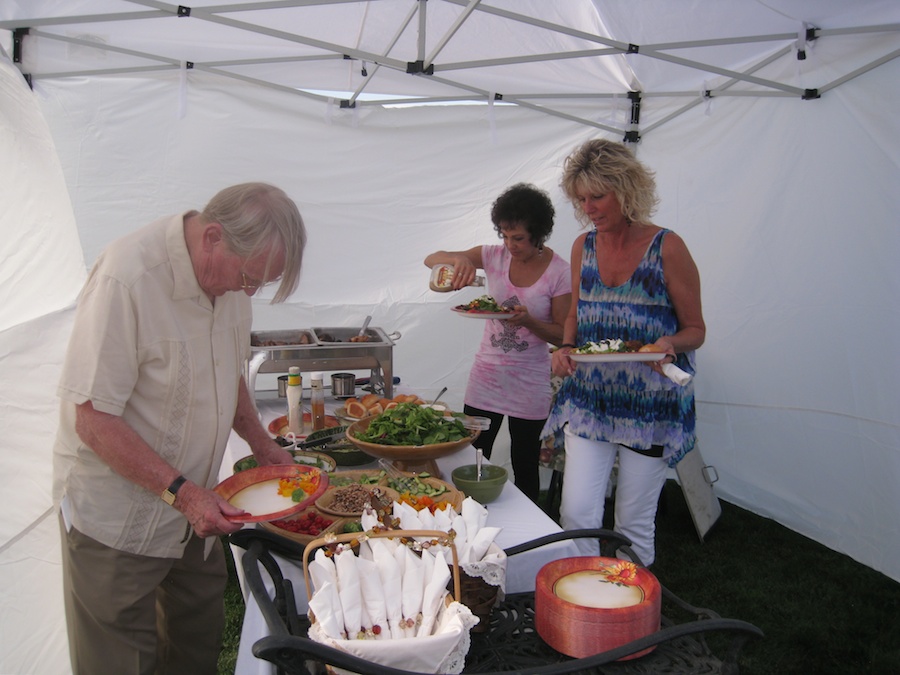 Decisions Decisions

OK... That's enough... I am on a diet!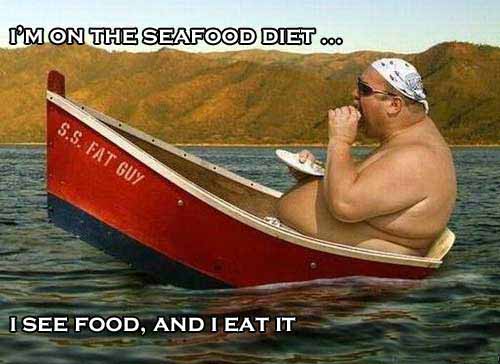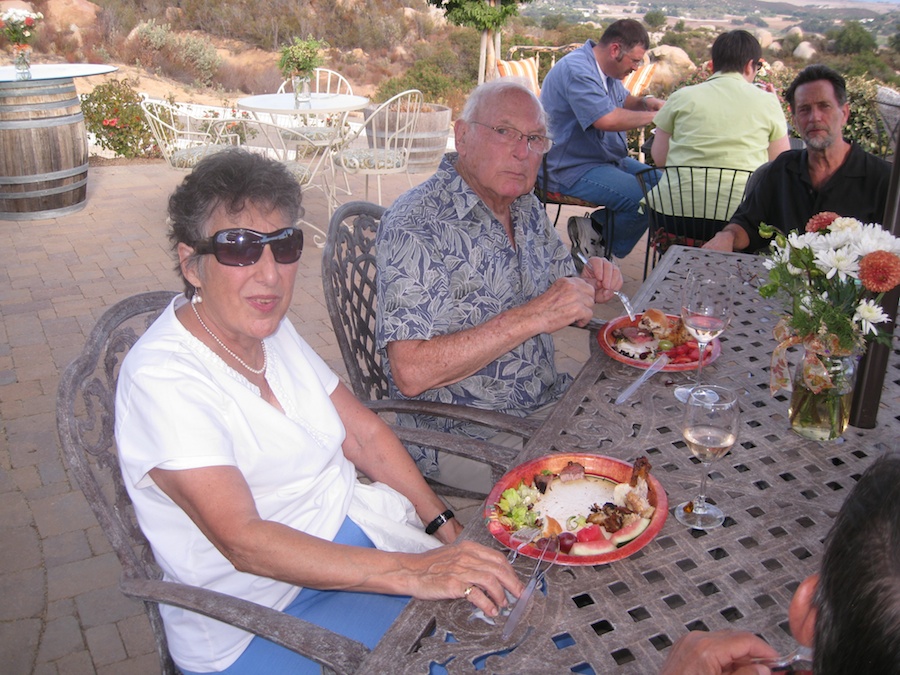 "Look... Olives... It's Greek food!"

Donna and Bob

Marcia and Leon

Irene and Herb

Dorrie and Roy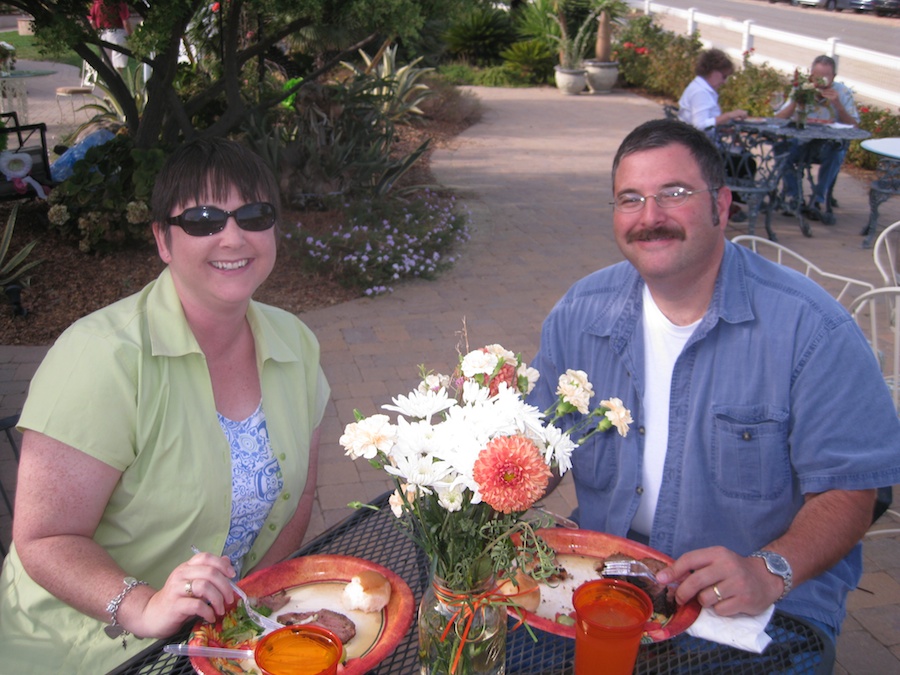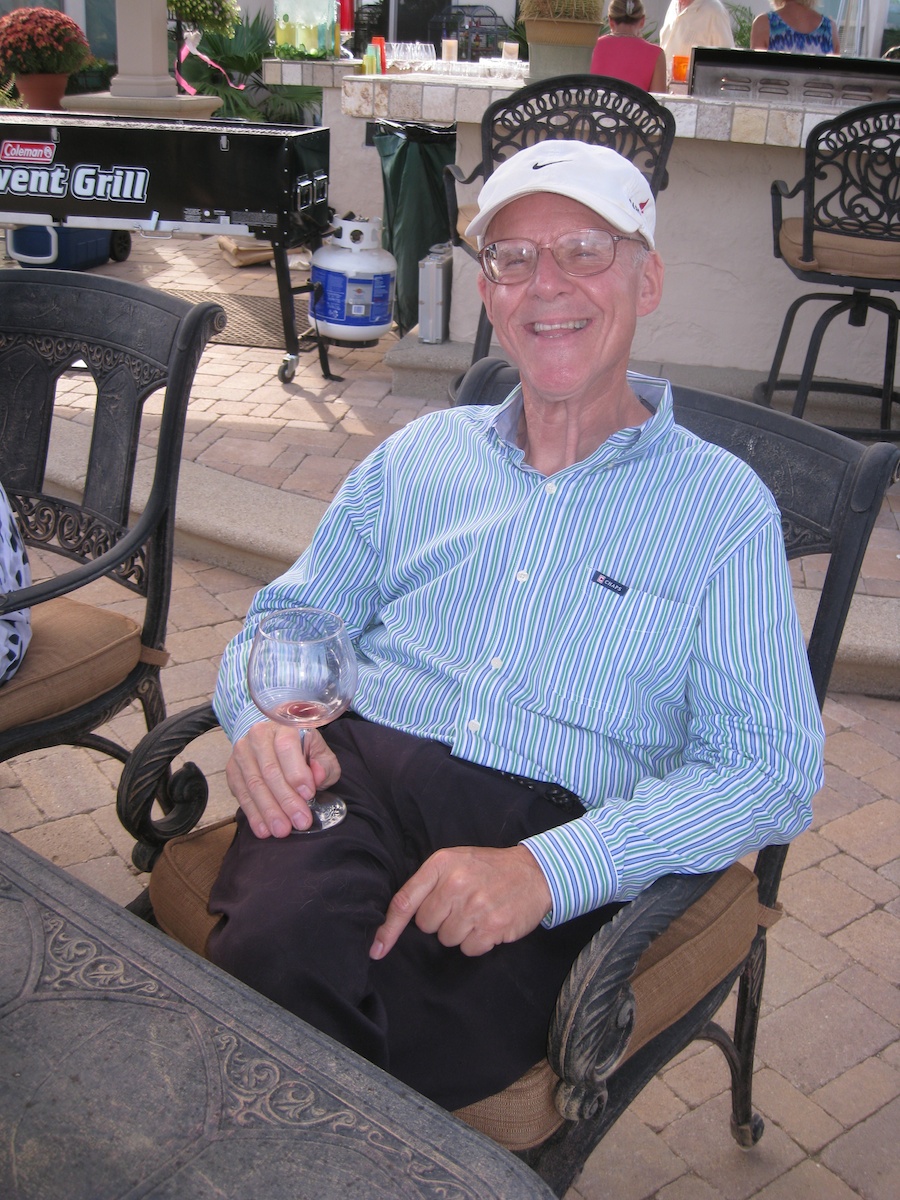 "Look... It's magic... I made the wine disappear"

Getting powered up for the next set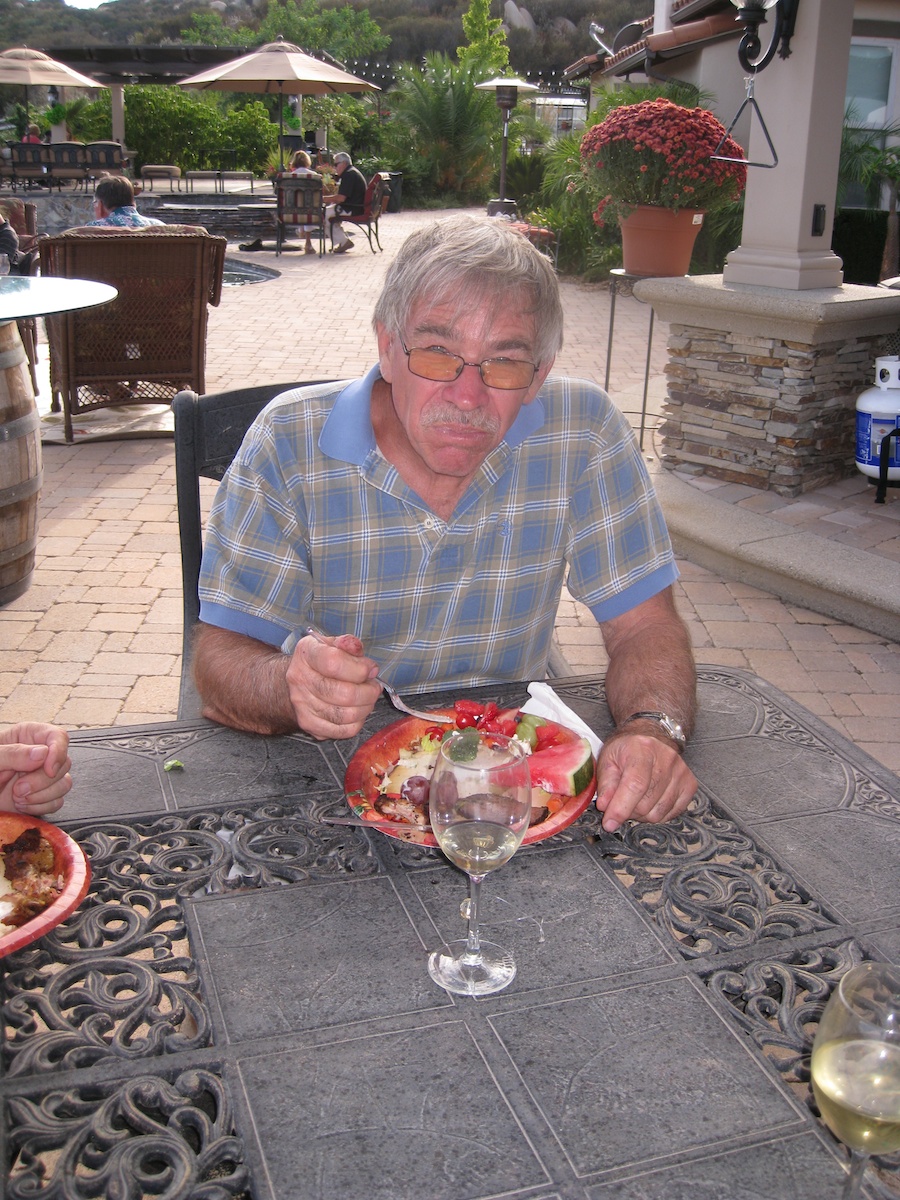 Roy is chowing down....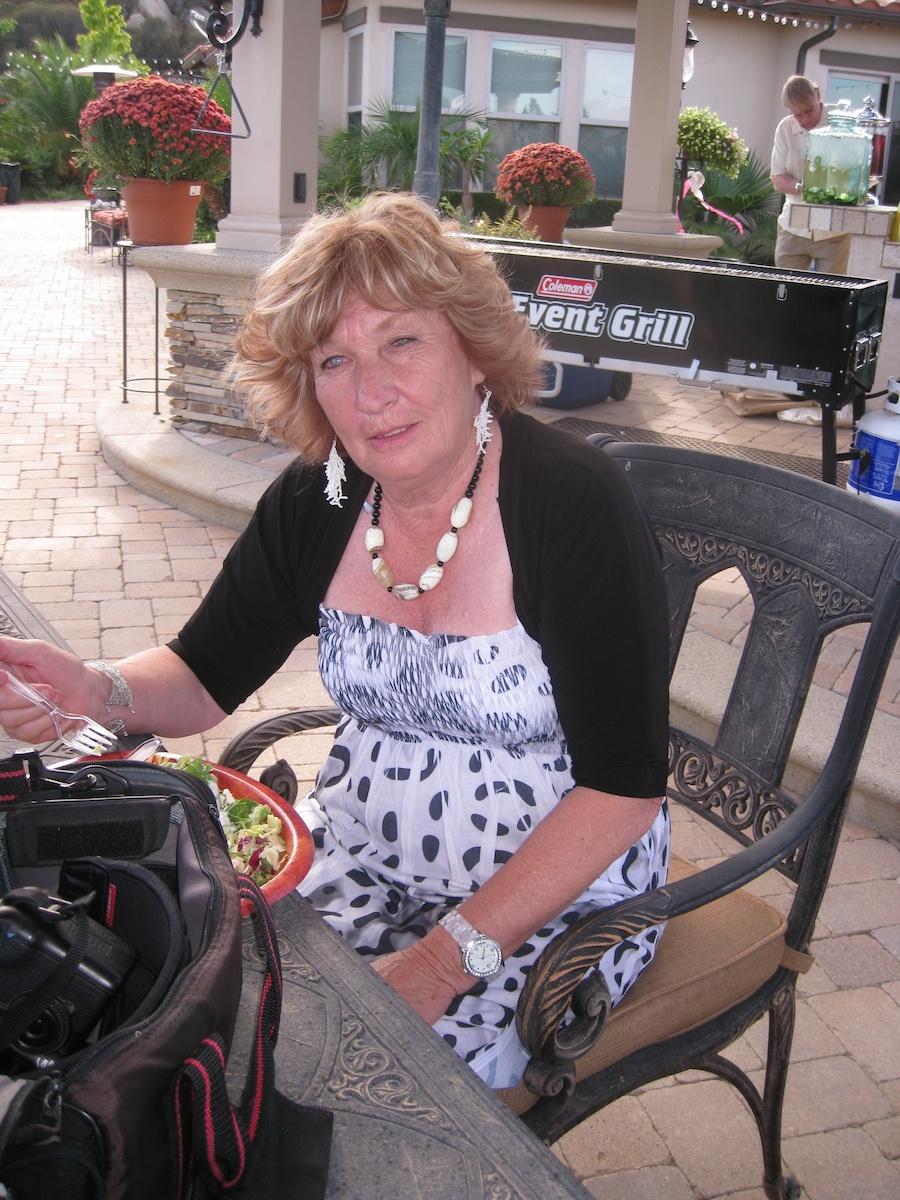 Paula got to eat because her babies are playing in the water...

The baby dog want's to know where his plate is?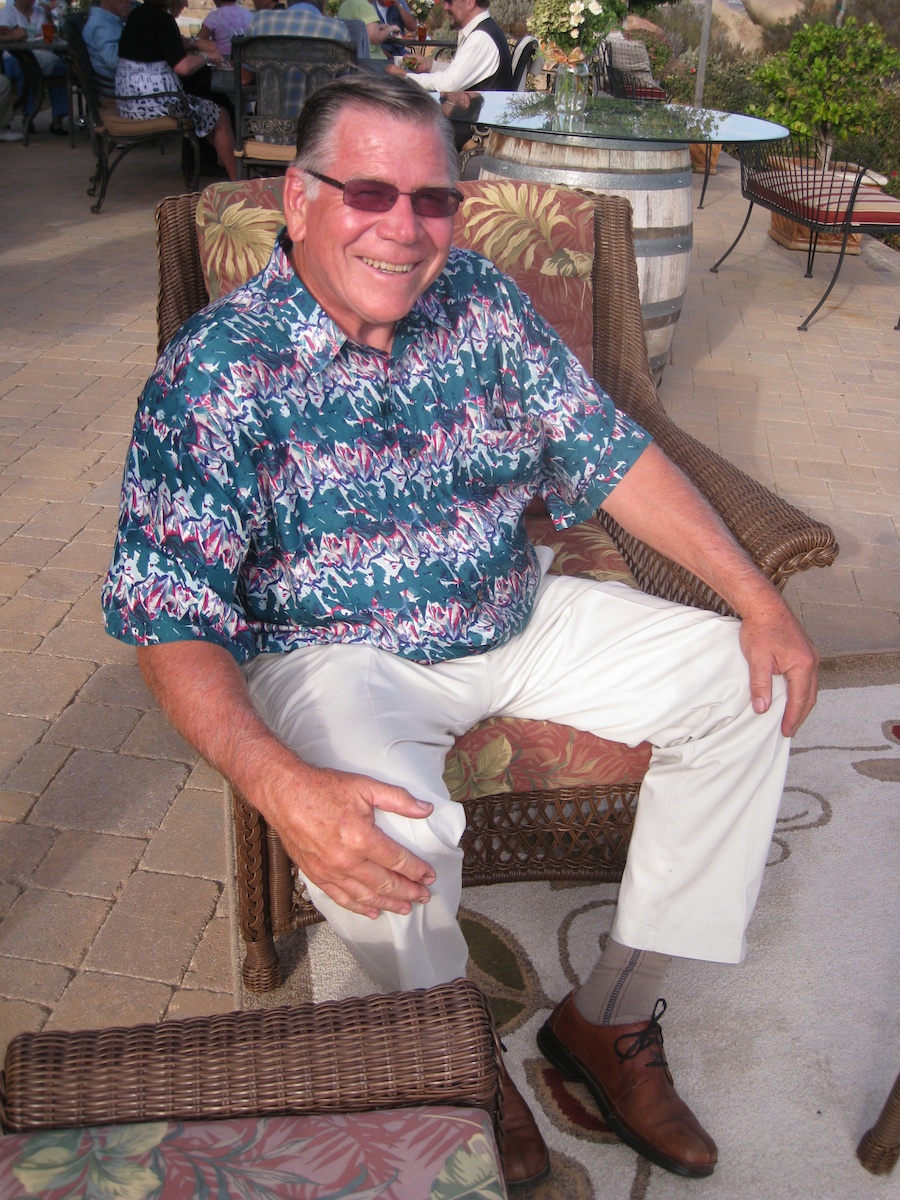 Our fantastic host... Finally taking a rest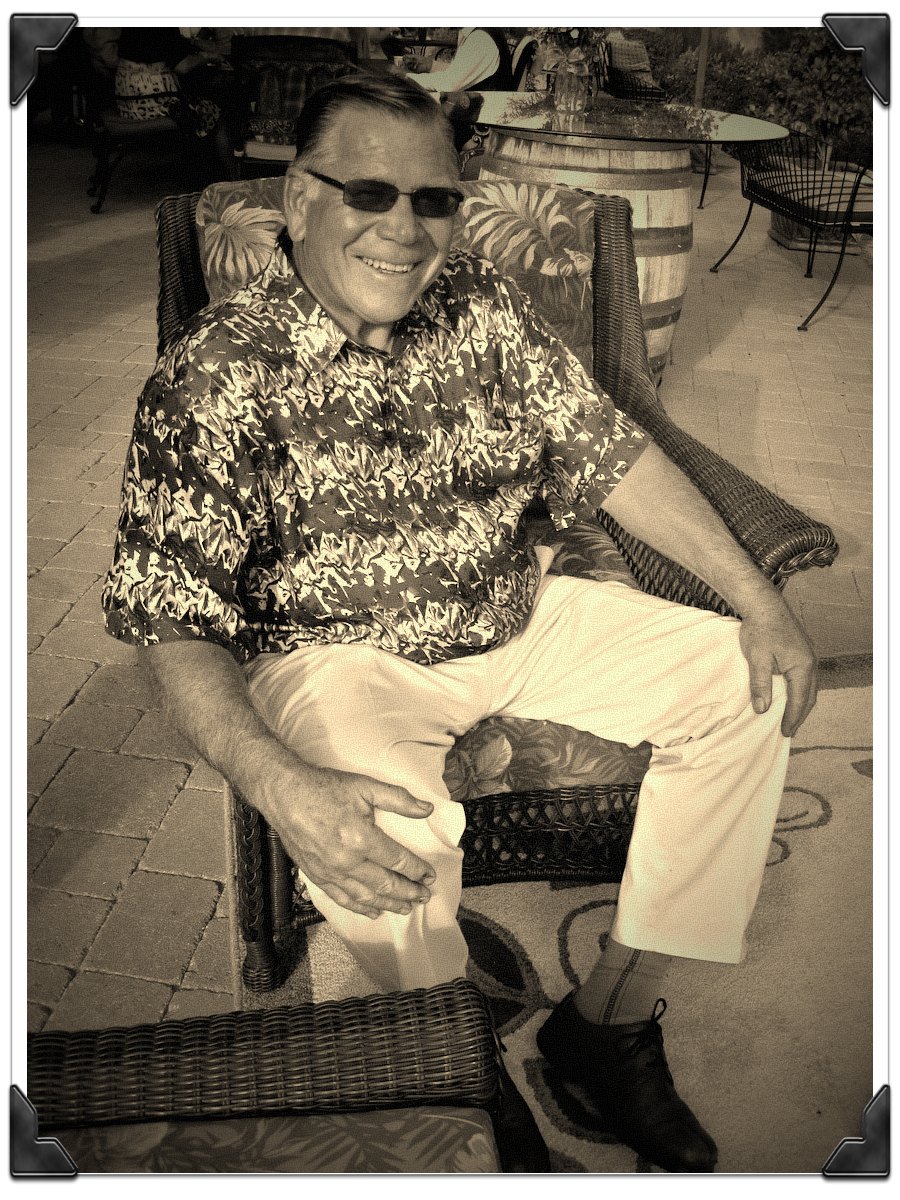 Placed in the old scrap book

The babies are just spoiled...

"OK... Who moved my wine???"

"Seconds? We can have seconds???"

Vodka is so easily disguised when in a plastic cup!

Hat's off to the chef... Oops, you were the chef