We Are Going To A What On January 25th 2015?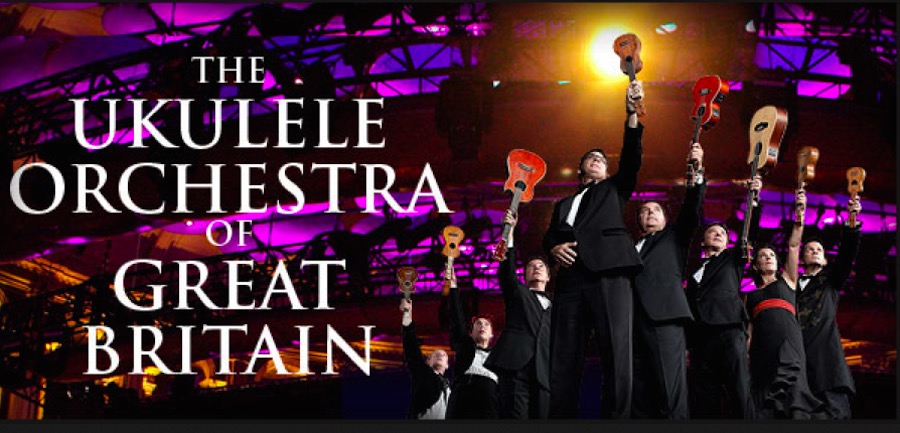 An amazing evening with the ukulele
We signed up to see "The Ukulele Orchestra of Great Britain" as part of our theater adventure at the Cerritos Performing Arts Center. Sounds weird but the house was "sold out". Brian and Jan were here so we finally found some additional tickets and they joined us for this amazing performance.
Did You Know? - The ukulele (/ju?k??le?li?/, ew-k?-LAY-lee, from Hawaiian: ?ukulele [??uku?l?l?], OO-KOO-le-le; British English: ukelele) sometimes abbreviated to uke, is a member of the lute family of instruments; it generally employs four nylon or gut strings or four courses of strings.
The ukulele originated in the 19th century as a Hawaiian interpretation of the machete, a small guitar-like instrument related to the cavaquinho, timple, braguinha and the raj?o, taken to Hawaii by Portuguese immigrants, many from the Macaronesian Islands. It gained great popularity elsewhere in the United States during the early 20th century, and from there spread internationally.
The tone and volume of the instrument varies with size and construction. Ukuleles commonly come in four sizes: soprano, concert, tenor, and baritone.
The ukulele is commonly associated with music from Hawaii where the name roughly translates as "jumping flea," perhaps because of the movement of the player's fingers. Legend attributes it to the nickname of the Englishman Edward William Purvis, one of King Kala?kaua's officers, because of his small size, fidgety manner, and playing expertise. According to Queen Lili?uokalani, the last Hawaiian monarch, the name means "the gift that came here," from the Hawaiian words uku (gift or reward) and lele (to come).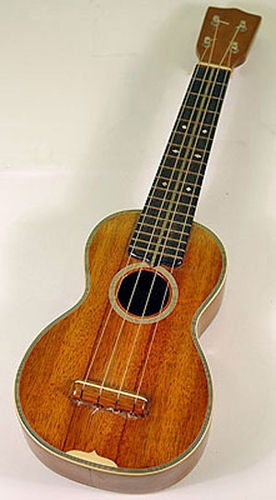 What To Expect?
We had no idea but what could go wrong?


Quite a formal group... It was worrisome but then...


All hell broke loose!!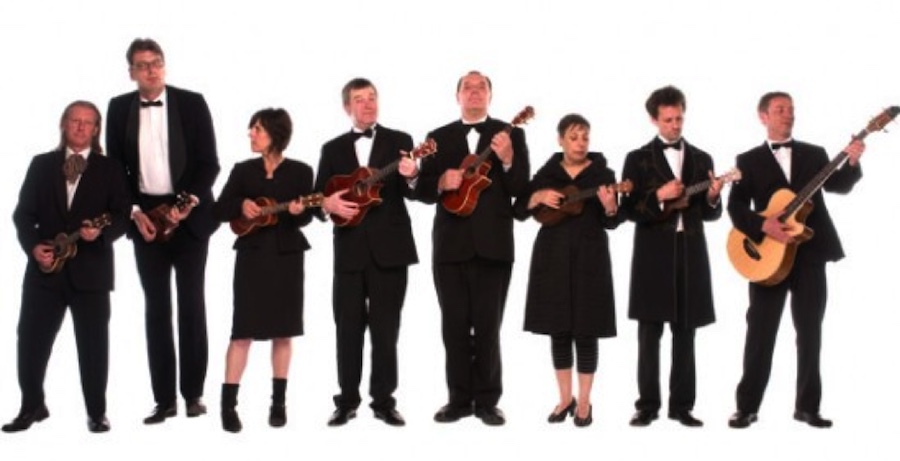 Brian was quite correct... The guy on the end was TALL
Did You Know? - The orchestra has had varying line-ups over the past two decades, but since 2005 has performed as an octet, with seven ukulele players and one bassist. The members wear traditional orchestra dress for performances, with the men in black tie and the women in smart evening wear.
After The Magnificent Performance, We Dined At The Arte Cafe In Cerritos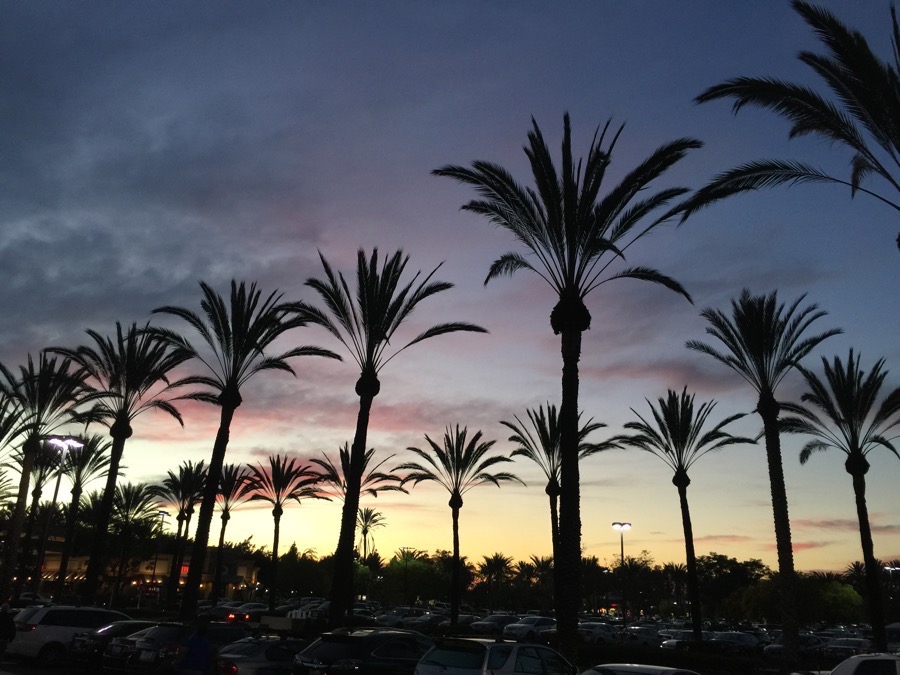 The sun was setting as we crossed the street to the Arte Cafe

Brian explains the essential parts of a ukulele using a spoon

Jan attempts to ignore the explanation!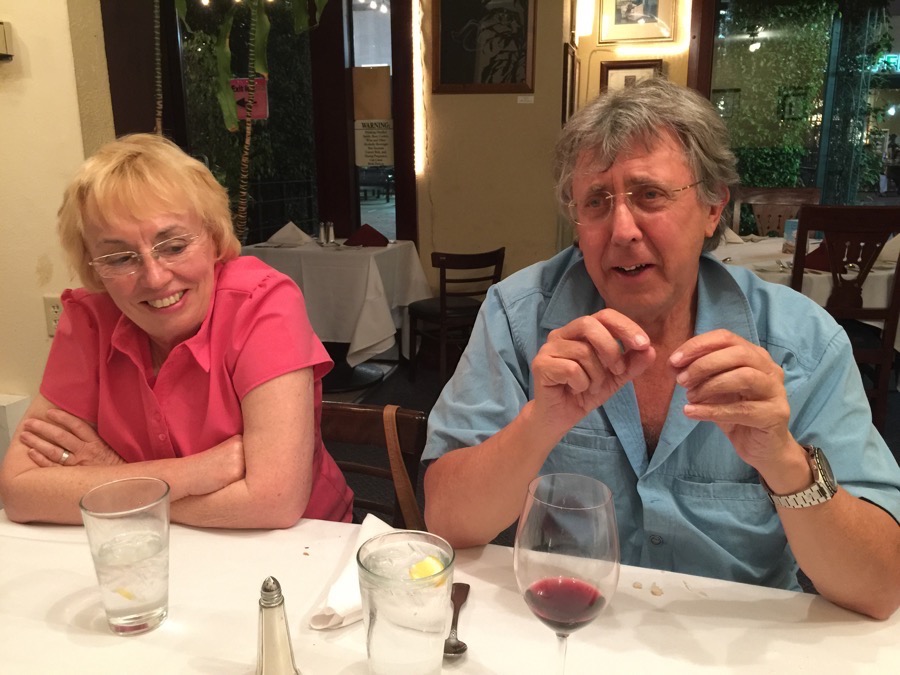 We had a delightful meal and talked and giggled for quite a while

Our waitress attempted to get us all in the picture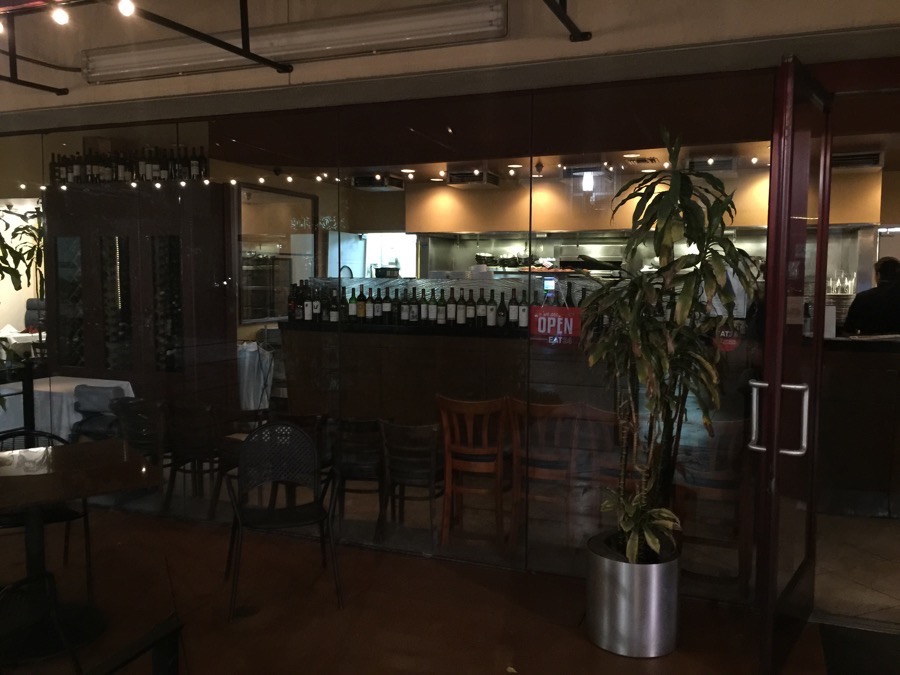 The Arte Cafe is quite nice serving excellent food
Brian and Paul had their White Sea bass... Excellent!

The moon was out and we had to go home!
Habe You Audio Turned Up!