Saturday Morning In Prescott Arizona (Page Two)
Ready to take a step back in time and see what it was really like to be part of the United States (Army) Air Force during times of combat? It starts with bacon and eggs and beer! Beer? Wrong army!

No this is NOT the last meal!

He learns the bad news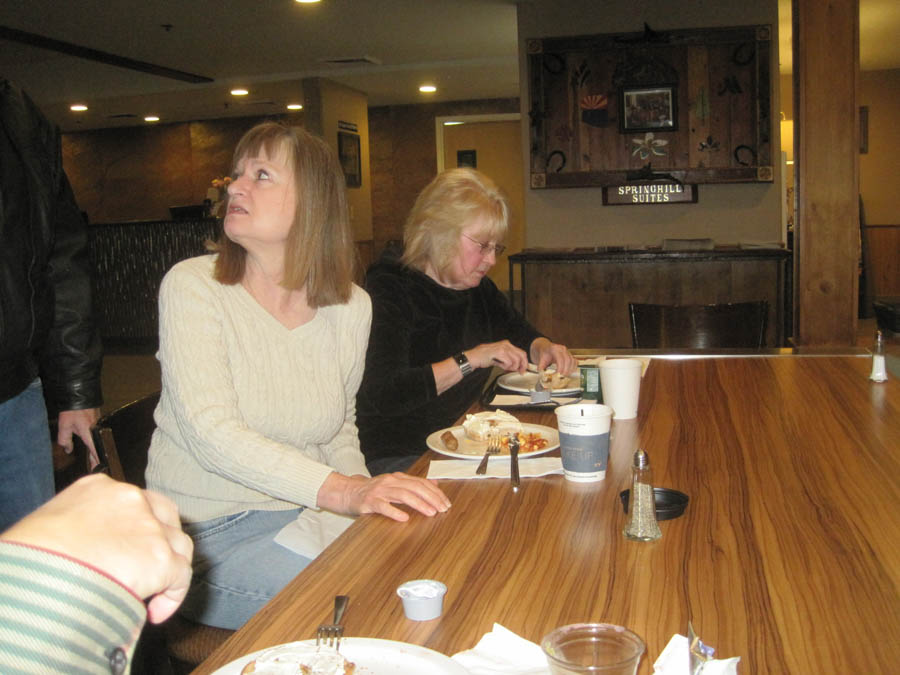 "You can't cancel out now.... Too late!"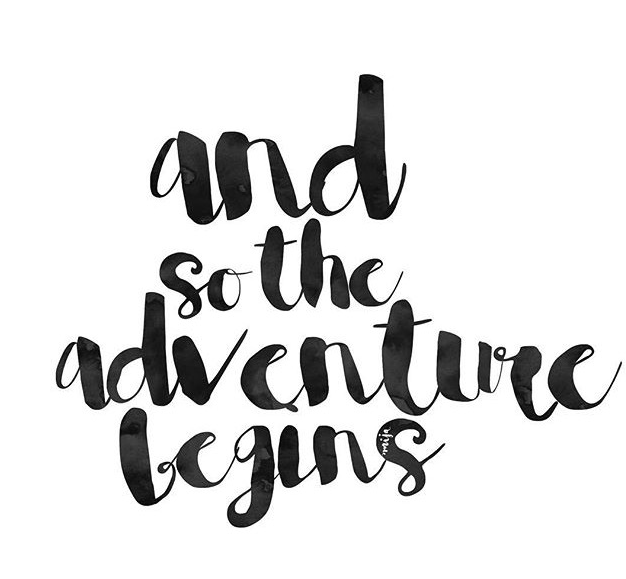 To Legend Aviation... Our POD (Point Of Departure)
2020 Clubhouse Dr, Prescott, AZ 86301
( Website )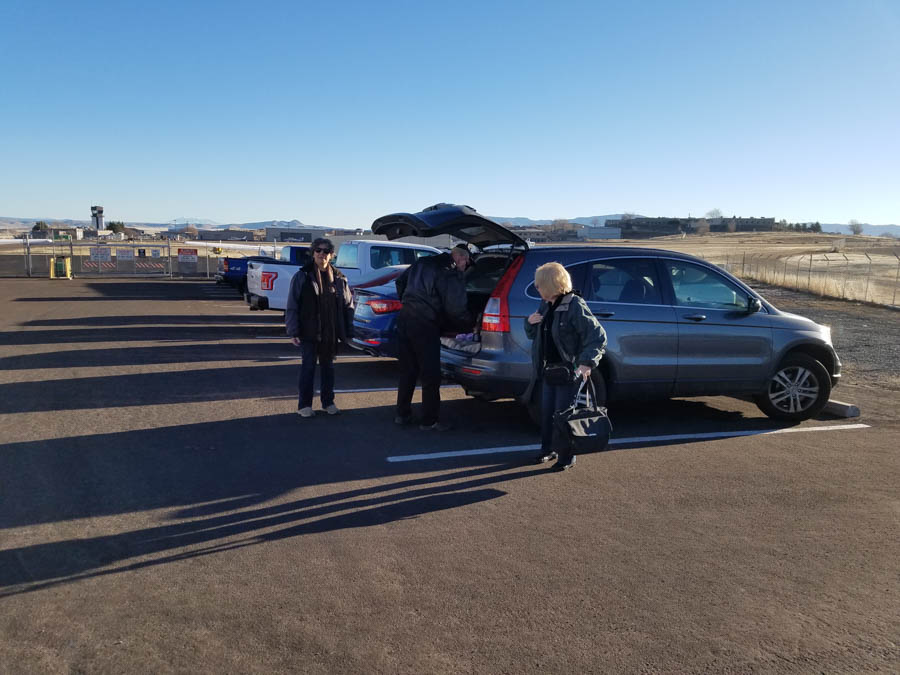 The morning was quite cool with beautiful blue skies!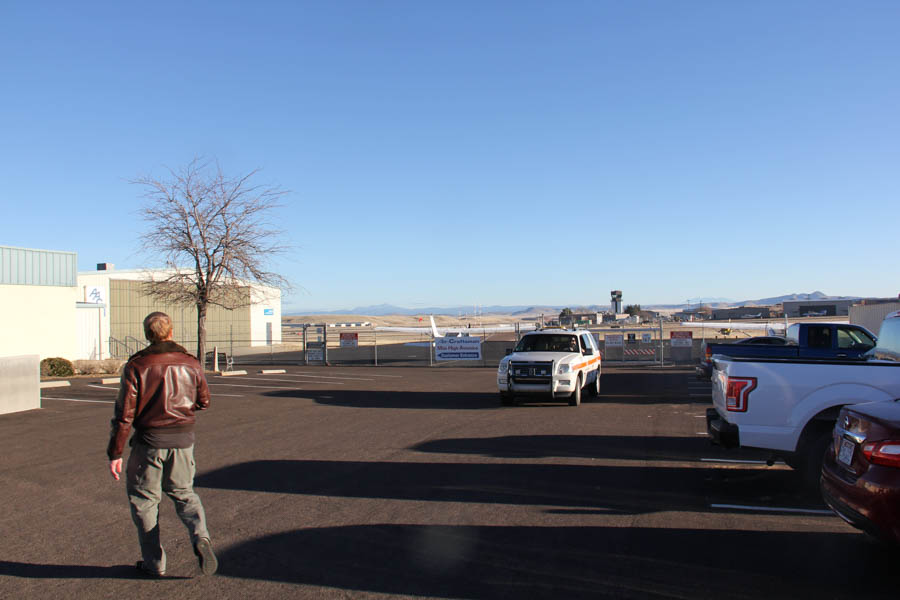 Bomber jacket attire preferred...
Did You Know? - Leslie Irvin first designed and manufactured the classic sheepskin flying jacket. In 1926 he set up a manufacturing company in the United Kingdom, and became the main supplier of flying jackets to the Royal Air Force during most of World War II.
However, the demand during the early years of the war was so great that the Irvin company engaged subcontractors, which explains the slight variations of design and color that can be seen in early production Irvin flying jackets.
As aerospace technology improved, the altitudes at which aircraft operated increased. Most heavy bombing raids in Europe during World War II took place from altitudes of at least 25,000 ft, where ambient temperatures could reach as cold as −50 °C (−58 °F). The cabins of these aircraft were uninsulated, so a warm, thick flight jacket was an essential piece of equipment for every member of the crew.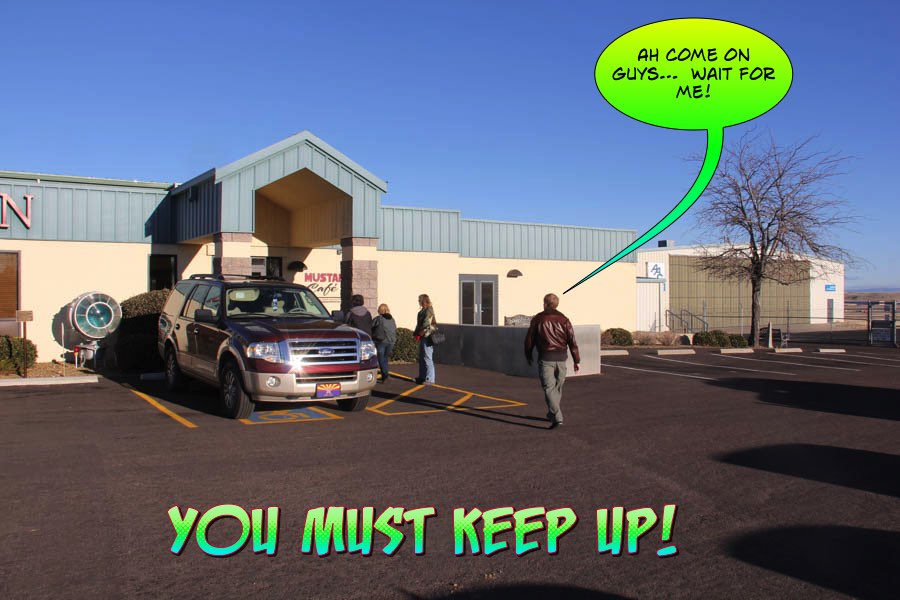 Getting ready for the flight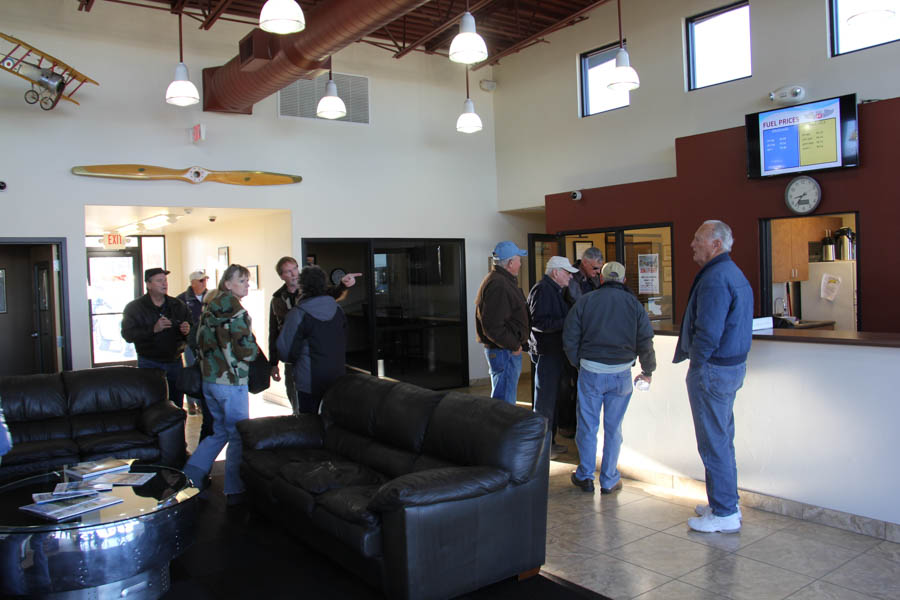 Checking in...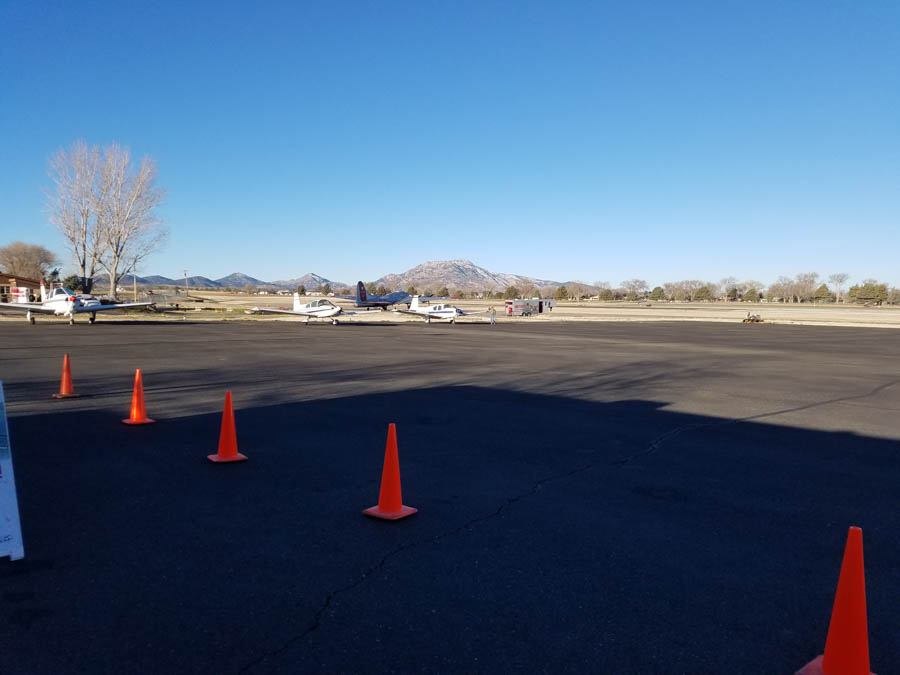 We spot the great aluminum machine

She is ready to go (Courtesy of Curt)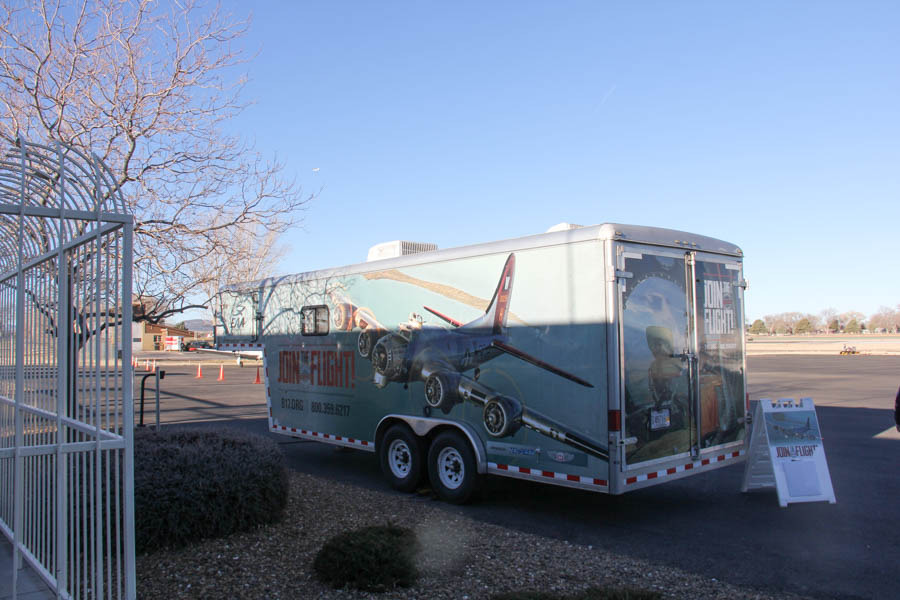 The B-17 has a portable office and support system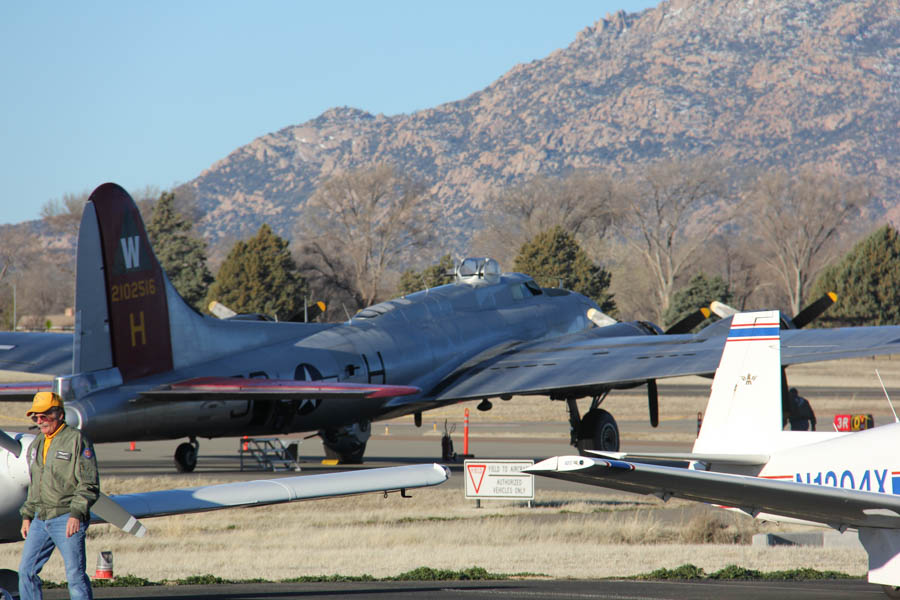 She is a beauty awaiting the crew and passengers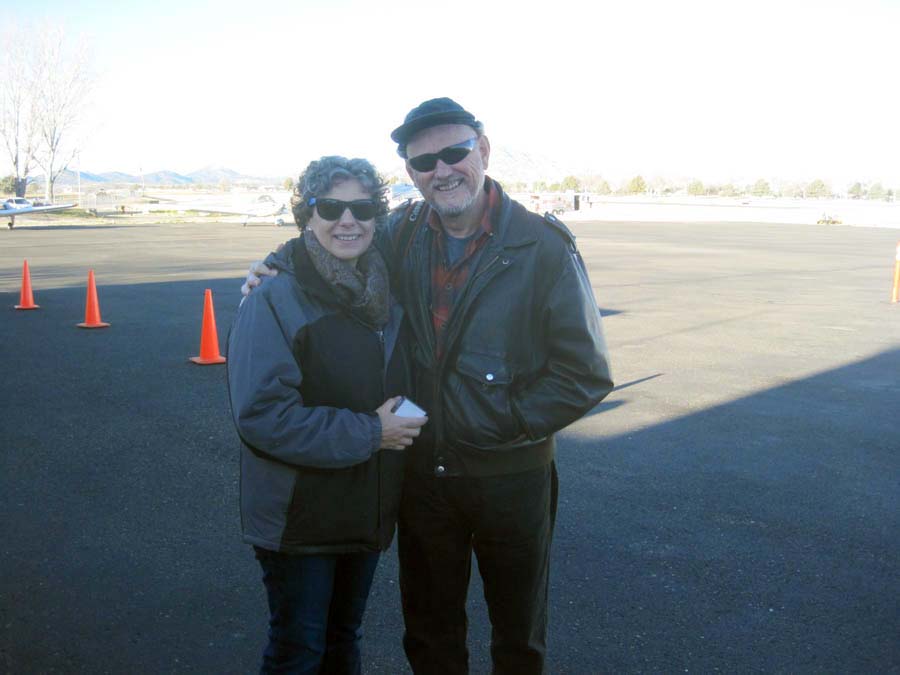 Kerstin wishes him well and reminds him:
1) listen to the pilot and nice stewardesses, and
2) remember have new spare underwear for you and John


Safety briefing underway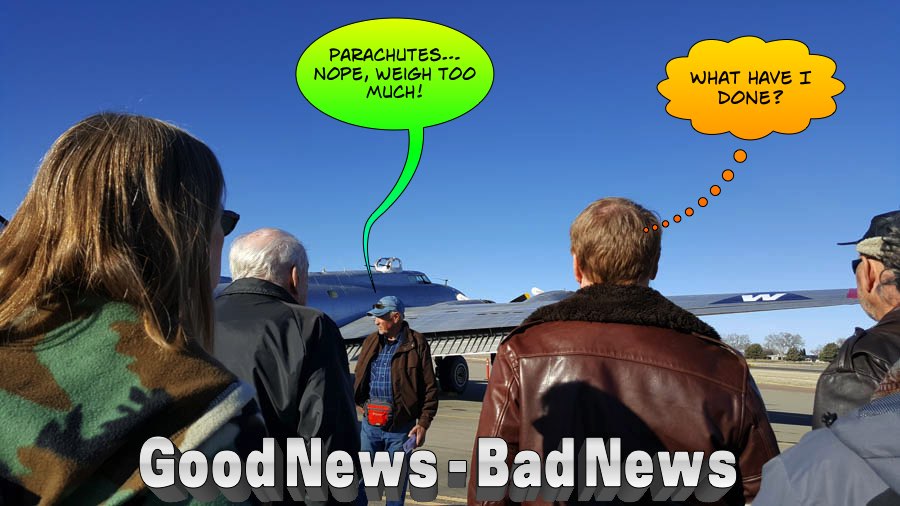 After all, this machine has been flying for 72 years!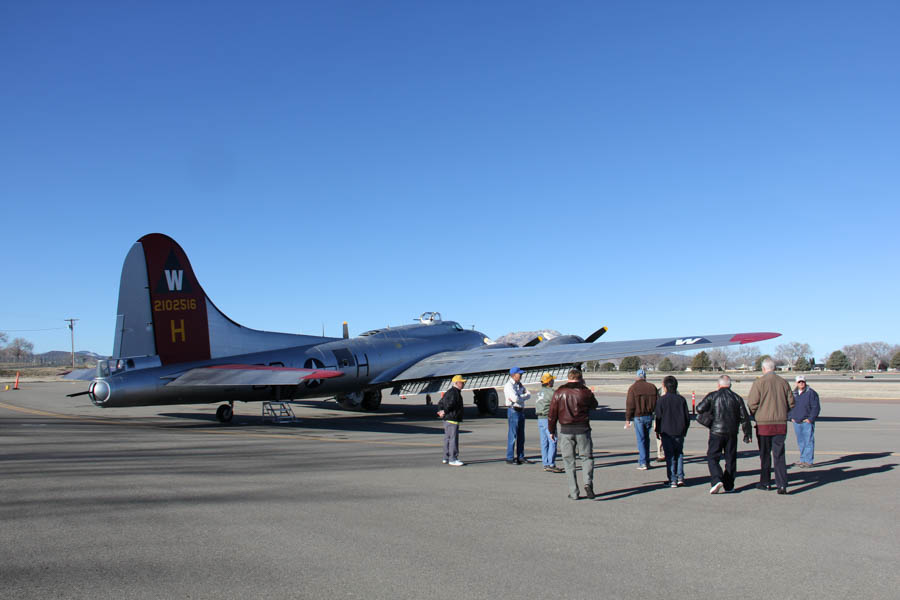 The passengers approach the machine with great anticipation ( video )
Did You Know? - The first flight of the Model 299 (development version of the B17) was on 28 July 1935 with Boeing chief test-pilot Leslie Tower at the controls. Richard Williams, a reporter for the Seattle Times, coined the name "Flying Fortress" with his comment, "Why, it's a flying fortress!" when the Model 299 was rolled out bristling with multiple machine gun installations. The most unusual gun emplacement was the nose installation which allowed the single machine gun to be fired toward almost any frontal angle.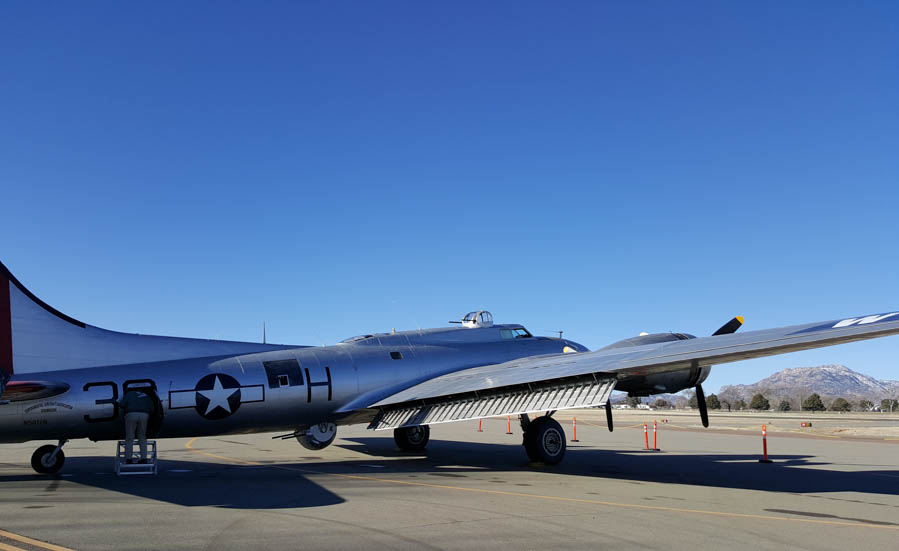 Now we do the ground checks as the pilots board the plane

Turning the engine... OMG, it's a wind up!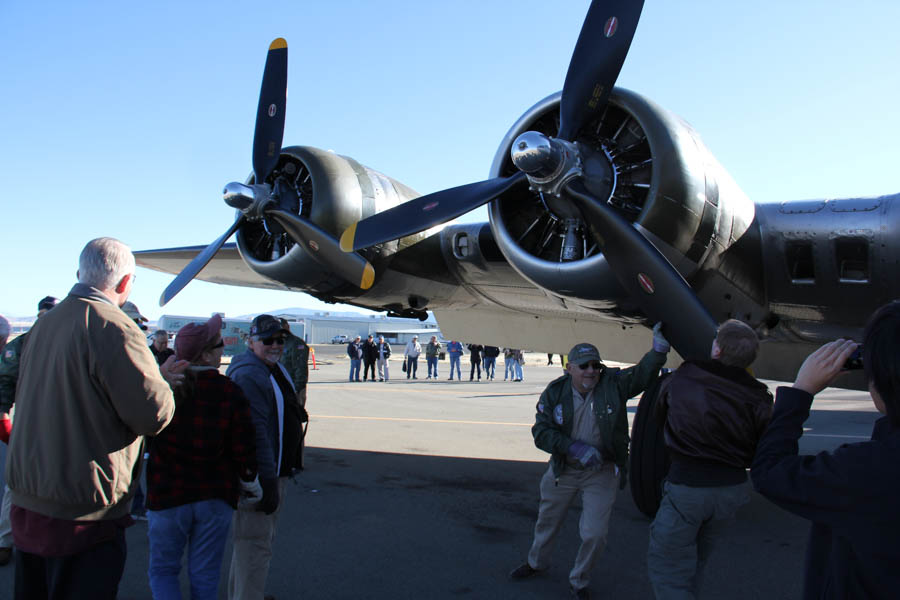 The propellers were wound up and then released when they were supposed to start

We are flying in the "Aluminum Overcast" today
Did You Know? - Aluminum Overcast, B-17G-105-VE, s/n 44-85740, civil registration N5017N, is one of only ten presently airworthy Boeing B-17 Flying Fortresses of the 48 complete surviving airframes in existence. It never saw combat, and it escaped the fate of many aircraft that were scrapped after World War II. It is owned by the Experimental Aircraft Association (EAA), and, as of 2016, it is still touring the United States and Canada offering flight experiences.
Through its association as the "flagship" of the EAA, Aluminum Overcast has become one of the most recognizable examples of the B-17, due to its extensive touring schedule with over one million flight miles accumulated. The overhaul and restoration of the airframe took more than 10 years and thousands of hours by staff and volunteers at EAA Oshkosh, Wisconsin, headquarters.[1] Aluminum Overcast carries the colors of the 398th Bomb Group of World War II, which flew hundreds of missions over Nazi-held territory during the war. Aluminum Overcast commemorates B-17G AAF Serial No. 42-102516, shot down over France in 1944

1200 HP Wright Engines propel the aircraft at almost 300 miles per hour peak
The cruising speed is just 160 miles per hour

Today's passengers are ready to go...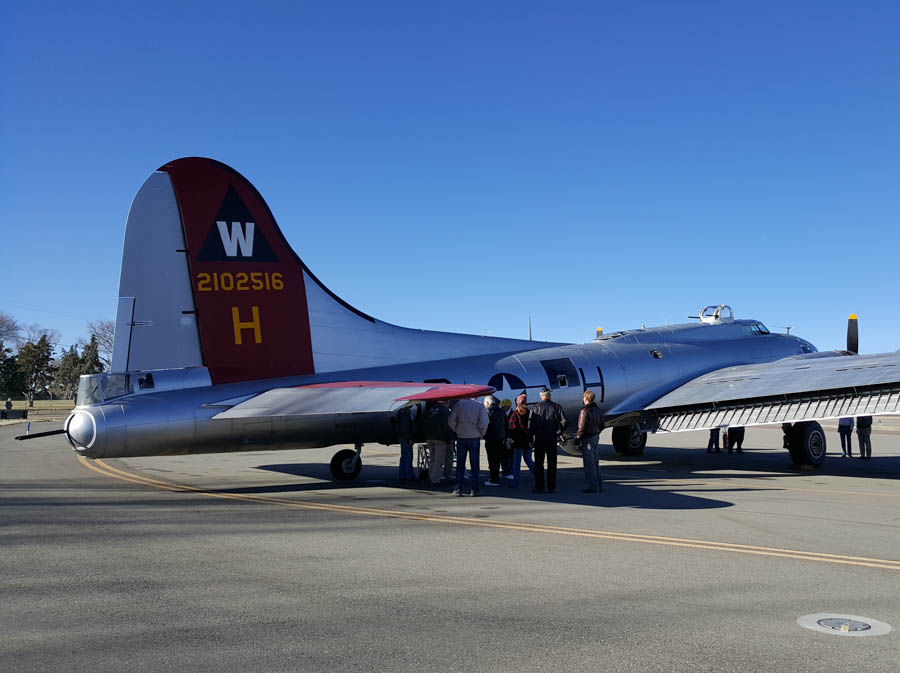 Getting on board ( See the movies on Page 6 )
Did You Know? - B-17G-105-VE, 44-85740 was built by the Vega Division of Lockheed Aircraft Company and delivered to the U.S. Army Air Corps on 18 May 1945, too late to serve in Europe where most B-17s were destined.
Declared surplus and initially stored in New York, the aircraft was sent to Altus, Oklahoma on 7 November 1945 where, stripped of all military equipment, it was sold as "scrap" for $750 in 1946 to Metal Products.
The aircraft was rescued when resold shortly after to Universal Aviation, for use as an aerial mapping platform, acquiring civil registration N5017N.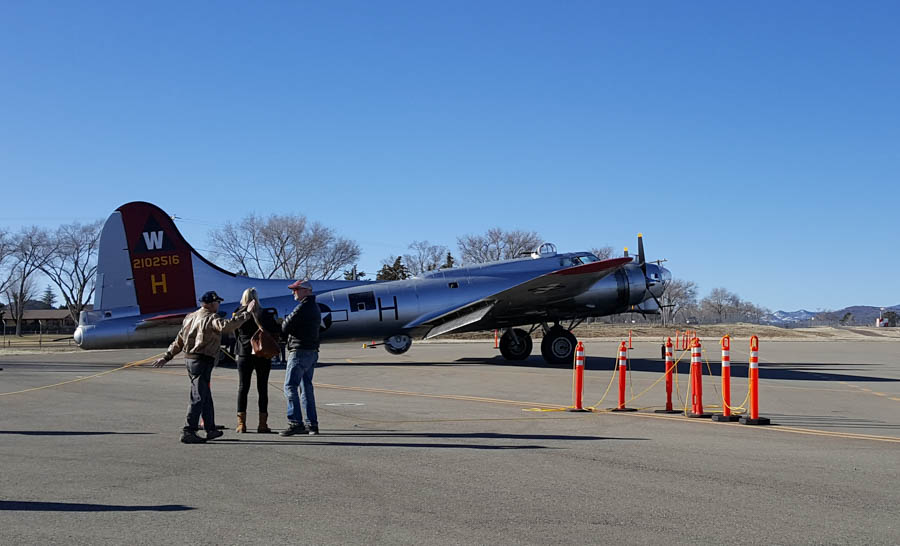 OK... Time to start the engines and get underway
Did You Know? - Wartime Mission: Heavy Bomber bristling with armament with aerodynamic features. The first B-17s went into combat in 1941 by the British Royal Air Force. In the Pacific theater, they earned a deadly reputation with the Japanese and were legendary for their ability to return home after taking brutal poundings.
They served in almost every theater of World War II and dropped over 640,000 tons of bombs.
The B-17G was produced in greater numbers than any other B-17 model with a total of 12,731 aircraft produced by Boeing, Vega, and Douglas. Our Sentimental Journey is 1 out of less than ten B-17Gs around the world still flying today.

The accommodations were a bit spartan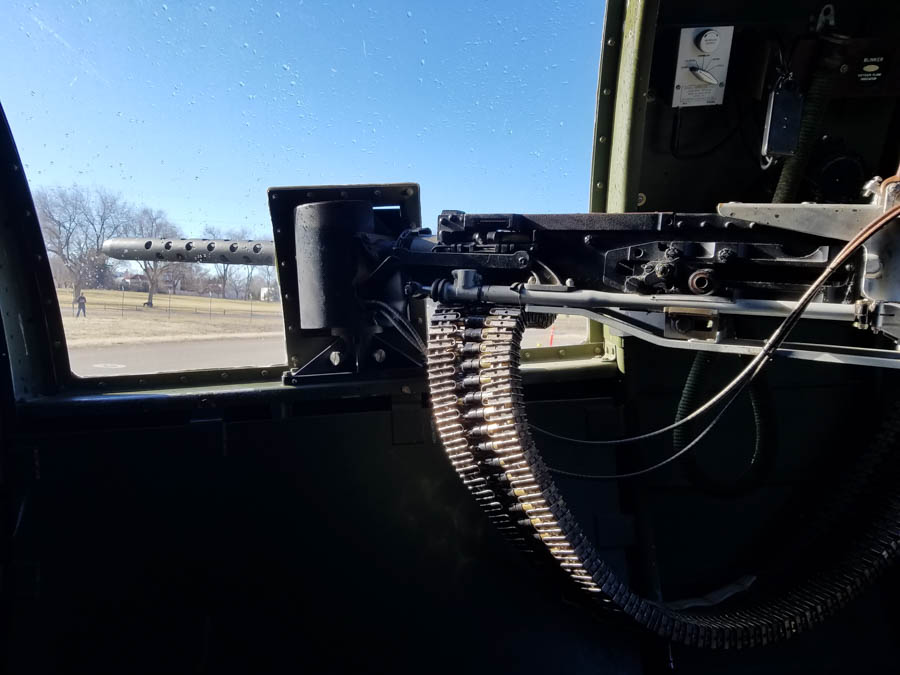 The windows were open to the breeze...

Nope... No insulation... Ear plugs required!

You could walk around but you needed to be REAL careful
not to step on the belly turret gunner!
Did You Know? - B-17 Flying Fortresses followed common practice in that they flew in what was known as the "box formation". This formation allowed every gunner on board the aircraft to bring their guns to bear to any position needed.
Gunner positions on the B-17 included a top turret gunner manning 2 x 12.7mm machine guns, a tail gunner manning 2 x 12.7mm machine guns, a belly gunner manning 2 x 12.7mm machine guns, 2 x cheek gun emplacements, staggered waist gunner positions each manning a single 12.7mm machine gun and the Bendix chin turret.
A limited-arc-of-fire, single 12.7mm machine gun position at the radio operators area was available in early models but later removed. The flight engineer doubled as the top turret gunner while the bombardier and navigator in the nose section doubled as front gunners.
The belly turret gunner was generally of a small stature to be able to fit into the limited-space turret system. All positions were afforded some type of built-in armor protection but this varied extensively by position.

Like being in a large pipe!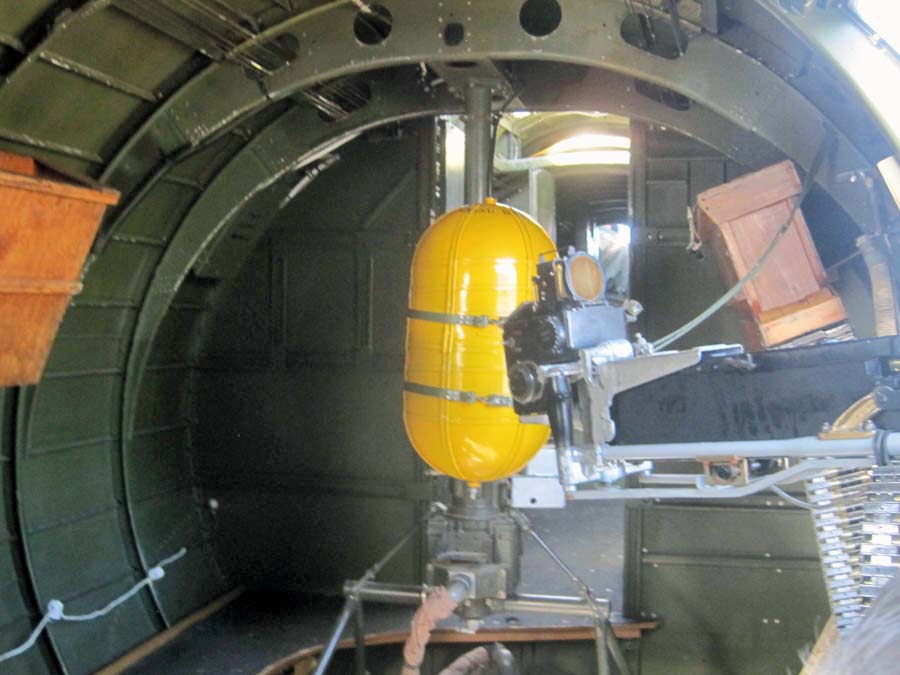 The right side gunner position was wide open to the breeze... Bomber jackets required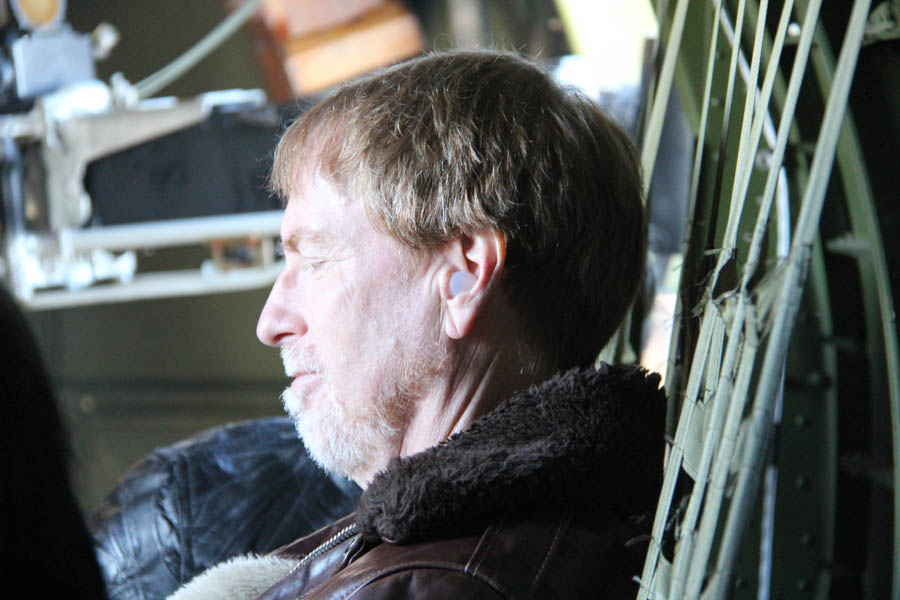 John has his ear plugs in as the engines are beginning to roar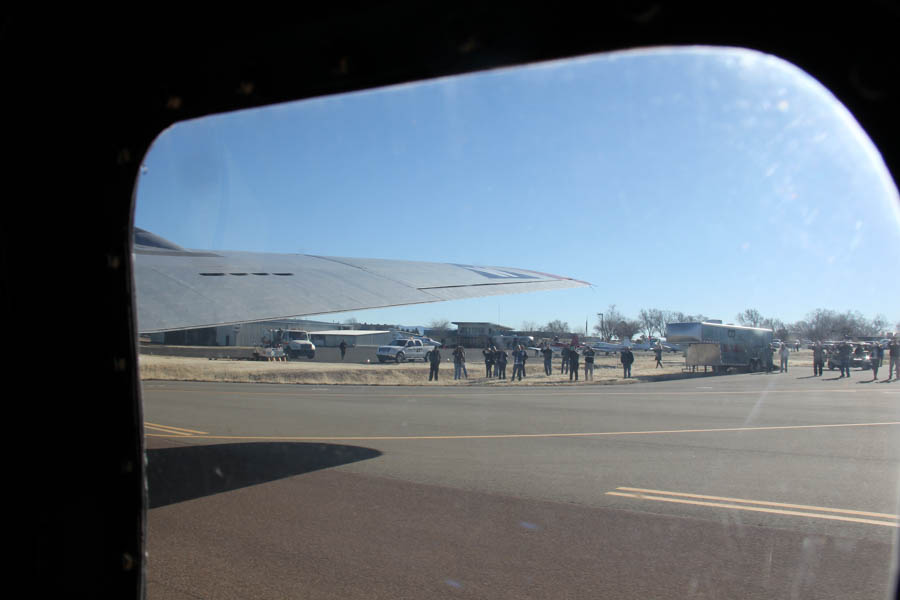 We are taxing out to the runway... We will be airborne in a few minutes!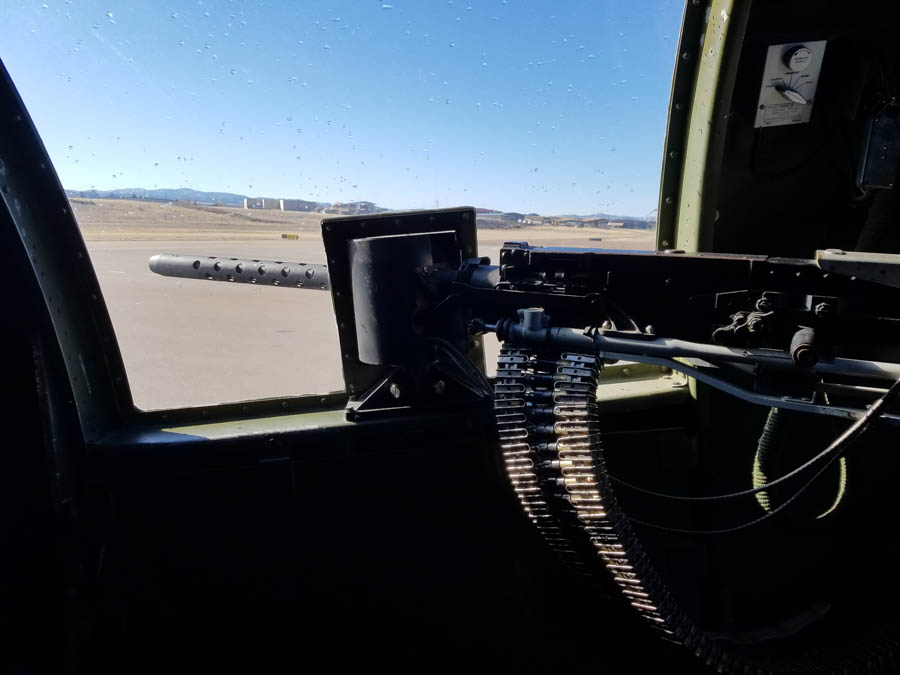 No! The guns are not loaded!
Great view