Hans Gets An Amazing Birthday Present! A Ride In A B-17 Bomber! (Page One)
Hans' bride really surprised him this time! No necktie... No baseball bat... No tickets to the ballet... Just tickets to ride a vintage B-17 WWII bomber!
They were ready to go, departing Anaheim Hills in the morning and heading to 208 E Sheldon St in Prescott, Arizona at the SpringHill Suites by Marriott to rest up for the flight!

They took the southern route because it went through Chiriac Summit
A Stop Was Required At The George S. Patton Museum
First "official stop" was at the Patton Museum at the Chiriac Summit. See more at their website.
Did You Know? - The General George S. Patton Memorial Museum, in Chiriaco Summit, California, is a museum erected in tribute to General George S. Patton on the site of the entrance of Camp Young, part of the Desert Training Center of World War II.
Exhibits include a large collection of tanks used in World War II and the Korean War, as well as memorabilia from Patton's life and career – especially in regard to his service at the Desert Training Center – and from soldiers who trained there. Development of the Colorado River Aqueduct and natural-science exhibits are displayed as well. In addition, a 26-minute video is shown, detailing Patton's military service and the creation of the Desert Training Center.
Though Patton spent less than four months at the Desert Training Center, his establishment of the training grounds directly impacted more than one million troops.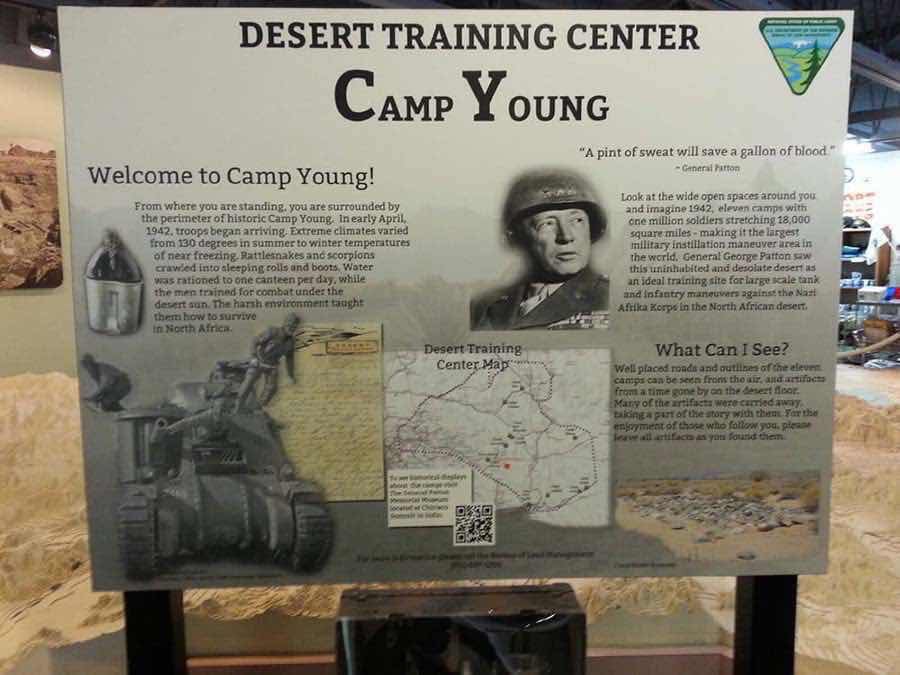 Young was the first Chief of Staff for the US Army in the 1800's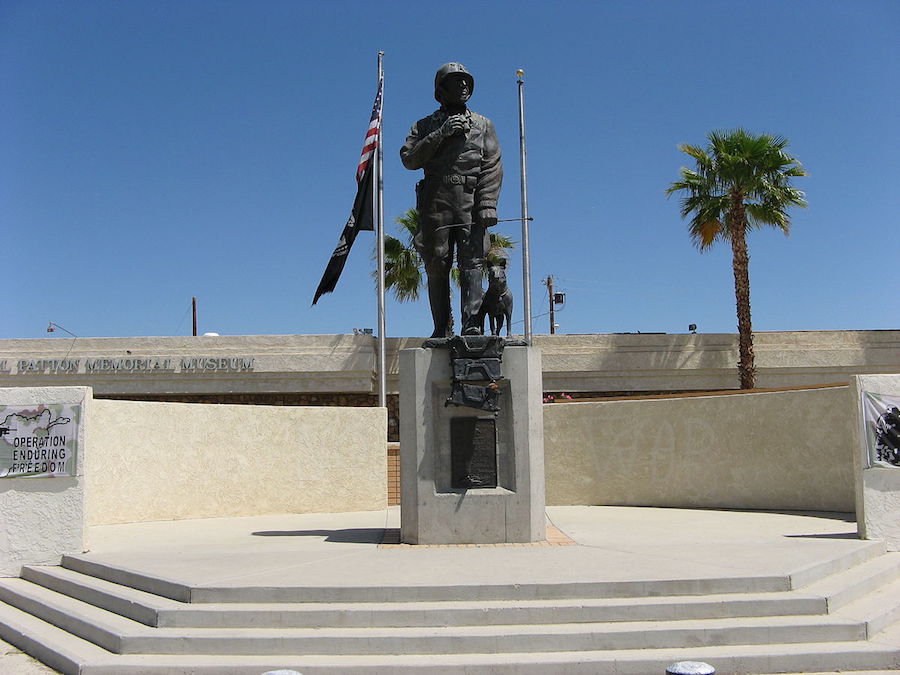 General Patton looks over the desert training area

Click image for full sized map

Tanks and other vehicles are on the left hand side of the building

The girls pose under General Patton's statues

Training Center Marker (Courtesy of Curt)

Come over here Hans! You need you picture taken!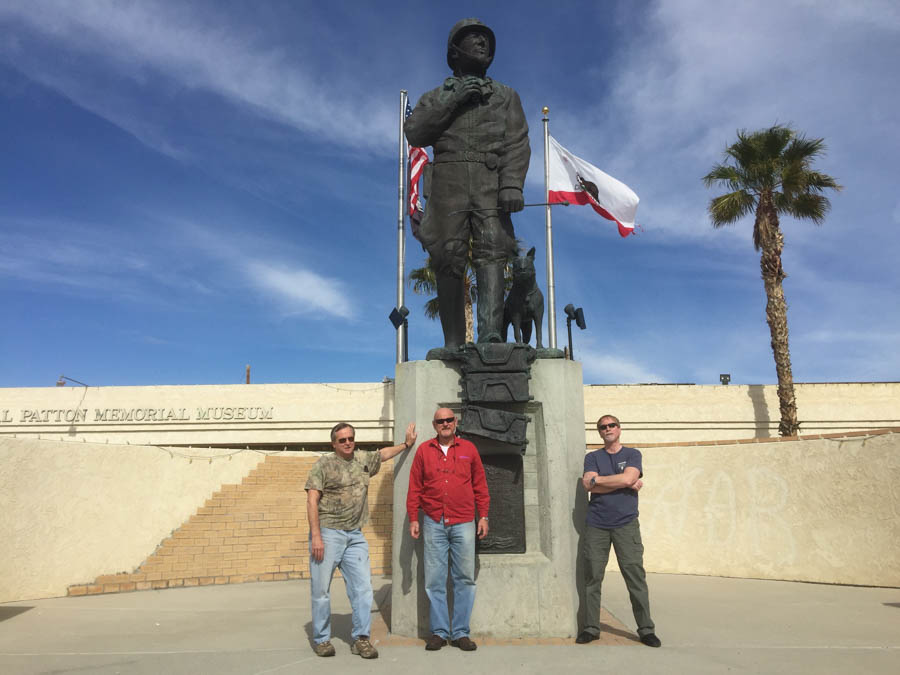 We found the "Desert Rats"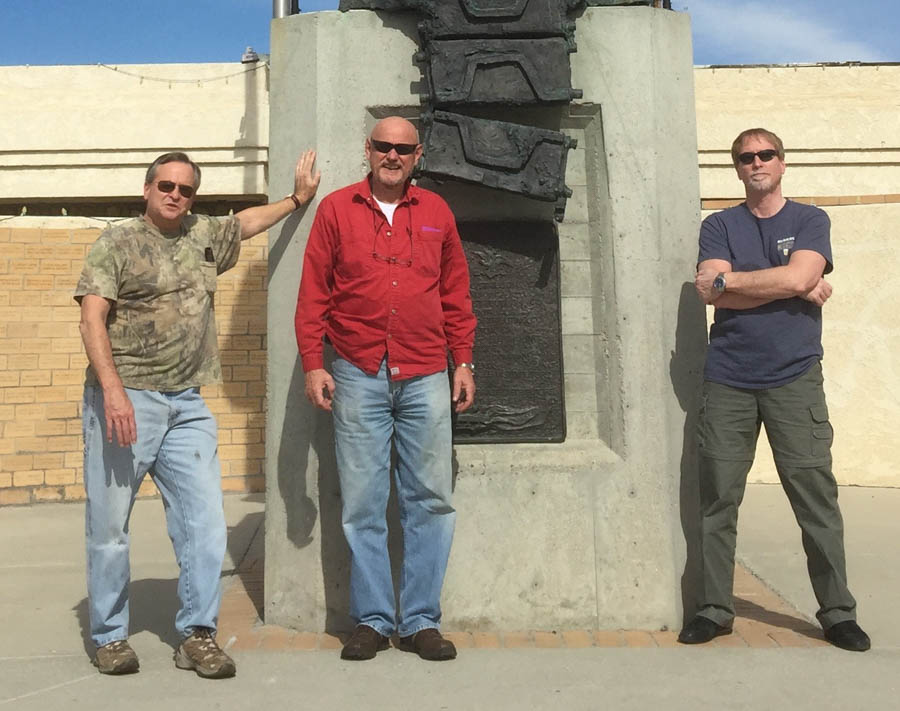 Huey (Curt), Dewey (Hans) and Louie (John)!
Did You Know? - Huey, Dewey, and Louie Duck are triplet cartoon characters created in 1937 by writer Ted Osborne and cartoonist Al Taliaferro, and are owned by The Walt Disney Company. Huey, Dewey, and Louie are the nephews of Donald Duck and the grandnephews of Scrooge McDuck. Like their uncles, the boys are anthropomorphic white ducks with yellow-orange beaks and feet. They typically wear shirts and colorful baseball caps, which are sometimes used to differentiate each character. Huey, Dewey and Louie have made several animated appearances in both films and television, but comics remain their primary medium. The trio are collectively the 11th most published comic book characters in the world, and outside of the superhero genre, second only to Donald.

We wonder if the new Sherman Tank remote will work?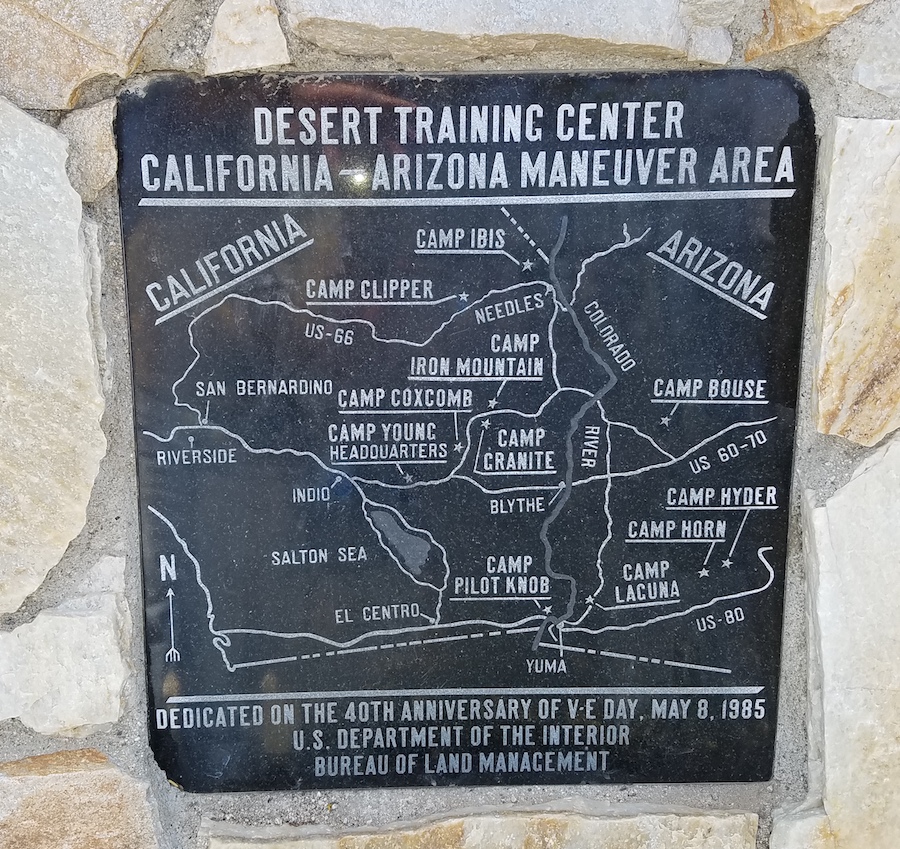 Many "camps" within the overall base (Courtesy of Curt)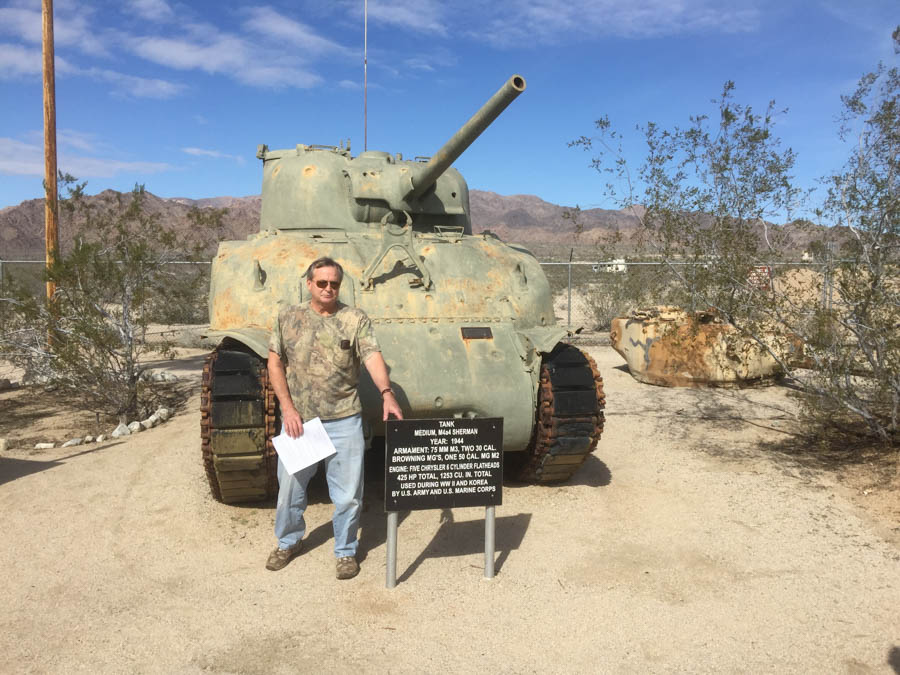 We shall soon find out!
Did You Know? - Named for the controversial Civil War general William Tecumseh Sherman, the 30-ton M4 was originally powered by a Continental nine-cylinder, 400-horsepower engine. Later models, like the M4A4 were outfitted with four-speed, 30-cylinder, 470-horsepower Chrysler powerplant. Shermans could reach speeds of 30 mph (48 km/h) and had a range of 120 miles (200 km).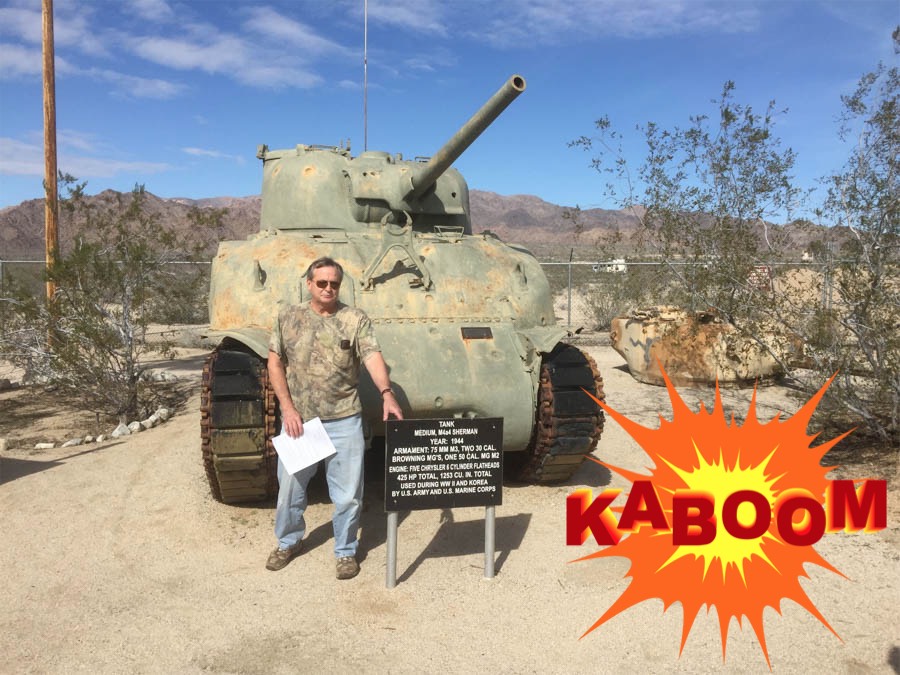 Geri pushed the button! Yup! It worked!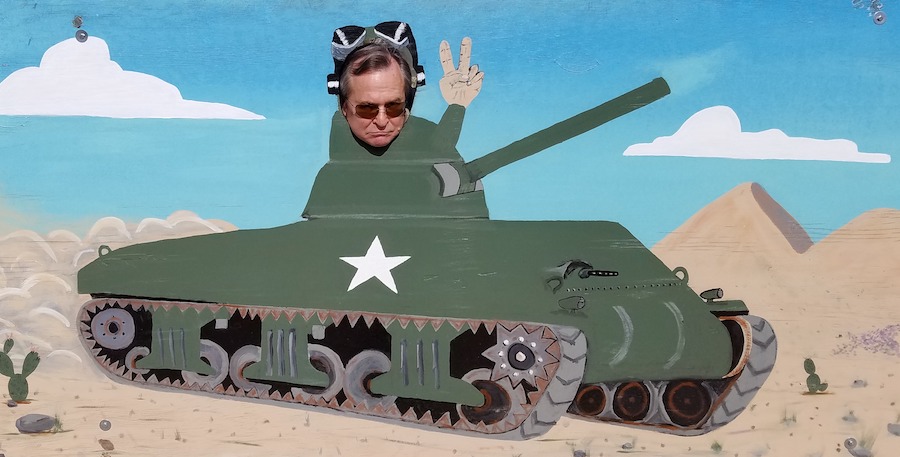 Curt goes out for a spin (Courtesy of Curt)

Hans gives it a go! (Courtesy of Curt)
Did You Know? - The M4 Sherman, officially Medium Tank, M4, was the most numerous battle tank used by the United States and some of the other Western Allies in World War II. The M4 Sherman proved to be reliable, relatively cheap to produce and available in great numbers.
Thousands were distributed through the Lend-Lease program to the British Commonwealth and Soviet Union. The tank was named by the British for the American Civil War General William Tecumseh Sherman. There were almost 50,000 of the Sherman Tanks manufactured and delivered to the US and its allies.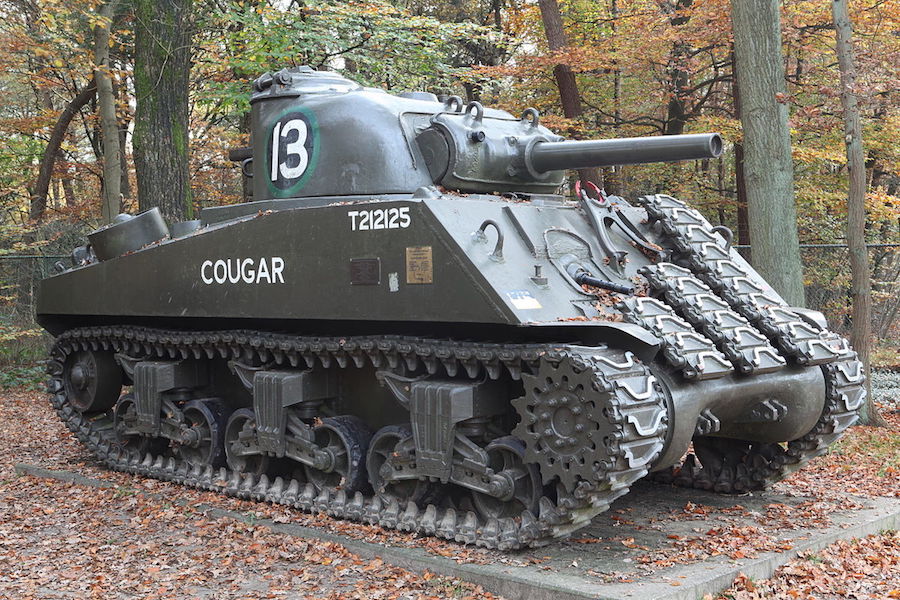 Well preserved Sherman Tank in Europe

Looking at the business end!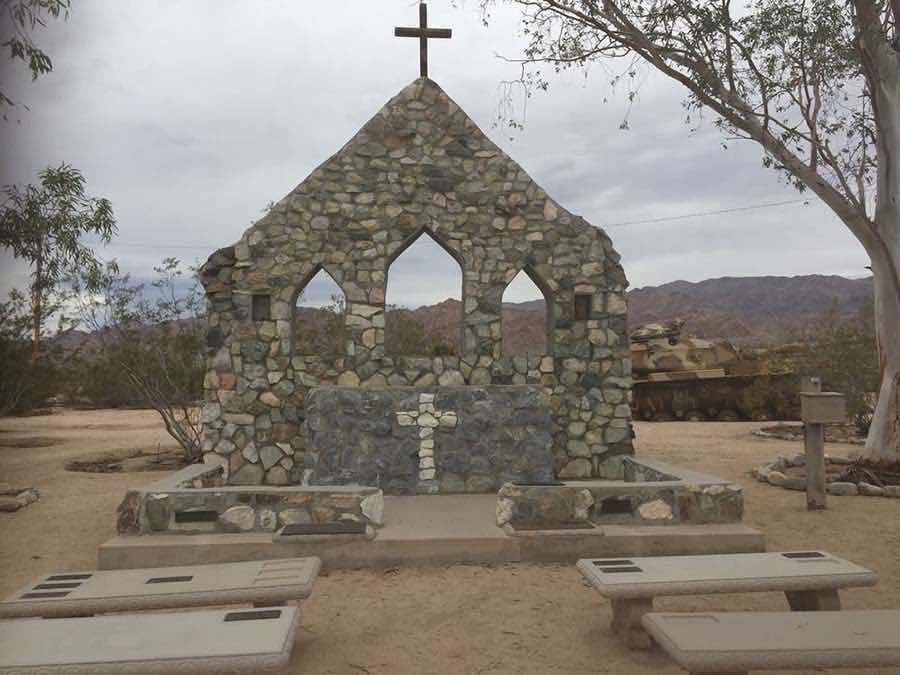 The chapel where the troops had Mass was plain and simple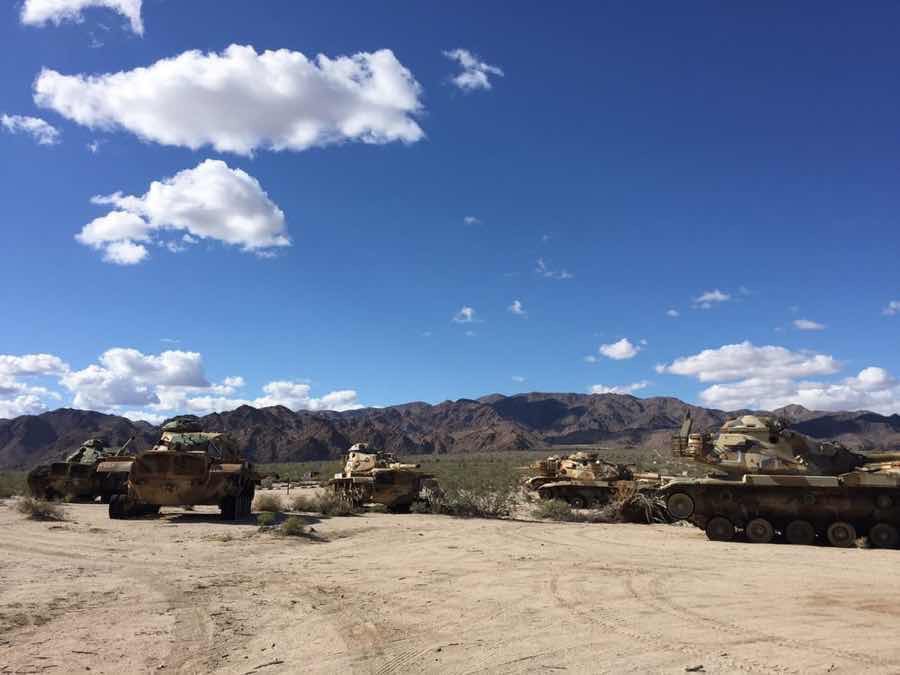 The area was filled with tanks and support equipment

Hey guys... It's a DUCK!
Back Inside The Museum

The displays and other artifacts are kept inside the main facility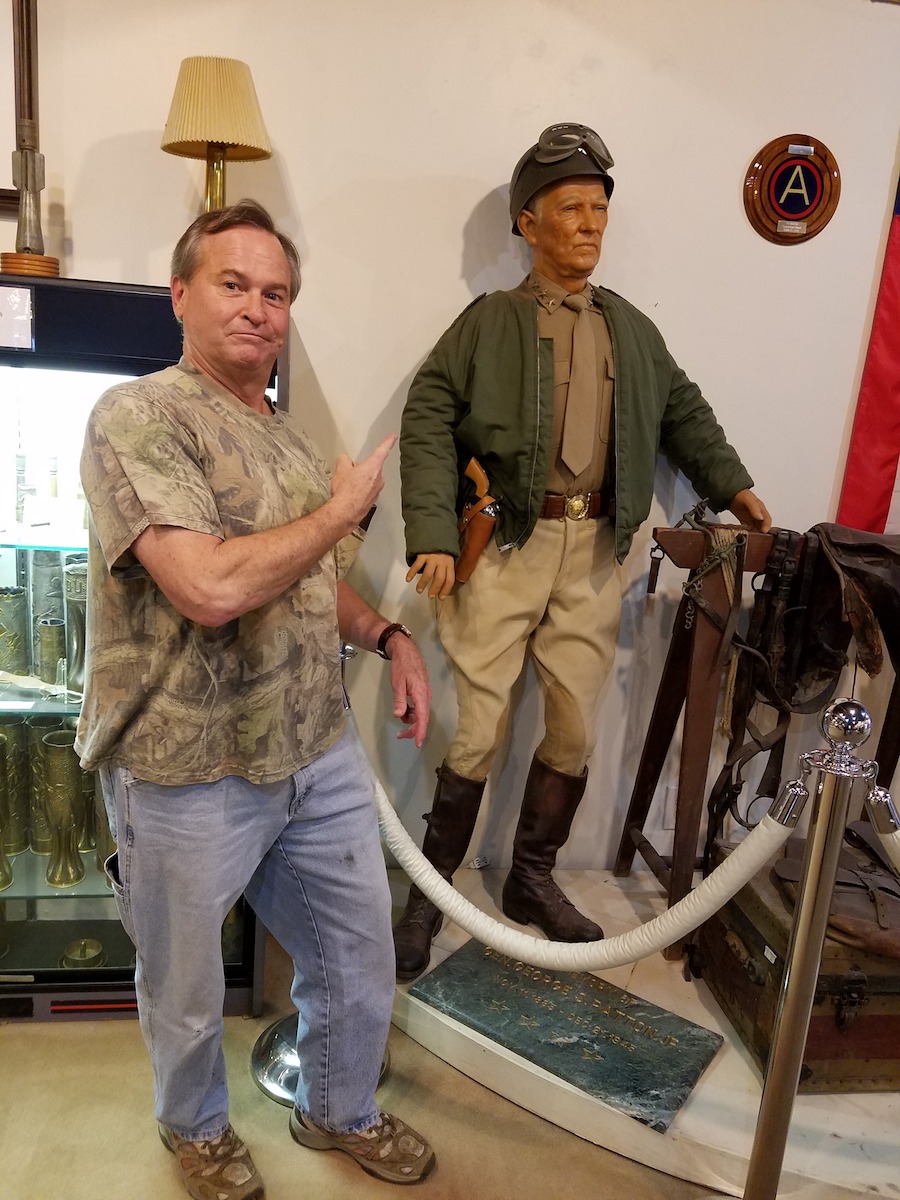 Twins? (Courtesy of Curt)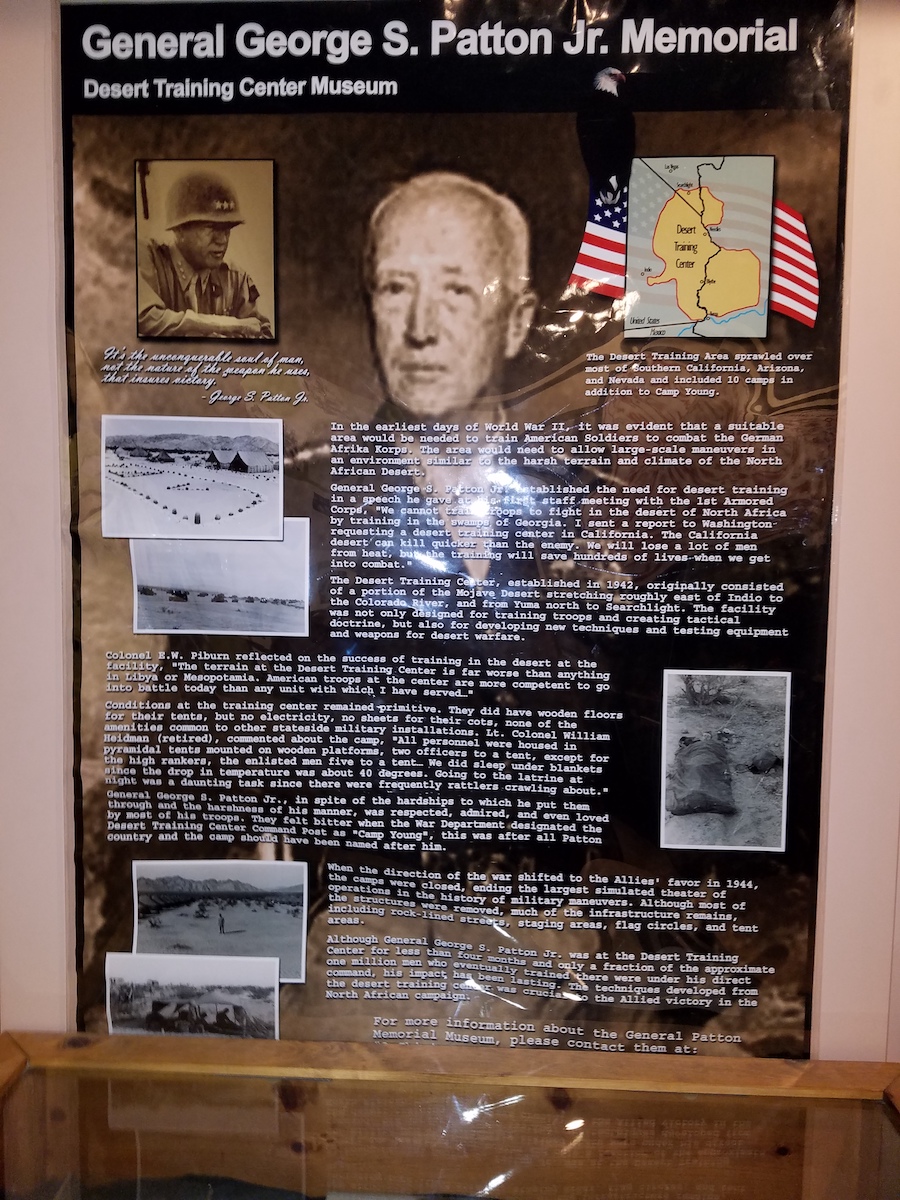 Patton was a legend (Courtesy of Curt)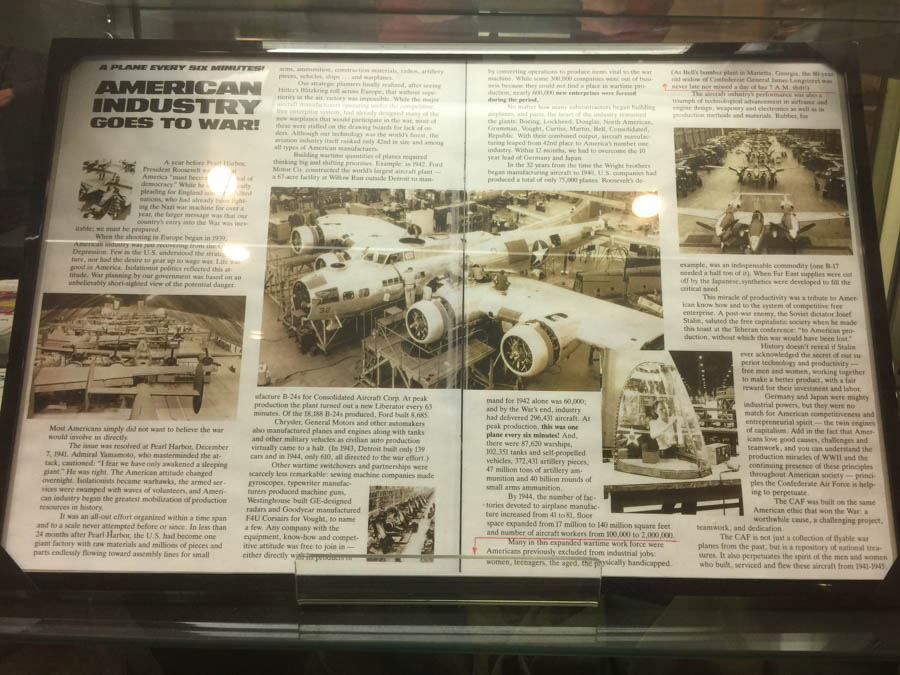 Soon the guys will be flying in that machine
Did You Know? - Though the Consolidated B-24 Liberator was built in greater numbers, the Boeing B-17 Flying Fortress is often regarded as the more important heavy bomber for the American Allies in the Second World War, accounting for over 290,000 sorties against ground installations and dropping over 640,000 tons of bombs. By war's end, the B-17 Flying Fortress was a mainstay in both the Pacific and European Theaters of War. The system became the symbol of American bomber might in the Second World War and continues with its legendary status even today.
The B-17 was primarily employed by the United States Army Air Forces (USAAF) in the daylight strategic bombing campaign of World War II against German industrial and military targets.
The United States Eighth Air Force, based at many airfields in central and southern England, and the Fifteenth Air Force, based in Italy, complemented the RAF Bomber Command's nighttime area bombing in the Combined Bomber Offensive to help secure air superiority over the cities, factories and battlefields of Western Europe in preparation for the invasion of France in 1944. General Patton counted on these machines to soften the targets ahead of the army arrival.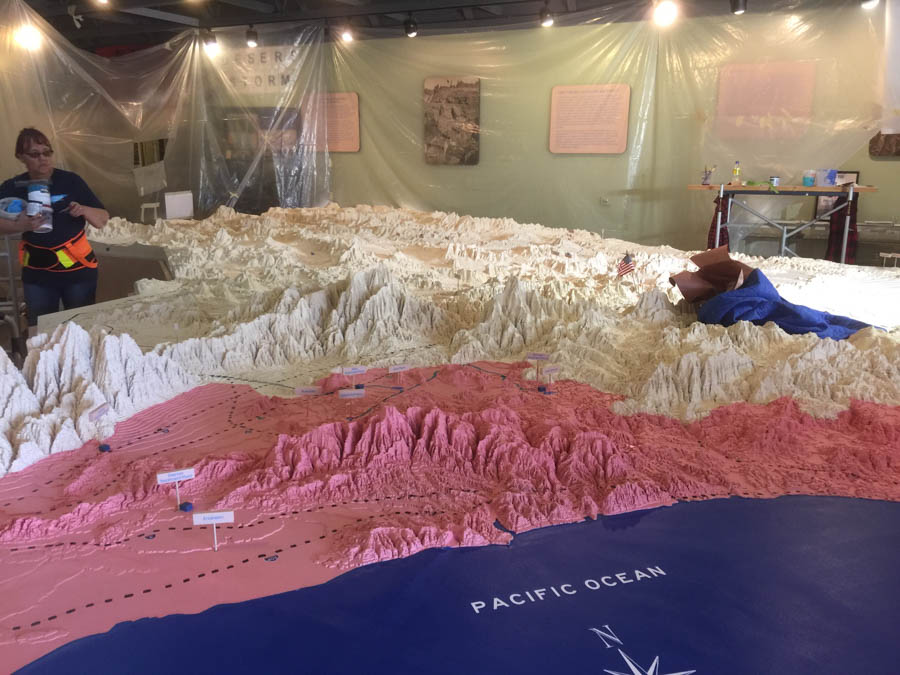 The plaster relief is under construction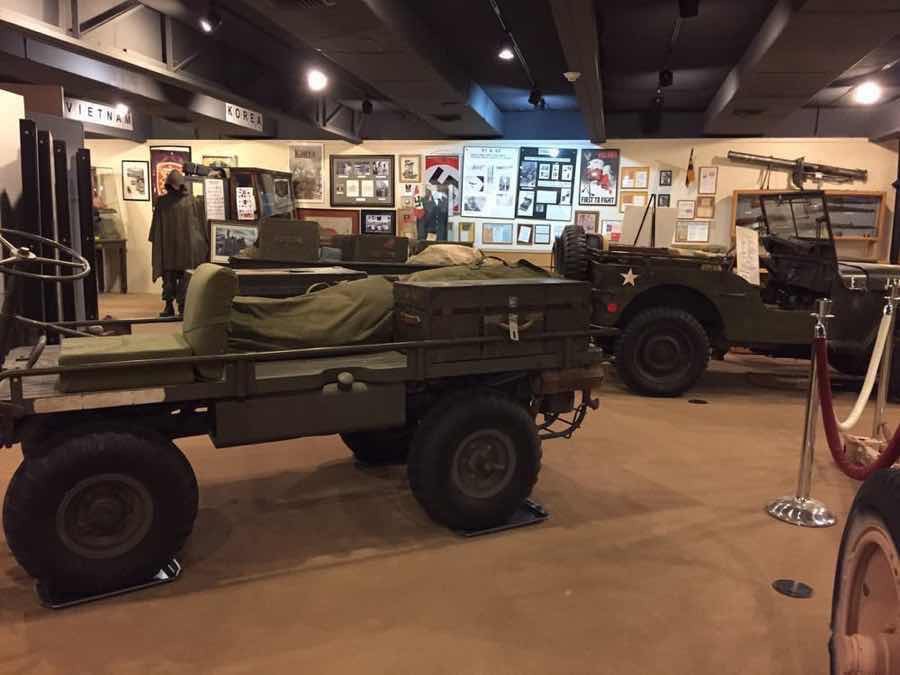 Need a jeep?

Ike talks to Patton! Ike was a Five-Star and Patton was a Three-Star 1945
Did You Know? - An example of Patton's sarcastic wit was broadcast when he received orders to by-pass Trier, as it had been decided that four divisions would be needed to capture it. When the message arrived, Trier had already fallen. Patton rather caustically replied: "Have taken Trier with two divisions. Do you want me to give it back?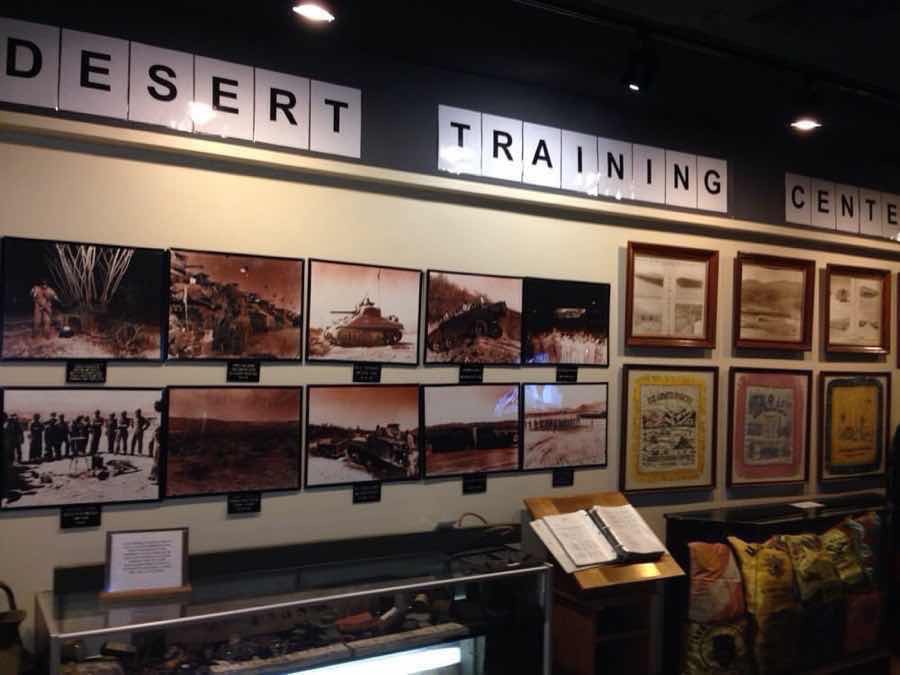 Pictures of days gone bye

Hans, Curt and John got all excited... Thought they were beer mugs!

Willie went everywhere with Patton!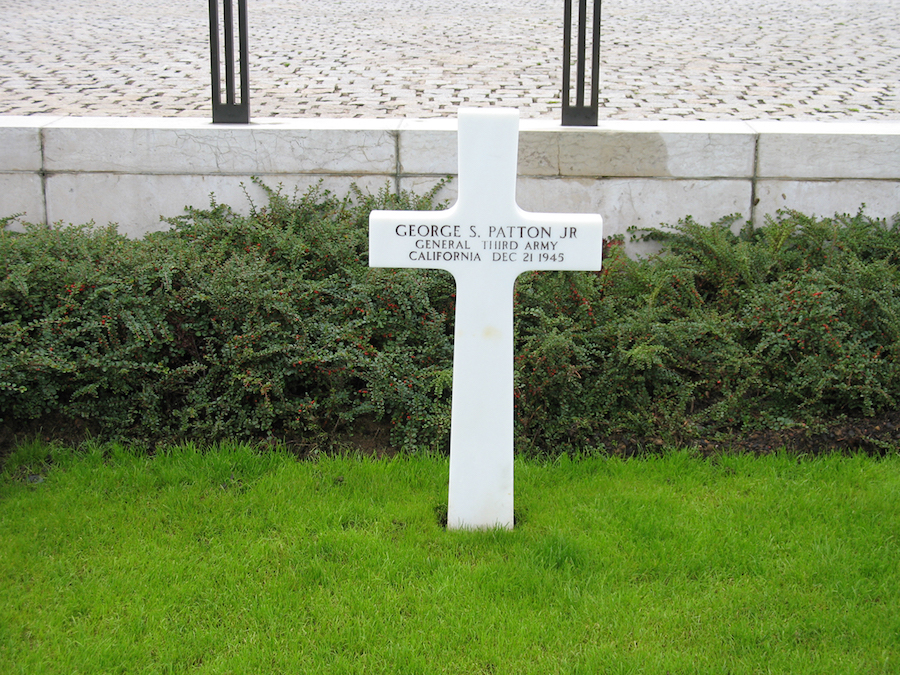 Patton died as a result of a car accident... He was buried in a simple
grave along with his men in Luxembourg City, Europe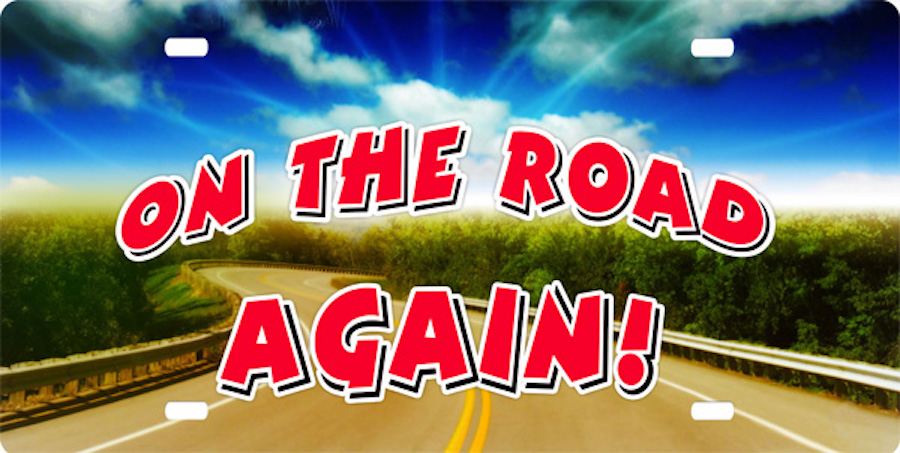 3 h 44 minutes (223.8 mi) via I-10 E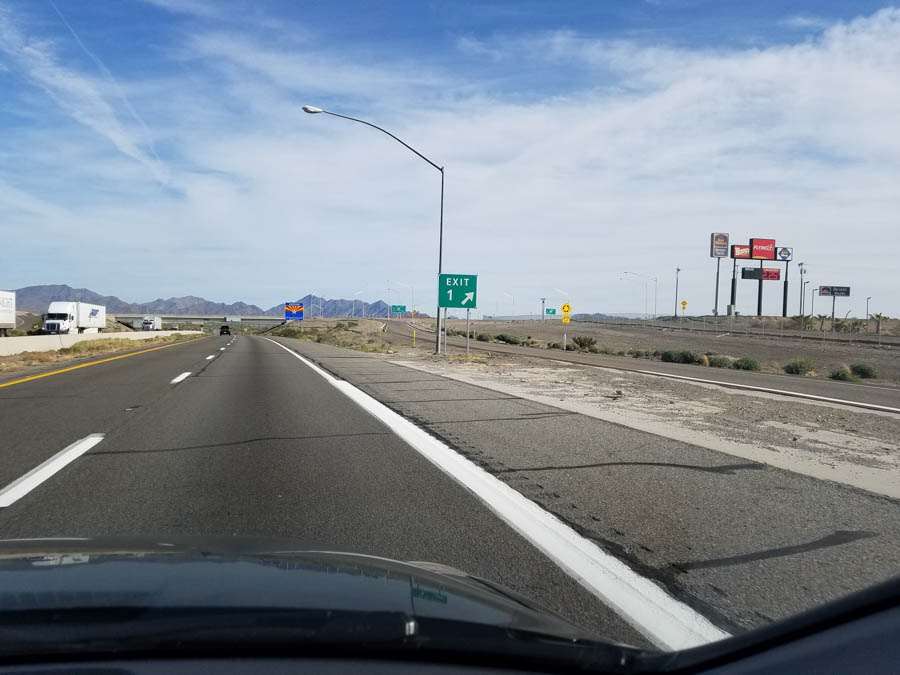 Arizona in the distance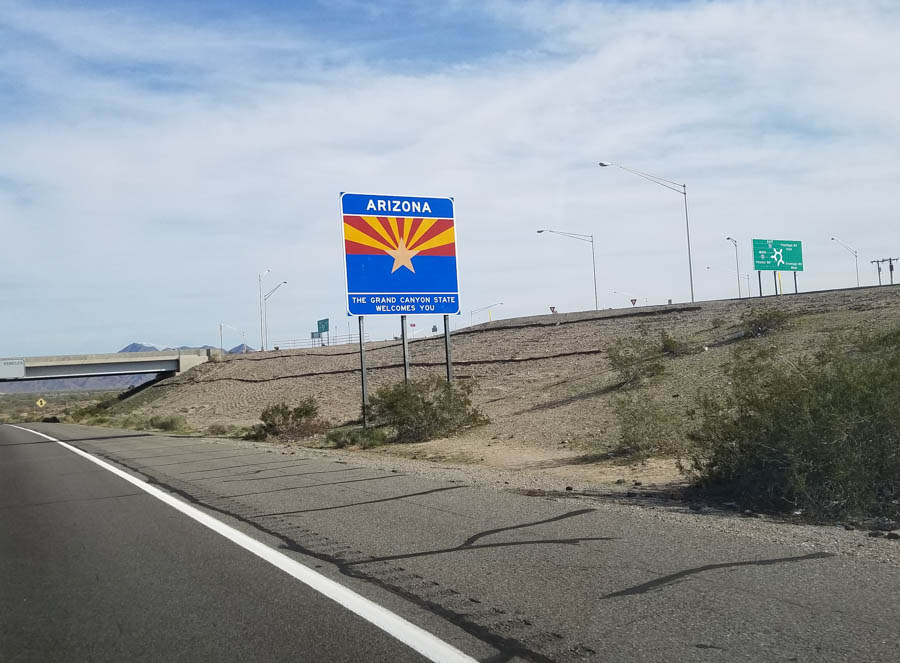 Cheap gas 50 feet ahead!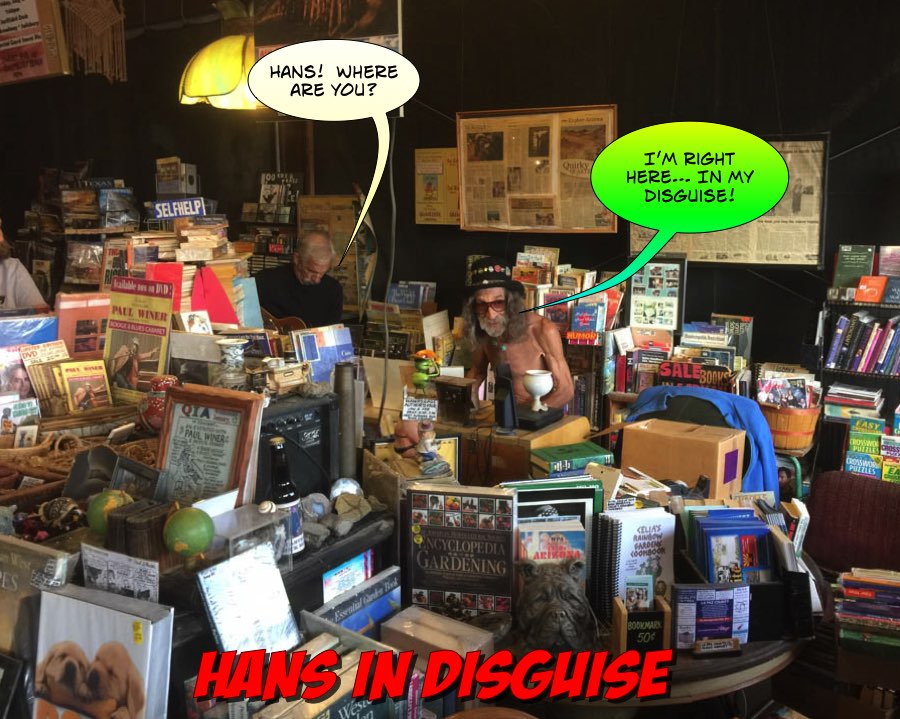 Hans plays hide and seek in the local bookstore

M-m-m-m-m What can we say?
Did You Know? - "There's a naked man in Quartzsite! You have to see him!" That's what my friends kept telling me. Since my friends steer me to the most unique sights, I went to the naked guy's bookstore.
Yup, he was naked, except for a little crocheted "sock" over his privates. Nothing covered his backside. Fishing line held up the sock.
Besides being a free spirit, Paul is a really nice guy, an accomplished blues musician, and cartoonist. He's very approachable and will gladly pose for a photo (PS. Don't bring the kids.).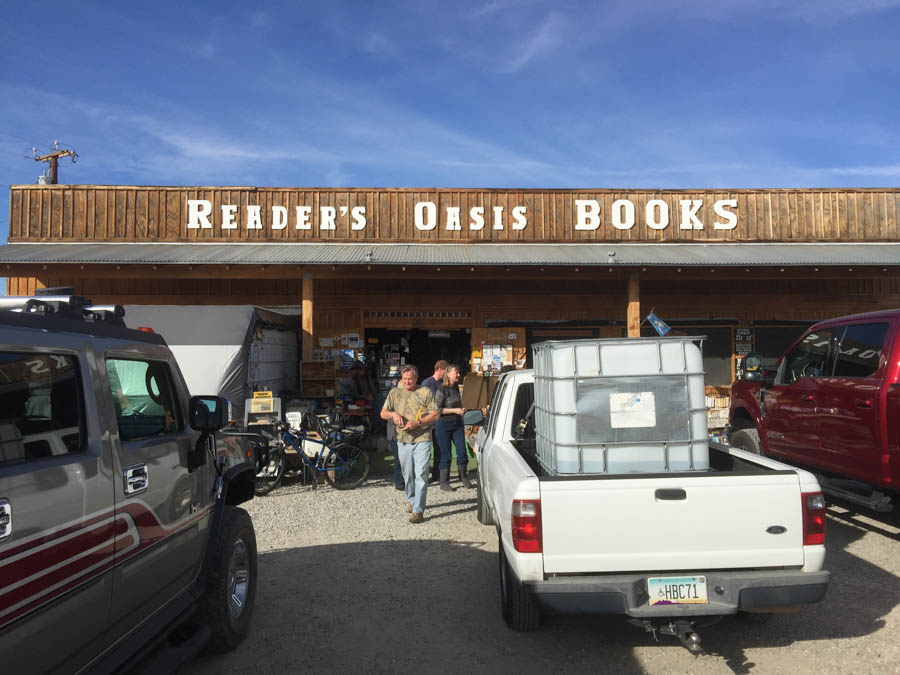 A quick departure after Hans changes back into his regular clothes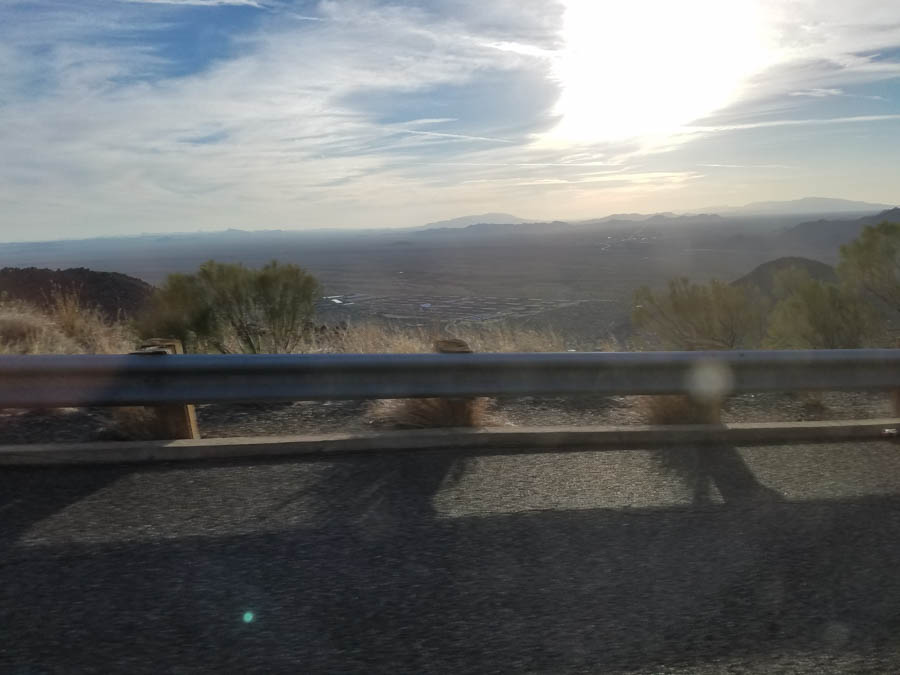 Racing down the highway!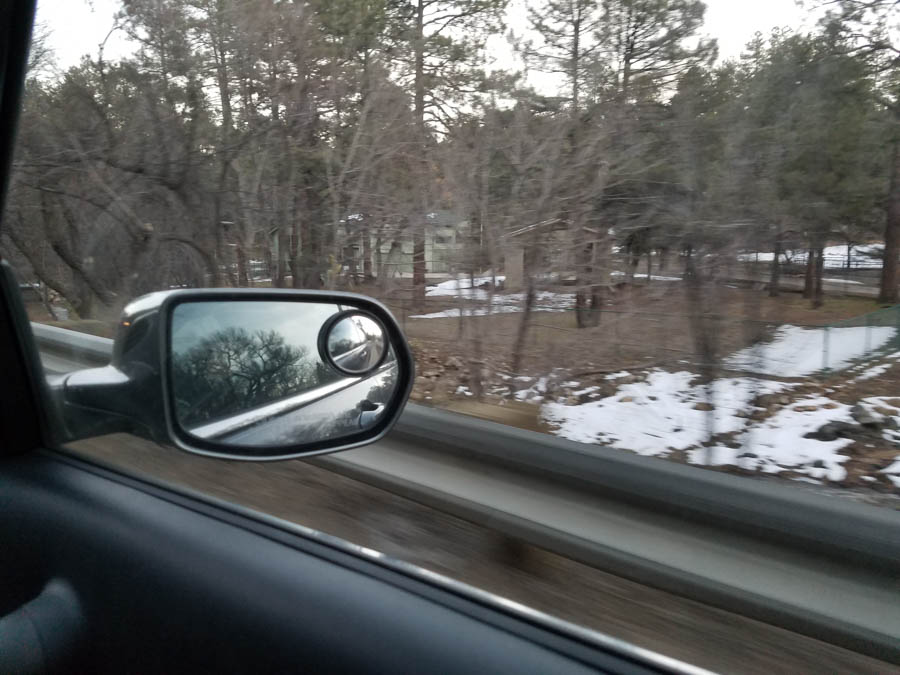 I-10 gets a little snow in the winter time! It's 5:51 and the Sun is about to go down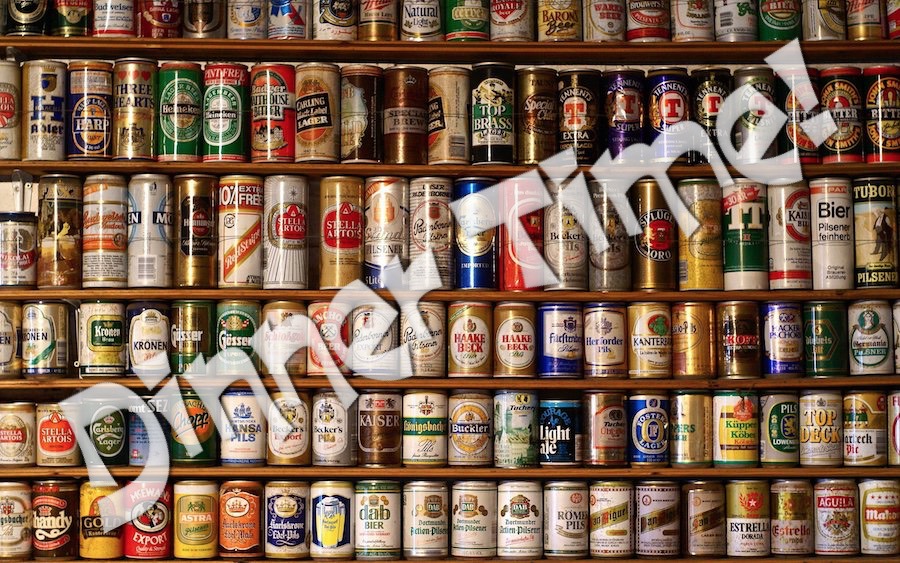 Where should we go to dinner asks Hans...

"Hey... Beer is dinner!" (Courtesy of Curt)

Silly question!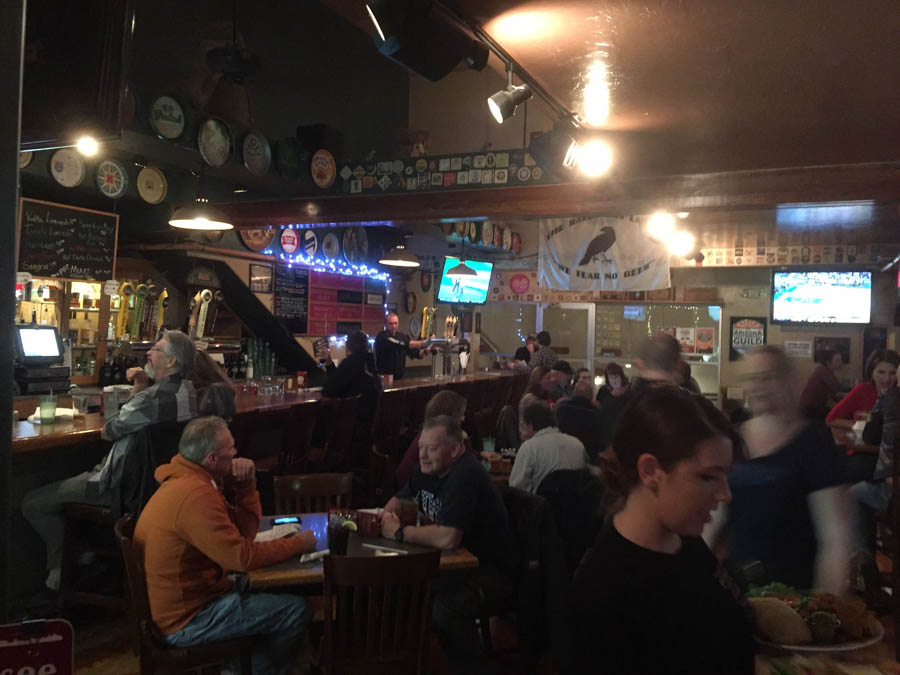 Classic tavern featuring house-brewed beers &
a selection of traditional pub grub & appetizers.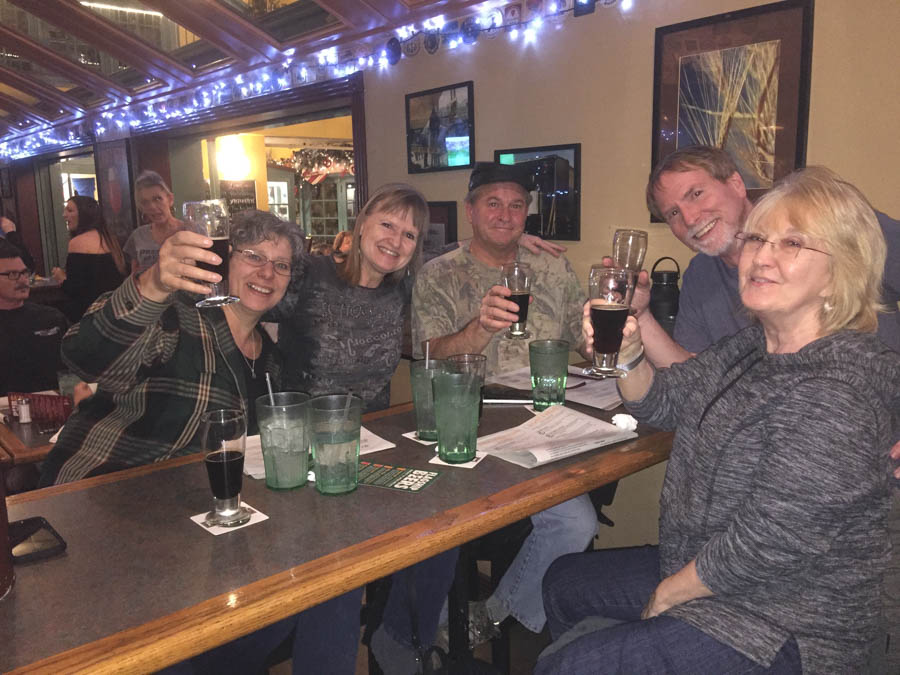 Tales of the day are retold and retold

The beer flows freely

Oh dear... A reminder of tomorrow morning!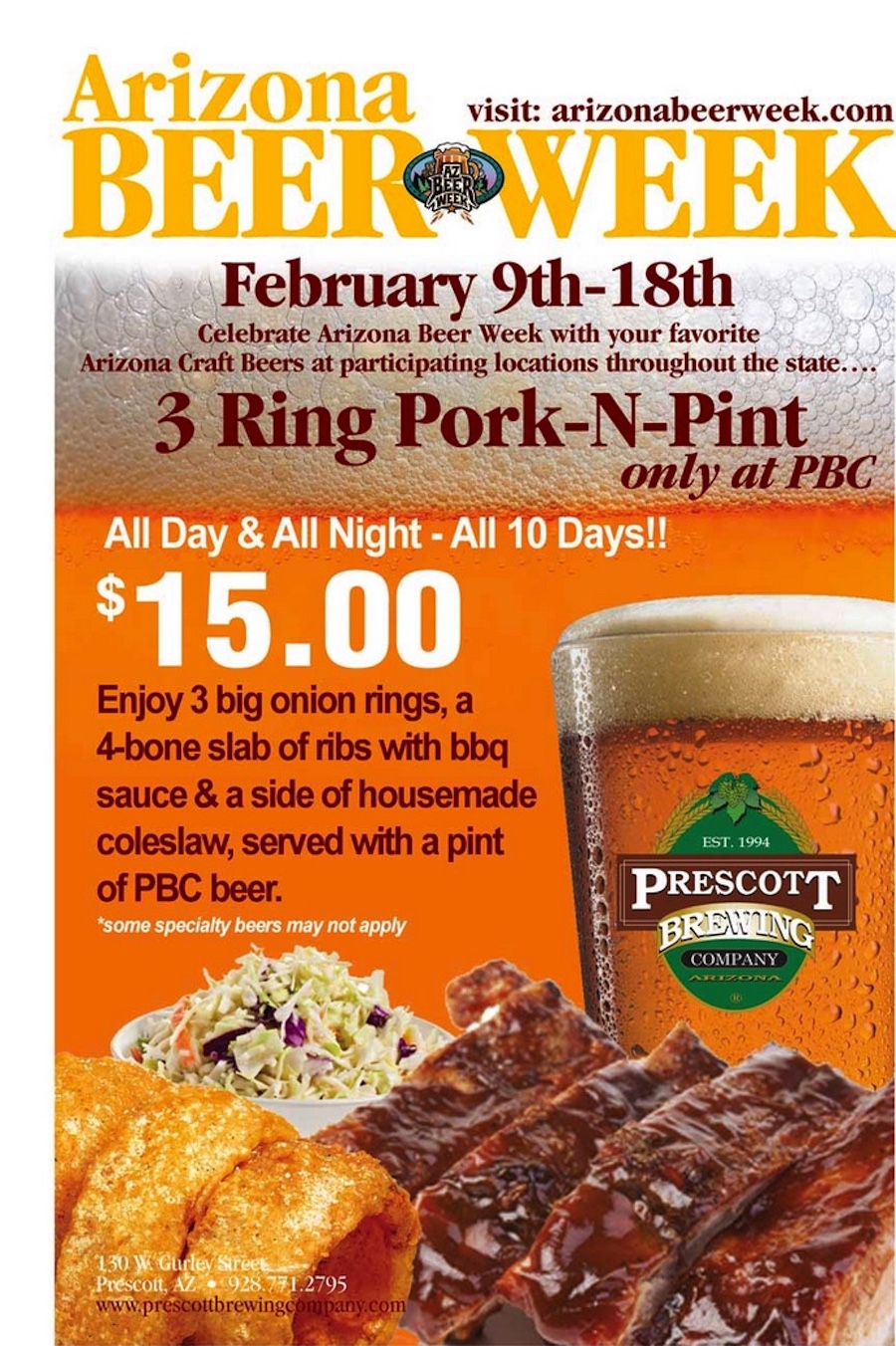 Can't believe "the beer gang" missed this by one week!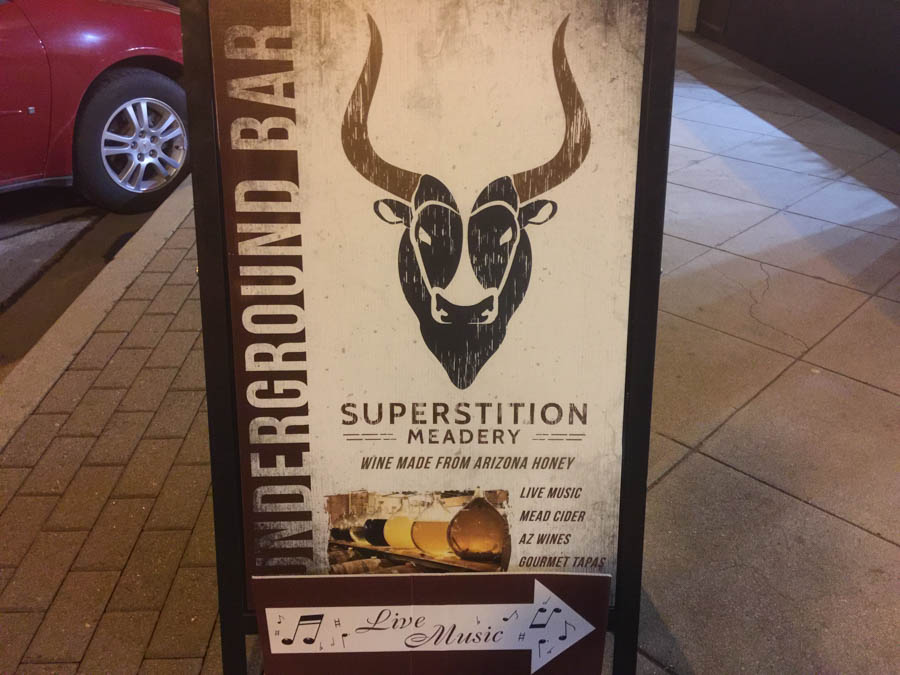 Underground Bar???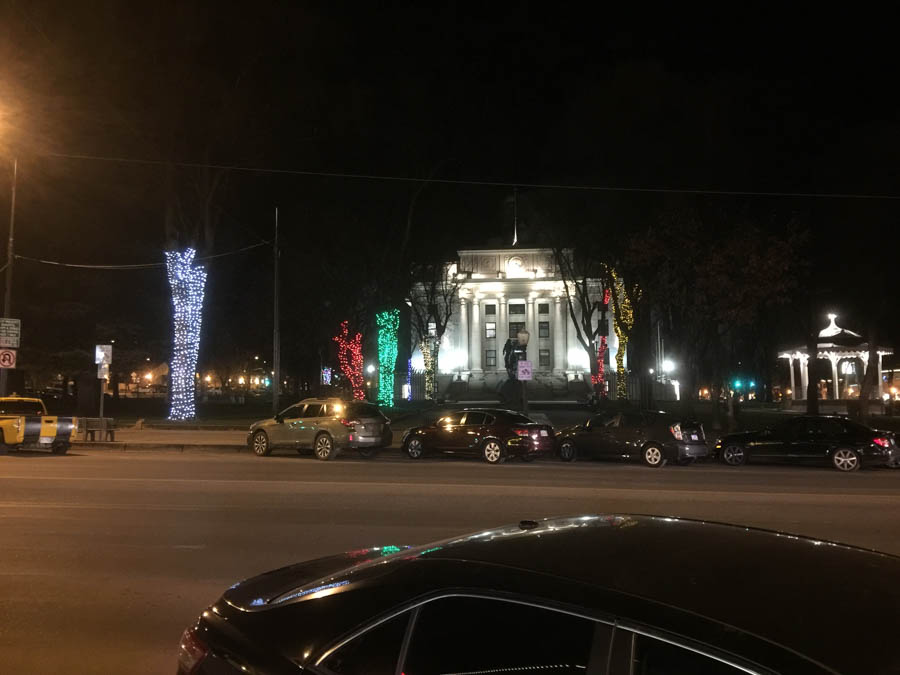 The Prescott Courthouse is well lit up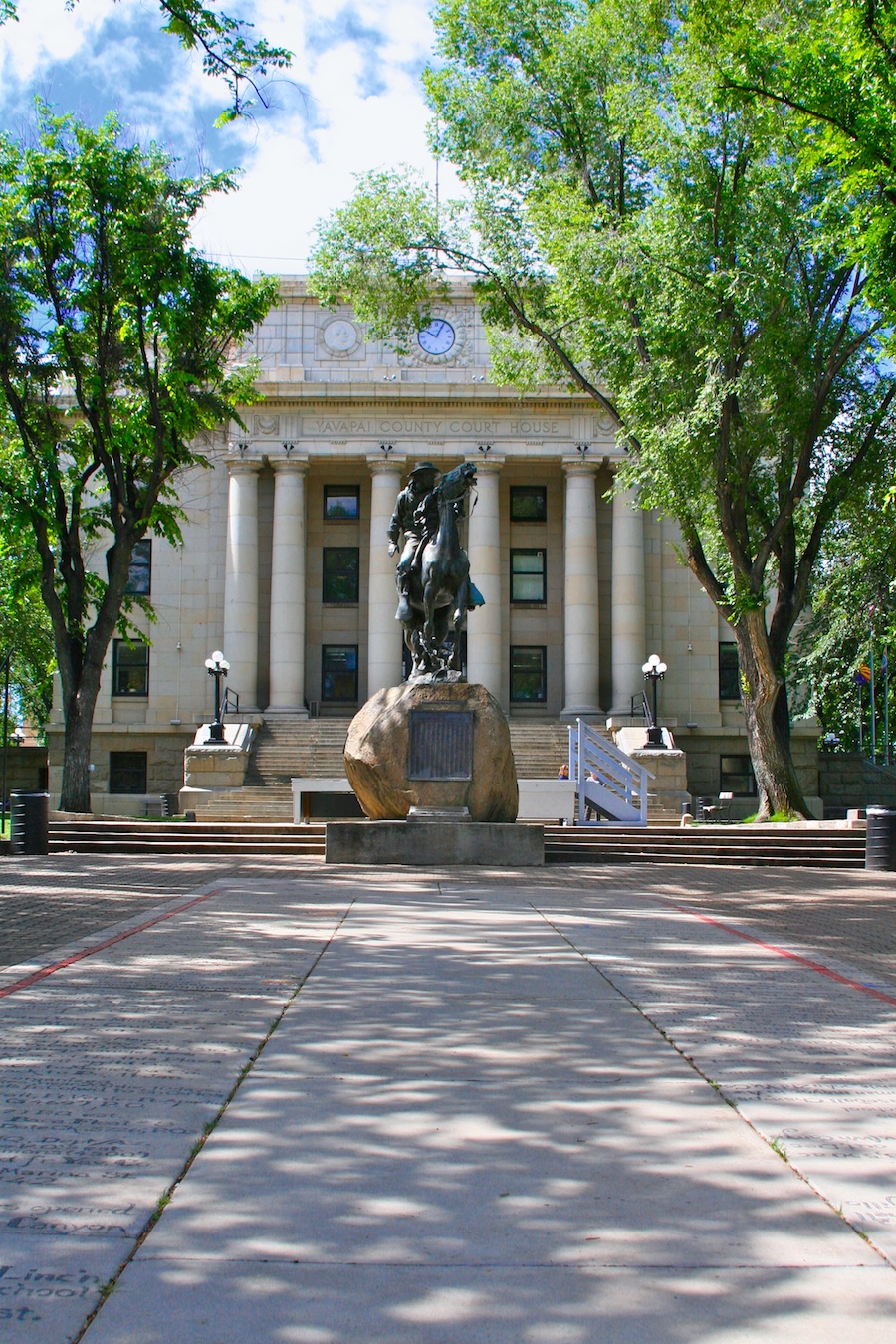 Looks different in the daytime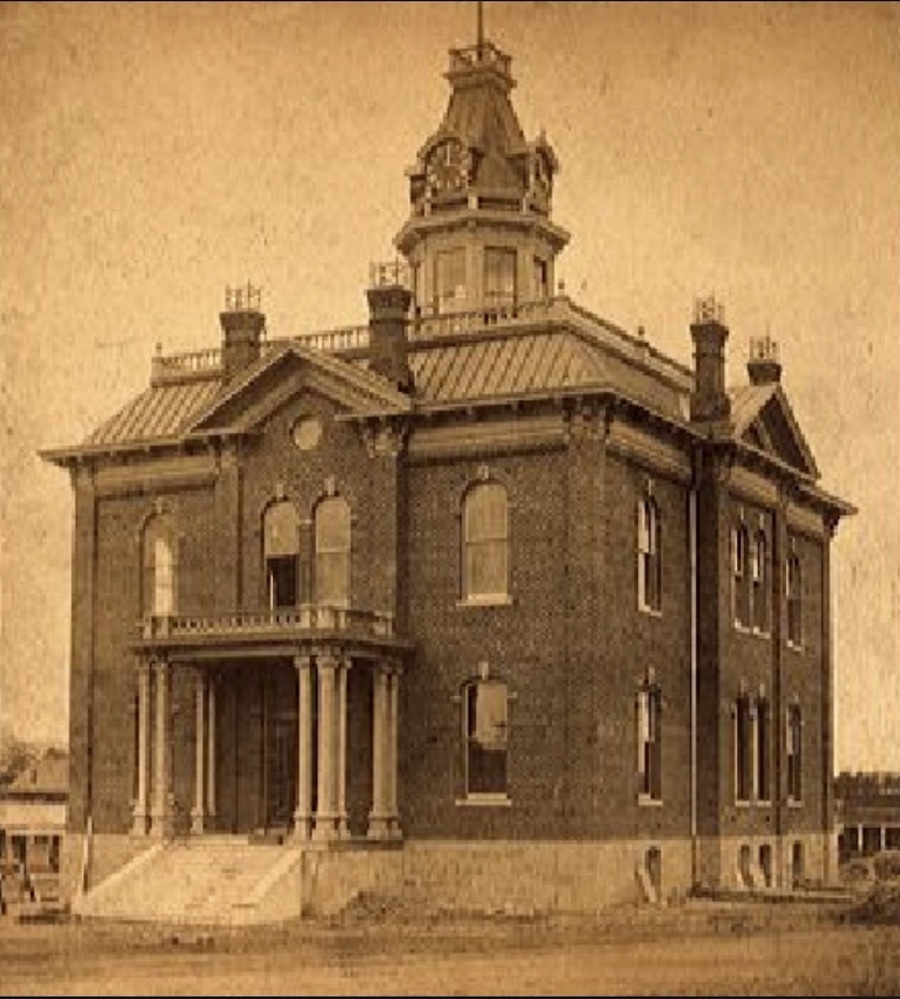 The first courthouse was built in 1885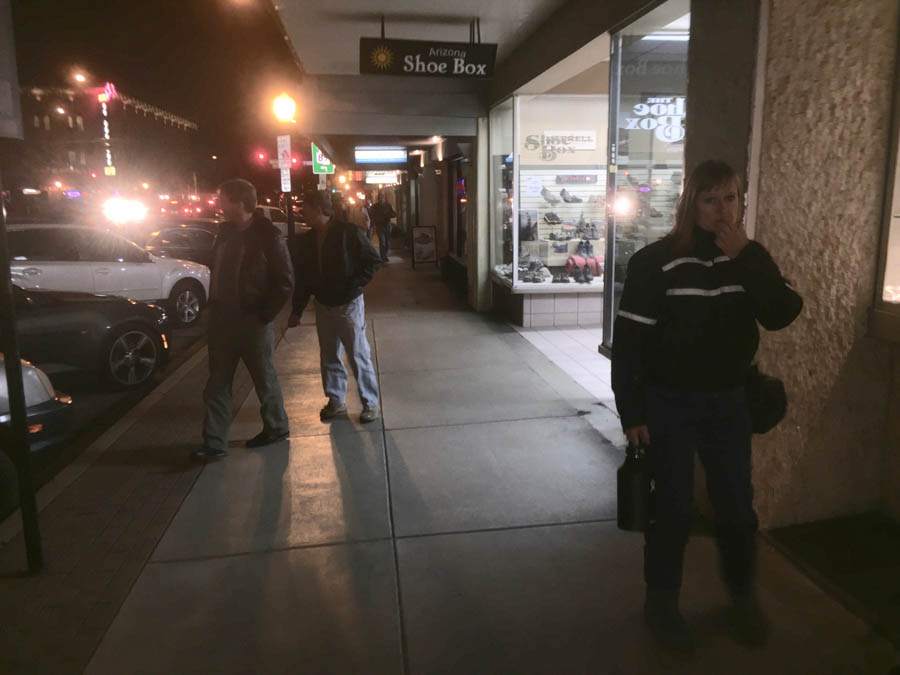 Need more beer... Oh dear, what to do!
How about a stroll through downtown?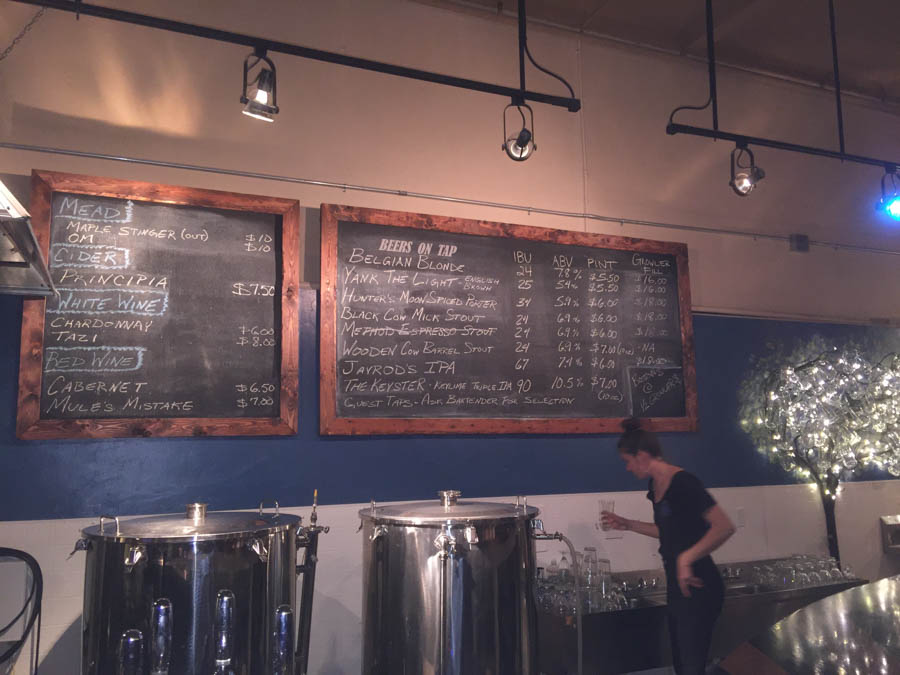 Success... They found the next brewery!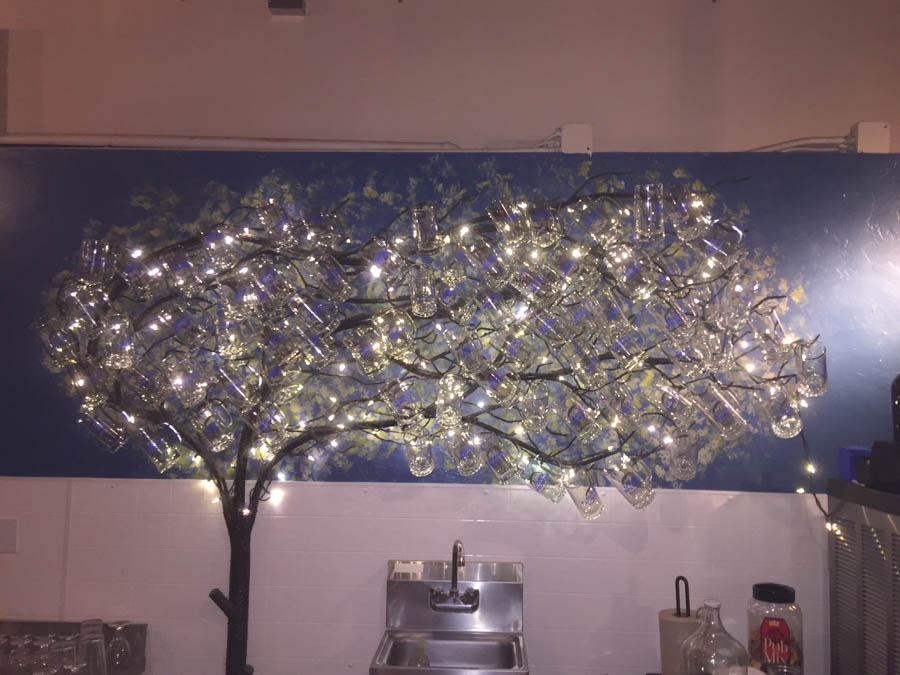 Look carefully... It is a "beer mug tree"