October 12-13th At The Lodge Near Ruhengeri (Page Three)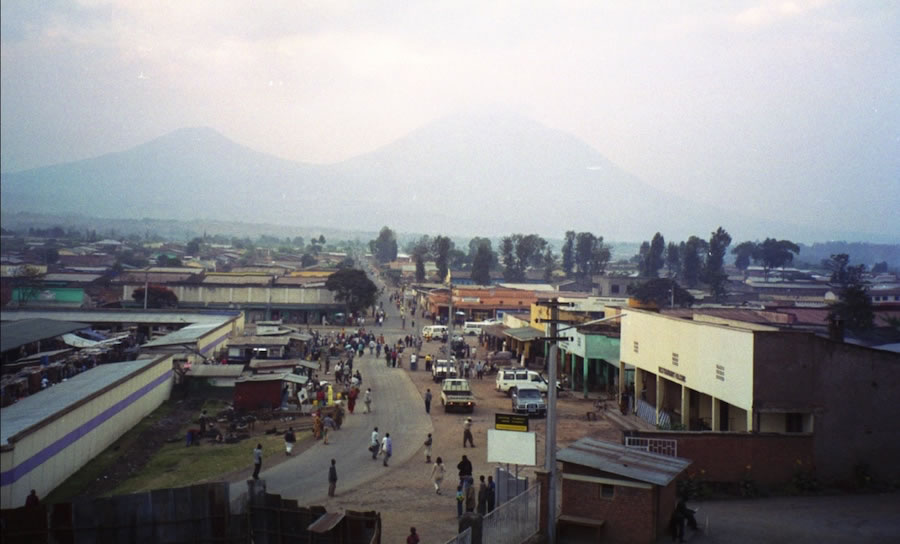 Beautiful downtown Ruhengeri
Did You Know? - Ruhengeri is a city and capital of Musanze District in the Northern Province of Rwanda. Some sources now refer to the city itself as Musanze, after the district in which it lies. This has to do with the adopted policy of renaming Rwanda cities, which was done to eliminate terrible memories of the past and to install new administrational infrastructure in the country.
Ruhengeri (Musanze) lies near the twin lakes of Lake Burera and Lake Ruhondo and is the gateway city to Volcanoes National Park and the famous mountain gorillas in the north-western part of the country.
Ruhengeri's proximity to the Volcanoes National Park has made it a popular tourist destination with several restaurants and hotels mainly aimed at visitors to the national park.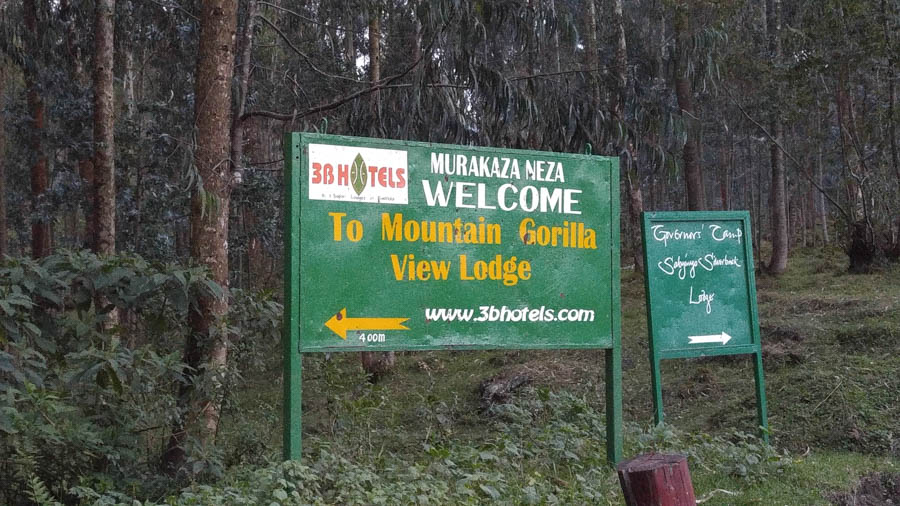 We have arrived

It's 5:30 PM and it has already been a long day!

Cute receptionist!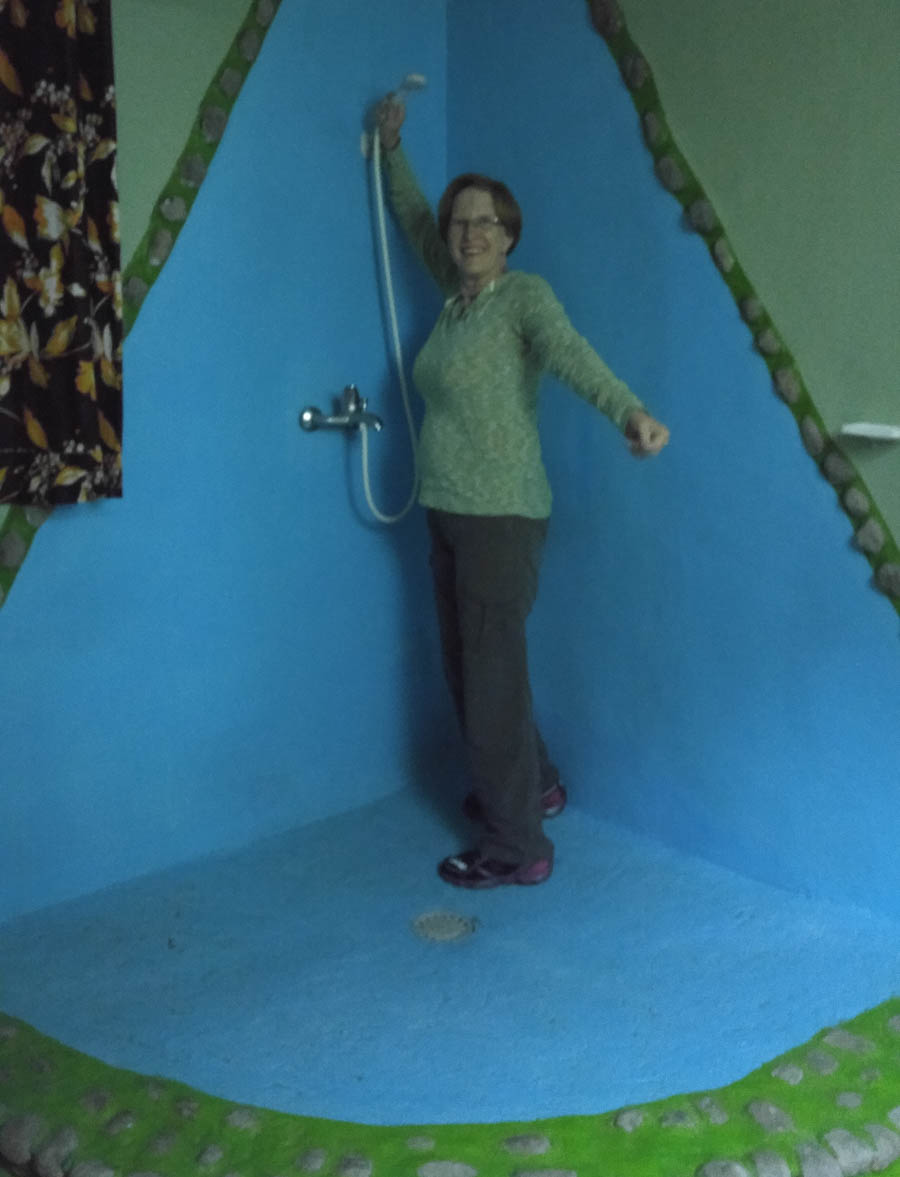 They wanted us to feel like we were outdoors! It worked

Nice digs for being in the middle of a jungle! You can see the fireplace
where they built a fire for us every night since there was no heat...
The fire did NOT last all night!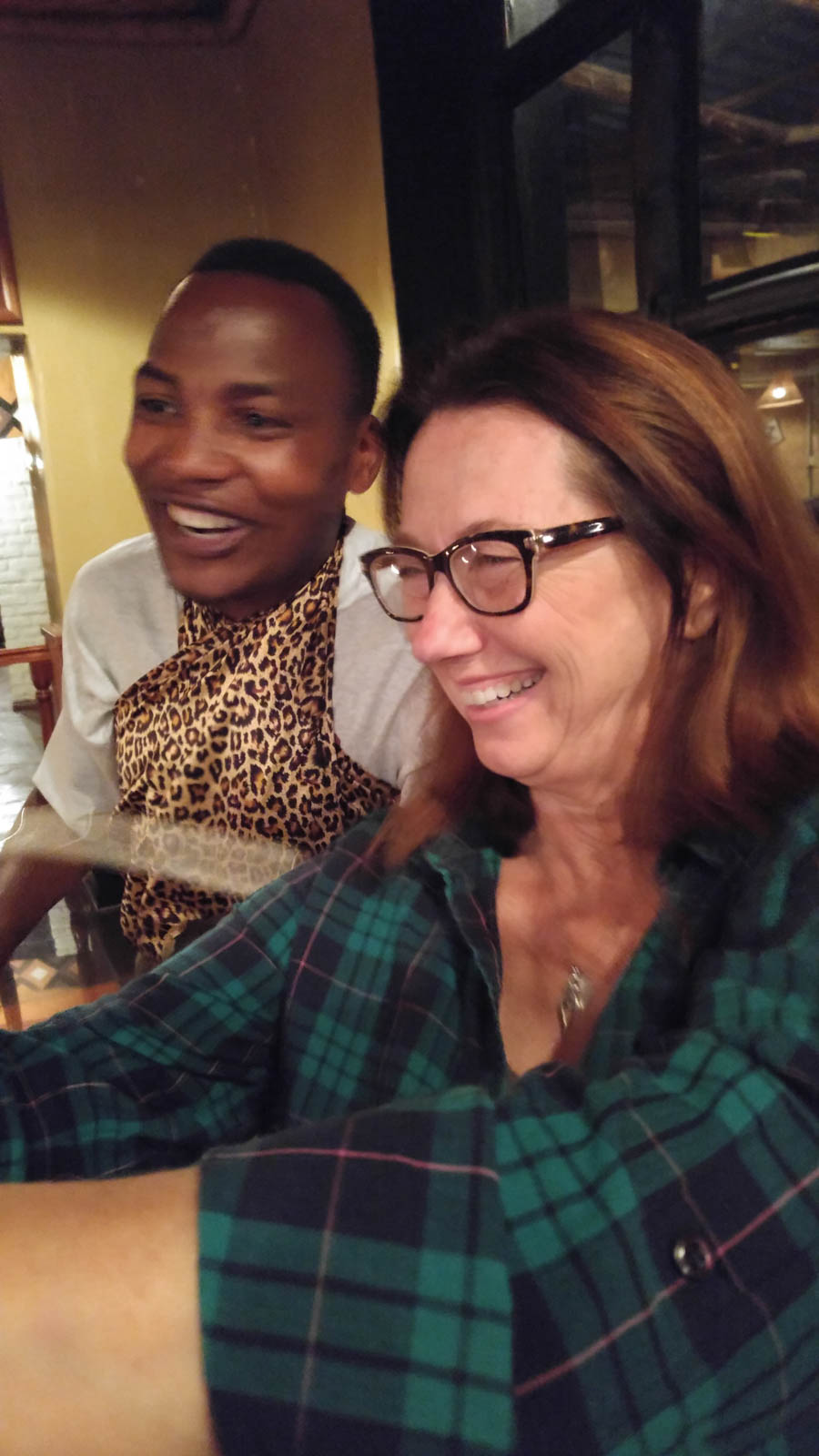 Time to check in and meet the locals and get entertained

The area is quite scenic... Even at 6:00 AM the
view from out cabin was quite interedting

Mountain peaks encircle the area and we will be on Mt. Sabyinio
which is partially in Uganda!

We stayed at the foot of the mountain where the gorillas live

"The Hills Are Alive With The Sound Of Gorillas"
Good name for a song?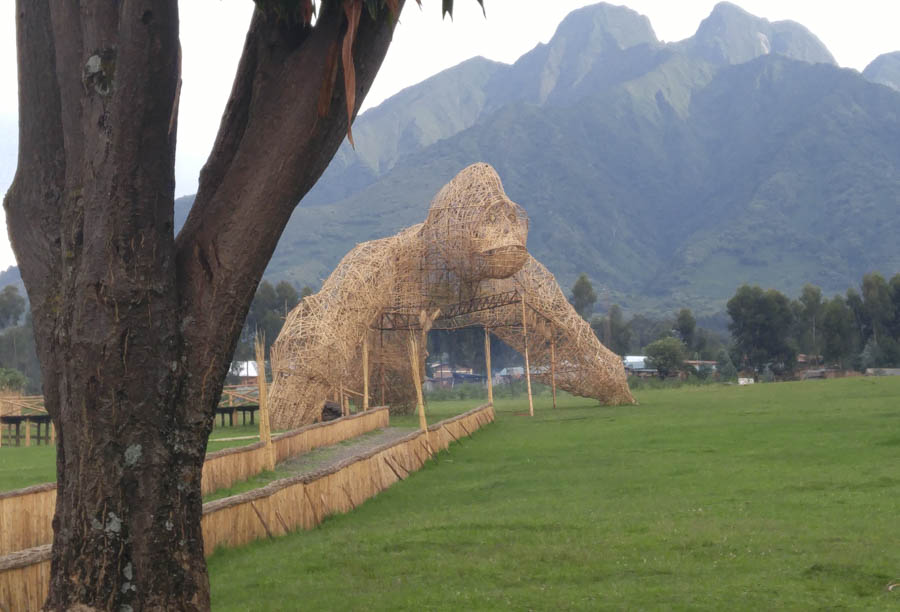 Our first encounter with the ape... OK, it is not real!

Walk out and visit the "Big Guy"

We are entertained by local Intore dancers!

Not a single cha cha insight!
Did You Know? - The 'Dance of Heroes' is performed by men wearing grass wigs and carrying spears. The background is a dance performed by returning warriors, celebrating victory in battle. The dancers move from side to side combining grace and complex choreography with a raw aggression. At certain stages the dancers stop, with arms outstretched and make blood-curdling battle crys.
These calls are individual to each dancer and represent warriors declaiming the details of how many he had slain in battle. Battles traditionally involved Hutu, Tutsi and Twa fighting alongside each-other against a common enemy. The performance of Intore therefore has always consisted of warriors of all groups dancing together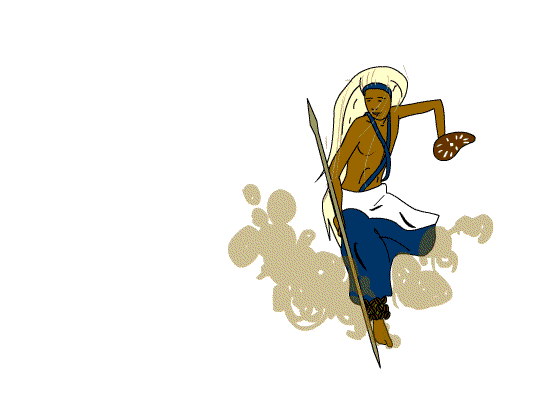 Getting our lecture... IMPORTANT! lecture about "do's and don't's" after the Intore dancers before we left in the jeep. This is my group stopping to rest half way up the mountain. You can see the jungle forest in the background. Where we are sitting is all cultivated land

Today's visit is to the Isabukuru Group
Did You Know? - Isabukuru was the name of the dominate male and therefore the group of Gorillas was named Isabukuru Group.
From the Diane Fossy notebook January 24th, 2012:
"Isabukuru actively seeks out interactions with kids in a way that I've never seen another silverback do" says Rosenbaum. The gigantic silverback has been observed carefully carrying the tiny infants clutched to his chest, engaging in play behavior and patiently tolerating the youngsters' antics like no other adult male would. Rosenbaum says that it is not uncommon for the young ones of his group to climb on top of his broad chest during the group's resting periods, where they will attempt to push each other off in a lively game of "king of the hill." The field staff all emphatically agree that there is no other male gorilla monitored by Karisoke in the last decade that has taken such a great interest in his offspring

We are off on the trek
Did You Know? - Each gorilla trek starts off roughly the same, with a briefing on the do's and don't's of being around gorillas. You are assigned a porter, if you would like one, to carry your bag for you.

Goodbye civilization... Hello forest!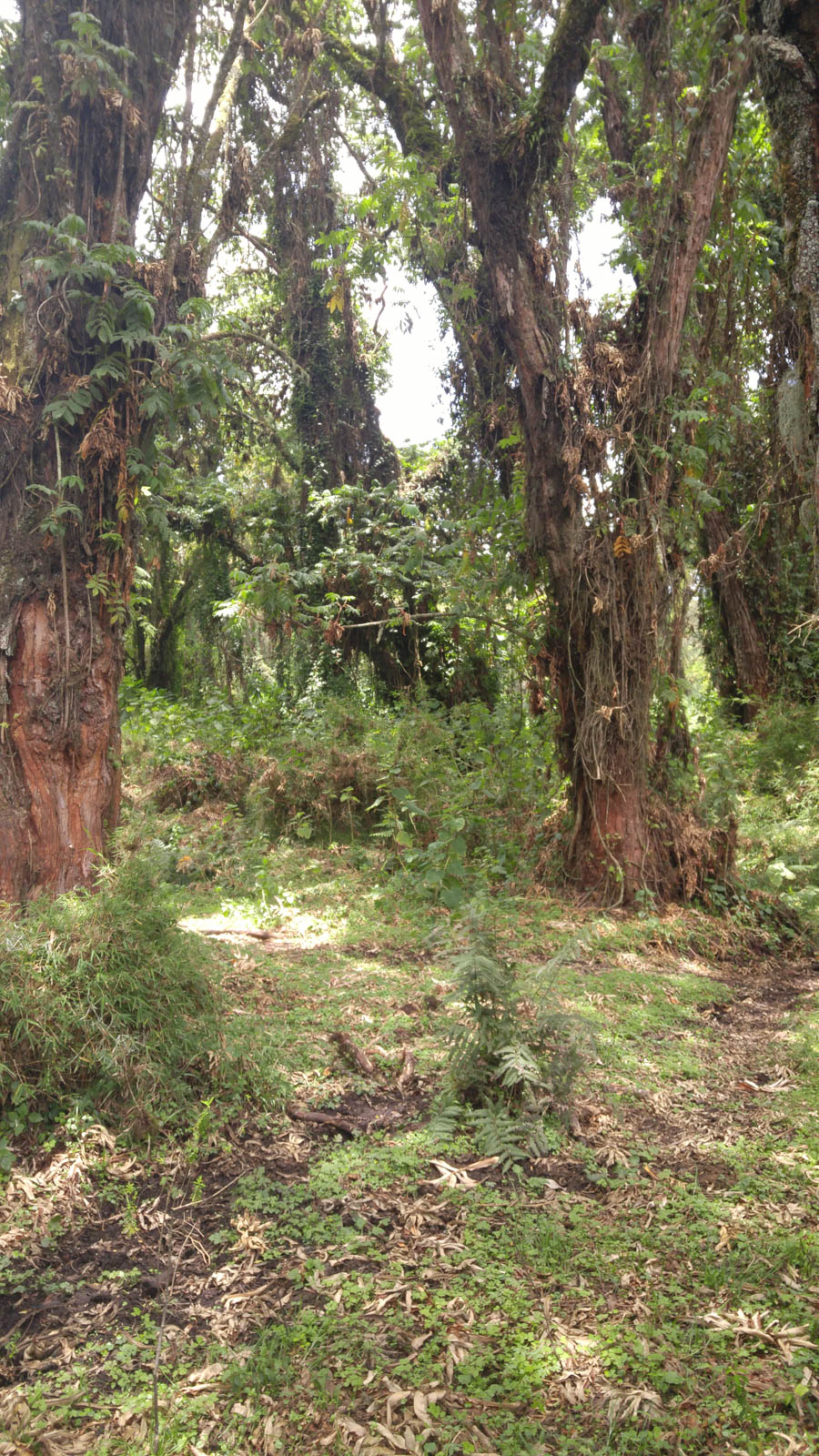 The guide can read the signs and locate the group fairly easily

Pointing out the signs! The guide takes us into the forest where we meet the trackers who have been tracking our family all morning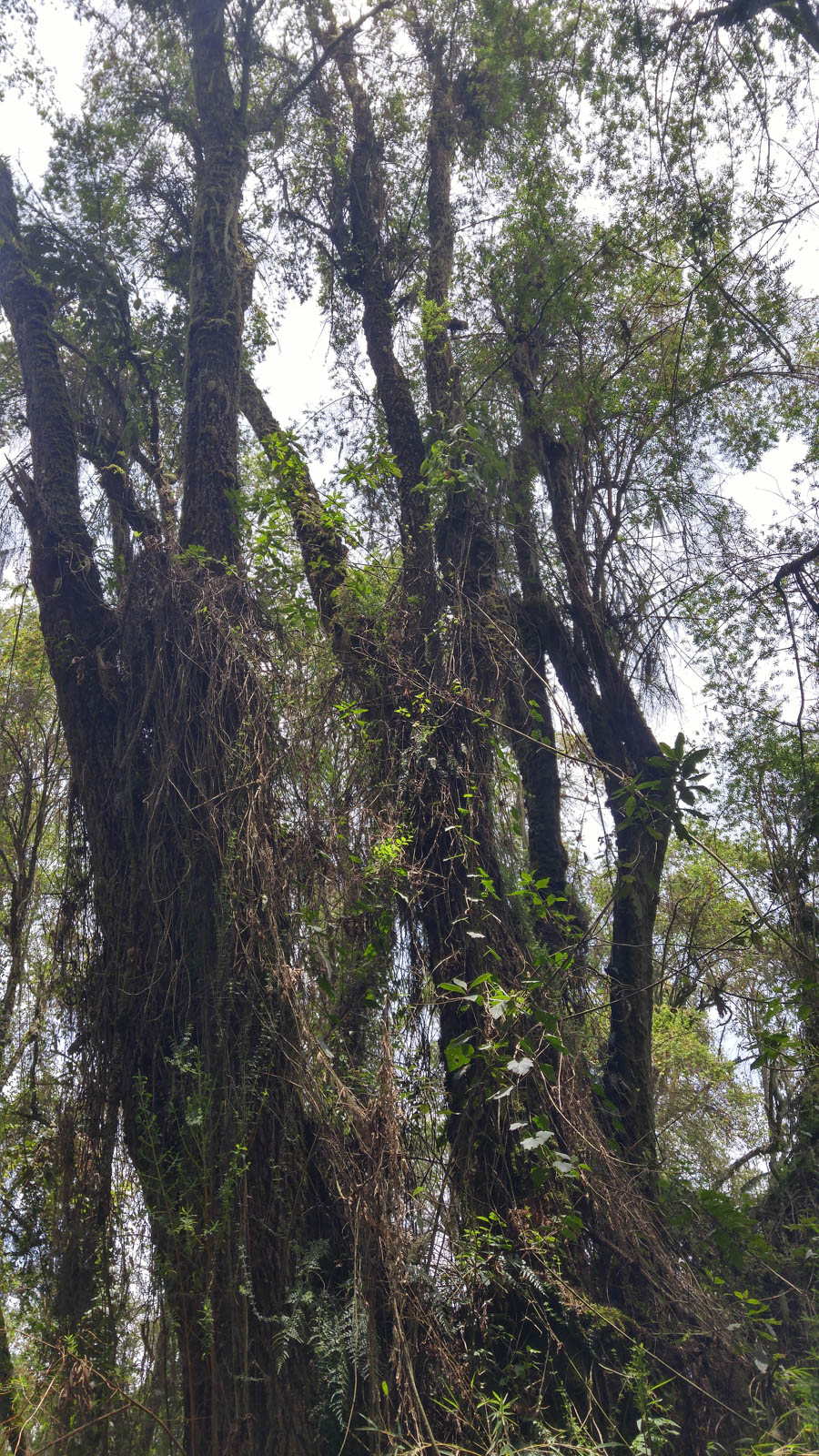 Took this picture to show how tall the trees are in the jungle

Right on cue!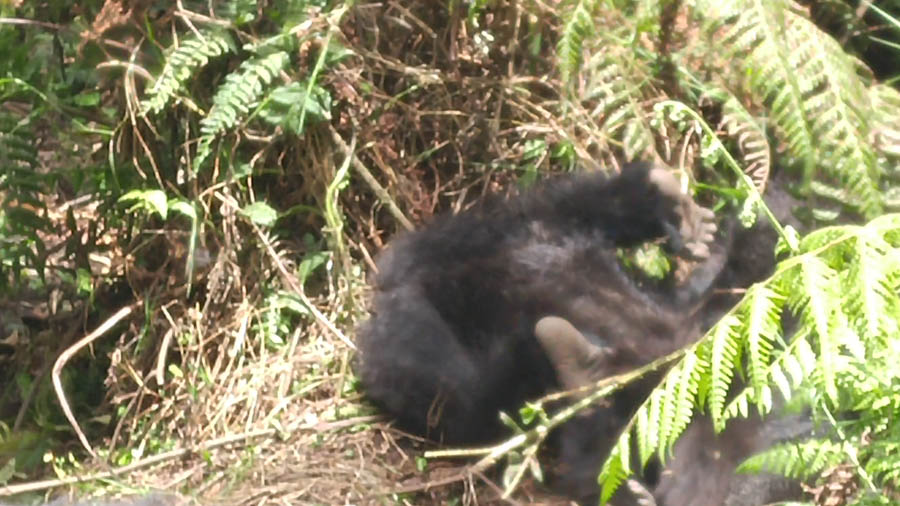 The juveniles are always playing

Hide and seek? This is the big adult male silverback resting
Did You Know? - Gorillas are the world's largest primates. They are closely related to humans, with 98% of their DNA identical to that of Homo sapiens.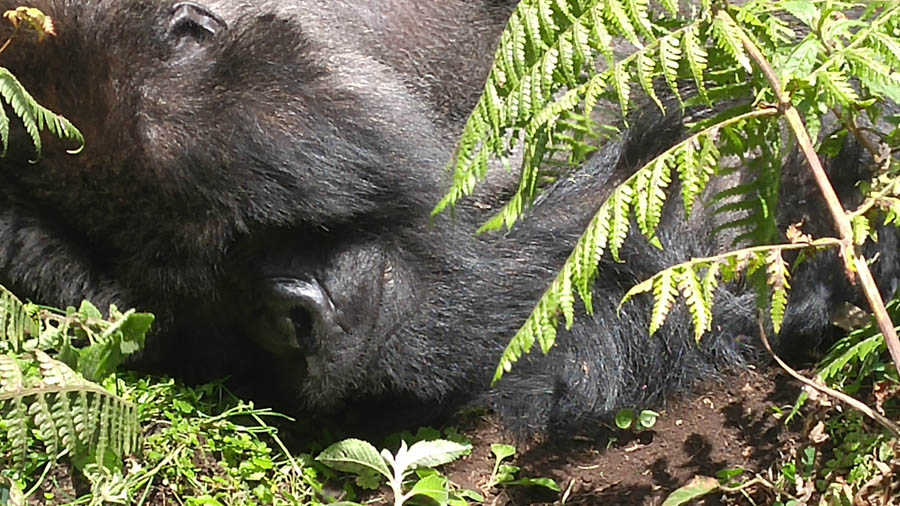 Kida cute... Well, his mommy thinks so!

Time for a nap in the warm afternoon
Did You Know? - As roaming herbivores, gorillas play a vital role in seed dispersal. Many large fruit trees depend upon these animals to survive.


Plenty close!

In fact, maybe a little too close! We visited hia family - The big male silverback just slept for us, although he did sit and roll over and I was the closest to him. I wanted to just back up

He is right there in the bushes jus a few feer away!

To the trackkers, it is like a street map!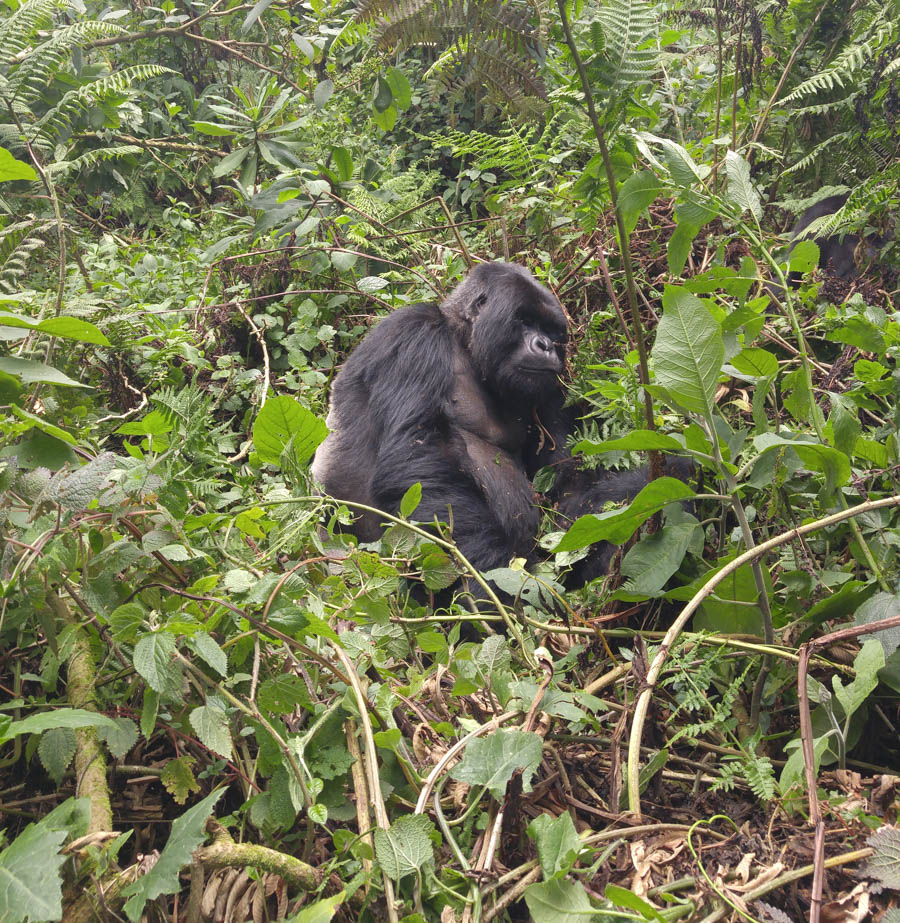 Just sitting around watching all the activities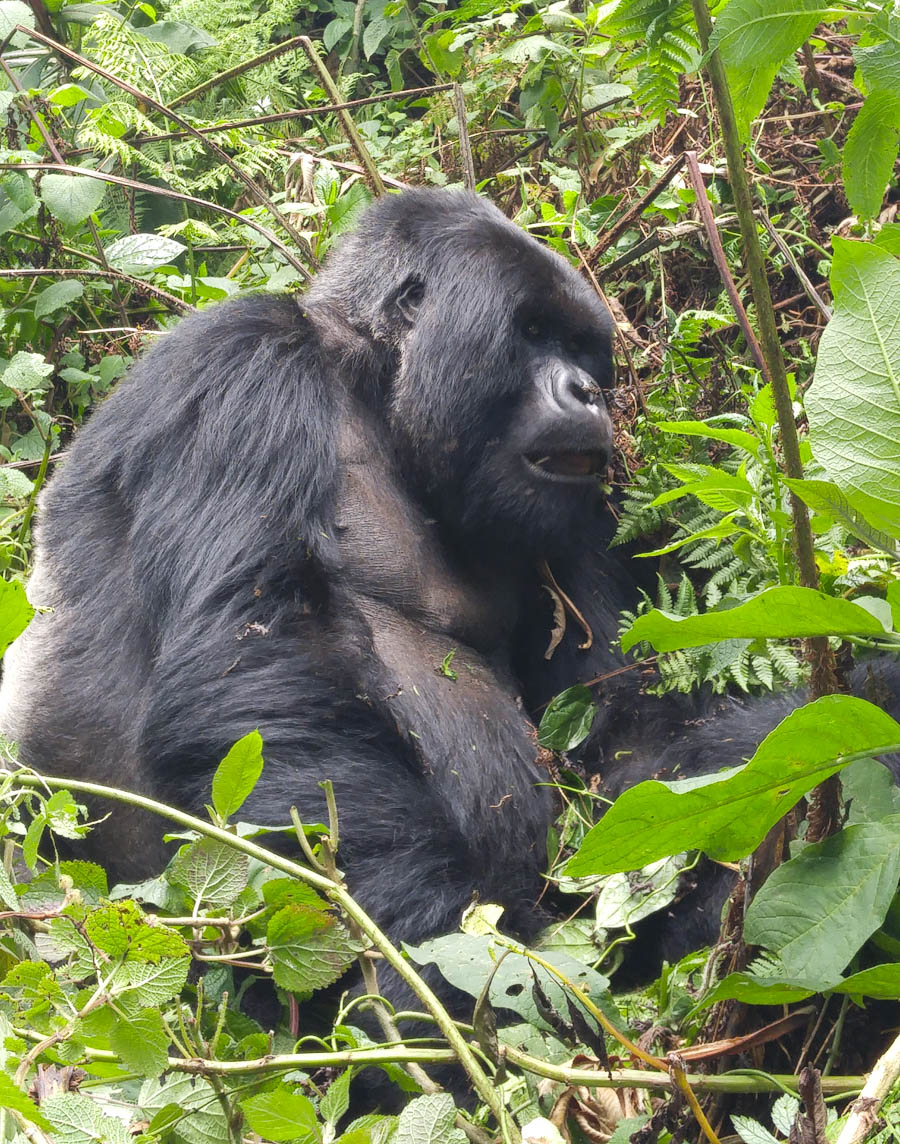 "Ah ha... I see a delicious twig right there"
Did You Know? - About 67% of their diet is fruit, 17% is leaves, seeds and stems and 3% is termites and caterpillars. Although they eat a variety of plants, favorites include wild celery, bamboo, thistles, stinging nettles, bedstraw and certain fruit. These plants seem to provide sufficient moisture so that gorillas do not need water. Mountain gorillas have a slow rate of reproduction.

Chomp!

They blend in amazing well!

We hope that is not an angry look!
Did You Know? - Gorillas are highly intelligent. They use tools and have various methods of communication, including some 25 different sounds. One famous captive-born individual, Koko, has been taught sign language since she was a year old. By the age of 40, she had a library of about 1,000 signs and could understand some 2,000 words of English.
The guide and trackers talked to the gorillas. They explained to us if they say this sound, all is OK, but if the trackers say this we should be still as they calm the gorillas - we never heard that, thank goodness

A beautiful creature

Pretty friendly with members of their group

Getting the "evil eye"
Did You Know? - Gorillas have unique noseprints, much like human fingerprints, which can be used to identify individuals.

Don't tell me that is right behind me?"

Just laying around

Snack time!
Did You Know? - Gorillas build nests in which to sleep, both on the ground and in trees, made of leaves and branches. Counting abandoned nests is an effective way for scientists to estimate population size.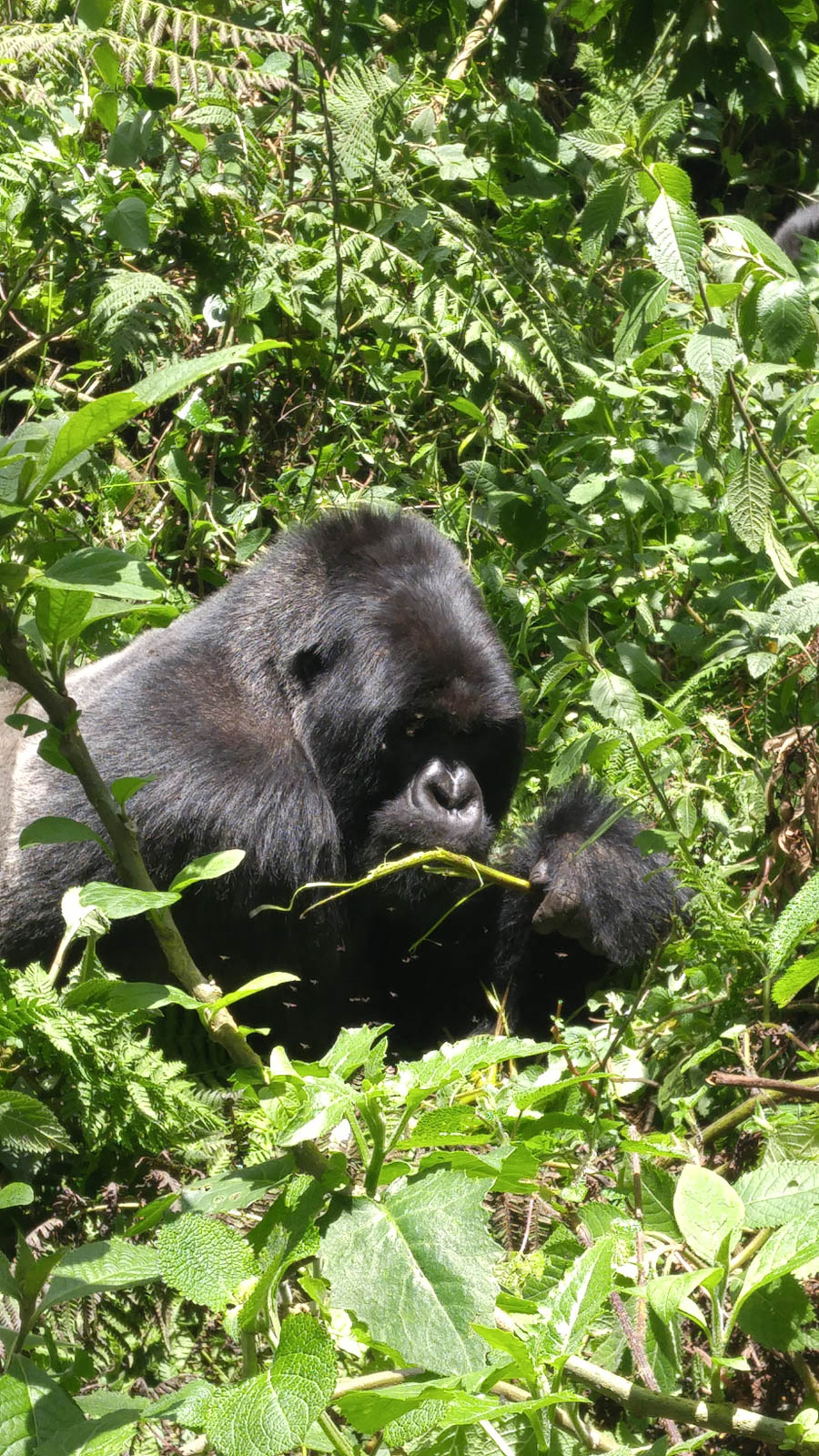 Always on the move
Did You Know? - The gorilla is shy and retiring rather than ferocious and treacherous. It usually seeks no trouble unless harassed but will valiantly defend its family group if threatened. Family groups are close-knit and may have up to 30 members, but even if smaller, the group usually consists of at least one older male, one or more females and a few juveniles.
Gorillas have strong attachments to members of their own group and even when groups meet and mingle and then subsequently part, each animal tends to remain with its respective unit. An adult male called a silverback named for the silvery gray hairs on its back normally leads each group, serving as its chief protector and defender.
Gorillas continually wander through their home ranges of 10 to 15 square miles, feeding and resting throughout the day. Because gorillas are nomadic, they build new nests each day at dusk, constructing them of bent branches in a tree or of grasses on the ground.
The gorilla families usually move to higher ground as the day progresses which is why the trek tries to start out early in the morning

The guides assure eveyone follows the rules!

"Hello there!"

"I know he is watching me"

We have some babies... Must be careful! In our family we had the large male silverback, 2 younger male silverbacks, a number of females, juveniles and 2 sets of twin babies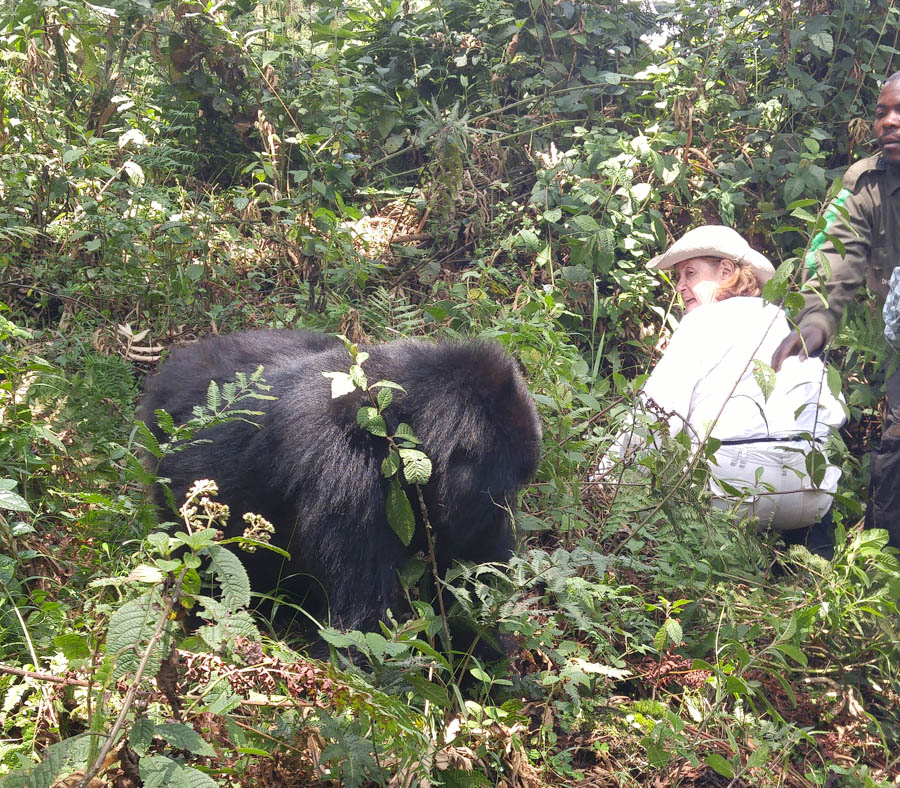 The guides allow us pretty close contact. They were not afraid - right behind me - turning my back on these gorillas was a bit frightening - especially the big males

Hello there!

"I am not afraid.... Nope, not a bit!"

"Well.... Maybe a little bit"


"OK... Where do we go from here?"

New friends I met on the trip!

...and another new friend!

Play time is anytime!

Does she look worried? She was also saying "Is he coming closer?"

Kids will be kids!

Tickle tickle tickle
Did You Know? - Mountain gorillas have a slow rate of reproduction. Females give birth for the first time at about age 10 and will have more offspring every three or four years. A male begins to breed between 12 and 15 years, when he is in charge of his own group. Able to conceive for only about three days each month, the female produces a single young most of the time, although we had twins in our family group.
Newborn gorillas are weak and tiny, weighing in at about 4 pounds. Their movements are as awkward as those of human infants, but their development is roughly twice as fast. At 3 or 4 months, the gorilla infant can sit upright and can stand with support soon after. It suckles regularly for about a year and is gradually weaned at about 3 1/2 years, when it becomes more independent.

The gorillas are not afraid of us

Too cute!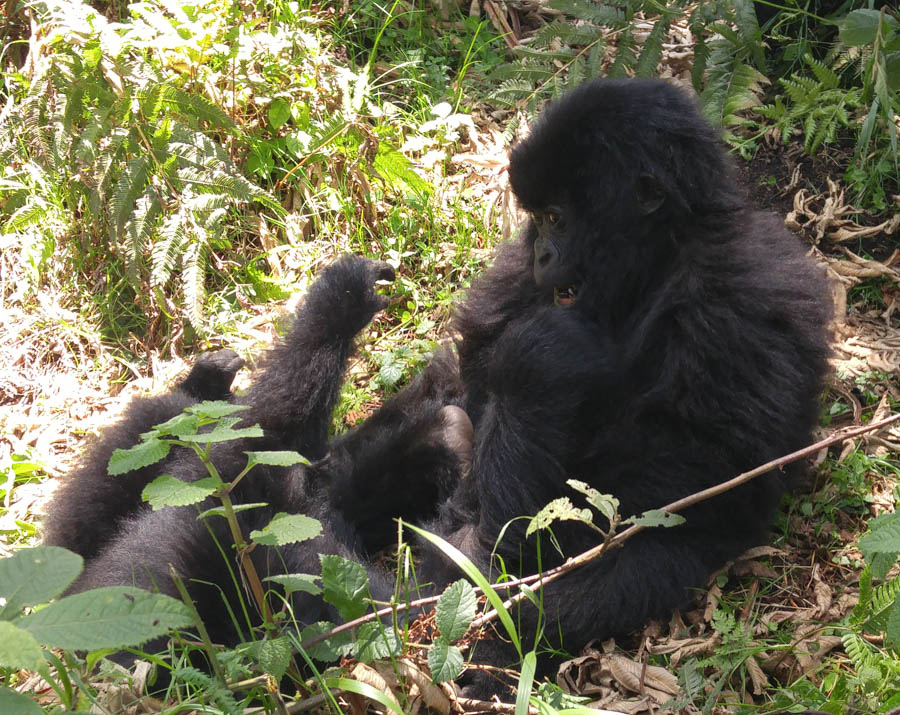 Play fighting...

Up close and personnal!

Do you see them up in the tree? They are not there!
They are all on the ground


Great job guys! These are the trackers that stay with the
gorillas and radio their location to the guides

We needed a good rest after this trek into the mountains!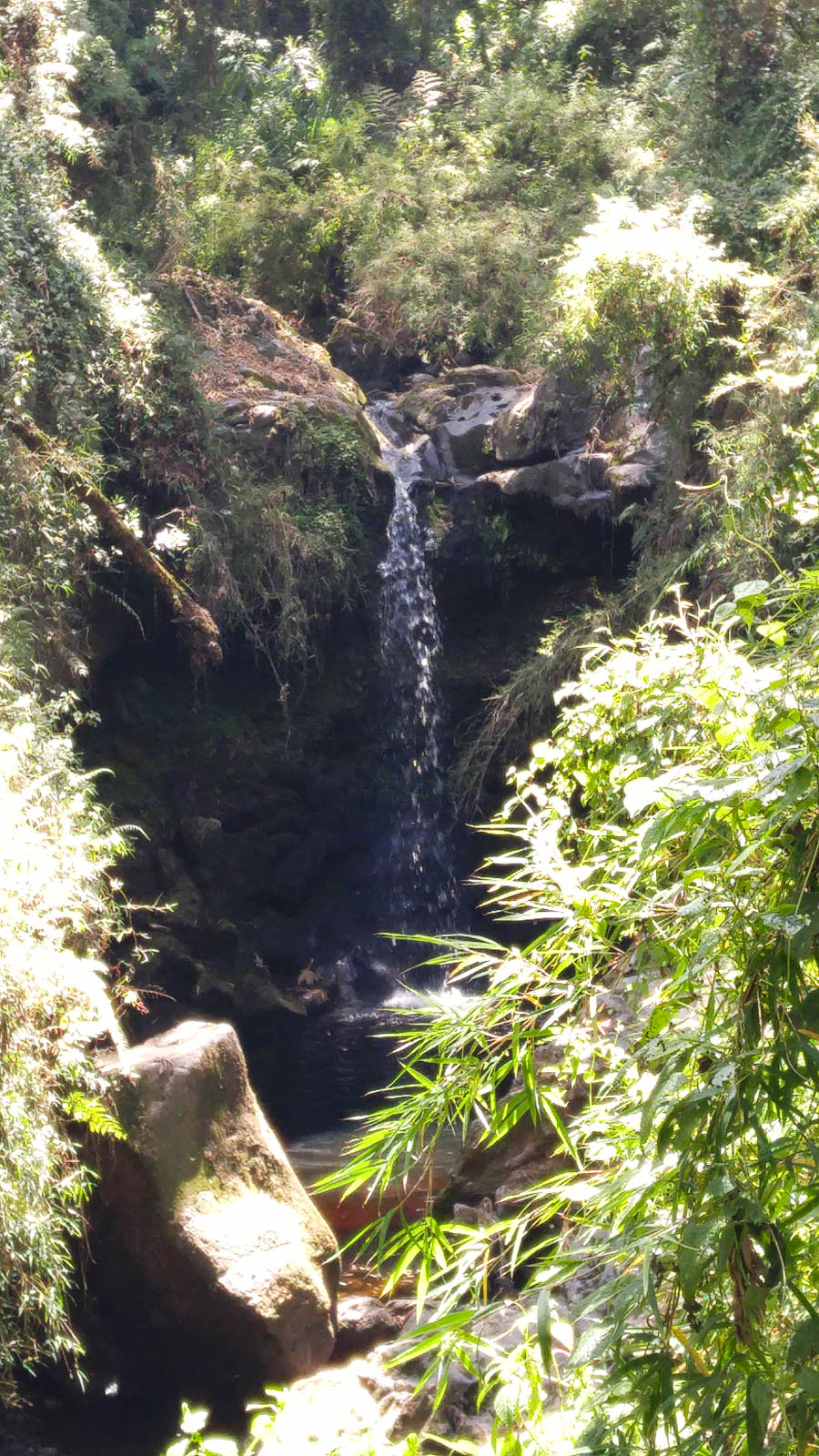 Who's in the bathtub now?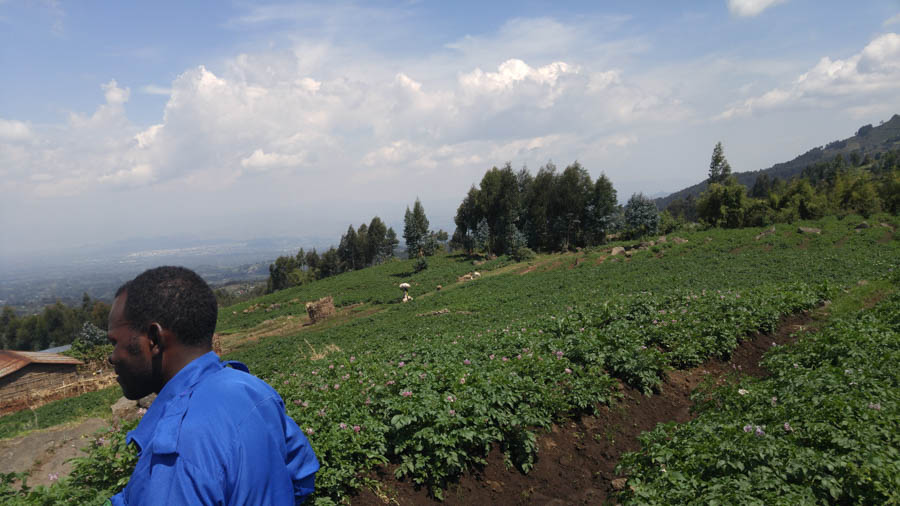 Farming is always going on!

Love the walking stick! I definitely did. This is my porter. He carried my backpack and jacket. I couldn't have made it without him. He lent me a hand to help pull me up and over rocks and steep climbs. By the end I felt like he was my boyfriend. He'd put his hand back and I'd just grab hold.

Afternoon clouds are forming!

The lodge awaits us after the trek!

We can make it!

Come right on in and sit a spell

Plenty of space to tell tall tales of the days adventure

The property is well taken care of. These views are from our
cottage patio to next cottage and finally our patio

Everything was green!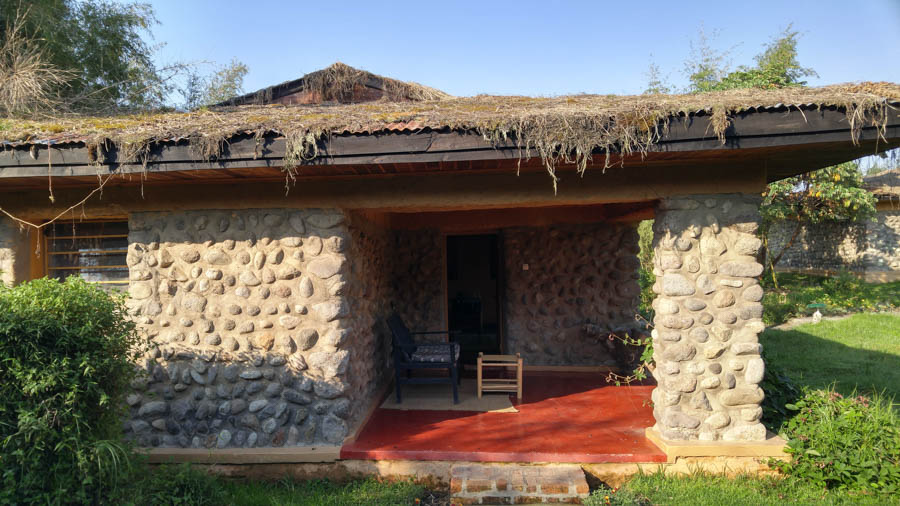 You could sit on the patio

Each bungalo had its own name, our was "Canary"

Creative room names!

The grounds were beautiful... No gorillas in sight!

Not another hill!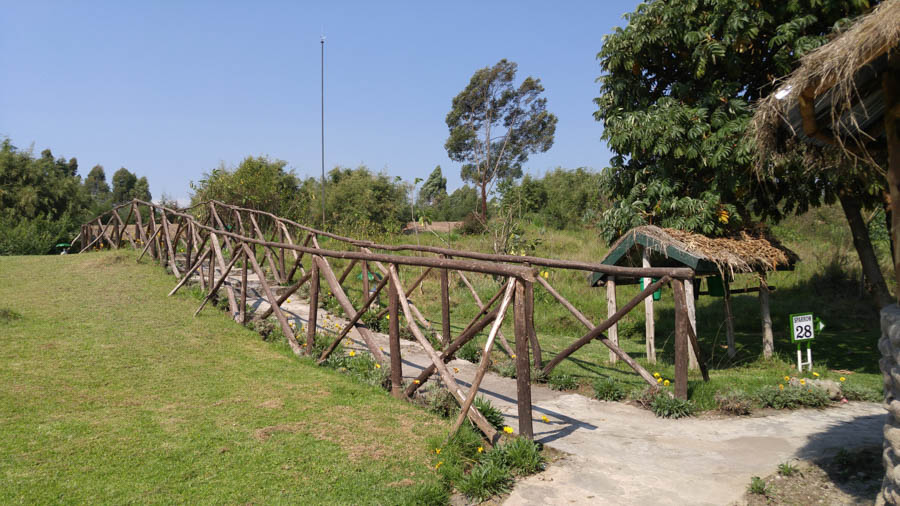 Cute... What would it be like in the rainy season?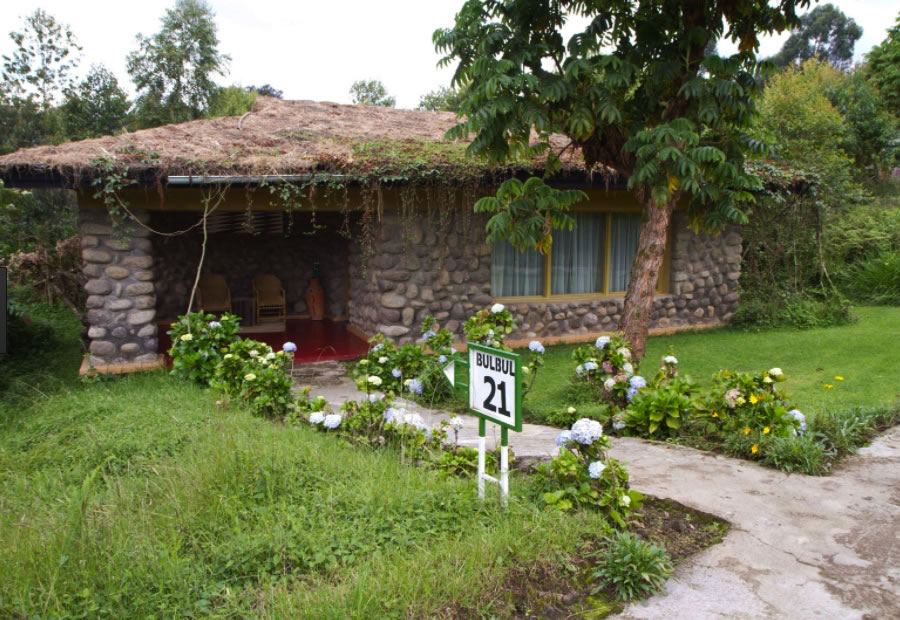 Each lodge has a unique name

Adventuring around the lodge!

Very spacious inside

Large lobby

The family watches over us!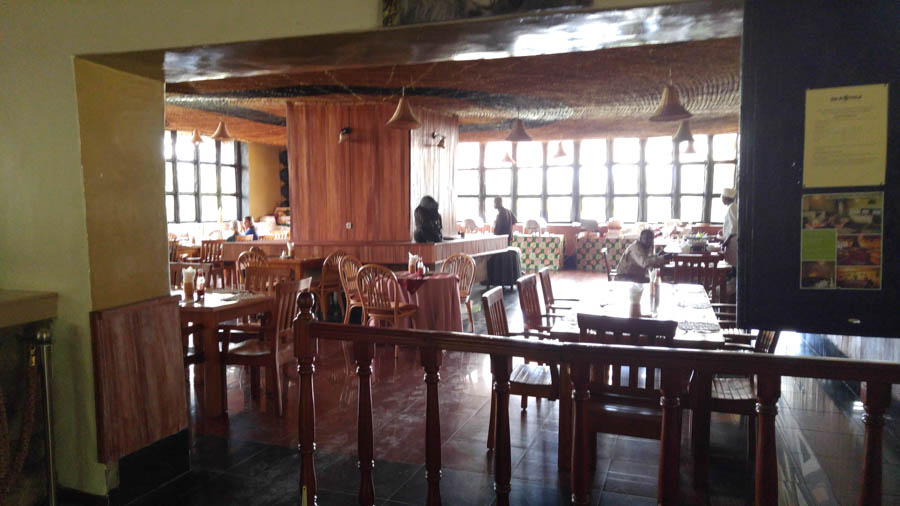 Nice dining area
Did You Know? - The Gorilla Mountain View Lodge has 20 individual cottages constructed out of brick and tile. The current bungalows are pretty big inside, with plain plastered walls, that are simply but comfortably furnished. Each has an en-suite bathroom with a shower. Being at altitude, it can get cold here however each of the cottages has a fire in the room (wood and charcoal provided on request). The lodge grounds are very well maintained and from here there are beautiful views of the volcanoes.
Electricity and hot water are supplied by a generator which does not run all day. Generally it is turned on at about 6pm, however this can vary so it is always best to ask someone on your arrival to clarify exact timings for your stay. There are plans afoot for the lodge to be linked to local power grid soon.
The central area has a basic bar and a restaurant where the food is generally, good home cooked fare - don't expect haute cuisine though. Again it can get quite chilly in here as the door is not designed to shut, however the staff can provide you with a 'bucket' of heated charcoal that you can put next to your table to help keep you warm. We would definitely also advise to you to dress warmly for dinners during the winter months.
It is located very close (about 15 minutes) from the main headquarters of Rwanda's Volcanoes National Park (Parc National de Volcans), so it is a very handy base from which to explore the area and organise treks to see the Golden monkeys and, of course, the enigmatic Mountain gorillas, both of whom make the Virunga Mountains their home.

Business on the terrace - She is an avid bird watcher and she had gone bird watching with the 2 guides in the morning and is here talking to them reviewing the names of the birds they saw and took pictures of today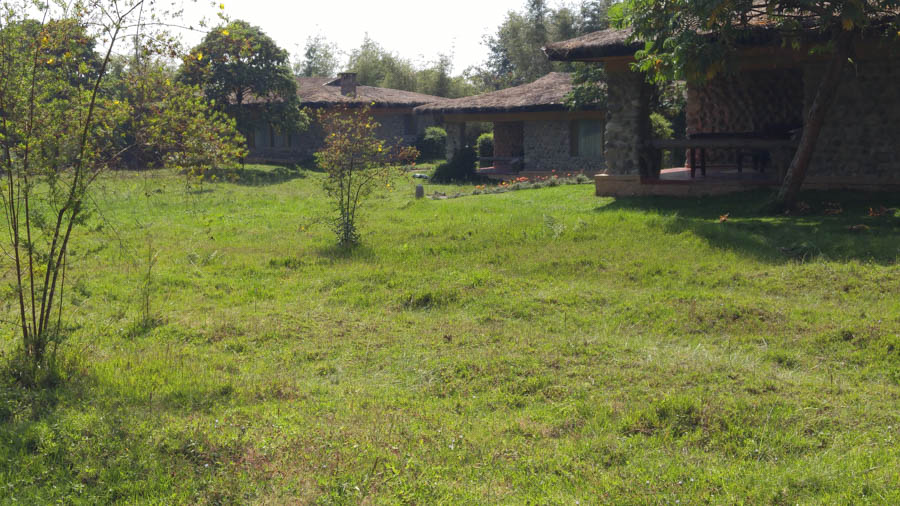 The buildings are quite close together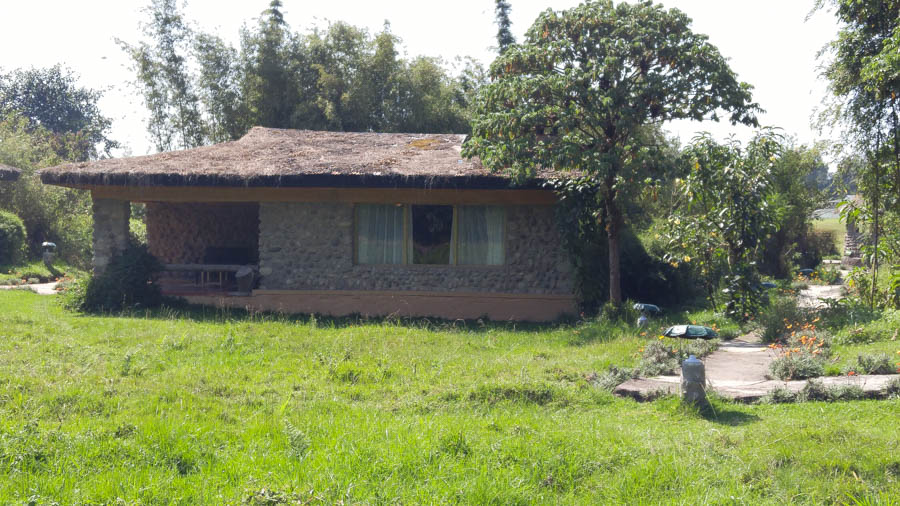 Home Sweet Home

The rooms were huge! Packing up to head for the airport... Darn!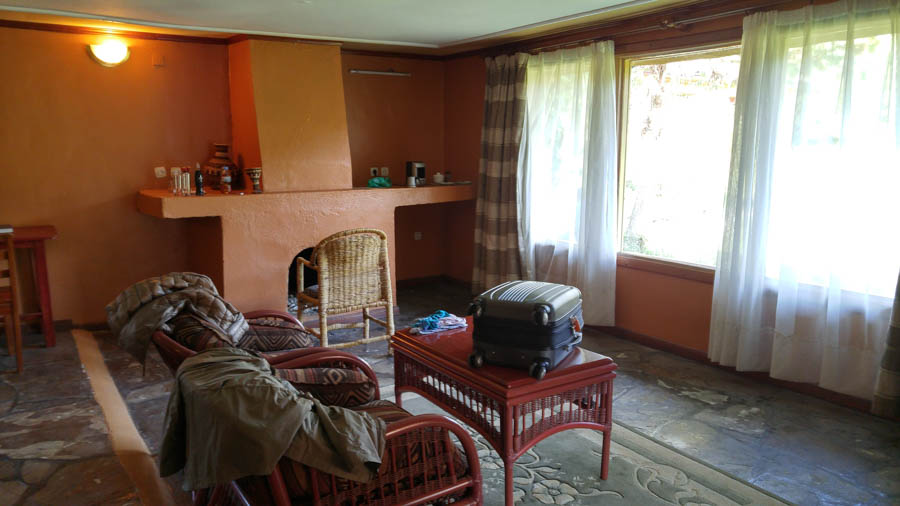 With an amazing view

We are on our way... It's all down hill from here!

Goodbye lodge... Hello Airport
This is our group who traveled together - We called ourselves "Kufaru" and with our driver Emmanuel

Friendly people - Had to get a picture of a woman carrying a child on her back which was so common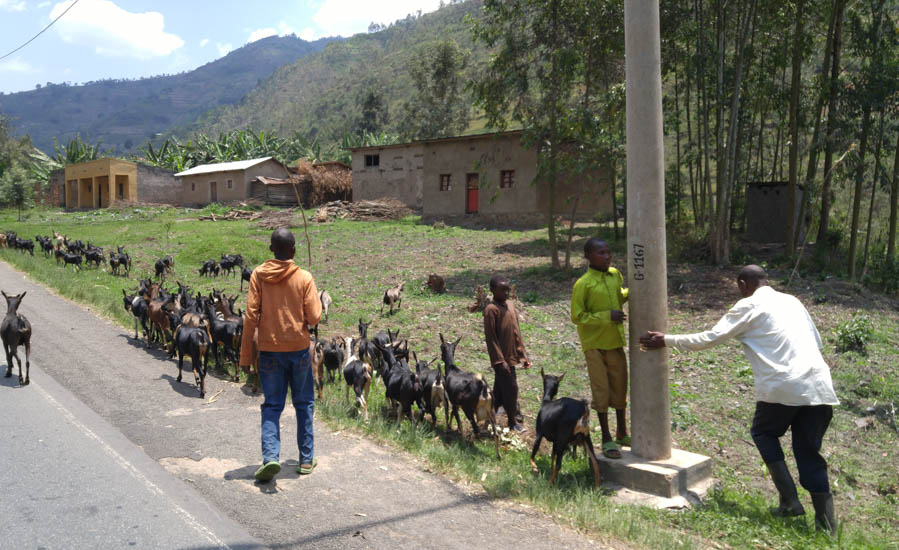 Driving the roads can be a challenge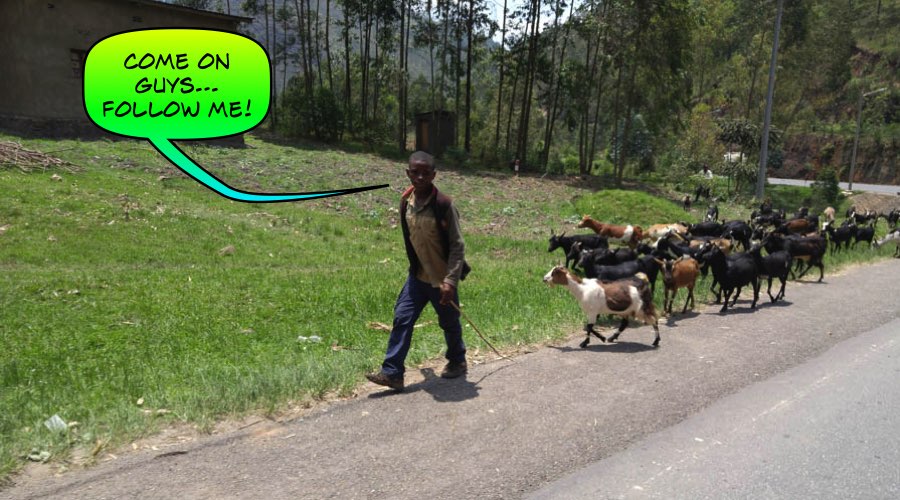 Herding them home

Homes spot the landscape after leaving the national park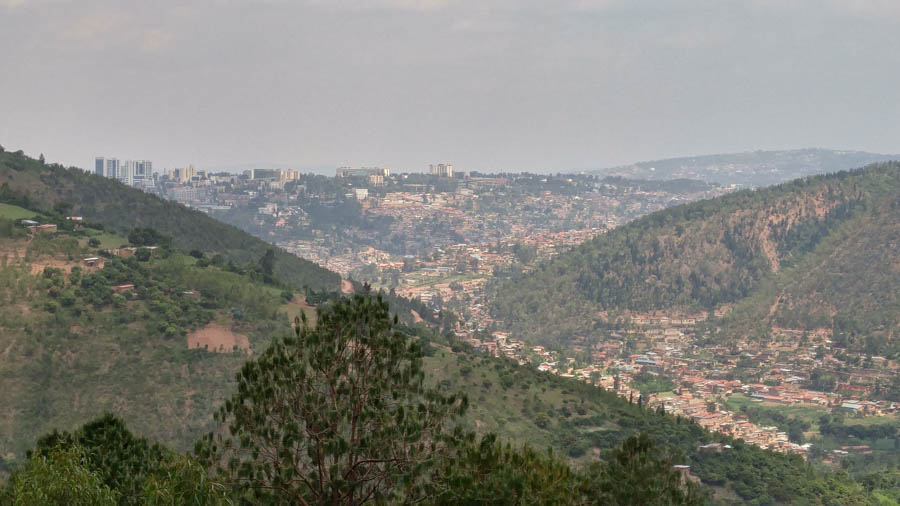 Kigali in the distance

This is the church where people went for sanctuary and they were all murdered. Inside was left behind the clothes of those killed, so you had a visual of how many and men, women and children. The bodies were buried around the side

Traffic! Must be "civilization"

Farming on the hill must be a challenge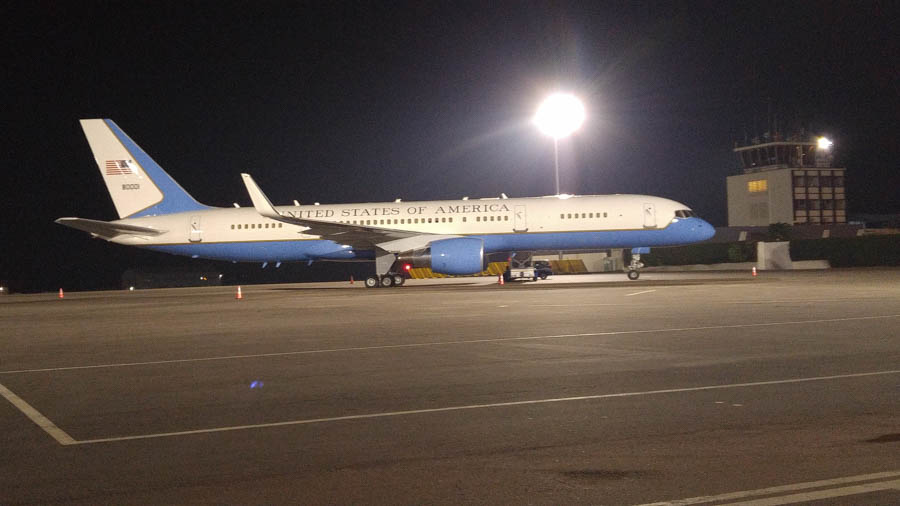 John Kerry was here!

Two hours and we are going to be in South Africa!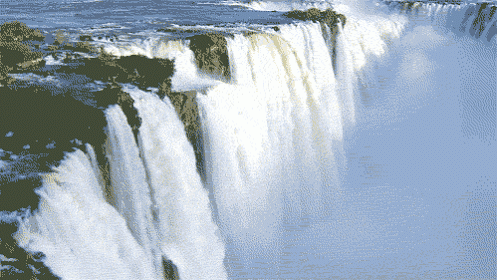 Next page - Victoria Falls Via Johannesberg S.A.