Milford Sound New Zealand
Milford Sound is on the west coast of New Zealand and is part of Fiordland. We sailed up the Sound for a day and then departed for the open Tasmanian Sea for a three day cruise to Australia.
Within the unfenced boundaries of Fiordland, one of the largest national parks in the world, is some of the most wild and dramatic scenery in New Zealand. Fiordland is also one of 3 World Heritage Area's in New Zealand.
It is the work of 500 million years of constant sculpting as the land has been relentlessly ground, split, fired, and pressured by the elements. Fiordland stretches over 1.2 million hectares (3 million acres) in a remote section of the South Island and it is peppered with hundreds of lakes, craggy mountain peaks, deep fiords and rich rainforest.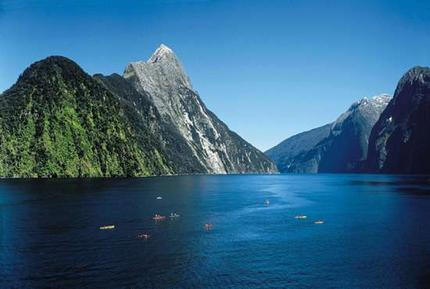 Beauty beyond belief
The jewel in Fiordland's crown is Milford Sound, its steep rock walls and cascading waterfalls a reminder that it was once a high mountain range that sank into the sea. Under the water surface is one of the rarest marine underwater worlds, home to 200-year-old black corals, sponges, lobsters, octopuses, sharks, and bottlenosed dolphins.

Reach out and touch it
There are only three roads in the park, but it also contains three of the country's great walks – the Milford, Routeburn and Kepler tracks.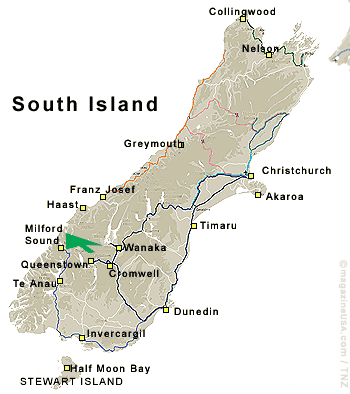 Milford Sound is one of the places that Crystal Cruises felt we have to visit, or their journey to the South Island is not complete. It's the only Sound in Fiordland that one can easily access by car, rather than tramping or taking a special tour. The road north from Te Anau passes through the Eglinton Valley, an alpine valley which features the Mirror Lakes ( first image) and then ends at Milford Sound (image 3). There are official camping sites all along this route, but nothing else. There is one hotel and one very basic youth hostel at the Sound itself, a garage, cafe, and a boat terminal. Booking at both is necessary during the summer.
Waterfalls Everywhere
The cruise ships that bring visitors into Milford Sound, New Zealand, become as tiny toys against the backdrop of sheer cliffs and towering mountains.
Water and rock walls everywhere!
The Milford Mist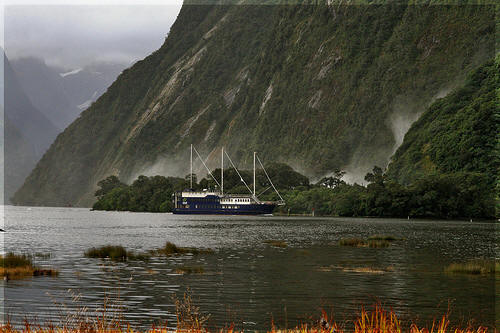 There is a great deal to see in the area, in terms of landscapes and native plants, but, because of the relatively high altitude, and southerly latitude, as well as the likelihood of rain.
Next Destination, Australia
Off to Australia across the Tasmanian Sea. We re going to visit Hobart Tasmania and go north along the Australian Coast.