A Very Enjoyable Visit Is Only 40 Miles Away
Did You Know? - San Juan Capistrano (play /sæn ˌwɑːn kæpɨˈstrɑːnoʊ/; Spanish: [saŋ ˈxwaŋ kapisˈtɾano]) is a city in southern Orange County, California, located approximately 23 miles (37 km) southeast of Downtown Santa Ana. The current OMB metropolitan designation for San Juan Capistrano and the Orange County Area is "Santa Ana-Anaheim-Irvine, CA."
The population was 34,593 at the 2010 census, up from 33,826 at the 2000 census. The city was created around Mission San Juan Capistrano, and many of the homes and strip malls resemble the Spanish architecture that compose the building. It is home to the widest variety of homes in Orange County, including those built prior to 1900 in its central district (some being adobes from the 18th century), a number of 10-million-dollar homes in the gated communities of the hills, and working ranches in its foothills.
San Juan Capistrano is probably best known for the annual migration of the cliff swallows that reputedly migrate each year from Argentina to the Mission San Juan Capistrano.
Paul can remember going here in 1949 when it took hours and hours... No freeways, tiny roads!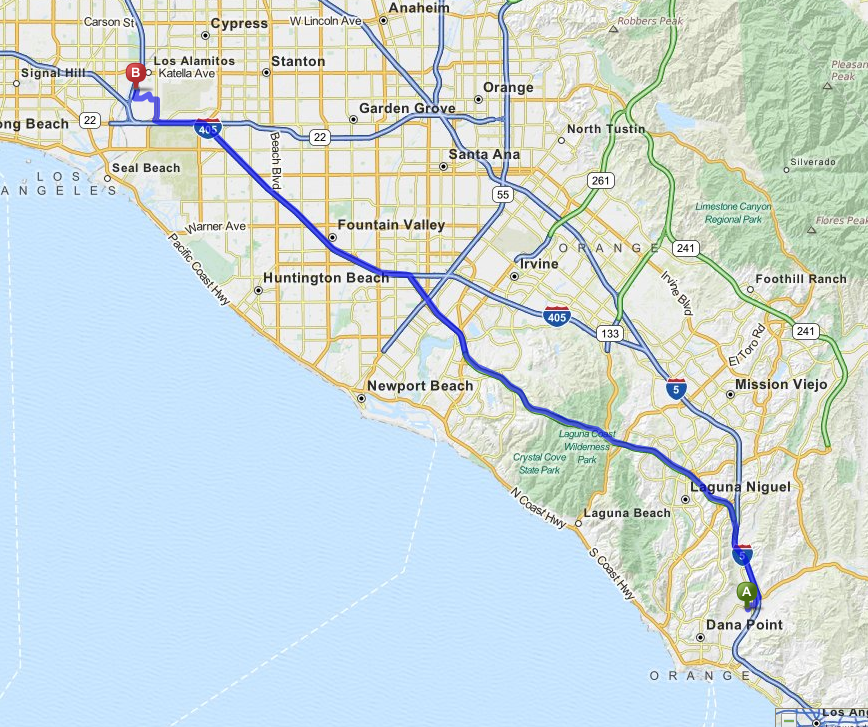 44 mins / 35.79 miles
San Juan Capistrano is the site of a Catholic mission for which it is named, Mission San Juan Capistrano. When the Mission was founded in 1776, the region was populated by the Acjachemen band of Native Americans, called Juaneños by the Spanish. The mission was named after the Franciscan saint Giovanni da Capistrano (1386-1456).
The city is the site of California's oldest residential neighborhood, Los Rios. It is also the home of the oldest in use building in California, the Serra Chapel in the Mission. The area was the site of both the first vineyard and first winery in California.
In the 1830s Richard Henry Dana, Jr., author of the classic Two Years Before the Mast visited the area as a sailor engaged in the hide trade on board the ship Pilgrim. Describing the locale, which then included what is now the neighboring city of Dana Point, he gushed, "San Juan is the only romantic spot in California." The area was also the locale of the first Zorro novella, The Curse of Capistrano, published in 1919 (later renamed The Mark of Zorro after the success of the film of the same name).