A Great Place To Visit And Wonder Around
The Richard Nixon Presidential Library and Museum is the presidential library of Richard Milhous Nixon, the 37th President of the United States. Located in Yorba Linda, California, the library is one of twelve administered by the National Archives and Records Administration.
From its original dedication in 1990 until becoming a federal facility on July 11, 2007, the library and museum was private and was known as the Richard Nixon Library & Birthplace.
The nine acre (36,000 m²) campus is located at 18001 Yorba Linda Boulevard in Yorba Linda, California and incorporates the National Historic Landmarked Richard Nixon Birthplace where Nixon was born and spent his childhood.
Did You Know? The original Library & Birthplace was officially dedicated on July 19, 1990. Former President and Mrs. Nixon were present, as were Then-President George H.W. Bush, former President Gerald Ford, former President Ronald Reagan, and former first ladies Barbara, Betty, and Nancy.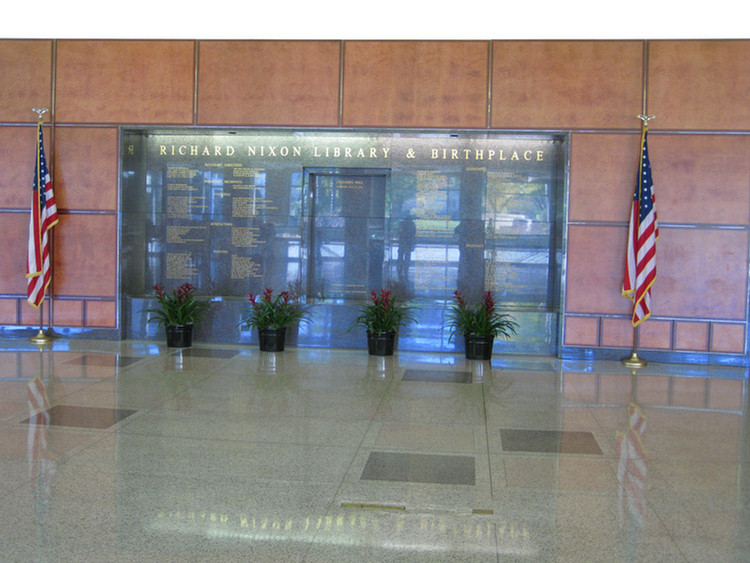 The inside was beautiful with very helpful people attending to the displays
Onward Through The Exhibits; Presidential Inaugurations
Did You Know? - An inauguration is a formal ceremony to mark the beginning of something such as a president's term of office. The most common usage of the term is in the context of a formal investiture whereby an individual assumes an office or position of authority or power. The term is usually used in reference to a politician's assumption of the duties of head of state or head of government (e.g. the President's inauguration). An "inaugural address" is the presidential speech given at this ceremony which informs the people of his intentions as a leader.

Tickets from inaugurations gone by were on display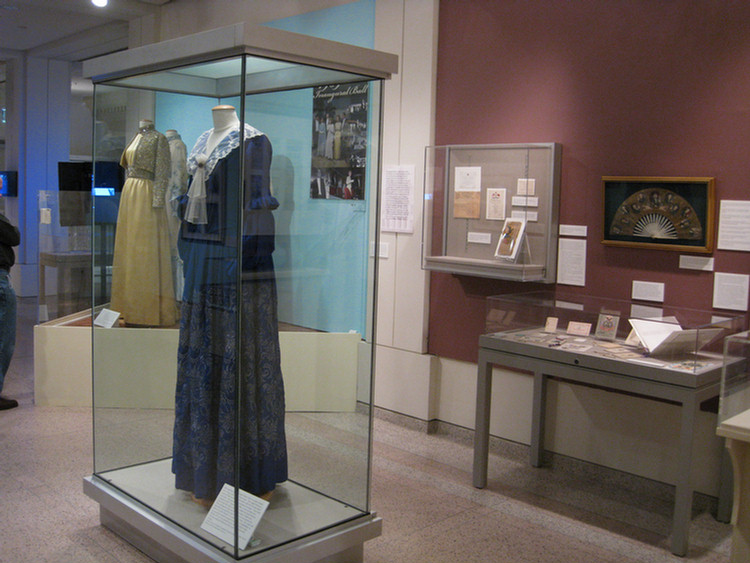 Many of the gowns worn at various inaugurations were on display
President Reagan Hand-Wrote His Speech

He could write and his writing was easy to read!
Sue and Paul Then Vicky and Del Were Sworn In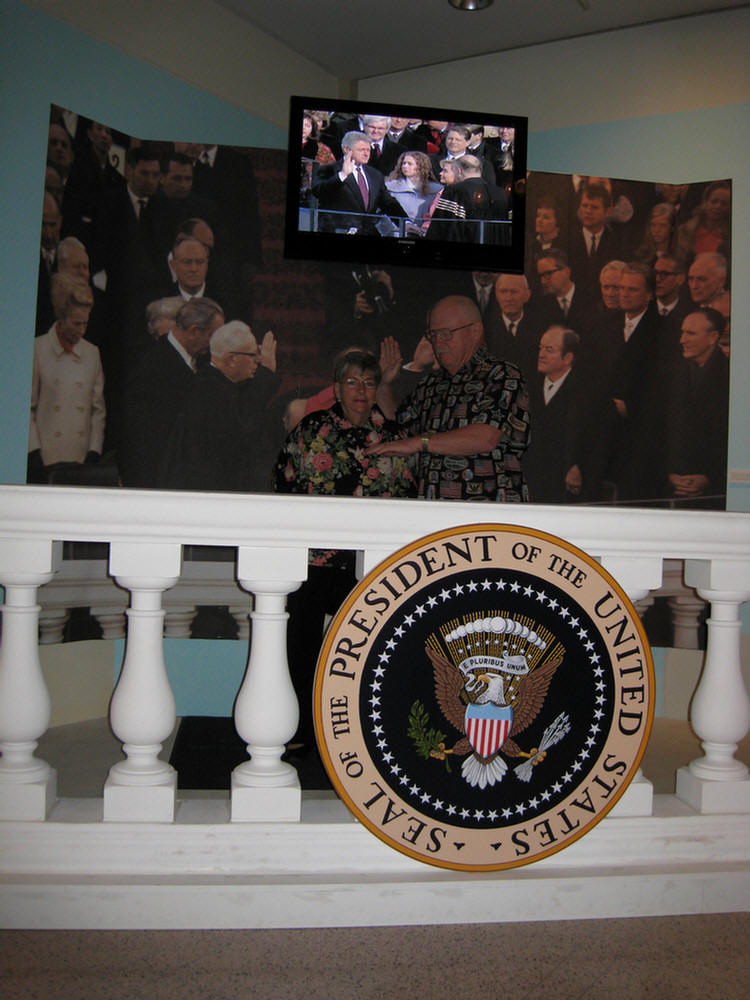 Paul goes first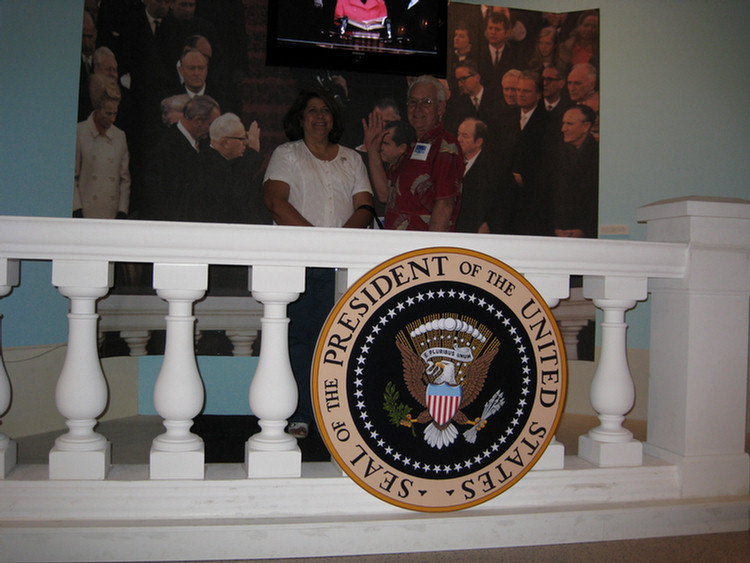 Del is next
We Traced Each Step From Congressman To President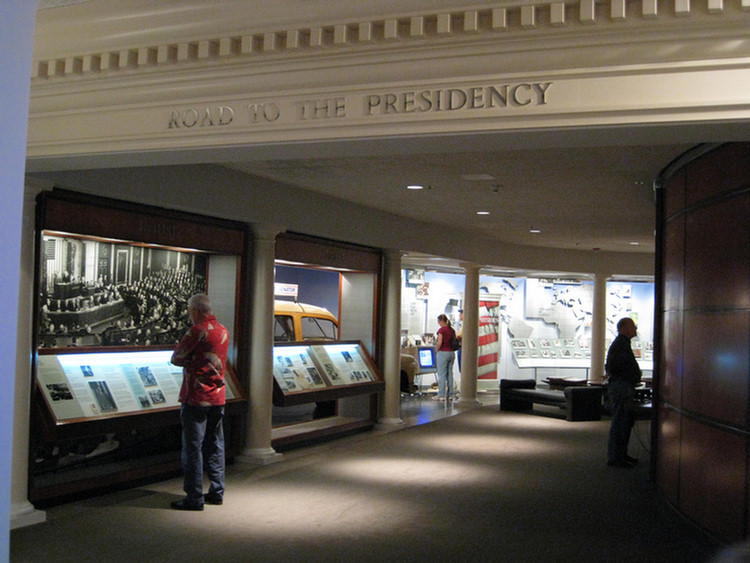 Do you know about Checkers The Dog? Del is studying the details
Nixon, having been accused of accepting $18,000 (about $140,000 in 2007 dollars) in illegal gifts, gave a live address to the nation in which he revealed the results of an independent audit that was conducted on his finances, exonerating him of any malfeasance. The money, he asserted, did not go to him for personal use, nor did it count as income, but rather as reimbursement for expenses. He followed with a complete financial history of his personal assets, finances, and debts, including his mortgages, life insurance, and loans, all of which had the effect of painting him as living a rather austere lifestyle. He denied that his wife Pat had a mink coat; instead, she wore a "respectable Republican cloth coat."

The one contribution he admitted receiving was from a Texas traveling salesman named Lou Carrol who gave his family an American Cocker Spaniel, which his daughter named "Checkers." Carrol later explained that he had read a report that Pat Nixon said their children Tricia and Julie "longed" for a dog, and his own dog had just had a litter. After a telegram exchange, he crated the puppy and shipped it by rail to Washington. Nixon admitted that this gift could be made into an issue by some, but maintained that he didn't care, stating "the kids, like all kids, love the dog and I just want to say this right now, that regardless of what they say about it, we're gonna keep it." Later, when asked about Nixon's performance, some Dwight Eisenhower campaign insiders joked, "We're keeping the dog."
Mr. Kuhn, Please Back Away From The Car

Del really like Nixon's Mercury Woody circa 1951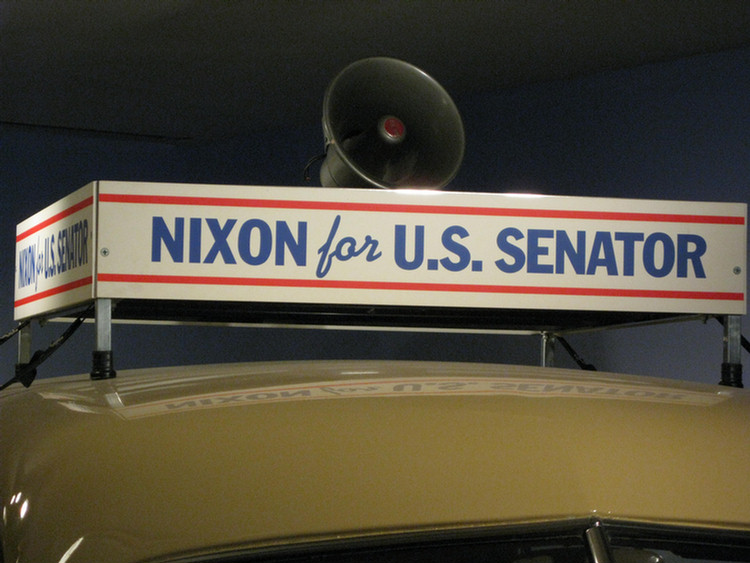 Badges Have Always Been a Collectors Item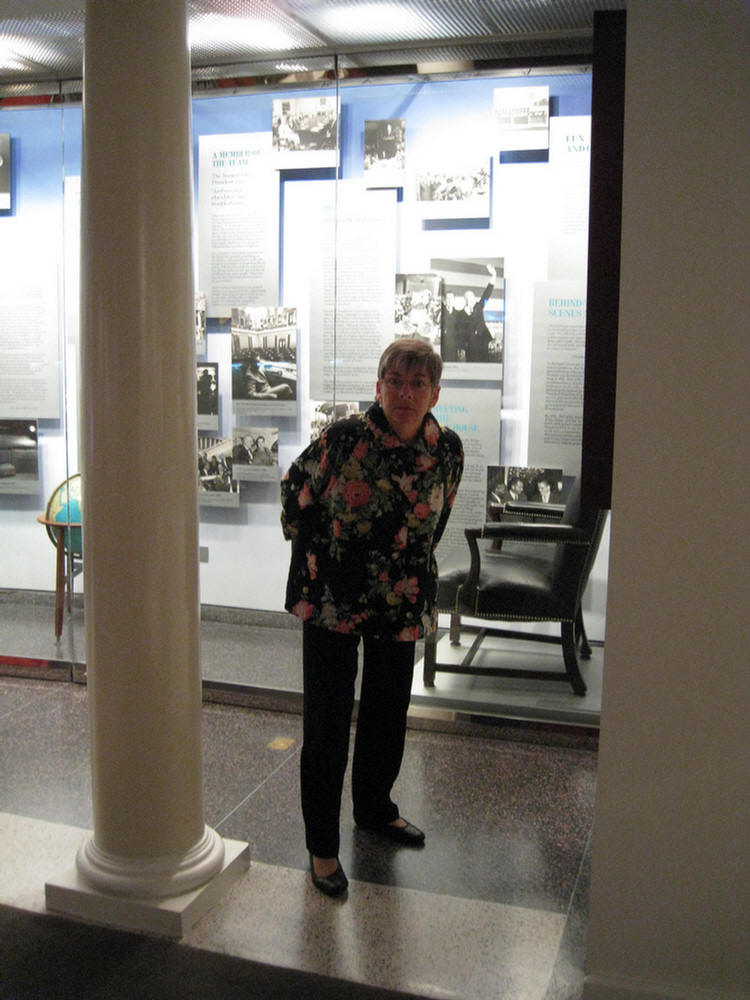 Sue enjoyed all of the displays

Memo's, wires, letters, were all on display
An Amazing Display Of World Leaders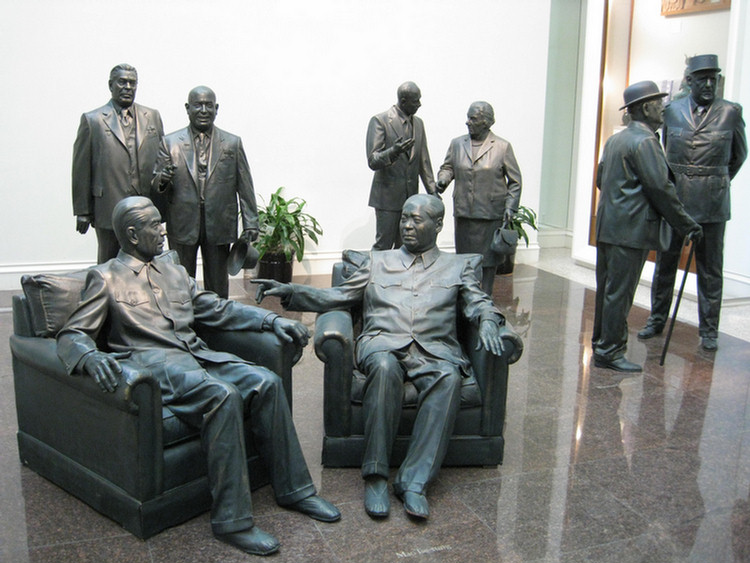 Everybody was there!
Did You Know? - The figures are plaster of Paris casts and the clothes are put onto the figures and painted to look like real brass statues. Plaster of Paris is a type of building material based on calcium sulfate hemihydrate, nominally CaSO4·0.5H2O. It is created by heating gypsum to about 150 °C.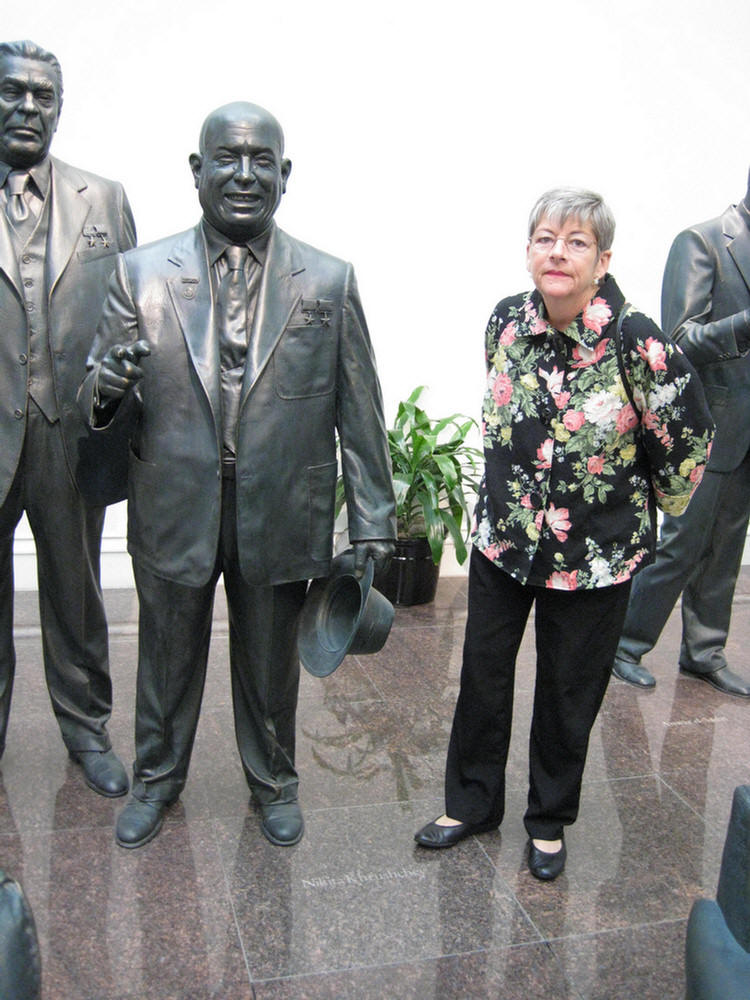 Khrushchev was a short little squirt!
Did You Know? - Nikita Sergeyevich Khrushchev (Russian: Никита Сергеевич Хрущёв, Nikita Serge'evič Hruščëv) (April 17, 1894 – September 11, 1971) served as First Secretary of the Communist Party of the Soviet Union from 1953 to 1964, following the death of Joseph Stalin, and Chairman of the Council of Ministers from 1958 to 1964. Khrushchev was responsible for the de-Stalinization of the USSR, as well as several liberal reforms ranging from agriculture to foreign policy. Khrushchev's party colleagues removed him from power in 1964, replacing him with Leonid Brezhnev.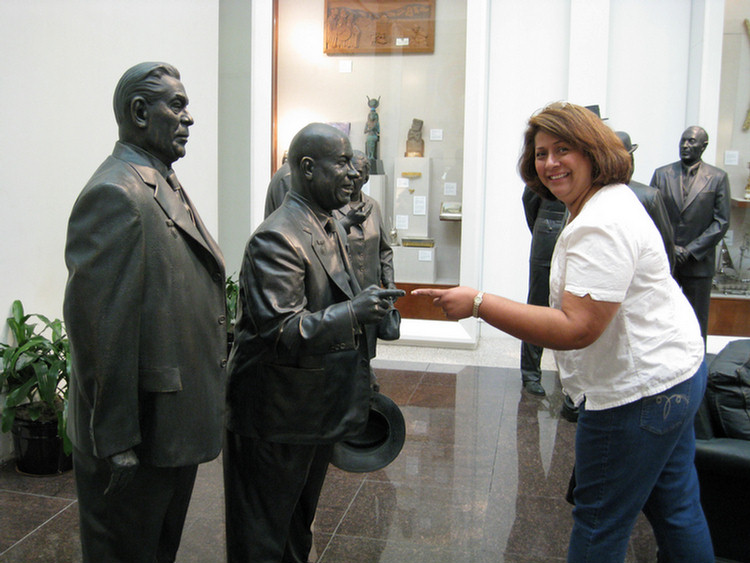 Nikita and Vicky got along quite well!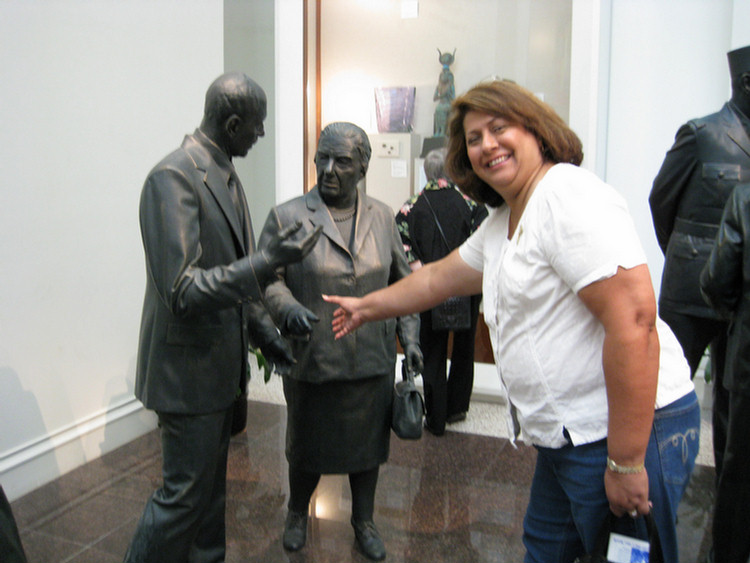 Golda Meir wanted Vicky's autograph!

"Nice purse Golda!"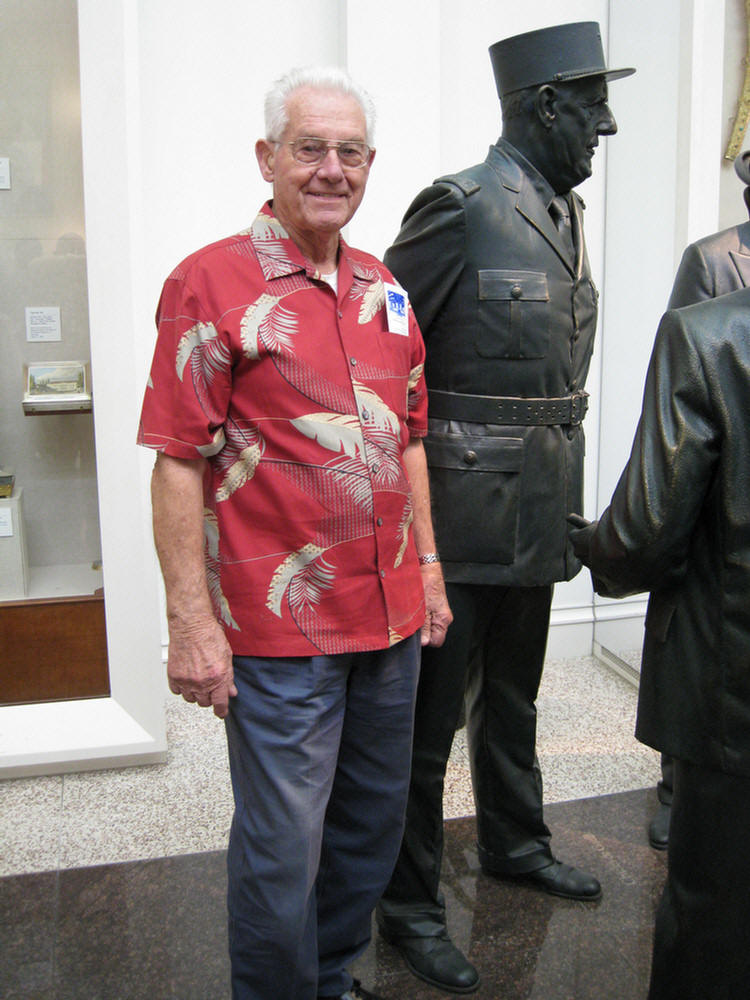 DeGalle and Del compared noses!

Paul right between the leaders of England and France

Amen!
Nixon Was A Great International Statesman

Nixon brought China into the modern world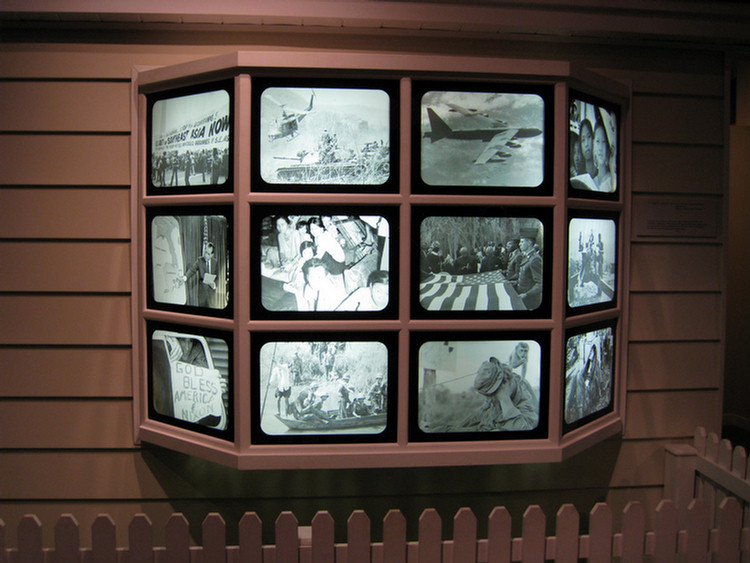 The Vietnam war, started by Democrats, was finished by Nixon with dignity

The Berlin Wall came down as a result of the Nixon and Reagan efforts
Pat Nixon Was An Amazing Lady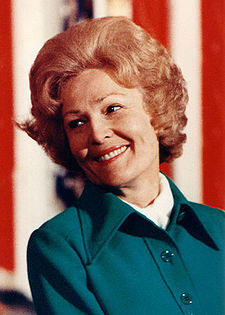 Born in Nevada, Pat Ryan grew up in Los Angeles, California. She graduated from high school in 1929, then attended Fullerton Junior College and later the University of Southern California. She paid for her schooling by working multiple jobs, including pharmacy manager, typist, and X-ray technician. In 1940, she married lawyer Richard Nixon; they had two daughters. Pat campaigned for her husband in his successful congressional campaigns of 1946 and 1948. Richard Nixon was elected Vice President in the Eisenhower administration, whereupon Pat undertook many missions of goodwill with her husband and gained favorable media coverage. She assisted her husband in both his unsuccessful 1960 presidential campaign, and later in his successful presidential campaign of 1968.

As First Lady, Pat Nixon promoted a number of charitable causes, including volunteerism. She oversaw the collection of more than 600 pieces of historic art and furnishings for the White House, an acquisition larger than that of any other administration. Pat became the most traveled First Lady in U.S. history up to that time, visiting about 80 nations; she was the first First Lady to enter a combat zone. These trips gained her favorable reception in the media and the host countries. Her tenure ended when, after being re-elected in a landslide victory in 1972, President Nixon resigned two years later amid the Watergate scandal.

Her public appearances became less frequent in her later life. She and her husband returned to California, and later moved to New Jersey. Pat suffered two strokes—one in 1976 and another in 1983—and was later diagnosed with lung cancer in the early 1990s. She died in 1993 aged 81.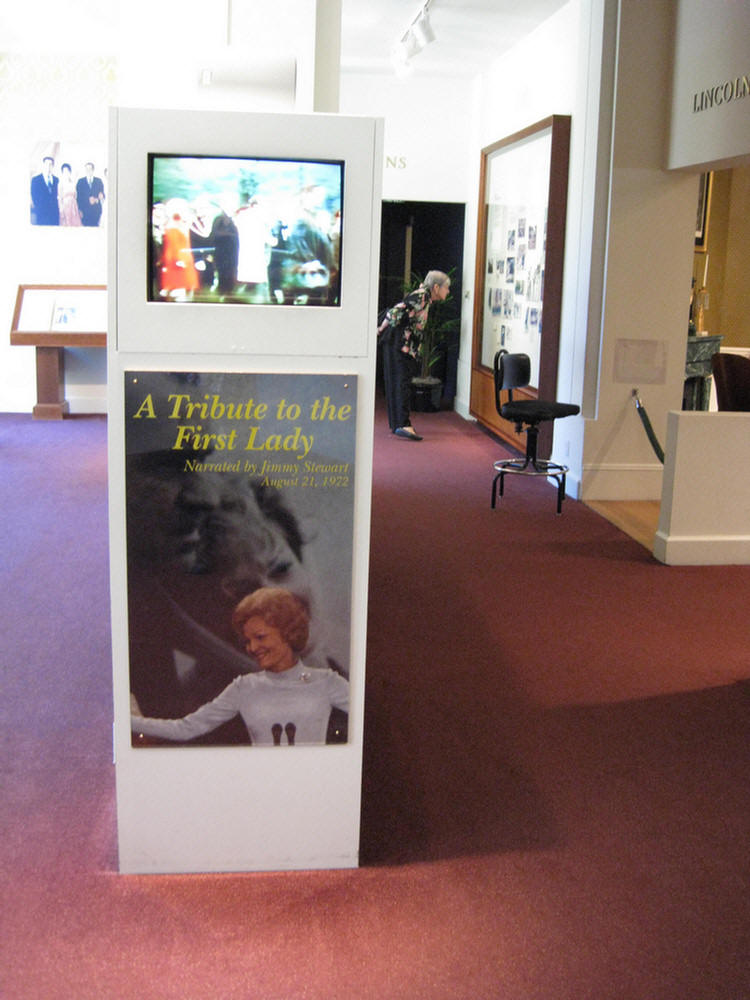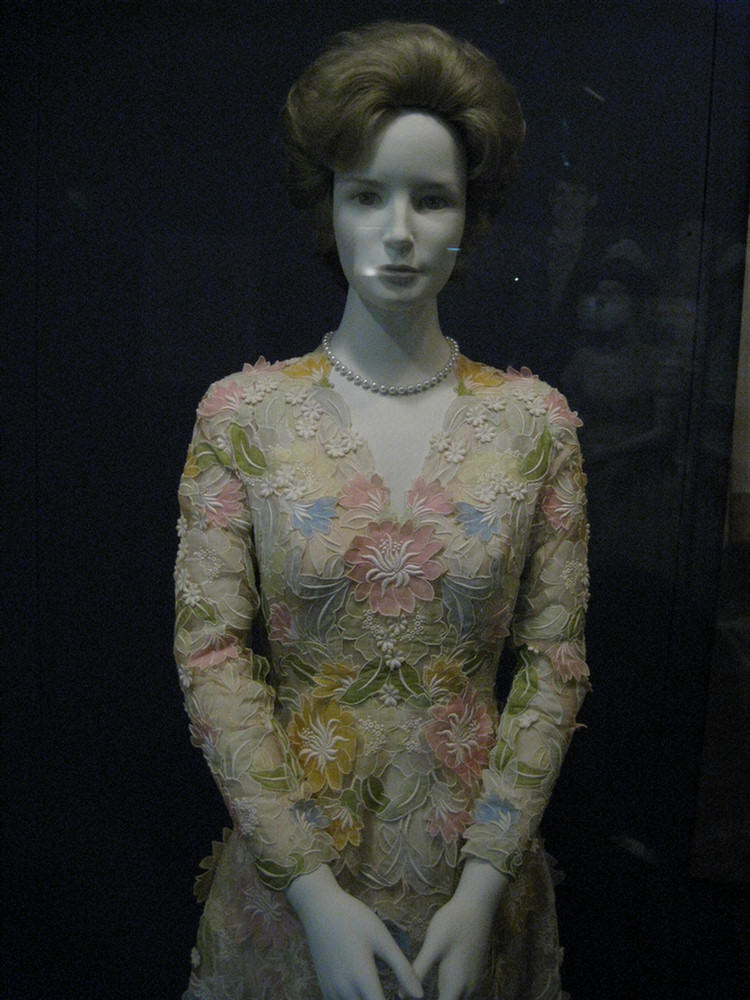 The Most Expensive Car Ever Built... $500,000 In 1972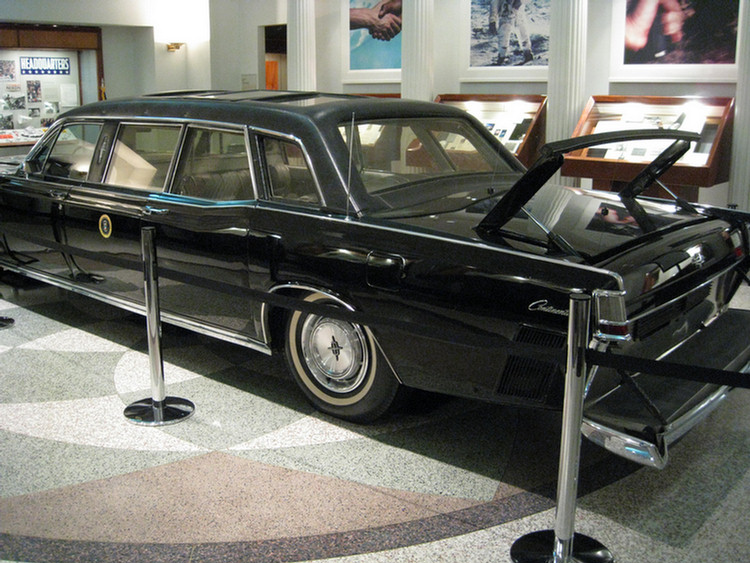 Several Rooms Were Recreated Looking Like The White House In 1968

Actual Nixon family ornaments on a Christmas Tree
Nixon Pushed The Space Program Forward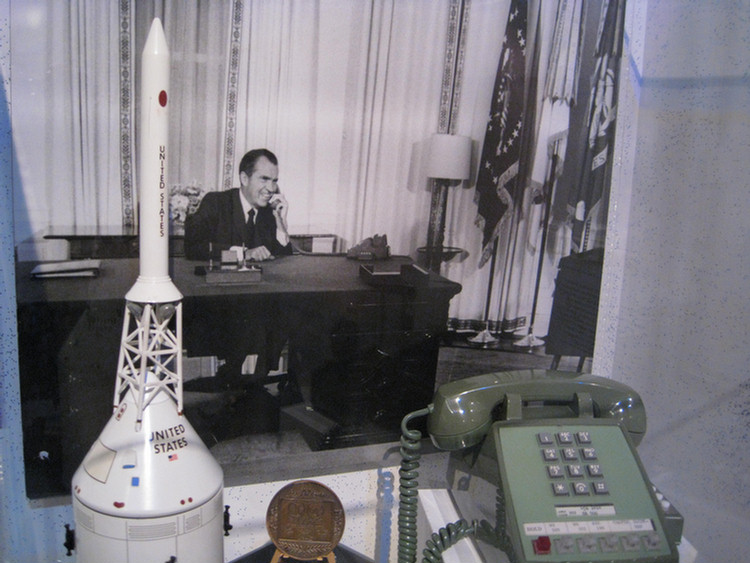 The green phone was used when Nixon talked to the men on the moon!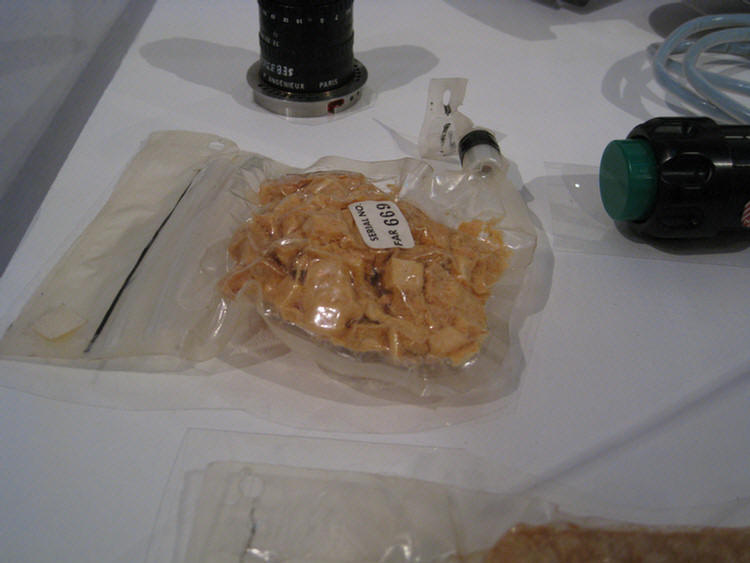 Dried Apollo food still usable to this day!
Eight Areas Of Emphasis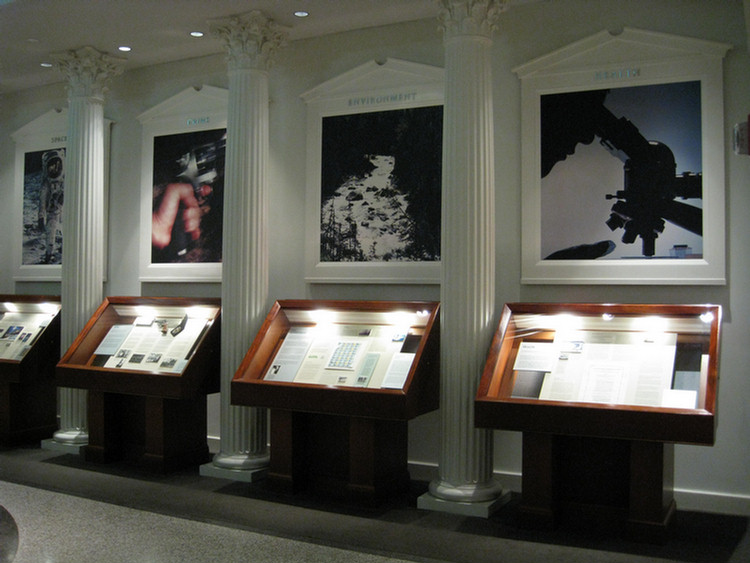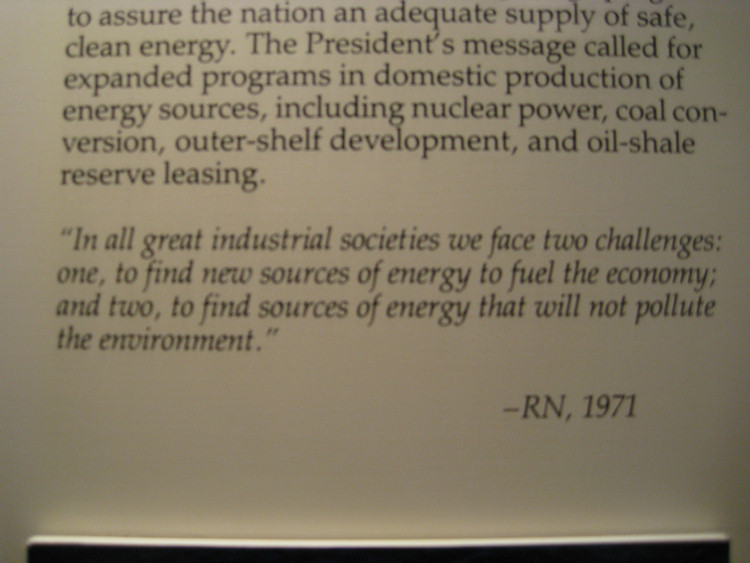 He said drill and build new sources of energy!

Put people to work and get them off the dole!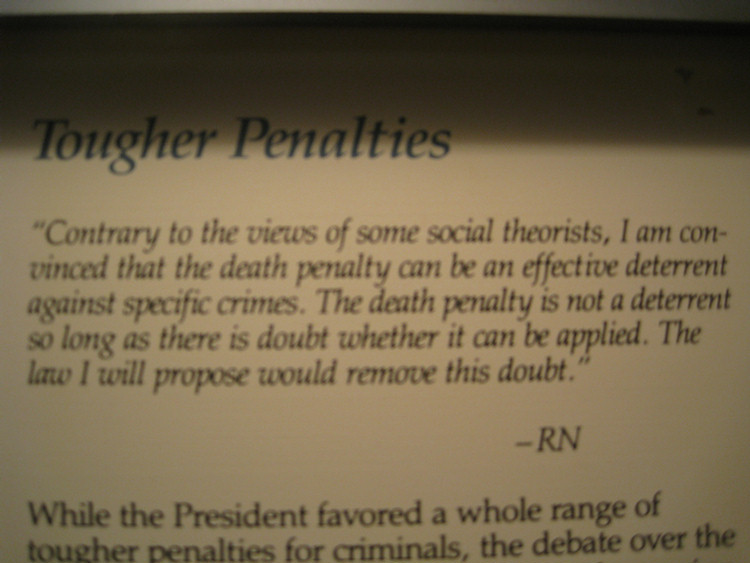 He believed in the death penalty -- a wise man!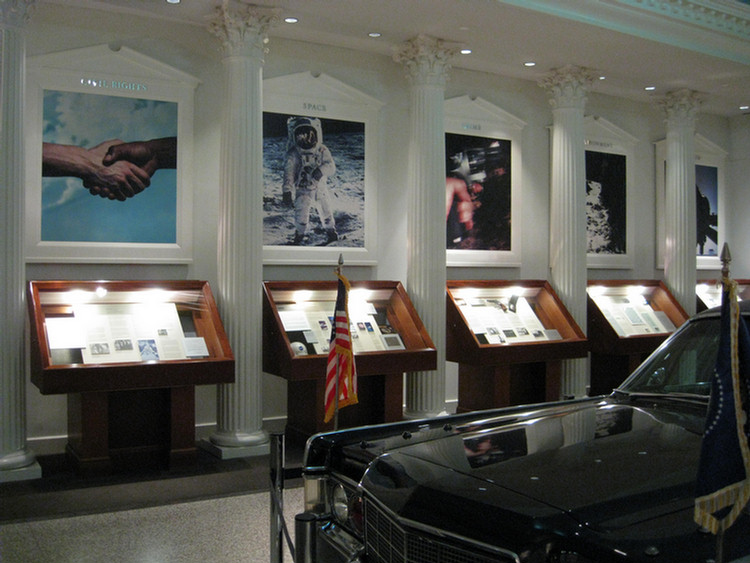 Kennedy only won by 102,000 votes!