Afternoon At The Bowers September 2010
The Bowers Museum is located in Santa Ana, California, in Orange County. The museum offers exhibitions, lectures, art classes, travel programs, children's art and music education programs, and other community events. The museum's guiding philosophy is to help people learn about other cultures through their arts, and offer a greater understanding of ourselves and appreciation of the world in which we live.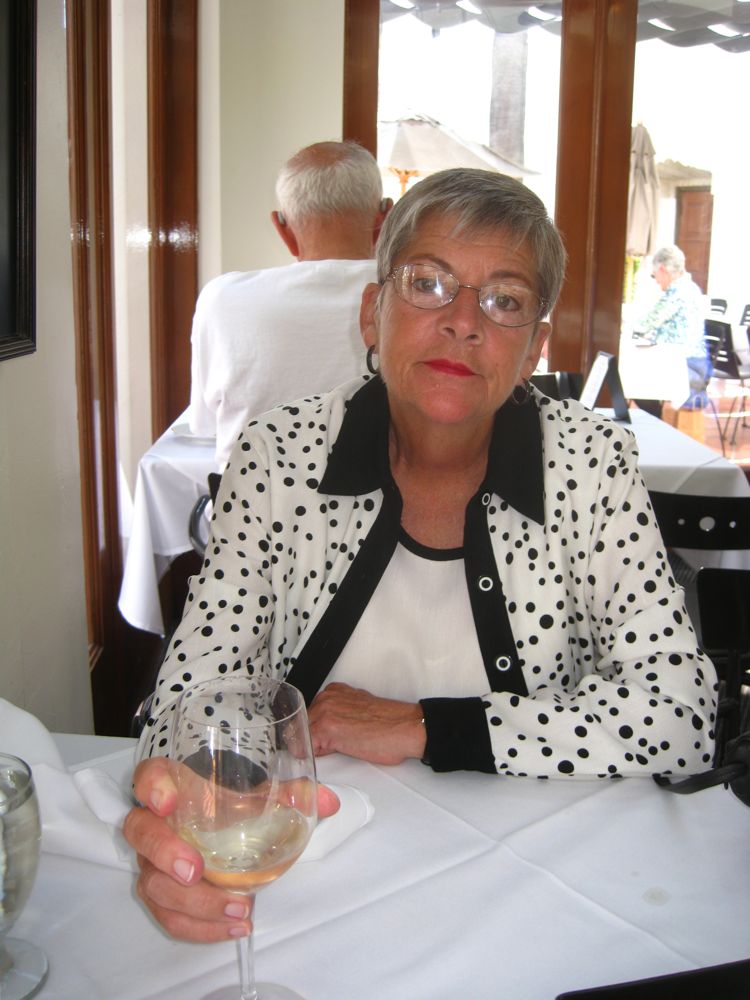 First stop, Tangata
Did you know? - Tangata (or "mankind" in the tribal Maori language of New Zealand) features Southwestern decor enclosed by glass walls and a ceiling framed with stuccoed beams and large windows to allow ambient light to illuminate the main dining area. Located in the Bowers Museum's mission-style courtyard, the 160-seat restaurant dedicates half of its available seating to al fresco dining on a large patio area. The patio area opens into the mission-style courtyard that is perfect for romantic weddings or evening receptions. Tangata is open solely for lunch Tuesdays through Sundays and serves a diverse menu of California cuisine "colored" with Chef Joachim Splichal's award-winning French signature style.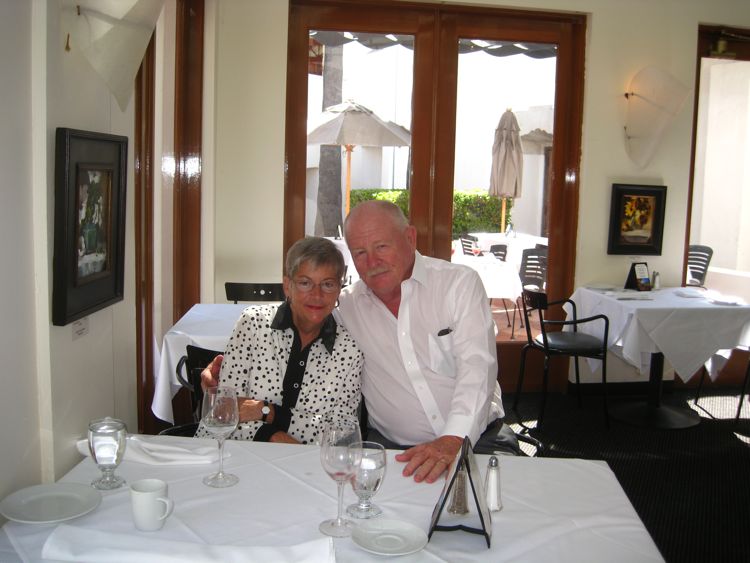 Small glass of wine with a delicious mushroom omlette and we are good to go!
To The Impressionists
Did you know? - Impressionism was a 19th-century art movement that began as a loose association of Paris-based artists whose independent exhibitions brought them to prominence in the 1870s and 1880s. The name of the movement is derived from the title of a Claude Monet work, Impression, Sunrise (Impression, soleil levant), which provoked the critic Louis Leroy to coin the term in a satiric review published in Le Charivari.
Characteristics of Impressionist paintings include relatively small, thin, yet visible brush strokes, open composition, emphasis on the accurate depiction of light in its changing qualities (often accentuating the effects of the passage of time), ordinary subject matter, the inclusion of movement as a crucial element of human perception and experience, and unusual visual angles. The emergence of Impressionism in the visual arts was soon followed by analogous movements in other media which became known as Impressionist music and Impressionist literature.

The sale was in the court yard

Typical California weather... 72 and sunny
Weird & Wonderful; 75 Years Of Bowers Collecting
Did you know? - In 1936 Bowers Museum opened its doors to the public. For the purpose of preservation, study and exhibition of history, a collection of objects, photographs and textiles relating to Orange County was started, and significant donations of first Native peoples of the area were cataloged. Through the years the museum broadened its collections and works of art from Africa and Asia; Egypt and the Mediterranean; Latin and South America and the Pacific began to fill its storerooms. Today nearly 130,000 objects are stored and preserved under the museum's roof.
This August the museum opens its storerooms to let you encounter the weird and the wonderful as we celebrate 75 years of collecting at the Bowers. Never and rarely-before-seen objects will be on display including: shrunken heads from the Amazon, an Egyptian mummy mask with an eerie surprise, the bear trap that snared the last grizzly bear of Orange County, a Peruvian headhunter's tunic, beautiful and curious objects from the African continent, a recently acquired female ancestor figure from Sulawesi, an early 19th century shawl embroidered along a voyage from Manila to California depicting exotic scenes from the East, the theatre costumes of Madame Modjeska, select paintings, dolls and many more surprises. Don't miss this rare opportunity to see the most celebrated and curious of objects collected over the years.

Made from a silver dollar
Did you know? - Dollar coins have been minted in the United States in gold, silver, and base metal versions. The term silver dollar is often used for any large white metal coin issued by the United States with a face value of one dollar, although purists insist that a dollar is not silver unless it contains some of that metal. Silver dollars, the first dollar coin issue, were minted beginning in 1794. Gold and gold-colored dollars have also been produced by the United States. The Sacagawea and Presidential dollars are usually referred to as golden, despite not containing any gold, as they are of a golden color.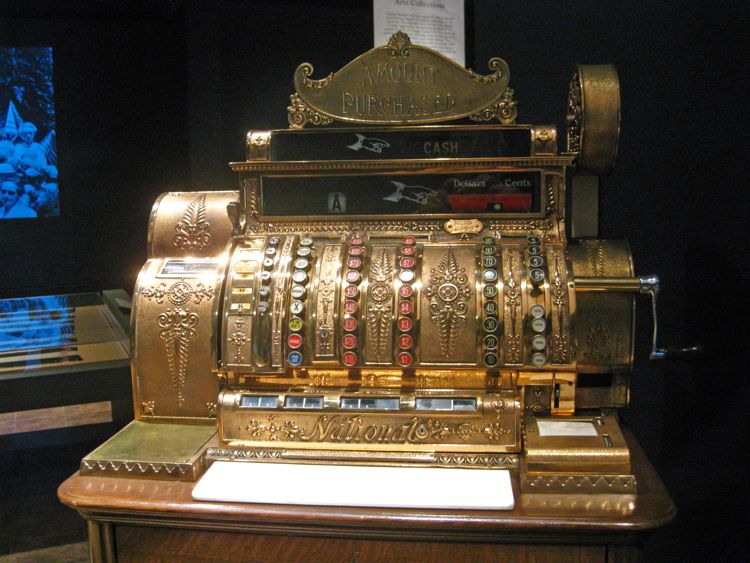 Now this is a cash register
Did you know? - The company began as the National Manufacturing Company of Dayton, Ohio, which was established to manufacture and sell the first mechanical cash register, invented in 1879 by James Ritty. In 1884 the company and patents were bought by John Henry Patterson and his brother Frank Jefferson Patterson and the firm was renamed the National Cash Register Company. Patterson formed NCR into one of the first modern American companies, introducing new, aggressive sales methods and business techniques. He established the first sales training school in 1893, and introduced a comprehensive social welfare program for his factory workers.
Other significant figures in the early history of the company were Charles F. Kettering, Thomas J. Watson, Sr. and Edward A. Deeds. Deeds and Kettering went on to found Delco Electronics which became a division of General Motors. Watson eventually worked his way up to general sales manager. Bent on inspiring the dispirited NCR sales force, Watson introduced the motto "THINK!" Signs with this motto were erected in factory buildings, sales offices, and club rooms during the mid-1890s. "THINK" later became a widely-known symbol of IBM. Kettering designed the first cash register powered by an electric motor in 1906. Within a few years he developed the Class 1000 register which was in production for 40 years, and the O.K. Telephone Credit Authorization system for verifying credit in department stores.

A real oddity!
Did you know? - A mask is an article normally worn on the face, typically for protection, concealment, performance, or amusement. Masks have been used since antiquity for both ceremonial and practical purposes.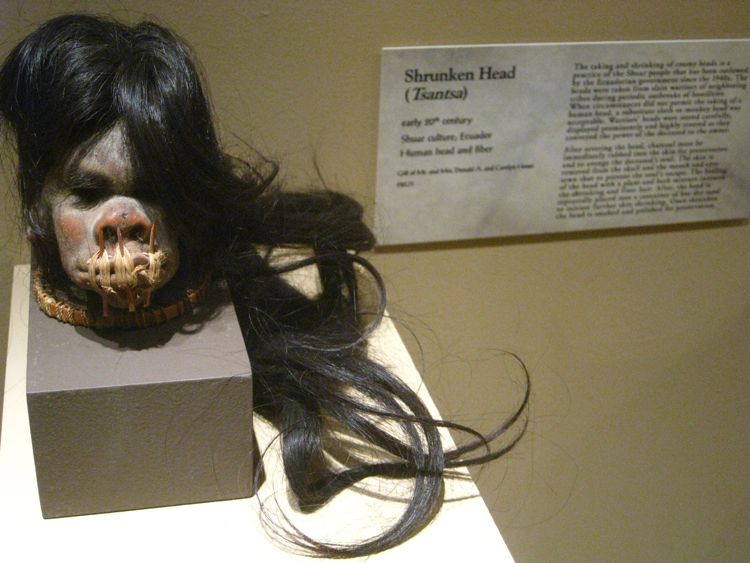 Amazing
Did you know? - The process of creating a shrunken head begins with removing the skull from the head. An incision is made on the back of the neck and all the skin and flesh is removed from the cranium. Red seeds are placed underneath the eyelids and the eyelids are sewn shut. The mouth is held together with three palm pins. Fat from the flesh of the head is removed. It is here that a wooden ball is placed in order to keep form. The flesh is then boiled in water that has been steeped with a number of herbs containing tannins. It is then dried with hot rocks and sand, while molding it to retain its human feature. The skin is then rubbed down with charcoal ash. Decorative beads are added to the head.
In the headshrinking tradition, it is believed that coating the skin in ash keeps the muisak, or avenging soul, from seeping out.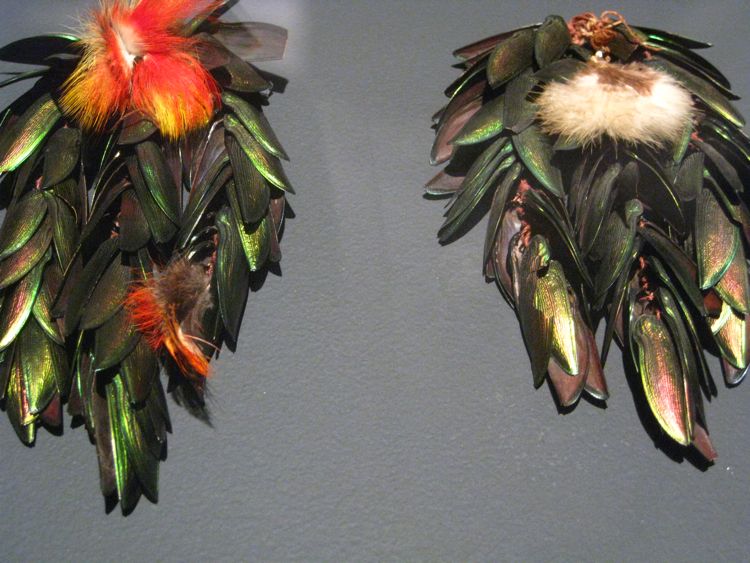 Made from beetle wings

Paul now knows what he wants for Christmas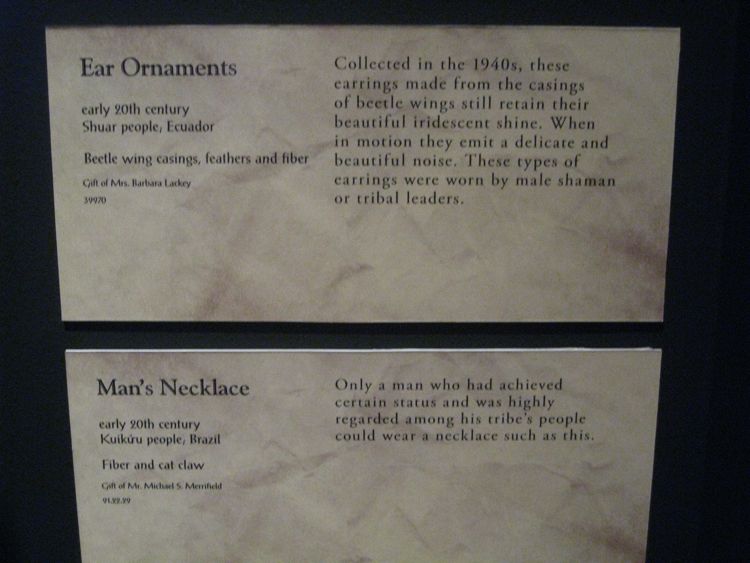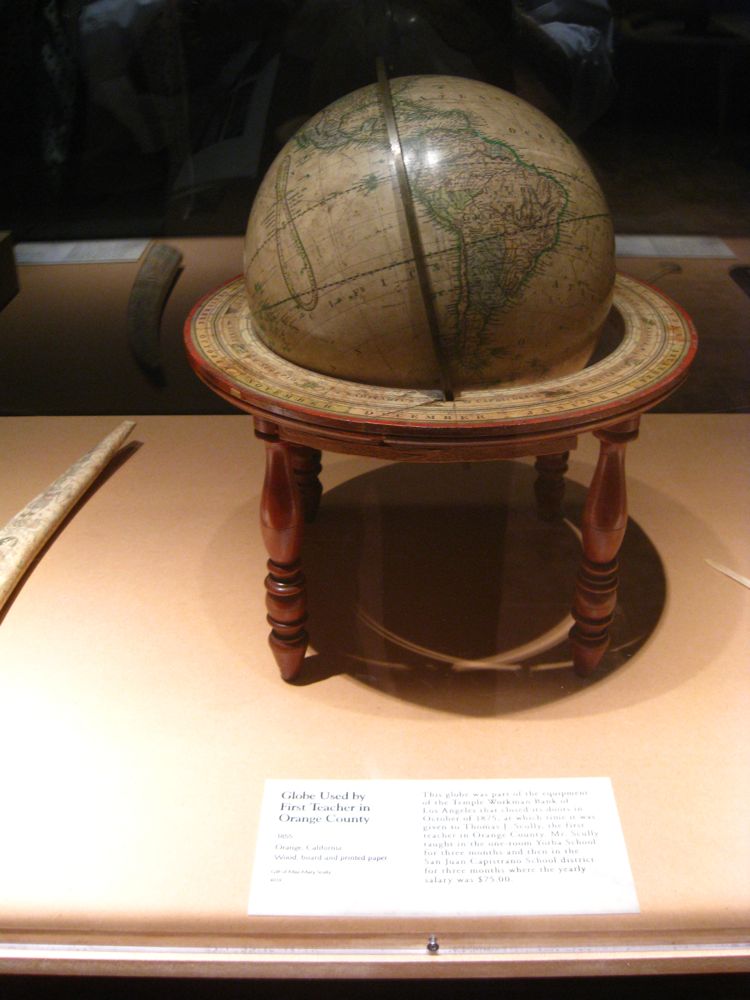 The first globe used in teaching in Santa Ana

Old poster--- Young girl--- Sue that is!
Mocasins Made From Hair
Crossing From Life To Death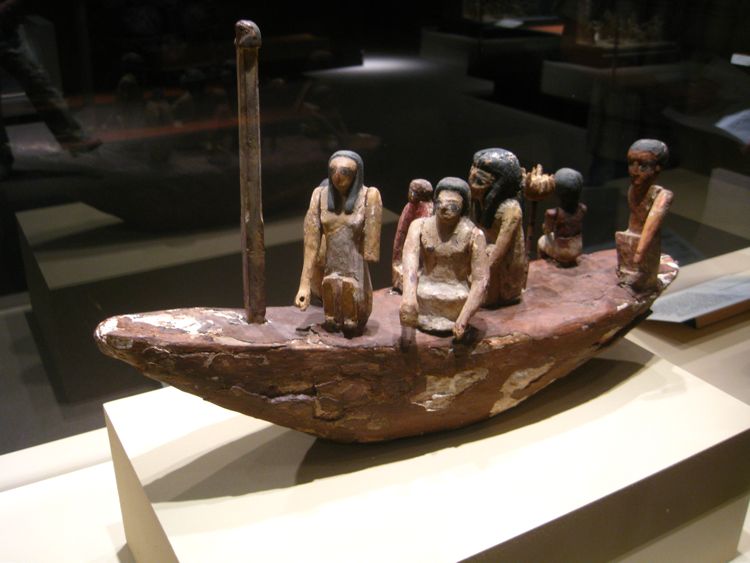 Carved From Solid Ivory Blocks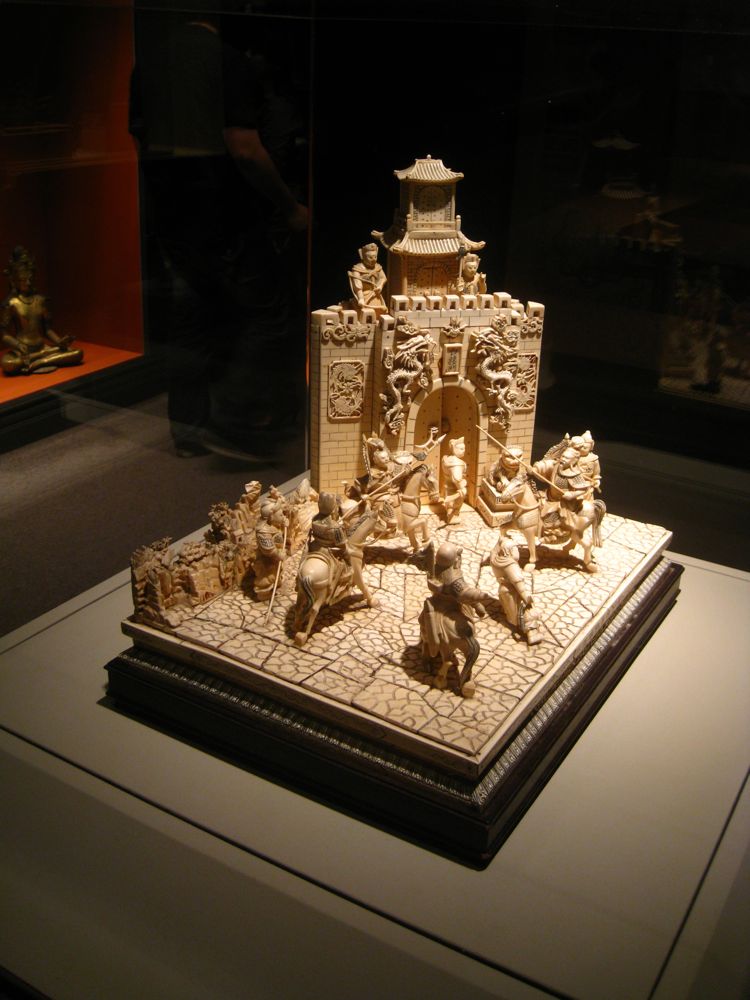 Did you know? - Ivory is formed from dentine and constitutes the bulk of the teeth and tusks of animals such as the elephant, hippopotamus, walrus, mammoth and narwhal.
The word "ivory" was traditionally applied to the tusks of elephants; the word is ultimately from Ancient Egyptian âb, âbu "elephant", through the Latin ebor- or ebur..
More Head Taking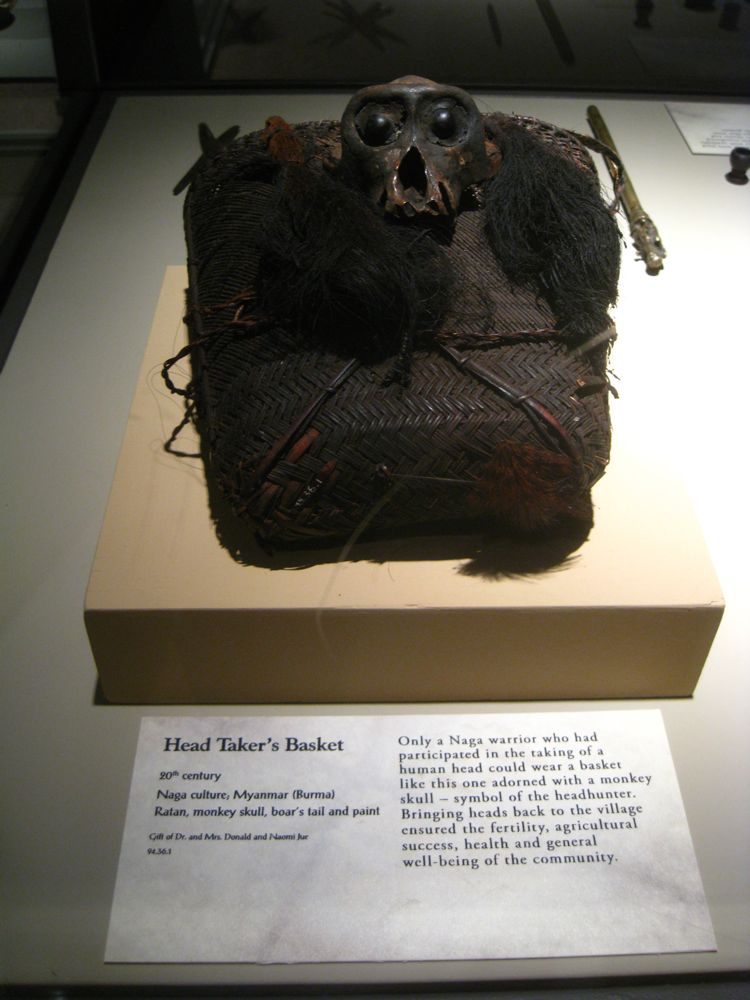 Perhaps A Little Tatoo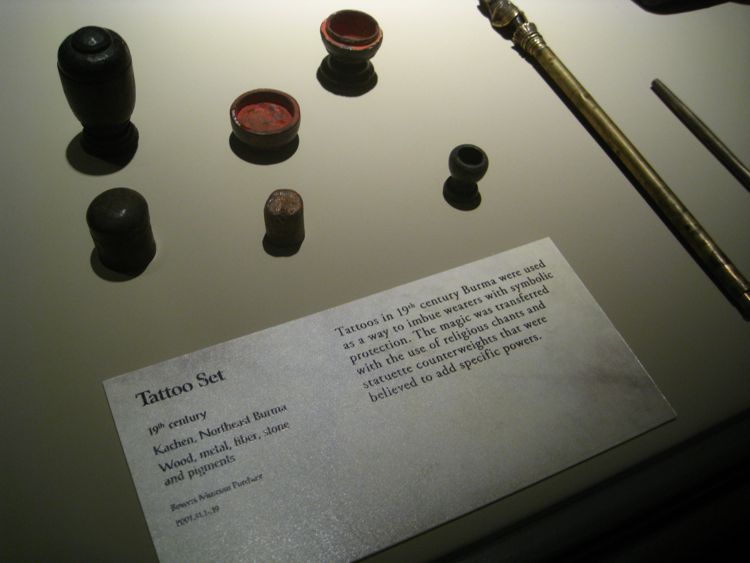 Did you know? - A tattoo is a marking made by inserting indelible ink into the dermis layer of the skin to change the pigment for decorative or other reasons. Tattoos on humans are a type of decorative body modification, while tattoos on animals are most commonly used for identification or branding. The term "tattoo" or from Samoa, "Tatau" is first referred to by Joseph Banks, the naturalist aboard Cook's ship the "Endeavour" in 1769 where he mentions it in his journal. To paraphrase. he states, "I shall now mention the way they mark themselves indelibly, each of them is so marked by their humor or disposition".
Tattooing has been practiced for centuries worldwide. The Ainu, the indigenous people of Japan, traditionally wore facial tattoos. Today one can find Berbers of Tamazgha (North Africa), Māori of New Zealand, Arabic people in East-Turkey and Atayal of Taiwan with facial tattoos. Tattooing was widespread among Polynesian peoples and among certain tribal groups in the Taiwan, Philippines, Borneo, Mentawai Islands, Africa, North America, South America, Mesoamerica, Europe, Japan, Cambodia, New Zealand and Micronesia. Despite some taboos surrounding tattooing, the art continues to be popular in many parts of the world.
Amazing Old Paintings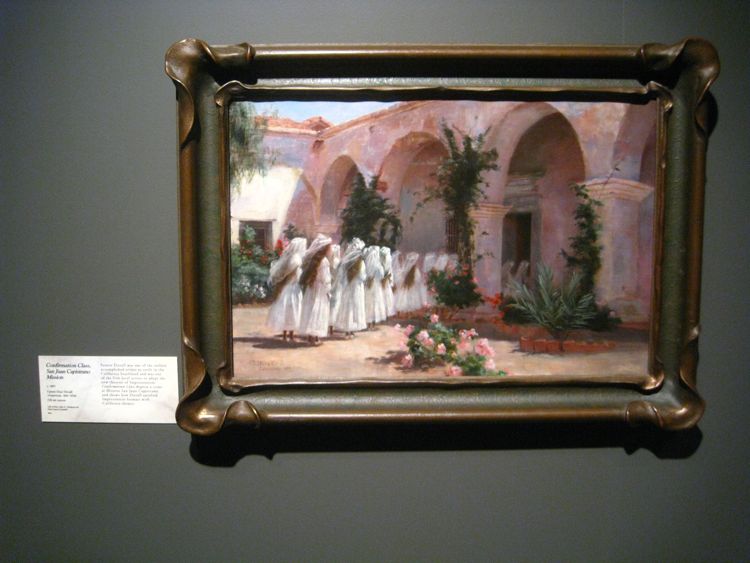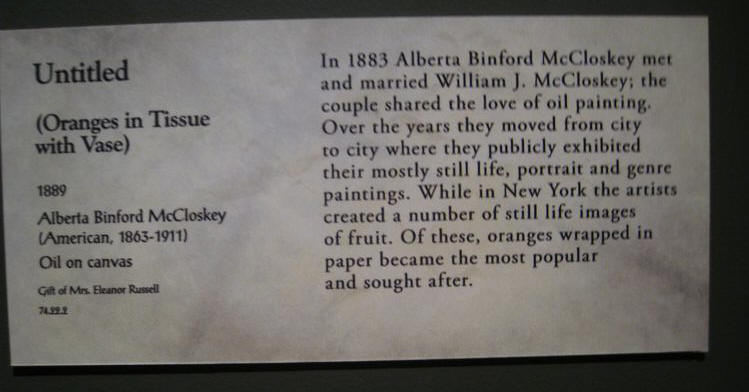 The Next Ehhibit, Carving In Gemstones!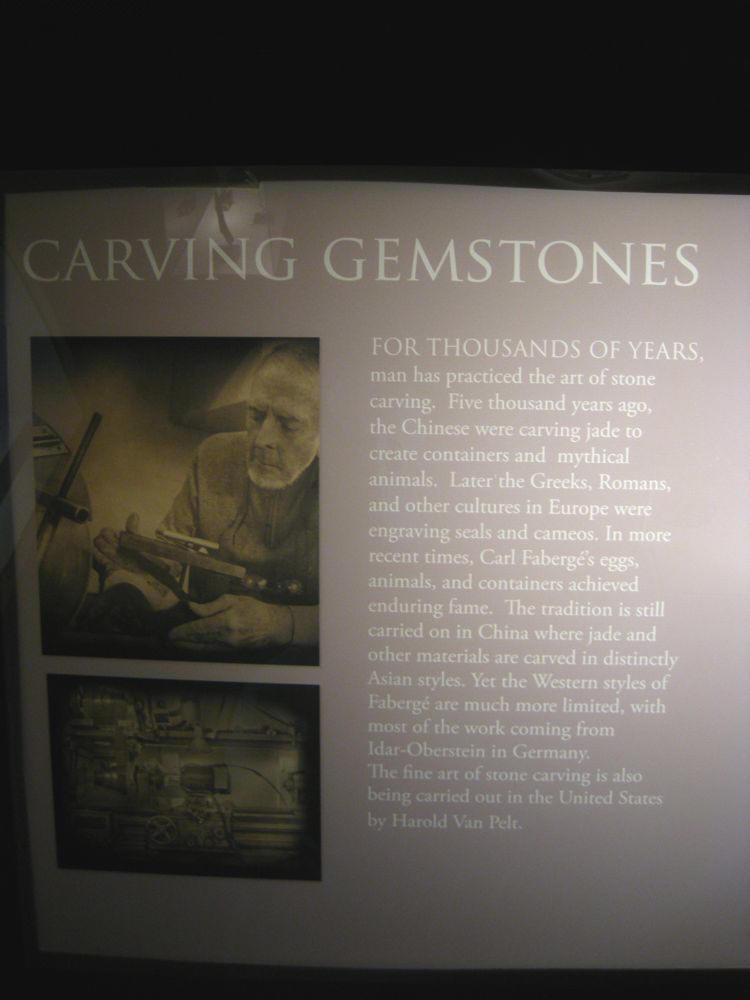 Gemstone Carvings: The Masterworks of Harold Van Pelt Saturday, July 17 - Monday, January 31, 2011
Thousands have admired the work of Harold Van Pelt who, along with his wife Erica, are considered the best gem and mineral photographers in the world. Few know of Van Pelt's extraordinary ability as a fine art gemstone carver, and nobody has ever seen his entire body of work assembled in one place. Bowers Museum is proud to present the first comprehensive exhibition of the extraordinary artworks of Harold Van Pelt.
For over 35 years Van Pelt has quietly been perfecting the art of carving quartz, rock crystal and agate gemstones. Hundreds of hours go into each multi-faceted, fluted, and textured vase, hollow container, sculpture and vessel, many of which are accented with gold and semi-precious stones. Working the stone down to paper-thin walls brings out the gorgeous natural quality and colors of the agate and gives quartz the transparency of glass. Transformed by one man's vision and skill from a solid stone to an incredibly delicate work of art, the gemstone carvings of Harold Van Pelt have to be seen to be believed.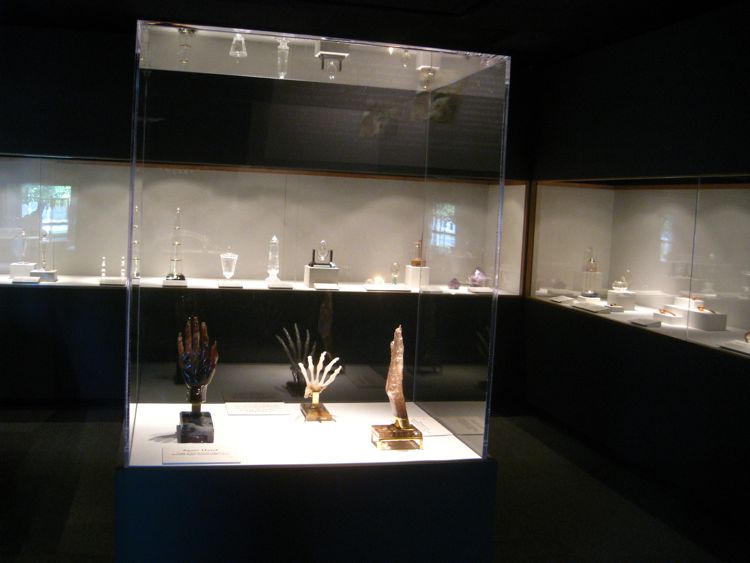 Super display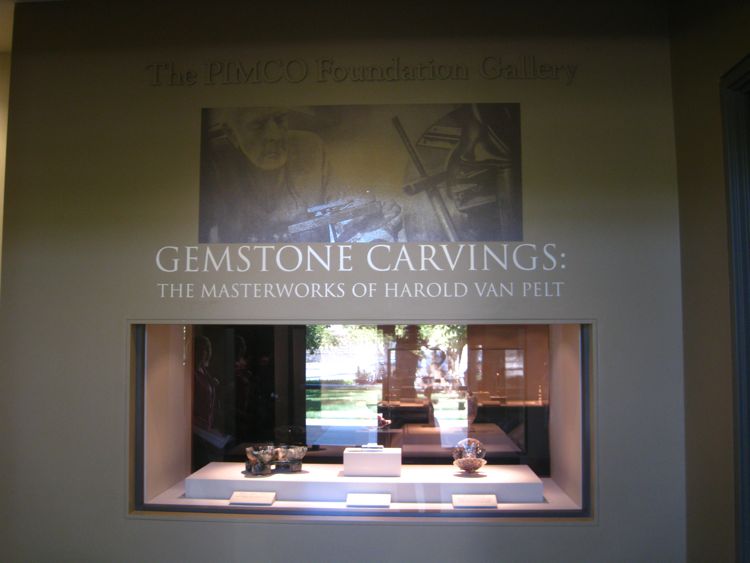 May I guide you through the display???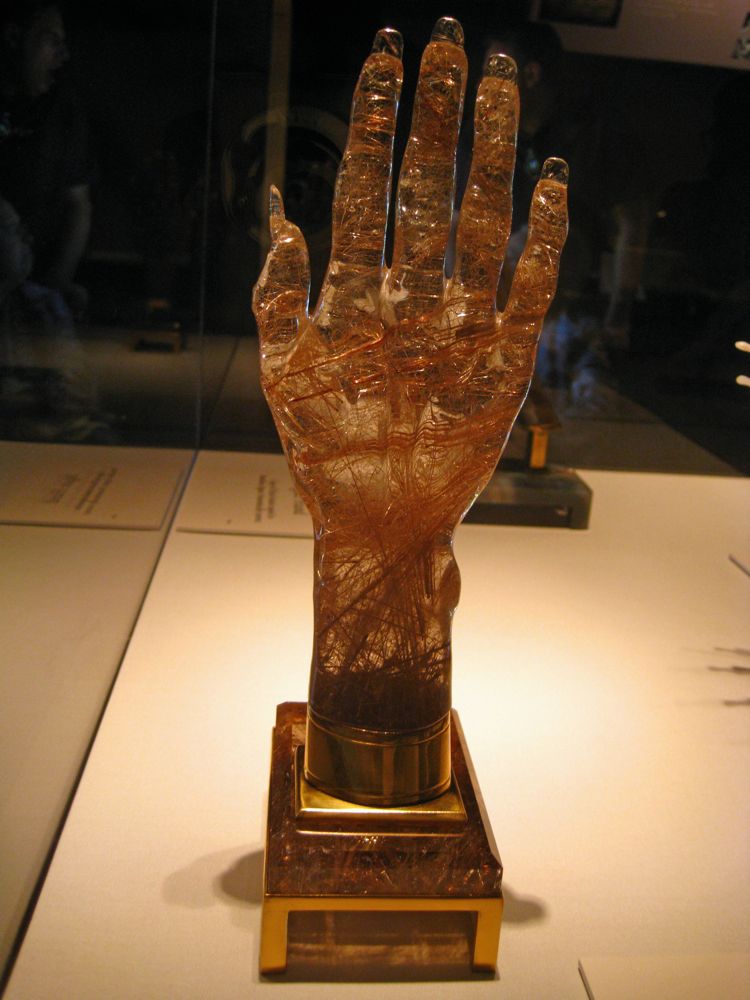 Rutilated Quartz
Did you know? - Rose quartz is a type of quartz which exhibits a pale pink to rose red hue. The color is usually considered as due to trace amounts of titanium, iron, or manganese, in the massive material. Some rose quartz contains microscopic rutile needles which produces an asterism in transmitted light. Recent X-ray diffraction studies suggest that the color is due to thin microscopic fibers of possibly dumortierite within the massive quartz.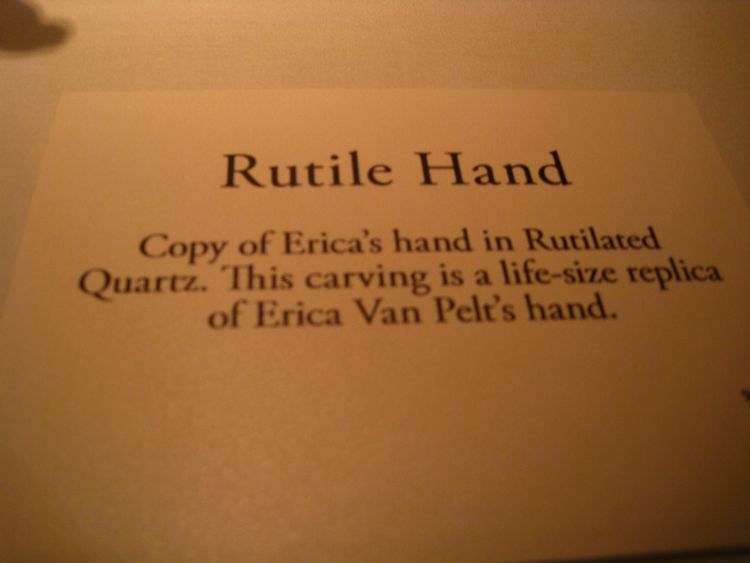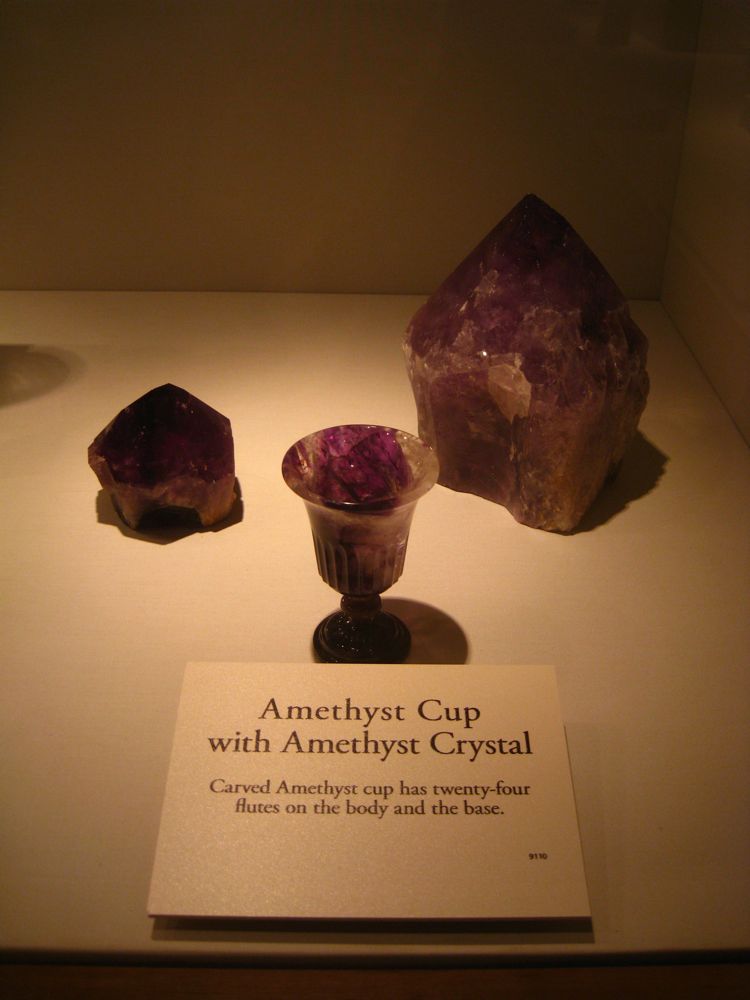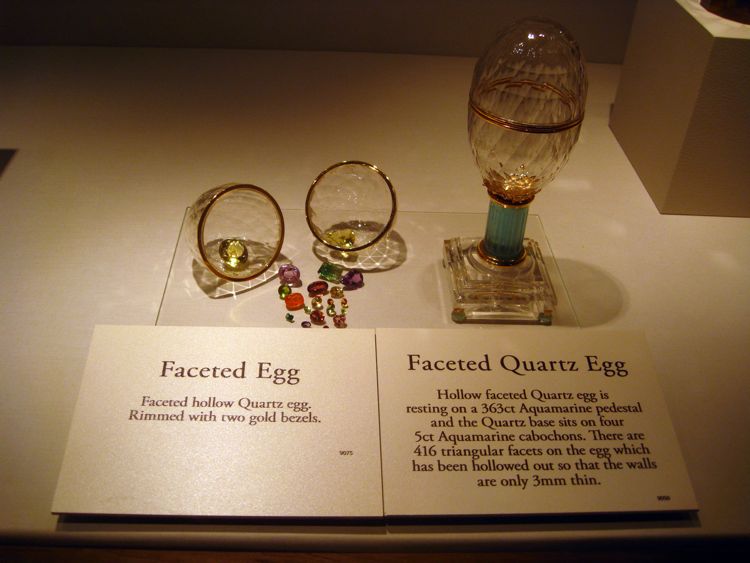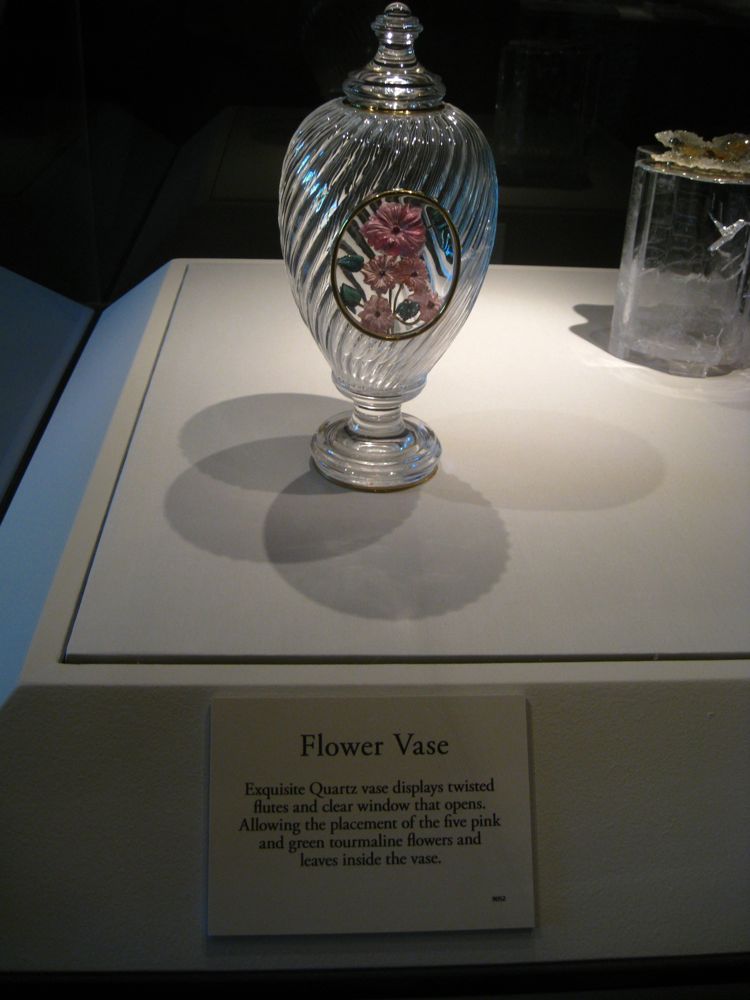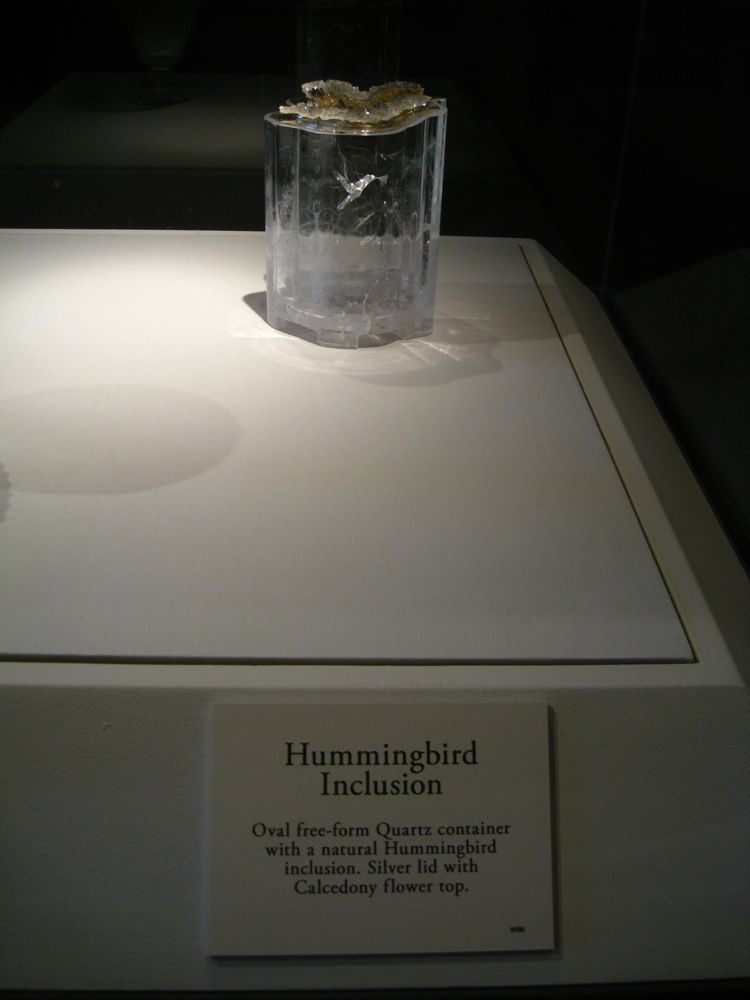 A Short Stroll To The Car And We Are Off