Did You Know? - The Douglas DC-3 is a fixed-wing propeller-driven airliner. Its cruise speed (207 mph or 333 km/h) and range (1,500 mi or 2,400 km) revolutionized air transport in the 1930s and 1940s. Its lasting effect on the airline industry and World War II makes it one of the most significant transport aircraft ever made.

The Skytrain was a workhorse and remains flying today!
Did You Know? - The Douglas C-47 Skytrain or Dakota (RAF designation) is a military transport aircraft developed from the civilian Douglas DC-3 airliner. It was used extensively by the Allies during World War II and remains in front line service with various military operators to the present day.

Oil pans everywhere
Did You Know? - The C-47 differed from the civilian DC-3 in numerous modifications, including being fitted with a cargo door, hoist attachment, and strengthened floor, along with a shortened tail cone for glider-towing shackles, and an astrodome in the cabin roof.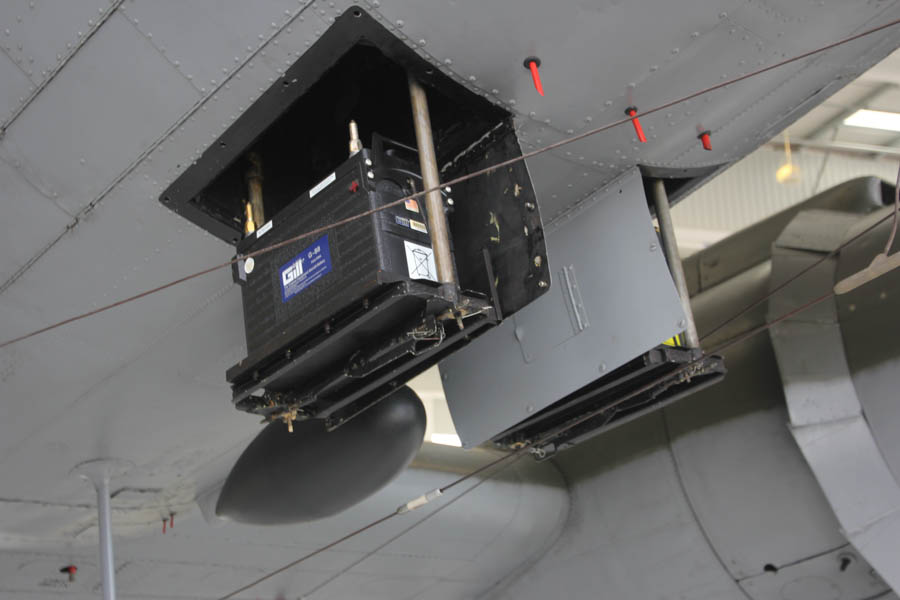 The battery compartment made for easy charging/replacement of batteries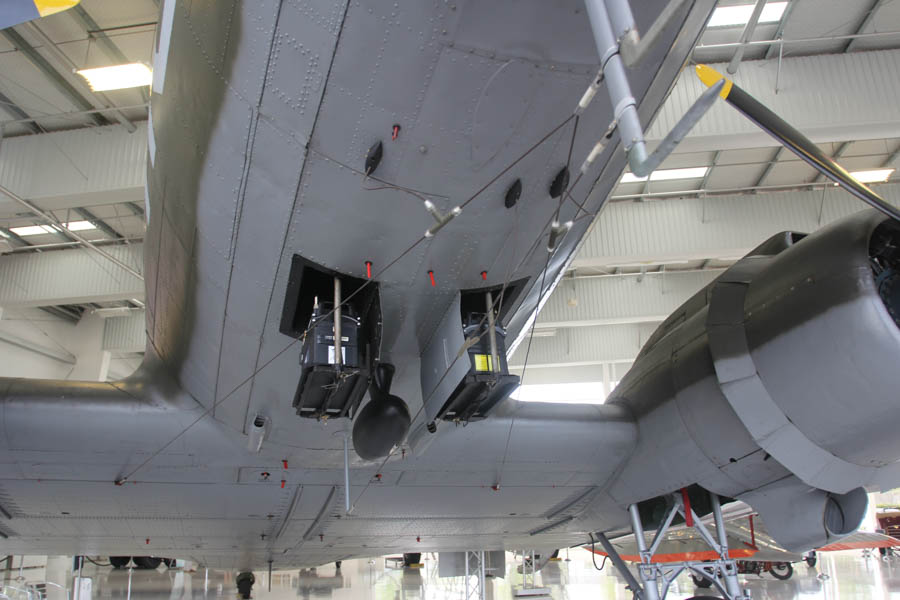 The antennas were quite observable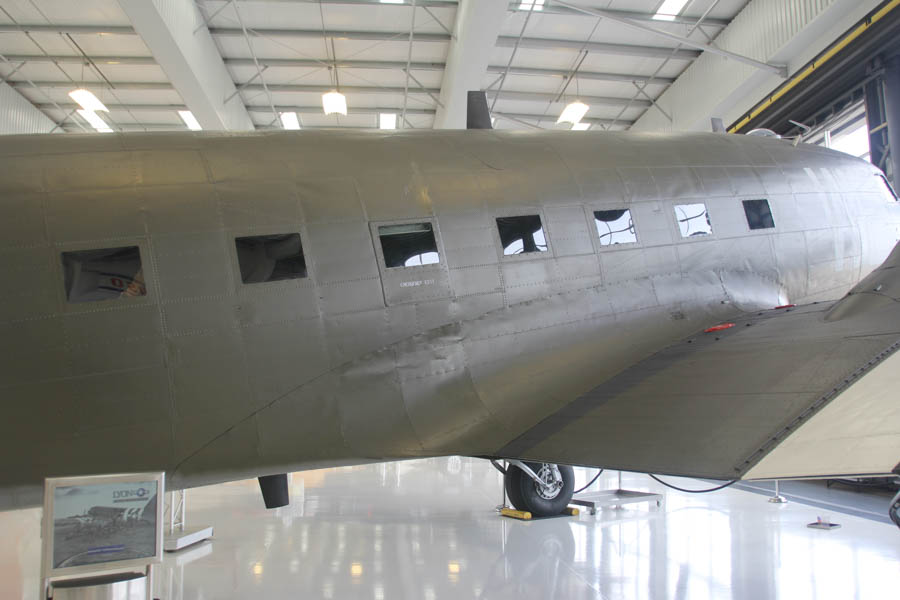 Outfitted as a troop carring airplane
Did You Know? - Lyon Air Museum's C-47 Dakota, recently christened "Willa Dean," has had a long and successful service life. Transferred from the USAAF to the French in May of 1945, this aircraft continued to fly for the most part unmodified, unlike so many of its contemporaries. In 1967 it again changed ownership, this time transferring to the Israelis.
There, it continued service without major modification, ultimately being sold to the civilian market where it found its way to Lyon Air Museum as one of the most complete and original C-47s currently in operation.
"Willa Dean" now carries the colors of the 440th Troop Carrier Group's 97th Troop Carrier Squadron, complete with D-Day Invasion Stripes.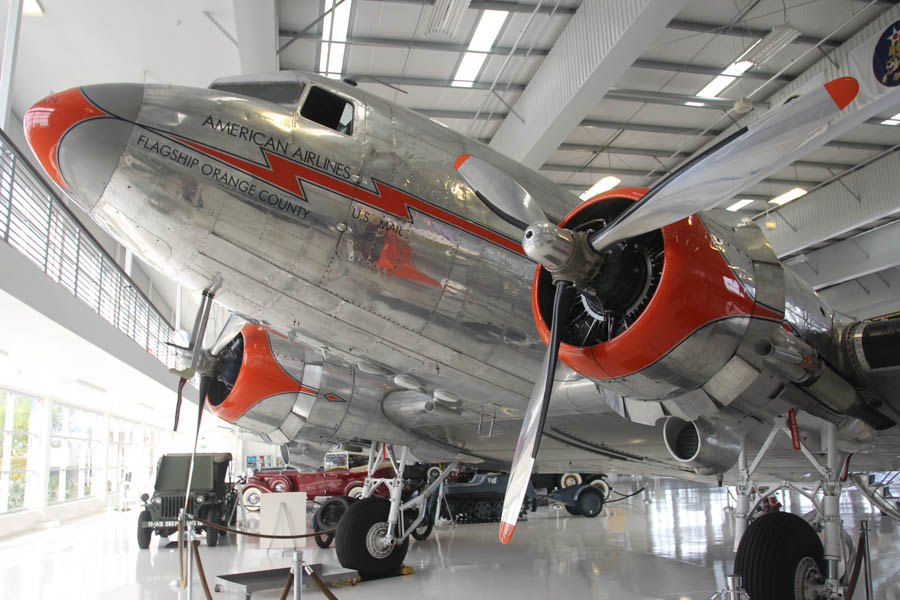 Enter the Douglas Commercial 3 (DC3)
Did You Know? - The DC-3 airliner was not only comfortable and reliable, it also made air transportation profitable. American Airlines' C.R. Smith said the DC-3 was the first airplane that could make money just by hauling passengers, without relying on government subsidies for transporting U.S. Mail. As a result, by 1939, more than 90 percent of the nation's airline passengers were flying on DC-2s and DC-3s.
"Flagship Orange County," Lyon Air Museum's own DC-3 in American Airlines livery, started life as a C-47A built during World War II. Prior to its conversion to airliner configuration, it flew with the USAAF's famed 440th Troop Carrier Group. And just before midnight on June 5, 1944, this aircraft was positioned at Exeter Field in England, ready to fly across the Channel with hundreds of other Dakotas. Its assigned mission: Drop members of the 101st Airborne, the Screaming Eagles, over Drop Zone DELTA, to support the D-Day invasion in Normandy at 1:40 AM, on the morning of June 6, 1944.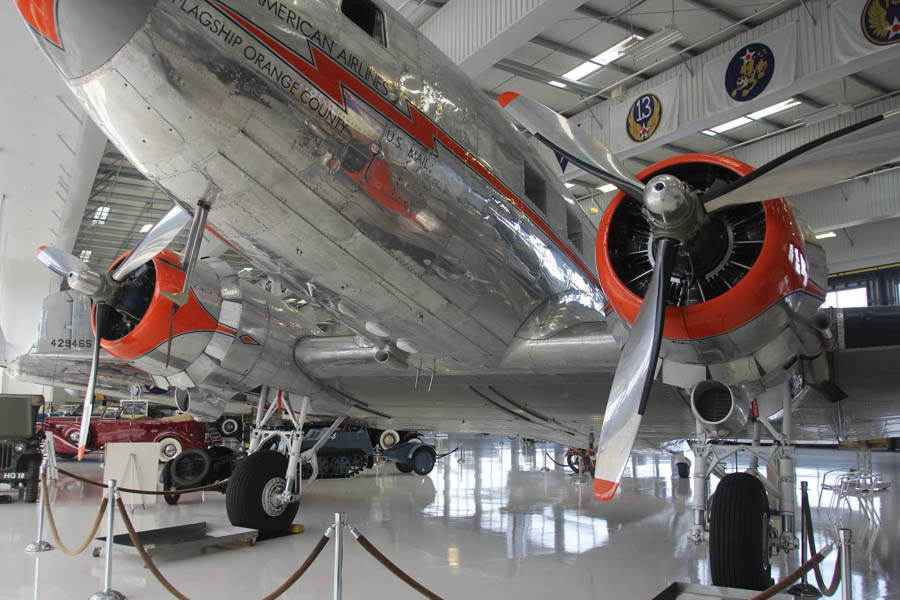 Notice the drip pans under the engine!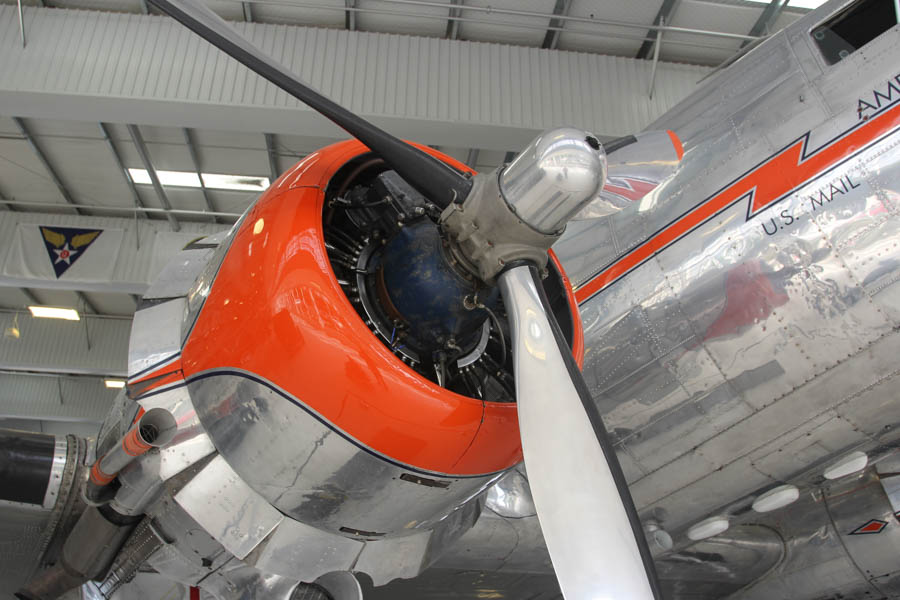 Two 1,200-horsepower, Pratt & Whitney R-1830 "Twin Wasp" 14-cylinder or Wright Cyclone R-1820 9-cylinder radial piston engines

Racing along at 150 miles per hour!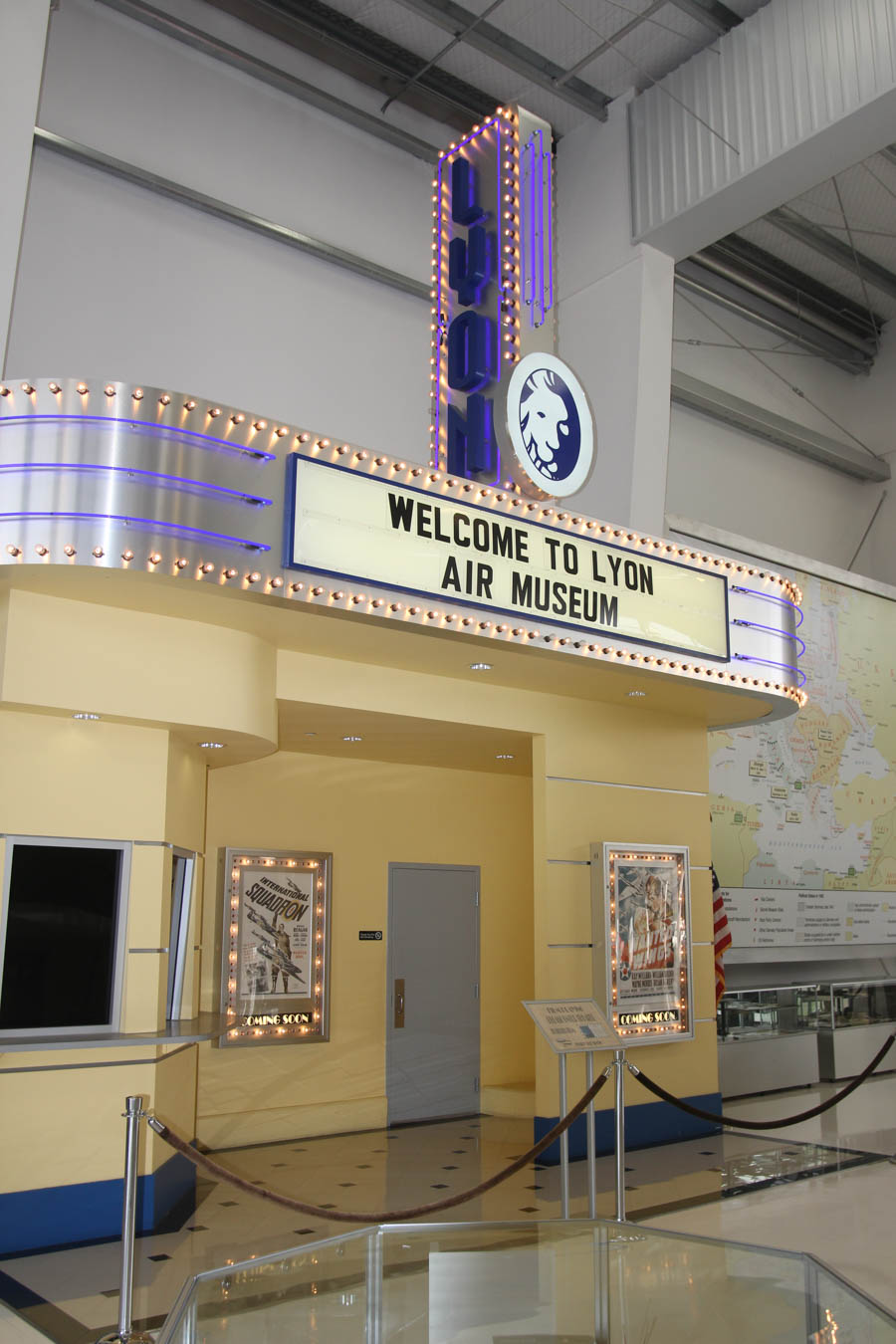 One could go to the movies

Reminds Paul of the 1950's

The Helms Truck is always a memory jogger
Paul lived down the street form the Helms Bakery!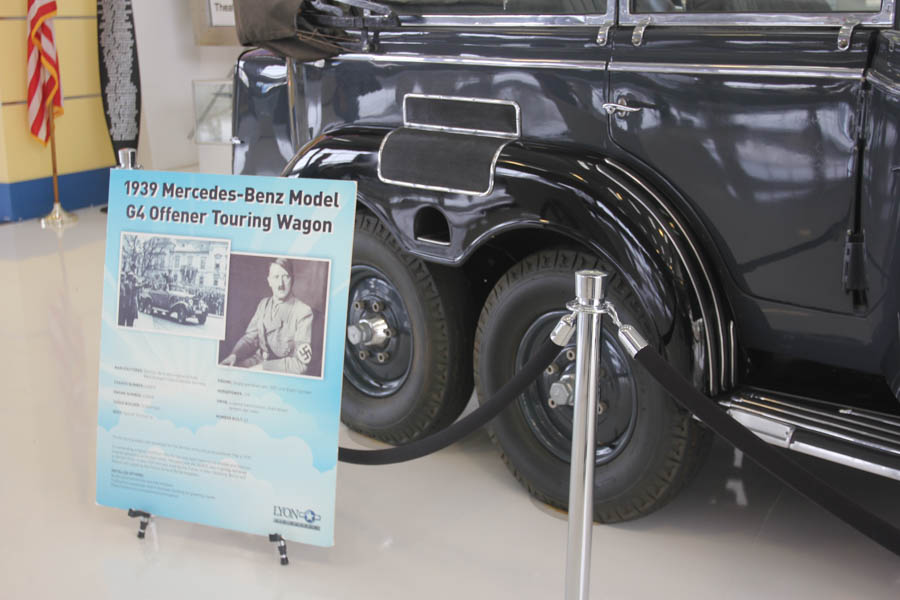 Hitler's touring car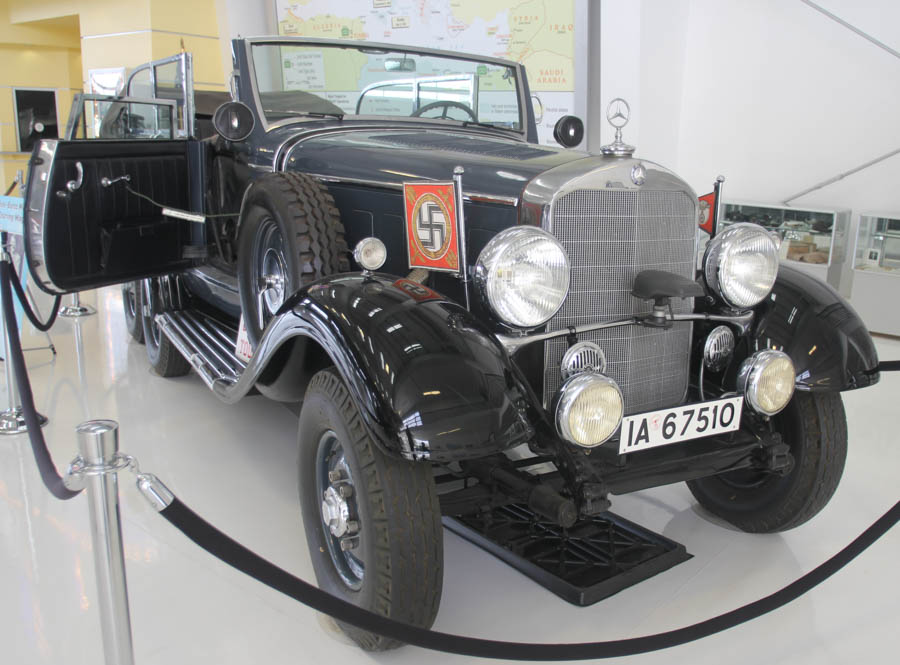 Built like a tank!
Did You Know? - The G4 touring wagon was developed for the German army and produced from 1934 to 1939. In outstanding original condition, this G4 has only been restored as needed and features original upholstery on the front seats. This particular G4, 440875, was originally delivered to Adolph Hitler in late 1939 and was used by the Fuhrer in Ober Salzberg, Berlin and Poland until seized by the French Army at Berchtesgaden.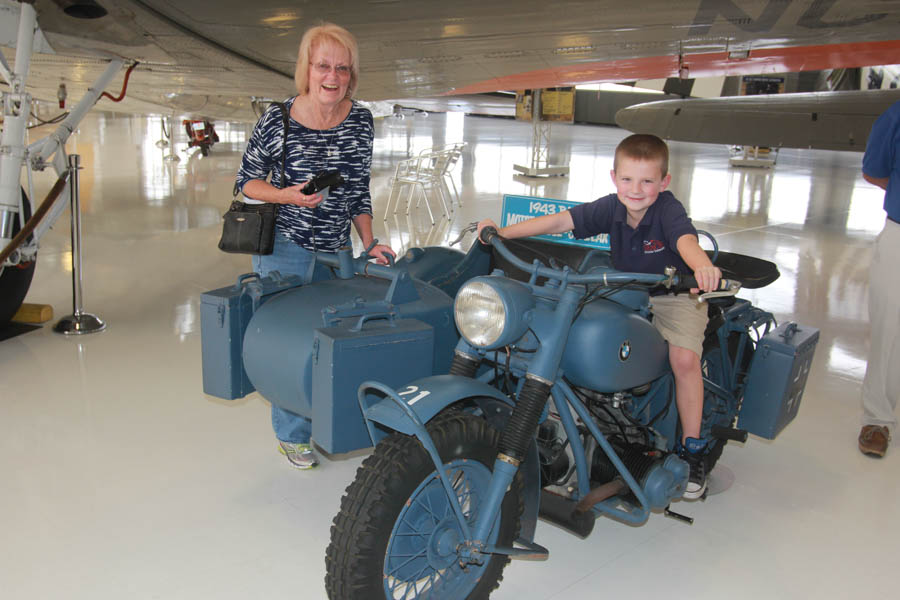 We met this young man and his grandmother - Her camera batteries
died so we took pictures and will forward them to her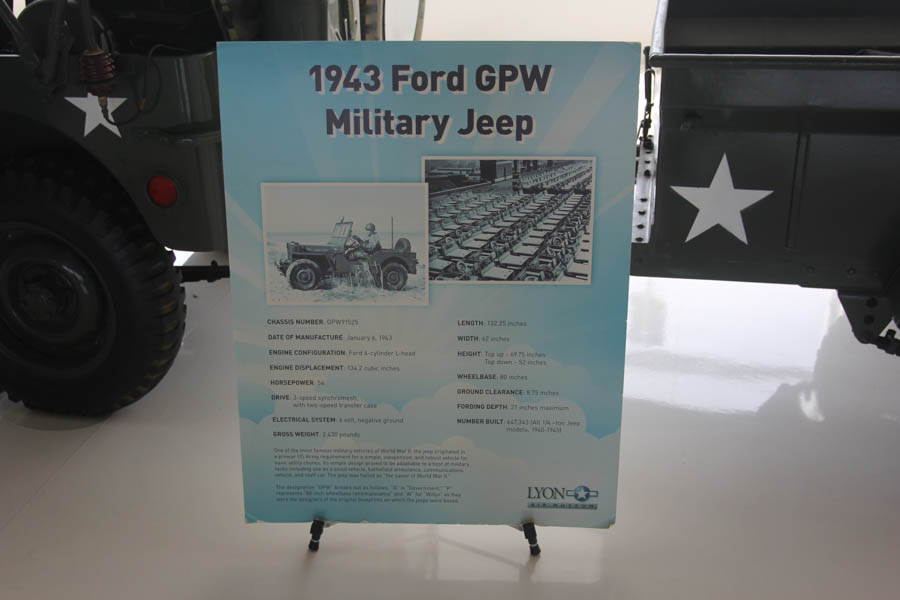 Think WWII... Think Jeep - They built 647,343 (All 1/4–ton Jeep models, 1940-1945)
Did You Know? - One of the most famous military vehicles of World War II, the jeep originated in a prewar US Army requirement for a simple, inexpensive, and robust vehicle for basic utility chores. Its simple design proved to be adaptable to a host of military tasks including use as a scout vehicle, battlefield ambulance, communications vehicle, and staff car. The jeep was hailed as "the savior of World War II."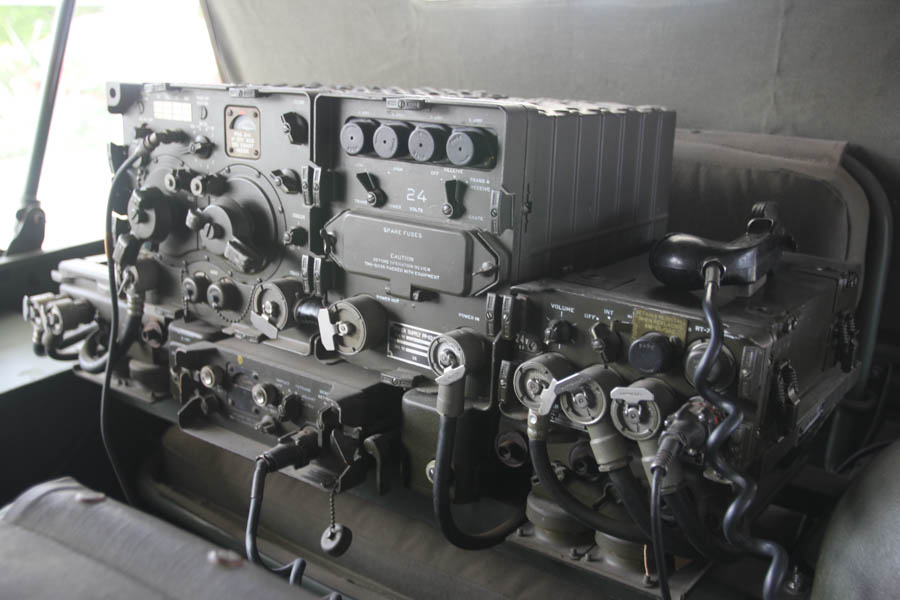 Radio gear still operational!

Cell phones have come a long way!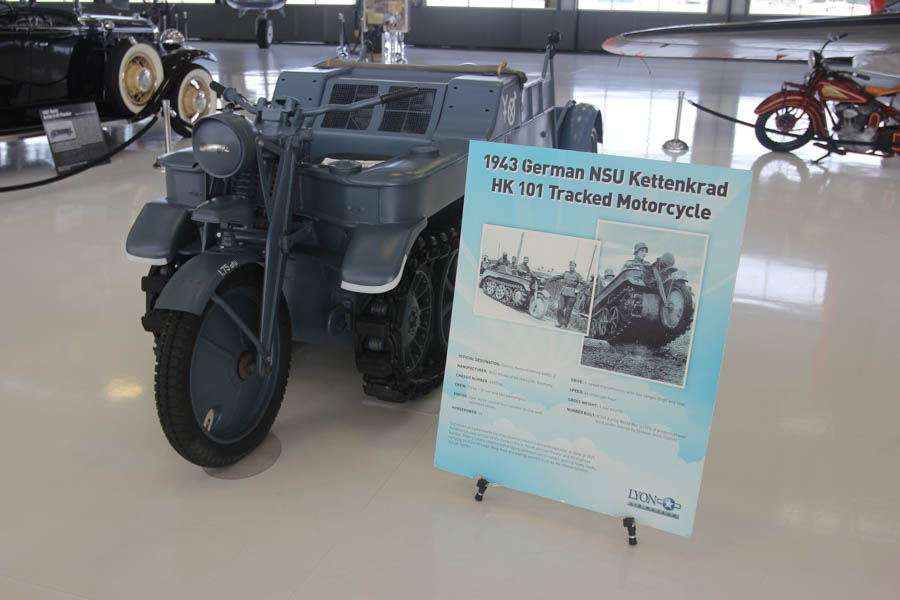 Amazing vehicle could go anywhere!
Did You Know? - Conceived and patented by German inventor, Heinrich Ernst Kniepkamp, in June of 1939, Kettenkrads saw service on the Eastern Front, North African theater and throughout Europe. Their primary uses included laying communication cables, pulling heavy loads, carrying soldiers through deep mud and towing aircraft such as the Messerschmitt 262 jet fighter.

The Indian... Famous motorcycle in non-military colors
Did You Know? - America's oldest motorcycle brand, the company was founded as the Hendee Manufacturing Company by George M. Hendee and Carl Oscar Hedstrom in Springfield, Massachusetts in 1901, two years before Harley-Davidson Motor Company.
During World War II, Chiefs served as military couriers and scout transports.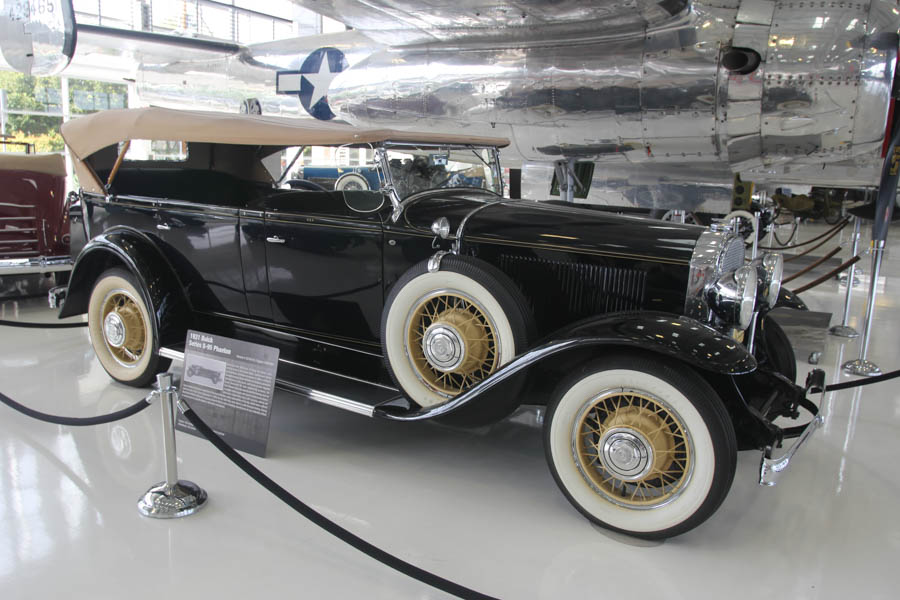 1931 Buick was magnificent!
Did You Know? - The name Phaeton goes back to the days of the horse and buggy. A phaeton is a buggy without side curtains or a roof. Models of cars that were built with theses same features adopted the name Phaeton.