Time To Catch The Elusive Golf.....
What a delightful afternoon... Golf with friends and a drink on nineteen. James joined Holly and Bill and us for lunch at ORCC followed by four hours of Swingin' & Swearin' ... Well, more like laughing and giggling! It was a super day!

We Delayed One Week And It Was The Right Decision!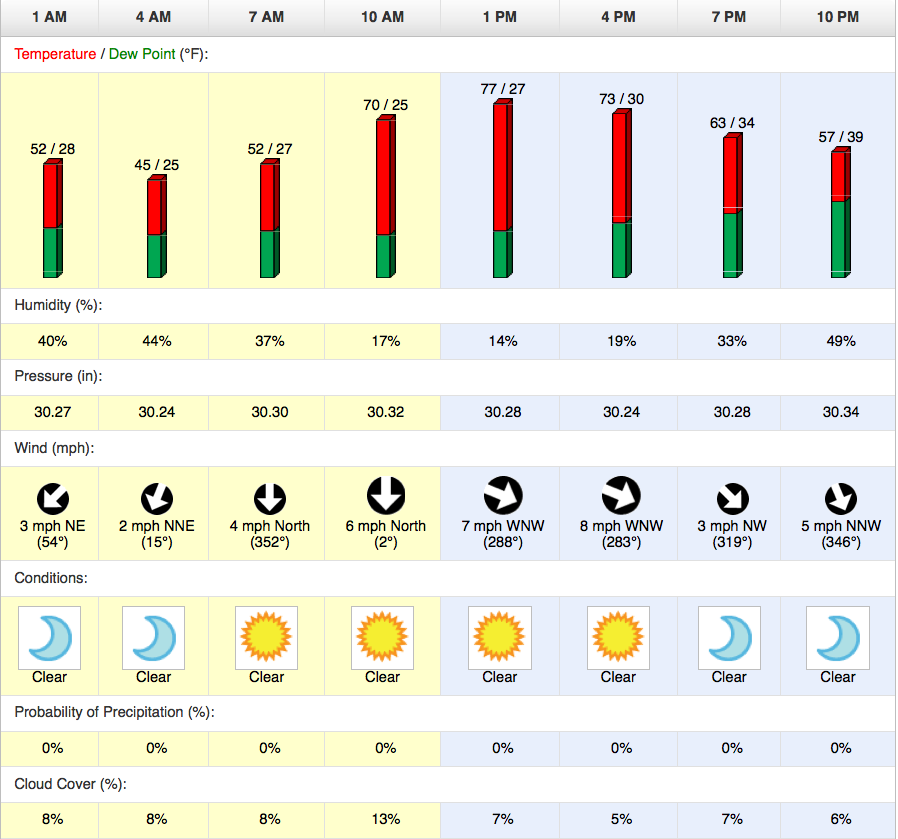 Holly and Bill brought excellent weatgher with them from Huntington Beach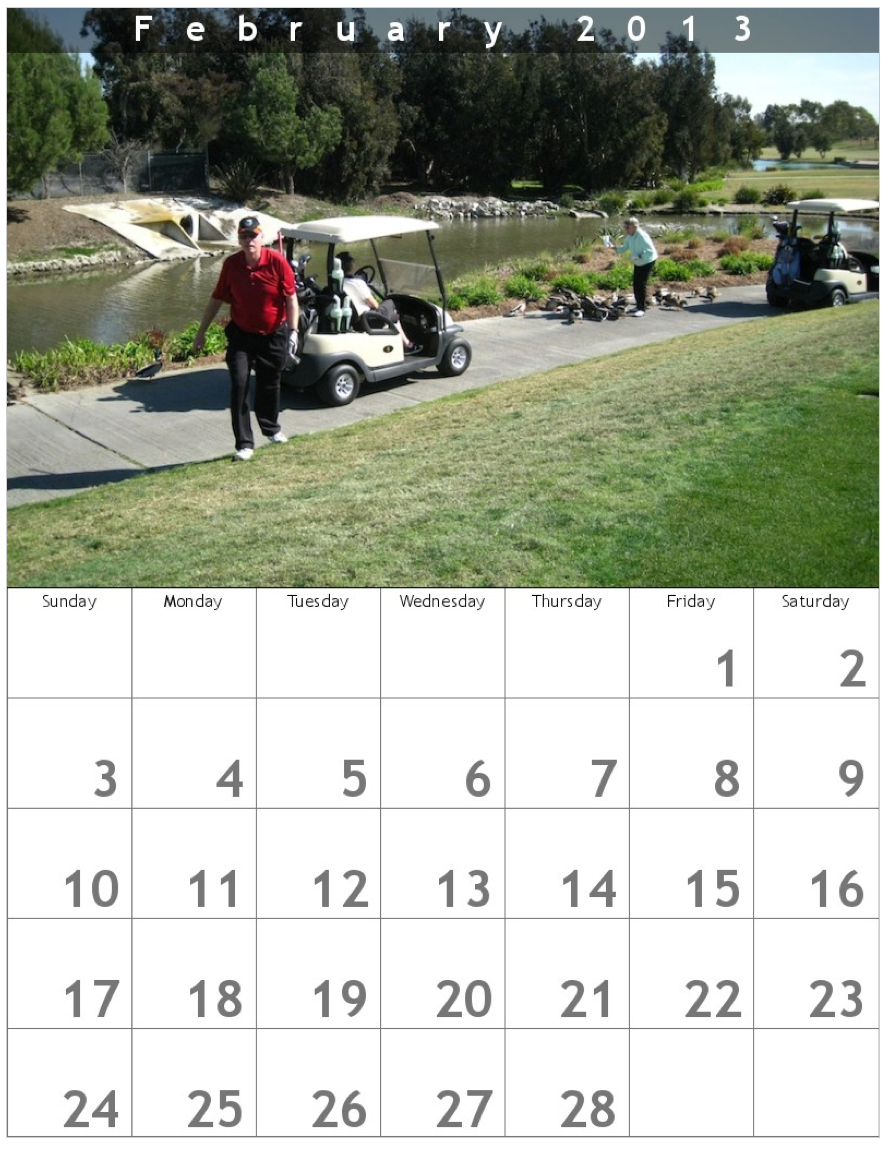 Today is the 27th of February

View from the dining room made us want to play ASAP!

Time To Play ... 12:37 Tee Time

Gentlemen (and Ladies), Start your carts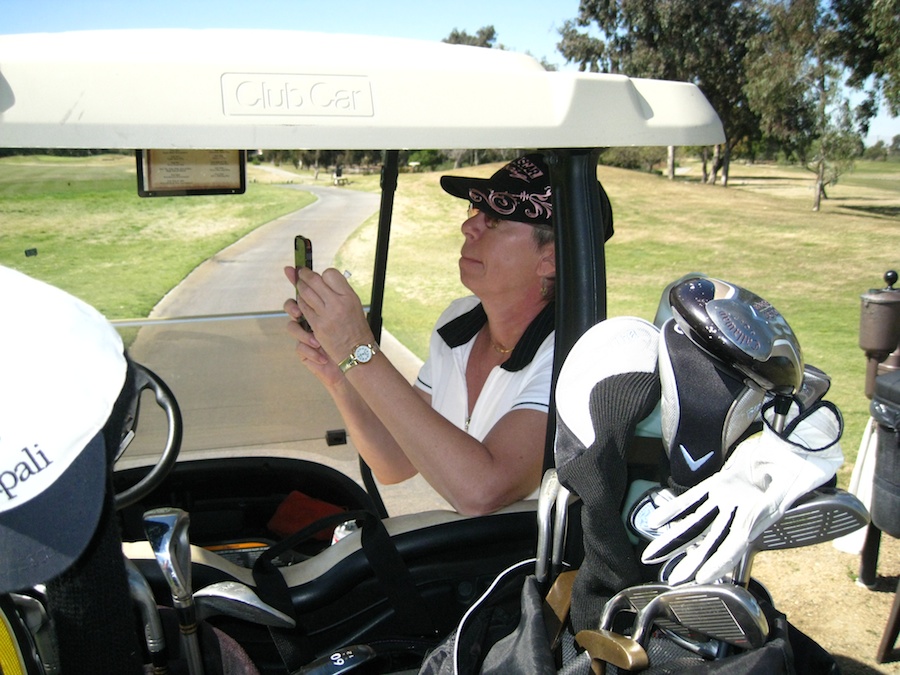 Holly had the "Holly-Cam" in operation

It was "puzzling" Holly....

Bill examines the fairway to make sure he does not hit it.... The non-use-of-fairway discount you know!
Remember - Golf is the closest game to the game we call life. You get bad breaks from good shots; you get good breaks from bad shots - but you have to play the ball where it lies.
- Bobby Jones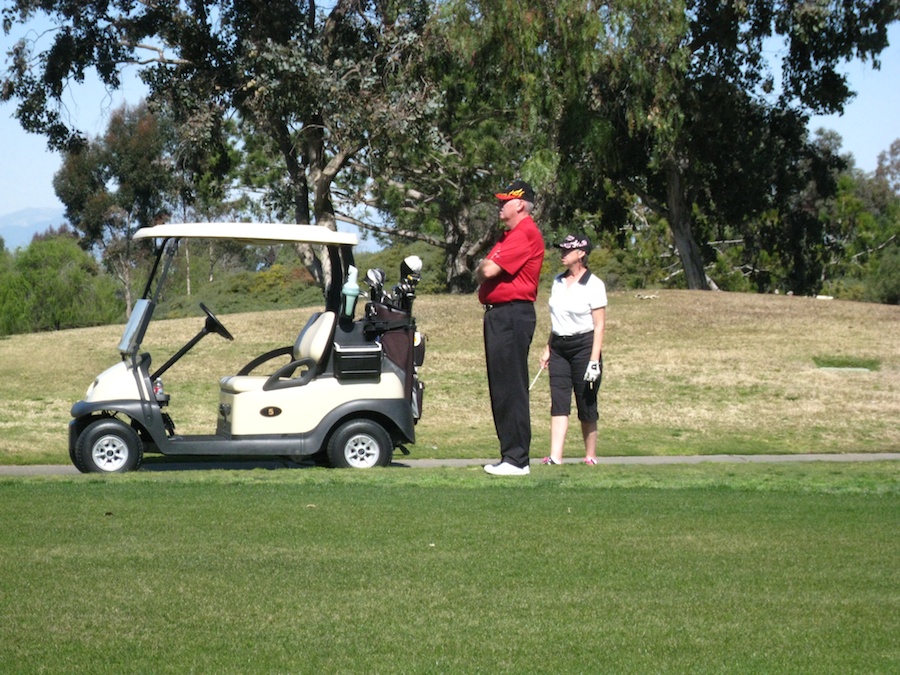 Holly provides guidance... Aim for the hole on that wide smooth green thingie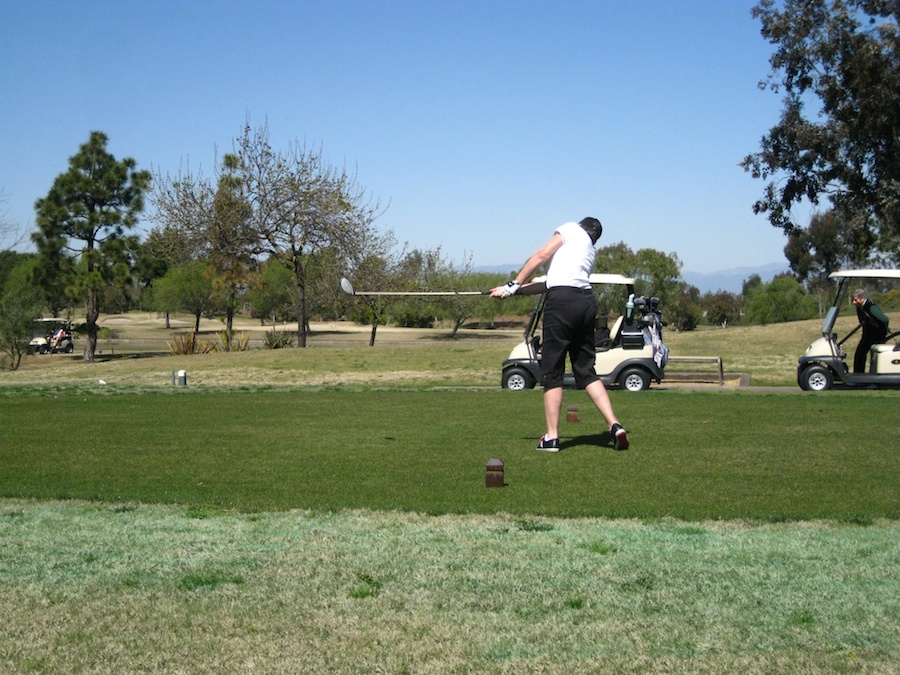 Baam... The ball almost lost it's skin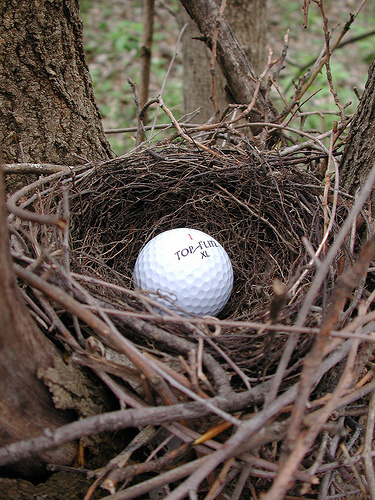 "Dang... How did that get there??? Oh Bill... I needs some assistance"

I like playing in the sand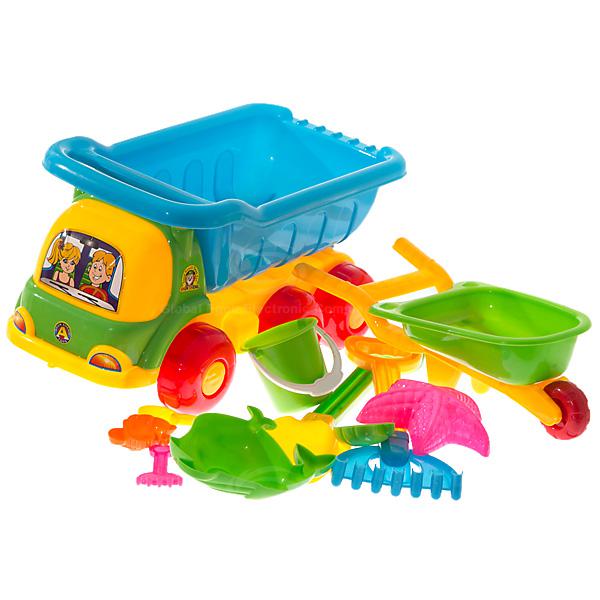 Bill comes prepared for the day

200 yards with a sand-wedge??? New meaning the the word "Confidence"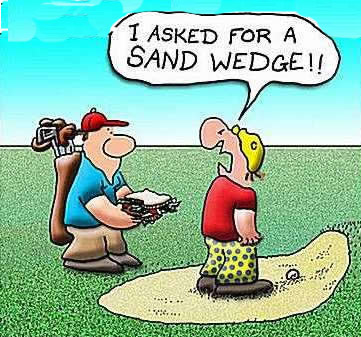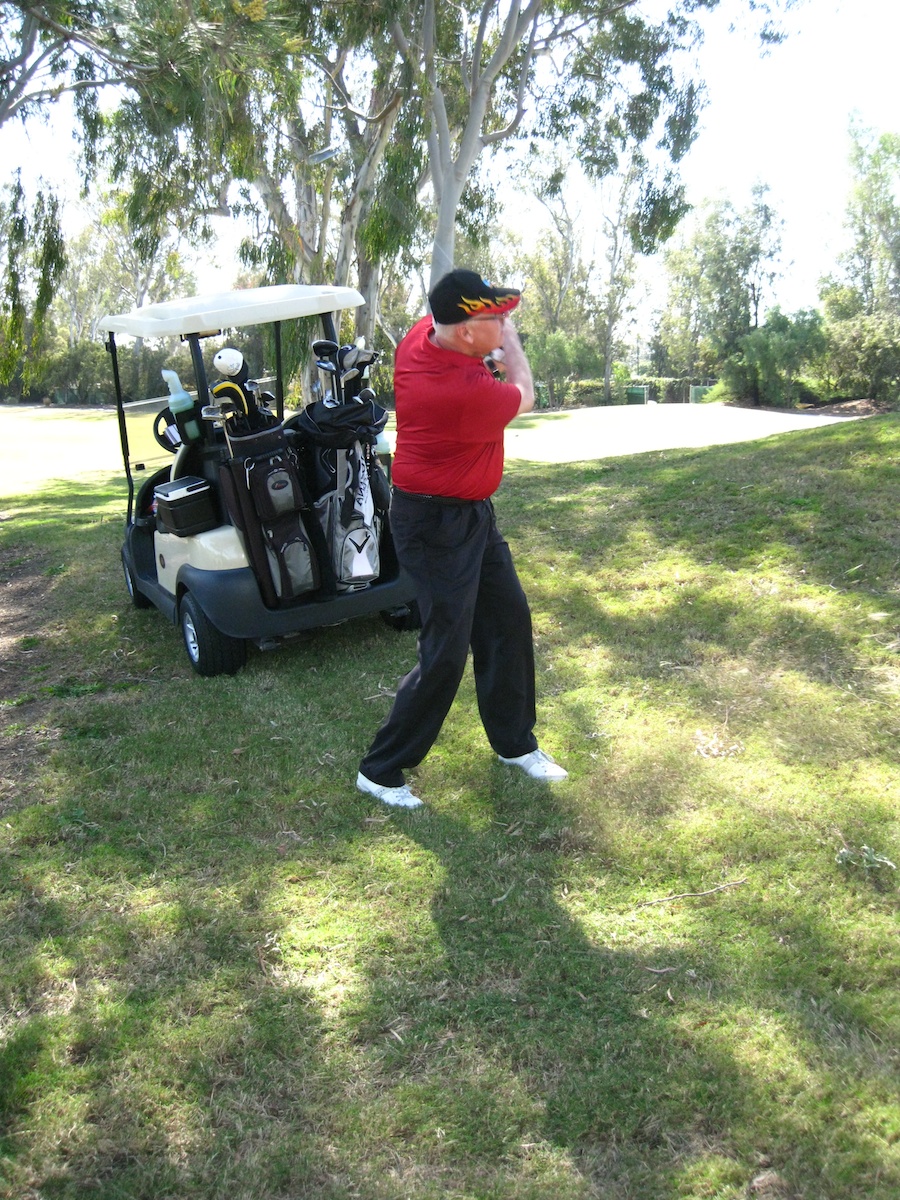 Bill likes to golf from the shade
Remember - Golf is assuredly a mystifying game. It would seem that if a person has hit a golf ball correctly a thousand times, he should be able to duplicate the performance at will. But such is certainly not the case. - Bobby Jones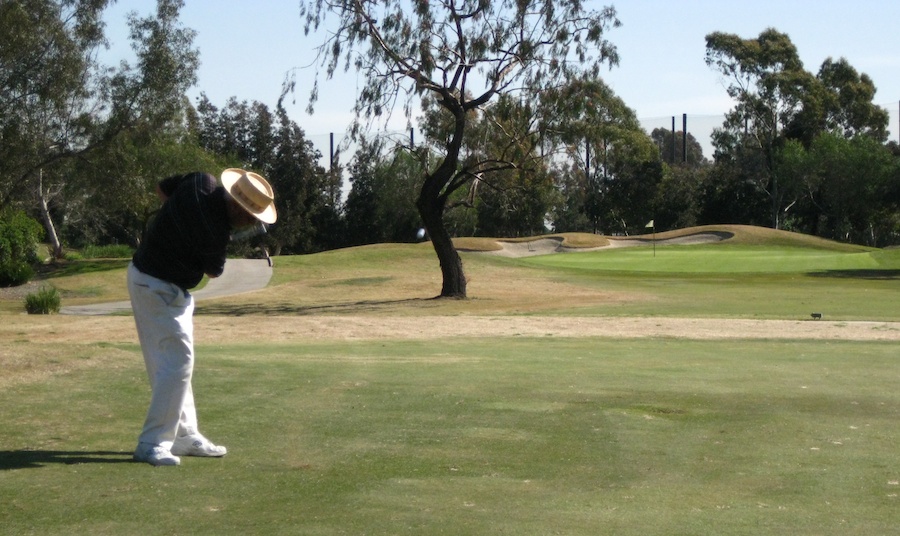 James takes aim... The ball does not have a chance ...
See it in the center right in front of the tree?
Standby To Duck!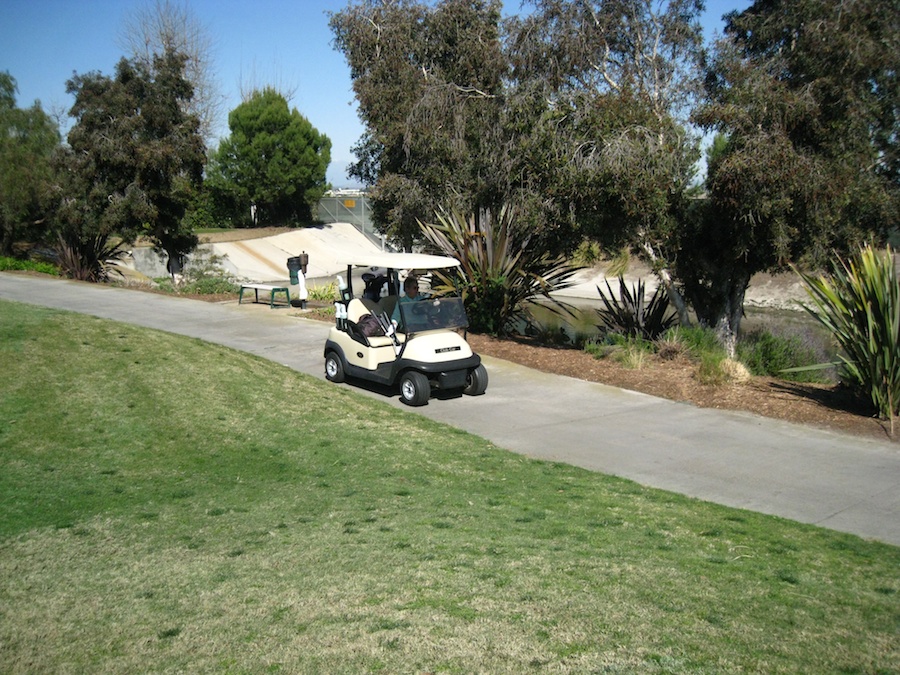 Watch out for low-flying ducks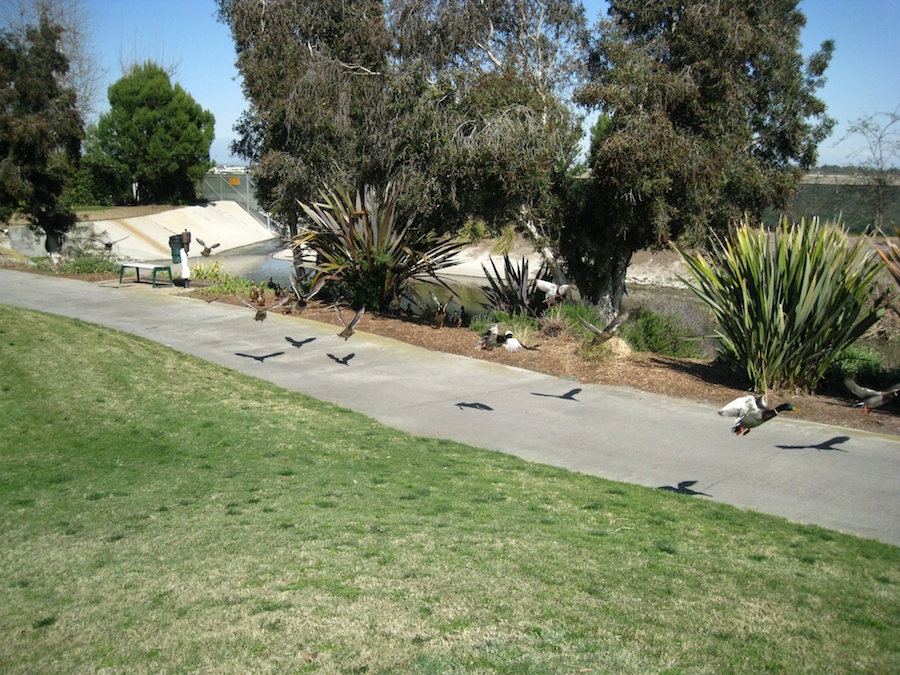 From out of nowhere come Grandma Sue's flyiing circus!!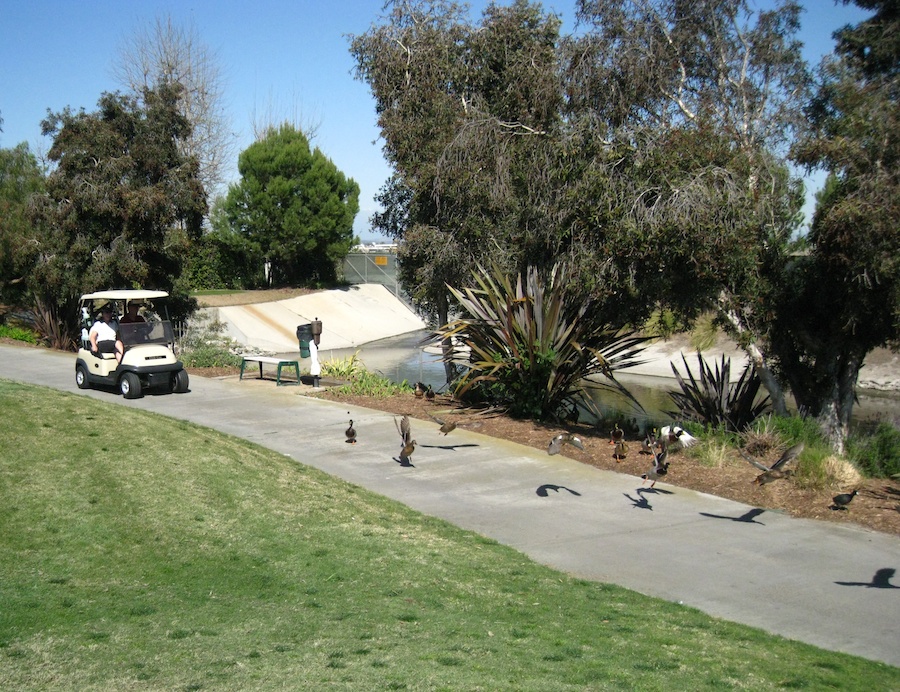 Holly and Bill get front row seats to this event in nature
We did not know about Bill's Anatidaephobia
Did You Know? - Anatidaephobia ? the fear that somewhere, somehow, a duck is watching you. Anatidaephobia is derived from the Greek word "anatidae", meaning ducks, geese or swans and "phobos" meaning fear.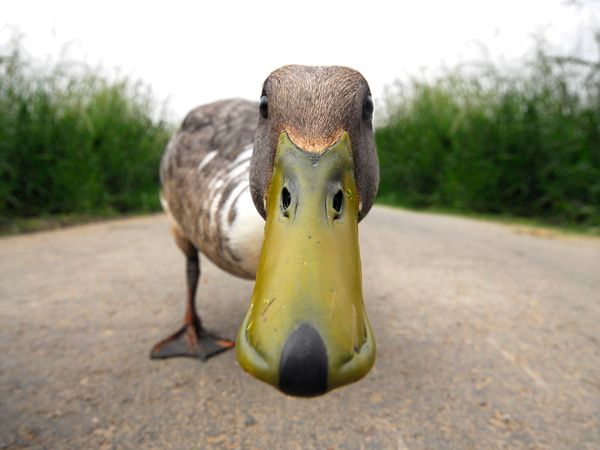 "Yo! Holly! Bill! Did you bring me anything to eat????"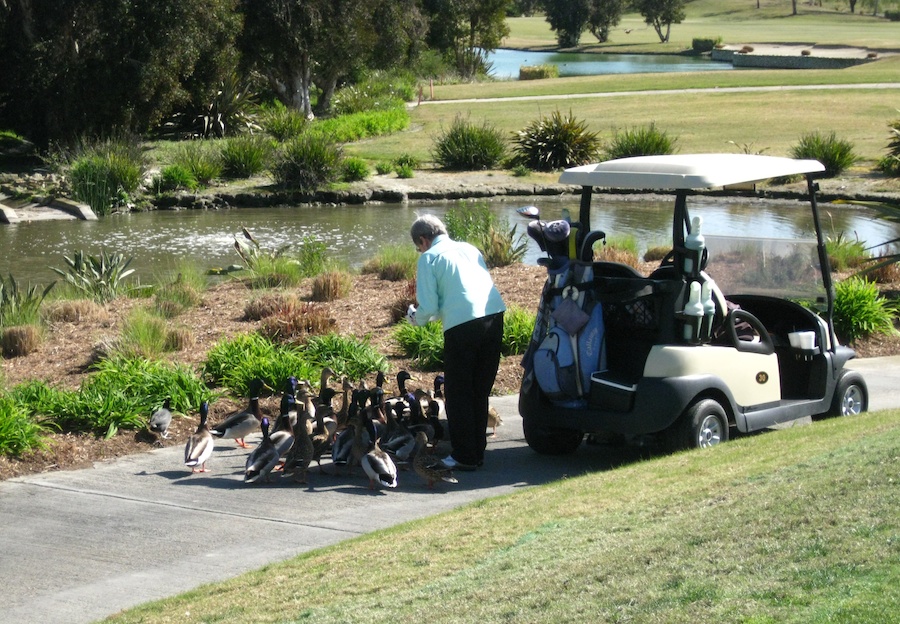 There they gather at the lake for an afternoon treat....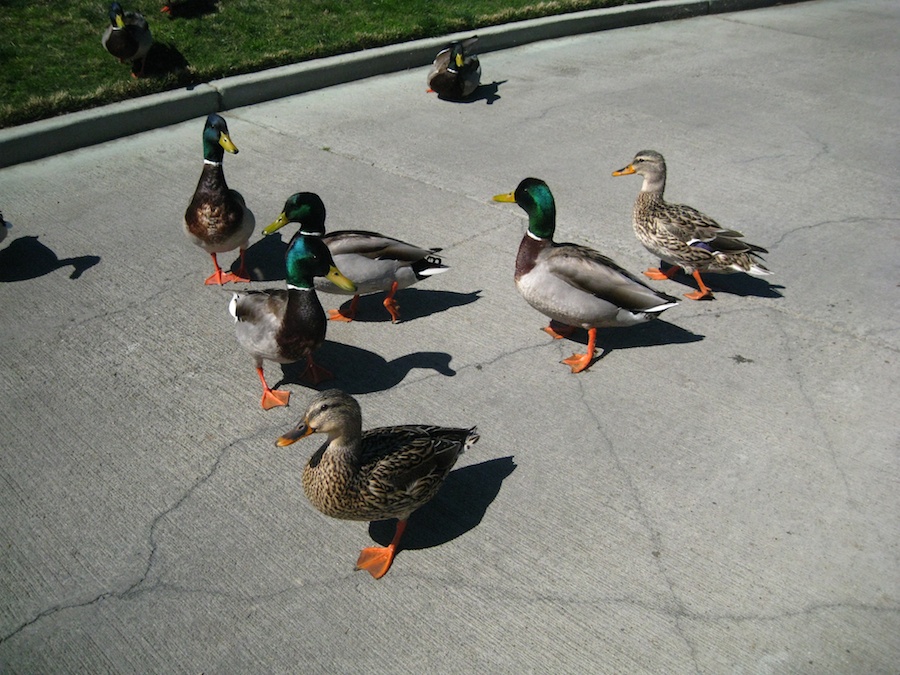 These guys really quacked us up
Did You Know? - Most ducks are omnivorous, but some are primarily herbivores and others (such as sea ducks and mergansers) are mostly carnivorous. Plants eaten include those commonly available in wetlands such as seeds, aquatic grasses, and submerged pond weeds. Animals eaten include invertebrates, fish eggs, and fish. Many duck species switch from a diet of mostly plants to a diet of invertebrates just prior to breeding, which may help them acquire sufficient energy for reproduction. Young ducks eat primarily invertebrates.

Bill is almost over his Anatidaephobia - He attempts eye contact with the ducks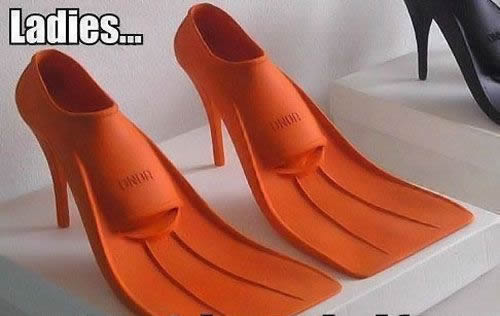 Can we interest you in the latest in golf attire???
.

"Oh darn... Time to swing at the ball again!"

A mighty strike it is.... He is trying for an Albatorss... Emphasis on "trying"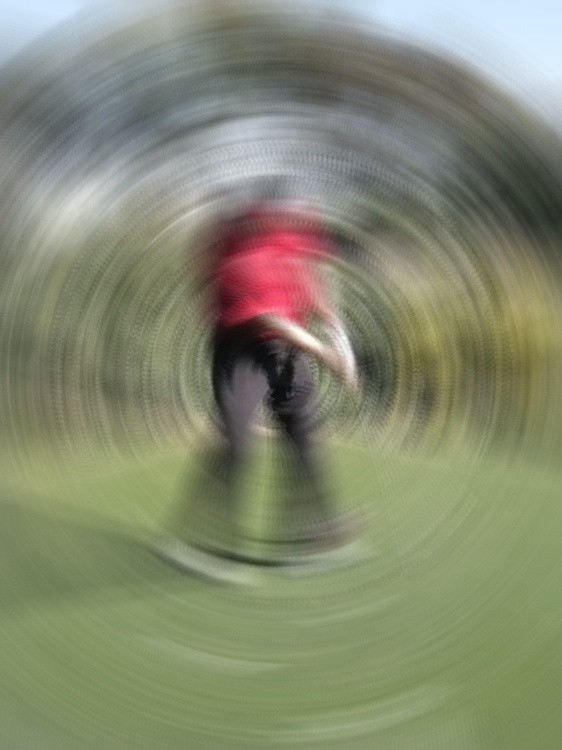 Bill shows us his new swing.... Interesting
Did You Know? - The term "albatross" means scoring three under par (-3) (the albatross being one of the largest birds); also called a double eagle in the U.S. This is an extremely rare score, and occurs most commonly on par-fives with a strong drive and a holed approach shot.
Holes in one on par-four holes (generally short ones) are also albatrosses. The first famous albatross was made by Gene Sarazen in 1935 on the 15th hole at Augusta National Golf Club during the final round of the Masters Tournament.
The double eagle vaulted him into a tie for first place and forced a playoff, which he won the next day. The sportswriters of the day termed it "the shot heard round the world." Albatrosses are much rarer than par 3 holes in one; the odds are estimated at one in 1,000,000 while the odds of a hole-in-one are around one in 3,700 to one in 12,500, depending on the hole and on skill.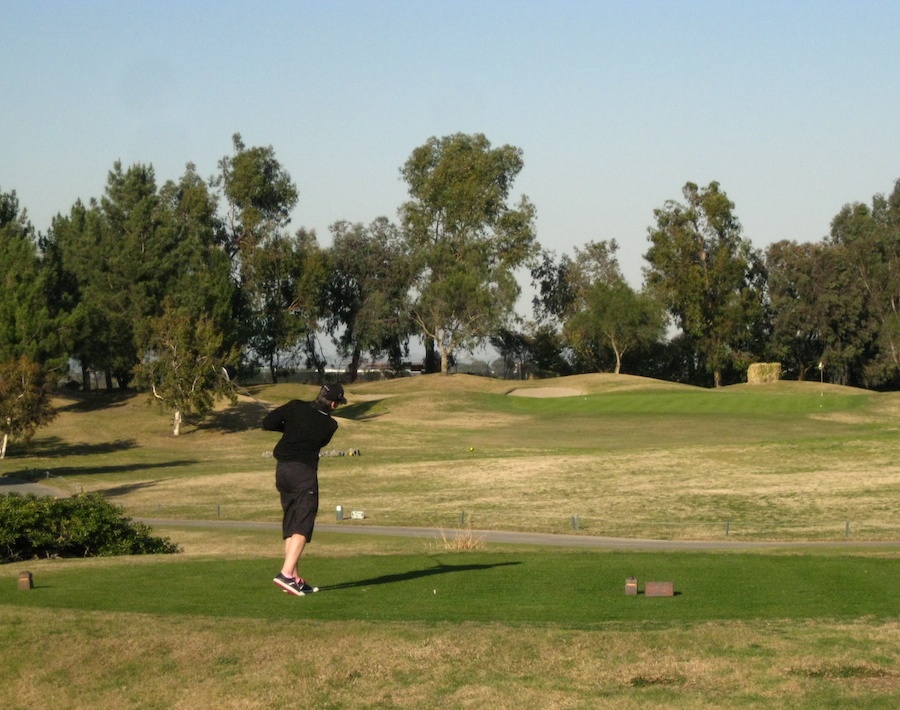 Holly slaps the ball silly....
Remember - I t's a funny thing, the more I practice the luckier I get. - Arnold Palmer

James got the "Emergency Call" - Lisa saw a snake in the back yard... St. James has a job to do!
Did You Know? - St. Patrick is also credited with driving the snakes out of Ireland. There were probably no snakes in Ireland for him to drive out, and it is very likely that the story was meant to be symbolic. Since he converted the heathen, the snakes are thought to stand for the pagan beliefs or evil.
James shall ne known as St James The Snake Slayer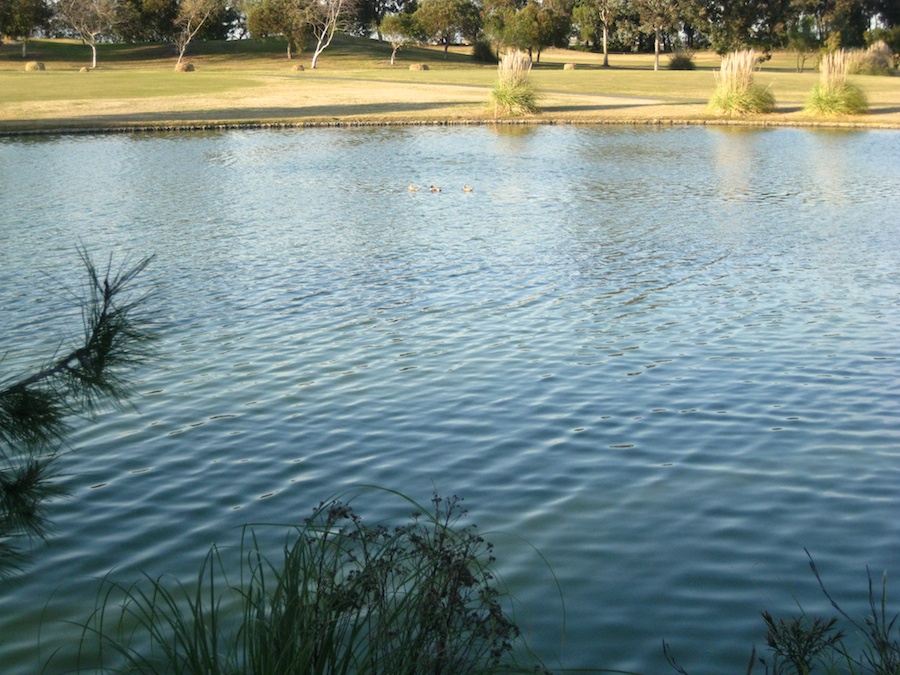 The ducks are still watching Bill... From a distance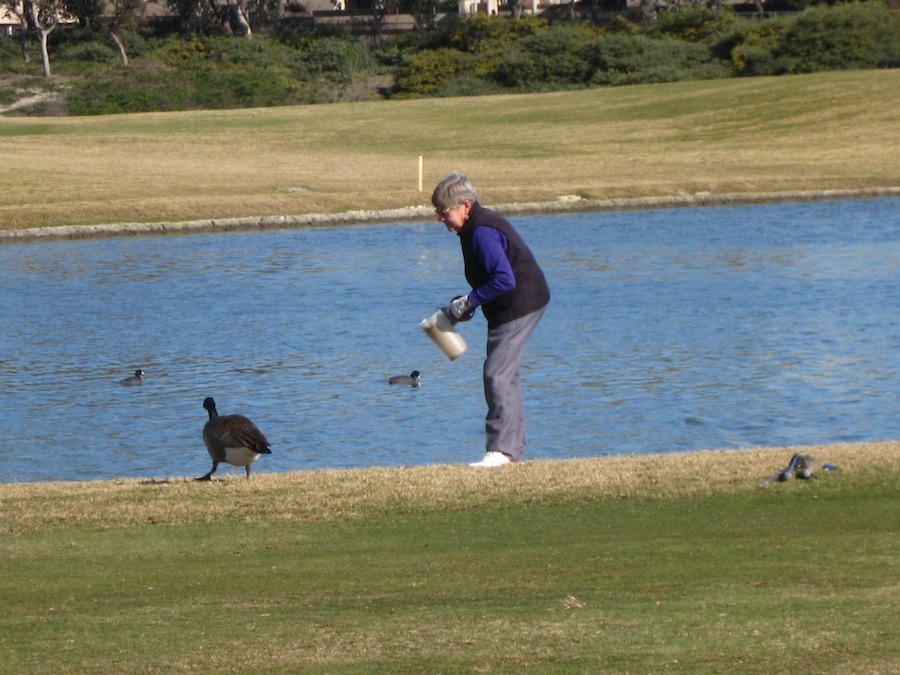 Sue also has goose friends

The ducks say goodbye to us... And to avoid Bills Anatidaephobia
They just wave their tails at us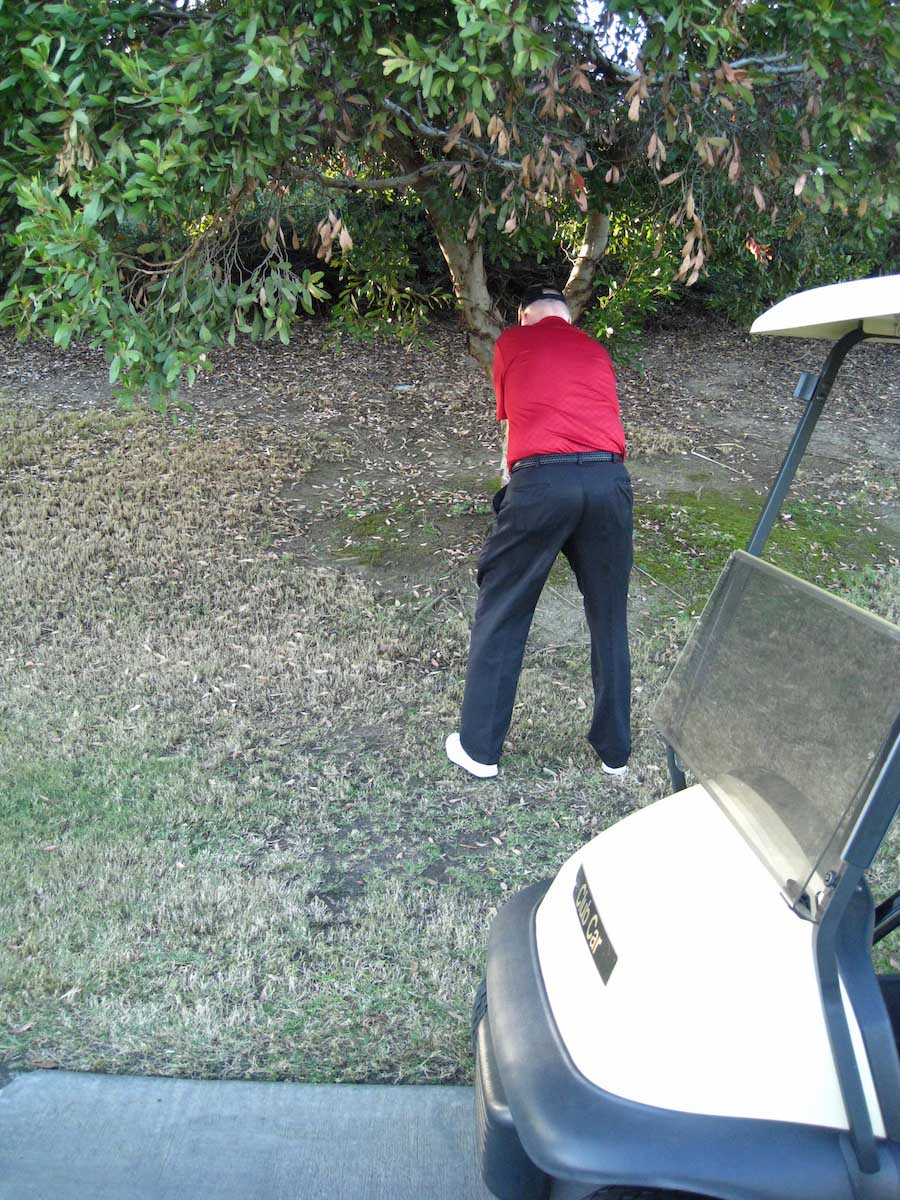 Bill likes to discount for not using the fairway....
Remember - The most important shot in golf is the next one. - Ben Hogan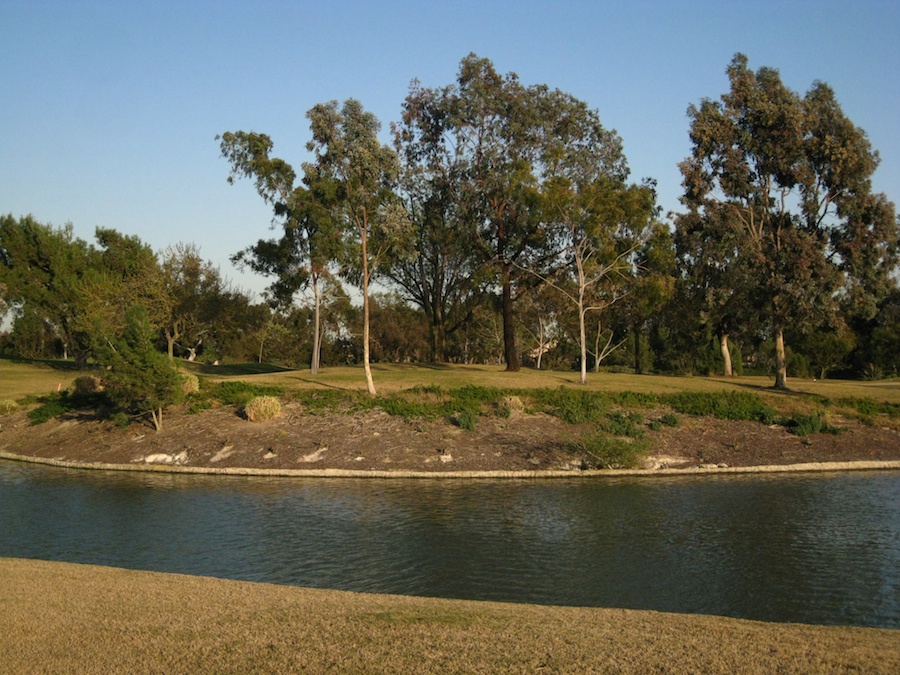 The sun is sinking into the West and the shaddows are getting longer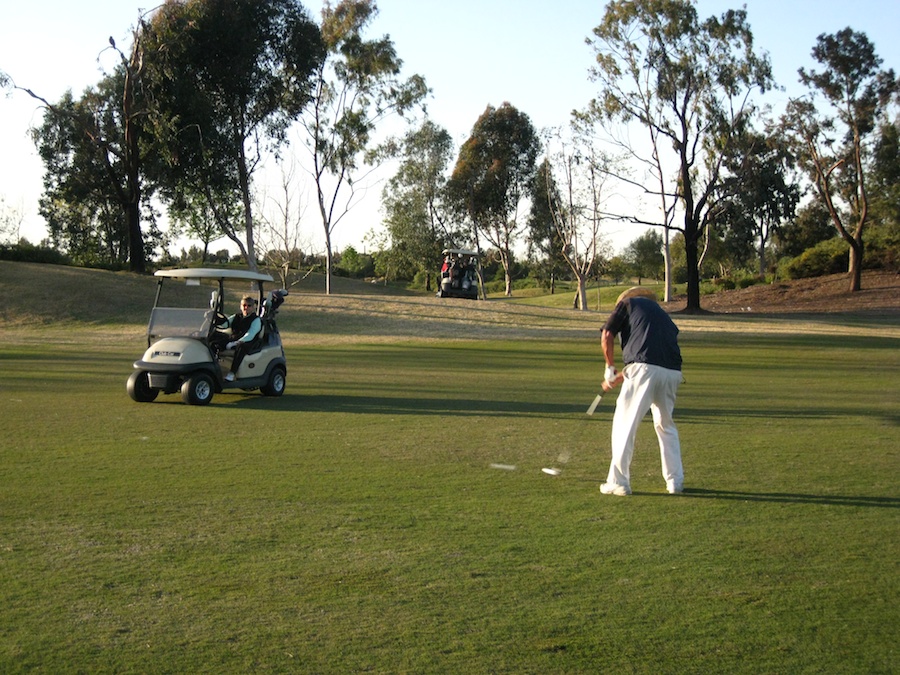 St. JAmes uses his new "snake finder club" to move the ball over the water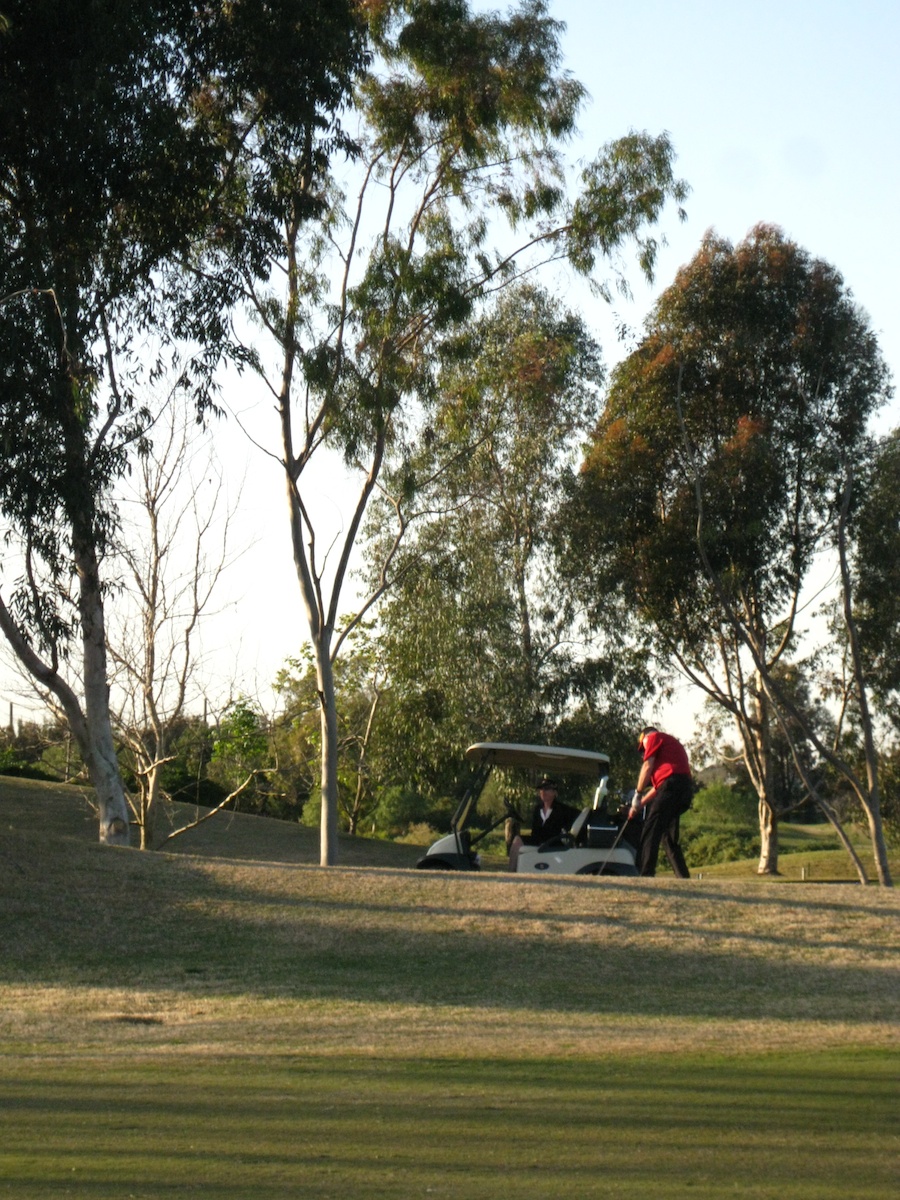 The beginning of a 150 yard whot over the water and to the general area of the 18th green