Southwest US Here We Come! April 2016 (Page One)
It's time for an adventure in the great southwest. We departed April 8th and returned to civilization on the 25th after seeing Palm Springs, Arizona, and Nevada. We visited several Elks lodges and saw all the sights. We visited some friends along the way!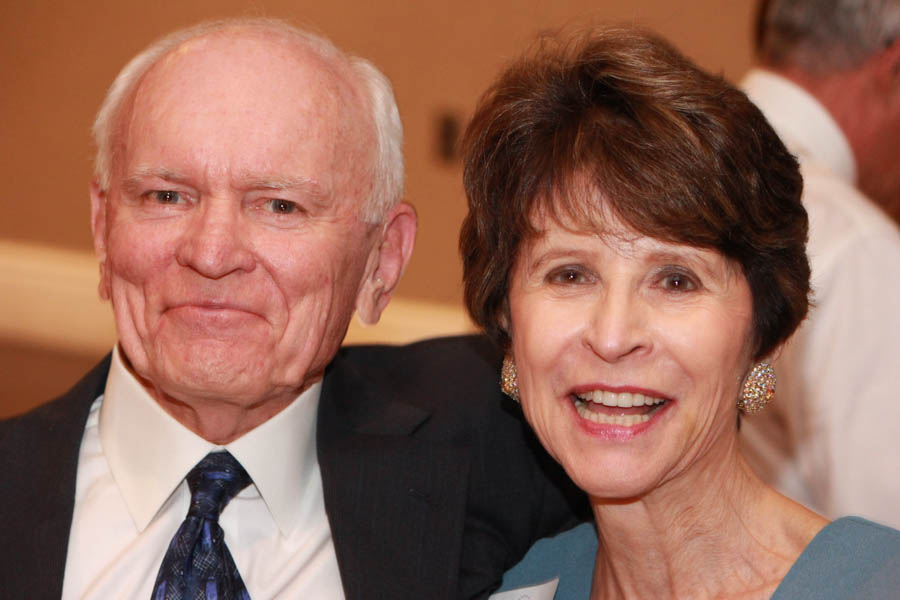 They are at it again! This time... Arizona and Nevada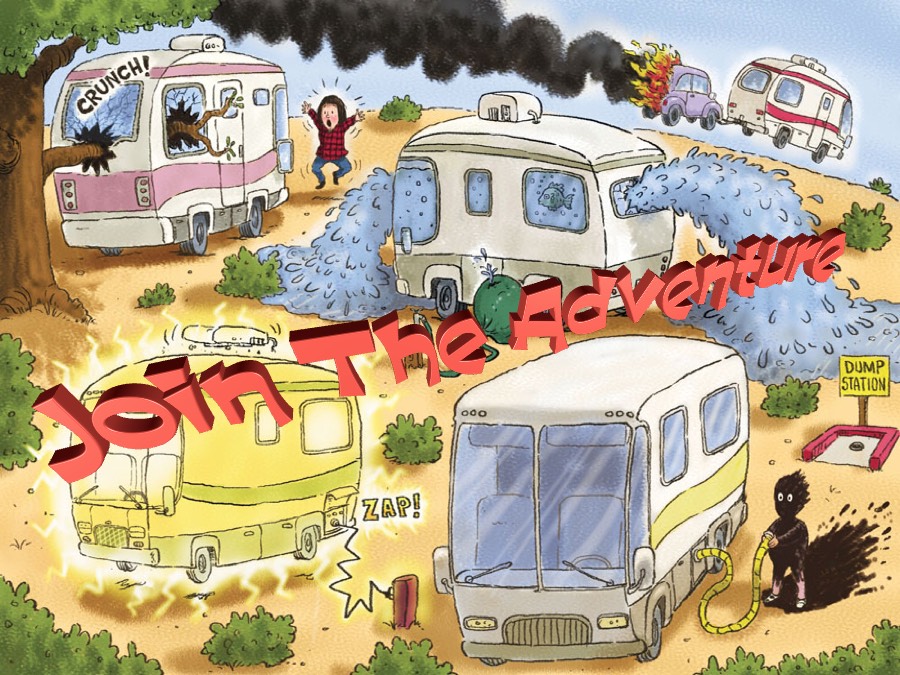 April 8th We Are Underway... Palm Springs Here We Come!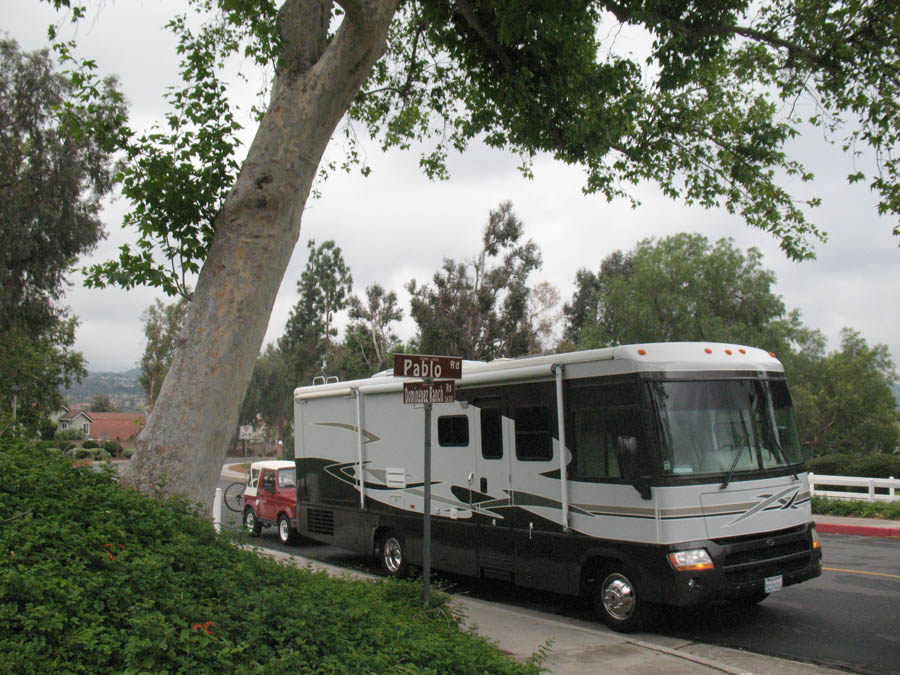 Ready, willing, and probably able!
All gassed up... So is the motor home!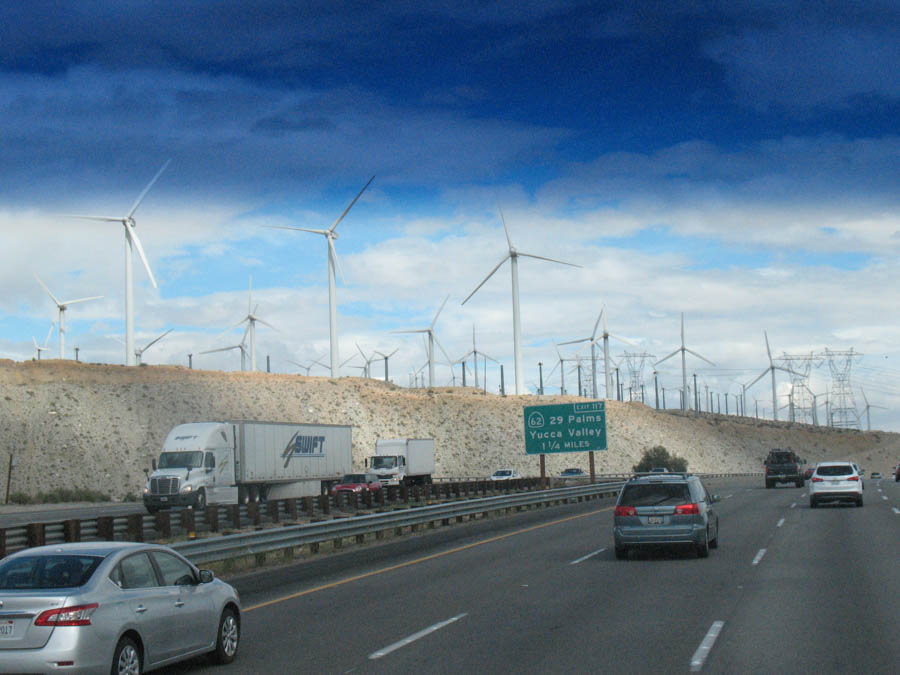 Oh dear... Wish the motor home was electric
Did You Know? - As of January 2008, the farm consists of 3,218 units delivering 615 MW. A single Southern California Edison Path 46 500 kilo-volt power line crosses the pass on the northern edge of San Jacinto Peak. This line links the Los Angeles metro area with the Palo Verde Nuclear Power Plant.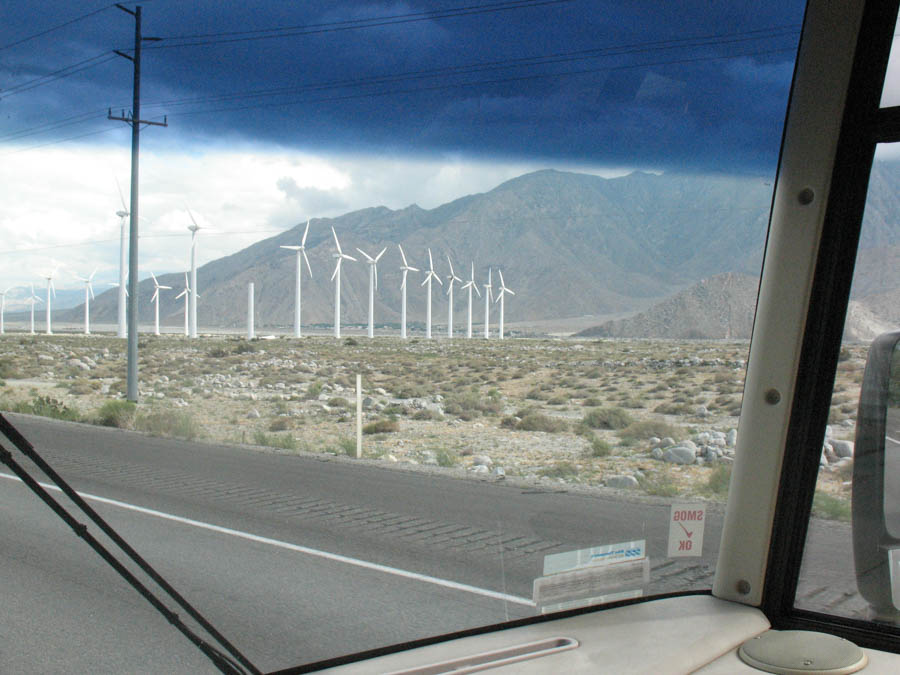 They are moving quite nicely this afternoon!

Our first stop portended of things to come!

A beautiful afternoon to rest... Emerald Desert?

We checked in ... Under assumed names of course!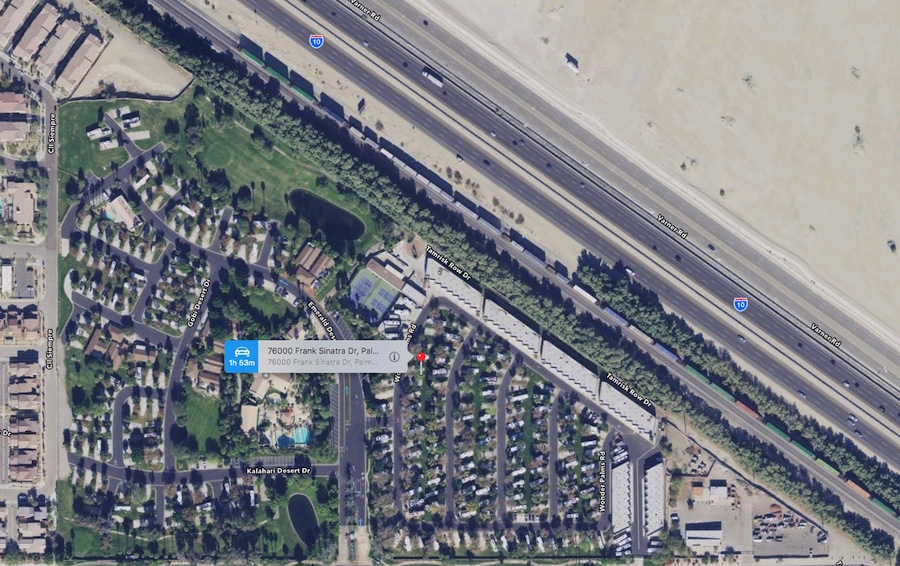 Right off the freeway!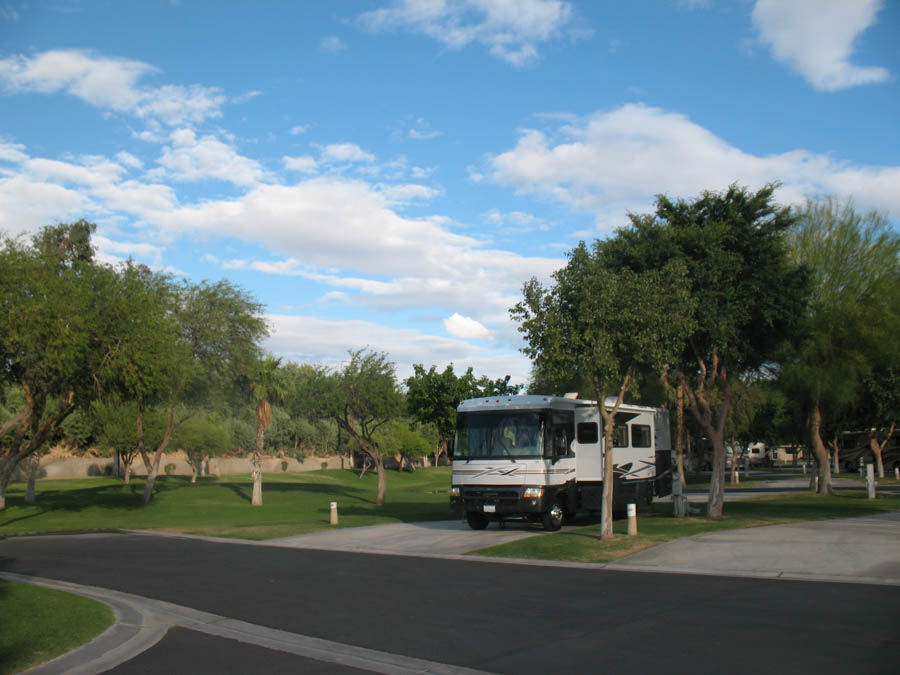 The area was fantastic... and quiet!

We pulled right in and was ready for happy hour!

Sandy got happy first
April 9th... Preparing To See The Sites Around Palm Springs

Wild in the 1950's
Did You Know? - Palm Springs is a desert resort city in Riverside County, California, United States, within the Coachella Valley. It is located approximately 55 mi (89 km) east of San Bernardino, 107 mi (172 km) east of Los Angeles, 123 mi (198 km) northeast of San Diego, and 268 mi (431 km) west of Phoenix, Arizona. The population was 44,552 as of the 2010 census. Palm Springs covers approximately 94 square miles (240 km2), making it the largest city in the county by land area.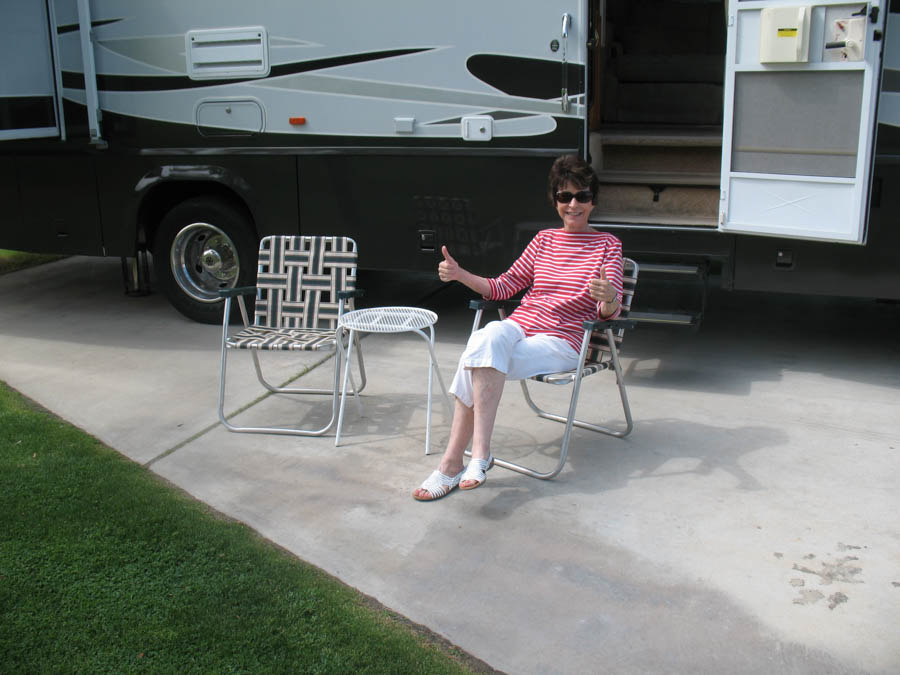 No beer? Well, after all it is 5PM someplace?

Great spot... She can wave at all the people going by!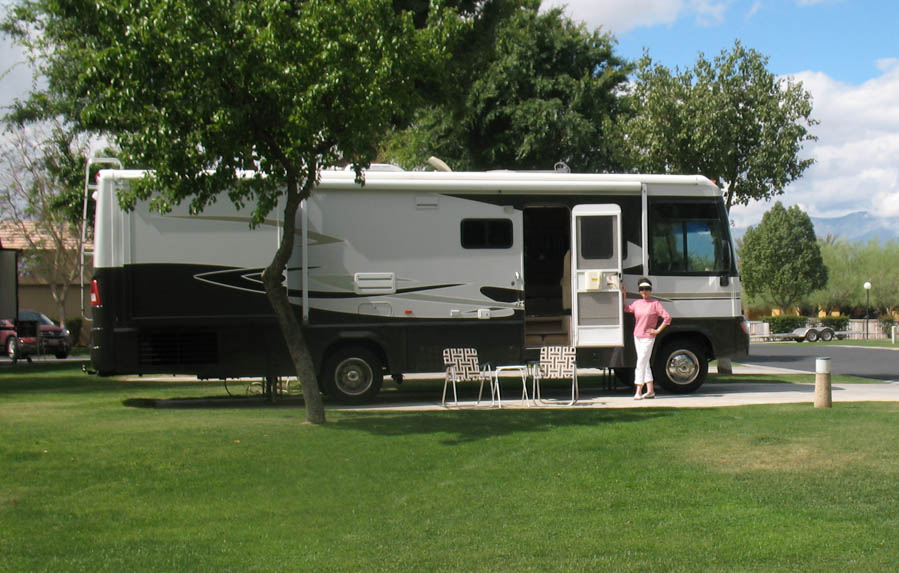 "Welcome to our home!"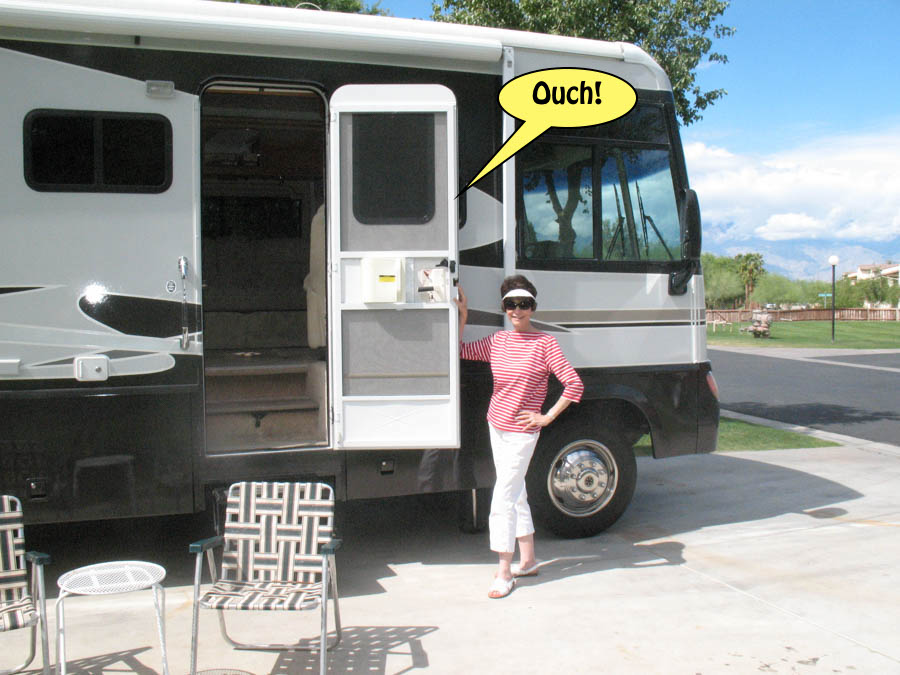 "Behind this door is Bob!"

"Oh dear... It's a nudist colony"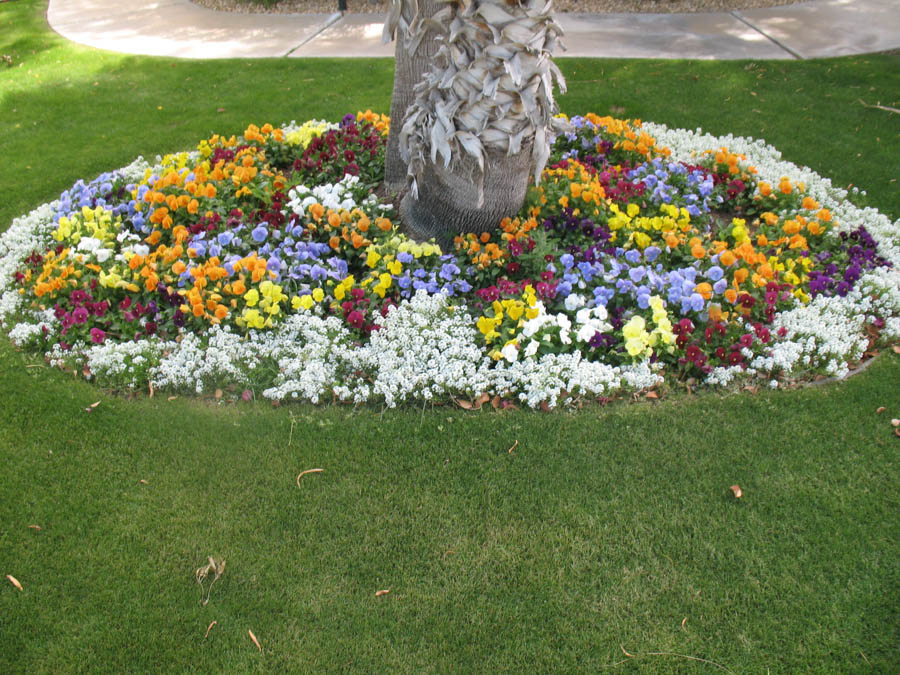 The park was quite pleasant!


"I can se clearly now"... Great name for a song!

The plaque says it all!
Did You Know? - On August 11, 1930, the Riverside County Board of Supervisors officially named the highway "from San Jacinto Mountains to the Desert" as the Pines to Palms Highway. State Route 74 (SR 74), part of which forms the Pines to Palms Scenic Byway and the Ortega Highway, is a mostly scenic highway in the U.S. state of California. It runs from Palm Desert in Riverside County westward to San Juan Capistrano in Orange County.

A quick stop in Palm Springs using our trusty steed!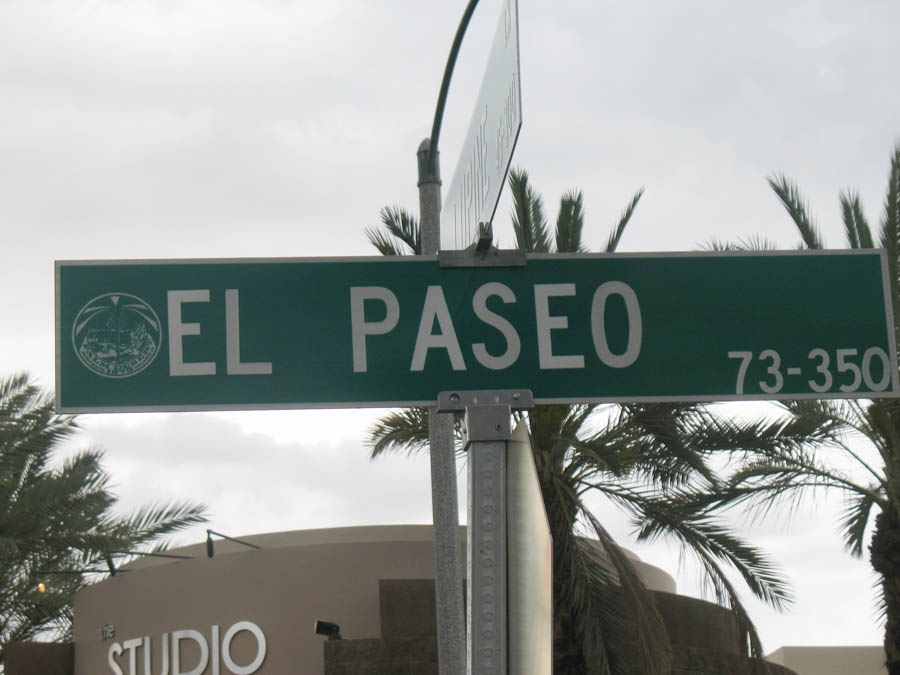 On the main drag of Palm Springs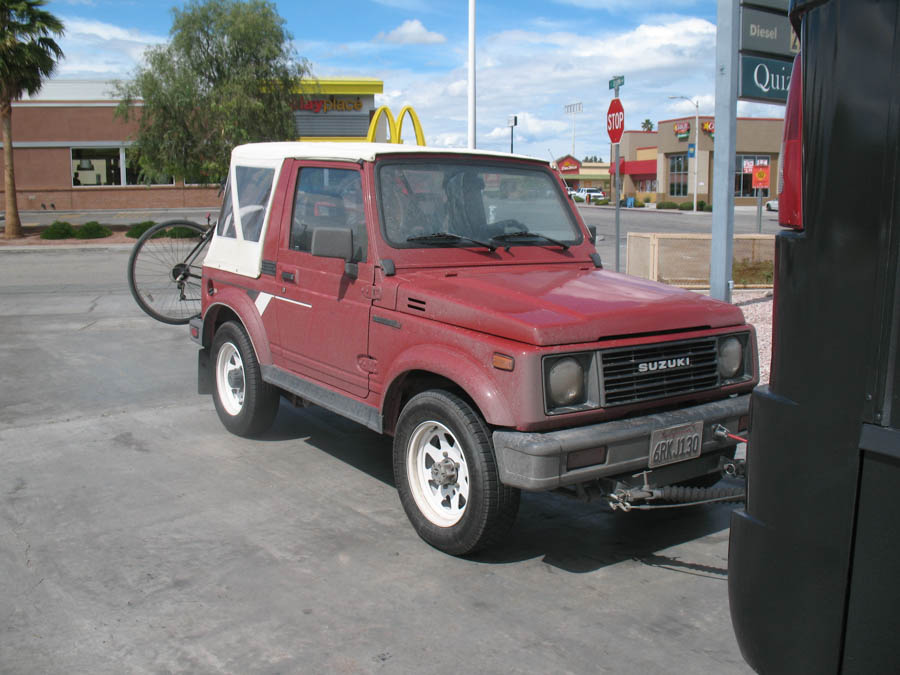 Hooking up and getting ready for tomorrow mornings escape to Arizona!
April 10th On The Move Again


Perhaps a little moisture to make the ride exciting!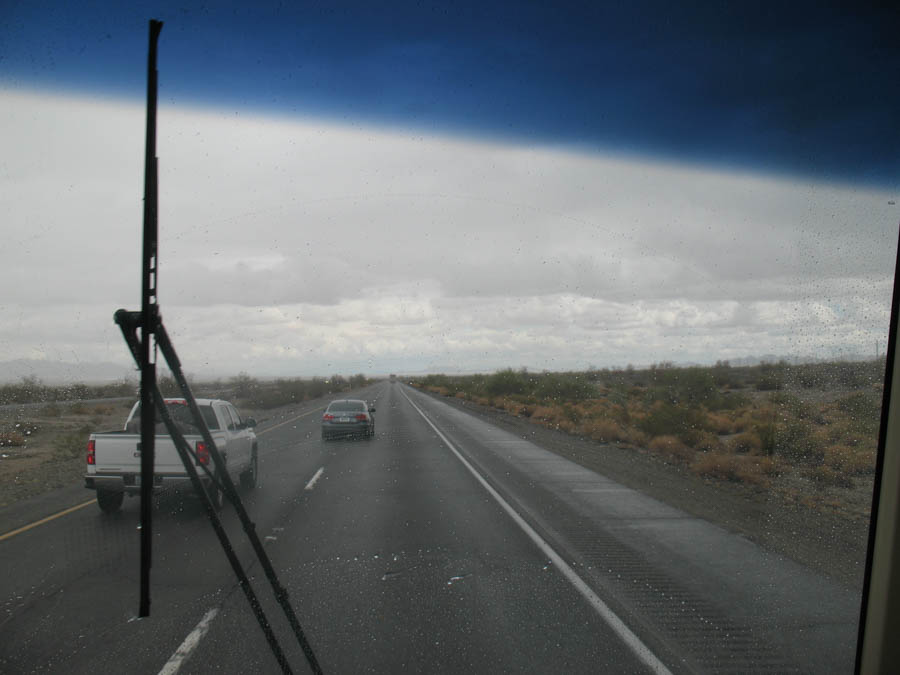 It will clear up quickly once we reach the border!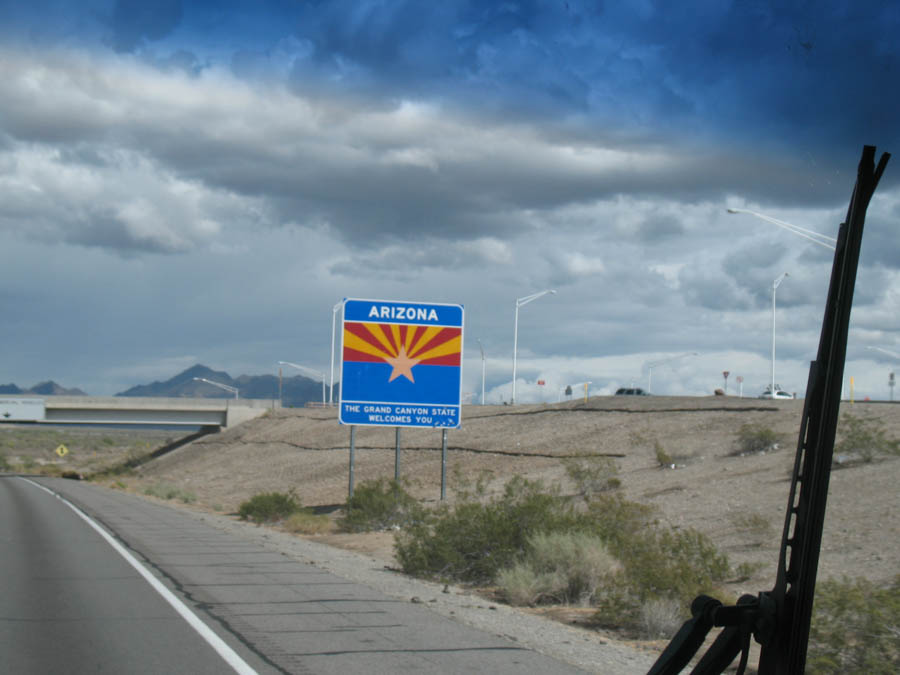 We made it! The weather turned perfect!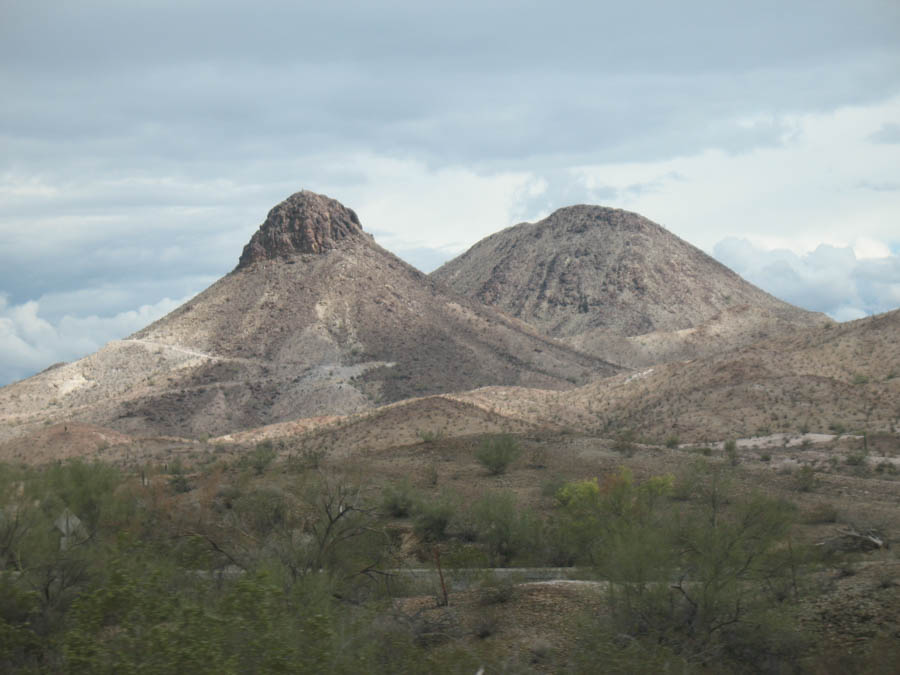 Lots of land...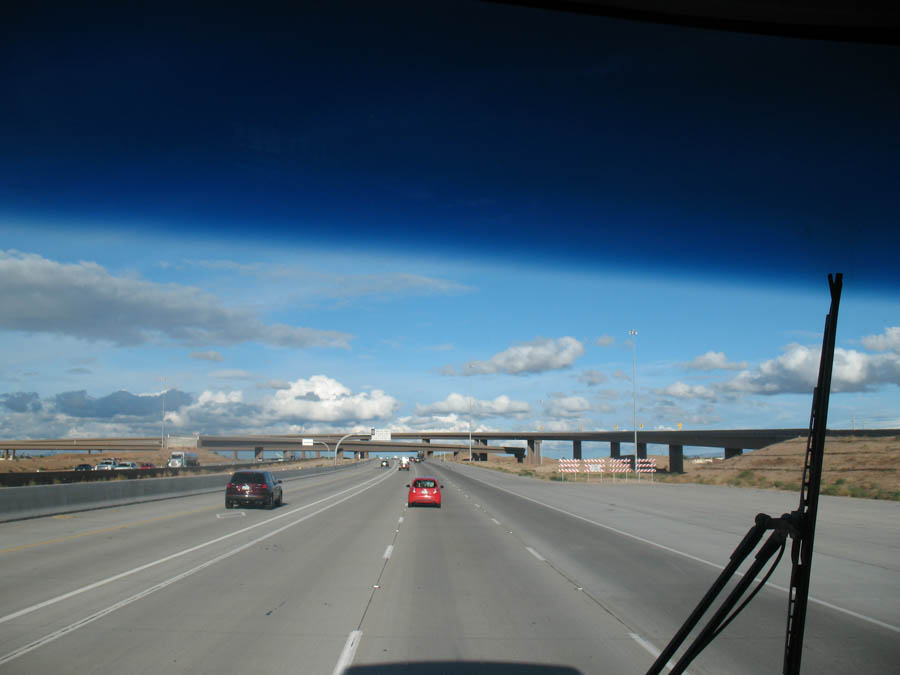 The freeway was clear all the way in!
April 11-14th

We pulled up and made ourselves at home!

Connected to power... We are ready to visit

Oh dear... We are not camping out tonight?

Ruba-Dub-Dub Six for the grub!

Just visiting on the morning of the 12th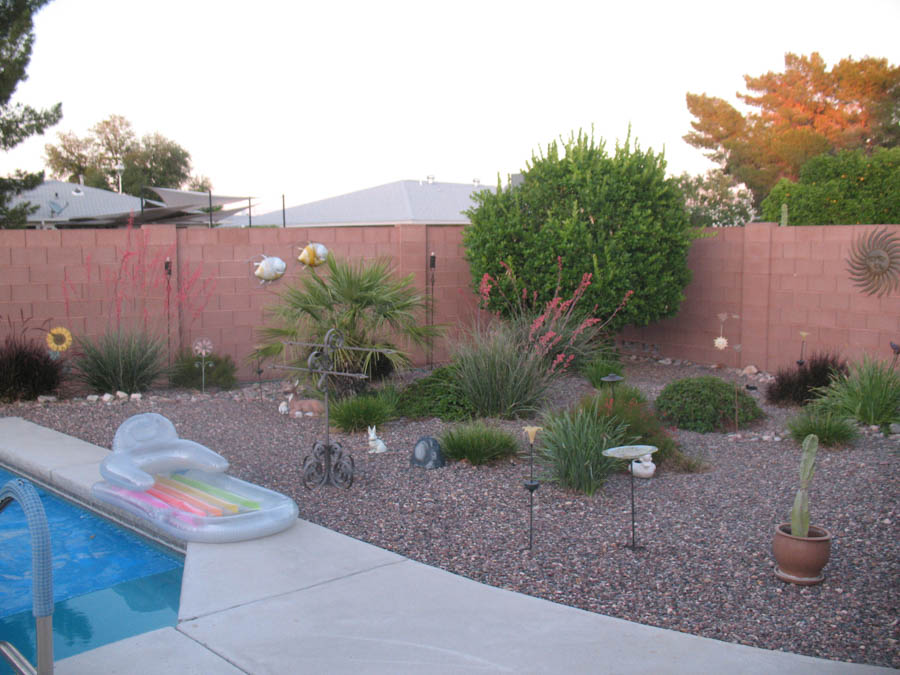 The grass almost looks like rock!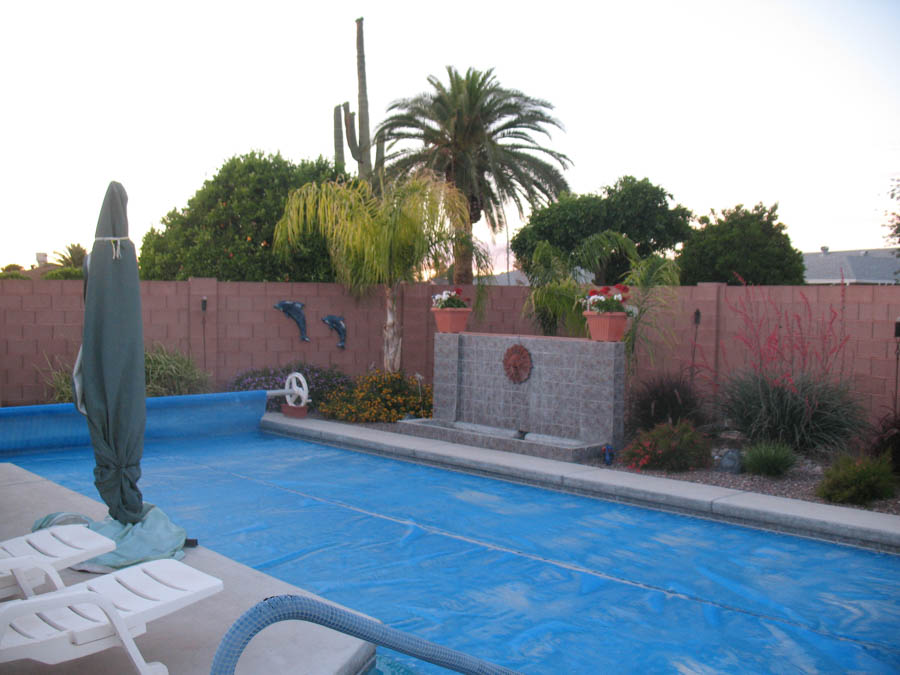 The pool cover really works!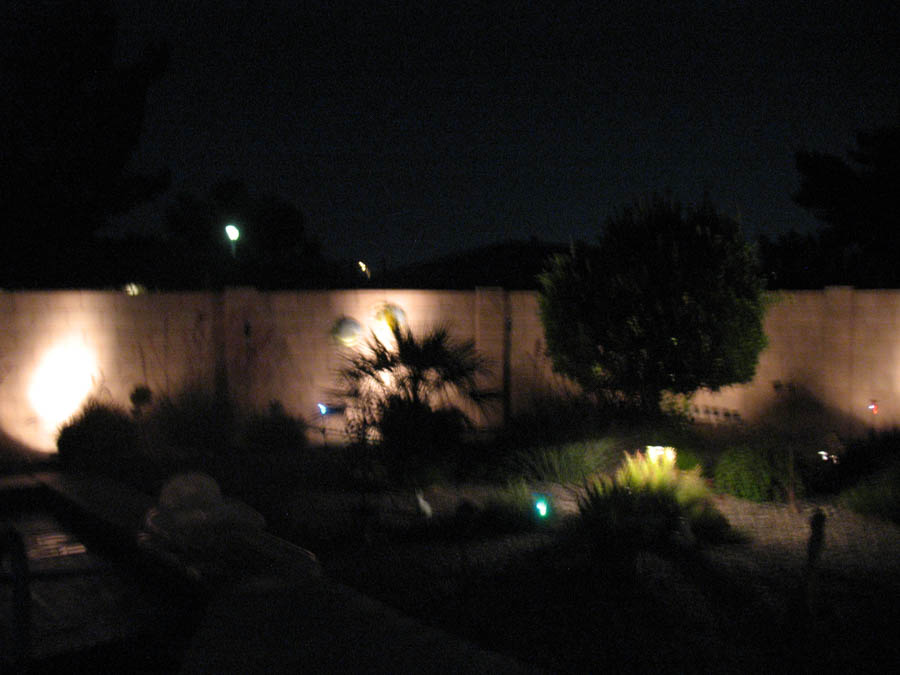 Midnight! Time for a skinny-dip.... No, perhaps a chunky-dunk!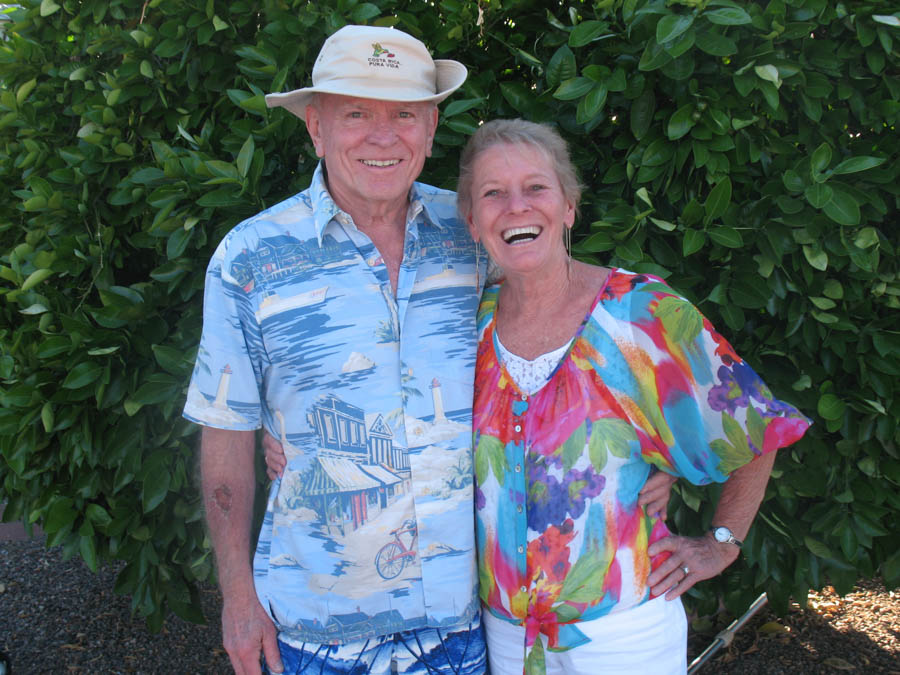 Friends... essential ingredient in life

Sandy learns how to drink the life preserver... Alcohol floats, correct?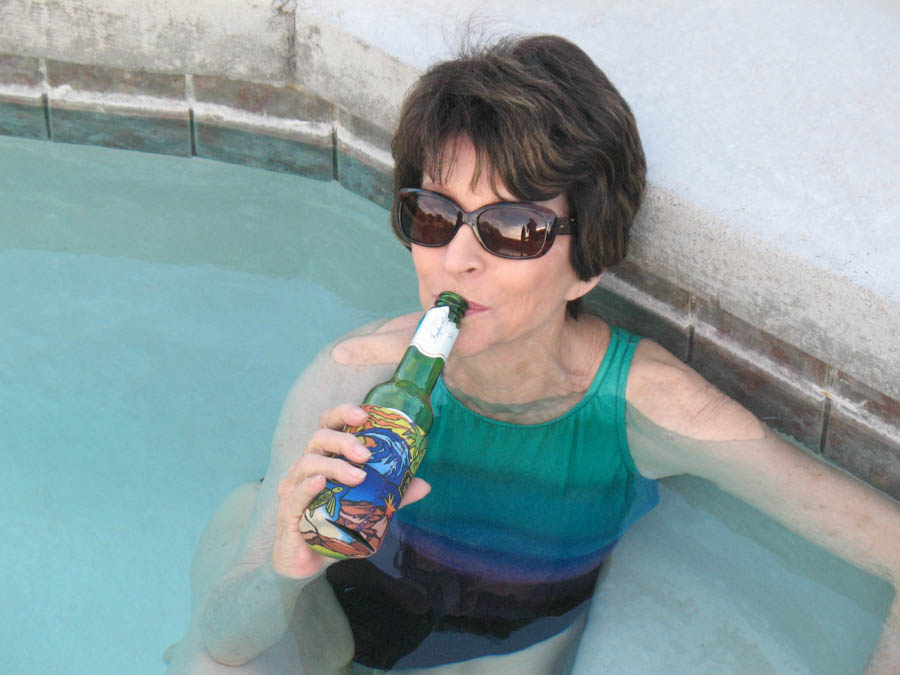 "Slurp, gurgle, belch!".... Oops, that was Bob in the background!

"Ah... Can't you stay a while?
April 15th

"I think I can... I think I can"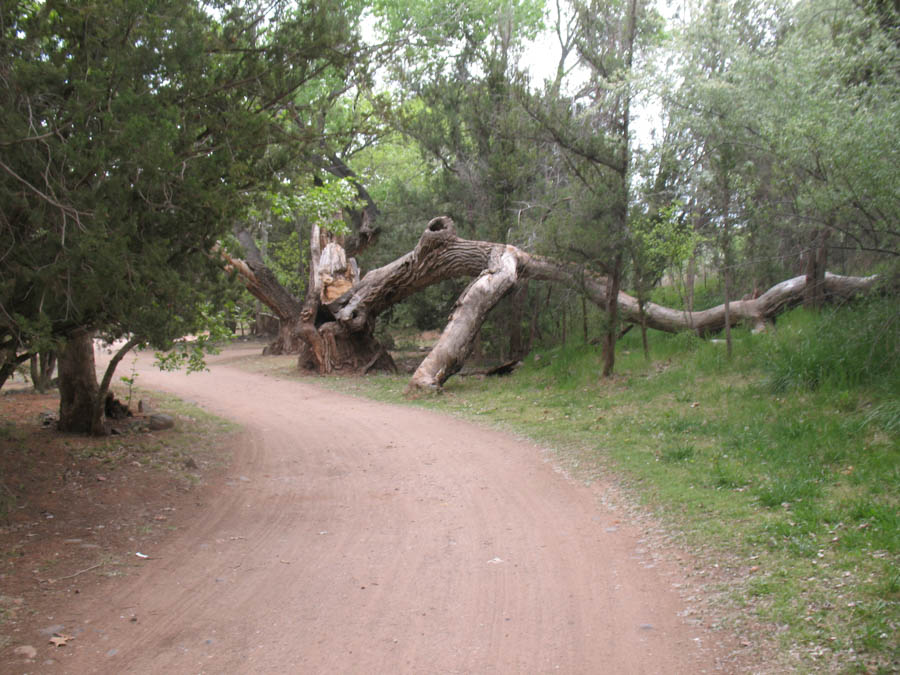 "Bob! How wide is the motor home?"

Duck!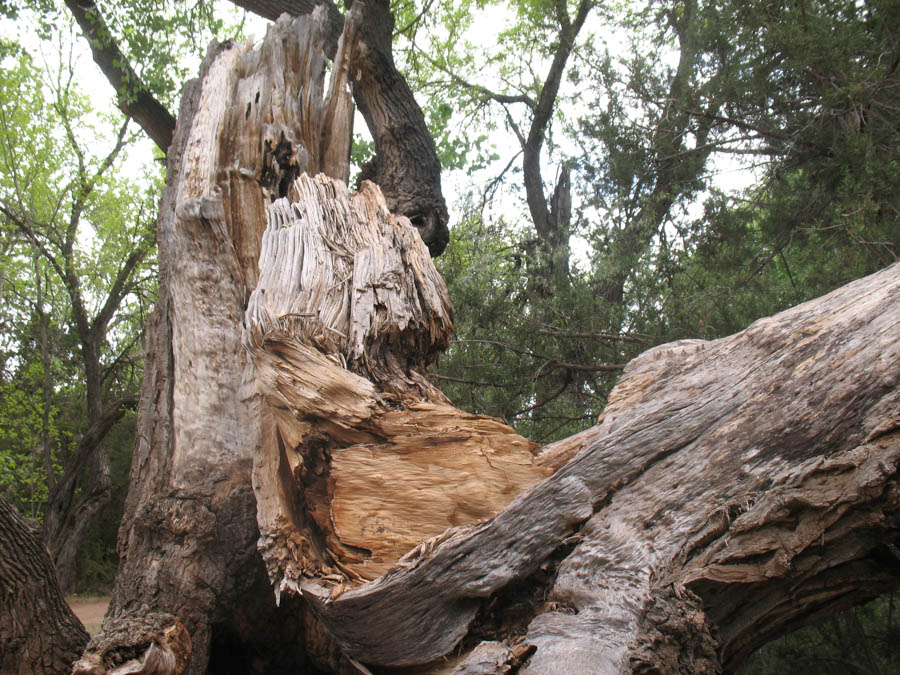 No more off-roading in the RV... Back to the highway!
Did You Know? - SR 89A runs from its southern terminus in Prescott northward through the towns of Jerome, Cottonwood and Sedona to its northern terminus in Flagstaff. The highway is known for its scenic views as it passes through the Sedona and Oak Creek Canyon.

Miles and miles of miles and miles ... Cottonwood, here we are!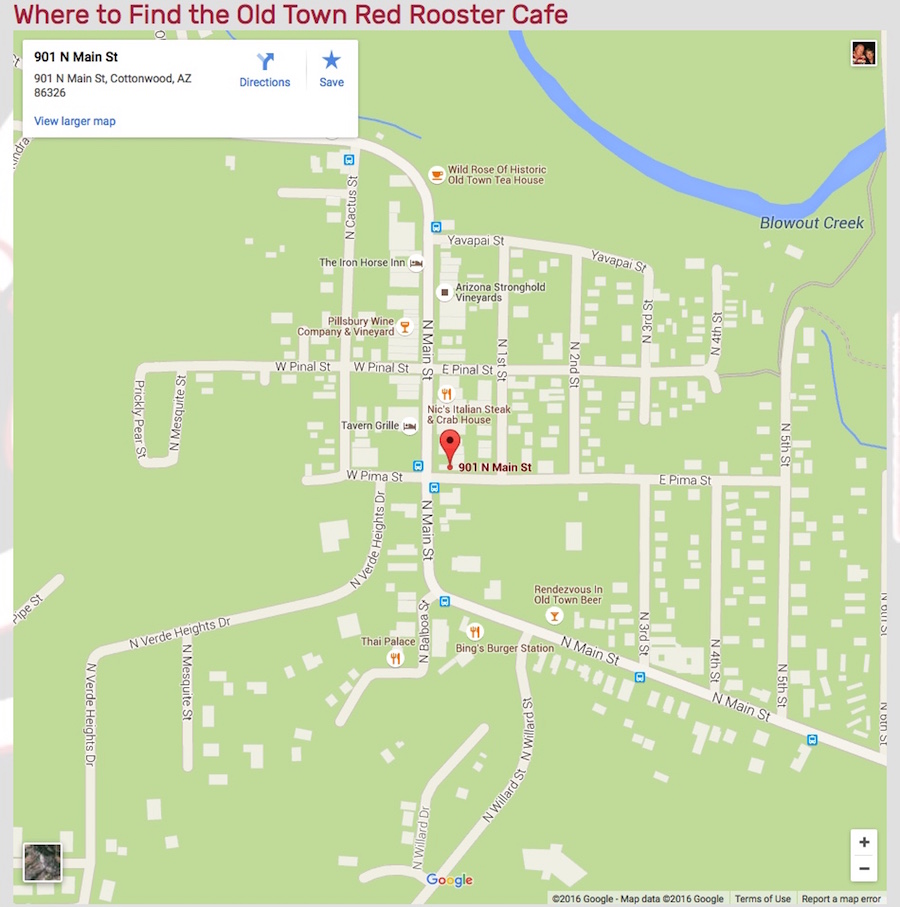 We will keep om looking!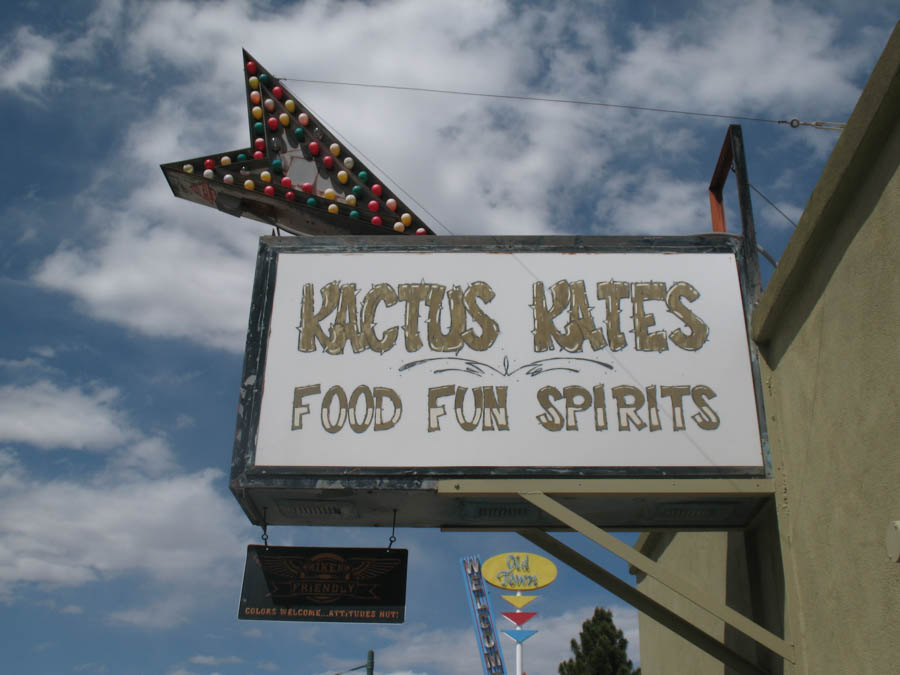 Great Biker Bar with excellent ratings! Time to shop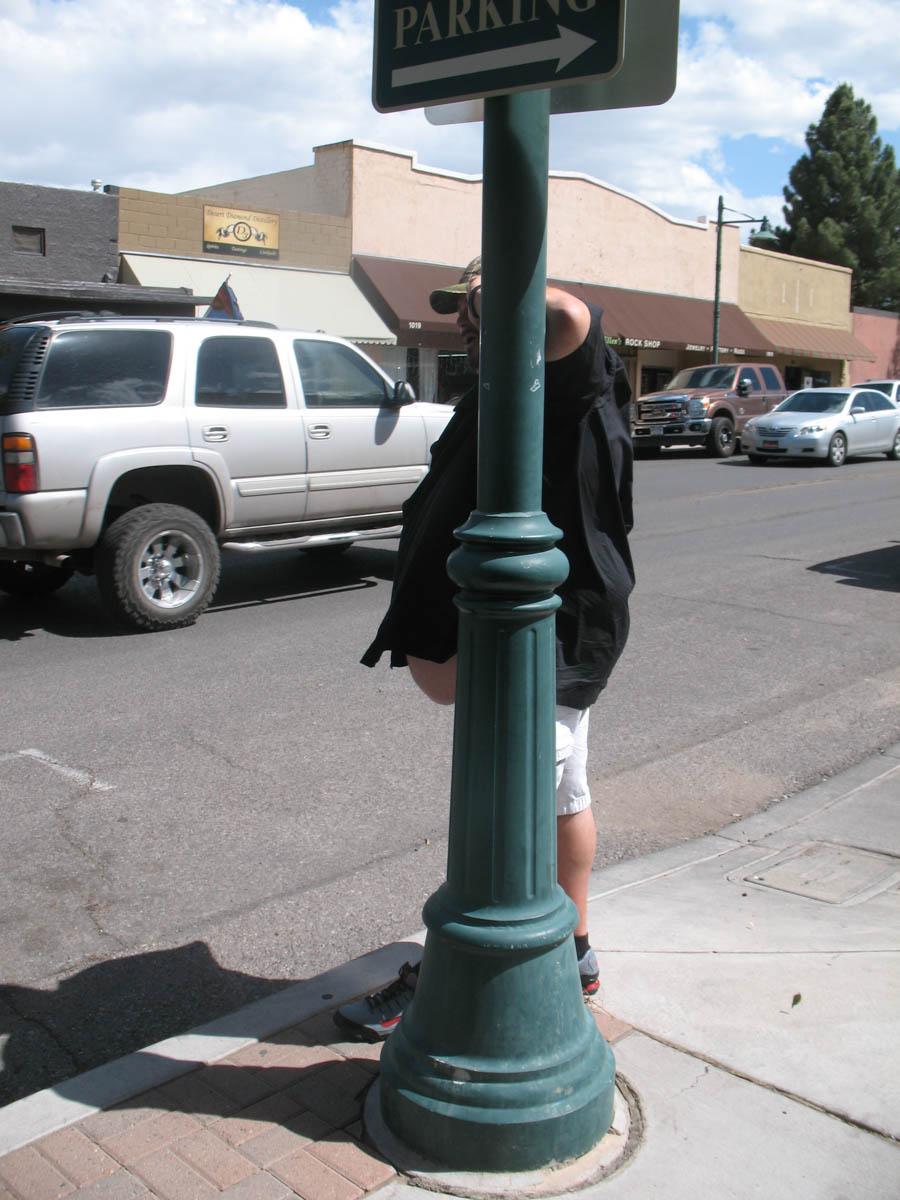 "Hello, Operator? Please send a Boy Scout to help us cross the street!"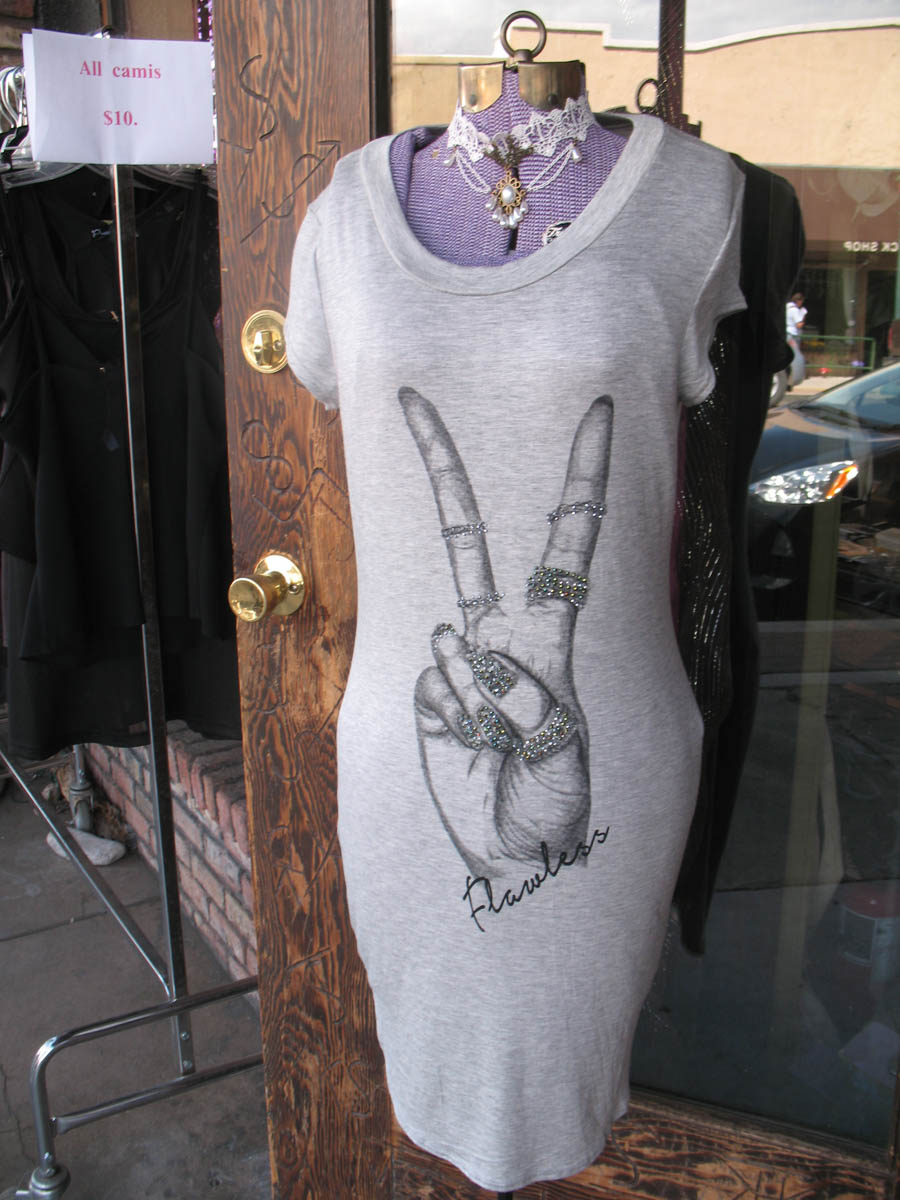 Shopping... Duh!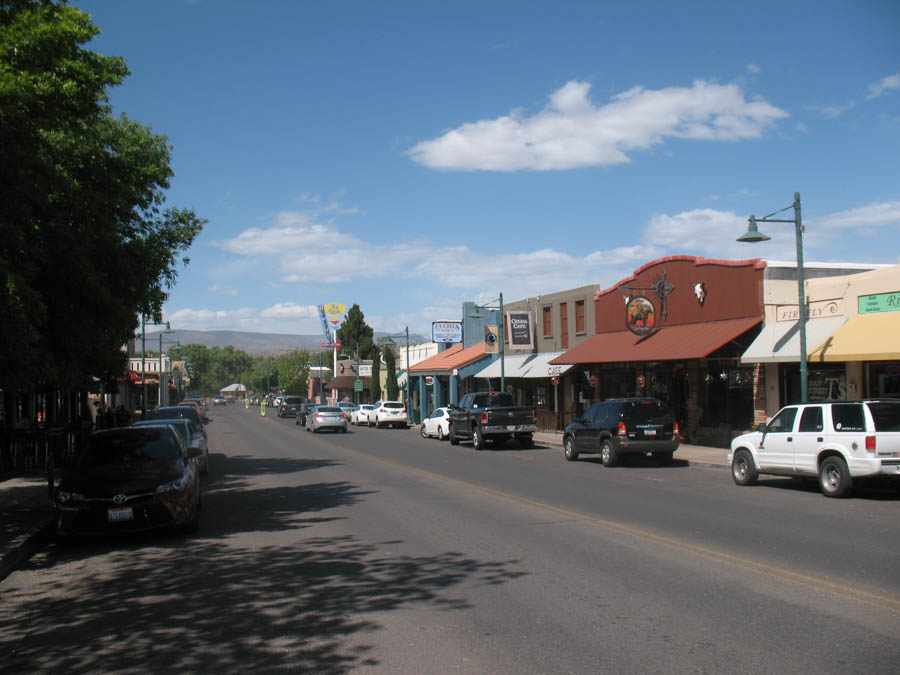 Goodbye Cottonwood... Jerome here we come!

Did You Know? - Jerome is a town in the Black Hills of Yavapai County in the State of Arizona. Founded in the late 19th century on Cleopatra Hill overlooking the Verde Valley, it is more than 5,000 feet (1,500 m) above sea level. It is about 100 miles (160 km) north of Phoenix along State Route 89A between Sedona and Prescott. Supported in its heyday by rich copper mines, it was home to more than 10,000 people in the 1920s. As of the 2010 census, its population was 444.
The town owes its existence mainly to two ore bodies that formed about 1.75 billion years ago along a ring fault in the caldera of an undersea volcano. Tectonic plate movements, plate collisions, uplift, deposition, erosion, and other geologic processes eventually exposed the tip of one of the ore bodies and pushed the other close to the surface, both near Jerome. In the late 19th century, the United Verde Mine, developed by William A. Clark, extracted ore bearing copper, gold, silver, and other metals from the larger of the two. The United Verde Extension (UVX) Mine, owned by James Douglas, Jr., depended on the other huge deposit. In total, the copper deposits discovered in the vicinity of Jerome were among the richest ever found in any time or place.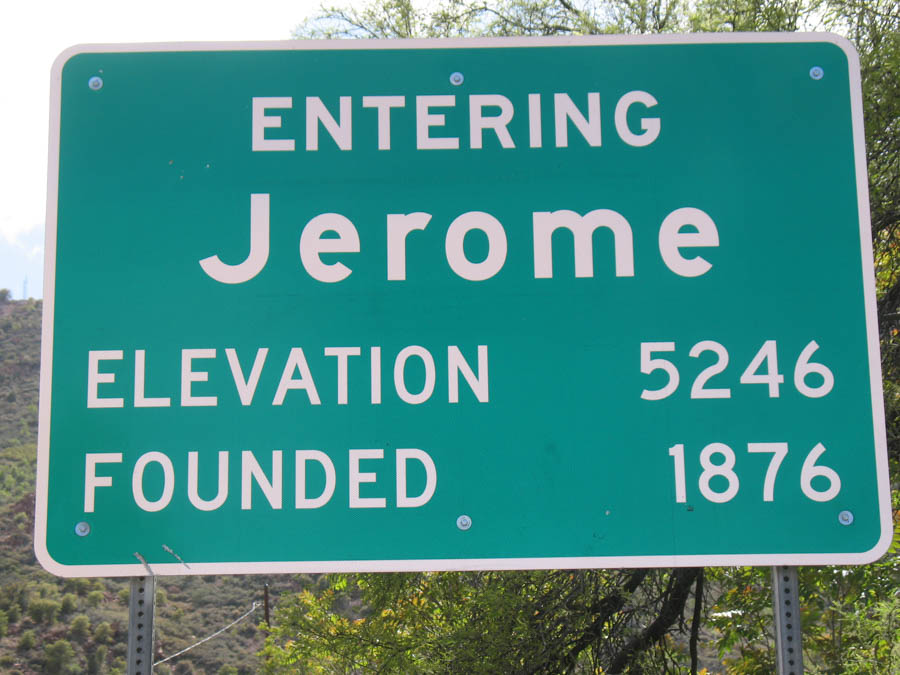 Population 440 as of 2010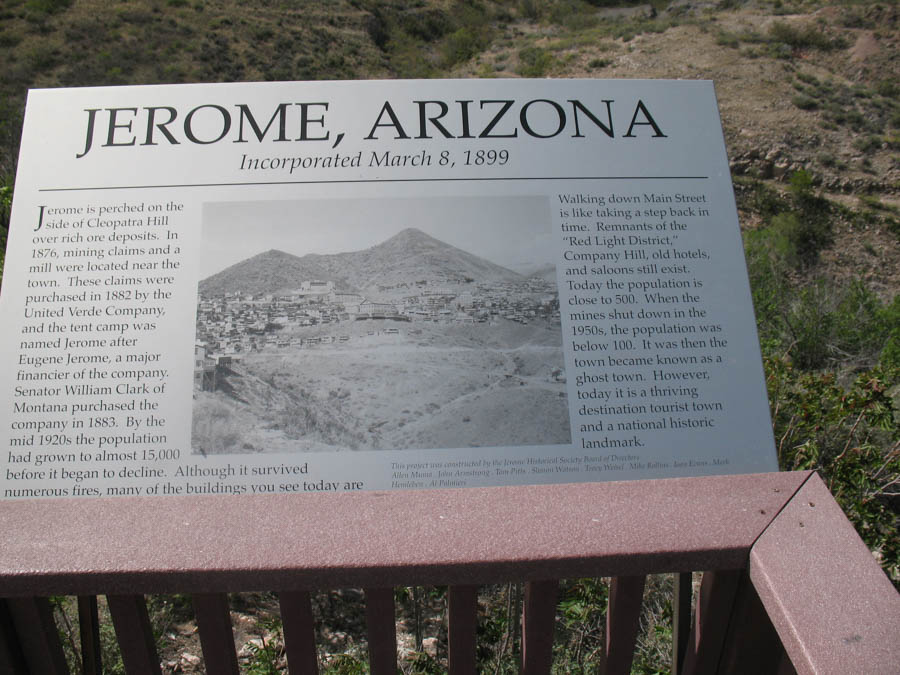 Historical signs abound!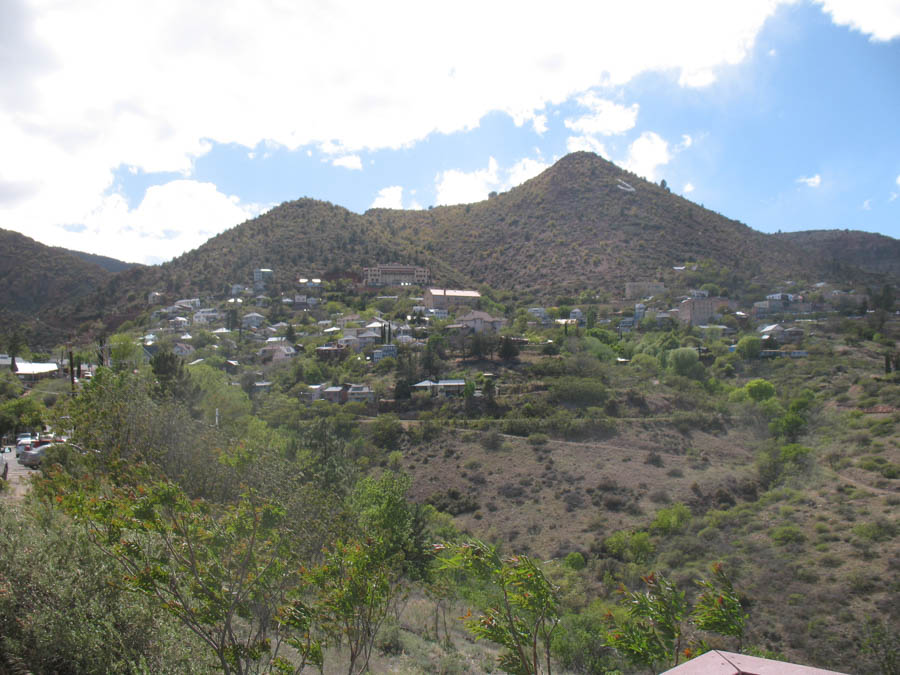 The miners settled on the surrounding hills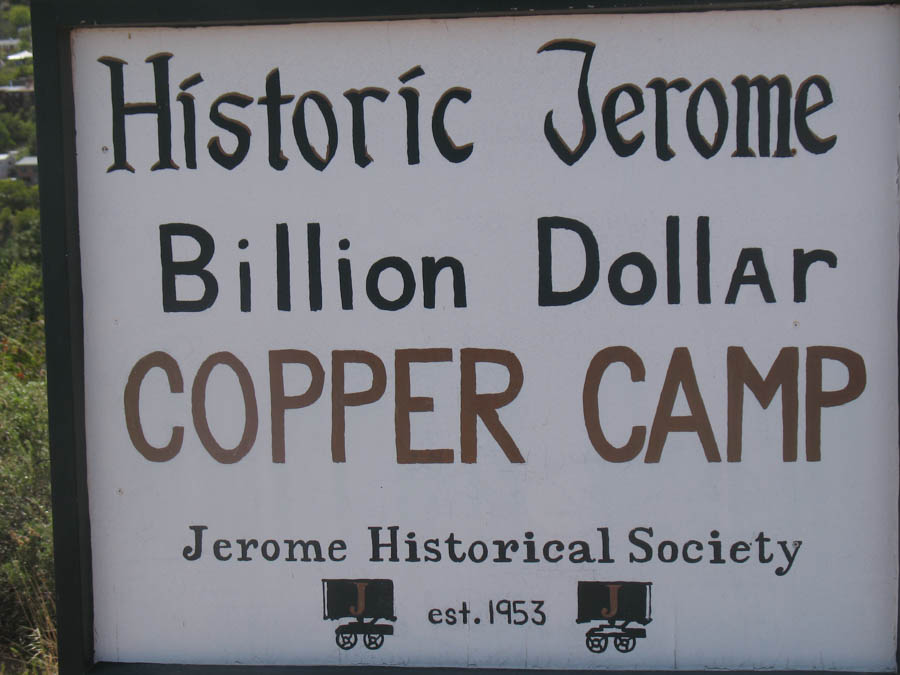 Indeed will over $1,000,000,000 in copper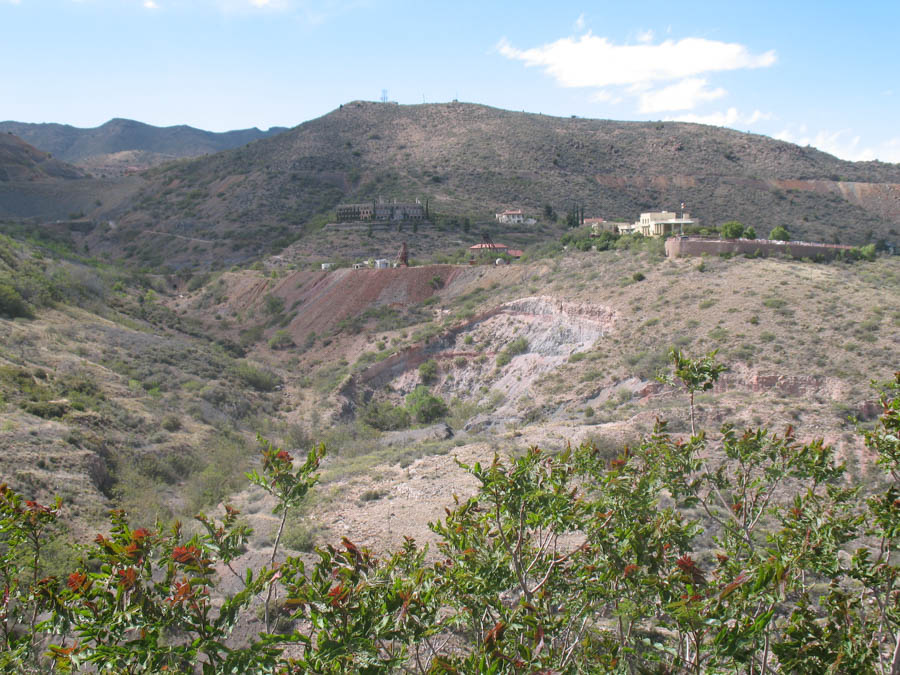 Beautiful countryside
Did You Know? - Production at the mines, always subject to fluctuations for various reasons, boomed during World War I, fell thereafter, rose again, then fell again during and after the Great Depression. As the ore deposits became exhausted, the mines closed, and the population dwindled to fewer than 100 by the mid-1950s. Efforts to save the town from oblivion succeeded when residents turned to tourism and retail sales. Jerome became a National Historic Landmark in 1967. In the early 21st century, Jerome has art galleries, coffee houses, restaurants, wineries, and a state park and local museum devoted to mining history.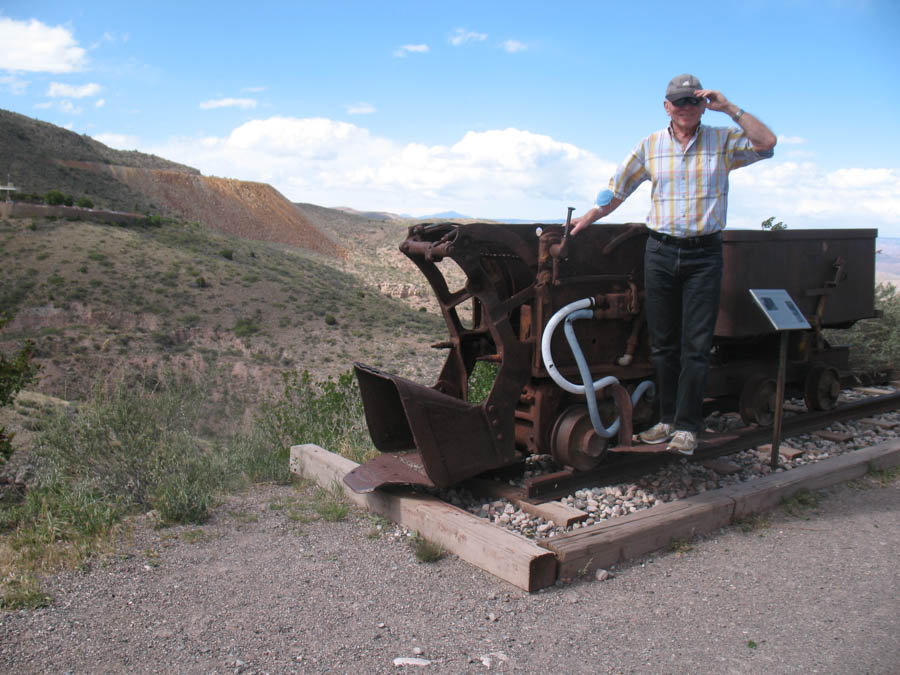 Box Car Bob rides the rails!

I can see clearly now!

"J" marks the spot

Tourists love the colors

The old mine stills stands!

Saloon... The operative word

Must have beer!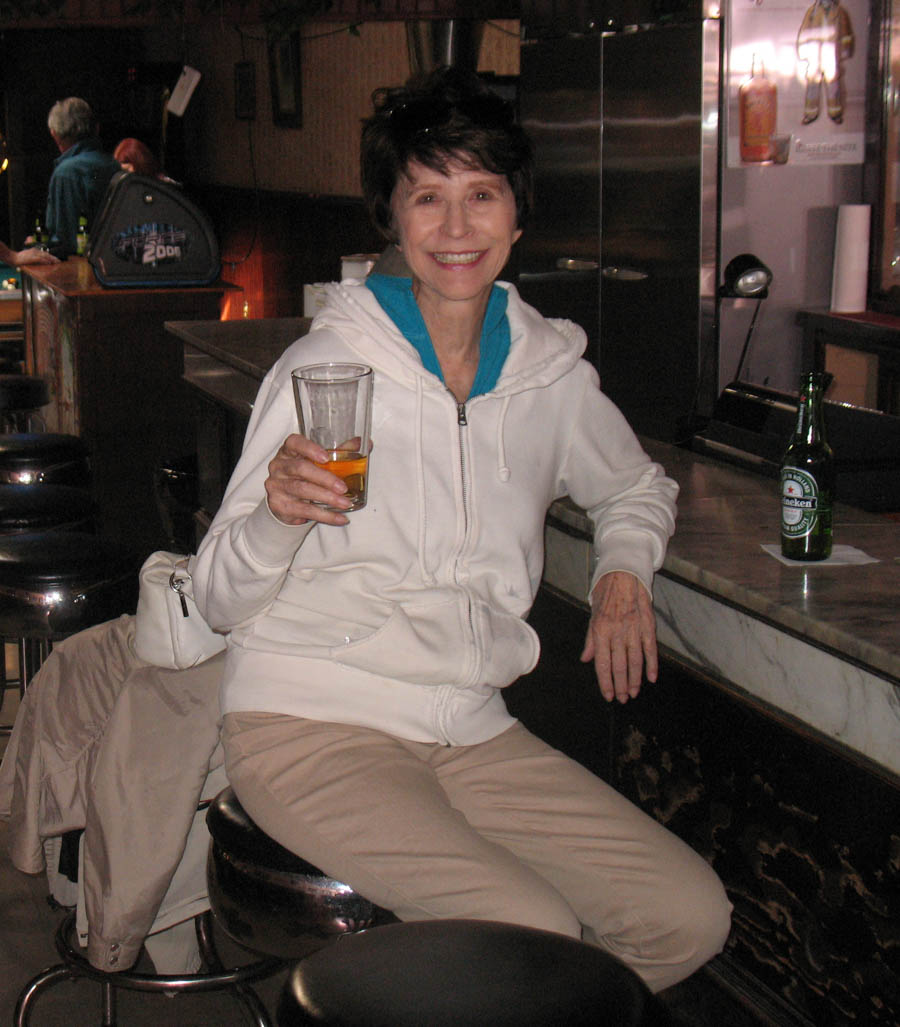 All smiles at Paul & Jerry's Saloon

"Knock knock! Let us it after all it is 6:00 am"


One can see forever

Glad the runabout was there... The streets are a tad narrow!

Our hotel room was "rustic"

Home Sweet Home
April 16th We Depart Jerome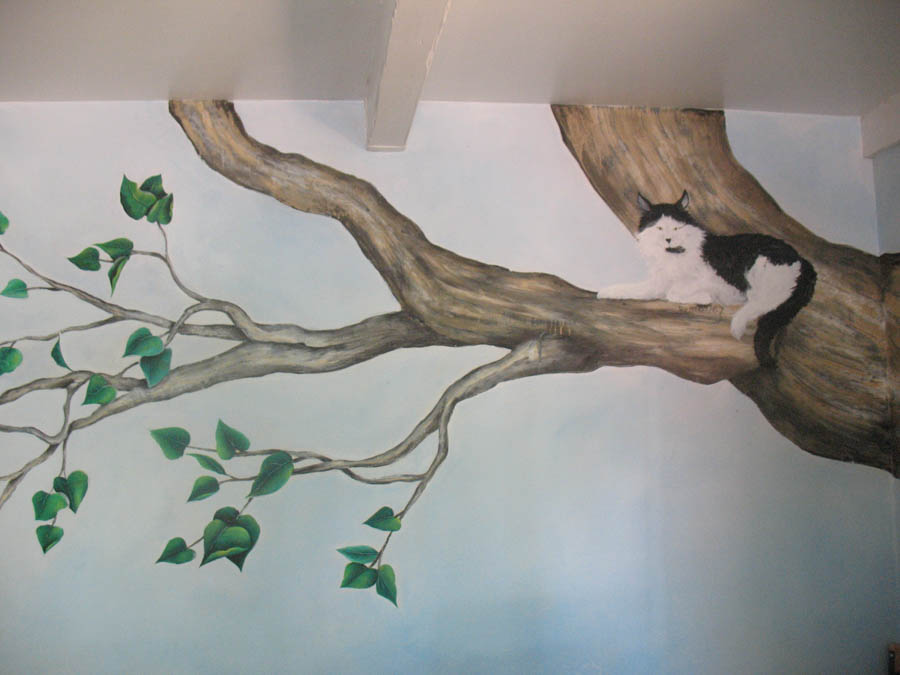 Here Kitty Kitty Kitty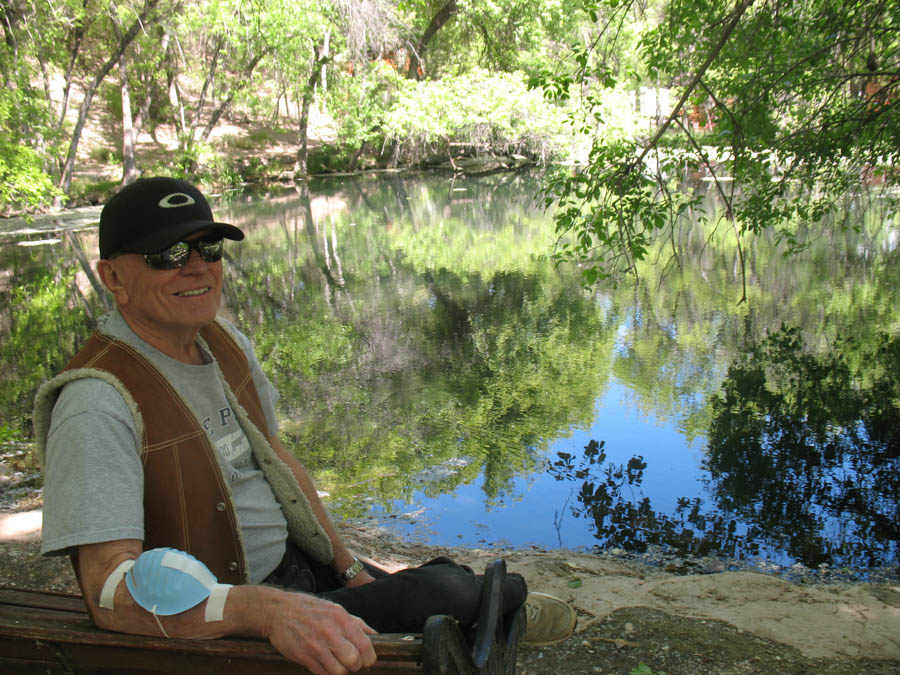 Enjoying nature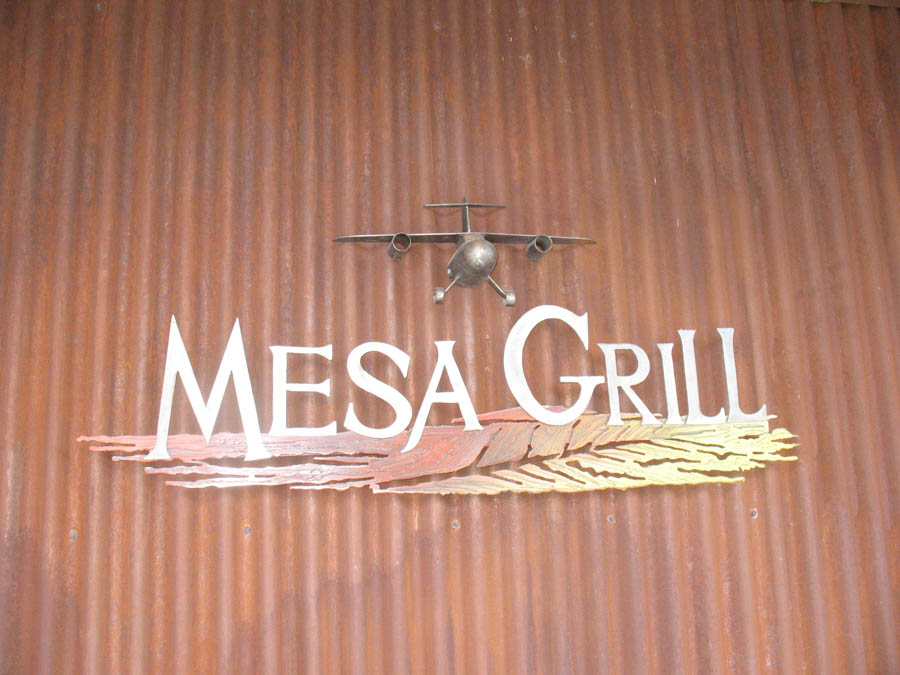 Located at the Sedona Airport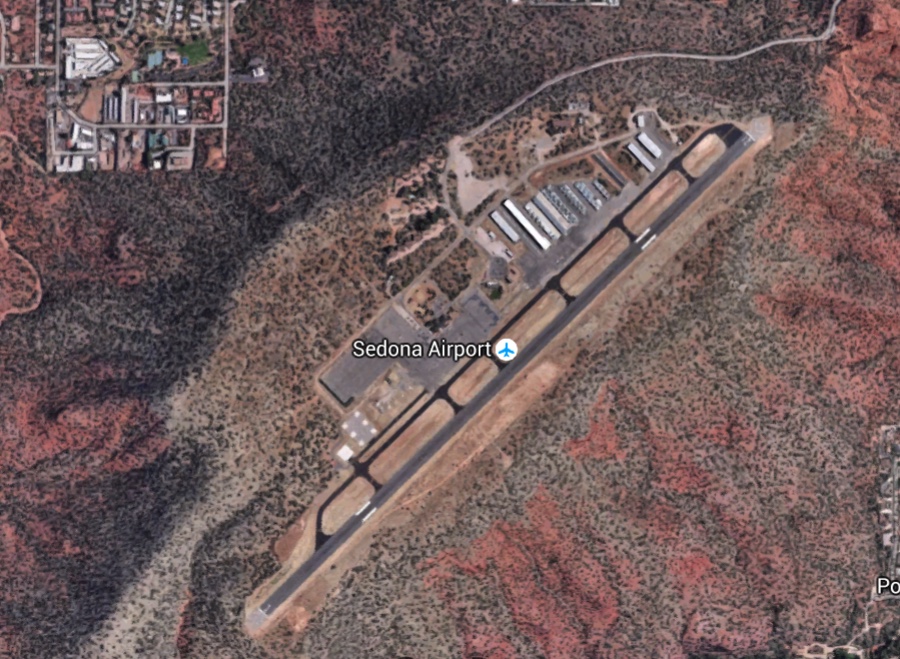 Watch the airport activities while you dine

Oops, we said "dine"
Did You Know? - Welcome to Mesa Grill, on top of Airport Mesa in beautiful Sedona, Arizona. Mesa Grill is a breakfast, lunch and dinner restaurant in a contemporary western setting designed by one of Arizona's most noted architectural firms, the Design Group. It is open and airy, with expansive windows of special environmental glass overlooking gardens, the airport and the red rocks of Sedona. It has a full bar with seating for twelve, indoor dining for 60, covered outdoor dining for 40 and additional outdoor patio dining under the shade of 200 year old Pine trees. Our beautifully landscaped exterior creates a stunning setting for weddings, parties, receptions, and more.
Mesa Grill Sedona is an American Grill offering many traditional favorites such as all-American breakfasts and lunches with delectable omelets, egg dishes, burgers, sandwiches, steaks and seafood and more.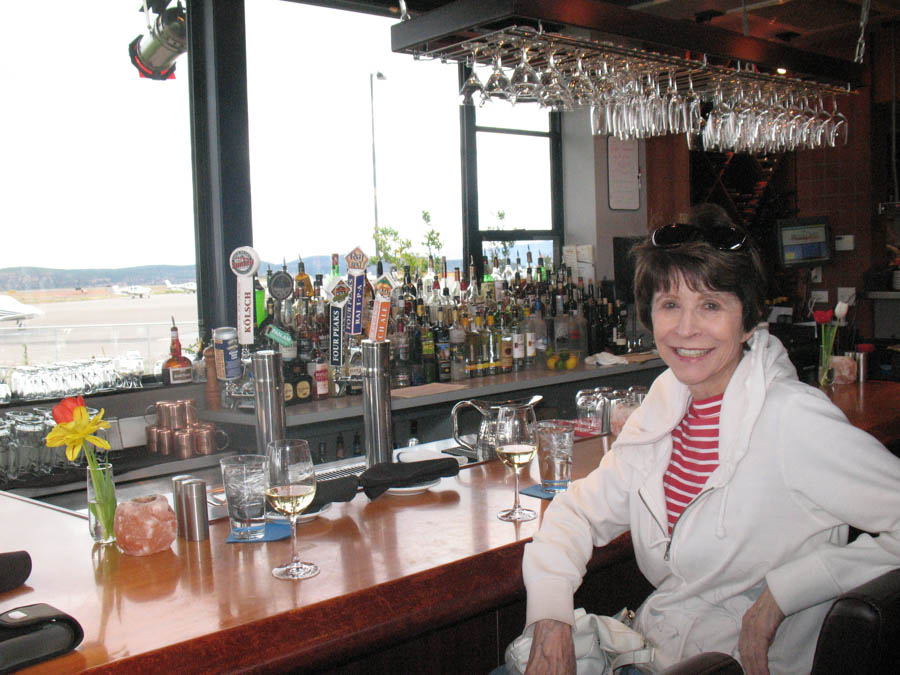 A glass of wine will brighten up the day!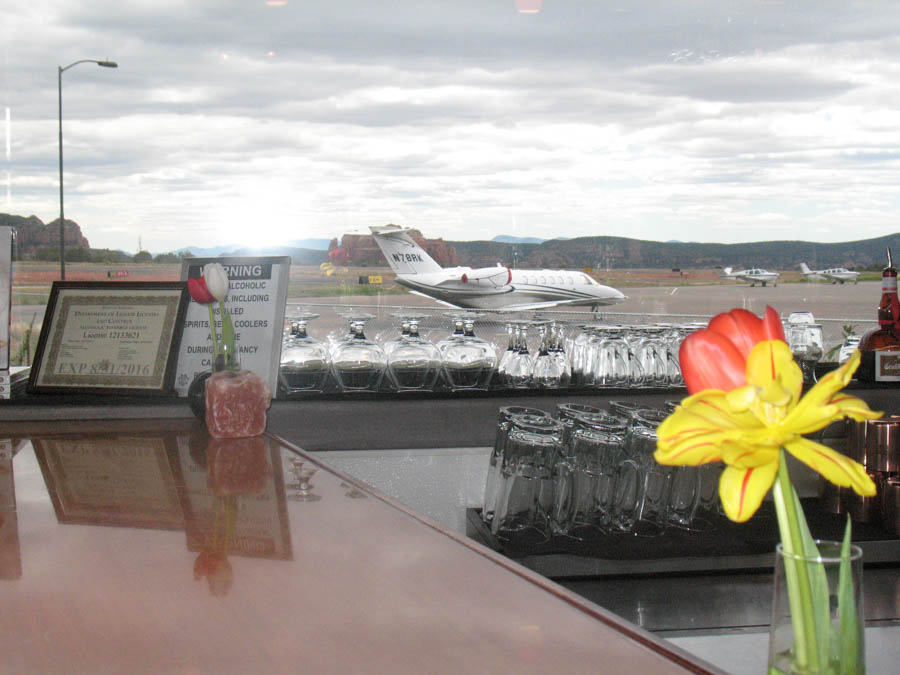 What a view...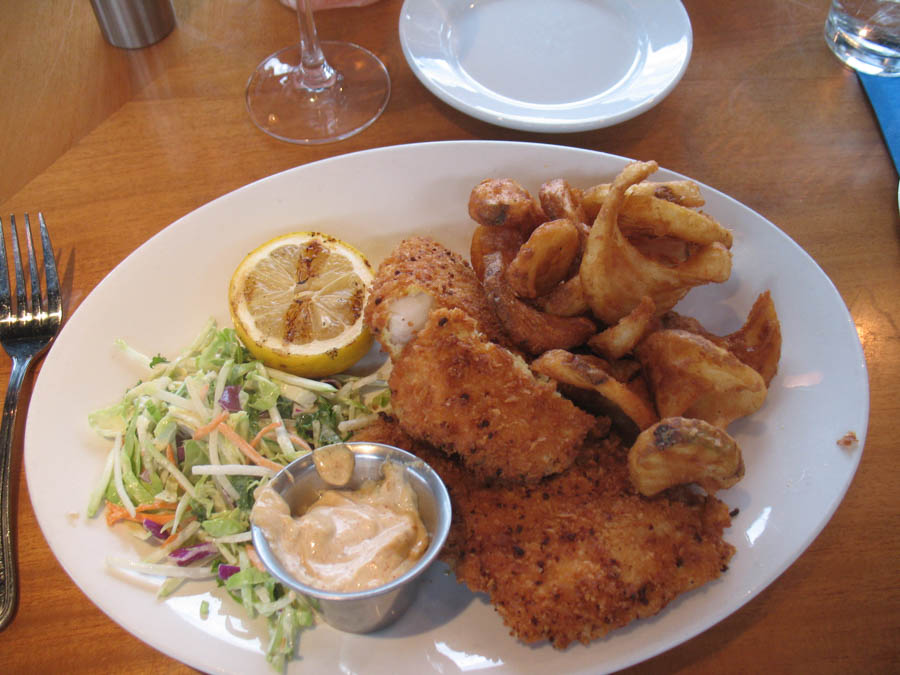 Yummy! Just like their picture


Website photos seem unreal.... But on a sunny day!

The jet is about to take off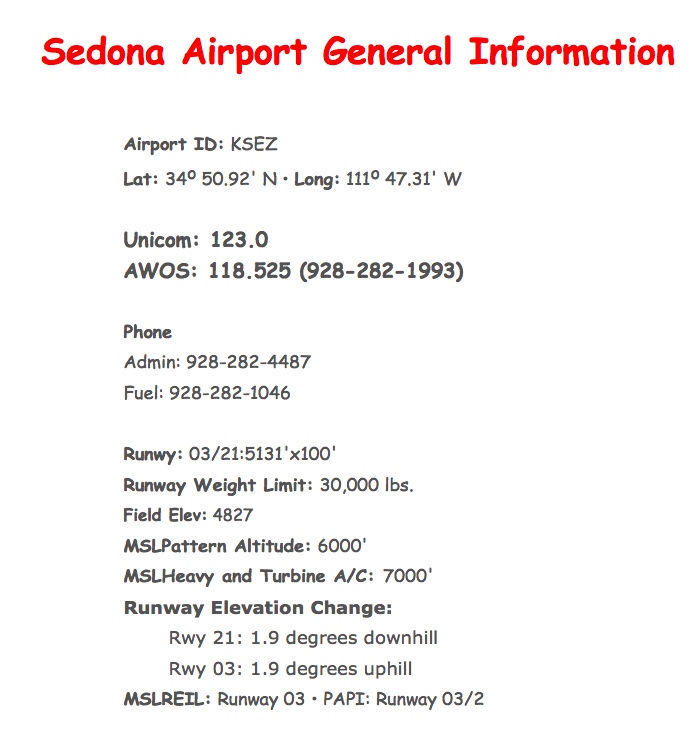 Listen to the local airport weather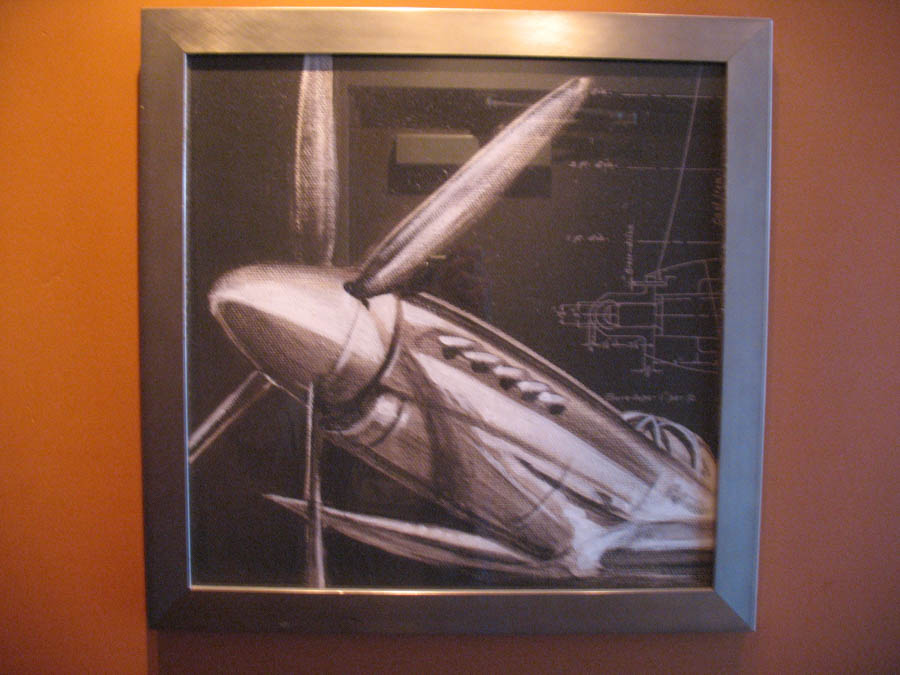 P-51's went everywhere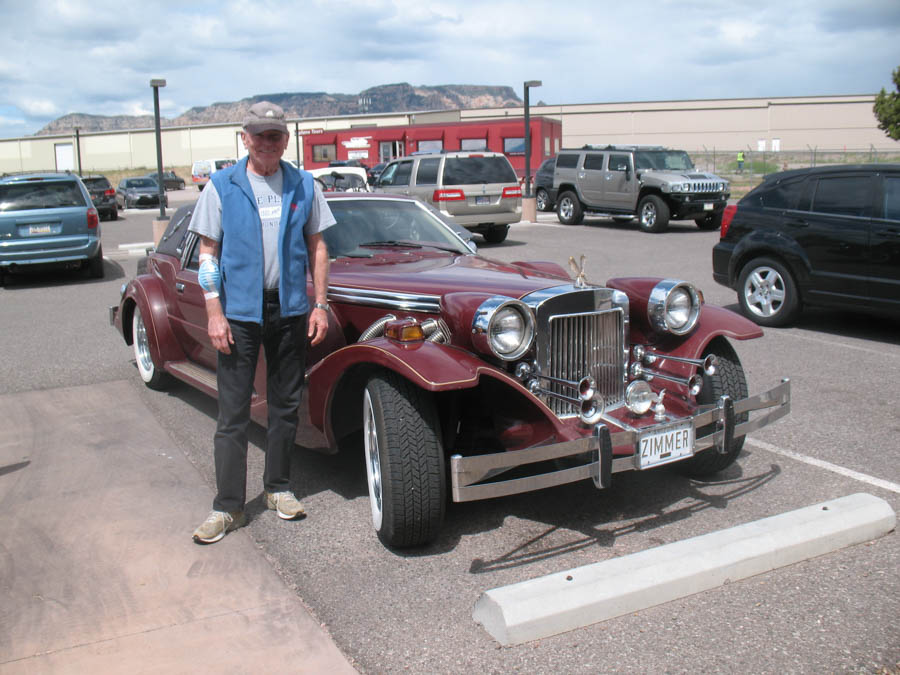 Bob traded runabouts! Mr. Zimmer does not know it yet!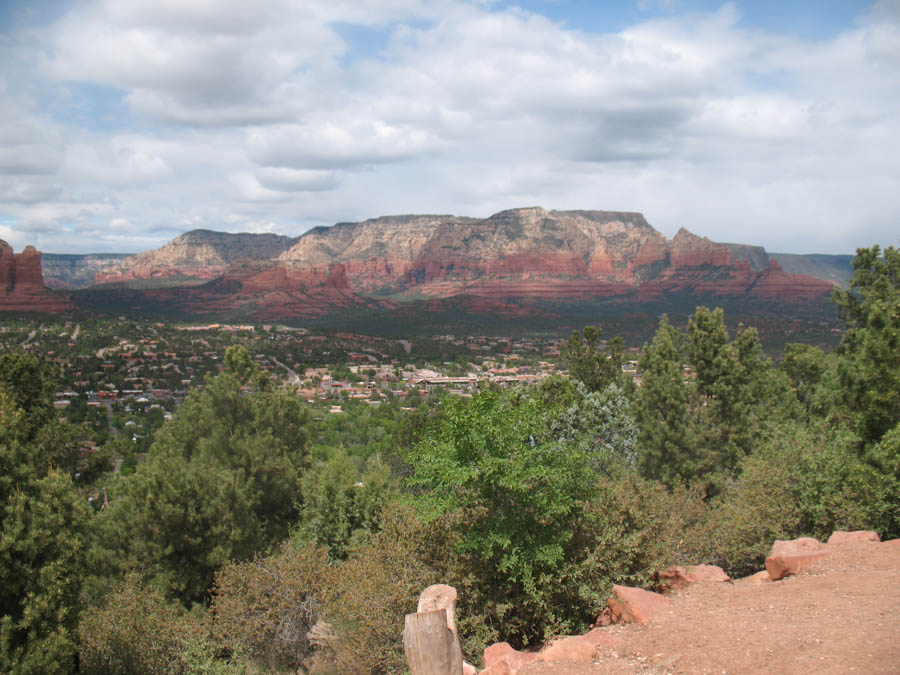 The rocks are indeed red!
Did You Know? - Sedona /sᵻˈdoʊnə/ is a city that straddles the county line between Coconino and Yavapai counties in the northern Verde Valley region of the U.S. state of Arizona. As of the 2010 census, its population was 10,031.
Sedona's main attraction is its array of red sandstone formations. The formations appear to glow in brilliant orange and red when illuminated by the rising or setting sun. The red rocks form a popular backdrop for many activities, ranging from spiritual pursuits to the hundreds of hiking and mountain biking trails.
Sedona was named after Sedona Arabella Miller Schnebly (1877–1950), the wife of Theodore Carlton Schnebly, the city's first postmaster, who was celebrated for her hospitality and industriousness. Her mother, Amanda Miller, claimed to have made the name up because "it sounded pretty."

Cathedral Rock is breathtaking

On a perfectly lit sunset...
Did You Know? - Cathedral Rock is a famous landmark on the Sedona, Arizona skyline, and is one of the most-photographed sights in Arizona, USA.[1] Cathedral Rock is located in the Coconino National Forest in Yavapai County, about a mile (1.6 km) west of Arizona Route 179, and about 2.5 miles (4.0 km) south of the "Y" intersection of Routes 179 and 89A in uptown Sedona. The summit elevation of Cathedral Rock is 4,921 feet (1,500 m).
The Cathedral Rock trail (USFS Trail #170) is a popular short, steep ascent from the Back O' Beyond trailhead to the saddle points or "gaps" in Cathedral Rock.
Geologically, Cathedral Rock is carved from the Permian Schnebly Hill formation, a redbed sandstone formed from coastal sand dunes near the shoreline of the ancient Pedregosa Sea. Ripple marks are prominent along the lower Cathedral Rock trail, and a black basalt dike may be seen in the first saddle.
Cathedral Rock was called "Court House Rock" on some early maps, and Courthouse Butte was called "Church House Rock", which has caused endless confusion ever since.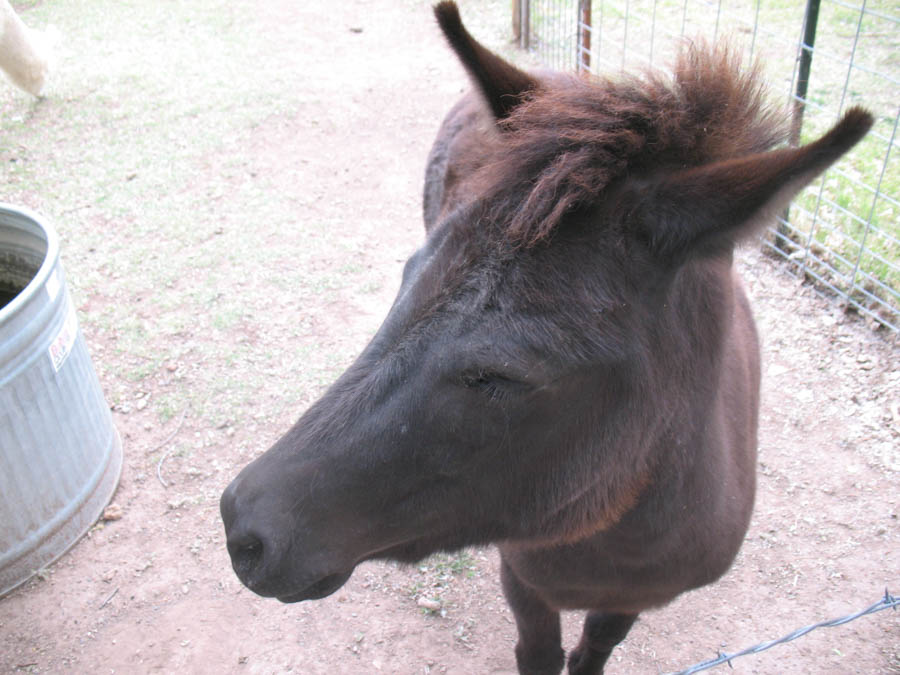 "Hi there"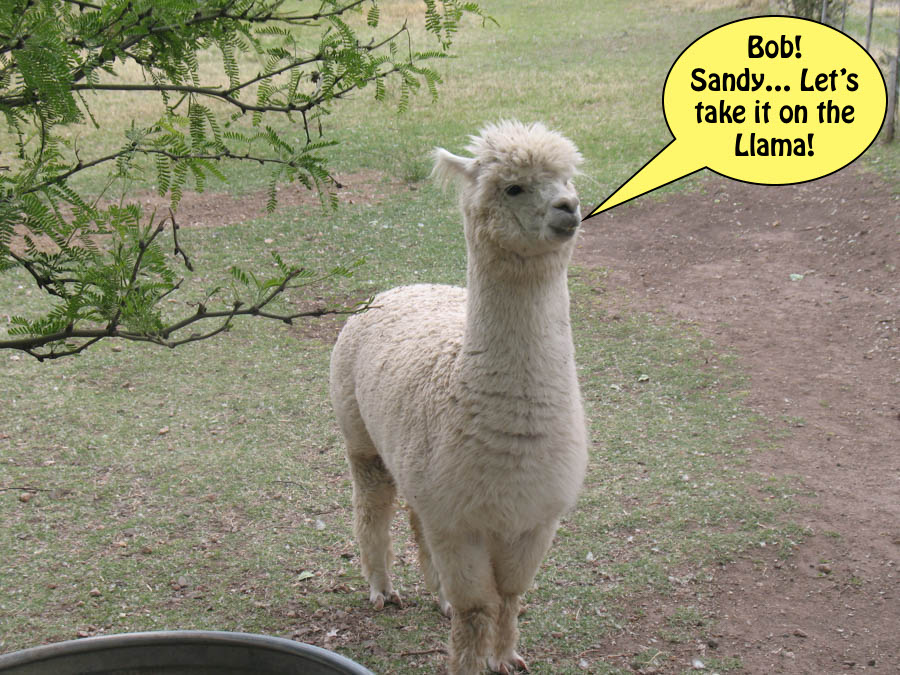 Looks like he is ready to go!

"I am a handsome baby!"

The country is magnificent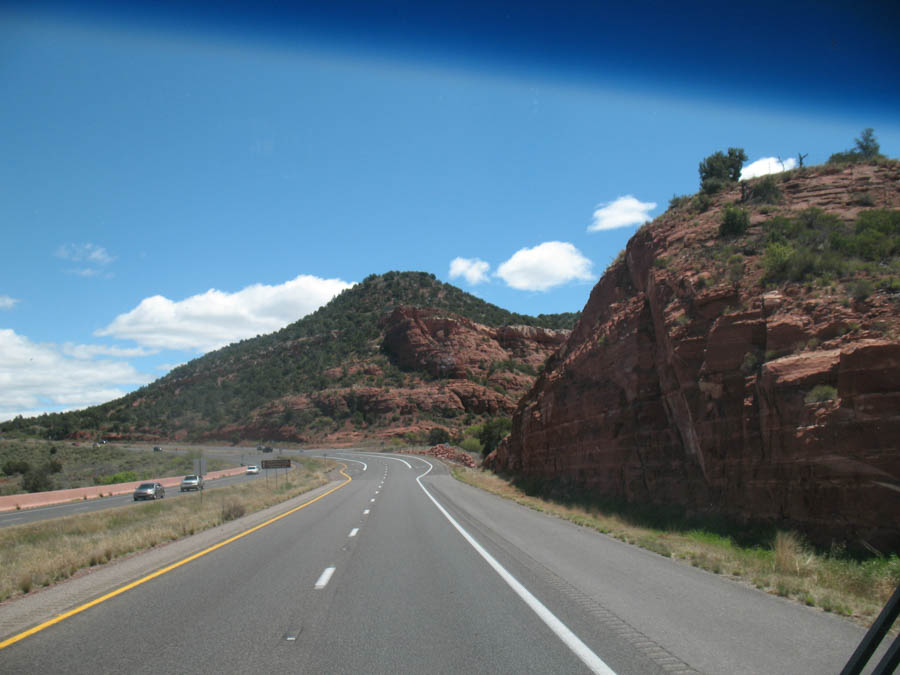 The weather is perfect!

The dark red layers were magical!

Just a few millions of years of rock formations here!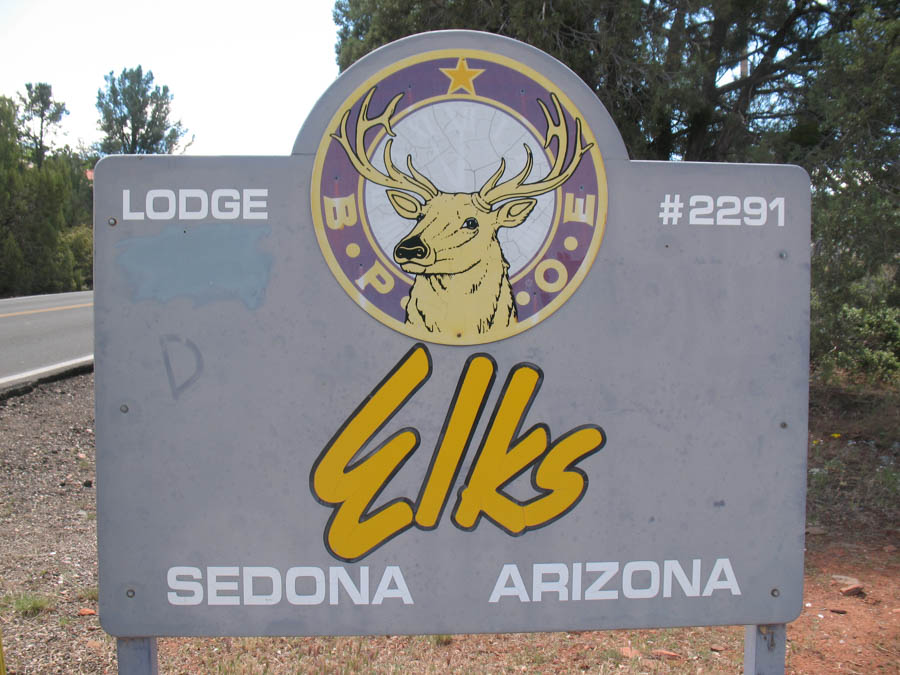 Civilization Read about the Sedona Elks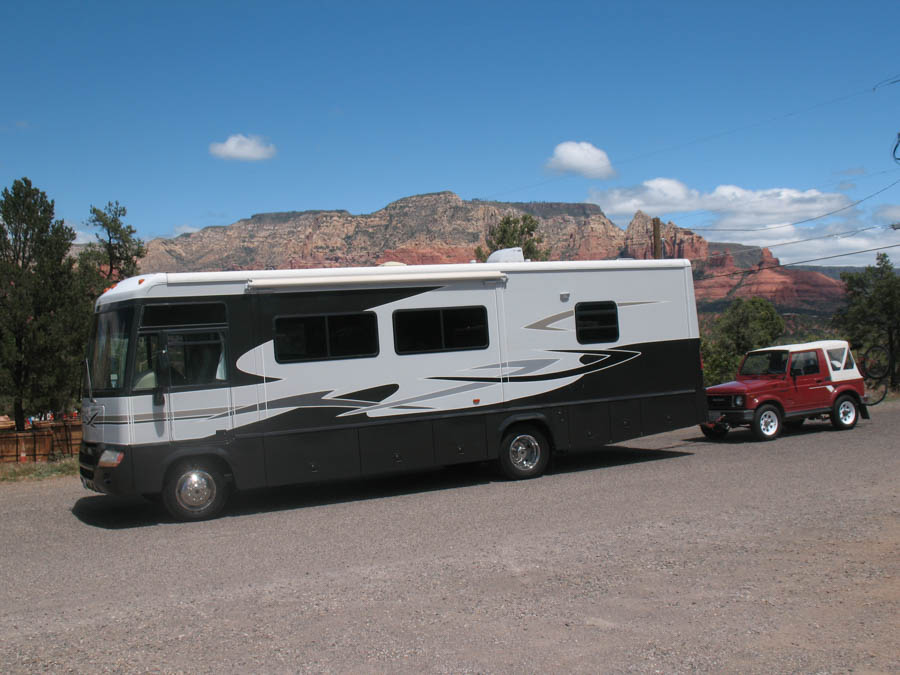 The rig is ready to rest!

Nice taken care of and with RV hookups!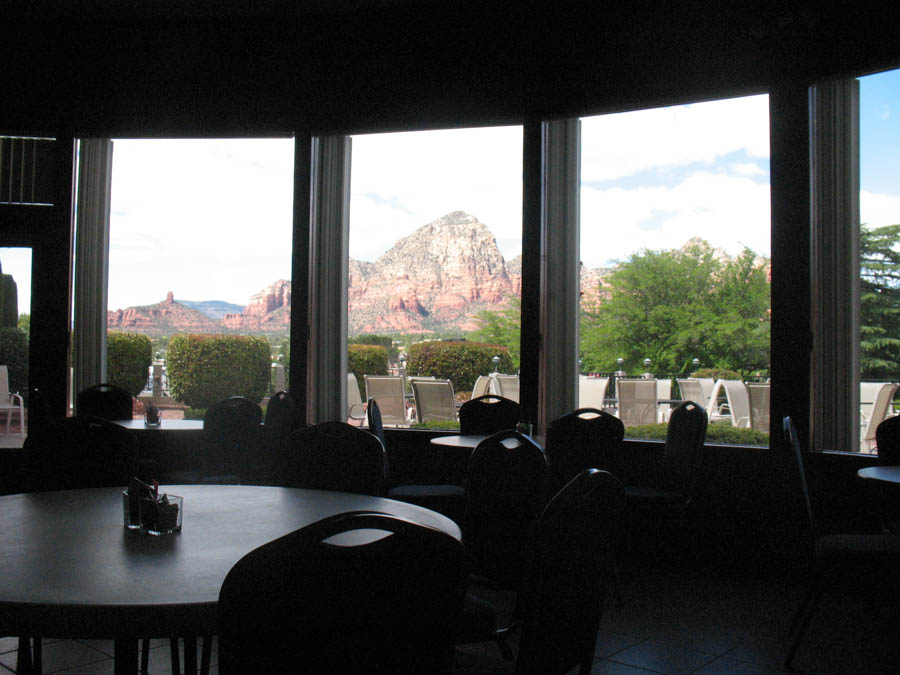 The view was quite amazing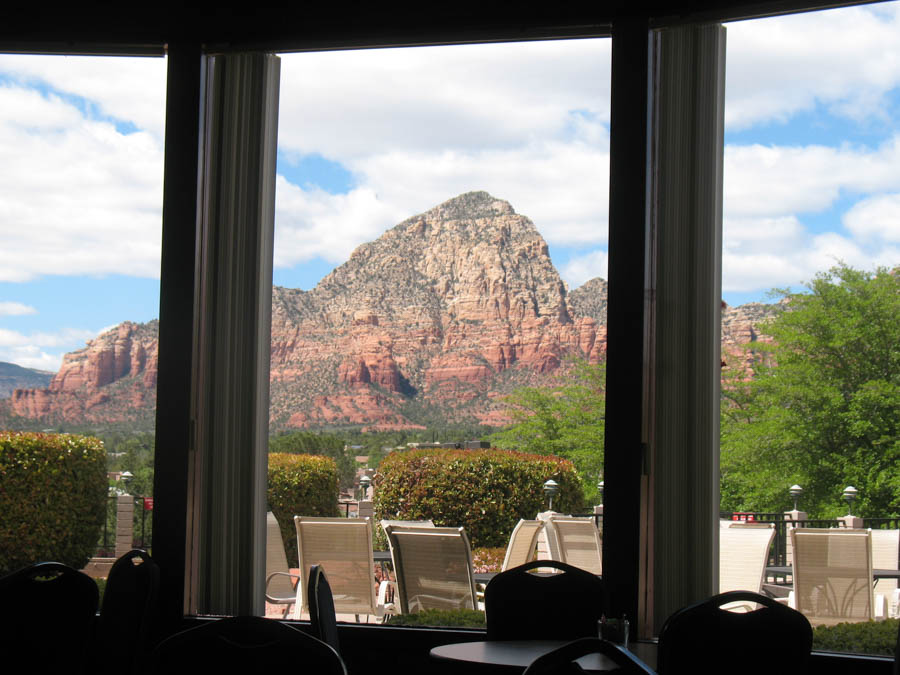 Like watching TV!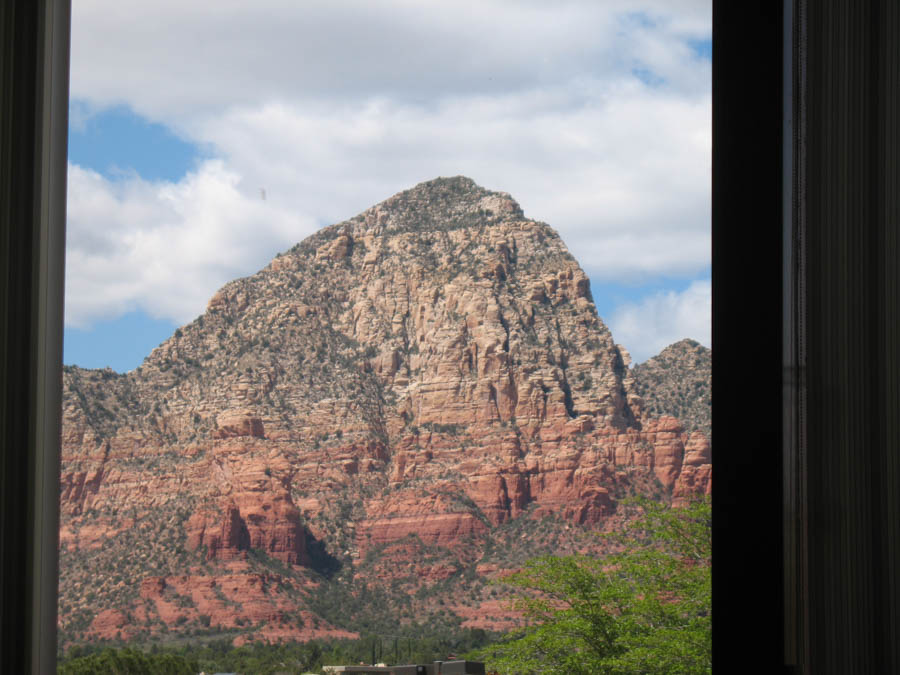 Count the rings and see how old it is!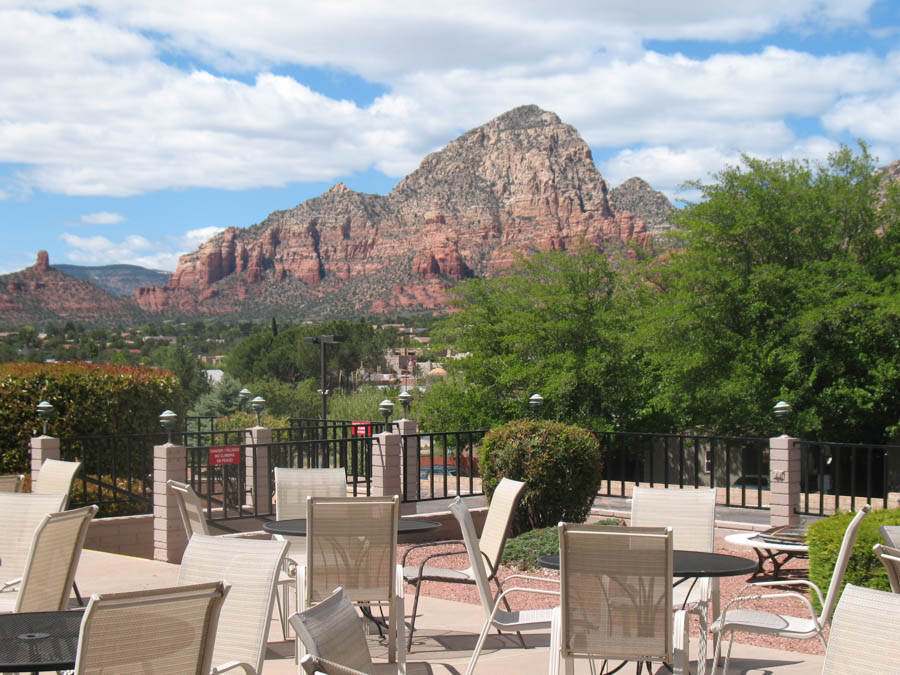 Time for a nap!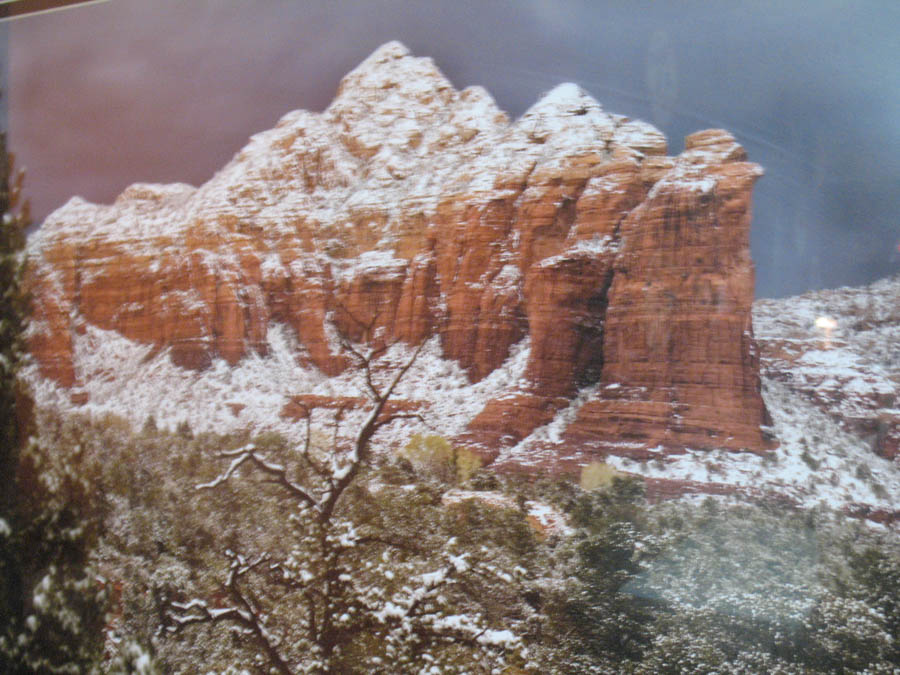 The pictures on the inside reveal another scenario possibility (in winter)

So relaxing... I think I will....... Z-z-z-z-z-z-z-z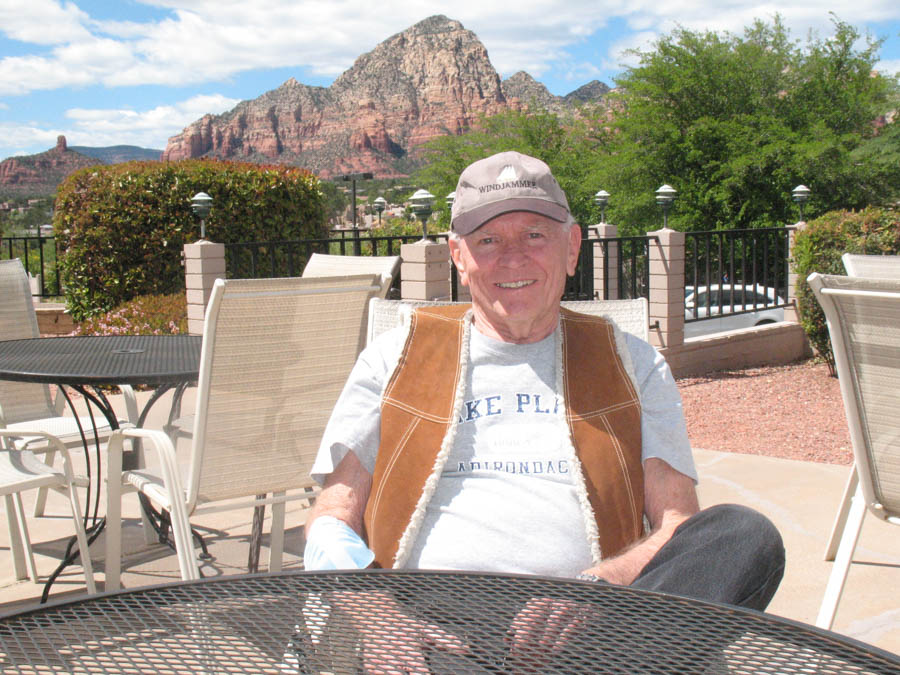 Finally out from behind the wheel!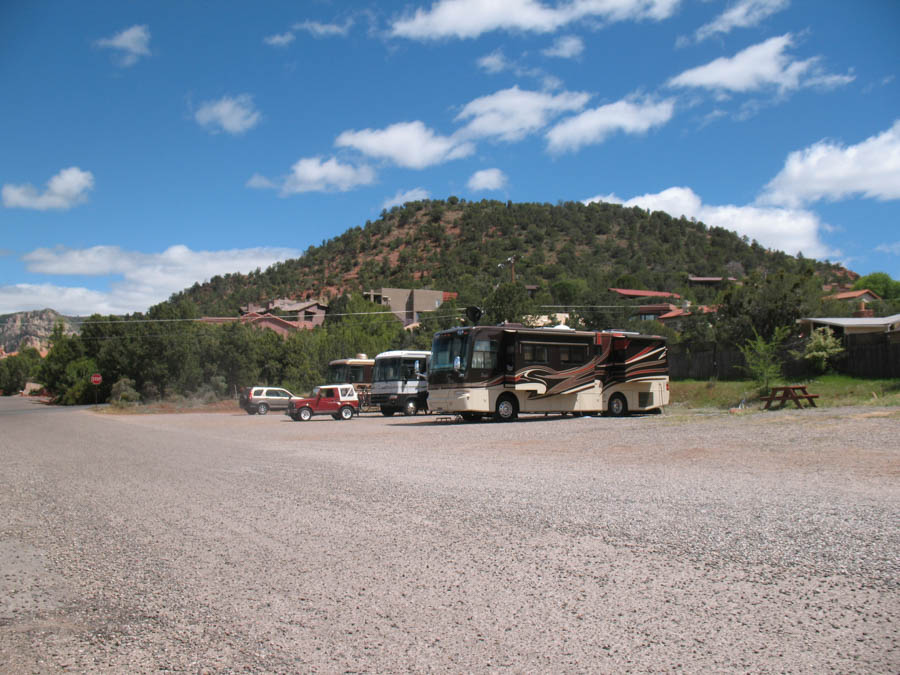 We found a place to lite! The Elks have a lot of property.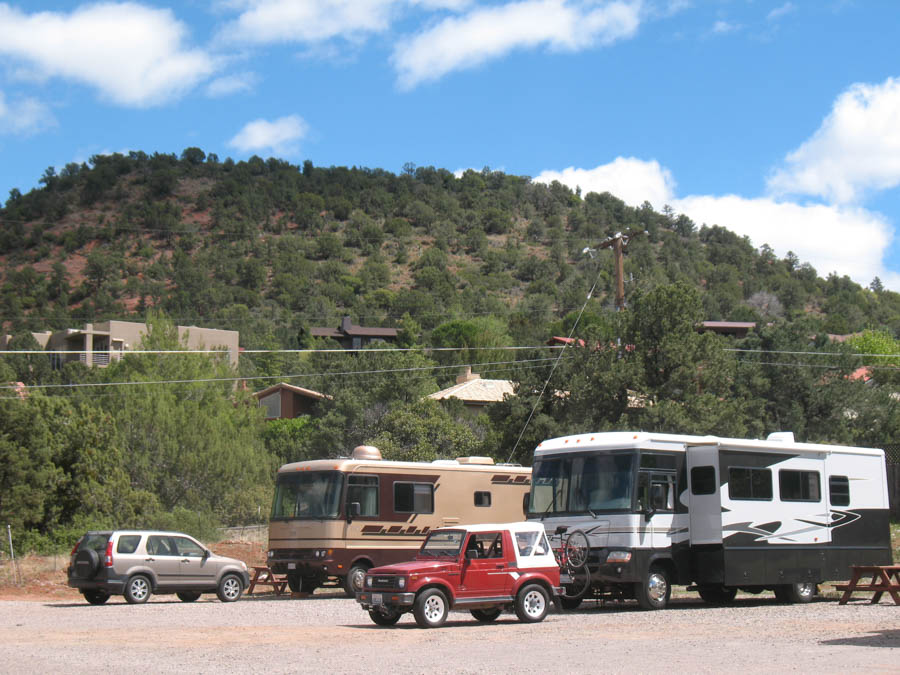 Open air!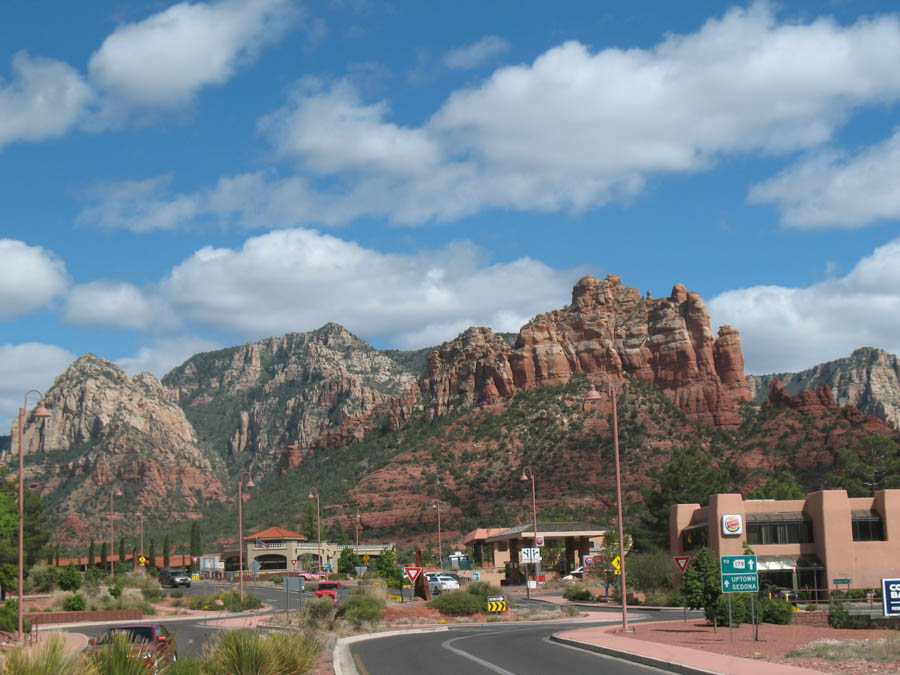 A drive through the city reveals nicely maintained roads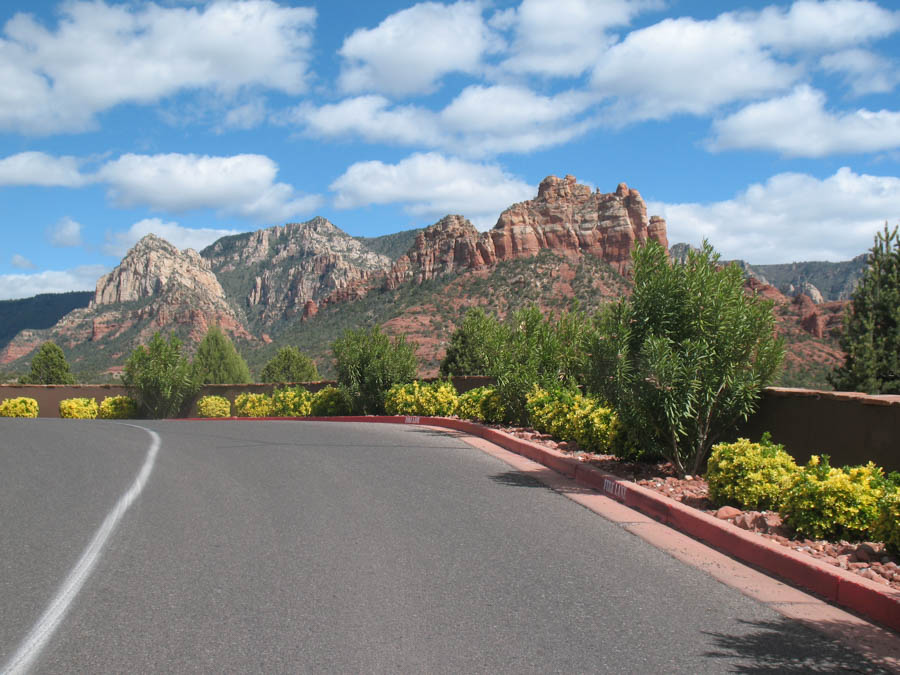 Every time you turn your head a magnificent view appears!

Mother Nature went wild!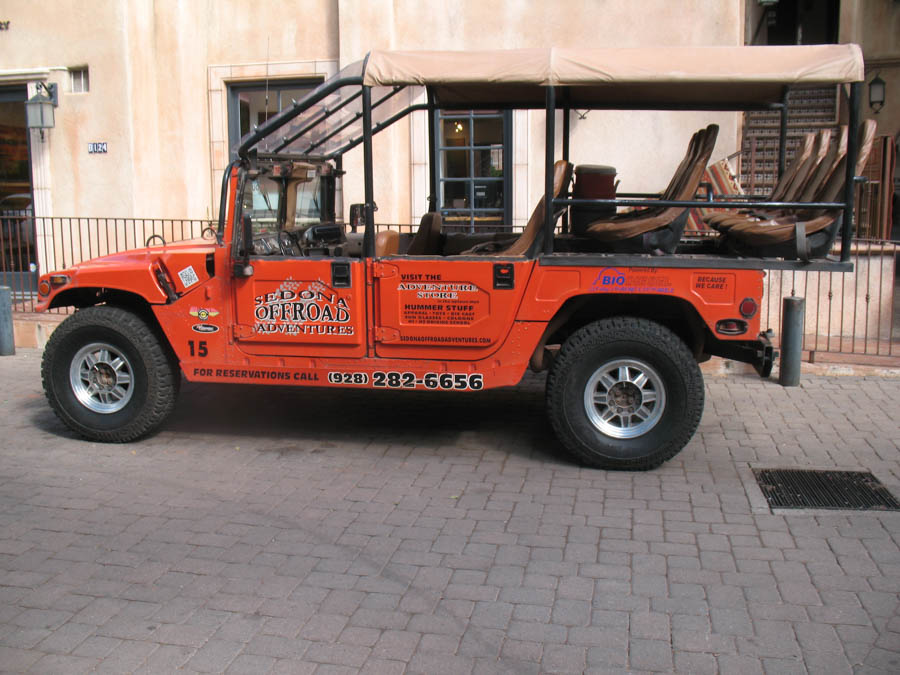 Hang on for Mr. Toad's Wild Ride!

Shops... Sandy... Both start with an "S"
Coincidence, we think not!

The artists of Sedona are all over

Race you to the top?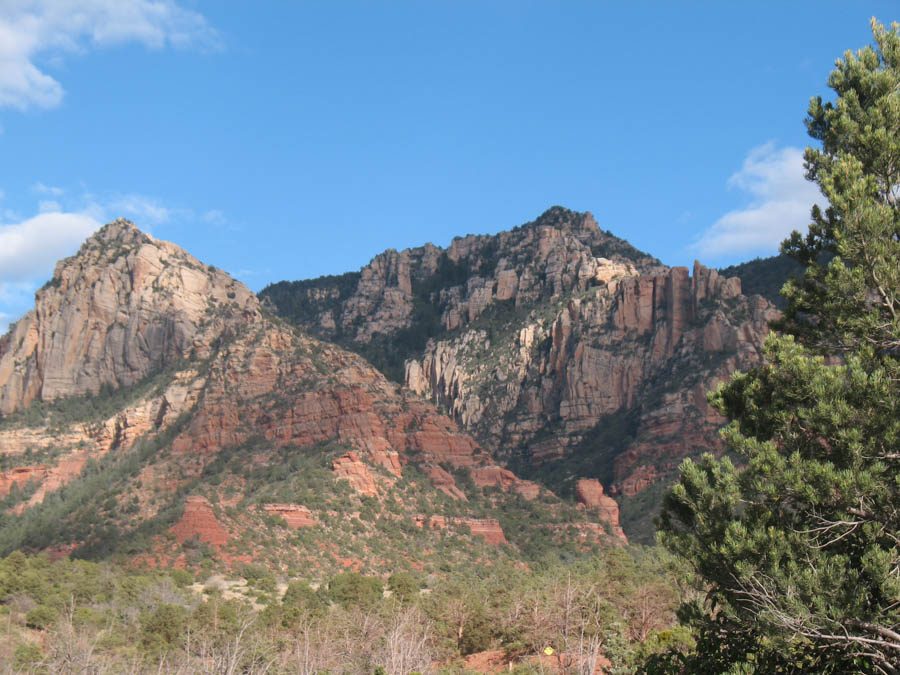 "We reconsidered the challenge"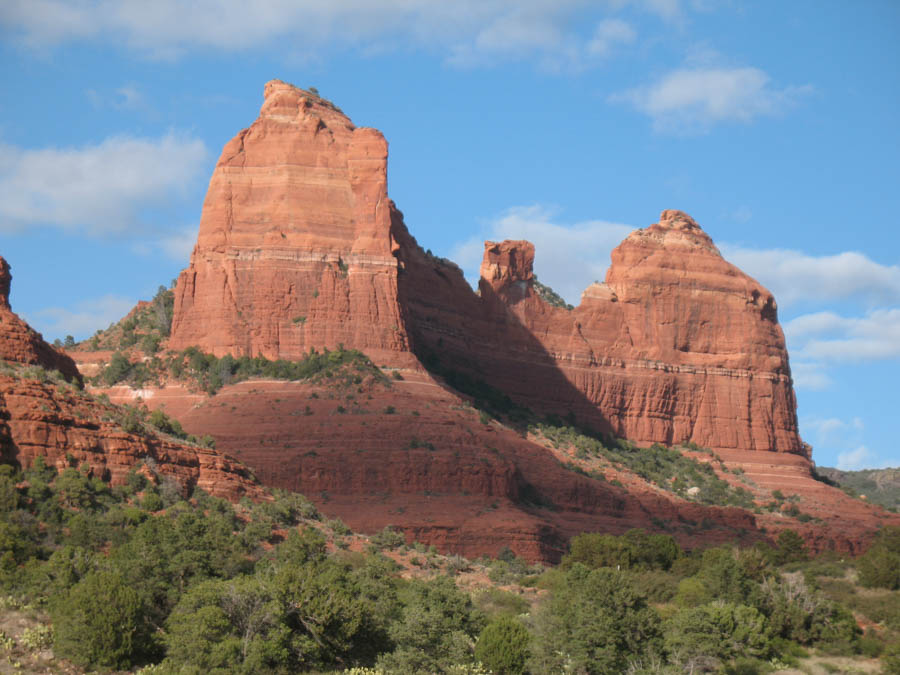 Just amazing!