So... Where Is Greece?? (Page One )
Lots of "interesting" neighbors. Athens is 6,901 miles from Los Angeles so it was a lenghty flight! Rumor has it Bob only said "Are we there yet... I have to tinkle" about 234 times!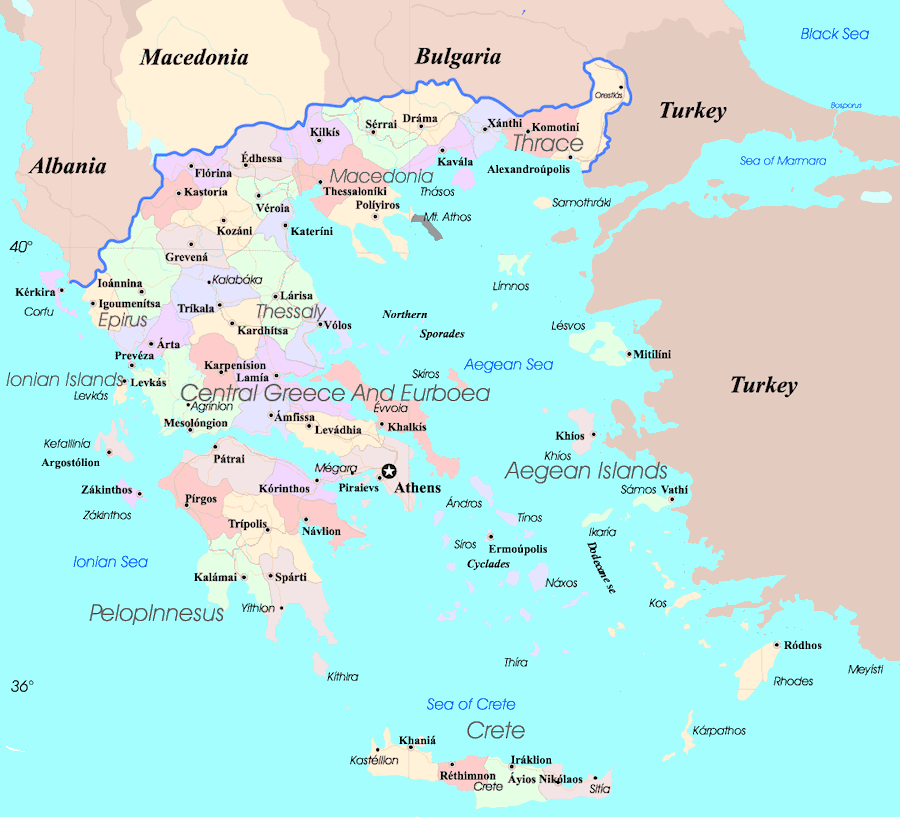 Did You Know? - Greece has the longest coastline on the Mediterranean Basin and the 11th longest coastline in the world at 13,676 km (8,498 mi) in length, featuring a vast number of islands (approximately 1,400, of which 227 are inhabited).
Eighty percent of Greece consists of mountains, of which Mount Olympus is the highest, at 2,917 m (9,570 ft).
Come Fly With Us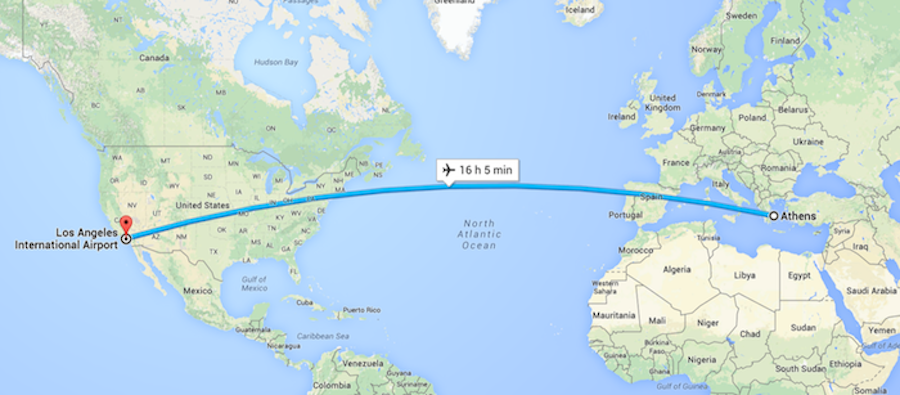 6,901 miles
Two Kinds Of Vacation Wrapped Into One
A week on the ground and a week at sea... Only way to see Greece in its "entirety" ... Sounds like lyrics to the BZ-DZ Travel Song! During their vacation they were not seeing the large cities and in fact, of the top twenty most populous cities, they saw only four in all the places they stopped!
On Wheels... They Moved Rapidly From Place To Place
They are off and running from Athens to Naflion, Olympia, Delphi, Kalmabaka, and back to Athens! A total of 1131 kilometers or 702 miles.
Remember Greece is about 50,500 square miles and the USA is 3,710,000 square miles.
City/Event

Quick Summary and Distance

Athens
Arrival

Flying from LA to Athens... 6,901 miles

Athens is the capital and largest city of Greece. Athens dominates the Attica region and is one of the world's oldest cities, with its recorded history spanning around 3,400 years.

Starting point..

Nafplio is a seaport town in the Peloponnese in Greece that has expanded up the hillsides near the north end of the Argolic Gulf.

138 Kilometers or about 1h 47min

Olympia, a sanctuary of ancient Greece in Elis on the Peloponnese peninsula, is known for having been the site of the Olympic Games in classical times, the most famous games in history.

172.8 km or about 2 h 38 min

Delphi is both an archaeological site and a modern town in Greece on the south-western spur of Mount Parnassus in the valley of Phocis.

239.2 km or about 3 h 57 min

Kalabaka is a municipality in the Trikala regional unit, part of Thessaly in Greece. The population 11,841. The Meteora monasteries are located in the town.

233.3 km or about 4 h 2 min

Athens features the largest passenger port in Europe and the third largest in the world.

348.2 km or about 4 h 35 min

Final land destination before boarding the ship

Louis Cruises is a Cyprus-based cruise line that operates cruises from Cyprus, France, Italy, India and Greece. The company also charters several ships to Thomson Cruises.
We Board The Ship To Visit The Islands Of Greece And A Visit To Turkey
Greece has a large number of islands, with estimates ranging from somewhere around 1,200 to 6,000, depending on the minimum size to take into account. The number of inhabited islands is variously cited as between 166 and 227.

Lot's of distance to cover!
City/Event

Quick Summary and Distance

Istanbul is the largest city in Turkey, constituting the country's economic, cultural, and historical heart.

348 miles / 560.05 km / 302.4 nautical miles

Kuşadası is a resort town on Turkey's Aegean coast and the center of the seaside district of the same name in Aydın Province.

Port of Istanbkeul, Tury to Port of Kusadasi, Turkey: 354 nautical miles

Santorini, classically Thera, and officially Thira; is an island in the southern Aegean Sea, about 200 km southeast of Greece's mainland.

918.2 km or about 28 h

Crete is the largest and most populous of the Greek islands, the fifth-largest island in the Mediterranean Sea, and one of the 13 administrative regions of Greece. The capital and the largest city of Crete is Heraklion.

199.6 km or about 8 h 6 min

Rhodes is an island in Greece, located in the eastern Aegean Sea. It is the largest of the Dodecanese islands in terms of both land area and population, with a population of 115,490, and also the island group's historical capital.

482.9 km or 15 h 23 min

Symi also transliterated Syme or Simi is a Greek island and municipality. It is mountainous and includes the harbor town of Symi and its adjacent upper town Ano Symi, as well as several smaller localities

545.9 km or 16 h 16 min

Chios is the fifth largest of the Greek islands, situated in the Aegean Sea, 7 kilometres off the Anatolian coast. The island is separated from Turkey by the Chios Strait.

16 h 8 min (401.6 km)

Mykonos is a Greek island, part of the Cyclades, lying between Tinos, Syros, Paros and Naxos. The island spans an area of 85.5 square kilometres and rises to an elevation of 341 metres at its highest point.

174.6 km or 4 h 57 min 

Piraeus (pronounced pee-reh-us) is the port for Athens and a major departure point for ferries to outlying islands. It is very easy to get into Athens from Piraeus with central Athens only six miles to the northeast.

The ship docked in the Port of Piraeus roughly seven miles from Athens and about 30 minutes from Athen's International airport. It is an easy walk into Piraeus from the cruise ship terminal. It is about a 20 minute walk to the train station where one can take a direct train to the foot of the Acropolis in the hart of the Plaka district.

Time to go home