Science Fiction, Our Favorite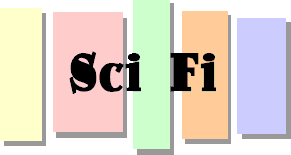 Did you know? - Science fiction (abbreviated SF or sci-fi with varying punctuation and capitalization) is a broad genre of fiction that often involves speculations based on current or future science or technology. Science fiction is found in books, magazines, art, television, films, games, theatre, and other media. In organizational or marketing contexts, science fiction can be synonymous with the broader definition of speculative fiction, encompassing creative works incorporating imaginative elements not found in contemporary reality; this includes fantasy, horror, and related genres.
Science fiction differs from fantasy in that, within the context of the story, its imaginary elements are largely possible within scientifically established or scientifically postulated laws of nature (though some elements in a story might still be pure imaginative speculation). Exploring the consequences of such differences is the traditional purpose of science fiction, making it a "literature of ideas". Science fiction is largely based on writing entertainingly and rationally about alternate possibilities[3] in settings that are contrary to known reality.

1931 it was Frankenstein and then Bella Lugosi did Dracula in 1931
Frakenstein - Dr. Frankenstein creates a monster from various posthumous 'donors' and combines them into a massive creature, to whom he wishes to bestow life. The movie centers on this monster and his struggle in this 'life after death'.
Dracula - After a harrowing ride through the Carpathian mountains in eastern Europe, Renfield enters castle Dracula to finalize the transferral of Carfax Abbey in London to Count Dracula, who is in actuality a vampire. Renfield is drugged by the eerily hypnotic count, and turned into one of his thralls, protecting him during his sea voyage to London. After sucking the blood and turning the young Lucy Weston into a vampire, Dracula turns his attention to her friend Mina Seward, daughter of Dr. Seward who then calls in a specialist, Dr. Van Helsing, to diagnose the sudden deterioration of Mina's health. Van Helsing, realizing that Dracula is indeed a vampire, tries to prepare Mina's fiance, John Harker, and Dr. Seward for what is to come and the measures that will have to be taken to prevent Mina from becoming one of the undead.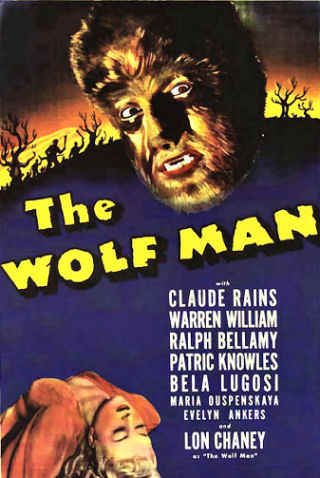 The Wolfman was in 1931 and King King was 1932
The Wolfman - A practical man returns to his homeland, is attacked by a creature of folklore, and imbued with a malady his disciplined mind tells him can not possibly exist.
King Kong - In 1933, the bold and successful filmmaker Carl Denham travels by ship with a large crew, his friend Jack Driscoll and the starlet Ann Darrow to an unknown island to shoot a movie. The local natives worship a huge gorilla called Kong and they abduct Ann to offer her in a sacrifice to Kong. Jack Driscoll, who is in love with her, Carl Denham, who aims to capture the animal for an exhibition in New York and part of the crew hike into the jungle, where dinosaurs live, trying to rescue Ann. King Kong falls in love for Ann and protects her against the dangers. But the gorilla is captured and brought to New York. In the middle of a show in Broadway, King Kong escapes, bringing panic to the Apple city.

The Creature came to us in 1954 while Boris played the Mummy in 1932
The Creature - A scientific expedition searching for fossils along the Amazon River discover a prehistoric Gill-Man in the legendary Black Lagoon. The explorers capture the mysterious creature, but it breaks free. The Gill-Man returns to kidnap the lovely Kay, fiancée of one of the expedition, with whom it has fallen in love.
The Mummy - In 1921 a field expedition in Egypt discovers the mummy of ancient Egyptian prince Im-Ho-Tep, who was condemned and buried alive for sacrilege. Also found in the tomb is the Scroll of Thoth, which can bring the dead back to life. One night a young member of the expedition reads the Scroll out loud, and then goes insane, realizing that he has brought Im-Ho-Tep back to life. Ten years later, disguised as a modern Egyptian, the mummy attempts to reunite with his lost love, an ancient princess who has been reincarnated into a beautiful young woman.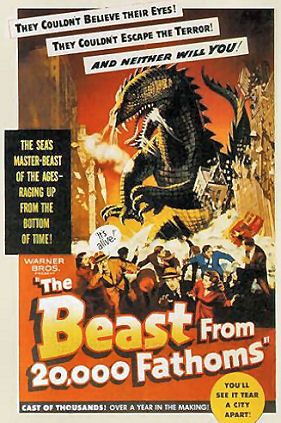 The BEast attacked us in 1953 abd two years later, 1955, the saucers came
The Beast - As a result of an arctic nuclear test, a carnivorous dinosaur thaws out and starts making its way down the east coast of North America. Professor Tom Nesbitt, only witness to the beast's existence, is not believed, even when he identifies it as a "rhedosaurus" to paleontologist Thurgood Elson. All doubts disappear, however, when Elson is swallowed whole during an oceanic bathysphere excursion to search for the creature. Soon thereafter the rhedosaurus emerges from the sea and lays waste to Manhattan Island until Nesbitt comes up with a plan to try to stop the seemingly indestructible beast.
This Island Earth - Dr. Meacham is chosen along with others by the inhabitants of the planet Metaluna to do research that will help save their dying planet. However, an evil scheme is uncovered by the suspecting Dr. Meacham when he discovers the Metalunan's plan to take over Earth. Dr. Meacham then escapes an exploding Metalunan built Earth lab along with Dr. Adams only to be kidnapped while flying away in a small plane. A flying saucer wisks both the scientists off to Metaluna where they are held accountable for blowing up the Metalunan Earth lab during their escape. They later escape there with the help of Exeter the friendly Metalunan. Metaluna then self destructs and the Doctors make it safely back to Earth, which is saved from Metalunan invasion,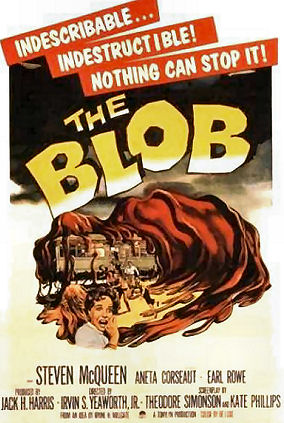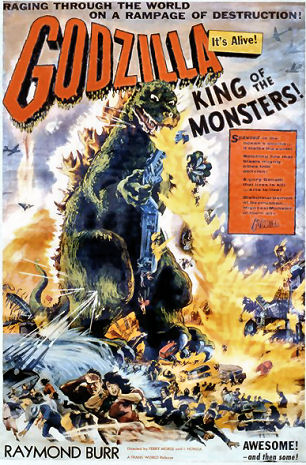 Steve McQueen was in the 1958 Blob and YArmond Burr was in Godzilla in
The Blob - mysterious creature from another planet, resembling a giant blob of jelly, lands on earth. The people of a nearby small town refuse to listen to some teenagers who have witnessed the blob's destructive power. In the meantime, the blob just keeps on getting bigger.
Godzilla - When American reporter Steve Martin investigates a series of mysterious disasters off the coast of Japan, he comes face to face with an ancient creature so powerful and so terrifying, it can reduce Tokyo to a smoldering graveyard. Nuclear weapon testing resurrected this relic from the Jurassic age, and now it's rampaging across Japan. At night, Godzilla wades through Tokyo leaving death and destruction in his wake, disappearing into Tokyo Bay when his rage subsides. Conventional weapons are useless against him; but renowned scientist Dr. Serizawa has discovered a weapon that could destroy all life in the bay -- including Godzilla. But which disaster is worse, Godzilla's fury, or the death of Tokyo Bay?

The Colossal Man attacked us in 1957 and JAmes Arness stopped the Thing in 19
The Amazing Colossal Man - Lt. Col. Glenn Manning is inadvertently exposed to a plutonium bomb blast at Camp Desert Rock. Though burned over 90% of his body, he survives, and begins to grow in size. As he grows, his heart and circulatory system fail to keep pace with his growth, and he is gradually losing his mind as a result of reduced blood supply to his brain. He reaches 50 feet tall before his growth is stopped. By this time he has become insane. He escapes and wreaks havoc upon Las Vegas before he is finally stopped.
The Thing From Another World - Scientist at an Arctic research station discover a spacecraft buried in the ice. Upon closer examination, they discover the frozen pilot. All hell breaks loose when they take him back to their station and he is accidentally thawed out!

The Mntis almost got us in 1957 while the Mole People did get us in 1956
The Deadly Mantis - The calving of an Arctic iceberg releases a giant praying mantis, trapped in suspended animation since prehistoric times. It first attacks military outposts to eat their occupants, then makes its way to the warmer latitudes of Washington and New York. A paleontologist works together with military units to try to kill it
The Mole People - So it starts out with an archaeological team in the 50's that stumbles upon this underground civilization of a lost dynasty of sumerians, who have apparently failed to evolve over the past 5,000 years. The plot becomes a but fuzzy here, but pretty much only three people survive. The albinos decide to sacrifice these three survivors, but they escape. One of them dies, but the other two (Dr. Bentley and Dr. Belamin) escape by shining a flash light in the albinos and mole people's faces. Wait- who are these mole people? They are mutant humanoid mole-type creatures that are the mistreated slaves of the albinos and resemble the sand people from Star Wars. Just like the albinos, living underground has made them highly sensitive to light. Anyways, the sumerian priest believes that the flashlight is the sacred fire of their goddess, Ishtar. They come to believe that Bentley and Belamin are messengers of Ishtar. They give Bentley a slave, a beautiful woman named Adad who is shunned by the albinos because of her tan skin. Of course, she and Bentley fall in love and he says she can come with him if they ever get out.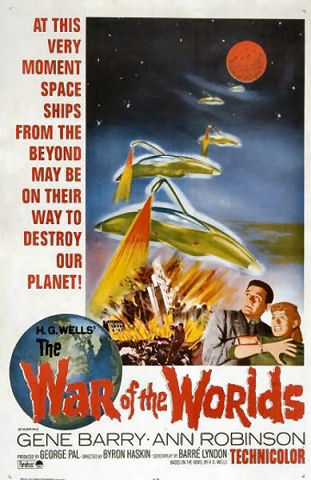 The bugs got loose in 1959 and the war started
The Wasp Woman - Janice Starlin, the owner of a cosmetics firm, sees that her fading beauty is not only causing waves in her personal life but causing some prestige problems for her also-fading business. She becomes an easy mark for a pseudo-scientist, Eric Zinthrop, who claims to have developed a serum from the enzymes of wasps that will turn aging skin to youthful-looking skin. The second-best thing to a time machine. She, without any hesitation, agrees to be the first human to try the Zinthro injections. But, as her beauty returns, her secretary, Mary Dennison, and her advertising executive, Bill Lane, notices she is also having a personality change and it isn't for the better, albeit she was no Miss Congegeniality to begin with. Then, Zinthrop gets hit by an automobile, for plot-development purposes, and is somewhat incapacitated and not in any shape to be whipping up any new batches of Zinthrop's Wasp Enzyme Injection Serum and, without her enzyme injections, Janice turns into a wasp-like woman and meaner that a yellow-jacket hornet. Several people don't live to regret coming into contact with her, and this is not good for the business, either.
War Of The Worlds - Producer George Pal and director Byron Haskins' landmark adaptation of the H. G. Wells classic novel that focuses on the invasion of the earth by Martian war machines.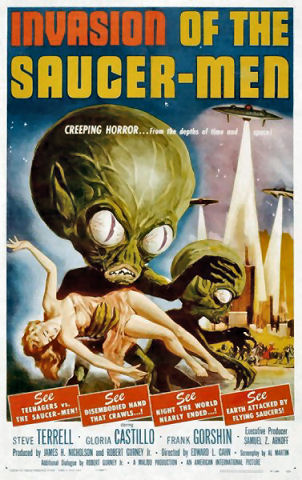 Them grew into giant ants in 1954 while the Saucer Men attacked in 1957
Them - After several people in the New Mexico desert wind up missing or dead, including an F.B.I. agent and most of his family, police Sgt. Ben Peterson teams up with F.B.I. agent Bob Graham to find out what's causing the strange occurrences. They find send a strange print found at one of the crime scenes and it is sent to the Department of Agriculture. Doctor Harold Medford and his daughter Doctor Patricia Medford arrive and ask to be taken to the scene of some of the disappearances. When they get there they are shocked to find gigantic ants, whose mutations were caused by the first atomic bomb explosion nine years earlier. They manage to destroy the nest of ants, but not before two winged queen ants and a couple of drones have hatched and escaped the nest. Now it is a race against time to find the two queen ants before they can establish more nests and hatch more queens
Invasion Of The Saucer Men - Johnny Carter and Joan Hayden plan to elope but, first, visit a local lover's-lane for a compatibility check-up. Tooling along in the dark, with no headlights, they hit something, check it out and discover it is a little green man (in black-and-white) and scurry off to inform the local authorities. The police think it is a practical joke but, when they check it out, they find a man's body (white) there and charge the two with manslaughter. The victim actually had the misfortune to also run into some little green men, who came to earth via a flying saucer with bad intentions. The two elopers escape from the police and eventually discover that a bright light can destroy the little green men, and they get all the swell kids in Lover's Lane to shine their car headlights on the little green men and this Let There Be Light Crusade saves the world. Released as a double-feature with "I Was a Teenage Werewolf."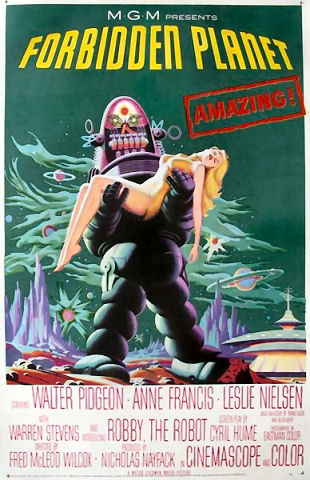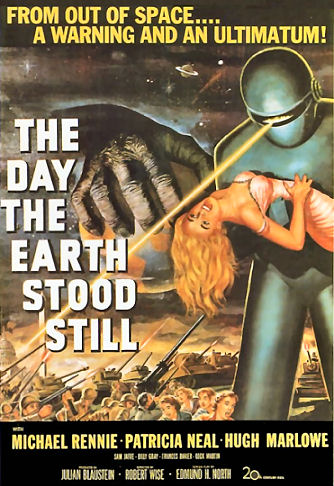 We first met Robbie the Robot in 1956 and the Earth Stood Still in

Forbidden Planet - When an Earth mission arrives on Altair IV, they find that Dr. Edward Morbius and his beautiful daughter Altaira are the only survivors from the original expedition that had arrived some 20 years before. Morbius isn't exactly pleased to see them and would have preferred that they not even land their spaceship. He does his best to get them on their way but Commander Abrams and his men soon face an invisible force leading them to believe that Morbius and the girl are in danger. Morbius claims to know nothing of other life on the planet but does reveal there once existed a far superior race, now extinct, that left a huge subterranean industrial and scientific complex.
The Day The Earth Stood Still - flying saucer orbits the 1950s Earth. It lands in Washington, DC, on the Mall. The lone occupant steps out and is shot by a jumpy soldier. Gort, a large and very powerful robot appears to save him and is able to melt tanks with the slightest bit of his power. The wounded alien orders Gort to stop his rampage and is taken to a hospital from which he escapes in order to learn more about this planet, even moving in as a boarder with an Earth family. When they begin to suspect him, he reveals himself, along with the news that Gort is a member of a race of super-robot enforcers invented to keep the peace of the galaxy that will destroy the Earth if provoked.

The bride joined us in 1945 while
The Bride Of Frakenstein - Mary Shelley, author of "Frankenstein, or The Modern Prometheus," reveals to Percy Shelley and Lord Byron that Henry Frankenstein and his Monster did not die. Both lived, and went on to even stranger misadventures than before. As the new story begins, Henry wants nothing more than to settle into a peaceful life with his new bride. But his old professor, the sinister Dr. Pretorius, now disgraced, appears unexpectedly. Eventually, he and the Monster blackmail him into continuing his work. The Monster wants his creator to build him a friend; and Pretorius wants to see dead tissue become a living woman. Henry is forced to give his creature a bride.
IT Came From Beneath The Sea - After an encounter at sea with an unknown underwater creature, a naval commander works with two scientists to identify it. The creature they are dealing with is a giant, radioactive octopus that has left its normal feeding grounds in search of new sources of replenishment. As the creature attacks San Francisco, the Navy tries to trap it at the Golden Gate Bridge but it manages to enter the Bar area leading to a final confrontation with a submarine