We Are Soul Mates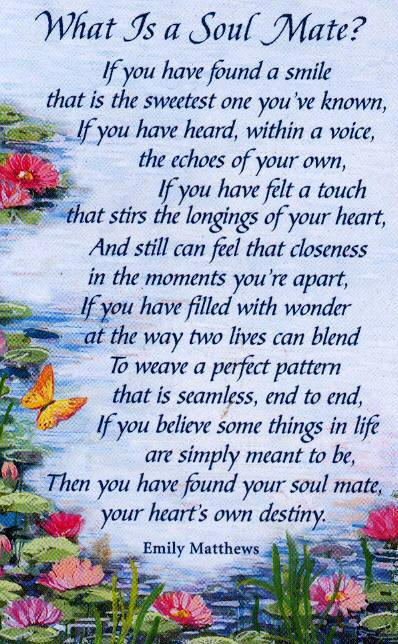 Soulmates Are Real Things... We Know,
We Are Living Proof!
What is a soul mate? Sue and Paul are examples as we are soul mates using the following definitions and observations:
"Our soul mate is someone who shares our deepest longings, our sense of direction.
When we're two balloons, and together our direction is up, chances are we've found the right person."
"Our soul mate is the one who makes life come to life."
"I love you not only for what you are, but for what I am when I am with you. I love you not only for what you have made of yourself, but for what you are making of me. I love you for the part of me that you bring out."
"Be who you are and say what you feel because those who mind don't matter and those who matter don't mind."
According To Plato
Plato wrote in his Symposium that humans have been looking for their soul mate ever since Zeus cut them in half. In his mythic story, Plato describes a world where there were men, women and people who were both men and women. Apparently, humans began discussing how they could climb up to heaven and replace the gods.
The gods were upset by this and discussed what should be done. The simplest solution would be to destroy mankind, but Zeus came up with a better idea. He suggested cutting all human beings in half. This would serve two purposes. First, it would immediately double the number of people making offerings to the gods.
Second, it would weaken the humans, so they would not be able to carry out their plan. Zeus' idea was accepted, and the humans were all divided into two. Naturally, the humans were upset at this, and Zeus decided to enable each half to have intercourse with their opposite, symbolically creating a whole. Consequently, the males sought their female half, and the females sought their male half, allowing them to reproduce.