Let's Pick Apples 10/21/2014!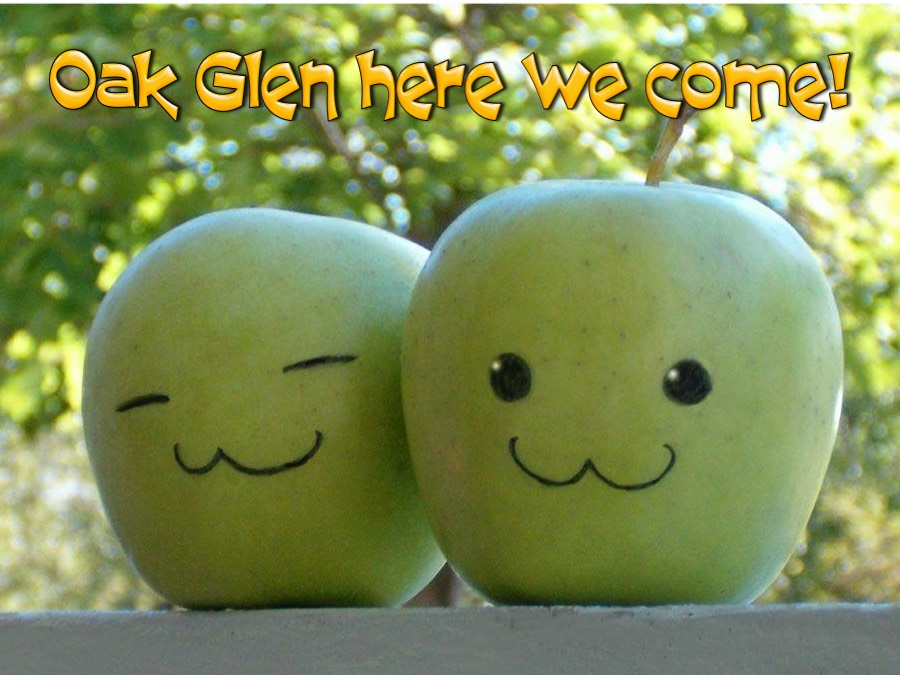 Wow! Just us and what a wonderful day in the backwoods... One of the most scenic spots in Southern California, Oak Glen is nestled in the heart of Apple Country, where it is cooler in the summer and winter offers enough snow to make snowmen.
Folks can come up and enjoy a simpler way of life, surrounded by the fresh crisp air and partake of the beautiful change of seasons.
An hour from Los Angeles or Palm Springs, spend the day having some good ole' country fun.
The mile-high climate of Oak Glen provides a beautiful change of season, unsurpassed in Southern California. It's always 10-15 degrees cooler than it is in the valleys.
Apple orchards cover the slopes laden with apple blossoms in the spring and apples in the fall. The scenery is like that of New England and only 90 minutes from Los Angeles on the way to Palm Springs. Oak Glen offers wholesome family fun in every season.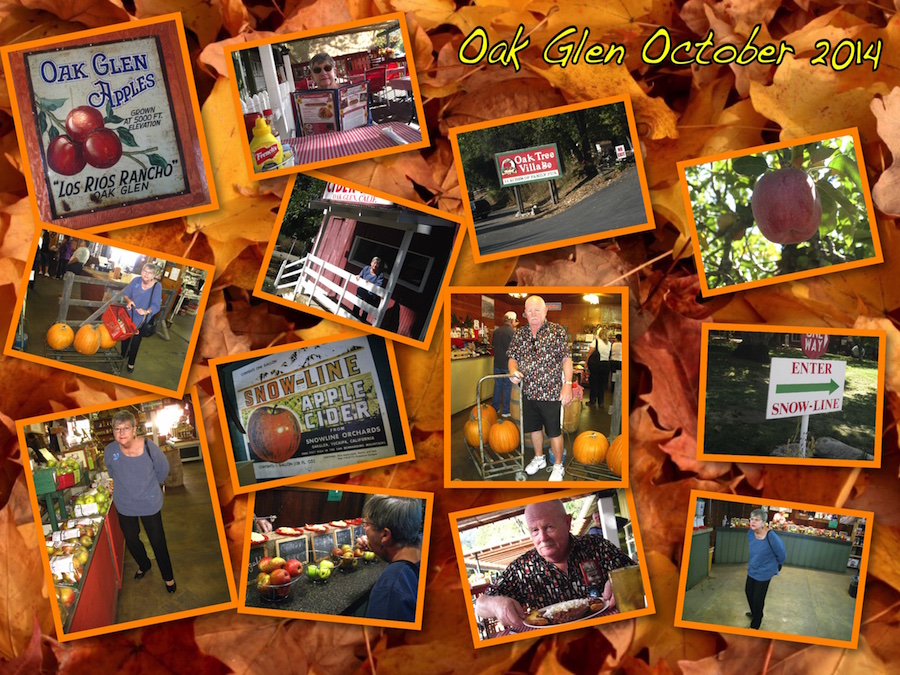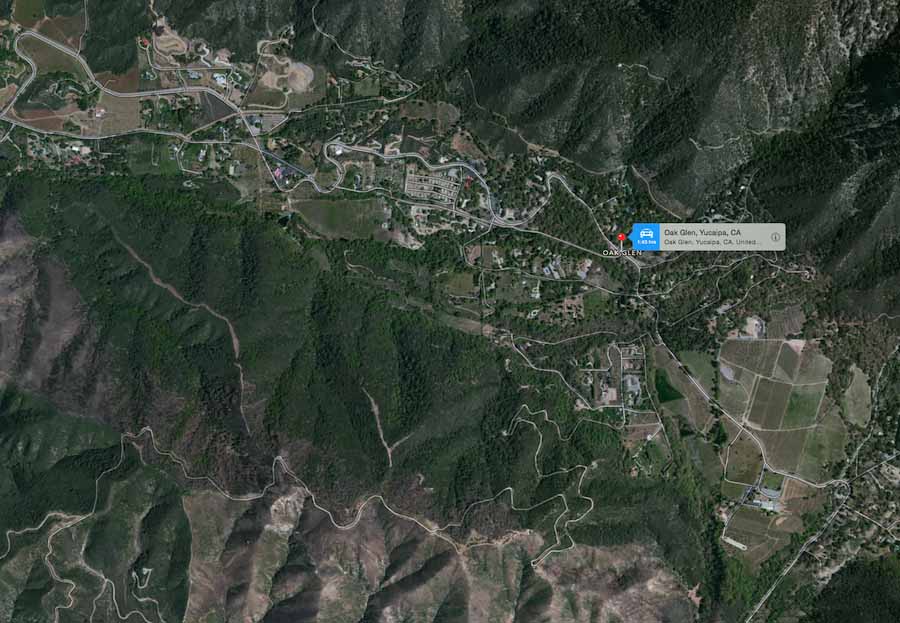 Just above Yucaipa hidden in a glen
Did You Know? - A glen is a valley, typically one that is long, deep, and often glacially U-shaped, or one with a watercourse running through it.
Arrival At The Glen

The drive was spectacular once we departed the freeway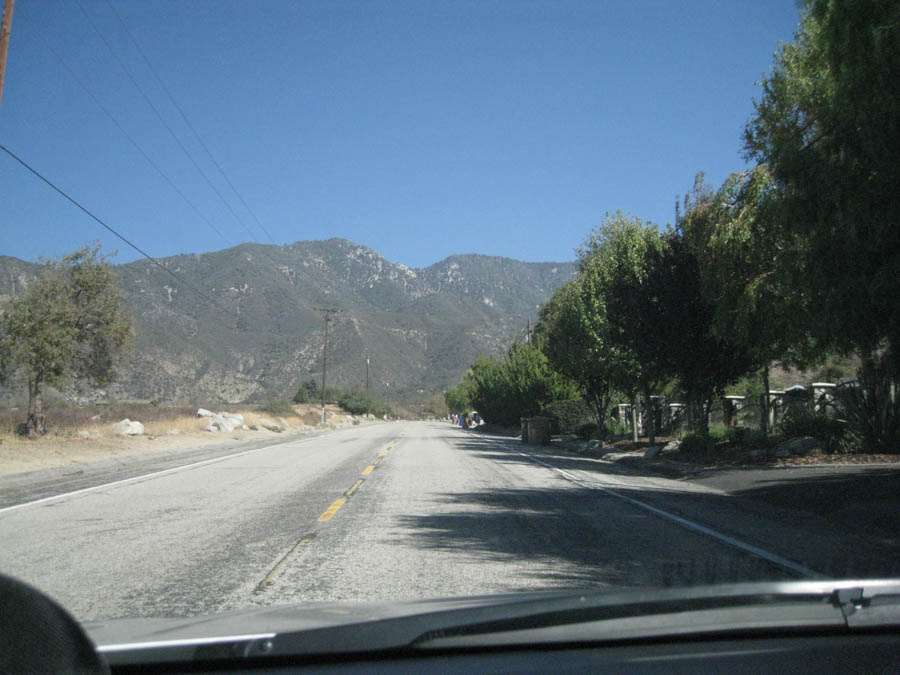 The roads were empty... No school busses... We had perfect timing
Big Bear is on top of the mountain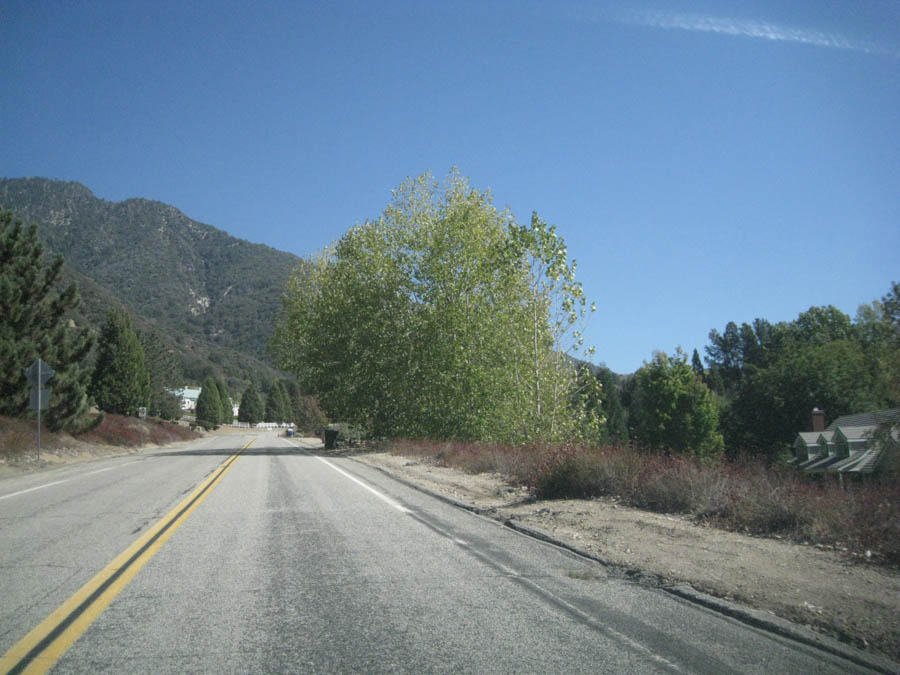 We are going up quite a grade
Did You Know? - Oak Glen is located 15 miles east of San Bernardino, at an elevation of 4,734 feet (1,443 m). The population was 638 at the 2010 census.
Although Oak Glen grew apples mainly for export, in the 1940s several farms began to sell apples, apple pies, apple cider and apple butter at roadside stands. The export trade has virtually disappeared, and growers now earn much of their revenue from visitors who are allowed to pick apples directly off the trees at some of the orchards.
Stop #1 - Snow-Line Orchards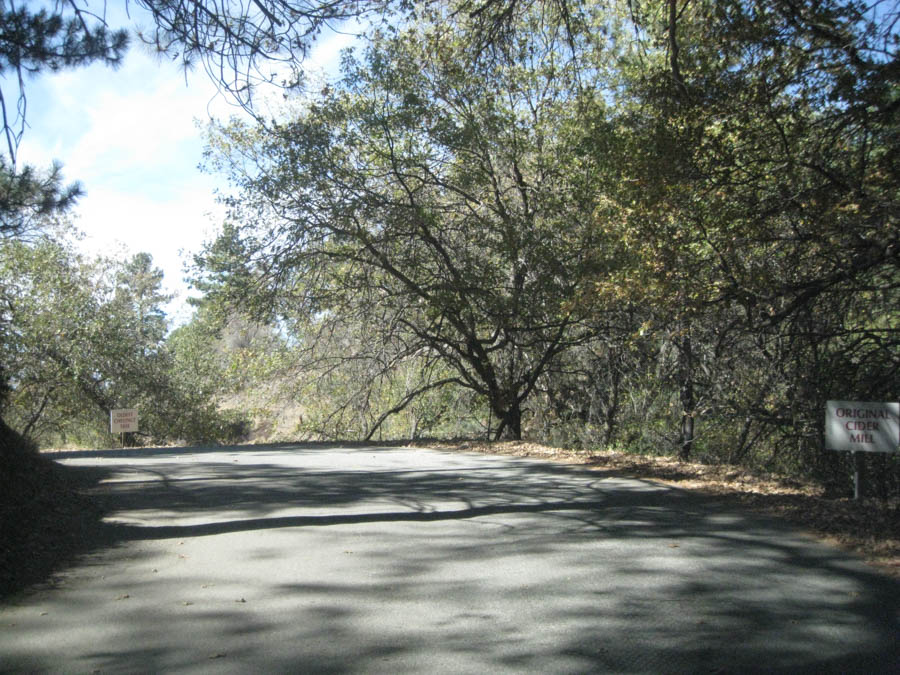 The driveway to the packing shed is a tad narrow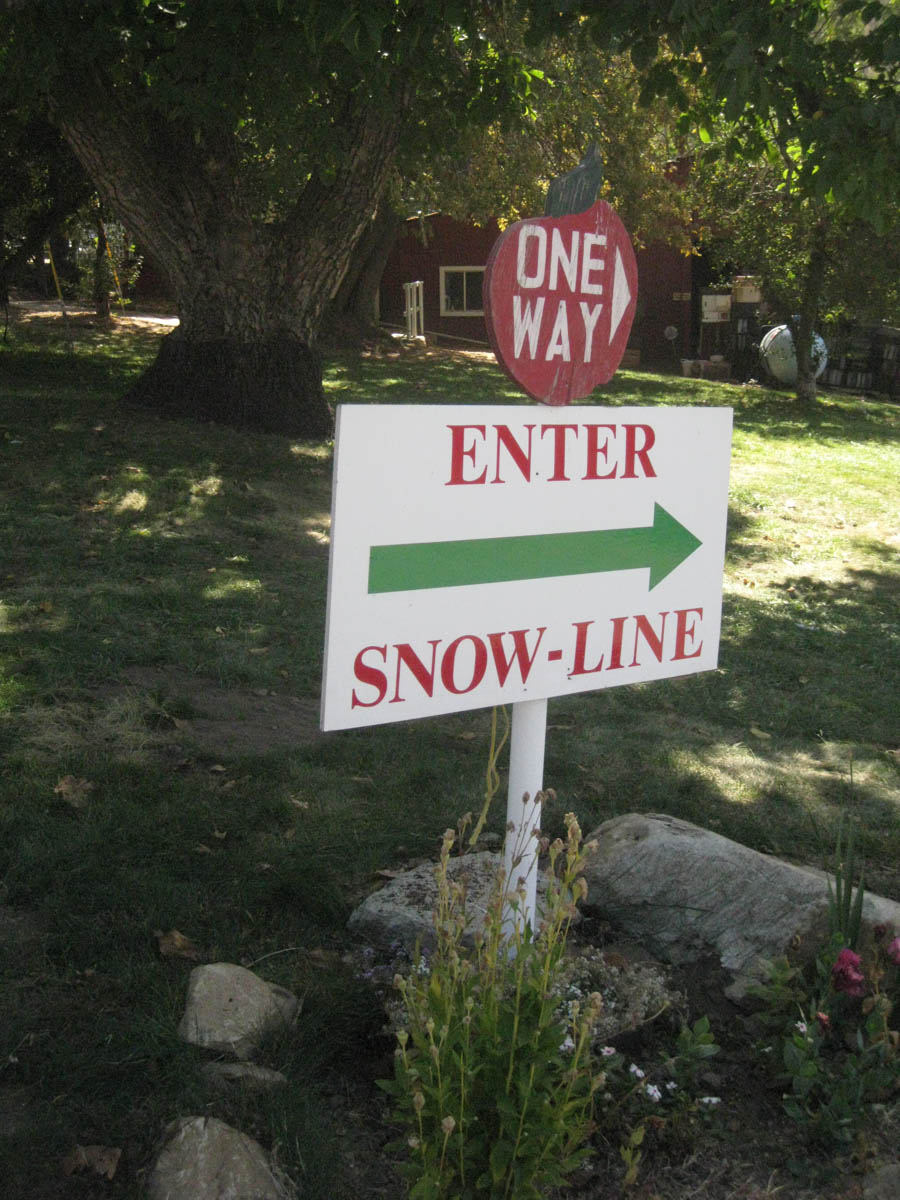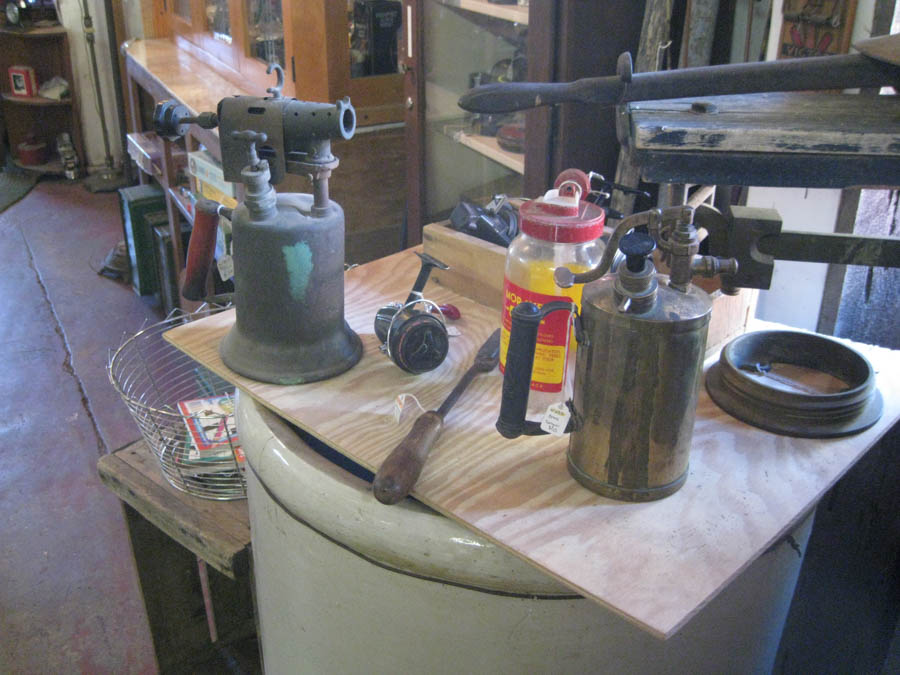 Interesting antiques in the store... Do you remember "white gas?"
We used to put white gas in these "blow torches"
Did You Know? - A blowtorch (USA usage), or blowlamp (UK usage, else rare or archaic), is a fuel-burning tool used for applying flame and heat to various applications, usually metalworking.
Early blowlamps used liquid fuel, carried in a refillable reservoir attached to the lamp. Modern blowtorches are mostly gas-fuelled. Their fuel reservoir is disposable or refillable by exchange. The term "blowlamp" usually refers to liquid-fuelled torches which is still used in UK. Liquid-fuelled torches are pressurized by a piston hand pump, while gas torches are self-pressurized by the fuel evaporation.
Fuel torches are available in a vast range of size and output power. The term blowtorch applies to the smaller and lower temperature range of these. Blowtorches are typically a single hand-held unit, with their draught supplied by a natural draught of air. Though the larger torches may have a heavy fuel reservoir placed on the ground, connected by a hose.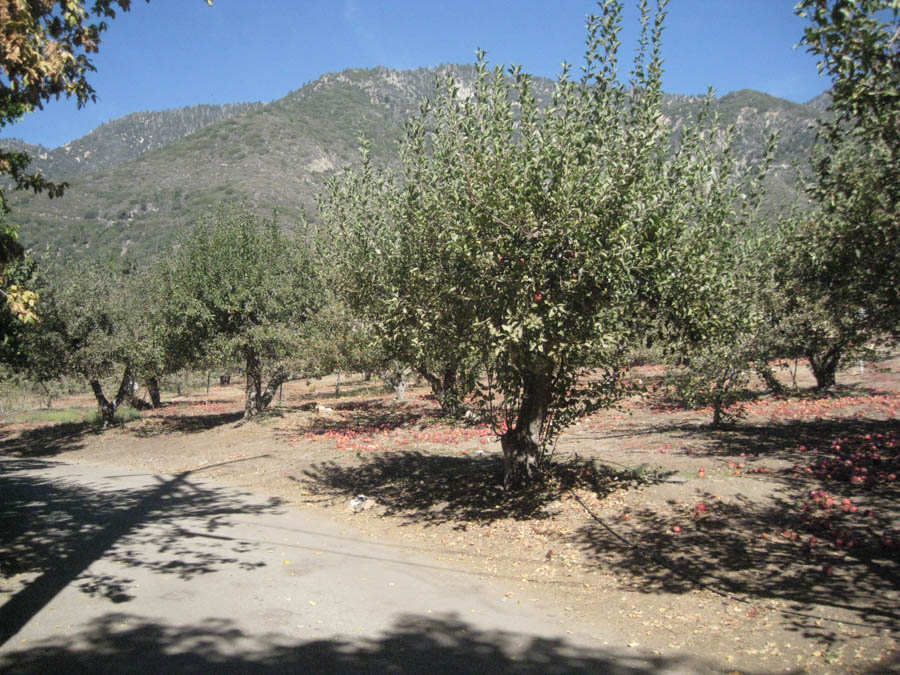 The number of apples on the ground was amazing

The trees looked healthy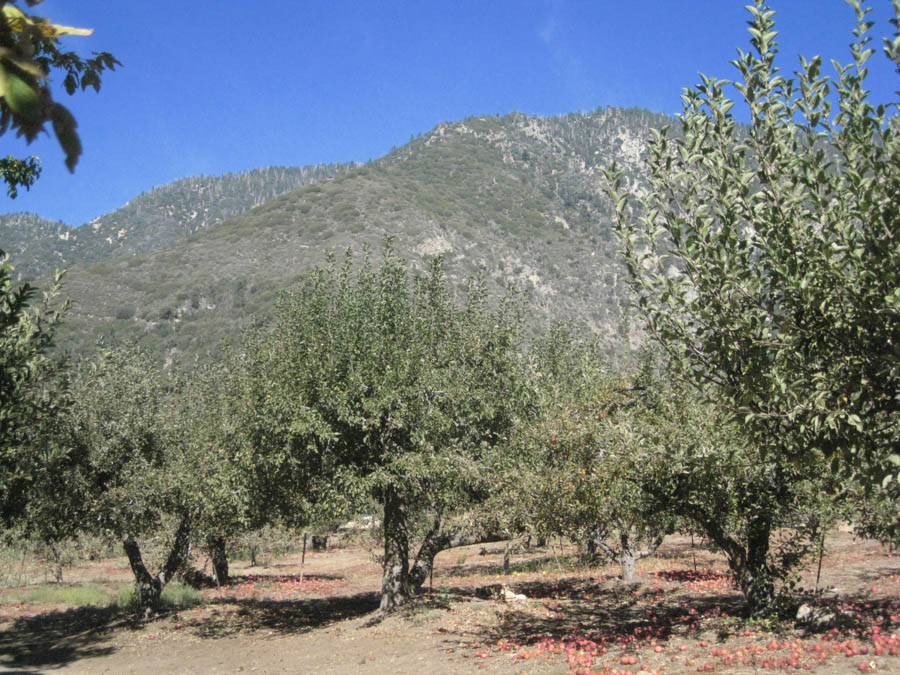 The mountains were dry as a bone


Plenty of apples to go around

Yes... I picked it and brought it home

More on the ground than in the trees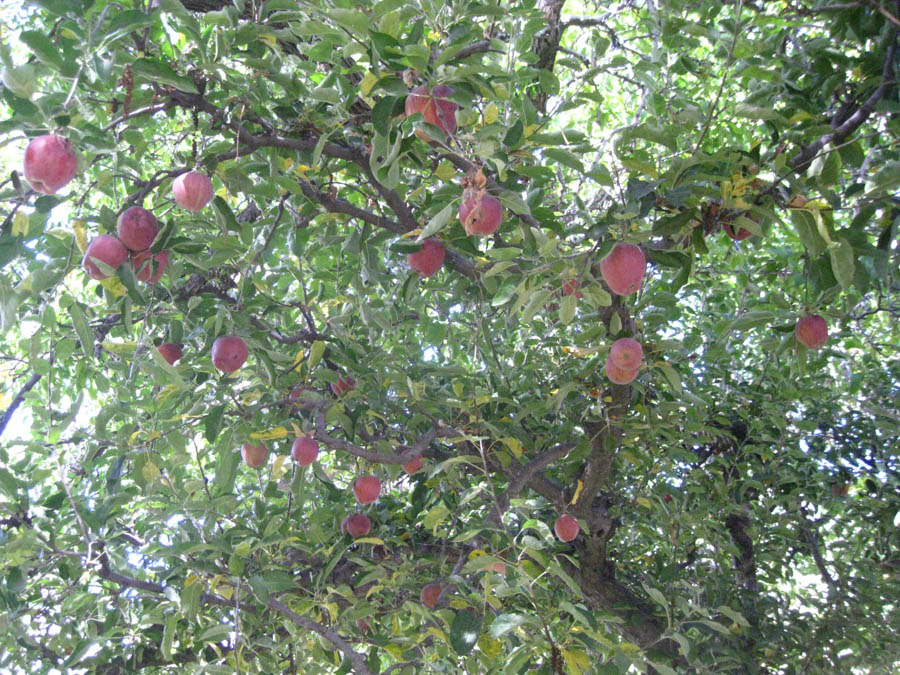 The trees were not too tall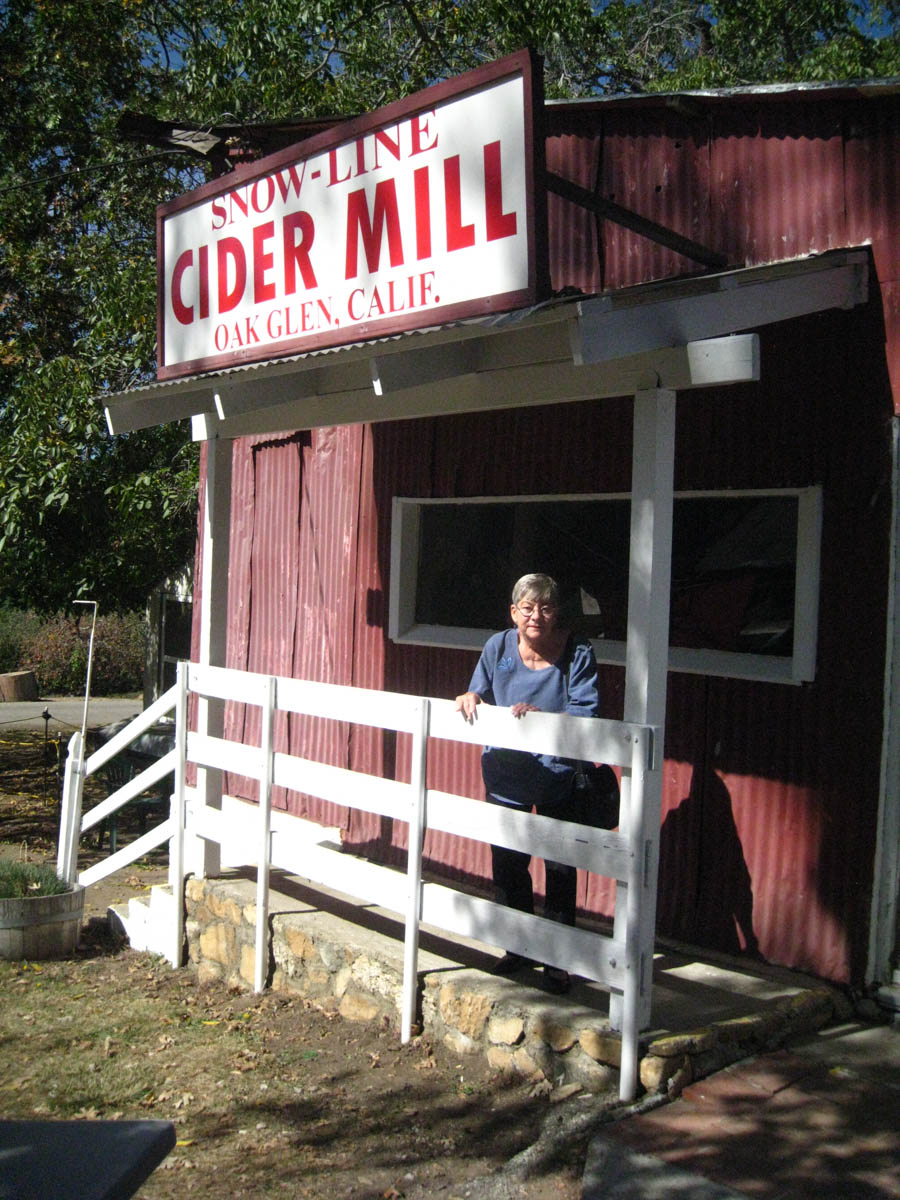 They were not squishing apples today
Did You Know? - A cider mill is the location and equipment used to crush apples into apple juice for use in making apple cider, hard cider, applejack, apple wine, pectin and other products derived from apples. More specifically, it refers to a device used to crush or grind apples as part of the overall juice production.
The mills used to manufacture the juice products, ferment them, store them and ship them, are usually located near apple orchards. Historically, the types of structure and machinery have varied greatly — including horse powered, water driven, and machine operated mills. The presses can be fixed or portable.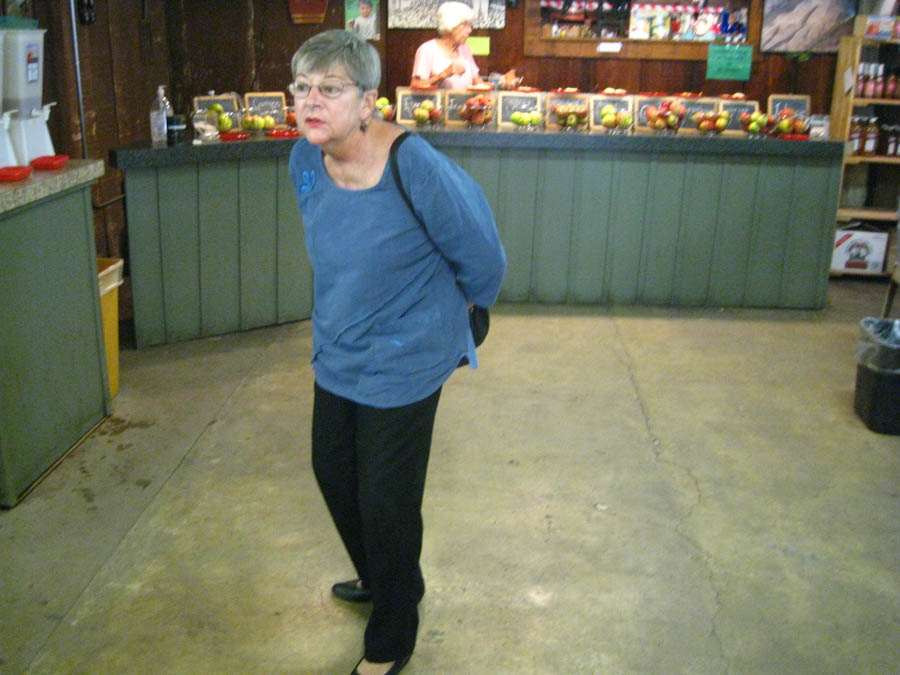 Sue is amazed at the varieties of apples available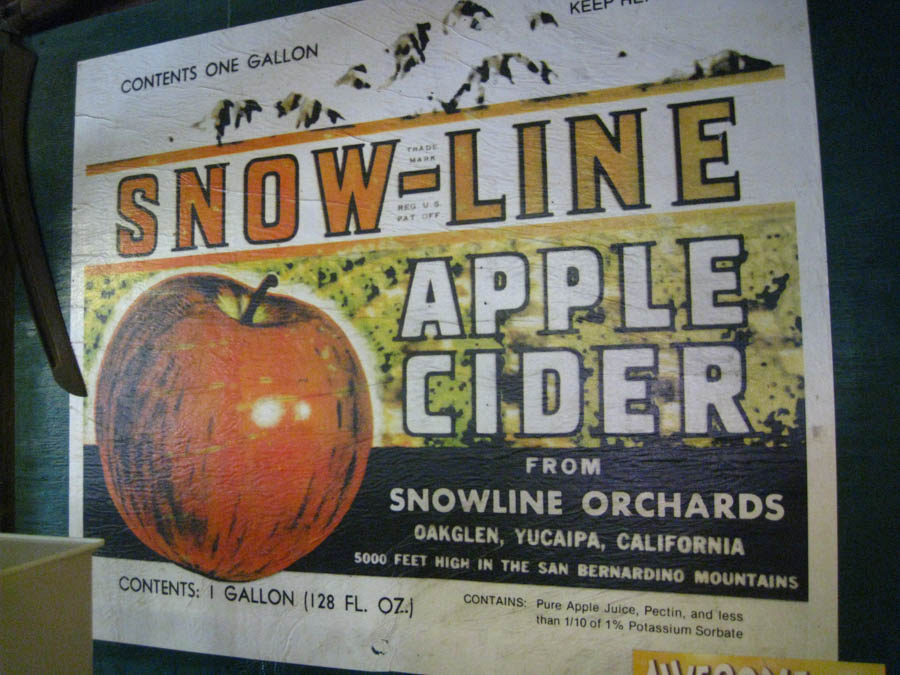 The cider was delicious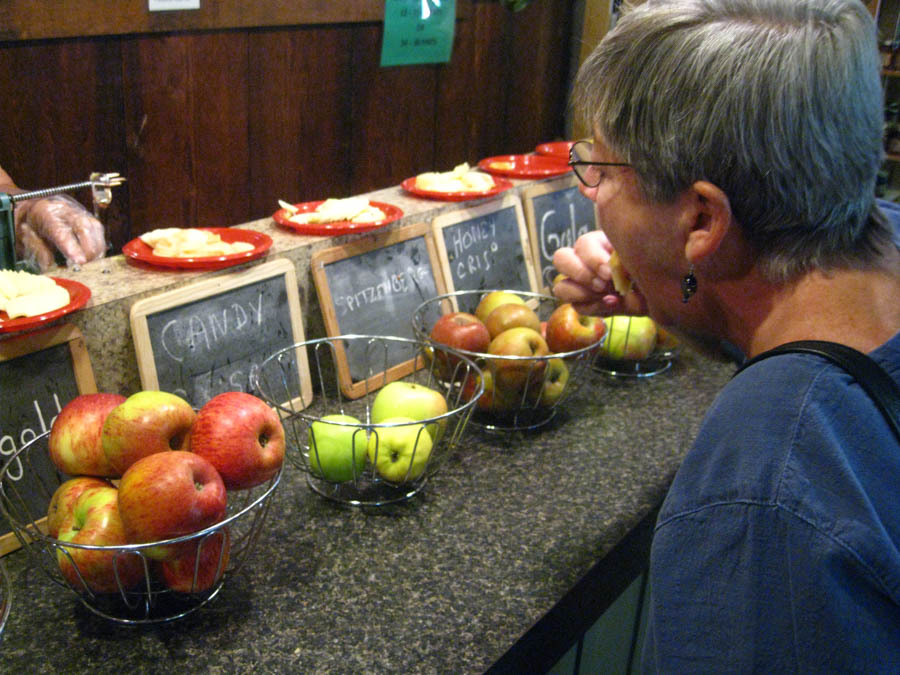 Got to try them all... Or a few at least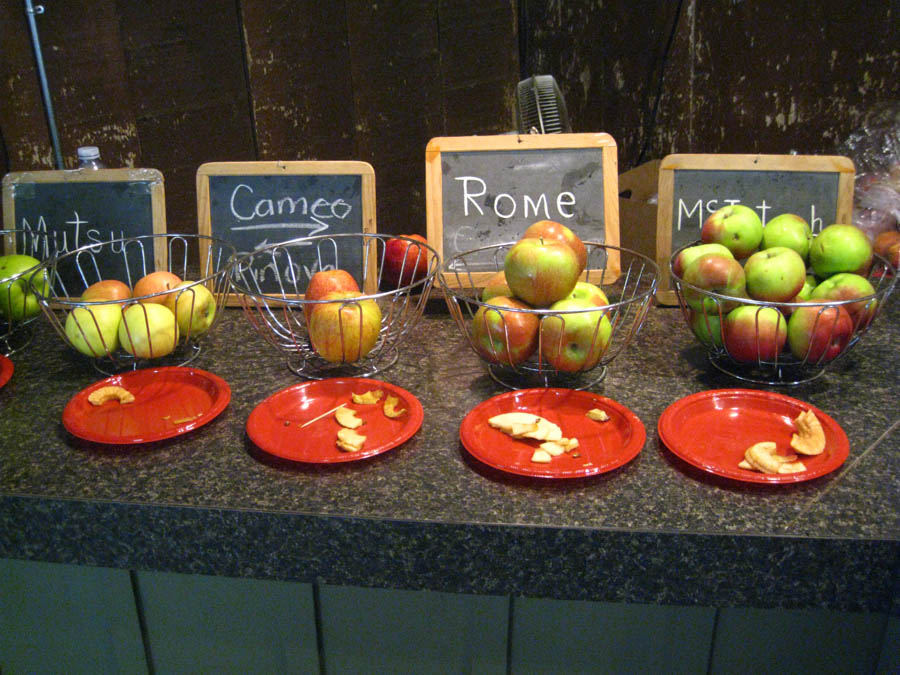 The differences in taste and texture was distinct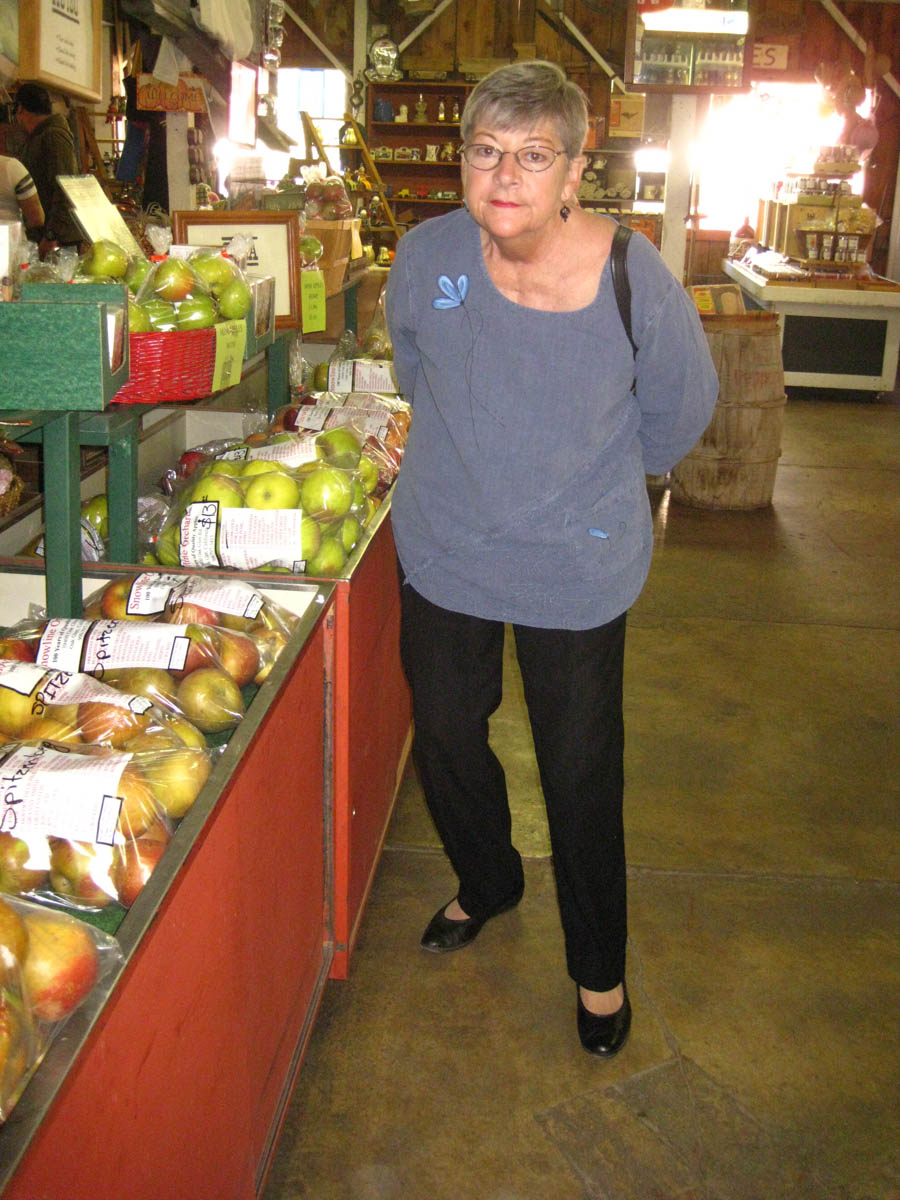 Decision made... Apple sauce is coming soon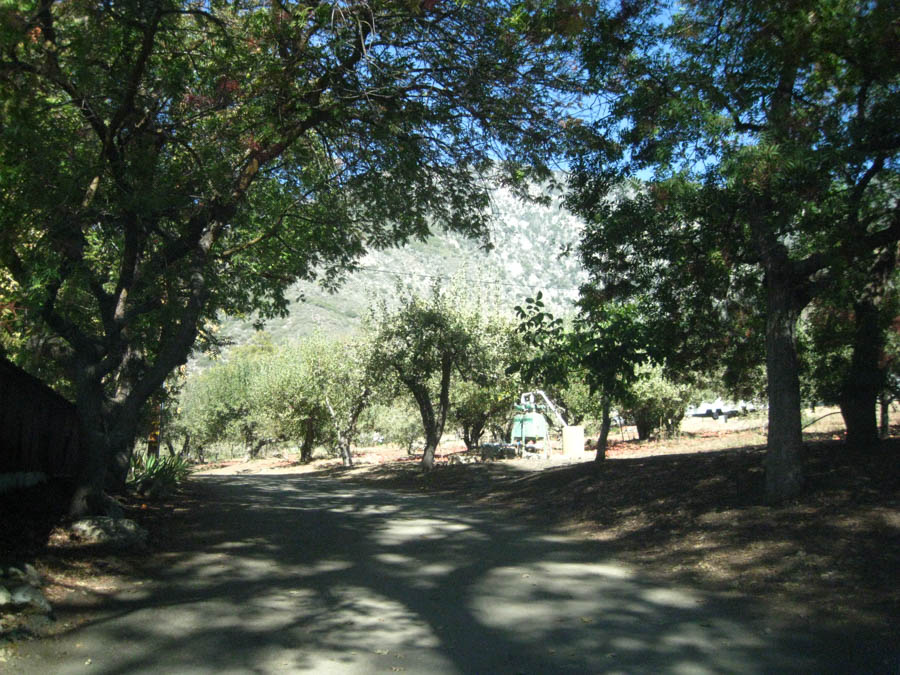 Bye Snow-Line
Stop #2 - Los Rios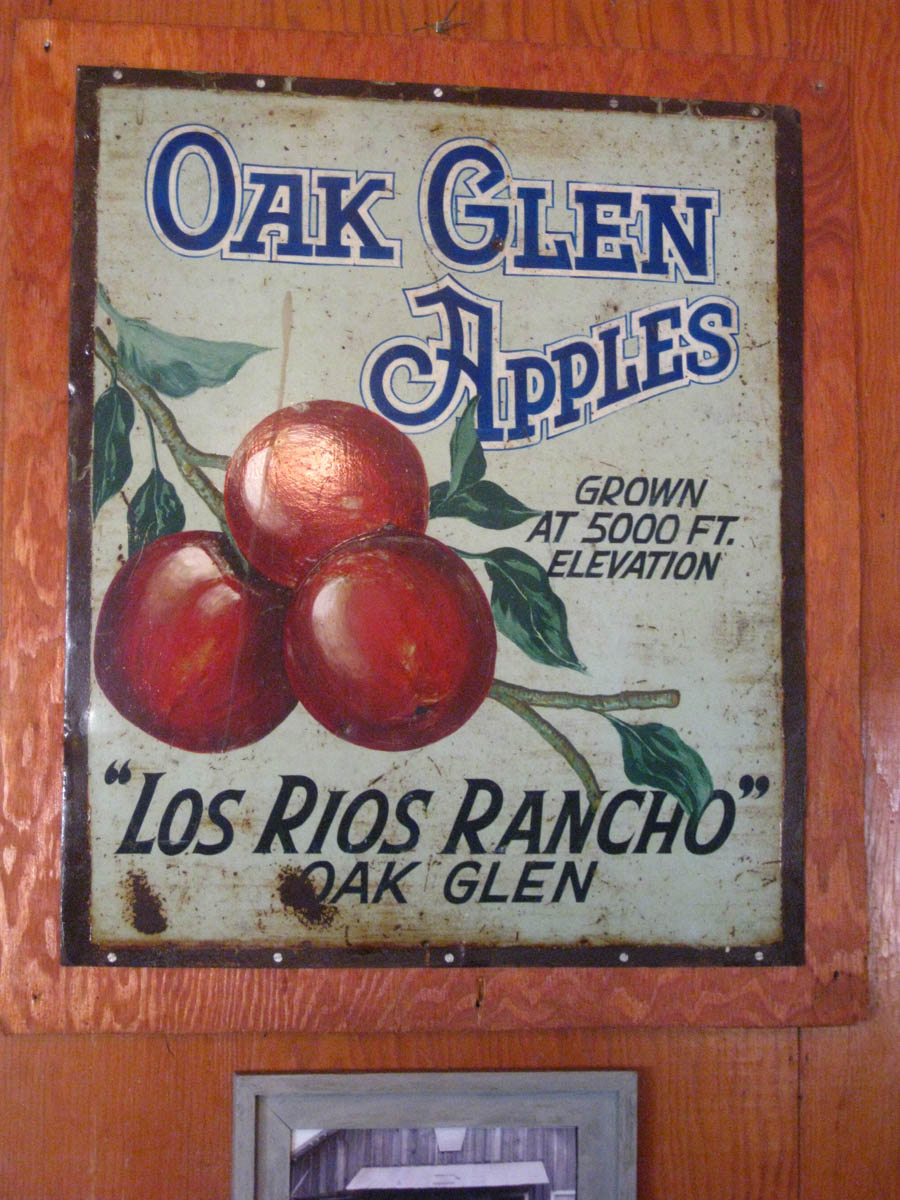 Did You Know? - More than just an Apple Farm!
The Rileys first moved to Oak Glen in 1978 when "Pa" Riley (Dennis) decided it was time to get his wife and 3 sons out of the city. They bought 12 acres from "Blackie" Wilshire, son of Oak Glen pioneer Joe Wilshire, who first settled in Oak Glen in 1871.
Soon the Rileys were learning how to care for the several hundred ancient apple trees on the property as well as building a log home for the family.
After a couple of years, the Rileys thought it would be great to open the orchard to the public and let folks experience orchard life, first hand. Soon, visitors were pouring into the small orchard by the hundreds and eager to participate in all that the Rileys planned, including old fashioned hoedown dances, pressing cider by hand, and picking several varieties of apples.
In 1987, the adjoining 200 + acres, also originally owned by the Wilshire family, were purchased by Ray and Bea Riley, Dennis' parents, and soon Grandson Devon and his wife Shelli were operating the expanded Rileys venture on that property and renovating an 1887 apple packing shed for dinner dances, starting school tour programs and hosting several special events each year.
During this time the Riley clan grew as the kids married and had children of their own. In 2002, Devon and Shelli decided to use their talents to develop their own property and thus began "Rileys Frontier Events."
Los Rios was first begun in 1906 when Howard L. Rivers, a grower, packer, and shipper from the Pasadena area purchased property from the Wilshires, over 300 acres, to expand his operation to include apples. He planted the largest apple orchards in all of Southern California, many of which are still in production today.
Los Rios Ranch soon became known as the place to get truckloads of quality mile-high grown apples. Fruit from the ranch has been shipped locally and globally over the years.
The operation expanded as the shift from wholesale packing/shipping to retailing took hold in the 1950's. Soon a sales barn and bakery were built, picnic areas developed and cider operations enhanced to make the most of the growing numbers of visitors, eager for mountain fresh apples and the things made from them.
In 1995, The Wildlands Conservancy purchased the ranch from the descendents of the Rivers in an effort to save it from certain development and to retain the rich history and landscape for generations to come.
They worked diligently to return some of the land to native habitat, develop and expand trails for visitors and begin an outdoor education program that focuses on the wildland and animal life unique to California and Oak Glen.
In the Winter/Spring of 2004, The Wildlands Conservancy and Devon Riley began negotiations to join forces that would enable the Conservancy to focus its efforts on preservation, development of trails, and education while leasing the business operations and the bulk of the orchards to the Rileys to continue the tradition of apple growing and historic entertainment.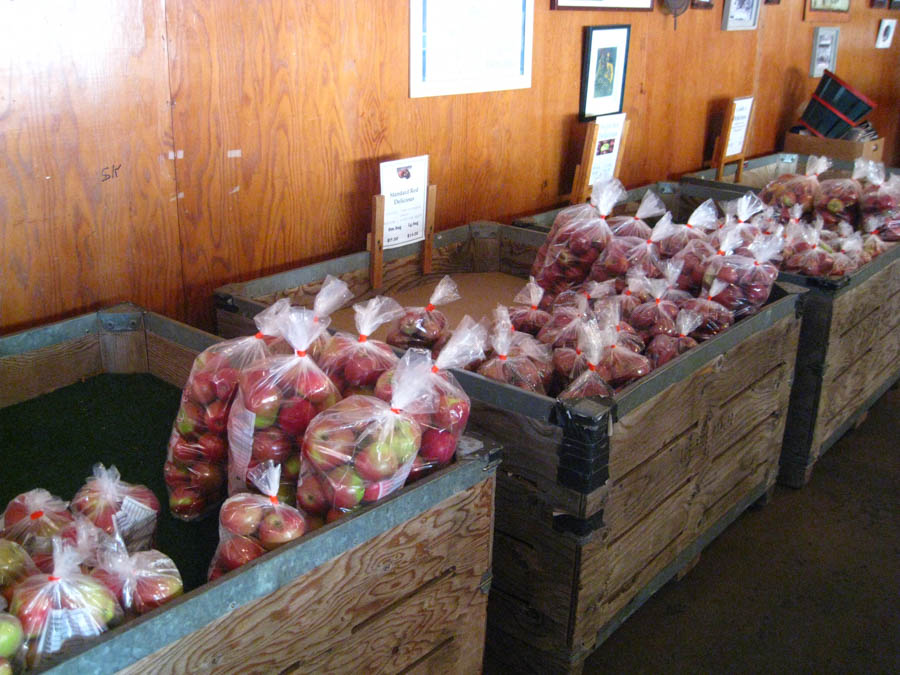 Each bin contains a different kind of apple
Did You Know? - There are more than 7,500 known cultivars of apples, resulting in a range of desired characteristics. Different cultivars are bred for various tastes and uses, including cooking, eating raw and cider production.

Open the lid and try the different kinds...
The lid helps keep the apples from turning brown in the air
Did You Know? - About 69 million tons of apples were grown worldwide in 2010, and China produced almost half of this total. The United States is the second-leading producer, with more than 6% of world production. Turkey is third, followed by Italy, India and Poland.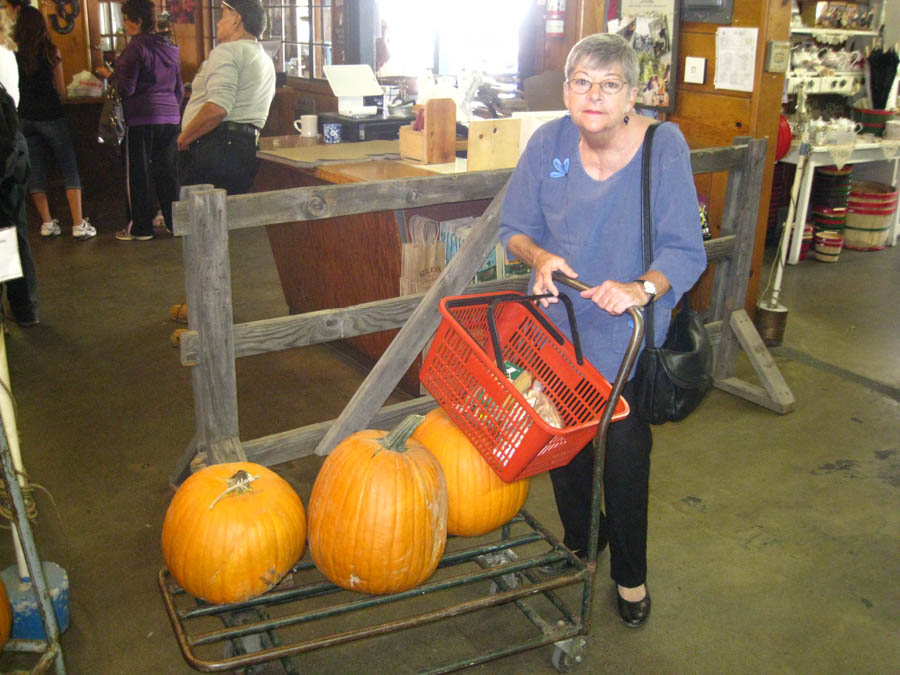 We also got some pumpkins for our Halloween pumpkin carving party

Six big ones... Fresh from the local farms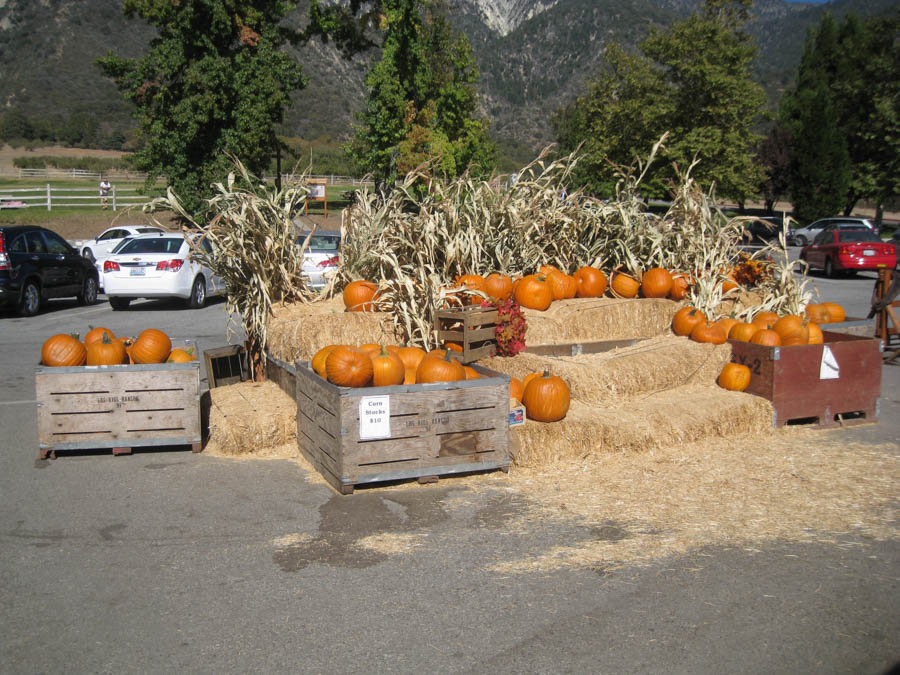 They were on display
Stop #3 - Rileys Farm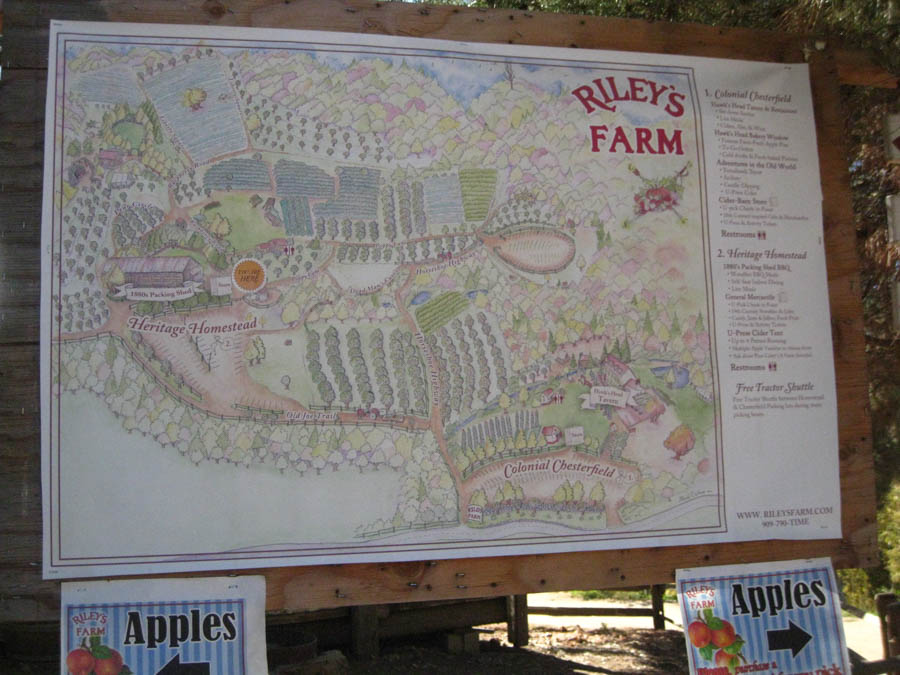 Three acres of fruits and vegetables
Did You Know? - Riley's Apple Farm is the original "Riley's" in Oak Glen! We are set on a cozy 3 acres in mile-high Oak Glen - California's own "Apple Country." We are not "Riley's Farm;" that is a completely separate business. Look for the red apple cutout that sits on top of our "Riley's Apple Farm" sign!

We are a u-pick apple, berry, & pumpkin farm. U-pick is available only when fruit is in season (Early July for raspberries & blackberries / late July to early August for apples / mid to late September for pumpkins.)
End dates for u-pick vary depending on crop size, weather variations, and how many people come & how much they pick! Berries usually last until the first frost of the year, which can happen anywhere from late September to early October.

OMG... A herd of wheelbarrows...
Used to haul pumpkins from where they were picked
Did You Know? - The term "wheelbarrow" is made of two words: "wheel" and "barrow." "Barrow" is a derivation of the Old English "bearwe" which was a device used for carrying loads.
The earliest wheelbarrows with archaeological evidence in the form of a one-wheel cart come from 2nd century Han Dynasty tomb murals and brick tomb reliefs.
The painted tomb mural of a man pushing a wheelbarrow was found in a tomb at Chengdu, Sichuan province, dated precisely to 118 AD.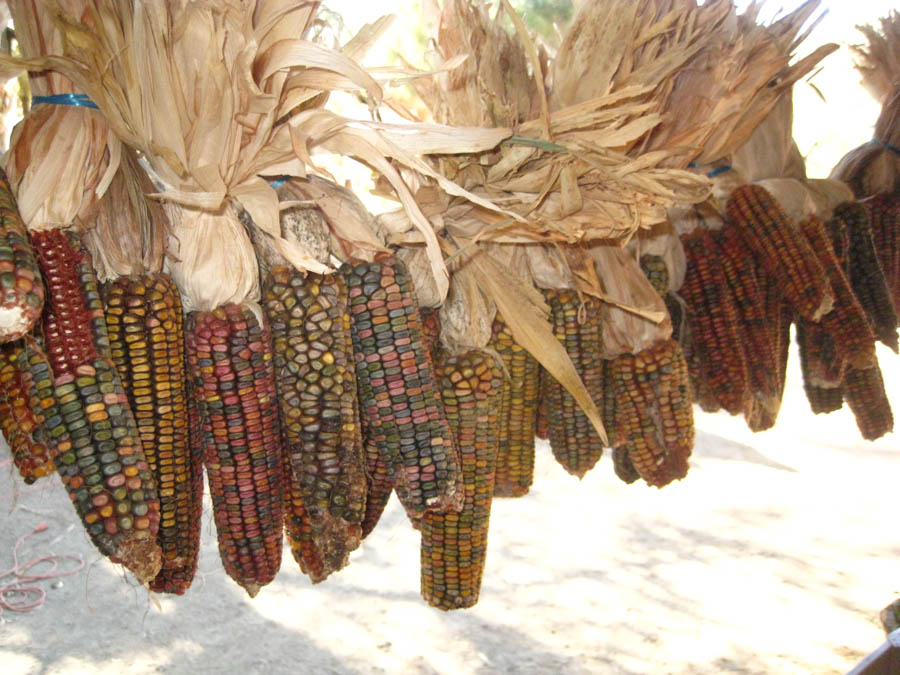 Flint Corn drying on a string
Did You Know? - Flint corn (Zea mays indurata; also known as Indian corn or sometimes calico corn) is the same species as Indian corn, but a different variant of maize (var. Linnaeus).
Because each kernel has a hard outer layer to protect the soft endosperm, it is likened to being hard as flint; hence the name.
With less soft starch than dent corn (Zea mays indentata), flint corn does not have the dents in each kernel from which dent corn gets its name.
This is one of the three types of corn cultivated by Native Americans, both in New England and across the northern tier, including by tribes such as the Pawnee on the Great Plains. Archeologists have found evidence of such corn cultivation by the Pawnee and others before 1000 BC.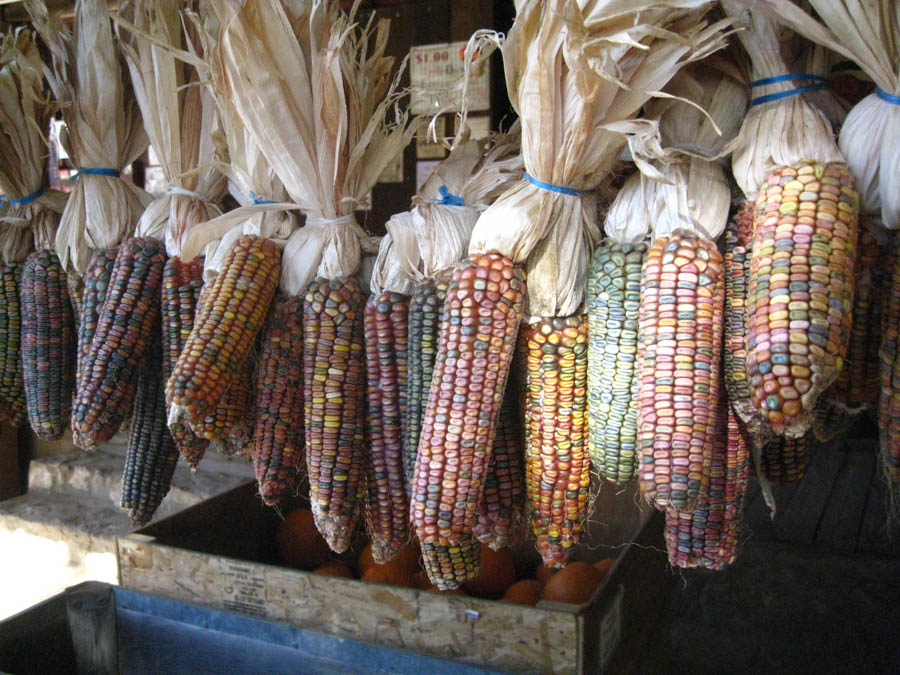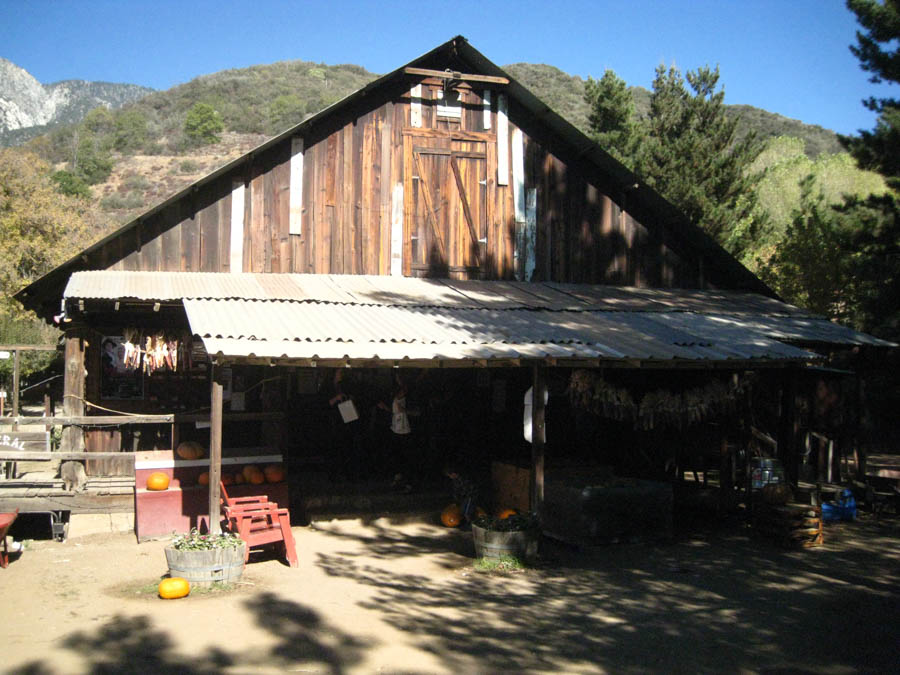 The old packing shed is approaching 100 years in age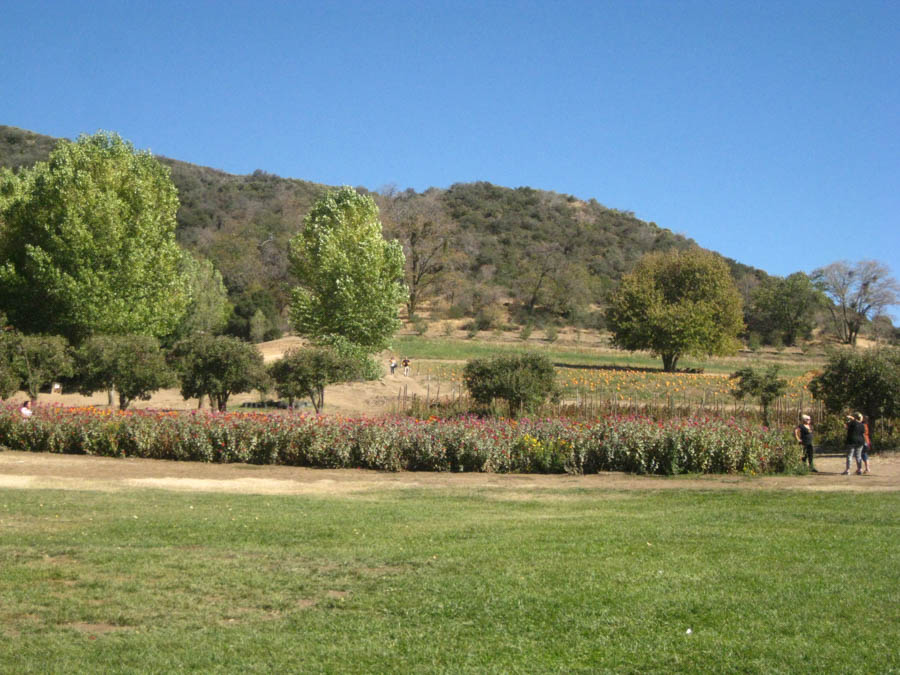 This is why you need a wheelbarrow... The pumpkins are quite a distance away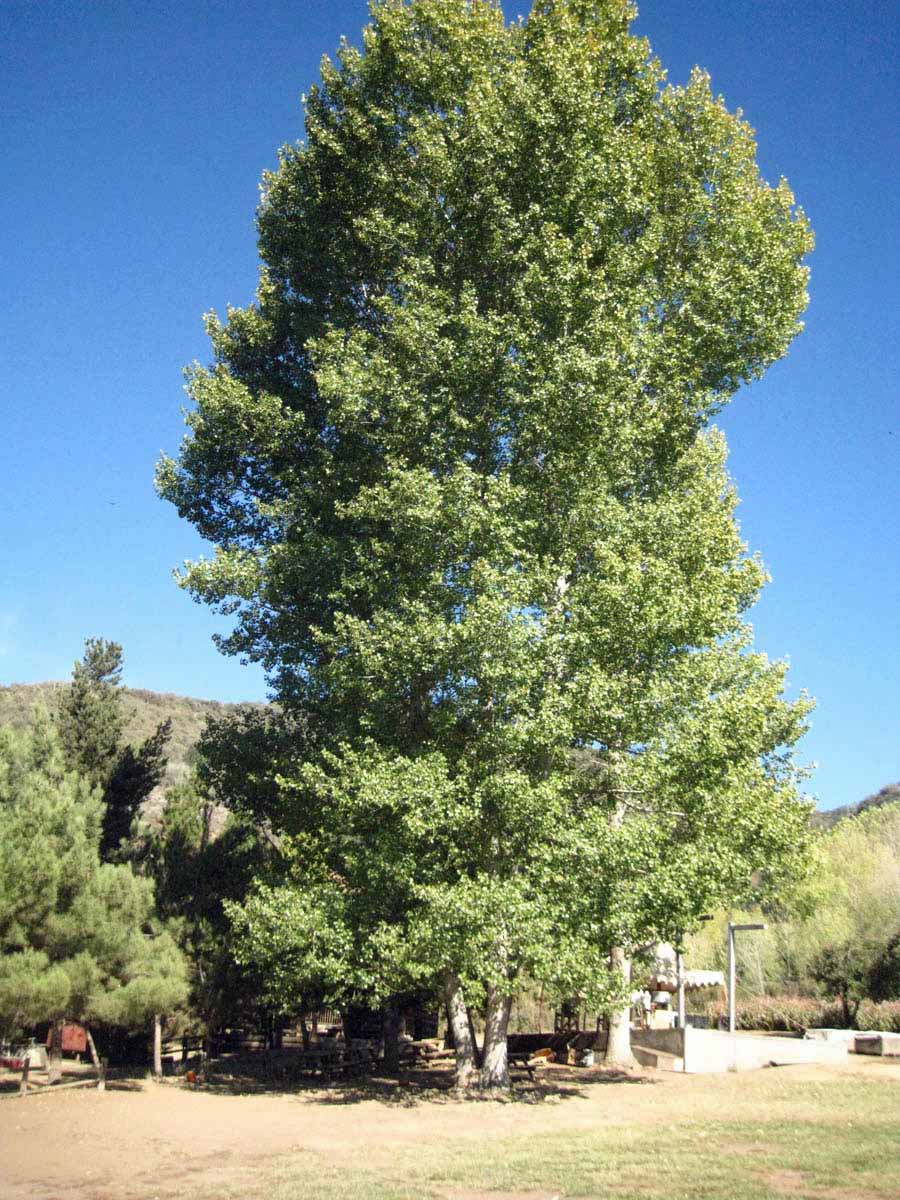 The trees were magnificent against the blue sky

Flowers anyone???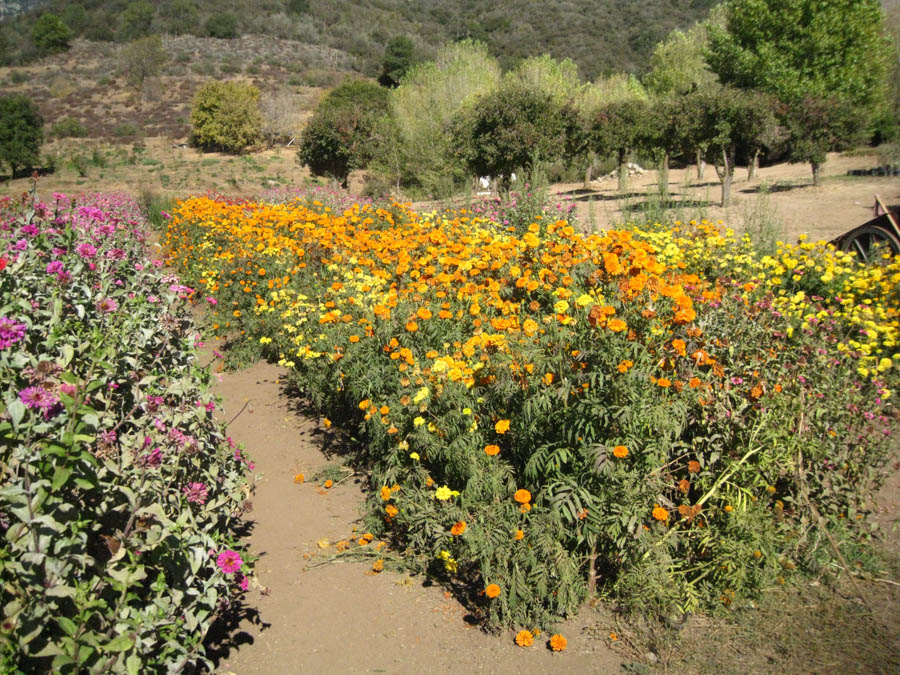 Mum is the word
Did You Know? - The name "chrysanthemum" is derived from the Greek words chrysos (gold) and anthemon (flower).
Chrysanthemums were first cultivated in China as a flowering herb as far back as the 15th century BC. Over 500 cultivars had been recorded by the year 1630.
The founding of the chrysanthemum industry dates back to 1884, when Enomoto Brothers of Redwood City, CA (San Mateo County) grew the first chrysanthemums to be grown in America.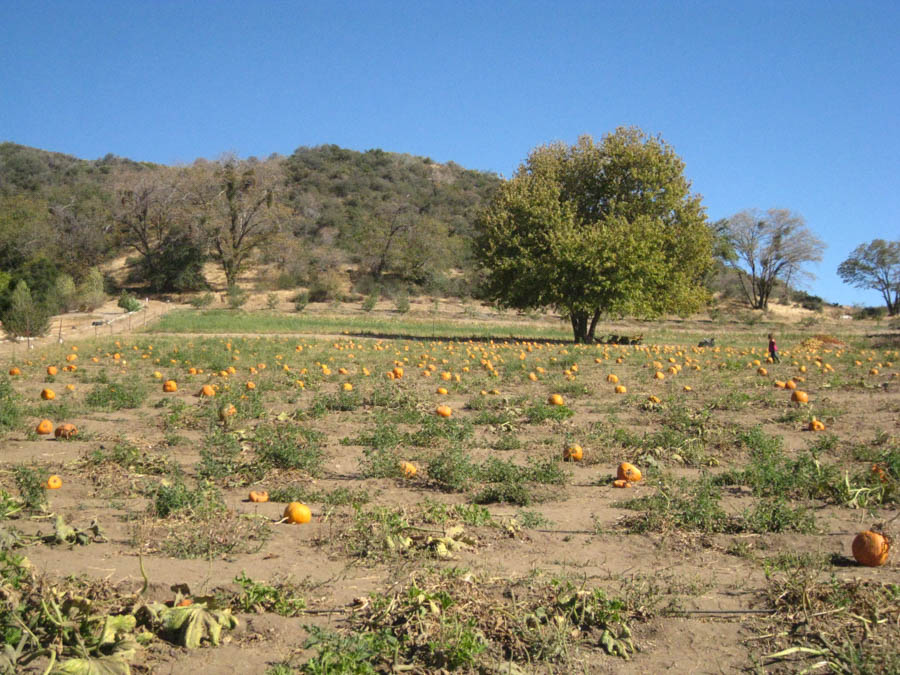 Sparse pickins this close to Halloween
Did You Know? - Pumpkins, like other squash, are thought to have originated in North America. The oldest evidence, pumpkin-related seeds dating between 7000 and 5500 BC, were found in Mexico.
The word pumpkin originates from the word pepon (πέπων), which is Greek for "large melon", something round and large.
The French adapted this word to pompon, which the British changed to pumpion and later American colonists changed that to the word that is used today, "pumpkin".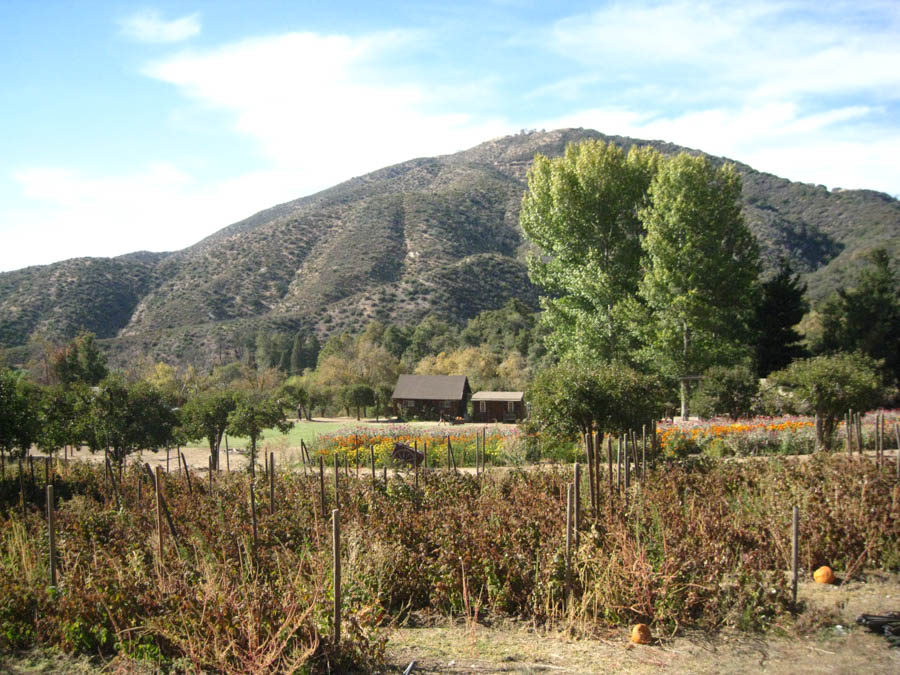 A look back from where we started... The raspberries have had it for this year
Stop #4 - Apple Annie's For Wine And Pie And A Chili-Size At Oak Tree Village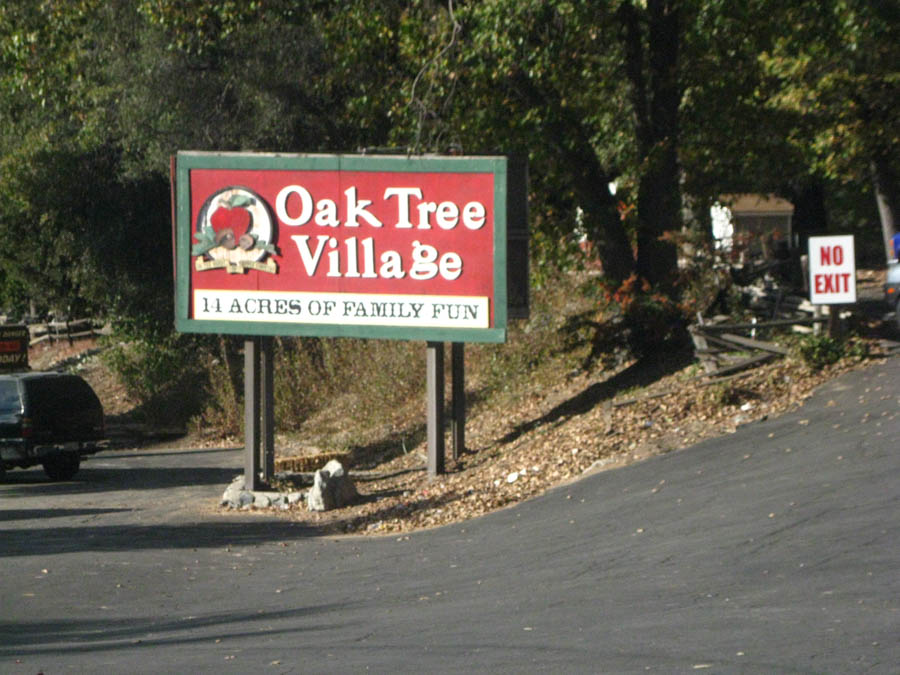 Did You Know? - Oak Tree Village is nestled in the heart of Apple Country a mile high, where it is cooler in the summers and has enough snow to make snowmen and sled in the winters.
The mile-high Oak Tree Village was created for folks to come and enjoy a simpler way of life, surrounded by the fresh crisp air and partake of the beautiful change of seasons year round.
Oak Tree Village has been the best kept secret for many families to enjoy year after year. We now invite you to come be a part of our family heritage and traditions. Just under an hour from Los Angeles or Palm Springs, spend the day having' some good ole' country fun.
For over 50 years, Oak Tree Village has offered a place for all you folks to have fun and make treasured memories with your families year round. Enjoy a fresh baked 5 lb mile high apple pie and other goodies from Apple Annie's Bakery, eat a hand dipped Caramel Apple at the Village Candy Kitchen, feed the animals in the animal park and visit the local shops and artisans.
During the fall season visit our Apple Shed, taste mountain-fresh apples and cider, dance to foot stomp in' country music, milk a goat or even race some pigs. During the day have a heart-warming meal in one of the oldest restaurants in Oak Glen, Apple Annie's. Oak Tree Village, is open seven days a week 10am to 6pm.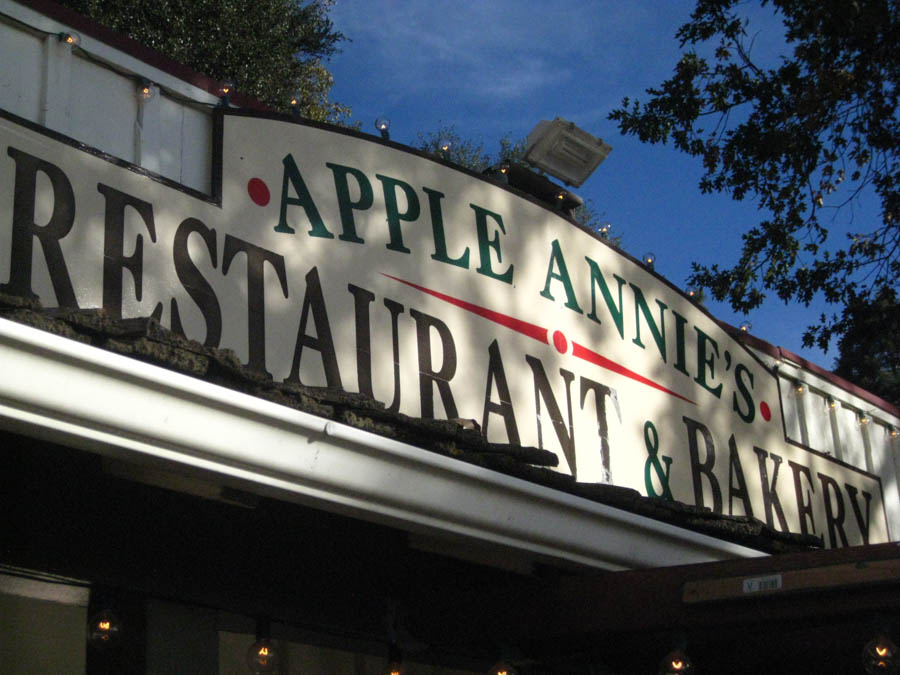 We have been going here for almost 30 years...
Hasn't changed a lot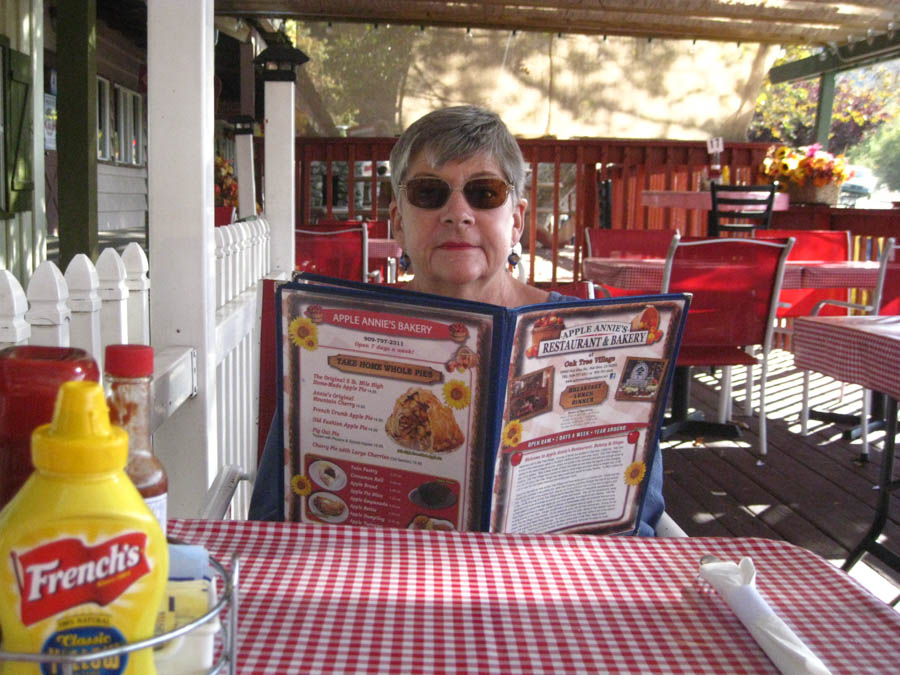 Great seats right on the porch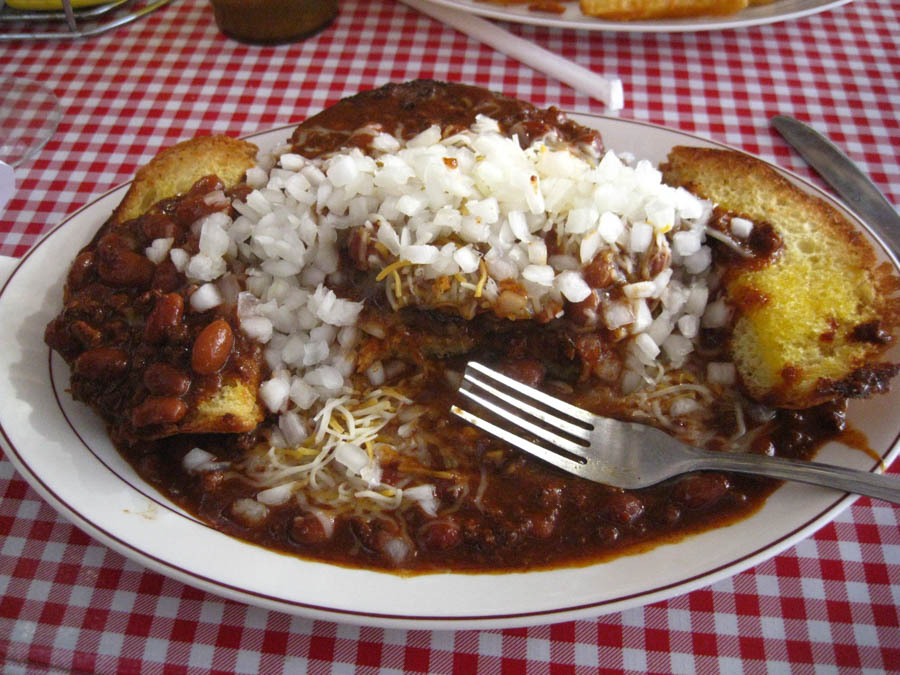 Paul's chili-size... Wonderful
Did You Know? - A chili burger (also known as a chili size or simply size, stemming from "hamburger size") is a type of hamburger. It consists of a hamburger, with the patty topped with chili con carne.
It is often served open-faced, and sometimes the chili is served alongside the burger rather than on top. The chili may be served alone, or with cheese, onions, or occasionally tomatoes as garnishes.
Chili burgers appear to have been invented in the 1920s by Thomas M. "Ptomaine Tommy" DeForest, who founded a sawdust-floored all-night restaurant, "Ptomaine Tommy's", located in the Lincoln Heights neighborhood of Los Angeles. Ptomaine Tommy's was open from around 1919 to 1958, where his chili burger was referred to as "size", and chopped onions as "flowers" or "violets".

The fries were perfect!
Song: "Don't Sit Under The Apple Tree"
"Don't Sit Under the Apple Tree (With Anyone Else but Me)" is a popular song that was made famous by Glenn Miller and by the Andrews Sisters during World War II. Its lyrics are the words of two young lovers who pledge their fidelity while one of them is away serving in the war.
Originally titled "Anywhere the Bluebird Goes", the melody was written by Sam H. Stept as an updated version of the nineteenth-century English folk song "Long, Long Ago".
Lew Brown and Charles Tobias wrote the lyrics and the song debuted in the 1939 Broadway musical Yokel Boy. After the United States entered the war in December 1941, Brown and Tobias modified the lyrics to their current form, with the chorus ending with "...'till I come marching home"
In February 1942, the Glenn Miller Orchestra recorded the song with vocals by Tex Beneke, Marion Hutton, and The Modernaires. This record spent thirteen weeks on the Billboard charts and was ranked as the nation's twelfth best-selling recording of the year.