Dinner Is Done... Time To Start Moving (Page One)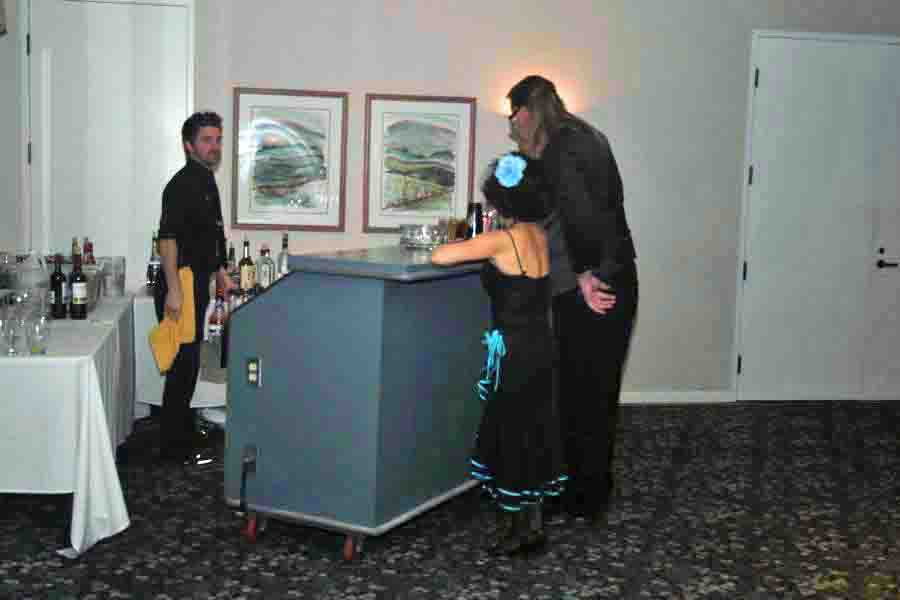 Donna had to meet the drummer as he was a big guy
May luck be our companion
May friends stand by our side
May history remind us all;Of Ireland's faith and pride.
May God bless us with happiness
May love and faith abide.
~Irish Blessing

Time for announcements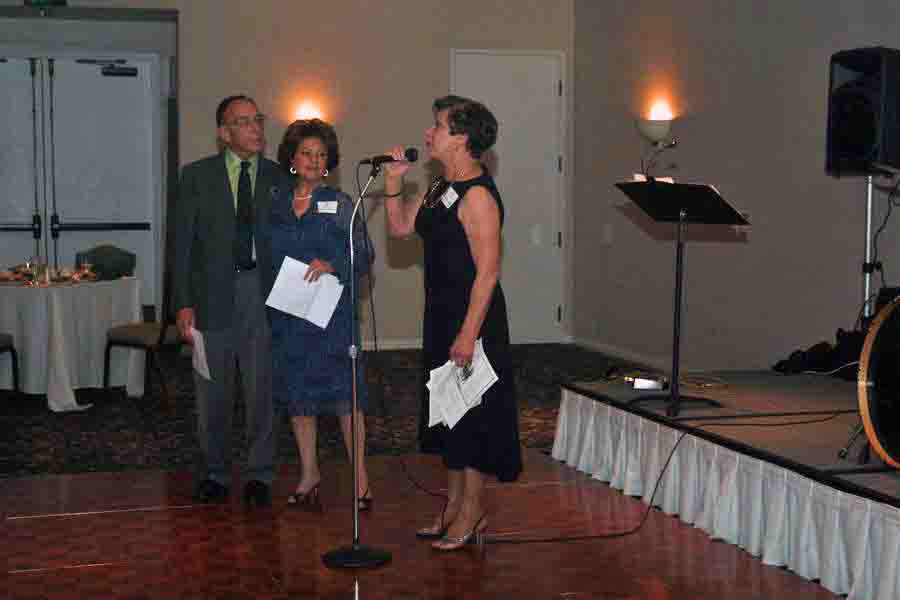 Remember the CHOC activities on May 14th
Meet Our Guests This Evening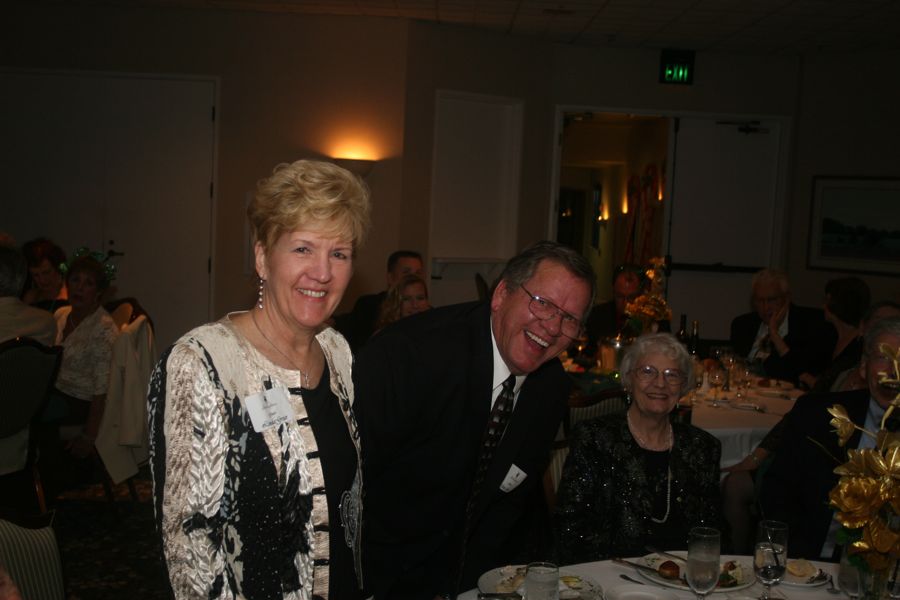 Guests: Linda and Gary Grear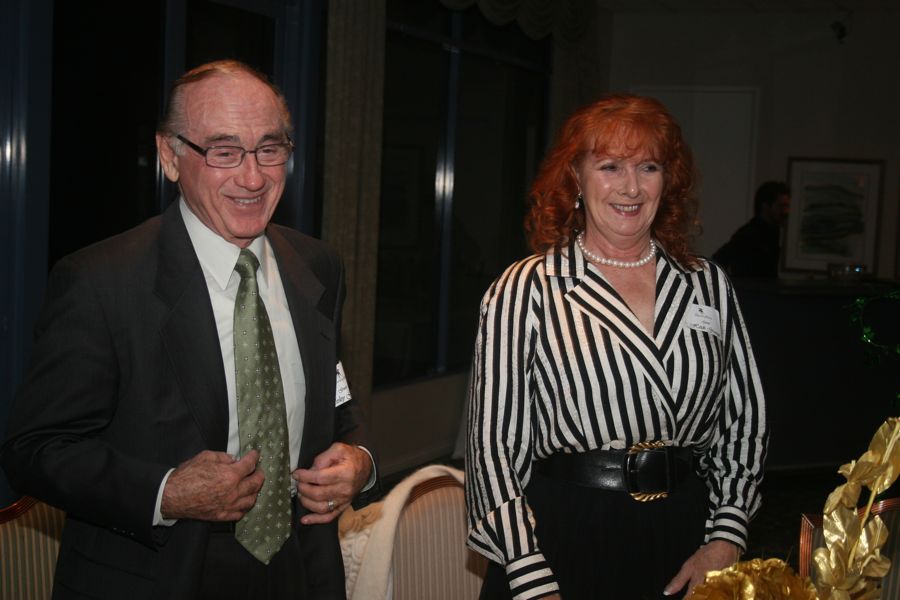 Guests: Wesley and Heide Granger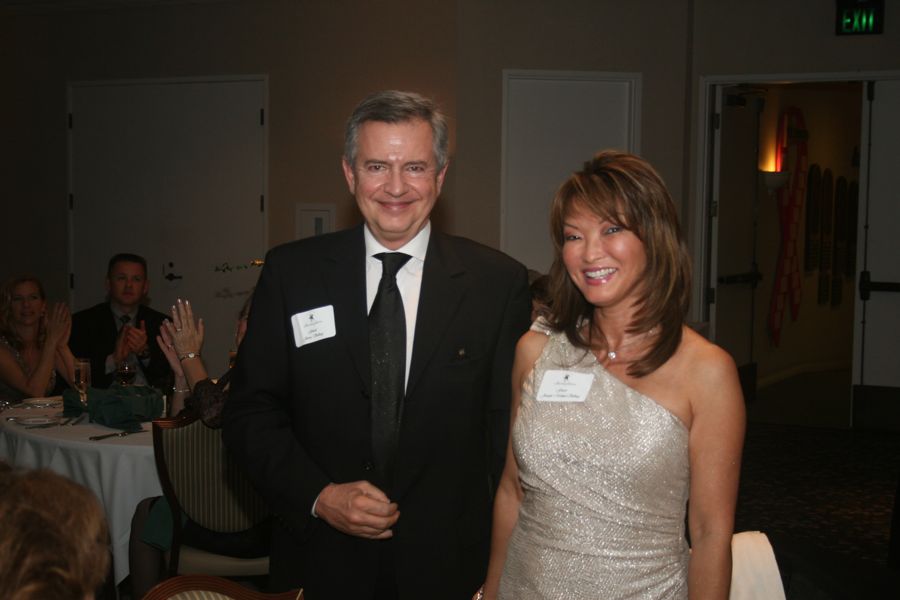 Guests: Jerry and Jacqui Mukai-Sebog
Did Someone Say "Line Dance?"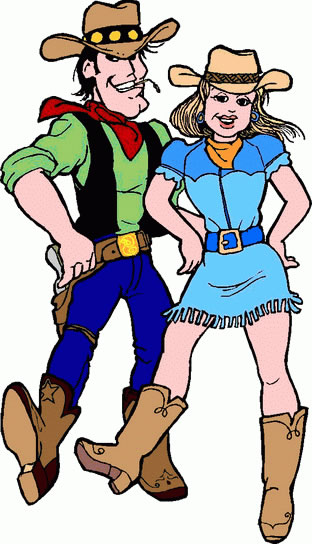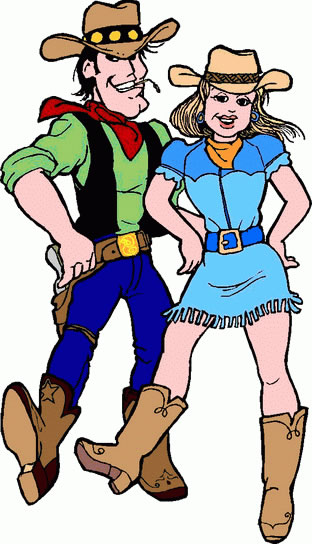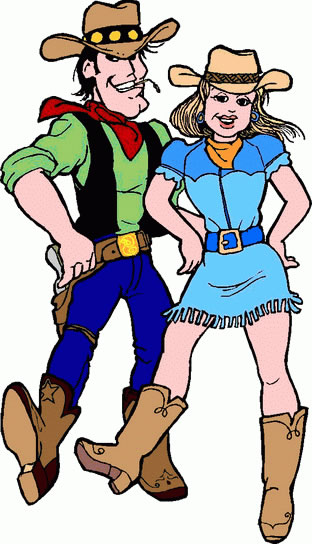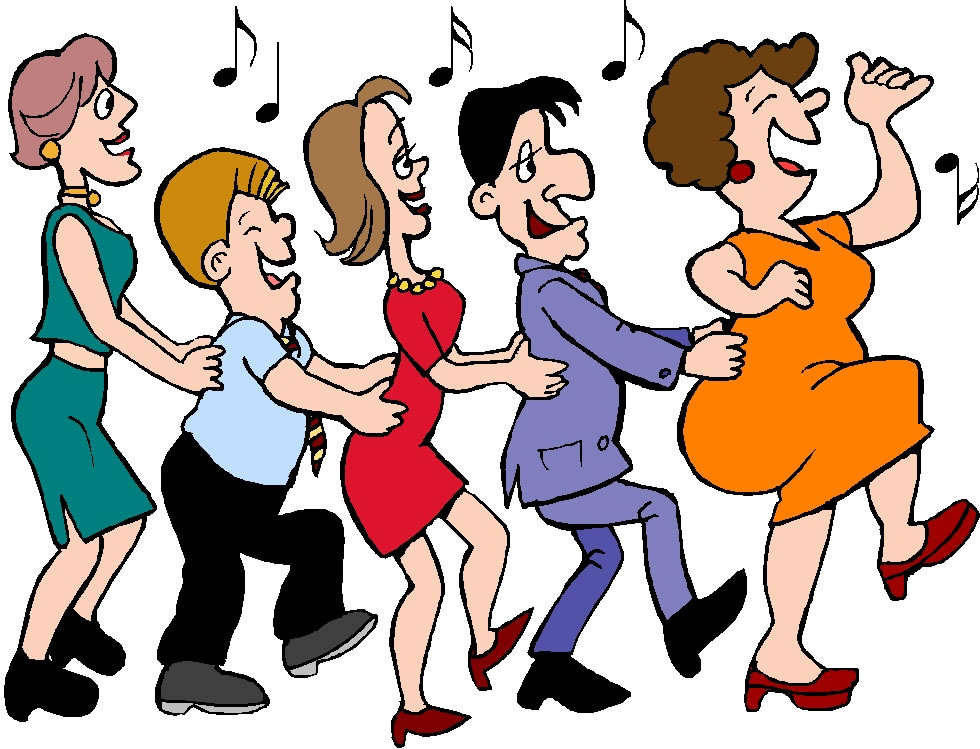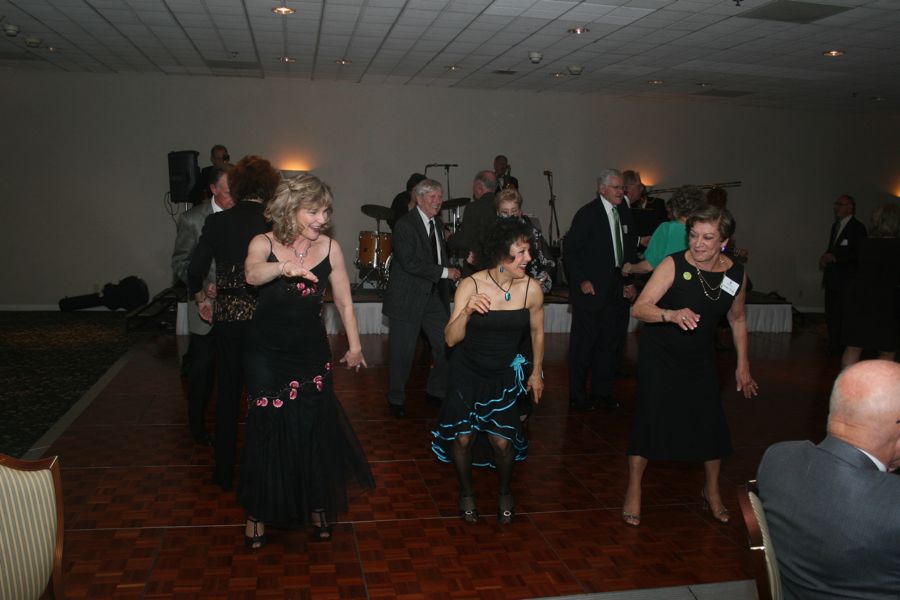 Mary, Donna, and Marilyn
Back To Swing... Foxtrot... And Everything Else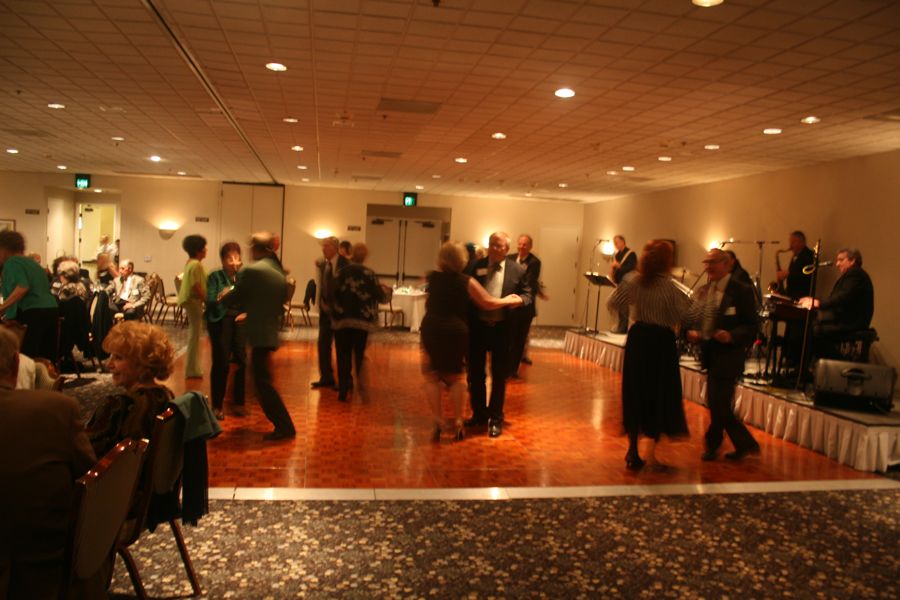 Great band this evening
Wishing you a rainbow
For sunlight after showers—
Miles and miles of Irish smiles
For golden happy hours—
Shamrocks at your doorway
For luck and laughter too,
And a host of friends that never ends
Each day your whole life through!

The floor is busy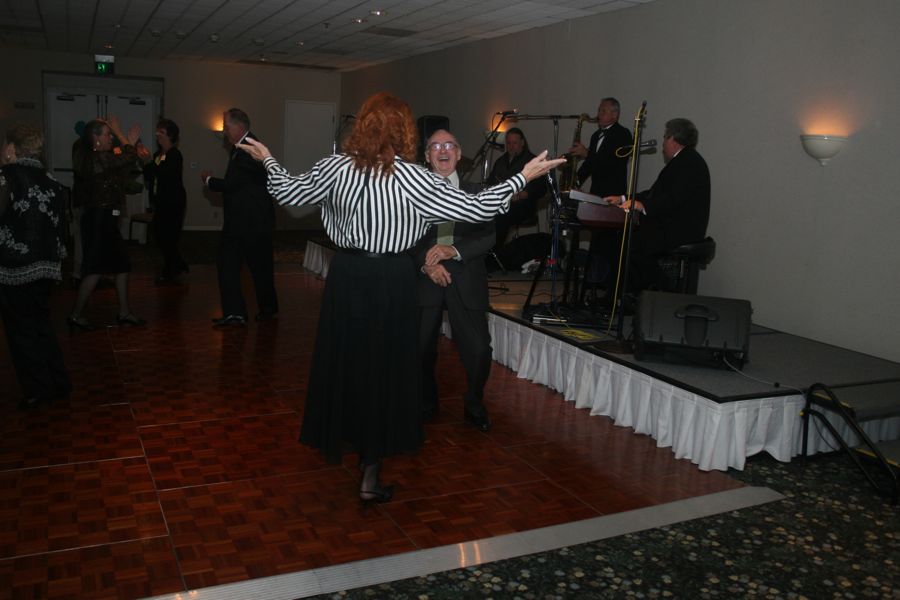 "I give up... What is the name of that tune??"
Did You Know? - Name That Tune is a television game show that put two contestants against each other to test their knowledge of songs . Premiering in the United States on NBC Radio in 1952, the show was created and produced by Harry Salter and his wife Roberta .
Name That Tune ran from 1953-1959 on NBC and CBS in prime time. The first hosts were Red Benson and later Bill Cullen , but George DeWitt became most identified with the show. DeWitt could sing well, which was vital to the show's success; Benson and Cullen did not possess such talents.[ citation needed ]
Richard Hayes also emceed a local edition from 1970–1971, which ran for 26 weeks in a small number of markets. However, the best-remembered syndicated Name That Tune aired once a week (expanded to twice a week for its final season) from 1974-1981 with host Tom Kennedy . The series was revived for daily syndication in 1984, and its lone season was hosted by Jim Lange . For the last two of these series, John Harlan served as announcer.
The orchestra was conducted by Bob Alberti (1974–1975), Tommy Oliver (1975–1978, 1984–1985), and Stan Worth (1978–1981); a second band, Dan Sawyer and the Sound System, was also featured from 1978-1981. Beginning in 1976 and continuing for the remainder of the weekly syndicated series, as well as for the entire 1984 run, the show's title became The $100,000 Name That Tune.
Featured vocalists during the 1970's run of the show were Kathie Lee Gifford , then going by the name Kathie Lee Johnson, Monica Burruss, also known as Monica Francine Pege, and Steve March . The show also featured choreographers Jerri Fiala and Dennon Rawles during the 1978-1979 season. The 1980s syndicated series did not feature any singers.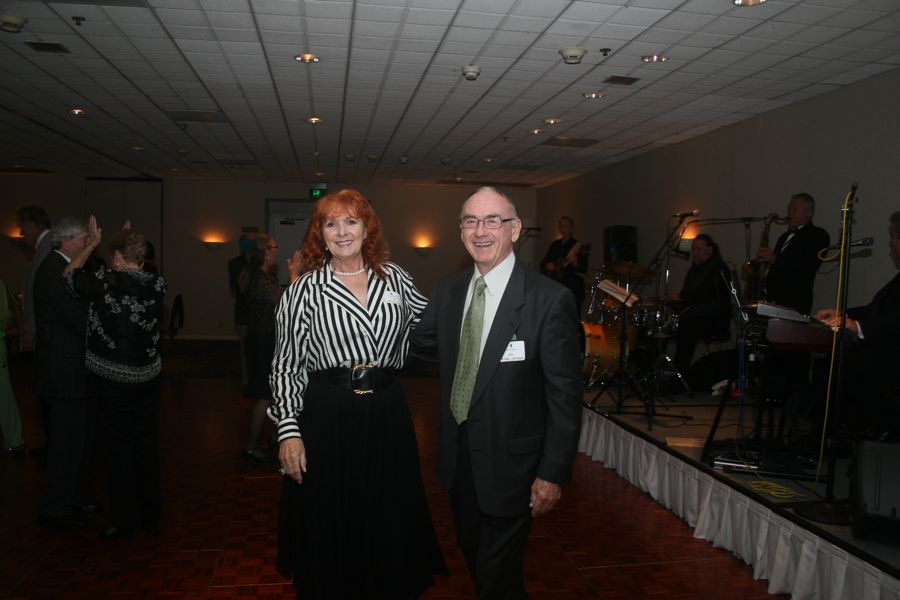 Yall come back soon!

Caught in the act!!! Why mess with perfection!
Did You Know? - A compact is cosmetic product. It is usually contained in a small, round case, with two or all of the following: a mirror, pressed powder, and a powder puff. The term is an abbreviation for "compact powder". Eventually the more elaborate compact, the 'vanity case' became popular as it had more compartments for more makeup items. Compacts prior to the 1960s are vintage and are very desirable as a collector's item. Made of many different materials and often depicting the era of when it was made. ie: Art Deco
Super Moon
Did You Know? - In astrology, a supermoon is a full or new moon that coincides with a close approach by the Moon to the Earth. The Moon's distance varies each month between approximately 354,000 km (220,000 mi) and 410,000 km (254,000 mi) due to its elliptical orbit around Earth.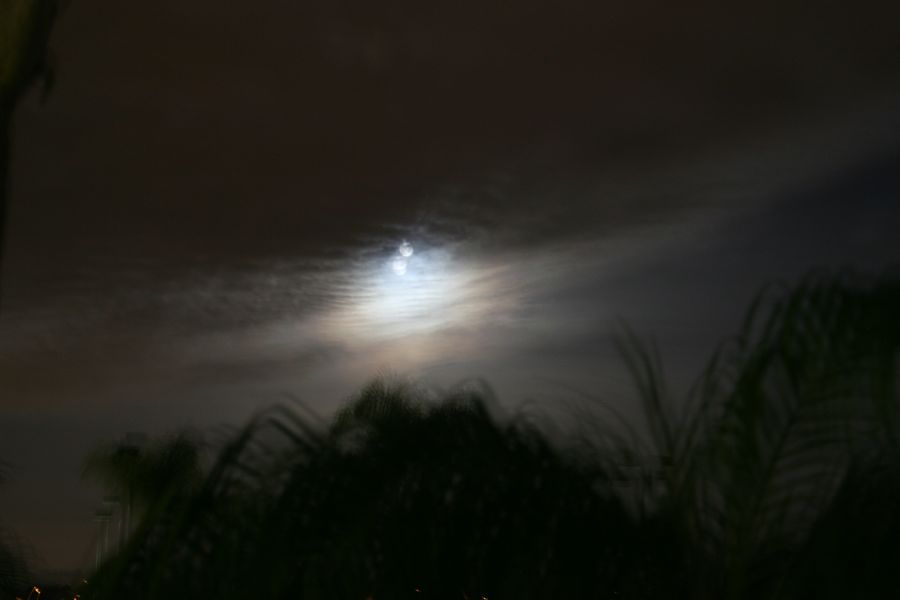 Did You Know? - The term supermoon is not widely accepted or used within the astronomy or scientific community, who prefer the term perigee-syzygy. Perigee is the point at which the moon is closest in its orbit to the Earth, and syzygy is full or new moon, when the Earth, the moon and the sun are aligned. Hence, supermoon can be regarded as a combination of the two, although they do not perfectly coincide each time. See you at the next ones!
November 14, 2016
January 2, 2018
January 21, 2023
November 25, 2034
January 13, 2036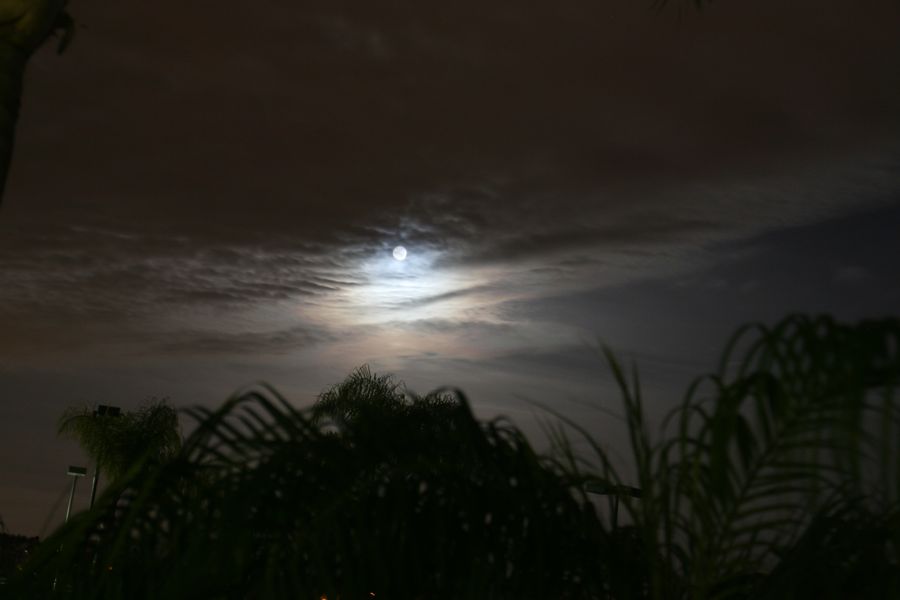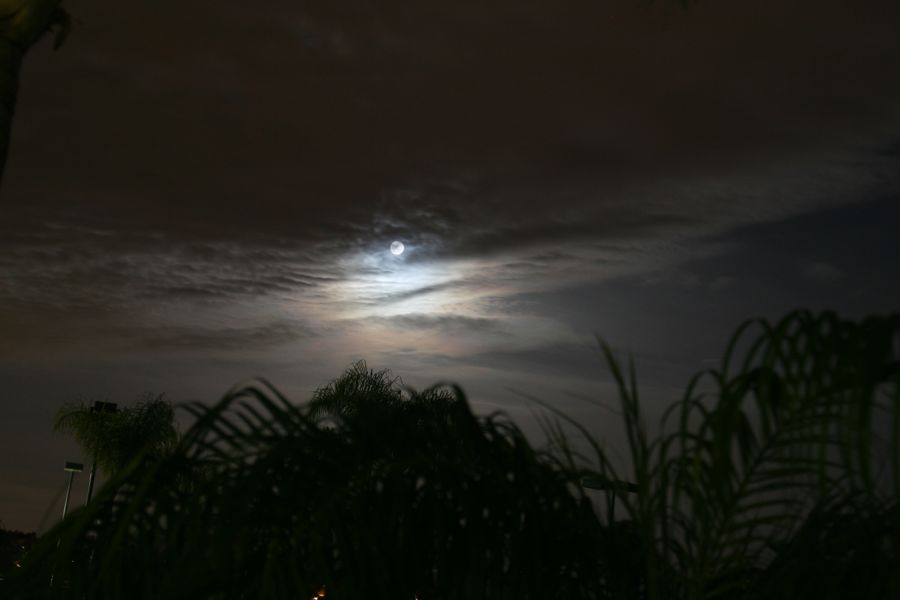 Peeking out between the clouds
Exercising And Line Dancing Combined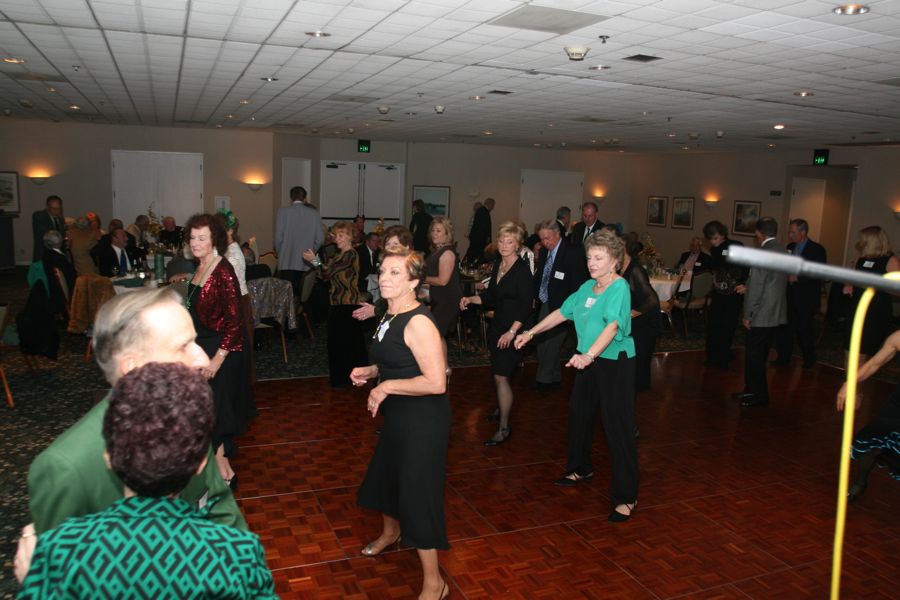 Bands-Eye view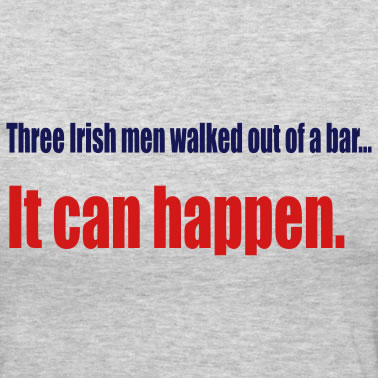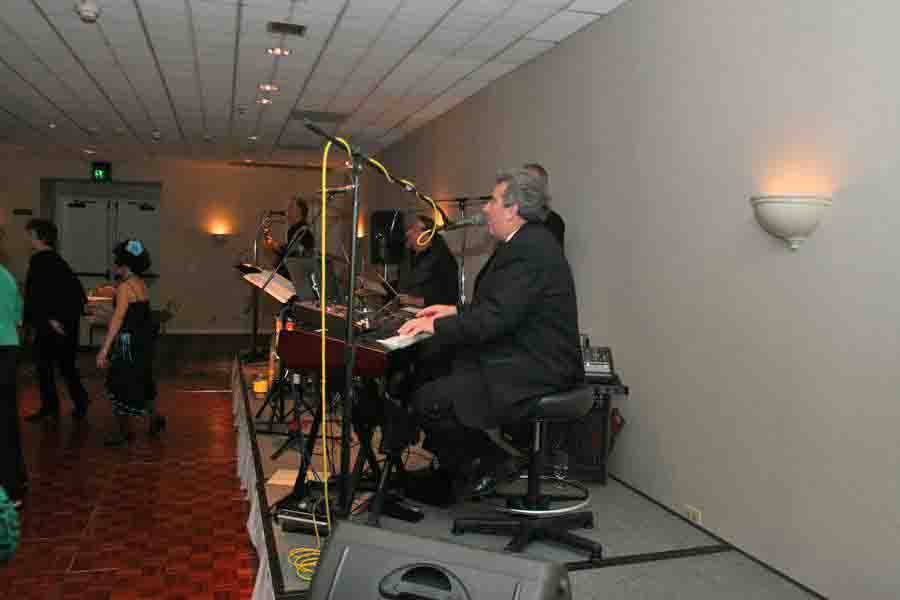 The band was hot this evening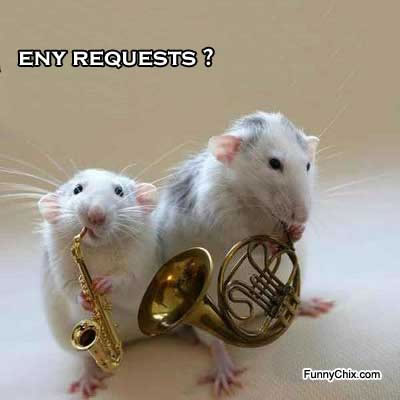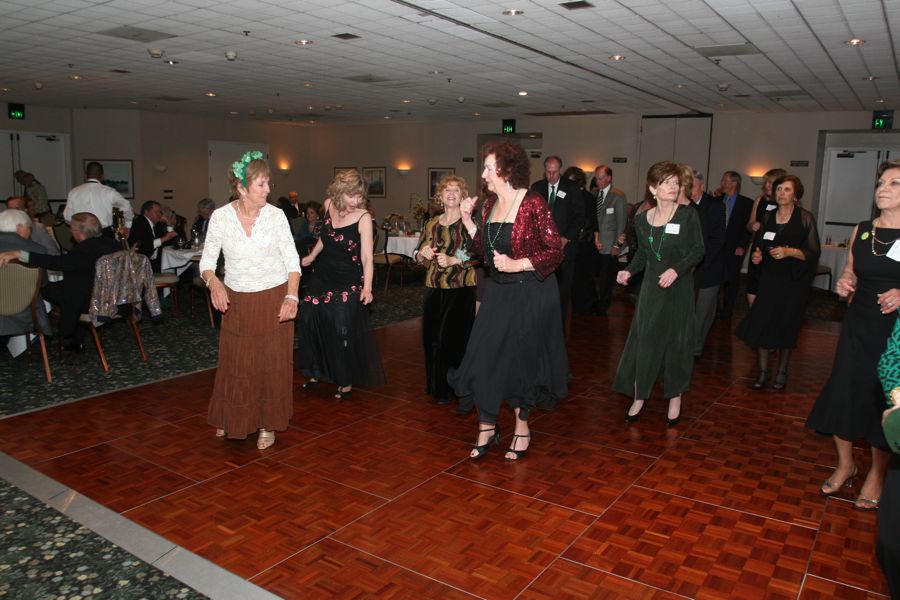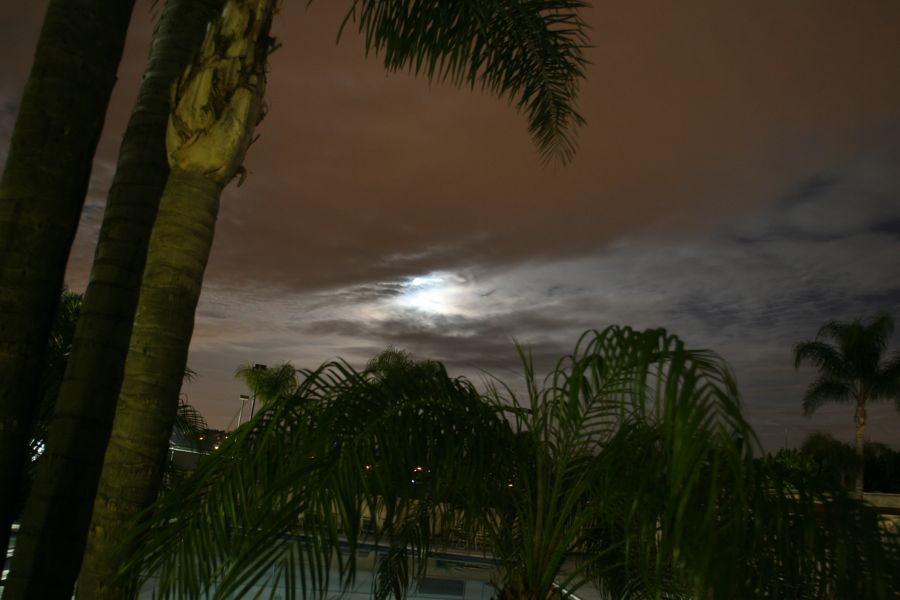 One more peek outside... Thanks, Paula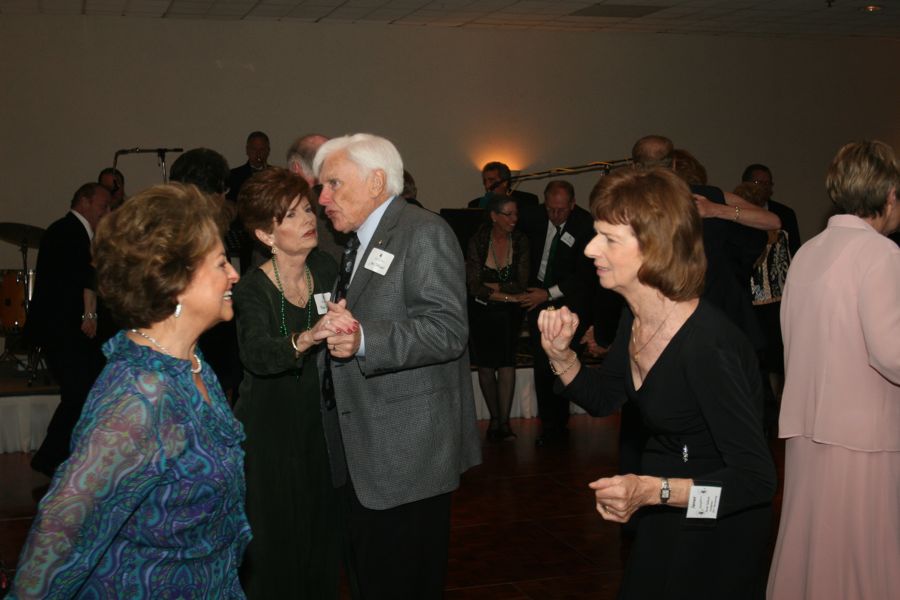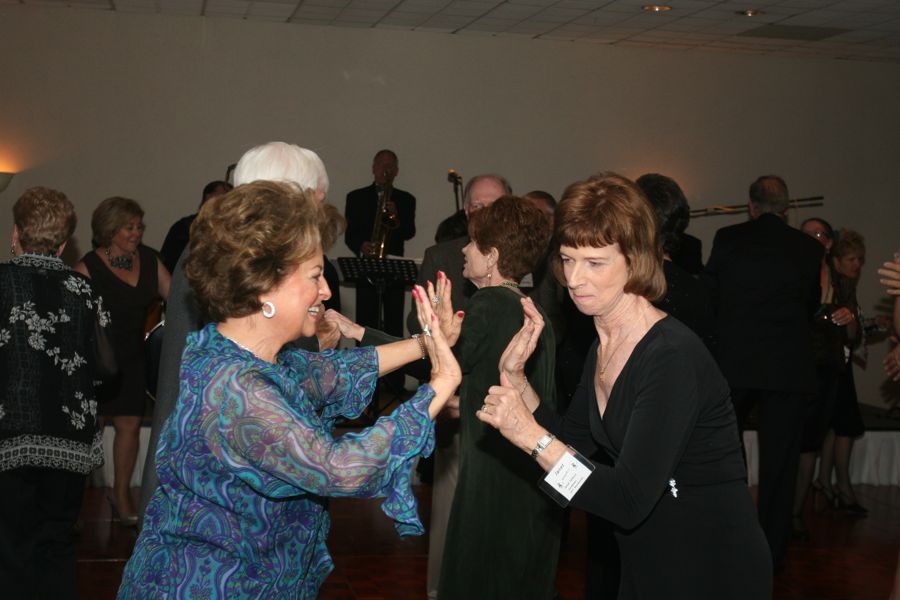 Paddy cake???
Did You Know? - "Pat-a-cake, pat-a-cake, baker's man", "Pat-a-cake", "patty-cake" or "pattycake" is one of the oldest and most widely known surviving English nursery rhymes. The earliest recorded version of the rhyme appears in Thomas D'Urfey 's play The Campaigners from 1698, where a nurse says to her charges:
...and pat a cake Bakers man, so I will master as I can, and prick it, and prick it, and prick it, and prick it, and prick it, and throw't into the Oven.
The next appearance is in Mother Goose's Melody, (c. 1765), in the form:
Patty Cake, Patty Cake,
Baker's Man;
That I will Master,
As fast as I can;
Prick it and prick it,
And mark it with a T,
And there will be enough for Jacky and me
A New Style Is Born

A new style is born... Thanks Neal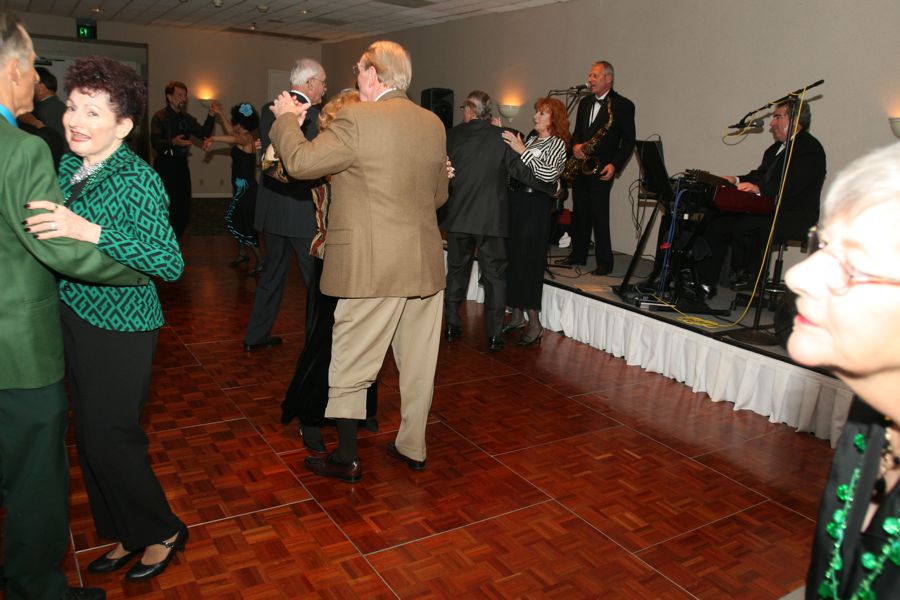 It's called "The Golf Look"
Did You Know? - Socks have evolved over the centuries from the earliest models which were made from animal skins gathered up and tied around the ankles. In the 8th century BC, the Ancient Greeks wore socks from matted animal hair for warmth. The Romans also wrapped their feet with leather or woven fabrics. By the 5th century AD, socks called "puttees" were worn by holy people in Europe to symbolise purity. By 1000 AD, socks became a symbol of wealth among the nobility. From the 16th century onwards, an ornamental design on the ankle or side of a sock has been called a clock.
The invention of a knitting machine in 1589 meant that socks could be knitted six times faster than by hand. Nonetheless, knitting machines and hand knitters worked side by side until 1800.
The next revolution in sock production was the introduction of nylon in 1938. Until then socks were commonly made from silk, cotton and wool. Nylon was the start of blending two or more yarns in the production of socks, a process that still continues.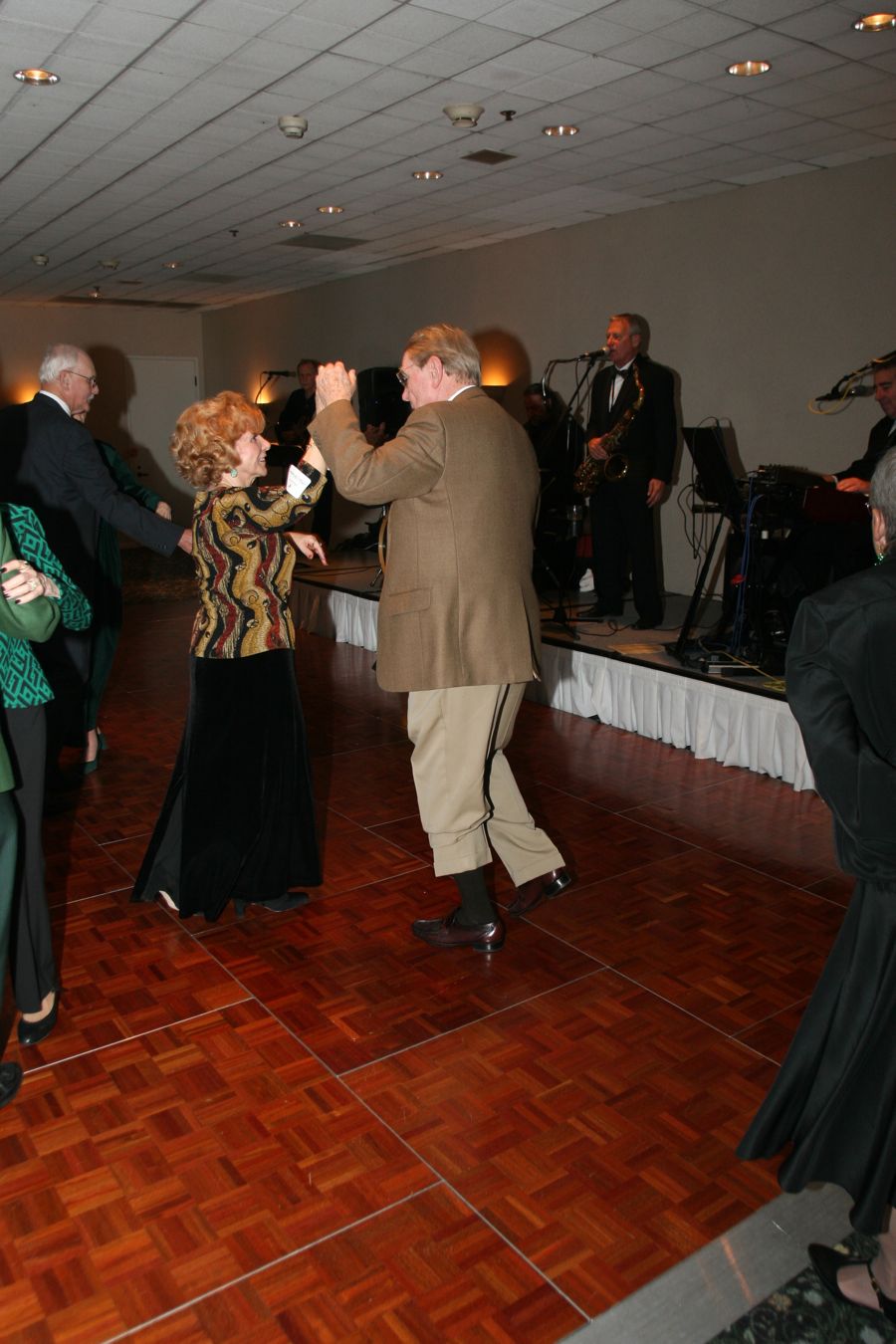 Perhaps he is showing off his new socks???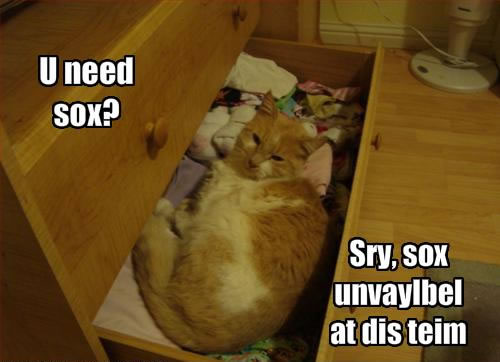 The Band Takes A Short Break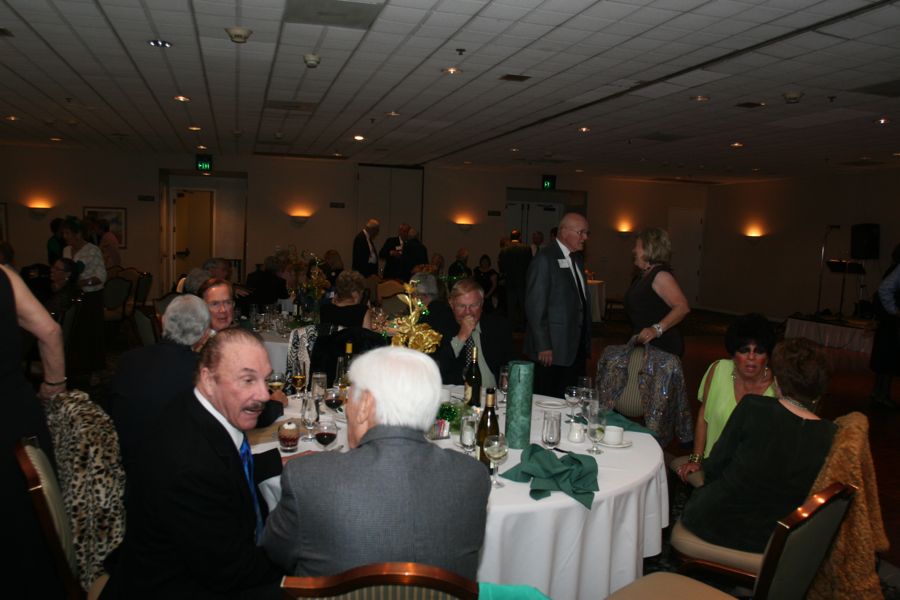 Wine seems to be disappearing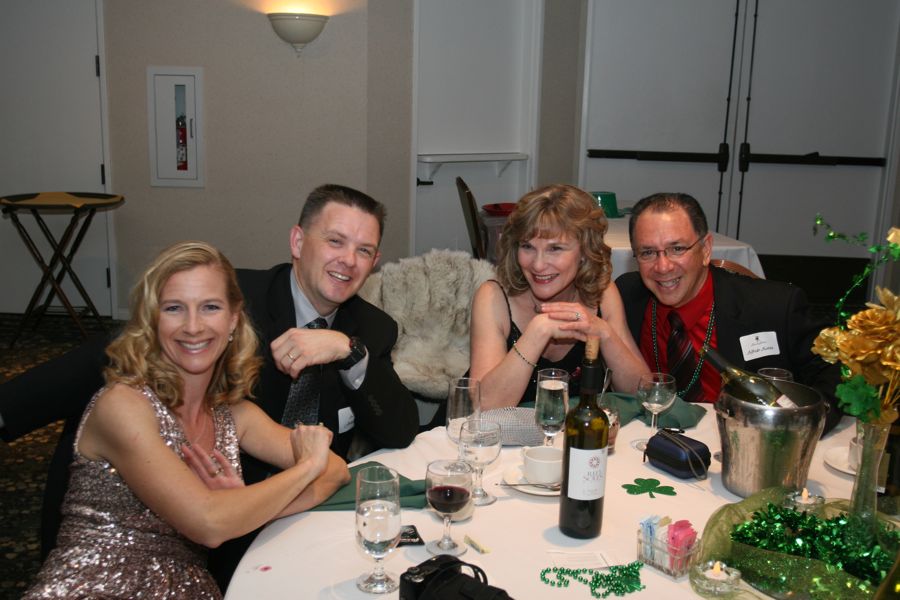 Serious discussions underway
An Irishman's Philosophy

In life, there are only two things to worry about—
Either you are well or you are sick.
If you are well, there is nothing to worry about,

But if you are sick, there are only two things to worry about—
Either you will get well or you will die.
If you get well, there is nothing to worry about,

But if you die, there are only two things to worry about—
Either you will go to heaven or hell.
If you go to heaven, there is nothing to worry about.

And if you go to hell, you'll be so busy shaking hands with all your friends
You won't have time to worry!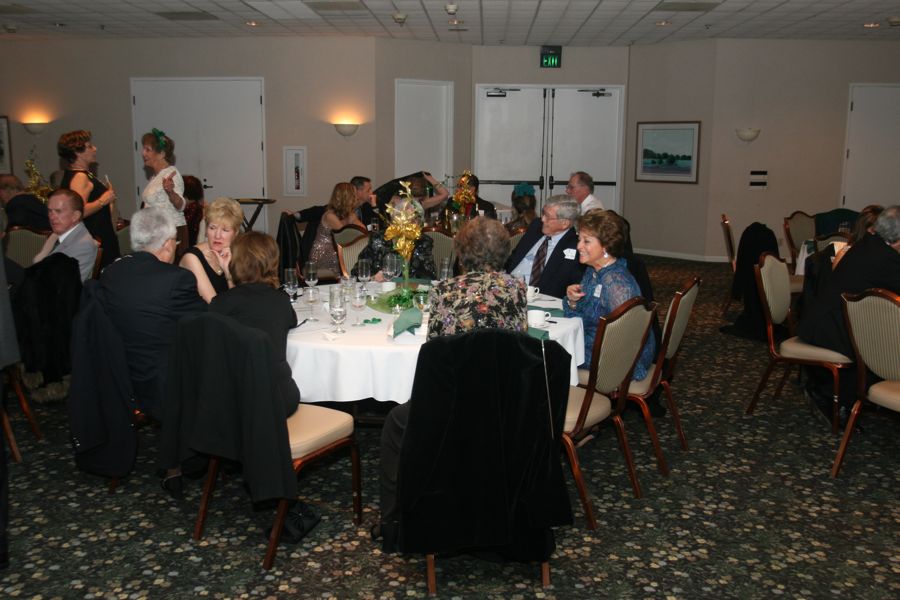 OK, one last look

Everyone went outside to see it... and cool off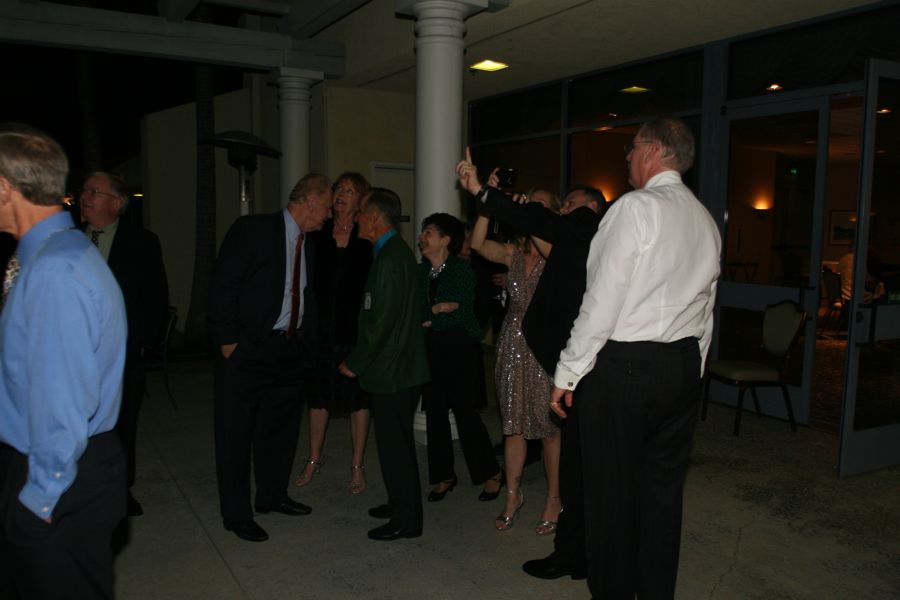 It's a bird, it's a plac\ne, NO! It is SUPERMOON

Good shot

Now, let me 'splain how this works

Holding up the moon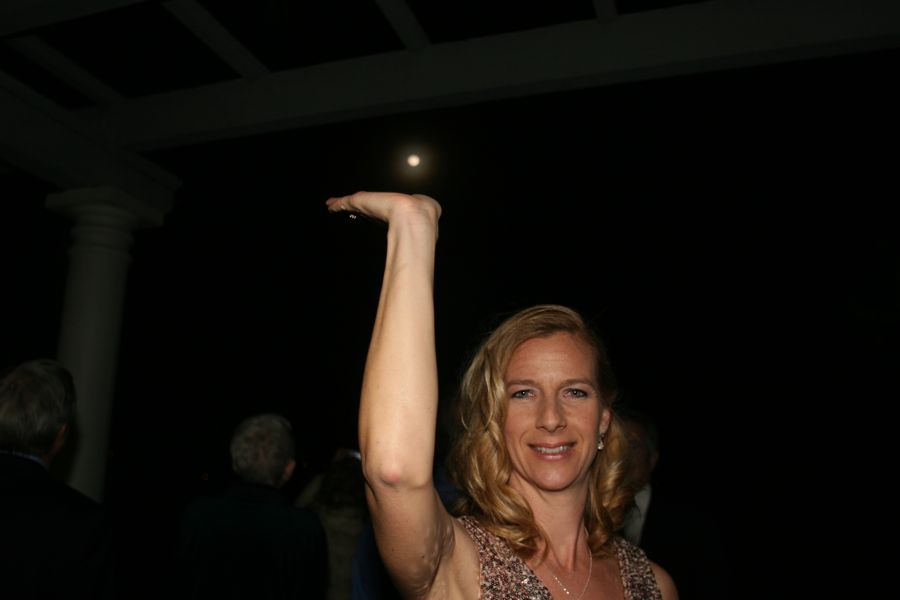 It's easy!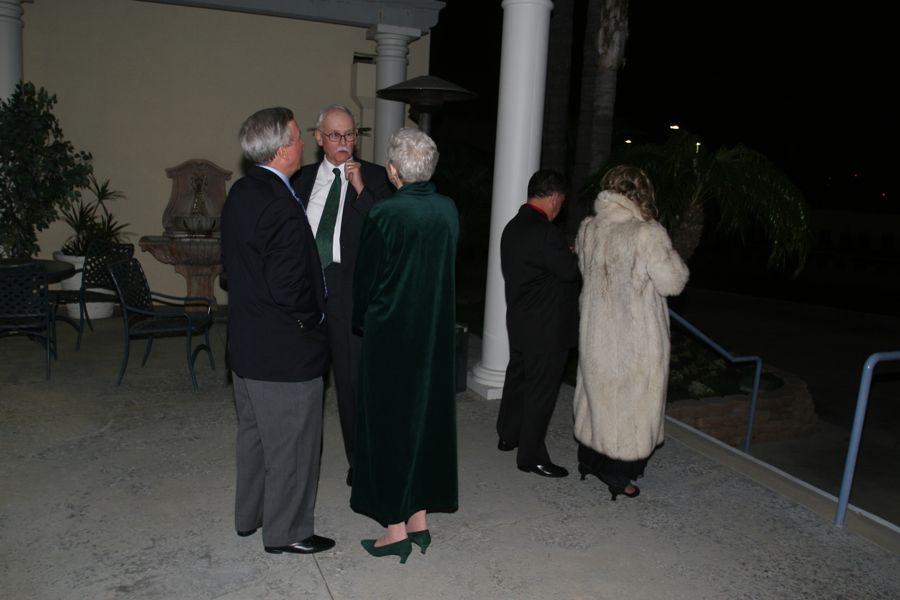 Doris and Bob taken in the sights

The floor remains busy... Perhaps they are warming up after watching the moon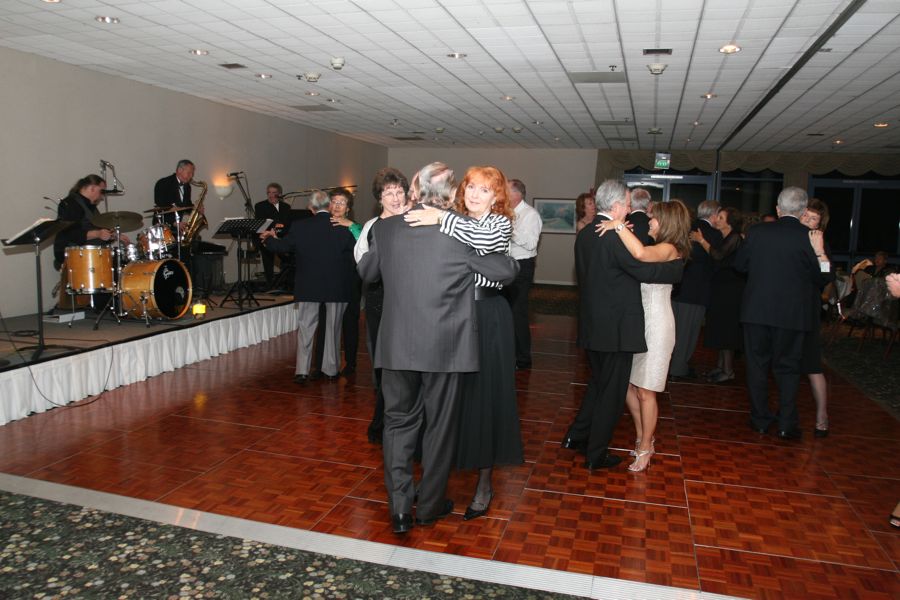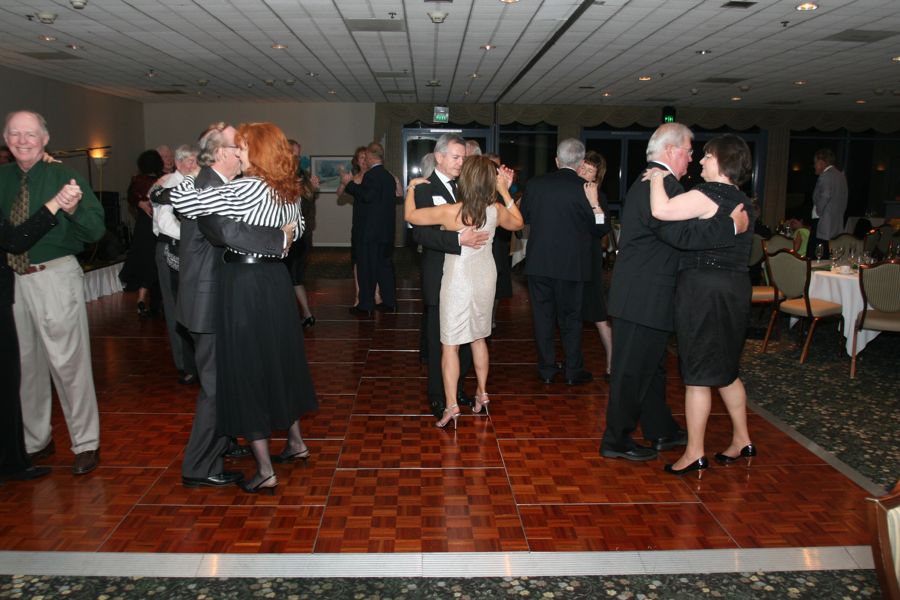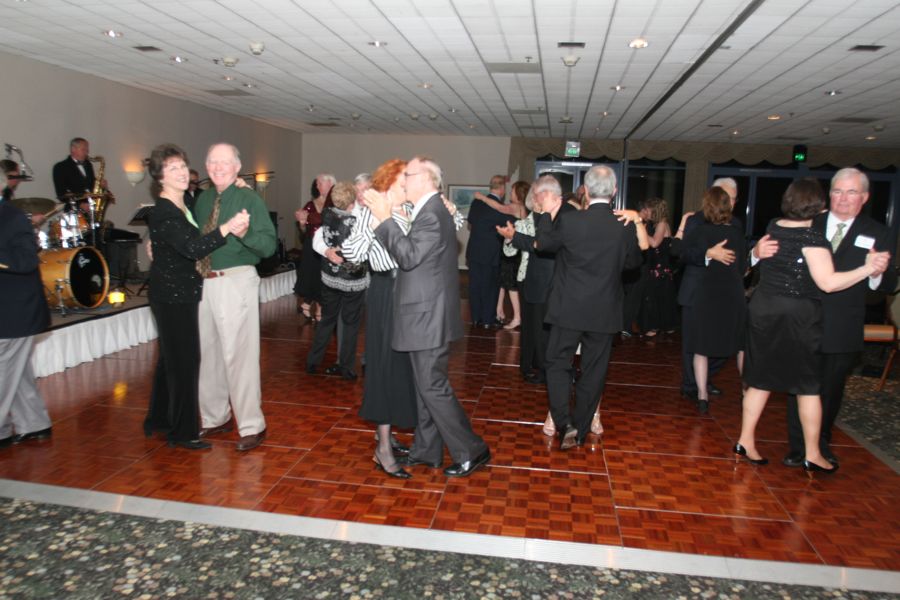 What is this man thinking???
I drink to your health when I'm with you,
I drink to your health when I'm alone,
I drink to your health so often,
I'm starting to worry about my own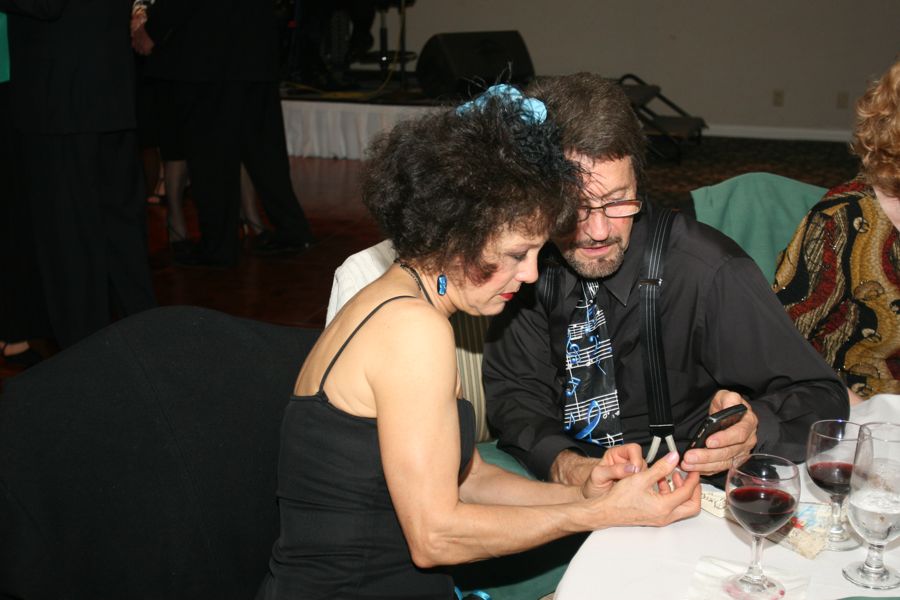 Donna gets phone lessons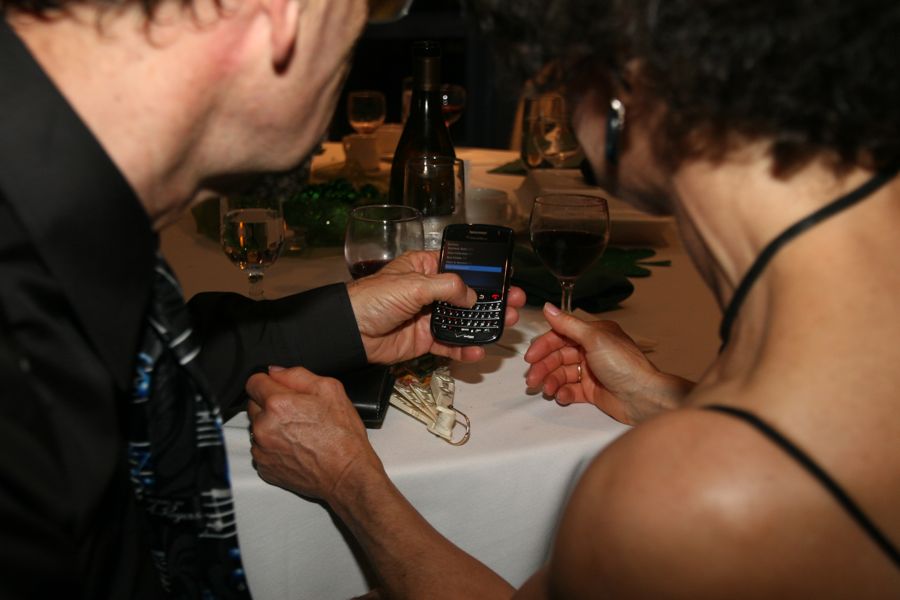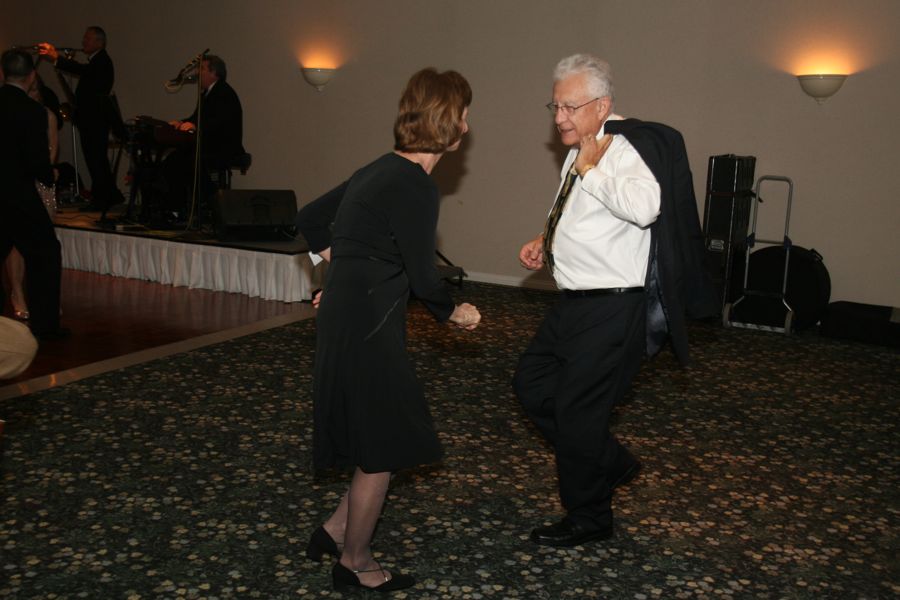 Ah guys... You missed the floor ... Nope! They are cutting the rug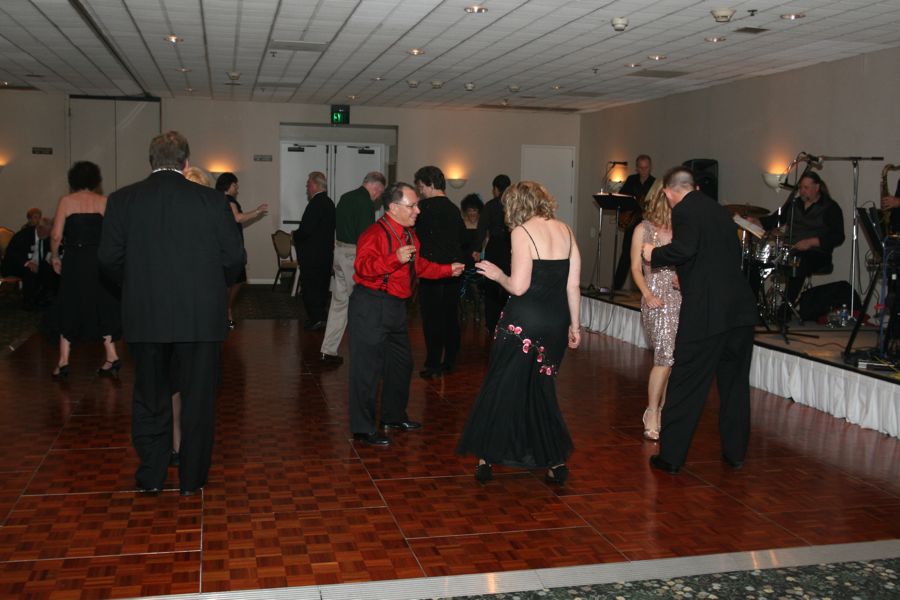 The photographer escapes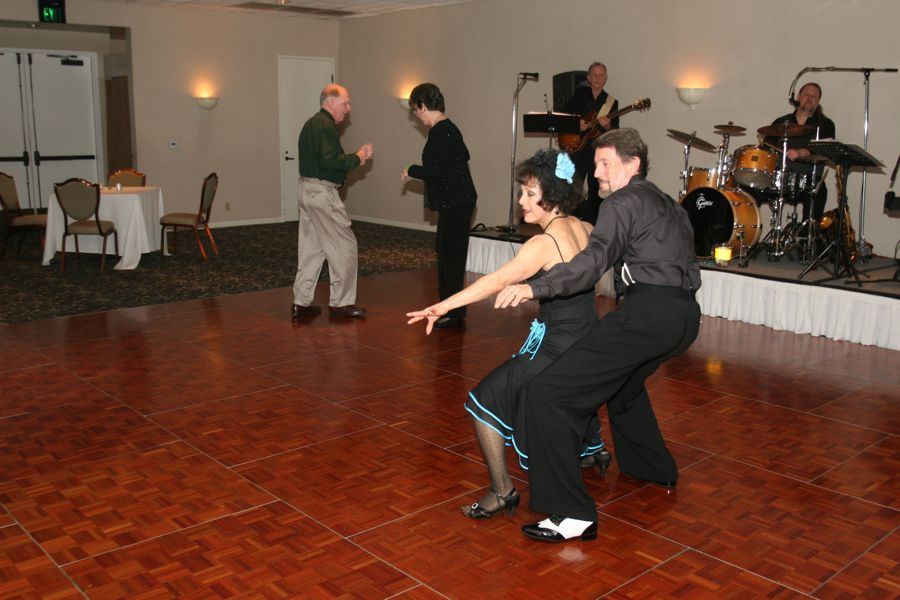 Surfin USA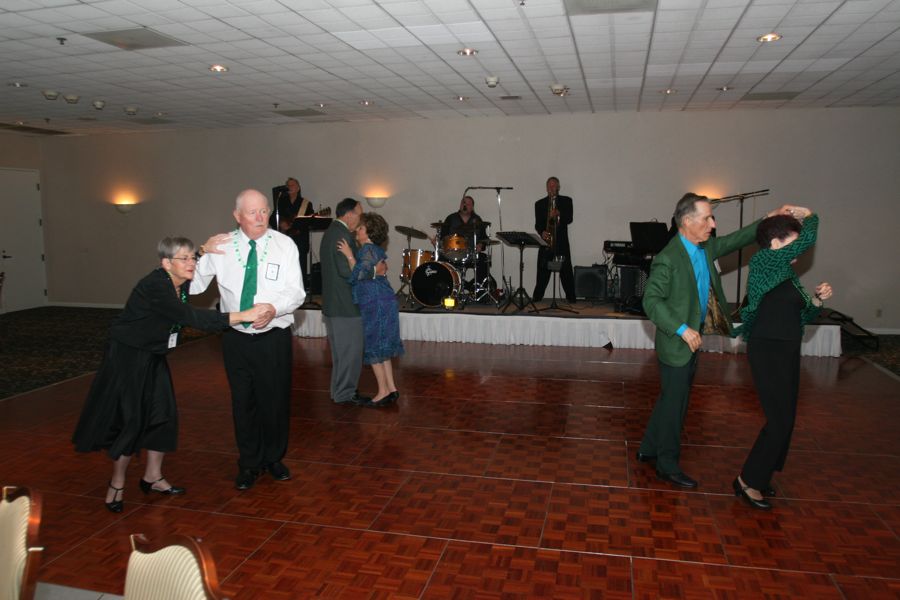 The diehards
Did You Know? - The phrase die hard was first used during the Battle of Albuera (1811) in the Peninsular war. During the battle, Lieutenant-Colonel William Inglis of the 57th (West Middlesex) Regiment of Foot was wounded by canister shot. Despite his injuries, Inglis refused to retire from the battle but remained with the regimental colours, encouraging his men with the words "Die hard 57th, die hard!" as they came under intense pressure from a French attack. The 'Die Hards' subsequently became the West Middlesex's regimental nickname.
The term was later used to deride several senior officers of the Army who sought to maintain unchanged the system bequeathed to them by the Duke of Wellington, and who strenuously resisted military reforms enacted by Parliament starting in the late 1860s.
In British politics the adjective "die-hard" (best written with a hyphen) was later used to describe those members of the House of Lords who, during the crisis caused by the Lords' rejection of Lloyd George's "People's Budget" of 1909 refused to accept the diminution of the Upper House's powers by the Parliament Act 1911.
It was later used to describe those members of the Conservative Party, including Winston Churchill, who refused to accept any moves towards Indian independence in the 1930s. Again this opposition was powerfully concentrated in the House of Lords.
Many of the die hards, though obviously not Churchill, flirted with Oswald Mosley's British Union of Fascists and some even became active sympathisers with Adolf Hitler and called for a negotiated peace in the crisis of 1940.
The term is now commonly used to describe any person who will not be swayed from a belief, and was used as the title of the popular action movie series Die Hard, all starring Bruce Willis as police officer John McClane.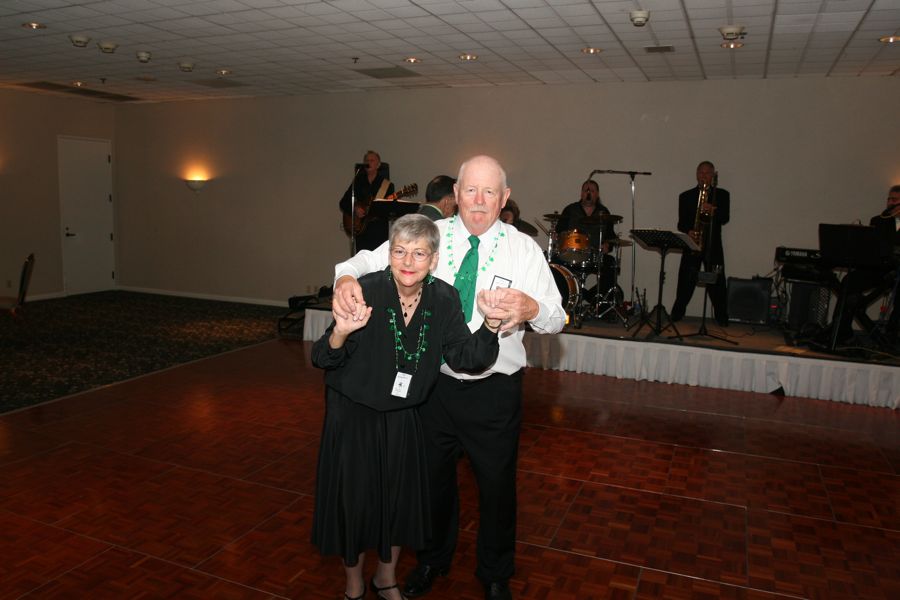 Last man standing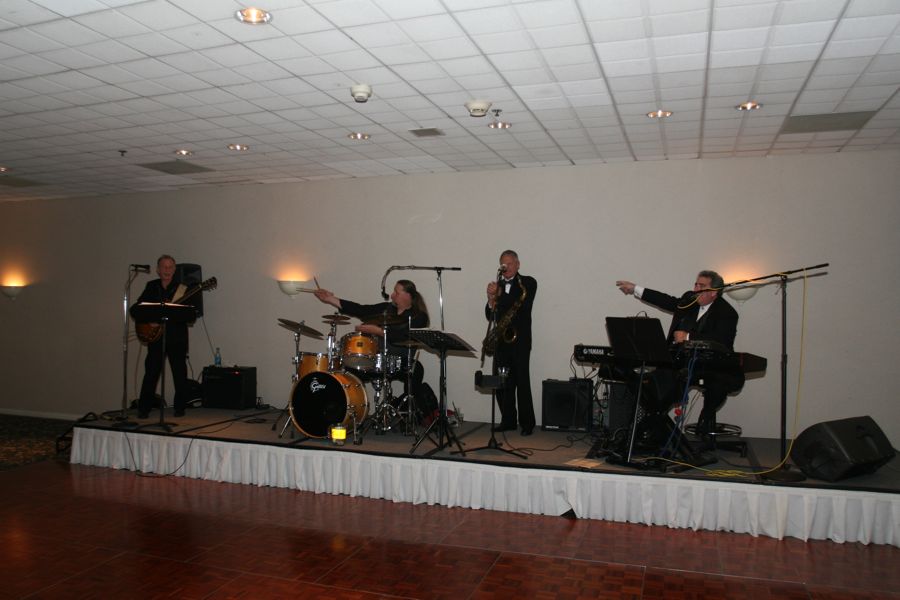 Introductions

One last dance.... My feet hurt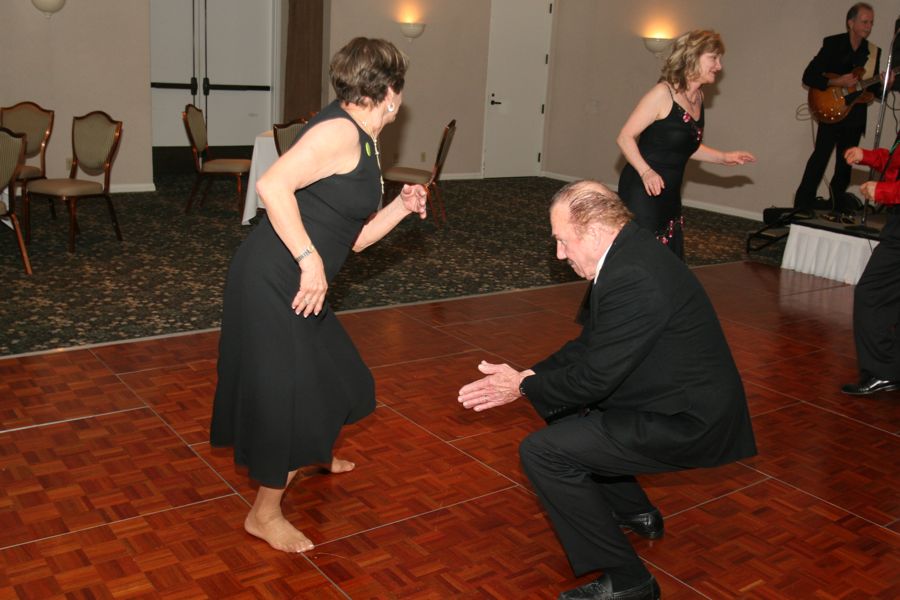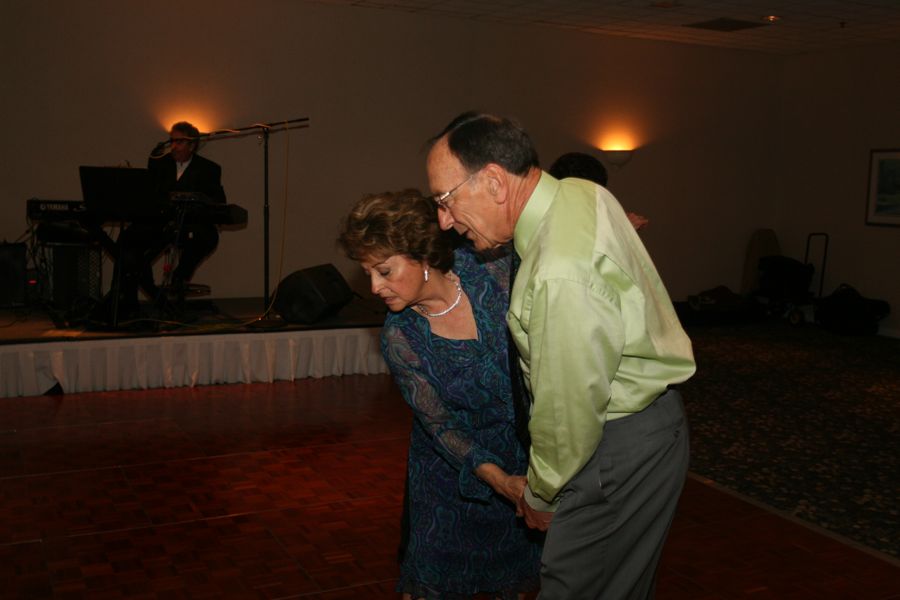 For each petal on the shamrock
This brings a wish your way -
Good health, good luck, and happiness
For today and every day.
~Author Unknown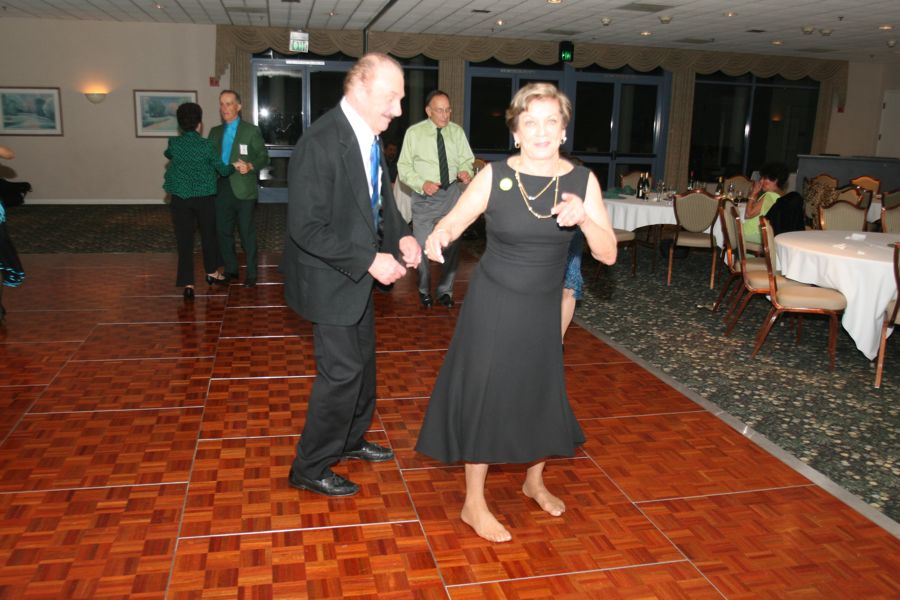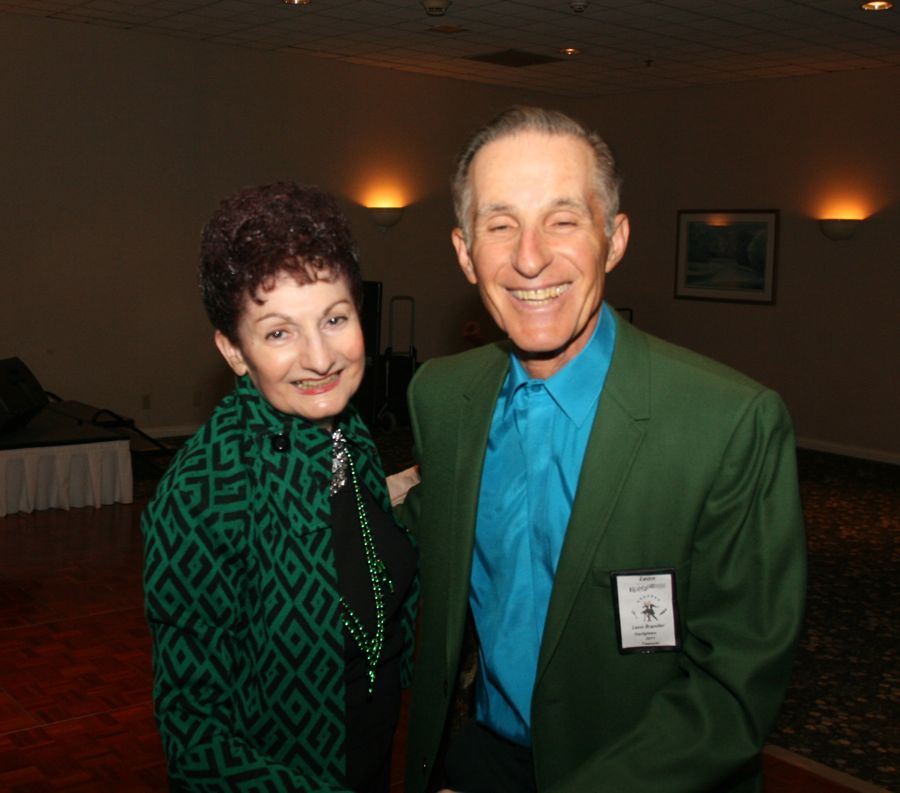 Good night all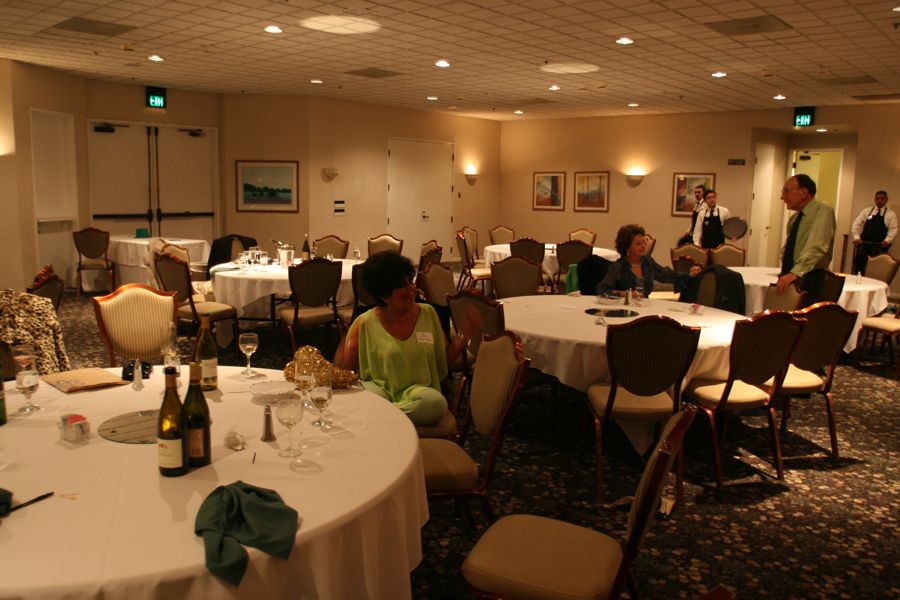 Those left staning