Selections You May Enjoy
What A Wonderful World Louis Armstrong (4 August 1901[3] – July 6, 1971), nicknamed Satchmo and Pops, was an American jazz musician. Armstrong was a charismatic, innovative performer whose inspired, improvised soloing was the main influence for a fundamental change in jazz, shifting its focus from collective melodic playing, often arranged in one way or another, to the solo player and improvised soloing. One of the most famous jazz musicians of the 20th century, he first achieved fame as a cornet player, later on switching to trumpet, but toward the end of his career he was best known as a vocalist and became one of the most influential jazz singers.
Kay Kaiser
On A Slow Boat To China - James Kern ("Kay") Kyser (June 18, 1905, Rocky Mount, North Carolina–July 24, 1985) was a famous bandleader and one of the first to become a radio celebrity.
He was the son of pharmacists Paul and Emily Royster Howell Kyser, and a cousin of Vermont Royster. A graduate of the University of North Carolina at Chapel Hill with a Bachelor of Commerce degree, his campus popularity and enthusiasm as a cheerleader caused him to be invited to join a commercial band being formed by other students. Although he started clarinet lessons, he was better as an entertaining announcer for the band than as a musician.
Dick Haymes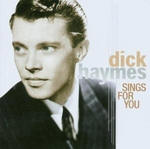 It Had To Be You - Dick Haymes (September 13, 1916 – March 28, 1980) was one of the most popular American male vocalists of the 1940s and early 1950s.

He was born in Buenos Aires, Argentina. His Irish-born mother, Marguerite Haymes (1894-1987), was a well-known vocal coach and instructor. He became the vocalist in a number of big bands, worked in Hollywood on radio and in many films throughout the forties and fifties.
Artie Shaw
Begin The Beguine - Artie Shaw (May 23, 1910, New Y Begin The Beguine ork, New York – December 30, 2004, Thousand Oaks, California) is considered to be one of the best jazz musicians of his time. Jazz clarinetist, composer, and bandleader, he is also the author of both fiction and non-fiction writings.
Bing Crosby
Swing On A Star - Harry Lillis "Bing" Crosby (May 3, 1903 – October 14, 1977) was an American singer and actor whose career lasted from 1926 until his death in 1977.

One of the first multi-media stars, from 1934 to 1954 Bing Crosby held a nearly unrivaled command of record sales, radio ratings and motion picture grosses. He is usually considered to be among the most popular musical acts in history and is currently the most electronically recorded human voice in history. Crosby is also credited as being the major inspiration for most of the male singers that followed him, including Frank Sinatra, Perry Como, and Dean Martin. Yank magazine recognized Crosby as the person who had done the most for American GI morale during World War II and, during his peak years, around 1948, polls declared him the "most admired man alive" ahead of Jackie Robinson and the Pope. Also during 1948, the Music Digest estimated that Crosby recordings filled more than half of the 80,000 weekly hours allocated to recorded radio music.

Del Vikings
Come Go With Me - The Del-Vikings were formed in 1955 by members of the United States Air Force stationed in Pittsburgh, Pennsylvania, with Clarence E. Quick, Kripp Johnson, Don Jackson, Samuel Paterson, and Bernard Robertson. Because all of the members were in the armed forces, the group constantly ran the risk of being disrupted by members being stationed in other places. This happened soon after the group's forming when Paterson and Robertson were sent to Germany.
Kingston Trio
They Call The Wind Mariah - The Kingston Trio was formed in 1957 in the Palo Alto, California, area by Bob Shane, Nick Reynolds, and Dave Guard, who were just out of college. Greatly influenced by The Weavers, the calypso sounds of Harry Belafonte, and other semi-popular folk artists such as the Gateway Singers and the Tarriers, they were discovered playing at a college club called the Cracked Pot by Frank Werber, a local publicist then working at the Hungry i. He became their manager, and secured them a one-shot deal with Capitol Records. Bob Shane would later tell concert audiences that the group considered itself at first to be primarily a calypso group, and therefore named itself after the capital of Jamaica.
Kingston Trio
The Class of '57 - The Statler Brothers are an American country music vocal group founded in 1955 in Staunton, Virginia.

Despite the band's name just two of its four members are brothers, and none of them are named 'Statler'. The band in fact named themselves after a brand of facial tissue (they have joked that they could have turned out to be the Kleenex Brothers). Don Reid sings lead and is the younger brother of Harold Reid, who sings bass. The other members are baritone, Phil Balsley and tenor, Jimmy Fortune, who replaced original Statler Lew DeWitt in the early 1980s due to the latter's ill health.
Tex Ritter
High Noon - Will Kane (Gary Cooper), the Marshal of Hadleyville, Kansas, has just married pacifist Quaker Amy (Grace Kelly) turned in his badge, and is preparing to move away to become a storekeeper. Then, however, the town learns that Frank Miller (Ian MacDonald), a psychopathic criminal Kane once sent to the gallows, has been pardoned. Miller is due to arrive on the noon train and his gang is waiting for him at the station. The worried townspeople encourage Kane to leave to defuse Miller's desire for revenge. Tex Ritter provided a haunting voice for this amazing song.
Teresa Brewer
Old Lamplighter - Teresa Brewer (born as Theresa Breuer, May 7, 1931 in Toledo, Ohio) is an American pop and jazz singer who was one of the most popular female singers of the 1950s.

"The Old Lamplighter" is a popular song by Charles Tobias and Nat Simon, published in 1946. It was first recorded by Sammy Kaye, reaching #1 on the Billboard Charts the week of December 28, 1946. Later it was a major country-pop hit for The Browns. The single was released in March of 1960, and went on to become a major top-ten hit on both the US country and pop singles charts.

He made the night a little brighter Wherever he would go The old lamplighter Of long, long ago His snowy hair was so much whiter Beneath the candle glow The old lamplighter Of long, long ago.
More Favorites
Why These?
I have no idea except they either have a beat (Sue and I had to play an instrument so we learned how to tap our toes to the music) or they tell a story of interest to us!
Music Makers Of The 40's
Music Makers Of The 50's
Singing
Singing is the act of producing musical sounds with the voice, which is often contrasted with speech.
Contrary to common thought, air is not expelled with the diaphragm, but is inhaled using the diaphragm and exhaled or expelled, using the abdominal and lower pelvic muscles, as with ordinary breathing.
The pitch is altered with the vocal cords With the lips closed, this is called humming. A piece of music with a singing part, either a cappella or accompanied, is called a song; someone who sings is called a singer.

Most singing involves shaping the voice to form words, but types of voice instrumental music which use open sounds or nonsense syllables ("vocalizes") also exist, for instance, scat singing and yodeling.
Solfege assigns certain syllables to notes in the scale.

Nearly anyone who can speak can sing, since in many respects singing is merely sustained speech.
It can be informal and just for pleasure, for example, singing in the shower; or it can be very formal, such as singing done professionally as a performance or in a recording studio.
Singing at a high amateur or professional level usually requires a great deal of regular practice, and/or instruction.
Top-quality singers will have instruction and training from coaches throughout their career.