Success IS A State Of Mind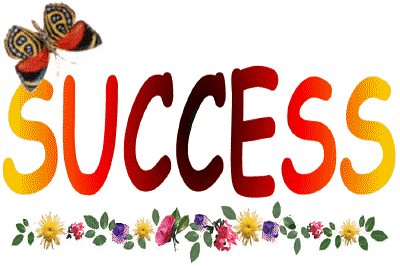 Success is a state of mind. Basically, anything you want, you can have! You just have to have dreams, believe that you deserve those dreams, and work your butt off to acquire them. But success is there for the taking, so TAKE IT!
Anything you can conceive and believe, you can achieve!
Unknown
Successful men and women become successful because they acquire the habit of thinking in terms of success. Get the success habit in the small circumstances you control, and soon you'll be controlling the bigger ones.
--Napoleon Hill ("Think and Grow Rich")
Accept the challenges, so that you may feel the exhilaration of victory. --Gen. George S. Patton
A limit on what you will do puts a limit on what you can do. --Dexter Yager
All my successes have been built on my failures. --Benjamin Disraeli
Always do your best. What you plant now, you will harvest later. --Og Mandino
A man to carry on a successful business must have imagination. He must see things in a vision, a dream of the whole thing. --Charles M. Schwab
Any failure will tell you success is nothing but luck. --Anonymous
A strong passion for any object will ensure success, for the desire of the end will point out the means.
--William Hazlitt
A strong, successful man is not the victim of his environment. He creates favorable conditions.--Orsen Marden
A person who is successful has simply formed the habit of doing things that unsuccessful people will not do. --Dexter Yager
A winner is one who accepts his failures and mistakes, picks up the pieces, and continues striving to reach his goals. --Dexter Yager
Be ready when opportunity comes... luck is the time when preparation and opportunity meet.--Roy D. Chapin, Jr.
Champions are willing to do the things they dislike to create something they do like. Don't let the things that matter most be at the mercy of the things that matter least. --Dexter Yager
Discipline can be the difference between success and failure. --Anonymous
Do it! Move it! Make it happen! No one ever sat their way to success. --Unknown
Do what is right for you, as long as it don't hurt no one. --Elvis Presley
Every failure brings with it the seed of an equivalent success. --Napoleon Hill
Failure is a better teacher than success, but she seldom finds an apple on her desk. --Anonymous
Forget about the consequences of failure. Failure is only a temporary change in direction to set you straight for your next success. --Denis E. Waitley
He has achieved success who has lived well, laughed often, and loved much. --Bessie Anderson Stanley
I don't think I'd be a success on TV if I hadn't been fired earlier in my career. There's got to be a glitch along the way, or else you lose touch with reality.--Maury Povich
If at first you don't succeed, try, try again. Then quit. No use being a damn fool about it. --W.C. Fields
I feel the most important requirement in success is learning to overcome failure. You must learn to tolerate it, but never accept it. --Reggie Jackson
If you don't think you can become rich, you very rarely do. You have to start by believing that you can, and then crave it passionately.--Mark Fisher
It's too easy to find people who've failed and are embittered. The best thing you can do is hang around people who've succeeded and are happy doing what you want to do. Learn from them. --Rush Limbaugh
It's visualization in a positive sense. I never pictured myself crashing or falling off a beam. I always pictured myself doing my routine perfectly. --Mary Lou Retton
Many of life's failures are men who did not realize how close they were to success when they gave up.
--Thomas Edison
Most people give up just when they're about to achieve success. --H. Ross Perot
No one can cheat you out of ultimate success but yourself. --Ralph Waldo Emerson
No one ever attains success by simply doing what is required of him. --Charles Kendall Adams
No rules for success will work if you don't. --Unknown
Not in time, place, or circumstance, but in the man lies success. --Charles Rouss
One worthwhile task carried to a successful conclusion is worth half-a-hundred half-finished tasks. --Malcom S. Forbes
People who succeed, it's not that they need to step on somebody. But they have a path in view and they just keep moving along. --William Shatner
Potential is: dormant ability, unused success and capped capability. --Randall D. Worley
Successful leaders have the courage to take action while others hesitate. --John Maxwell
Success doesn't come to you... you go to it. --Marva Collins
Success is a journey, not a destination. --Ben Sweetland
Success is a state of mind. If you want success, start thinking of yourself as a success. --Joyce Brothers, Ph.D.
Success is best measured by how far you've come with the talents you've been given. --Anonymous
Success is getting what you want. Happiness is liking what you get. --Unknown
Success is simply a matter of luck. Ask any failure. --Unknown
Success is the sum of small efforts, repeated day in and day out... --Robert Collier
Success results more from hard work than talent. --Dexter Yager
Success seems to be largely a matter of hanging on after others have let go. --William Feather
Successful men follow the same advice they prescribe for others. --Anonymous
Successful people use their strength by recognizing, developing and utilizing the talents of others.--Unknown
The first law of success... is concentration--to bend all the energies to one point, and to go directly to that point, looking neither to the right nor to the left. --William Mathews
There are three strategies for success: 1) a big waste basket--you must know what to eliminate; 2) know what to preserve; 3) know when to say no, for developing the power to say no gives us the capacity to say yes.--A.P. Goethe
There is no luck involved in success. Luck is a way of saying you don't have what it takes.--Dexter Yager
We have a right to an empire. --Napoleon Bonaparte
We've all heard that we have to learn from our mistakes, but I think it is more important to learn from our successes. If you learn only from your mistakes, you are inclined to learn only errors. --Norman Vincent Peale
Work as though you would live forever, and live as though you would die today. Go another mile!--Og Mandino
You are never a loser until you quit trying. --Mike Ditka
You can be discouraged by failure -- or you can learn from it. Because, remember that's where you'll find success. On the far side of failure. --Unknown
You can't wait on success.--Alan Jackson