The Griffith Park Observatory
Griffith Observatory is located in Los Angeles, California, United States. Sitting on the south-facing slope of Mount Hollywood in L.A.'s Griffith Park, it commands a view of the Los Angeles Basin, including downtown Los Angeles to the southeast, Hollywood to the south, and the Pacific Ocean to the southwest. The observatory is a popular tourist attraction that features an extensive array of space- and science-related displays.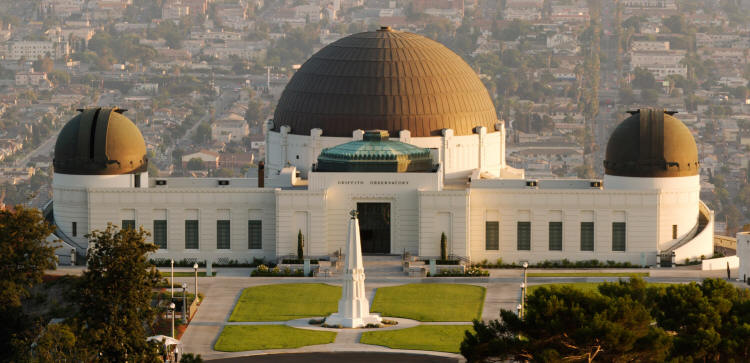 The observatory overlooks Los Angeles and offers an amazing view of the city.
(Click for a full sized image 2000 pixels wide)
Did You Know? - The land on which the observatory stands was donated to the City of Los Angeles by Col. Griffith J. Griffith in 1896. In his will, Griffith donated funds to build an observatory, exhibit hall, and planetarium on the donated land.
Construction began on June 20, 1933 using a design developed by architect John C. Austin based on preliminary sketches by Russell W. Porter. The observatory and accompanying exhibits were opened to the public on May 14, 1935. In its first five days of operation the observatory logged more than 13,000 visitors. Dinsmore Alter was the museum's director during its first years.