July 9th 2011 Was A Great Evening With 'Ol Blue Eyes.... B Minus 1!
We thought Breakaway was going to be playing but instead there was several fellows dressed in suits and a hat on the microphone... What else, 'Ol Blue Eyes himself. Frank Membrila and his band plays outstanding music for listening and dance... we were able to swing, rhumba, chacha, foxtrot, waltz... Everything!

The man could sing..... Wow!

The World On A String
Did You Know? - "I've Got The World on a String" is a 1932 popular song composed by Harold Arlen, with lyrics written by Ted Koehler. It was written for the 1932 Cotton Club Parade. It was introduced by Cab Calloway and Bing Crosby. It was also recorded by Frank Sinatra in 1953. It reached #14 on Billboard's most played list.
Listen to... More (Mondo Cane)
Did You Know? - "More (Theme from Mondo Cane)" is a film score song written by Riz Ortolani and Nino Oliviero for the 1962 Mondo film Mondo cane. Originally composed as an instrumental and titled "Ti guarderò nel cuore", lyrics were later provided by Marcello Ciorciolini, which were adapted into English by Norman Newell. The song was originally titled "Models in Blue/Modelle in Blu" (track #9) on the United Artists soundtrack for the film, with later record covers containing the text "Included in this album the hit song 'More'", in a starburst. The song was subsequently recorded by numerous artists.
Frank Membrila Website or the Frank Membrila Facebook
Our Frank is also in the insurance business and has been for three generations
---
Did You Know? - Frank Sintra was born December 12, 1915 in Hoboken, New Jersey, Sintra was the only child of Italian immigrants Natalie Della Garaventa and Antonino Martino Sintra and was raised Catholic.
He left high school without graduating, having attended only 47 days before being expelled because of his rowdy conduct.
Sinatra's father, often referred to as Marty, served with the Hoboken Fire Department as a Captain.
His mother, known as Dolly, was influential in the neighborhood and in local Democratic Party circles, but also ran an illegal abortion business from her home; she was arrested several times and convicted twice for this offense.

Almost back to normal... We have not done the jump step yet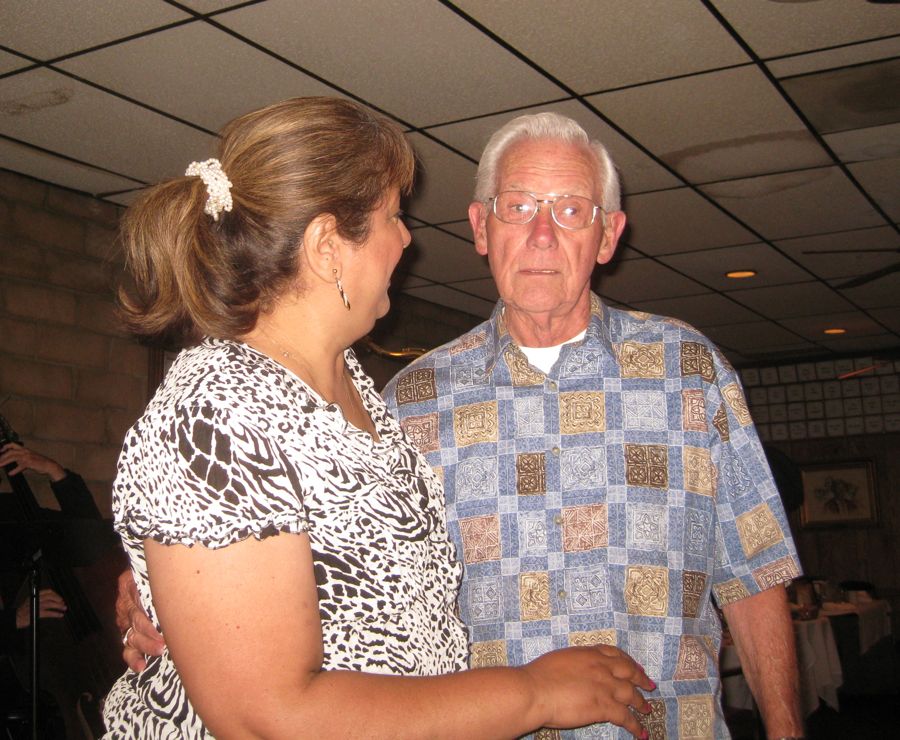 Del is mulling something over....

Shhhhh.... I am thinking

Great band.... quiet, smooth...
Did You Know? - The drum is a member of the percussion group of musical instruments, technically classified as the membranophones. Drums consist of at least one membrane, called a drumhead or drum skin, that is stretched over a shell and struck, either directly with the player's hands, or with a drumstick, to produce sound.
There is usually a "resonance head" on the underside of the drum, these are usually tuned to a slightly lower pitch than the top drumhead. Other techniques have been used to cause drums to make sound, such as the thumb roll. Drums are the world's oldest and most ubiquitous musical instruments, and the basic design has remained virtually unchanged for thousands of years.

Donna and Bob Zaitz

The Roberts joined the Kuhn's this evening making it a super evening for all
Left to right: Ed, Del, Vickey, and Kathy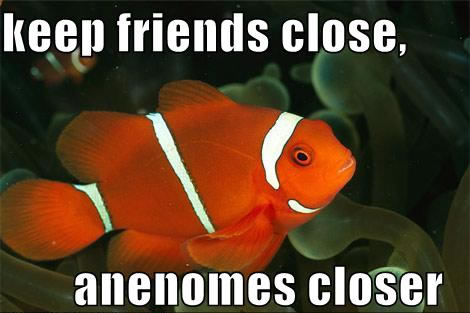 Be careful... They Vicky and Kathy be cooking up something...

Talking cares and boy stuff....
The Evening Was "Rolling" Along Thanks To Vicky

Look at the buns on that one....
Did you know? There are many names for bread rolls, especially in local dialects of British English . Originally, these originated with bakers terms for different forms of bread roll depending on how the dough was made and how the roll was cooked. However, over time, most people have come to use one name to refer to all similar products regardless of whether it is technically correct or not. Here are a few:
Breadcake or teacake, mainly Yorkshire and East Lancashire - Refers to the round flat type of bread often used for sandwich making.
Bap (often a larger soft roll, roughly 5-6 inches in diameter). Dough can contain fats such as lard or butter to provide tenderness to dough. Can come in multiple shapes dependent on region. Baps as traditionally made in Scotland are not sweet, unlike the Irish version which may contain currants . The 9th Edition of the Concise Oxford Dictionary (1995) says that the word "bap" dates from the 16th century and that its origin is unknown.
Barm or barm cake in Lancashire is a flat, floured, savoury, small bread made using a natural leaven including mashed hops to stop it souring. It is also slang for a bap in the North-West of England.
Batch, Coventry/Nuneaton/Wirral term , a large soft floured roll from Shropshire .
Bin lid, a large round soft white or brown roll common in Merseyside .
Blaa , a doughy, white bread roll. A speciality found in Waterford, Ireland.
Bulkie roll , a type of roll with a crust that is usually slightly crisp or crunchy and has no toppings.
Cob, the name used in reference to a round bread roll, often crusty, in parts of the Midlands and North West, England. [1] A cob more usually refers to a loaf [2] of bread so called due to the shape, from the Anglo Saxon for "head".
Flour cake is also used, along with barm in Bolton .
Manchet , a yeast roll popular with the Tudor Court of which there are many variations.
Muffin Some people in the UK refer to a bread roll as a "muffin" (commonly used in Rochdale, Oldham, Bury, Ashton-Under-Lyne, Salford and parts of West Yorkshire ), although a muffin is also a separate, distinct form of bread product. See English Muffin .
Nudger, a long soft white or brown roll similar to a large finger roll common in Liverpool .
Oven bottom, a Lancashire term for a flat, floury, soft roll.
Stottie cake , a thick, flat, round loaf. Stotties are common in North East England .

Keep on laughing!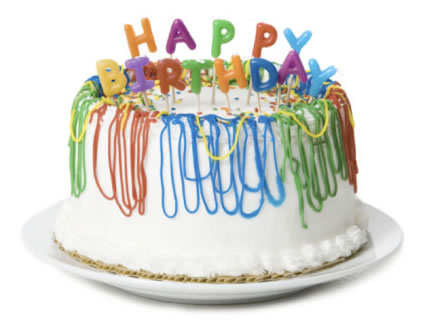 It went unsaid.... Happy almost birthday anyway!

Wow... Dressed like they are entertaining customers...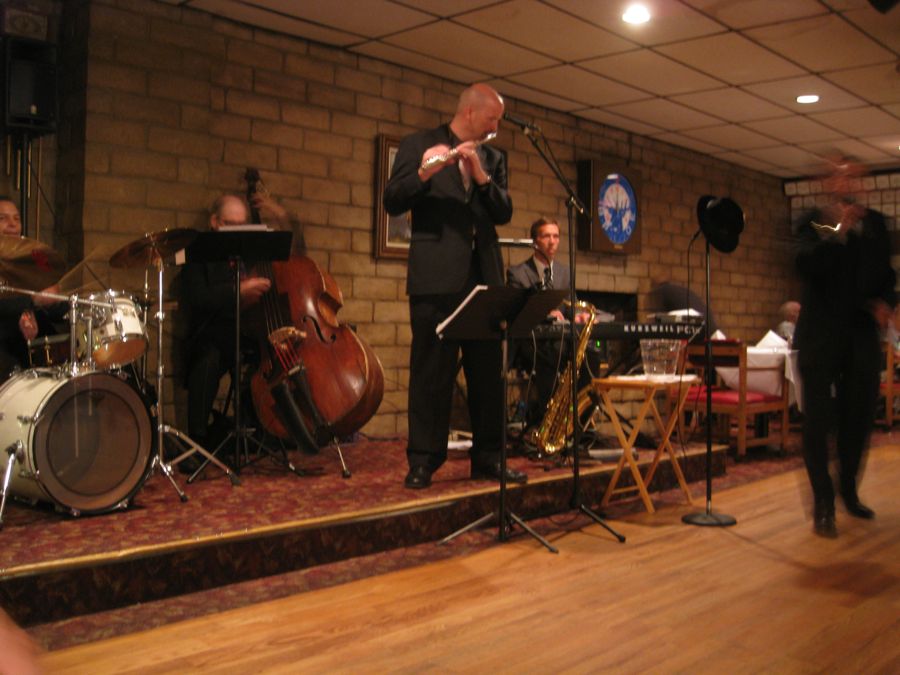 Good music ... No, GREAT music
And Then It Happened... A Black Flash Swooped Across The Floor

A whirling dervish appeared to us.....

No.... NOT that kind, silly!
Did You Know? - A Dervish or Dervish (from Persian درویش, Darvīsh via Turkish) is someone treading a Sufi Muslim ascetic path or "Tariqah", known for their extreme poverty and austerity, similar to mendicant friars in Christianity or Hindu/Buddhist/Jain sadhus.
"While they walk around praising the Lord, anyone according to his own desire may voluntarily drop some coins in it (a kashkul)... a real dervish who wears the proper robe and carries the kashkul does not beg, nor does he make any demands."
The whirling dance or Sufi whirling that is proverbially associated with Dervishes, is best known in the West by the practices (performances) of the Mevlevi order in Turkey, and is part of a formal ceremony known as the Sama.It is however also practised by other order. The Sama is only one of the many Sufi ceremonies performed to try to reach religious ecstasy (majdhb, fana). The name Mevlevi comes from the Persian poet, Rumi (born in Balkh, modern day Afghanistan), whose shrine is in Turkey and who was a Dervish himself. This practice, though not intended as entertainment, has become a tourist attraction in Turkey.[

They saw a quarter on the floor and will NOT loose sight of it

All smiles and great moves

Great evening with great friends

.... and the band played on ... So relaxing... We went home refreshed!