Picture Of The Whenever Archives December 2007
We snap a lot of pictures so we decided that when one strikes our fancy, we will publish it and tell the story behind it. These are the archives from 2007...
No Vicky, That's NOT How You Taste The Wine! (12/31/2007)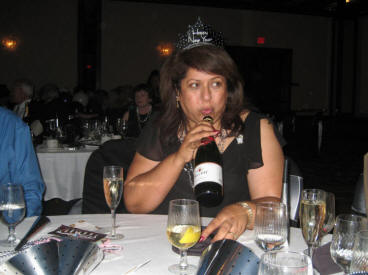 When offered wine you pour a little into the glass, swish it around, sip a little bit, gargle and swallow! This is NOT the way to do it!
Alligator, Crocodile, Ostrich, Buffalo, and Venison (12/27/2007)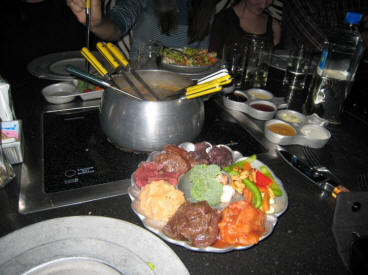 During our road trip to Saratoga and Stockton, we had a delightful evening at "La Fondue". The two adventurous participants shared a meal of alligator, crocodile, venison, buffalo, and ostrich dipping the raw meat into a very hot pot of chicken stock and poaching the meat... We followed this up with chocolate rocky-road fondue! What an evening!
Speak No Evil, See No Evil, Hear No Evil (12/16/2007)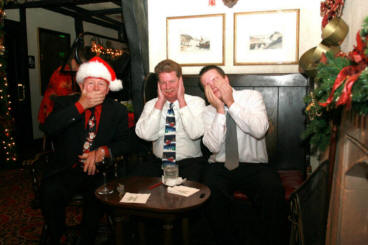 At the Five Crowns for the birthday celebration, things got a tad out of hand when the camera went off accidently as we were attempting to be good!
Robin At The Play (12/15/2007)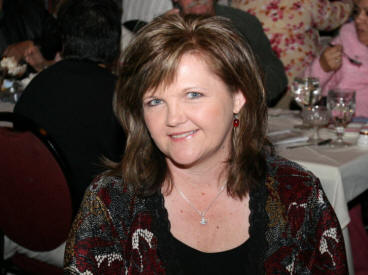 Robin, our long time co-worker and long time friend takes a super picture! She is beautiful inside and out!
More Golf in December (12/12/2007)
The view from the club house is amazing.. The mountains are about 30+ miles away and covered in snow from the recent rain/snow we had in LA.
Golf In December (12/10/2007)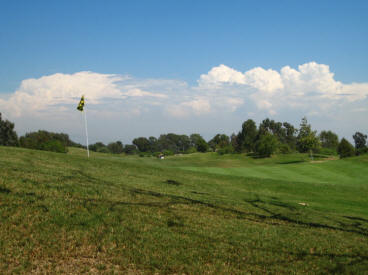 We play golf all winter at the Old Ranch Country Club just two miles from our home! Typical December afternoon from the 16th hole!
Visiting With Kat (12/07/2007)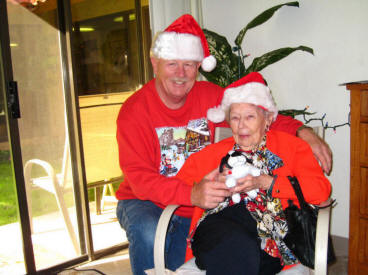 Kat is our cousin who is now 85 and living in an assisted care facility. We see her all the time and on this occasion Sue decorated her room and we gave her another stuffed animal which she loves.
She Got My Toes Twice (12/06/2007)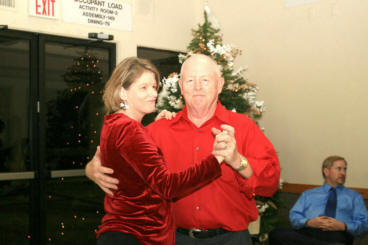 Dancing at Carr's Pot Luck was a load of fun. Lisa was with us as she was taking care of Mummy this past week. Remember Lisa... 1-2-3 1-2-3!
After The Rossmoor Home Tour (12/03/2007)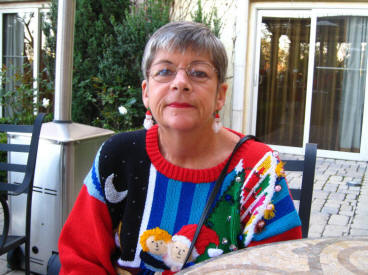 She looks pretty happy after doing the Rossmoor Women's Club Holiday Home Tour. We saw four homes this year and ended up at the local Ayres Hotel (quite nice!!!)
Home tour; Christmas in Rossmoor (12/03/2007)
Could the weather be more beautiful? I think not! Brisk Fall day in Rossmoor!
Sue feeds the little evils and they can spot her now from a mile away... By the 17th hole, they are waddling across the fairway quacking up a storm as if to say... "Grandma Sue, do you have crackers today???"