Christmas Eve At Disneyland
Sue and I have been going to Disneyland on Christmas Eve since 1986 which would be and we enjoy every year more and more! Please join us starting 2000 (when the digital camera came into our household). Sue has been making the visit since 1962 of age.

Sleeping Beauty's Castle
The Chartier's were out from Connecticut this year and even though Pete and Colleen were divorced, Pete was a man and joined the group with Colleen and her new husband. The man has character! We all had a ball!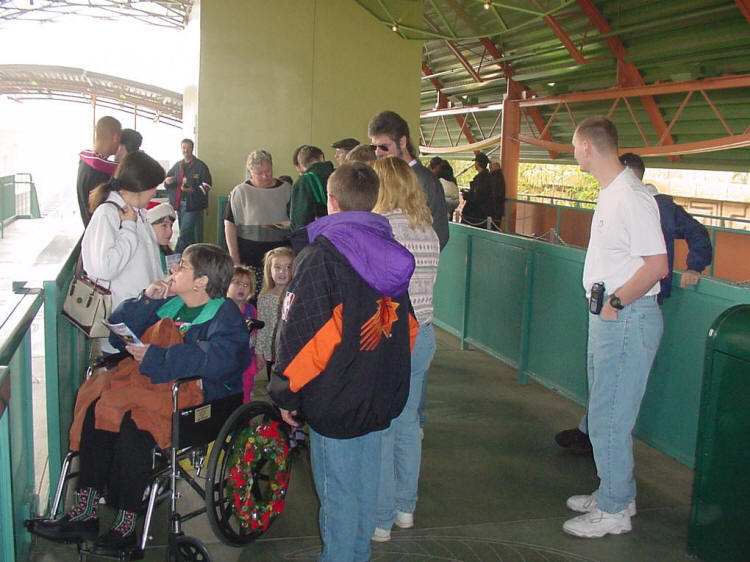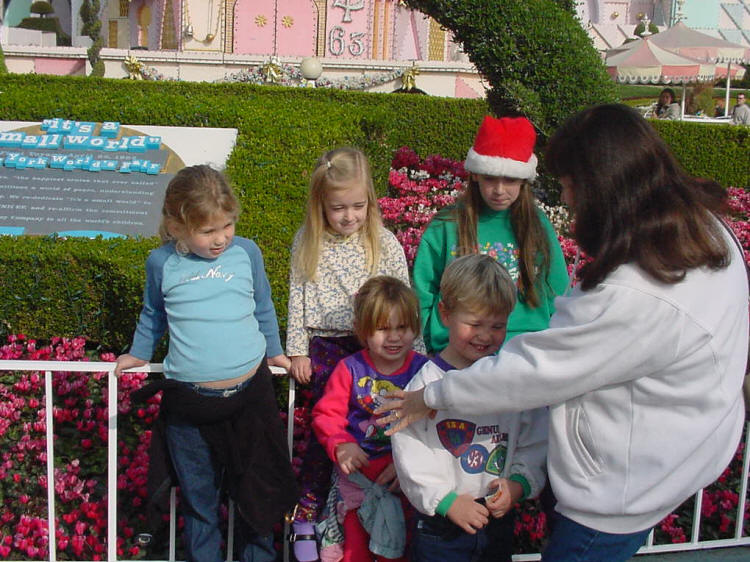 The kids love Disneyland at Christmas

Paul is just one of the kids! The adults sit for a few minutes before proceeding on!
A great year... it was cold!

Everybody is full of energy for the first few hours

Time to have breakfast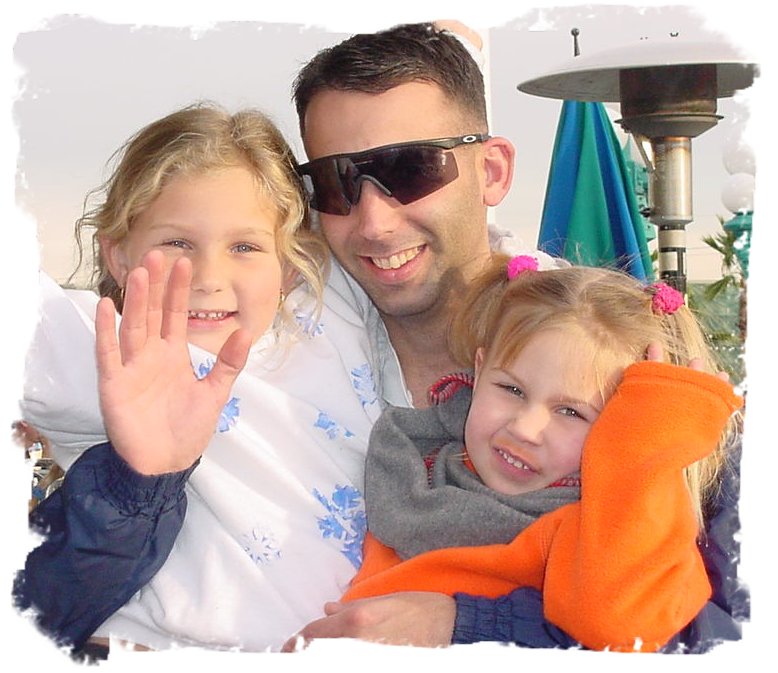 Ok, let's go!

We have arrived for a day of fun!

Penny and Brianna joined us this year. Paul thinks he is Santa Claus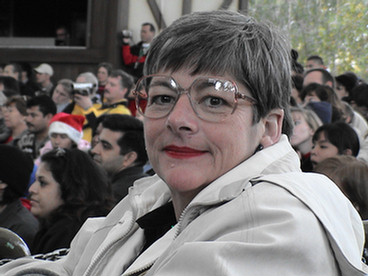 Sue enjoys having the family around. Diane, Pat, Hannah and Lisa are with us this year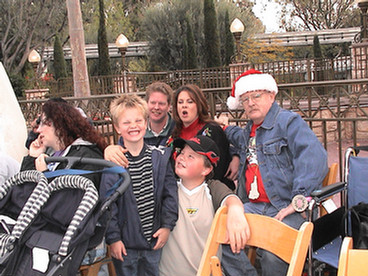 Time to watch the parade. Connor, quit showing your teeth!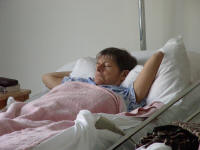 Six weeks out of the hospital
This Christmas was special. Sue had been out of the hospital only six weeks and we did not do all our normal Christmas activities. In fact we didn't decorate for Christmas so as to assure the walker and other mechanisms would be safe in the house!
We went to Disneyland (by ourselves) on Christmas eve and stayed close to the hearth for the rest of the time.
We went to the Christmas play but failed to take pictures and Christmas day was the two of us at home together. That's all we could handle. We got our Christmas wish... No pains and we golf and ballroom dance almost every day!

The gaggle gathers! This year we went on tour.. A fun way to see Disneyland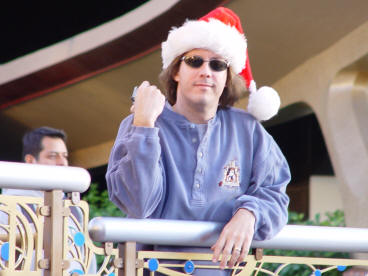 Lisa enjoys the Adventureland ride and Bob perched himself up high to take pictures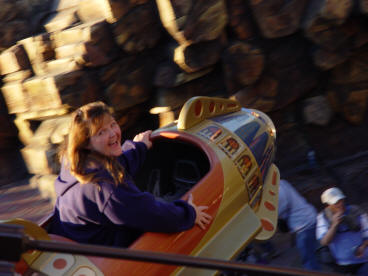 Robin rides the rockets while the Porter's pose for pictures near the Matterhorn
This year we had Pete, Lisa, Tyler and Jeanette, Mitch, Zack, Connor and Bob, Robin, Nick and of course Sue and Paul! We arrived at 9:00 and had breakfast with the characters and then off to Disneyland and ended the day with a fine glass of wine and a bunch of fattening snacks!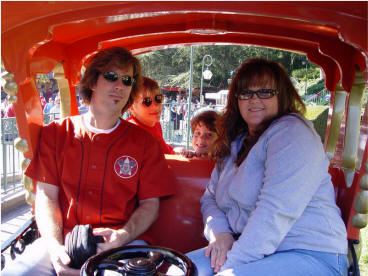 The year of the great contest between Jeanette and Lisa

Bob and Robin join in on the fun.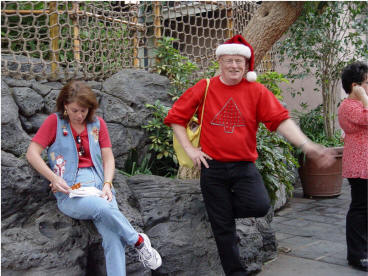 Jeanette and Paul rest while the kids go into the tree house. Time for a snack!

We start be having breakfast with the wild animals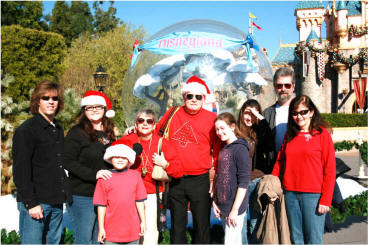 Paul begins with a drink! Group picture time!
Ms. Fox joined us this year for the celebrations!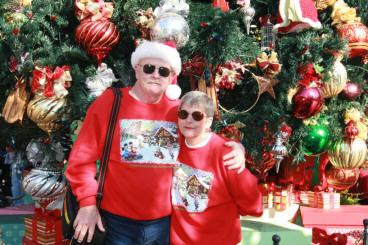 Paul & Sue, Robin, Nick, & Bob
Carri joined us from New Mexico this trip and wow did we all have fun. It was just a delightful day!

It was supposed to be rainy but we scared the rain and the people away!

We saw the California Adventure lake dry and we teased Carri on the Tower ride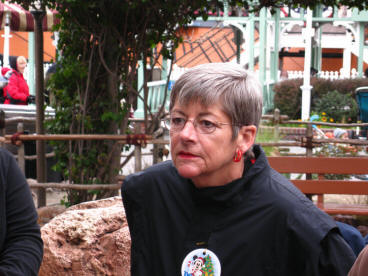 Pete has a boney butt! Sue just watches in amazement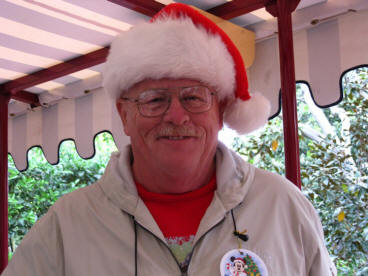 The cameras were snapping all day!

We had great seats for the parade!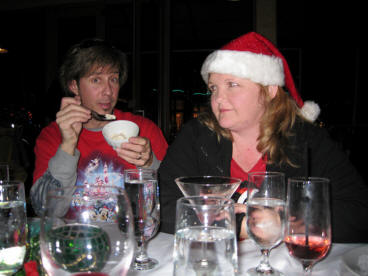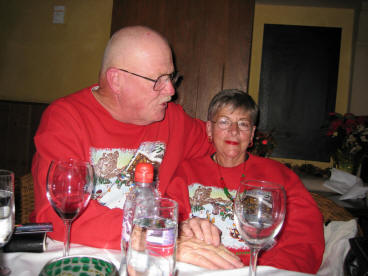 Bob and Robin with Paul and Sue

Midnight services were actually at 11:00 pm!
Christmas Season 2010
We went three times during this Christmas Season. Please join the fun!
Theo Goes To Disneyland 11/29/2010
Robins Birthday 12/05/2010
Christmas Eve 2010
Disneyland Is Magical