TV and Radio Of The 1950's Was Entertaining
Television used to be pretty good... Some decent programming and reasonably OK for the famly. Now it is a vast wasteland with the exception of a few channels like History... Bring back the good old days!
1950
In January, Arthur Godfrey and Faye Emerson are named most pleasing personalities in Look's TV awards show onCBS.
He joinedCBS Radio Network where he was given his own daily program, Arthur Godfrey Time, a Monday-Friday morning radio show that featured his monologues, interviews with various stars, music from his own in-house combo and regular vocalists.
Godfrey's monologues and discussions were unscripted, and went wherever he chose. That radio program was supplemented by Arthur Godfrey's Talent Scouts, a radio program featuring rising young performers.
---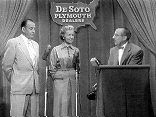 "You Bet Your Life' was broadcast on radio beginning in 1947, initially moving to television in 1950 as the radio show with cameras. You Bet Your Life was an American radio and television quiz show. The first and most famous version was hosted by Groucho Marx, of Marx Brothers fame, with the unflappable announcer and assistant George Fenneman. The show debuted on radio in 1947, then made the transition to theNBC television network in 1950. The television version was changed very little from the radio version. It was filmed before a studio audience, then slightly edited for television broadcast. In 1960 it was renamed The Groucho Show and ran a further year. On the program, contestants had the potential to win $10,000, $5,000, or $2,000 in a bonus round at the end of the show.
1951
CBS broadcasts the first color program on June 21, but only 25 receivers can accommodate mechanical color. Viewers of 12 million existing b&w sets see only a blank screen.

"Omnibus," one of commercial TV's most honored cultural series, debuts. Hosted by Alistair Cooke, the program takes in $5.5 million in advertising revenues during five years on the air, against $8.5 million in costs.

In 1952, Cooke became the host ofCBS's Omnibus, the first commercial network television series devoted to the arts. It featured appearances by such personalities as Hume Cronyn, Jessica Tandy, Gene Kelly, and Leonard Bernstein. The series marked Bernstein's first-ever television appearances.
---

"I Love Lucy," a half-hour filmed TV sitcom, is born. The show, unlike the live TV productions typical of the time, ranks No. 1 in the nation for four of its first six full seasons. It is sponsored by Philip Morris.

I Love Lucy is a television situation comedy starring Lucille Ball and Desi Arnaz, and featuring Vivian Vance and William Frawley. The series originally ran from October 15, 1951, to May 6, 1957, onCBS (181 episodes, including the "lost" Christmas episode and original pilot). It won four Emmy Awards and received numerous nominations.
---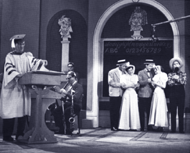 Popular bandleader Kay Kyser, clad in cap and gown and calling himself 'The Old Perfesser', presided over the madness each week.

On hand was a full band along with singers Ish Kabbible (who had several hits as a vocalist for Kyser's band in the Forties) and Mike Douglas (who went on to host his own daytime show two decades later).

On February 26, 1941, Kay Kyser was the first bandleader to perform in front of military personnel. He had 11 number one records in his lifetime.
1952
By year's end, the number of TV households grows to 20 million, up 33% from previous year. U.S. advertisers spend a record $288 million on TV time, an increase of 38.8% from 1951.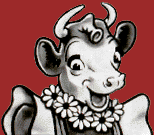 Borden's Elsie the Cow beats out actor Van Johnson and U.S. Sen. Robert Taft in recognition polls as one of America's most familiar faces. Elsie the Cow beat out actor Van Johnson and U.S. Sen. Robert Taft in a 1952 recognition poll surveying America's most familiar faces.

Elsie the Cow is the advertising mascot of the Borden Company, now primarily used to promote the Dairy Farmers of America's Borden cheese products.

Borden was named after Gail Borden, Jr. (1801-1874), philanthropist, businessman, and inventor, who was the first to develop a commercial method of condensing milk, and the dairy company founded by him (renamed Borden, Inc., in 1968) expanded and diversified to become a sizable corporation operating in many areas of business.
---
Bob Hope takes his comedy from radio to TV when "The Bob Hope Show" debuts in October.

Hope began his monthly and semi-monthly television specials in 1950 when he was still the number-one box office draw in the land, starring in a long string of Paramount Pictures like Fancy Pants, Monsieur Beaucaire, Caught in the Draft and, of course, the seven classic 'Road' pictures with Bing Crosby.

Hope made a total of 53 films in his career; in most of them, Bob played the cocky (but cowardly) 'lady's man' who almost never got the girl.
---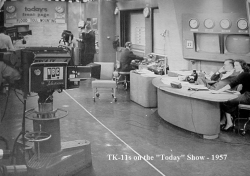 NBC's "Today" show, first and longest-running early-morning network show, bows with host Dave Garroway and chimpanzee sidekick J. Fred Muggs.

Today, usually referred to as The Today Show to avoid ambiguity, is an American morning news and talk show airing weekday mornings on theNBC television network. Premiering on January 14, 1952, it was the first of its genre, spawning similar morning news and entertainment television programs across the country and around the world.
---
1953
Color broadcasting officially arrives in the U.S. on Dec. 17, when FCC approves modified version of an RCA system
1954
"Captain Kangaroo," the first network kids show, begins on CBS. Captain Kangaroo was a children's television series which aired weekday mornings on the American television networkCBS from 1955 until 1984, then moved to Public television when the American Program Service (now American Public Television, Boston) distributed the program with some newly produced segments which were integrated into reruns of past episodes from 1986 - 1993.

The show was conceived and the title character played by Bob Keeshan, who based the show on "the warm relationship between grandparents and children." Keeshan was the original Clarabelle the Clown on the Howdy Doody Show when it aired on NBC.
---
The Hamm's bear is introduced in a TV spot that initially runs as a sequel to a 1953 Hamm's commercial that featured beavers beating on tom-toms. The beer spot's tagline, "From the land of sky blue waters," and distinctive soundtrack remain with the Campbell-Mithun campaign for many years. The Hamm's Beer bear was a cartoon mascot used in television and print advertisements for Hamm's beer. Typically, the bear would dance around in a pastoral setting while the "Land of sky blue waters" jingle was sung in the background. Its name (never mentioned in the commercials) is Sascha, after the wife of the founder of the company. Theodore Hamm's wife was named Louise.

The Hamm's Beer bear was created by Patrick DesJarlait, an Ojibwa, in 1952 for an advertising campaign produced by the Campbell-Mithun advertising agency. For a period, a real bear named Sascha trained by Earl Hammond appeared in commercials as well.
---
1954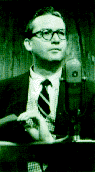 NBC launches "The Tonight Show," featuring comedian Steve Allen, on Sept. 27. For nearly four decades -- until CBS' "Late Show With David Letterman" enters the scene in 1993 -- the show dominates late night.

The Tonight Show is NBC's long-running late-night talk and variety show, currently hosted by Jay Leno in Burbank, California, USA. The hour-long show premiered September 27, 1954 as a 105-minute broadcast originating from New York City and hosted by Steve Allen. The show features at least two guests each night, usually including a comedian or musical guest.

A kinescope exists of the very first broadcast of The Tonight Show (then called simply, Tonight); Steve Allen welcomed viewers with the warning, "This show is going to last forever", referring to the running time. He has yet to be proven wrong.
---
1955
Immensely popular daytime radio show "Queen For A Day" shifts to TV in January. Between radio and TV, the show had a run of nearly 20 years, although widely criticized as an exploitation of human misery, wrapped in commercial plugs. At the peak of popularity,NBC increased the show's length from 30 to 45 minutes to gain time to sell at the premium ad rate of $4,000 per minute.
Jack Bailey hosted four contestants chosen from the studio audience that compete for prizes by telling their sad life stories - and people back then had it a LOT rougher than we do today! Heck, just going through a GOOD day in the Fifties would be like a major hardship today...
The audience's sympathy applause decided the winner, who was then crowned, robed, tiara-ed, throned, and showered with gifts like refrigerators and washing machines.
---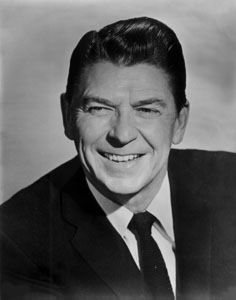 Future U.S. President Ronald Reagan becomes host of "General Electric Theater," long-running anthology series onCBS (1953-61) in which many top Hollywood film stars appeared.

General Electric Theater featured a mix of romance, comedy, adventure, tragedy, fantasy and variety music. Occupying the Sunday evening spot onCBS following the Toast of the Town/Ed Sullivan Show from 1 February 1953 to 27 May 1962, the General Electric Theater presented top Hollywood and Broadway stars in dramatic roles calculated to deliver company voice advertising to the largest possible audience.

Ronald Reagan became the show's only host on September 26, 1954. GE added a host to provide continuity, which was absent due to its anthology format. After four months, the show reached the Top Ten in the Nielsen Ratings. It also regularly outrated I Love Lucy in the 9-9:30pm time slot.

The show made Reagan wealthy and famous: wealthy, due to his part ownership of the show, and famous, due not only to its ratings, but to his constant touring to promote the show. After eight years as host, Reagan estimated he had visited 135 GE research and manufacturing facilities, and met over a quarter-million people. During that time he would also speak at other forums such as Rotary clubs and Moose lodges, presenting views on economic progress that in form and content were often similar to what he said in introductions, segues and closing comments on the show as a spokesman for GE.
---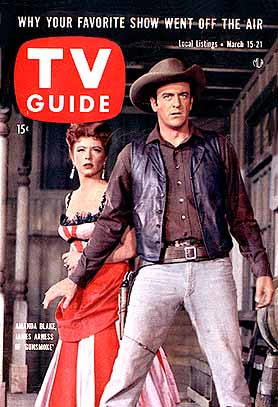 The classic Western series "Gunsmoke" begins its 20-year run on CBS. "The $64,000 Question," sponsored by Revlon, premieres in June onCBS, igniting a U.S. game show craze. Premiering onCBS in September 1955 and completing its network run September 1975, Gunsmoke is the longest running dramatic series in the history of television. Two of its stars, James Arness and Milburn Stone, remained all 20 seasons, with Amanda Blake a close second, departing after 19 years.

Gunsmoke is an American radio and television Western drama series created by director Norman MacDonnell and writer John Meston. The stories take place in and around Dodge City, Kansas, during the settlement of the American West.

The radio version ran from 1952 to 1961 and is commonly regarded as one of the finest radio dramas of all time. The television version ran from 1955 to 1975 and is the longest running prime time drama and the second-longest running prime time fictional program in U.S. television history, its record surpassed only by the Disney anthology television series (which, though essentially the same in every incarnation, has appeared on TV under several titles).
---
1956
Videotape is introduced by Ampex Corp. at aCBS-TV affiliates' session. Most TV shows at the time are produced by the kinescope process.

The Kinescope dominated TV recording for time delay in the early 1950's. A Kinescope recorder was basically a special 16mm or 35mm film camera mounted in a large box aimed at a high quality monochrome video CRT. All things considered the Kinescope made high quality and respectable TV recordings. Most engineers called the process ("kine" )pronouned "kinney" for short. The Kinescope was quite the clever device. It's film camera ran at a speed of 24 fps. Because the TV image repeated at 60 fields interlaced (30 fps) the film had to move intermittantly between video frames and then be rock steady during exposure. The pull-down period for the film frame was during the vertical interval of less than 2ms something no mechanical contraption could do at the time. Several manufacturers like RCA, Acme, General Precision, and Eastman Kodak found various ways around the problem by creating a novel shutter system that used an extra six frames of the 30 frame video sigbal to move the film. This action integrated the video halh-images into what seemed like smopth 24fps film pictures. Of course, the kines were played back on air using RCA film chains running at 24fps so the conversion to film was complete and seemless. Until videotape helical scan recorders made their debut the Kinescope was the only way to transmit delayed television programs which were all shot on film.
The 1939 movie "Wizard of Oz" debuts in November onCBS's "Ford Star Jubilee." After more than three decades of exposure, the feature is considered one of the most successful single programs in TV history and the longest continually sponsored theatrical movie on TV.
---
1957
Variety reports in May that during a typical week, viewers encounter 420 commercials totaling 5 hours, 8 minutes. By August, for the first time, more countries worldwide allow TV advertising than forbid it.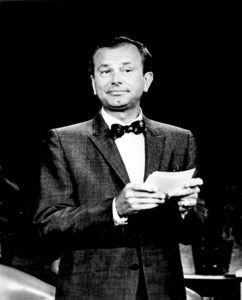 Host Jack Paar revivesNBC-TV's "Tonight" show beginning on July 29. Jack Paar is one of television's most intriguing and enigmatic talk show hosts. He served as the host of the Tonight Show from 1957 through 1962 and headed his ownNBC variety series from 1962 to 1965. Both series were stamped with Paar's volatile and unpredictable personality and often a haven for witty, literate conversation. Born in Canton, Ohio, U.S.A., 1 May 1918. Married: 1) Irene, late 1930s; 2) Miriam Wagner, 1943, child: Randy. Served as a noncombatant soldier in the United States Army with the 28th Special Service Company during World War II. Actor in motion pictures, 1950-53; appeared in radio and television shows including The $64 Question, Up to Paar, andCBS Morning Show, 1947-57; star of NBC's Tonight Show, 1957-62, and of various other programs.
In an October report in the Journal of the American Medical Association, Dr. Meyer Naide identifies "television legs," blood clots that result from watching TV too long.
CBS's "Ed Sullivan" show is the year's most-watched network program, with a 50.4 average audience rating.
---
1958
There are 525 cable TV systems serving 450,000 subscribers in the U.S. In February, CBS takes out a two-page ad in TV Guide in which it warns the public: "Free television as we know it cannot survive alongside pay television."
By the end of the TV season, there are 22 network quiz shows; 18% of NBC's programming alone consists of quizzes. In August, contestant Herbert Stempel charges "Twenty-One" is rigged, triggering a congressional investigation.

In 1956 , Barry and Enright debuted Twenty One , which was sponsored by Geritol , and Tic Tac Dough . Both game shows were hosted by Barry.

In 1958 , on one episode of Twenty One, a game between challenger Charles Van Doren and champion Herb Stempel was found to have been rigged. (The 1994 movie Quiz Show was based on the Stempel-Van Doren contests.)
---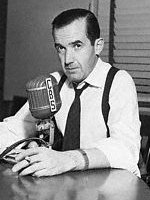 In December, Edward R. Murrow writes in TV Guide that viewers must recognize "television in the main is being used to distract, delude, amuse and insulate us." Edward R. Murrow is the most distinguished and renowned figure in the history of American broadcast journalism. He was a seminal force in the creation and development of electronic newsgathering as both a craft and a profession.

Murrow's career began at CBS in 1935 and spanned the infancy of news and public affairs programming on radio through the ascendancy of television in the 1950s, as it eventually became the nation's most popular news medium.

In 1961, Murrow left CBS to become director of the United States Information Agency for the new Kennedy administration.
By year's end, ad expenditures in radio and TV cross the $2 billion mark.
---
1959
The cartoon ad character Mister Magoo becomes the nearsighted spokesman for General Electric bulbs.
NBC's Sunday night hit "Bonanza" makes its debut. It becomes the highest-rated program of the 1960s and is on the air 14 years. Set in Nevada, in the 1860s, Bonanza chronicled the adventures of the Cartwright family who owned a large ranch - The Ponderosa.

Bonanza was an American western/cowboy television series which aired on the NBC television network from September 12, 1959 until January 16, 1973. The pilot episode was written by David Dortort, who also produced the series. Dortort's other creations include The Restless Gun, The High Chaparral, The Cowboys, and the Bonanza prequel, Ponderosa. Bonanza was the first hour-long network television series filmed in color. For most of its 430 episode run, the main sponsor of Bonanza was Chevrolet and the stars occasionally appeared in commercials endorsing Chevrolet automobiles. All of the regular cast members had appeared in numerous stage, television and film productions before Bonanza, but none were particularly well-known.

In 1959, the series was aired on Saturday evenings, most typically a social night. It was soon targeted for cancelation, but given one last chance. A move to Sunday nights at 9:00 PM, caused the series to soar, and it remained high on the Nielsen ratings until Autumn 1972. The Sunday time-slot was crucial to the success of the show: from 1964 through 1967, the show was #1 in the yearly Nielsen ratings.
>